5 Gorgeous Wedding Backdrops to DIY & Frame Your Love
2019-09-15

It's hard to take your eyes away from a mesmerising wedding backdrop – while they may look difficult to pull off, here is proof that it might actually be way easier than you think! In fact, wedding backdrops don't need to be expensive and complicated to be absolutely breathtaking.
Here are 5 lovely ideas to inspire you to create your own whimsical backdrop that is perfect for both indoor and outdoor wedding venues!

1. Bohemian Wedding Backdrop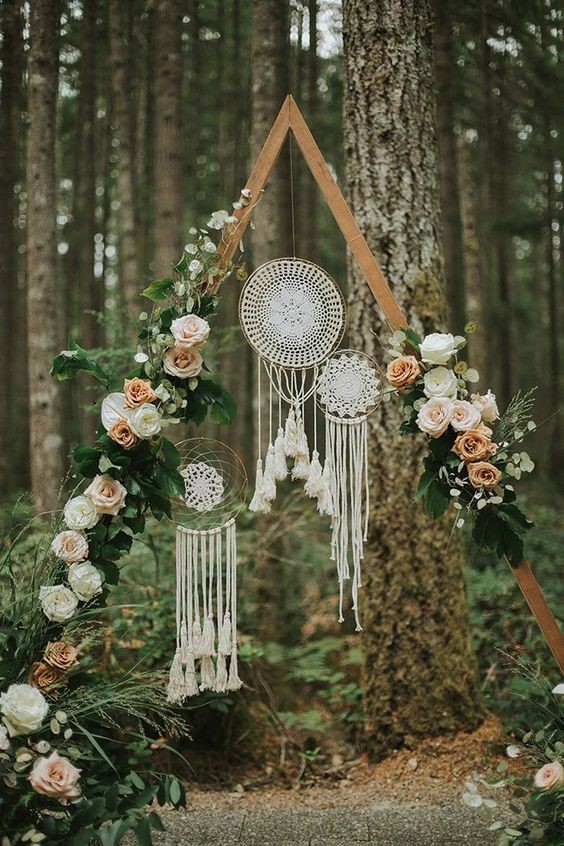 Source: Pinterest
Throwing a garden wedding? Make use of the natural art in your surroundings and add interesting textures to your backdrop with feathers, dreamcatchers, flowers, lace, and even macramé!
There is so much to play around with and using natural elements to beautify your wedding altar and cake will help to further blend everything together nicely for a cohesive wedding theme. You may even use the same backdrop in your pre-wedding photoshoot to replicate similar free-spirited vibes!
2. Chalkboard Wedding Backdrop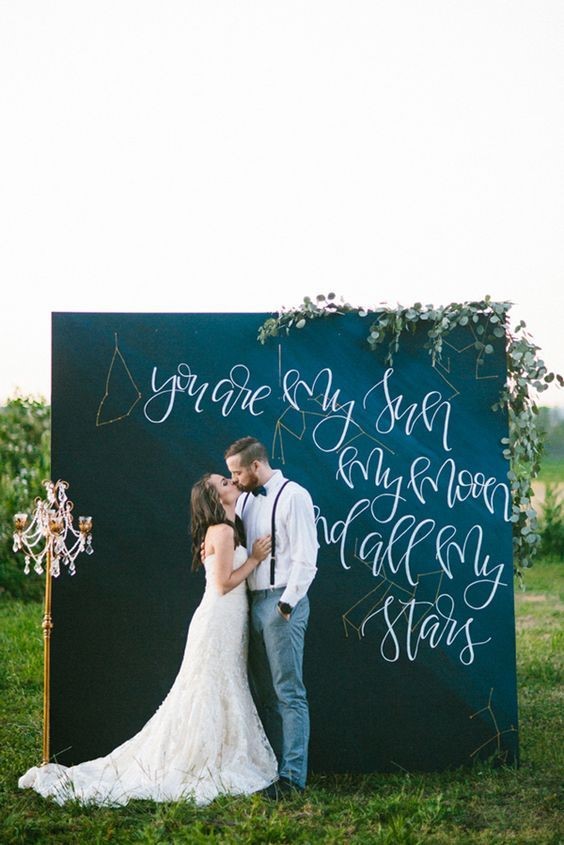 Source: Pinterest
Chalkboards are easy to set up, and they don't cause a dent in your wedding budget as well. Forgo the traditional wedding arch with a customised chalkboard and make it extra unique by letting guests pen their heartfelt messages on it! Besides making for a meaningful backdrop to exchange your wedding rings and vows in front of, it can also be used as a photo booth backdrop that is literally made with love.
3. Fabric Wedding Backdrop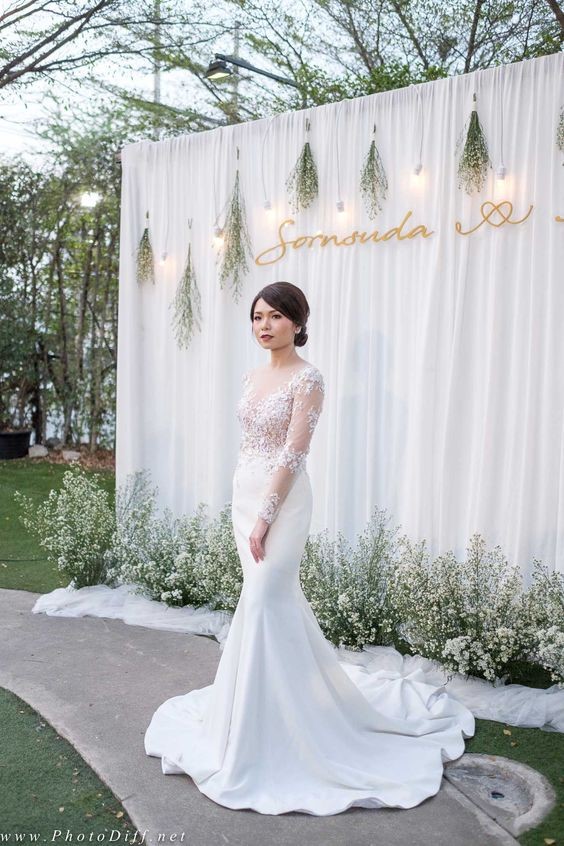 Source: Pinterest
If you have chosen a gorgeous, white wedding gown to grace the aisle on your special day, try having an ivory fabric backdrop to complement the colour of your dress and make yourself stand out even more.
The sheerness of the fabric will allow for some light play – use a few string lights to add a subtle glow for a cosy, more intimate setting. Fabrics are also great for transforming an industrial space and can be used to separate the spaces in a very inexpensive yet appealing way.
4. Hanging Wedding Backdrop
Ideal for wedding locations that boast high ceilings, design a sweeping, blank canvas with your favourite quotes, song lyrics, or a handwritten poem for your significant other. Alternatively, hang photo frames of your favourite memories together to boost the magic factor.
Once again, make full use of natural elements such as fresh blooms to dress up your wedding – flower garlands are easy to make on your own and can be hung almost anywhere. Otherwise, make use of origami cranes, stars, and fairy lights for the picture-perfect moment!
5. Geometric Wedding Backdrop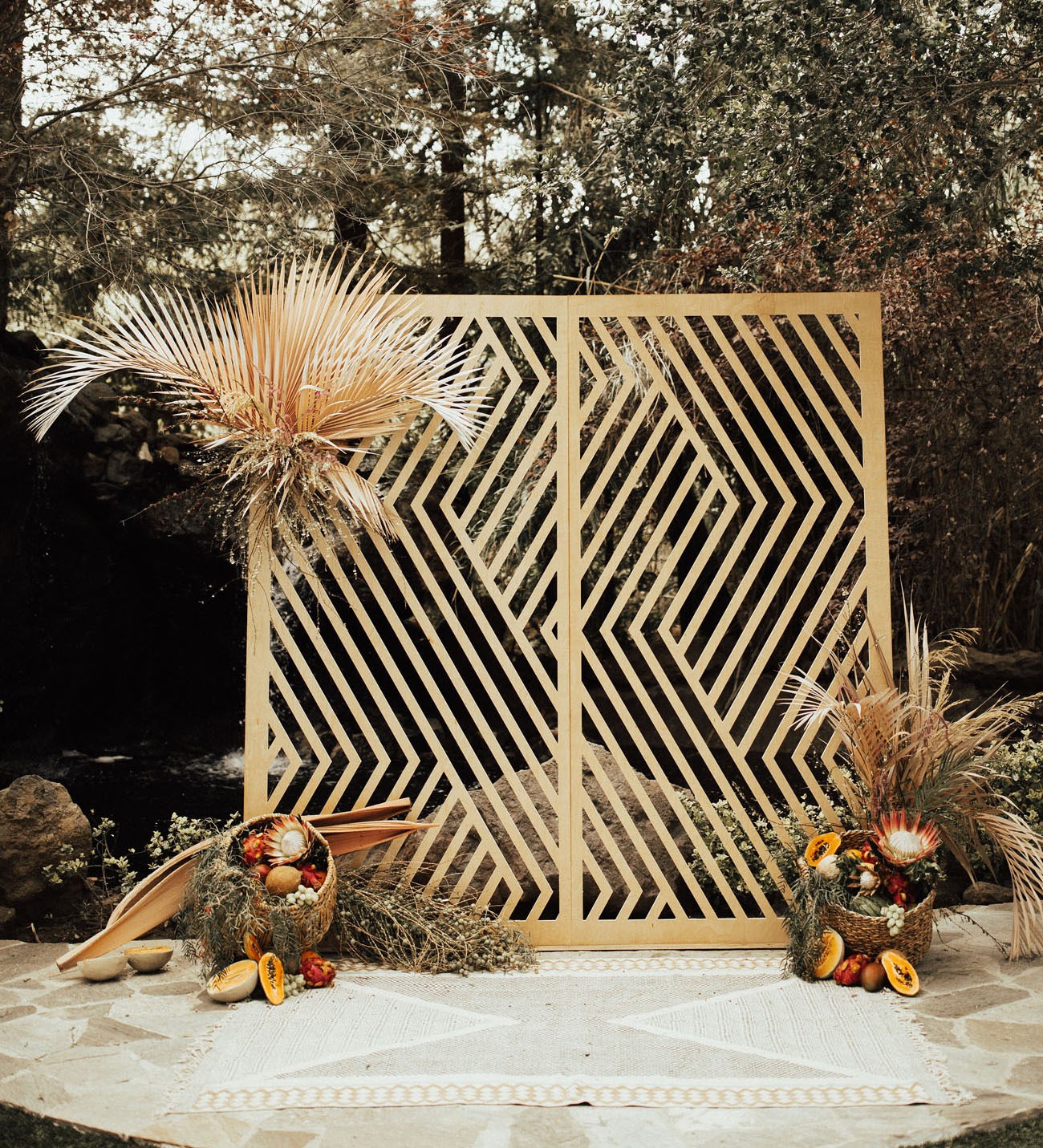 Source: Pinterest
Instead of using a traditional arch that everyone is so used to seeing, jazz up your wedding stage or altar with a geometrical structure that nicely frames the beautiful bride and dashing groom. Add lustre to an otherwise plain background by dropping a geometric lattice backdrop in gold hues to add draw everyone's attention to you and your sweetheart when you're reciting your vows at the front of the venue!