It's In The Details: Unique Wedding Place Card Ideas
2019-09-10


Wedding place cards aren't normally the first thing that a bride-to-be looks for when planning for a wedding, but this tiny detail definitely deserves more than just a second thought. A great addition to any wedding, they do more than just direct guests to their seats – let us show you just how to use them to elevate your wonderful wedding!
1. Natural Place Cards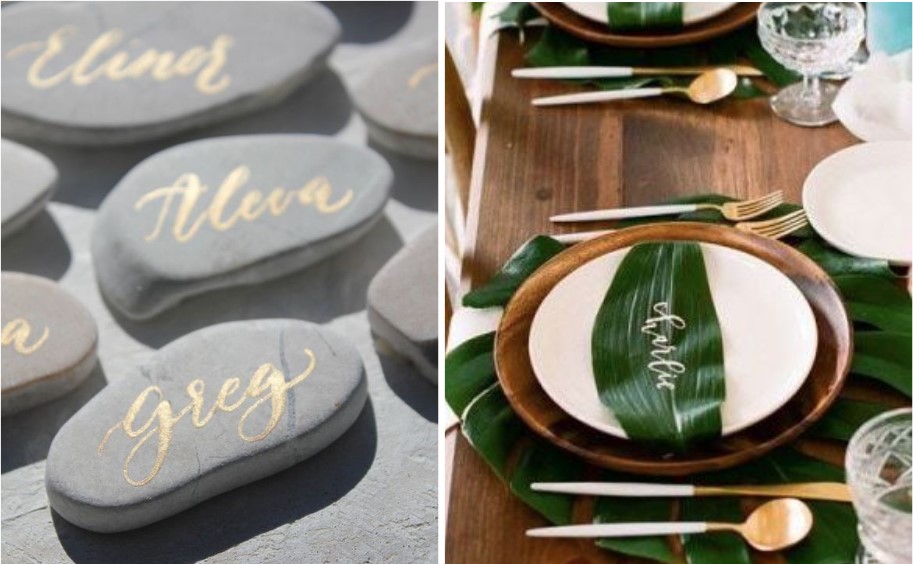 Source: Pinterest
A budget and eco-friendly way to replace the typical paper place cards is to paint your guests' names on rocks and stones that complement the aesthetic of a garden wedding. For a more personal touch, create the same effect with big, brightly-coloured leaves by drying them out and writing a small message to thank guests for coming to your wedding. Not only will these natural place cards reflect the beautiful surroundings of outdoor wedding venue, but they can also double as gifts for your guests to take home!
2. Crystal Place Cards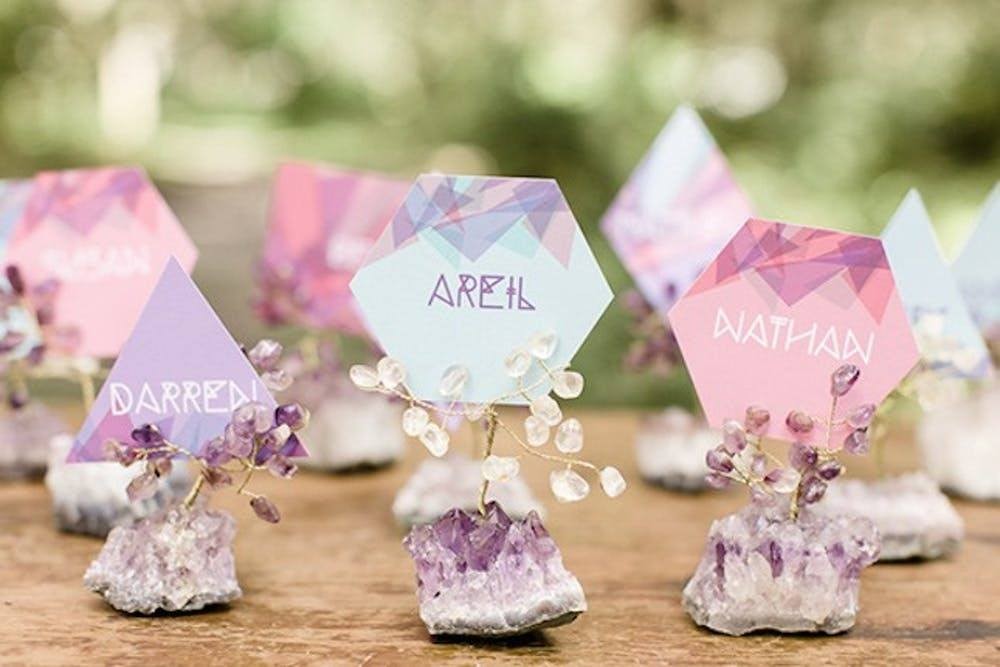 Source: Pinterest
These alluring additions are sure to charm and dazzle your guests while making for beautiful keepsakes long after the ceremony is over. Consider agate, amethyst, or rose quartz, which is also known as the crystal of love to bring some love into your guests' lives instead! Besides holding symbolic meanings, crystals are also able to fit into any modern or boho wedding theme easily. If you are expecting a smaller guest list, you may even curate the crystals for each guest according to what you think suits them best!
3. Edible Place Cards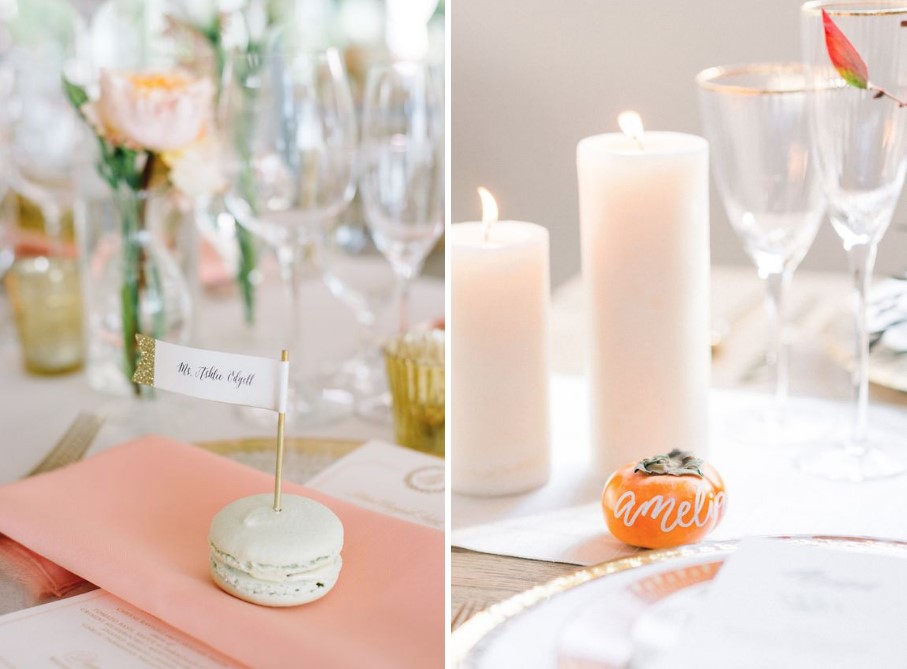 Source: Pinterest
Expect this to be a definite crowd-pleaser – we are talking macarons, mini doughnuts, chocolate truffles, cake pops and more!
You can even go for fruits such as oranges, pomegranates, and strawberries to add a pop of colour to your table setup – there's no better way to signify sweet, sweet beginnings. Plus, they fit right in with the rest of your delectable menu!
Bonus tip: hosting guests who are above the legal age? Get some personalised shot glasses to kick start the party on a high (no pun intended) note!
4. Sealed Place Cards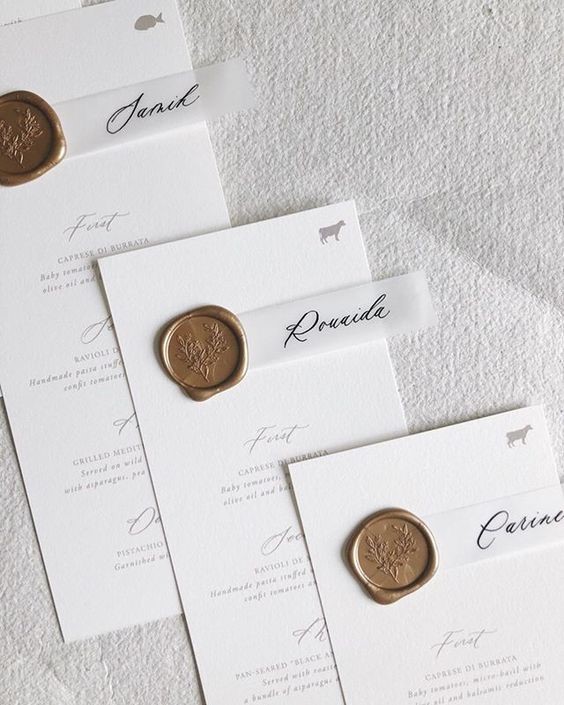 Source: Pinterest
For an opulent finish fit for a lavish wedding affair, try sealed place cards. In fact, you don't have to splurge in order to get a custom-made seal with you and your partner's initials. These unique gilded place cards are beautiful and easy to make with just a drop of wax – giving a regal touch to any occasion.
Complement your wedding gown and wedding rings by using a similar shade of white or gold to tie everything together and attain instant queen status!
5. Wedding Favour Place Cards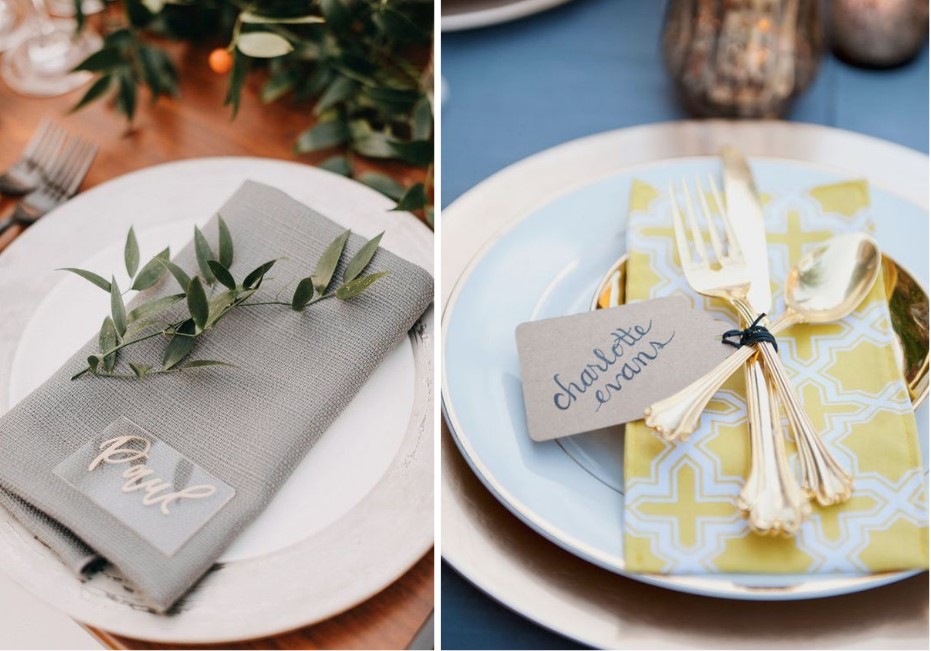 Source: Pinterest
Turn your place cards into awesome wedding favours that fit right into the theme of your wedding!
Whether it's in the form of silver-plated spoons and forks for guests to tuck into the delicious buffet spread, or a pair of sunglasses that guests can use in a sunny, outdoor ceremony, the options are simply limited to your imagination!
As you can see, wedding place cards are far from boring – in fact, they are anything but that! The best way to go about them is to get as creative as possible to make your guests feel special and right at home.