Dressing the Groomsmen
2016-08-12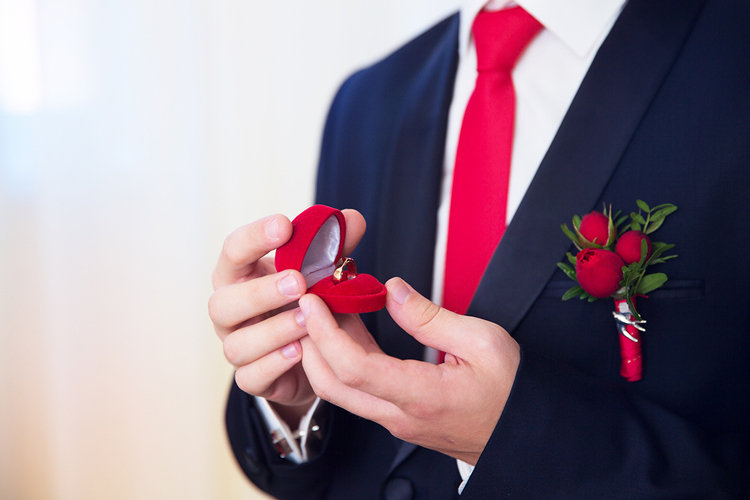 Your soon-to-be wife will look stunning at the altar, and you need to make sure you look great, too. Choosing a suit for you and your groomsmen is one of the responsibilities you will have before the wedding day.
A suit for your shape
Not all suits are created equal, neither are all grooms. Choosing the right clothes for the groom is just as important as choosing the dress.

Tall & Slim: Lucky you! You can carry off fashionable five-button jacket or double-breasted suit with ease. Higher necklines emphasise a long upper body and will look great on you.
Tall & Broad: Go for a shawl collar and a deep V to visually lengthen your upper body. Trousers with a subtle stripe are slimming and help avoid a 'blocky' look. Suits in a darker colour are often the best choice.
Short & Slim: Tailoring is important. Choose a well-made two or three-button jacket paired with pleated trousers. Black or very dark suits are best avoided; go for pale greys or creams.
Short & Stocky: Shoulder pads make the waist look smaller, as does a deep V neckline. Avoid pleated trousers which will just make you look round! Dark grey is a better colour choice than black.
Beyond the tux
For formal weddings, the male members of the wedding party should dress in a similar style to the groom, but not identically. A popular approach is for the groom to wear a neutral-coloured tie while the groomsmen wear the same style suit, but use accessories such as boutonnieres or ties in colours that coordinate with the bridesmaids' dresses.
If you're having a casual affair, go ahead and ditch the tuxes. Instead, dress the guys in blazers, and match something in their outfits (a pocket square, a tie, a belt, or even their socks) with the overall colour scheme. For a great casual look, have your party wear khaki pants they already own, and ask them to all get the same navy blazer.
With beach and outdoor weddings increasing in popularity, you won't even need this kind of formality. For such weddings, lighter-coloured fabrics – light grey or perhaps even cream or white – and cool crease-resistant fabrics look great.
Vary it up
The outfits worn by the groomsmen should be complimentary to that worn by the groom, yet still be understated. Your suit should be a sharper cut than theirs, and possibly feature some special detail. Another way to set yourself apart is to have a unique feature to your outfit such as a boutonniere complimenting the colour of the groomsmen's shirts, as their shirts should be a different colour to yours. Depending on how adventurous you are, you could even wear a suit of a different colour to really show who is the man of the hour.
It's totally acceptable to have the best man's boutonniere be different than the other members of the party. If the men in your party object to donning flowers of any sort, or if you want a more masculine look, consider boutonnieres of wheat, herbs, or leaves.
Meaningful gifts
For standing by you on the biggest day of your life, your groomsmen definitely deserve a token of appreciation from you. If your groomsmen are white-collared business types, chances are they spend a lot of their workweek in a dress shirt and pants. Give them a unique, personalised gift that will add to their wedding day style and that they'll also be able to use again and again. Cufflinks with their initials are a great gift, or you can go for styles that suit the personality of the guy who'll wear them. For the banker, get dollar signs or 'buy' and 'sell' links; for the IT geek, tiny laptop or mobile phone cufflinks. The men in your party will appreciate the thought, and they'll also be thankful that they don't have something identical to the other five groomsmen at your wedding.