How to Best Match Your Diamond Engagement Ring with Your Wedding Band
2021-02-14


Now that you are engaged, the next item that you will check out will be your wedding bands. The most common way to wear it that comes to mind is to stack the engagement ring on top, but since rings come in different shapes, settings, and sizes, how do you know which designs best complement each other?
To flaunt your new married status with style and comfort, here are some ring matching tips from Love & Co.!
The perfect stacking pairings
For those of you who plan to have both rings on your left ring finger, here are some options to consider, depending on your engagement ring design:
If you have a classic solitaire ring
If you love a glamorous, dazzling look, we recommend pairing your classic solitaire engagement ring with a thin pavé diamond band. This will help you to achieve maximum sparkle and brilliance, allowing you to stun all who gaze upon your rings!

LVC Eterno Wedding Band in White Gold with Brilliant Diamonds | Shop collection here
One such pavé diamond wedding band is the LVC Eterno, which has many different settings that you can choose from. Featuring a blinding array of diamonds that can be arranged in either a channel or pavé setting, you can also decide if you want a half eternity ring, which displays diamonds on the top half of the band, or a full eternity ring.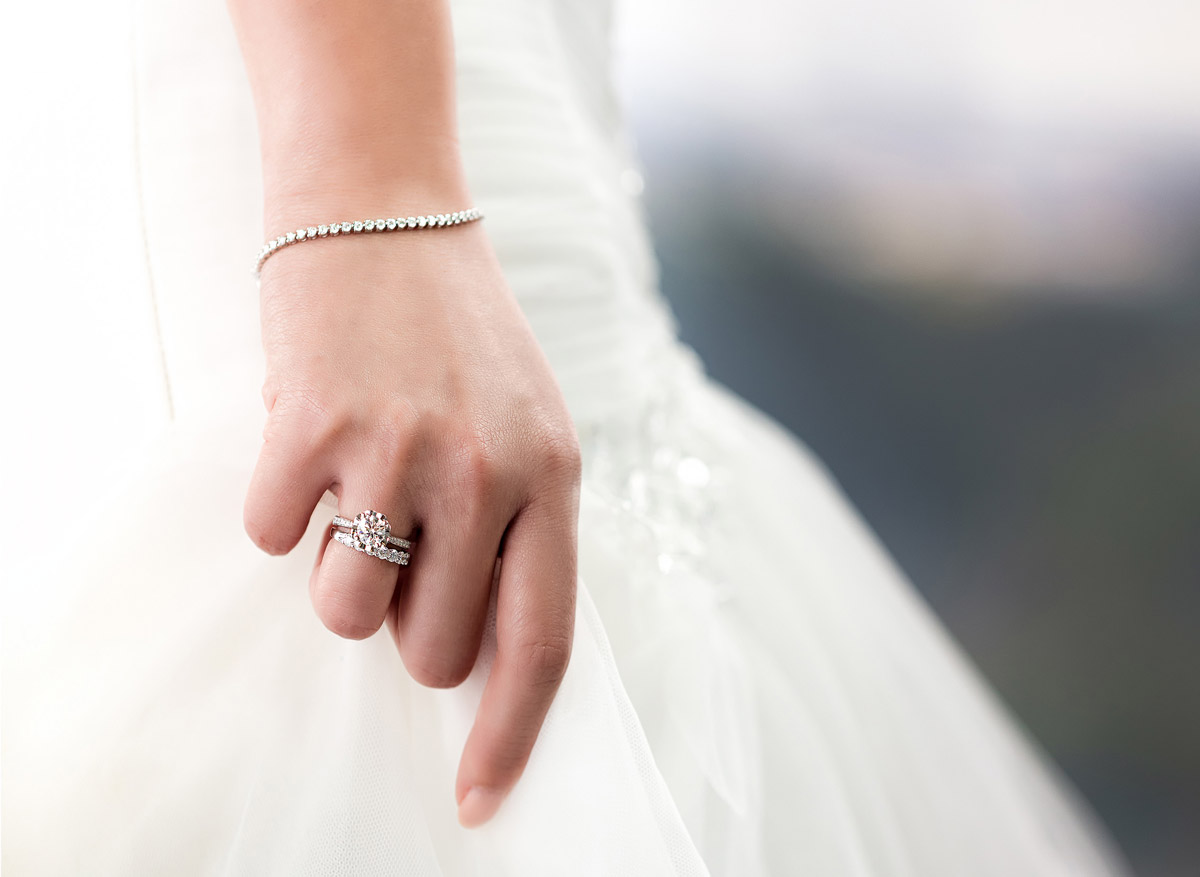 If you prefer a sleek, sophisticated look, you can also opt for a tapered wedding band — one that becomes thinner in the centre. As solitaire rings often sit on a slender cross-section, this style will fit around the engagement ring and create a seamless, beautiful ring pairing.
If you have a wavy/twist solitaire diamond ring
For those of you who are wearing the wavy or twist solitaire ring, it's best to choose a band that complements the curves of your engagement ring so that the pair will lay flush on your finger! This will not only ensure that the overall look is symmetrical and balanced since your diamond has a perfect space to sit, but also gives you an opportunity to add an extra stack of lustre and colour.

LVC Perfection Hope Wedding Band | Shop collection here
The curved design of the LVC Perfection wedding band allows the bride to stack her unique engagement ring on it neatly and snugly. It also comes in dual tones, 18K white and rose gold, and has diamonds to add some bling to the ring combination!
If you have a diamond ring that is set in a pavé band
If your engagement ring is set in either pavé or channel setting, you can consider a minimalist, gem-free wedding band to let your sparkler take centre stage! This pairing will provide a timeless, understated elegance to the wearer, and is a style that will never go out of trend.

LVC Classique wedding bands | Shop collection here
The LVC Classique is ideal for this, with its collection featuring comfortable, quintessential wedding bands in yellow gold, white gold, rose gold, and platinum that can be easily matched with rings of other designs.
If you have a halo diamond ring
Halo engagement rings have a delicate and exquisite beauty of its own. If you do not wish to distract from it, a simple wedding band such as a plain band or an eternity band will do the trick. However, the diamonds in a halo engagement ring often sit slightly higher, so remember to choose a thin wedding band for your rings to fit nicely!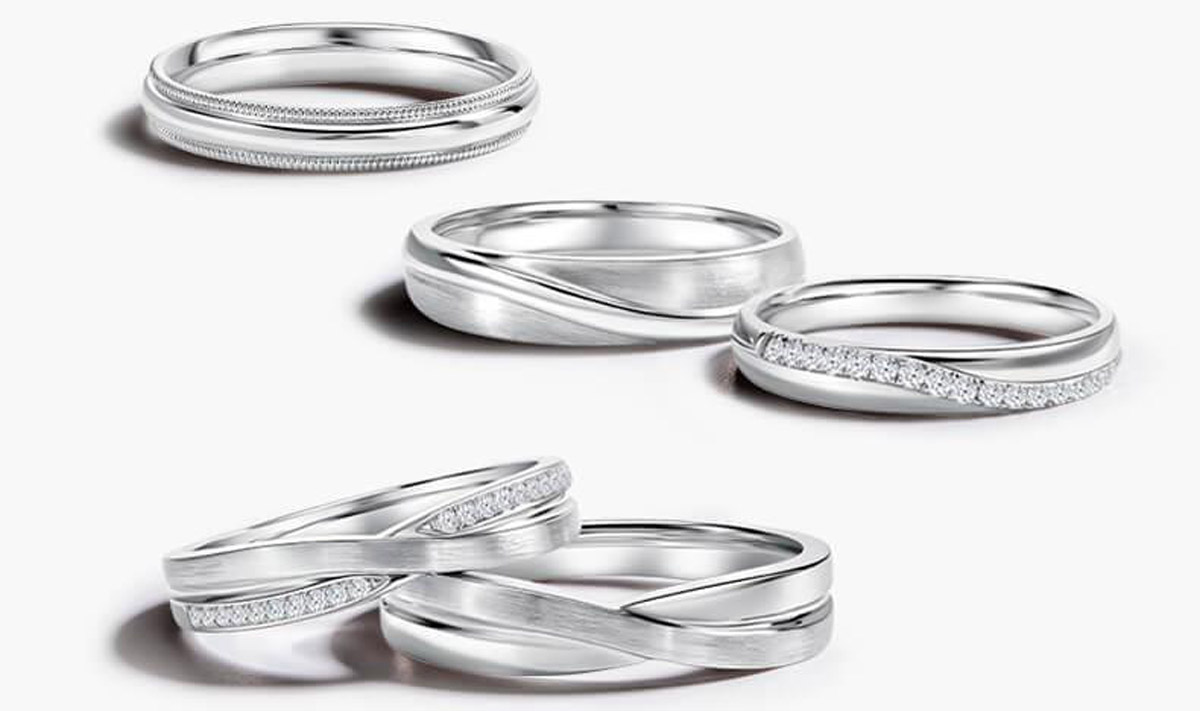 LVC Purete wedding bands | Shop collection here
Worth considering is the LVC Purete, which artfully combines sophistication and simplicity by using platinum. The result is an immaculate and polished ring design, well-suited for highlighting the radiance of your engagement ring.
If you wish to spice things up
To shake things up and add a refreshing element to your engagement ring and wedding ring pairing, try a duo-tone wedding band! All you need is to ensure that there is at least one gold type that both rings share, so that the entire look is tied together cohesively while showcasing your fun and creative side.

LVC Desirio wedding bands | Shop collection here
Representing independence, confidence, and style, the LVC Desirio is a good example of such a wedding band. Made of at least 2 different 18K gold, it not only adds a special spin to your ring combination, but also acts as a personal expression of you as an individual and couple.
When more is better
"But what if I wish to wear my rings on separate hands?"
Fret not, because we got your back if you wish to don your rings separately — simply look for a thicker wedding band so that both your hands shine equally!

LVC Promise wedding bands | Shop collection here
Love & Co.'s iconic LVC Promise and LVC Noeud are collections that you may love, with both of them featuring unconventional and eye-catching designs that represent meaningful promises and values related to marriage.

LVC Noeud wedding bands | Shop collection here
Inspired by the strength of a bolt and nut when joined together, any LVC Promise wedding band is a display of the resolute bond of two lovebirds coming together as one, while LVC Noeud bands feature a delicate bow that acts as a sweet declaration of commitment, symbolising the notion of tying the knot.
Find your best match at Love & Co.

Whatever design you choose, ultimately, what matters most is that your wedding band speaks to your heart.
A representation of the intimate and irreplaceable connection between you and your partner, there is no textbook answer when it comes to pairing your engagement and wedding rings; take your pick from the wide variety of wedding band designs at Love & Co., all crafted with the utmost care and precision!
If you need more ring pairing inspirations, view the top 5 most popular wedding rings from Love & Co. here or book an appointment via this link to speak to a consultant. Alternatively, simply drop an email to contact@love-and-co.com.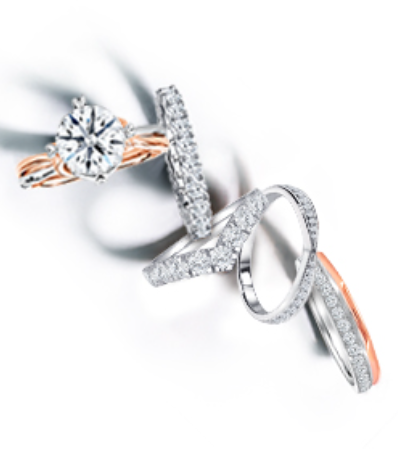 Love & Co Pte Ltd
Rating:

Address:

7 Changi Business Park Vista #01-01, Singapore 486042

Phone:

6812 2800