4 Things to Look out for when Choosing a Wedding Caterer
2019-10-02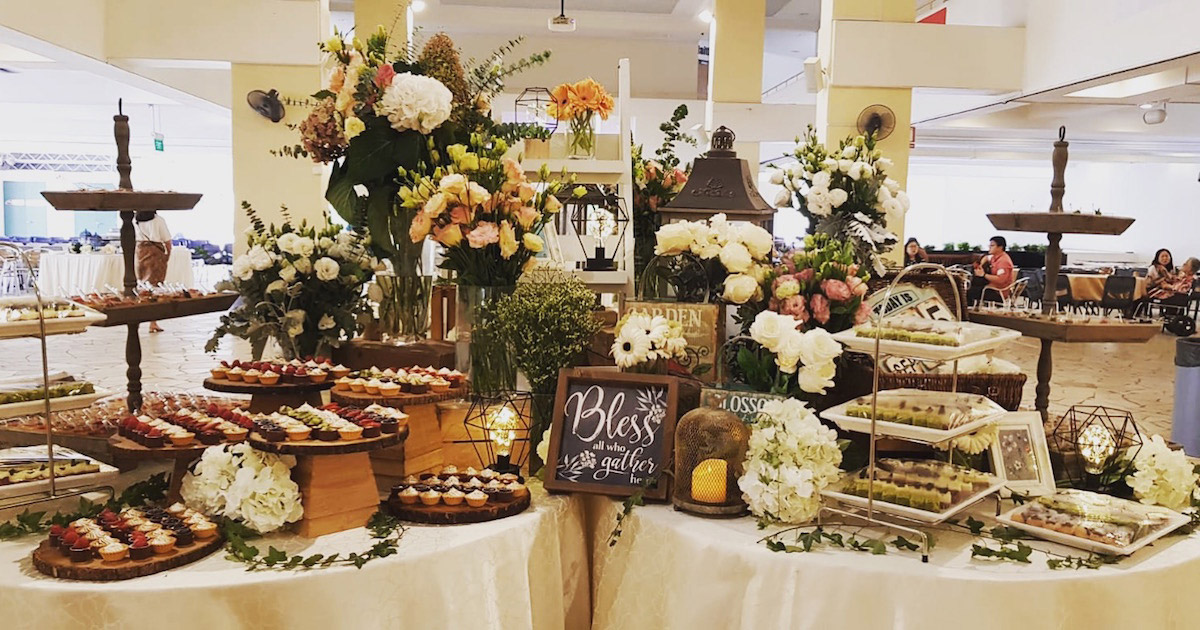 Nothing beats good food and company at a wedding. As we come together as friends and family to celebrate this joyous occasion, apart from adorable wedding videos, your next best bet to entertaining your guests lies with the food.
To ensure that you pick a wedding caterer whose food can keep the communal spirit aloft and everybody's tummy delightfully satisfied, here are some tips on how to find the most suitable caterer for your big day!
1. Logistics & Availability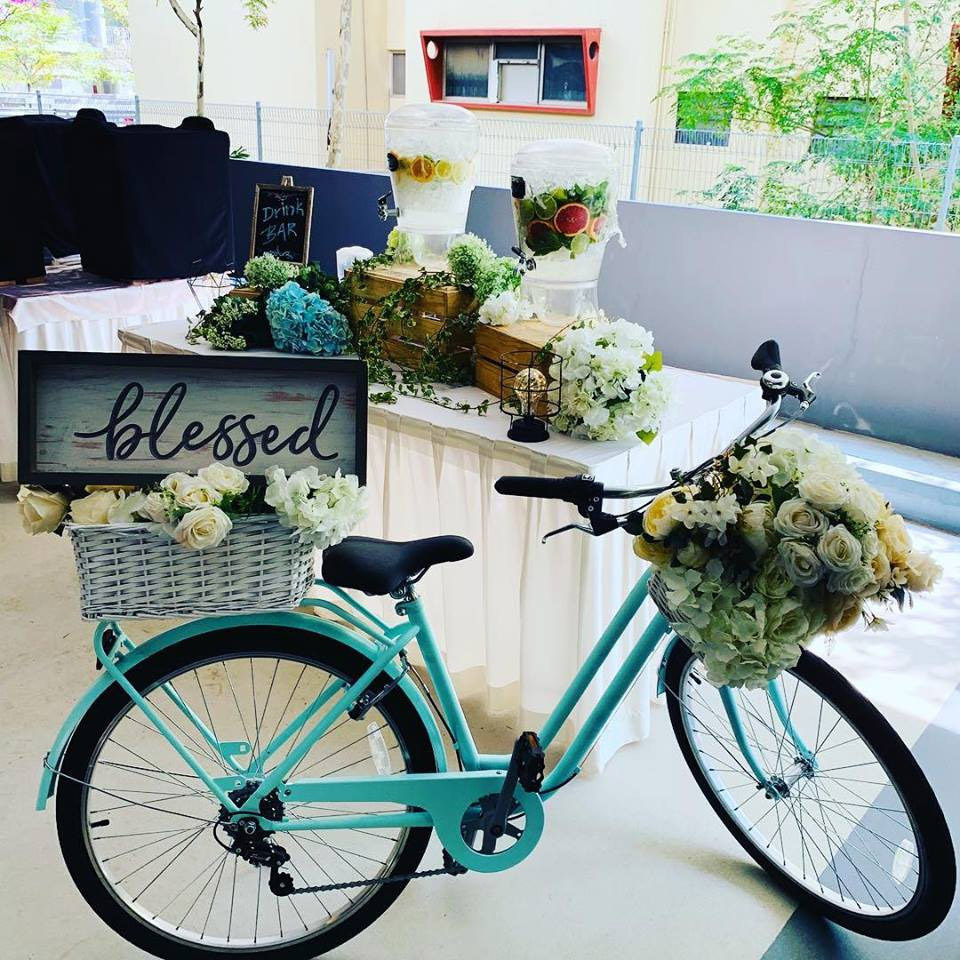 You'll need your caterer to able to arrive early on the day of your wedding – or even the day before – to set up and prep for the grand event. Always make sure to check that the venue is compatible with the caterer – if there are going to be live stations, are there sufficient power points and space for cooking hobs and the chefs themselves?
We recommend showing your shortlisted caterers the floorplan of the desired reception and dining areas beforehand so that they can plan ahead and let you know if there are any restrictions.
2. Food & Drinks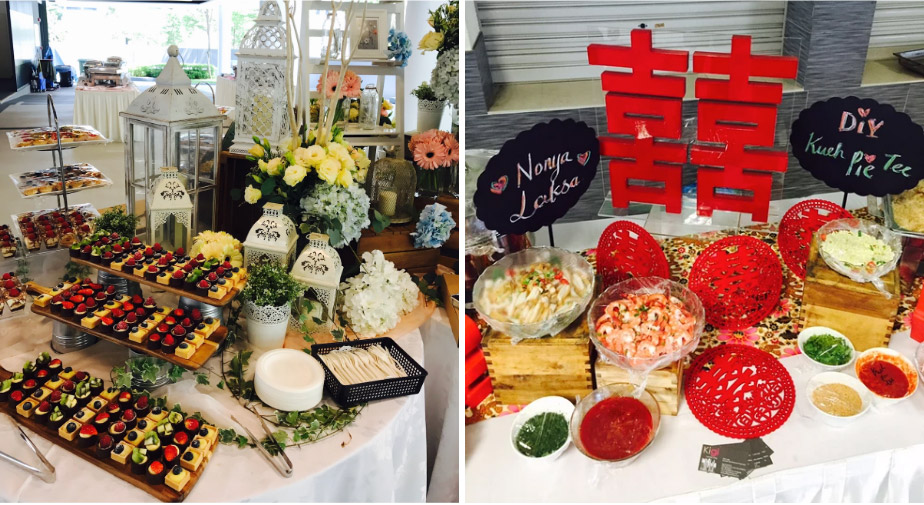 Besides relying on online reviews, reach out to the wedding caterer for food tasting sessions. You might have to pay more, but ultimately, it will be worth it. After all, food is the way to a man's heart and you want to keep everyone – especially yourself – happy on your special day.
Make a mental note to find out if the caterer has the thematic set-up that you've always fantasised about as well because for a smooth-sailing dream wedding, food and decor should always go hand in hand. Think bright greens in fresh salads for a garden-themed wedding, or more traditional curry rempah for a cosy, local flair.
Whatever your preference or special dietary needs, it is best that your caterer either has a dedicated set menu ready or is able to personalise one for you. Always pick the caterer who's willing to listen and provide the perfect menu.
3. Decor & Flowers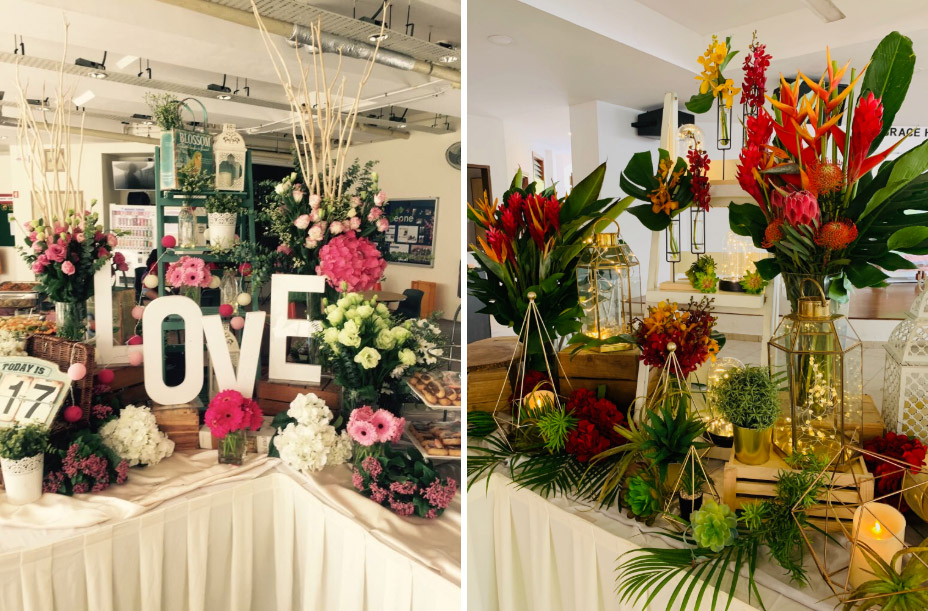 LOVE & Romance and Tropical themes from Kigi Catering
With that being said, a customised menu is best served with nuptial decor that is also distinctly you. Some amazing caterers do come with complete sets of china, flower arrangements, and uniformed staff, so keep a lookout for those that also do themed decor styling and know the importance of personalisation at a wedding!
Whether it's an oriental Nyonya tribute, rustic garden concept, or a whimsical fairytale theme, make sure to check that the caterer you have in mind offers that in their repertoire of thematic decor. This way, you won't have to trouble yourself about little details such as mismatched table cloths and chairs on your already-busy big day.
4. Quality & Promises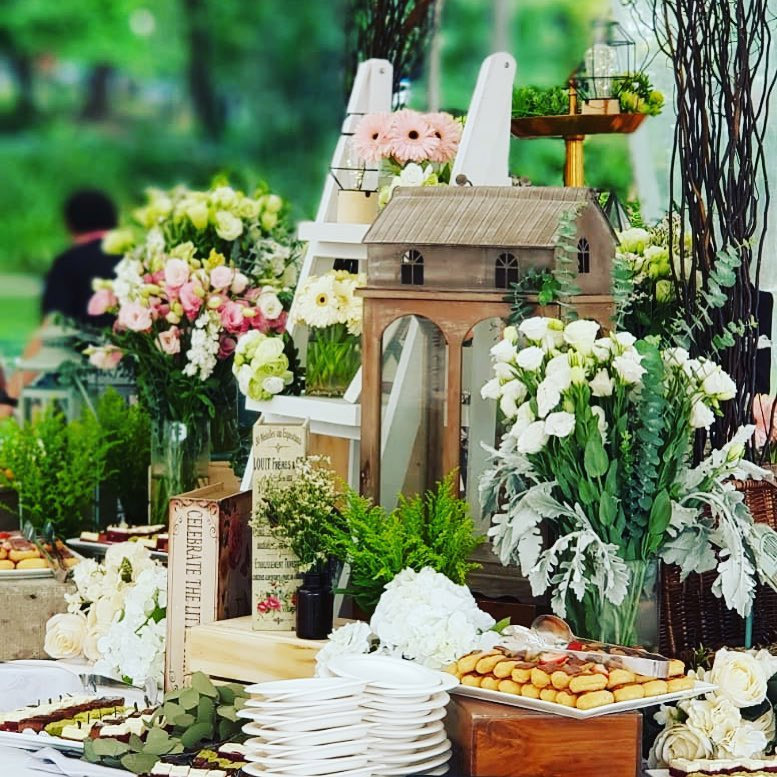 A caterer who is passionate about food and willing to go the extra mile to guarantee high-quality services should always be high on your list. To determine if a wedding caterer is such a gem, pay close attention to the presentation of the dish during your food tasting session and find out how their food is made, as well as if they are open to special personalisation.
If the sample dish is properly plated, chances are, you've got yourself a caterer who takes ownership in their work and is unlikely to skimp on the little details on your big day. It's even better if their dishes are all home-cooked with fresh ingredients!
Here's another pro-tip: double-check on their cancellation policies and clarify for any hidden costs that you could have accidentally incurred. With these sensitive details ironed out, you'll feel more at ease with working with the caterer.
Be Spoilt for Choices at Kigi Catering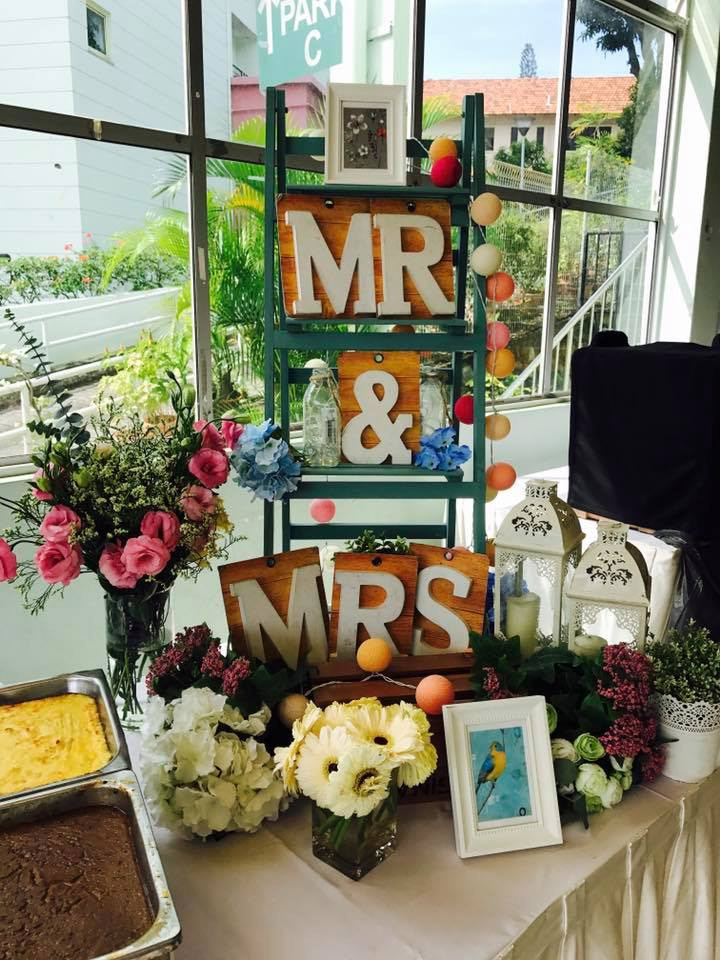 For a sure-win combination of stylish decor, old-school professionalism, and home-cooked goodness, entrust your food and venue to Kigi Catering! A boutique caterer that specialises in church wedding events, Kigi offers superb gourmet choices home-cooked with fresh ingredients, highly-personalised service, and themed aesthetics.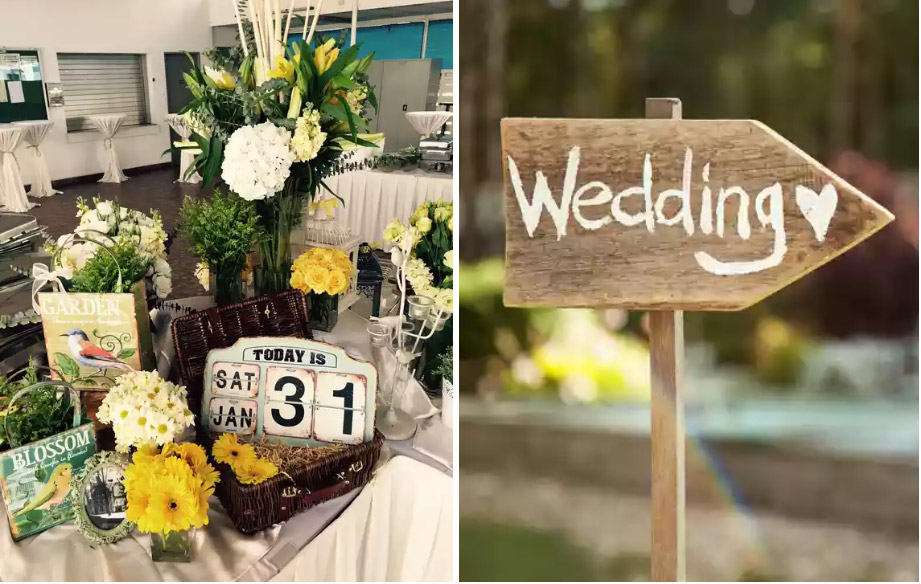 With a passion to provide the best for every wedding, it is through the tiny details that their efforts shine through. From a curated assortment of novelties such as photo-worthy vintage calendars and antique garden lamps to stylish bar set-ups for something as simple as citrus-infused beverages, Kigi even uses biodegradable wares for the eco-conscious and spares no expense to transform a venue into your dream wedding.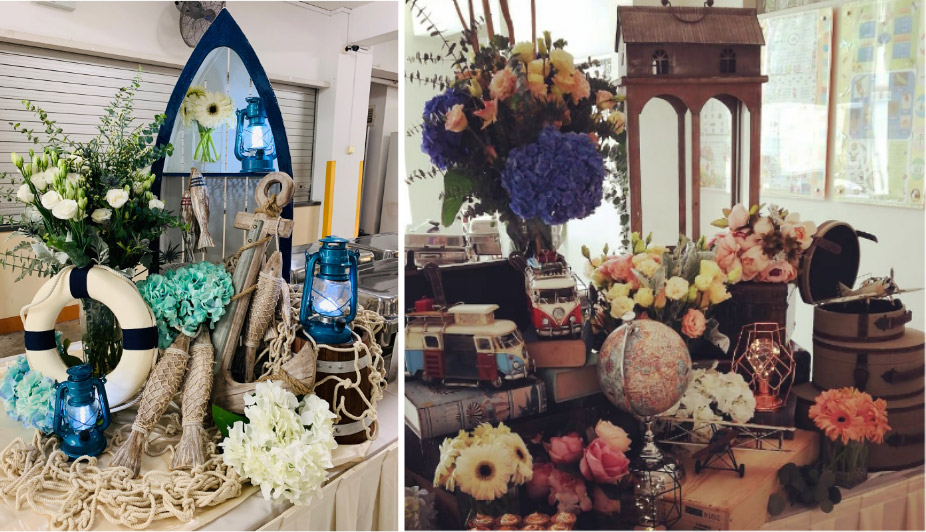 Nautical and Travel themes
In fact, Kigi Catering only has a limited number of slots available per day to guarantee high-quality services. They have a total of 8 different thematic setups for you to choose from – Vintage Garden, Oriental Nyonya, LOVE & Romance, Nautical, Botanical, and more – and each comes with customisable colour themes as well as personalised decor pieces!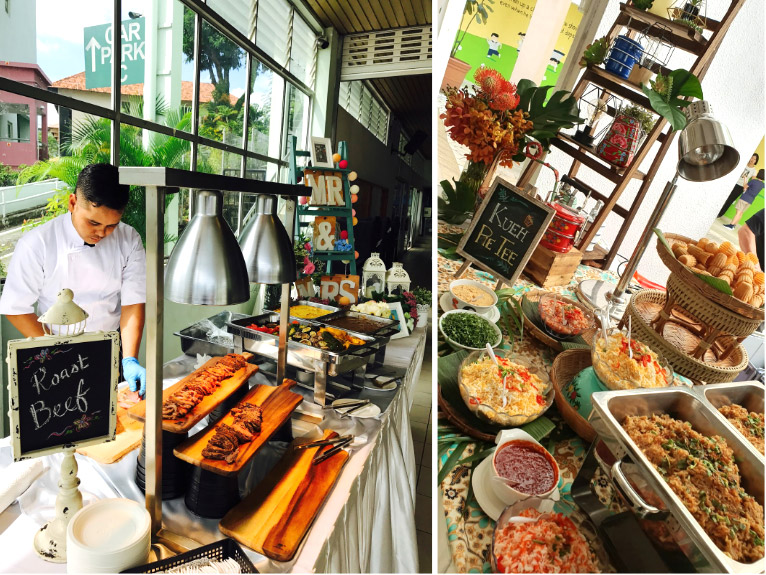 Roast Beef and Kueh Pie Tee Live Stations
Food-wise, they are Halal-certified with a wide variety of dishes that will cater to all guests, young and old, with live stations available if requested. A firm believer that old is gold, their speciality lies in honest-to-goodness cooking techniques and recipes. Curries are made from scratch, coconut milk is cold-pressed instead of powdered, and potatoes are boiled, peeled, and mashed manually to craft a pie.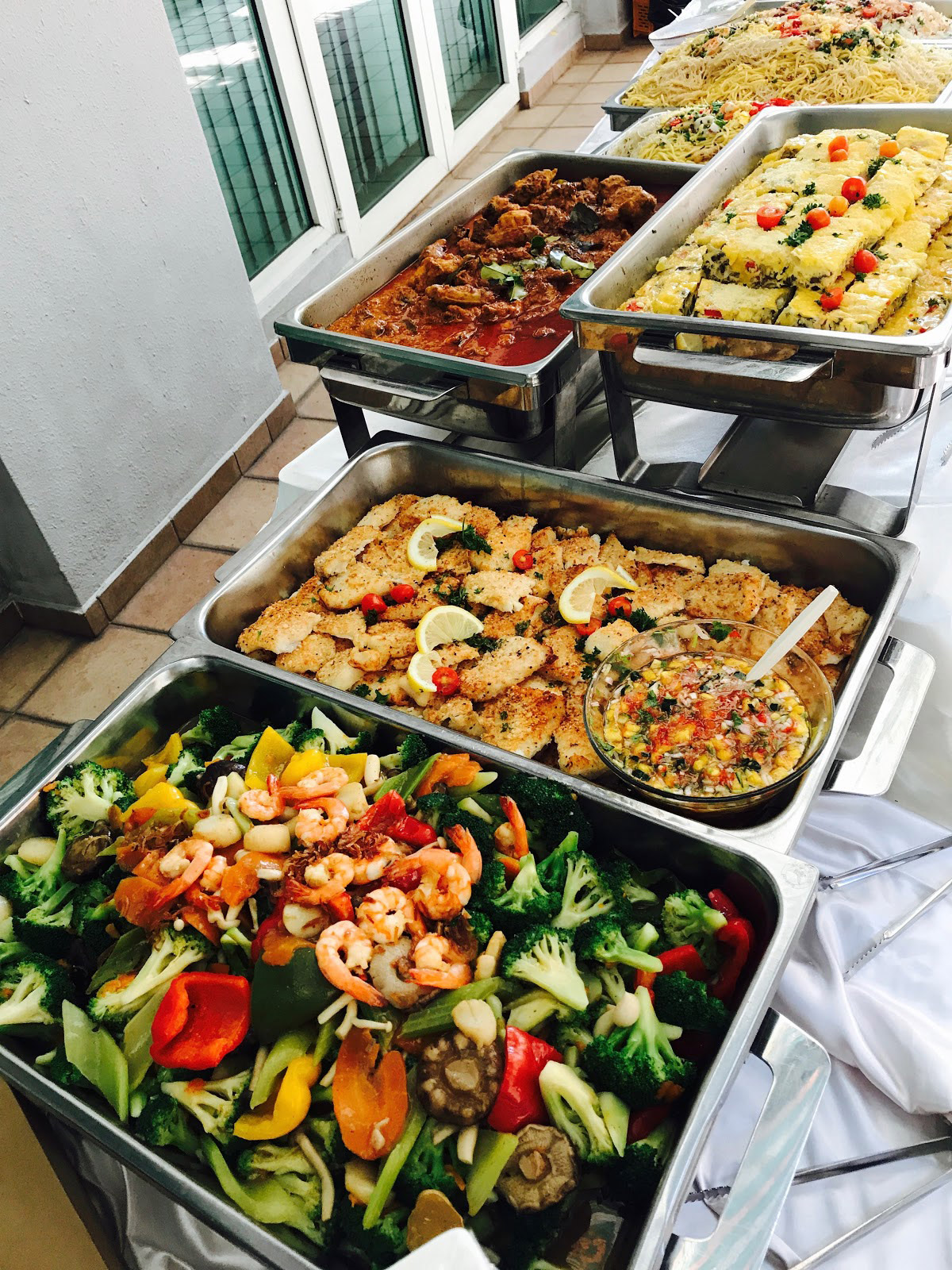 Some dishes include Wok-fried Hokkien Prawn Mee, Parmesan Almond Crumbled Fish Fillet, Beef Rendang Shepherd's Pie, Handcrafted Lemon meringue Tartlets, and more.
For a worry-free and spectacular celebration of you and your love, contact Kigi Catering at 67494858 or click here to find out more!
This article was sponsored by Kigi Catering.
All images belong to Kigi Catering.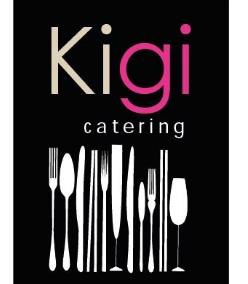 Kigi Catering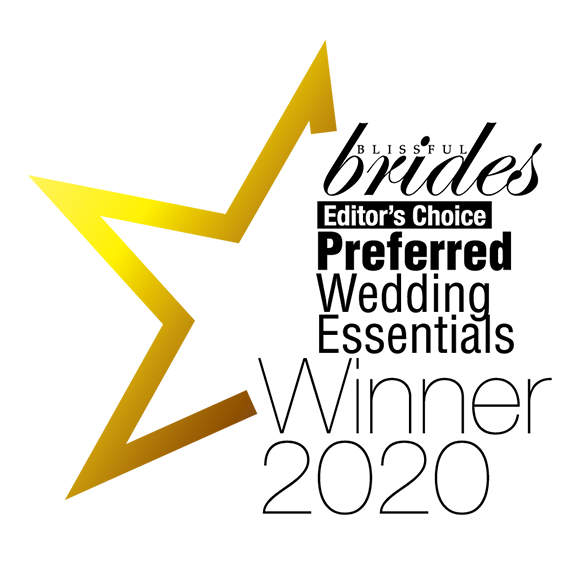 Rating:

Address:

11 Kaki Bukit Road 1 #05-01 Eunos Technolink Singapore 415939

Phone:

67494858