Angie and Jeff's Wedding Journey: Memorable Moments and Exceptional Vendors
2023-07-14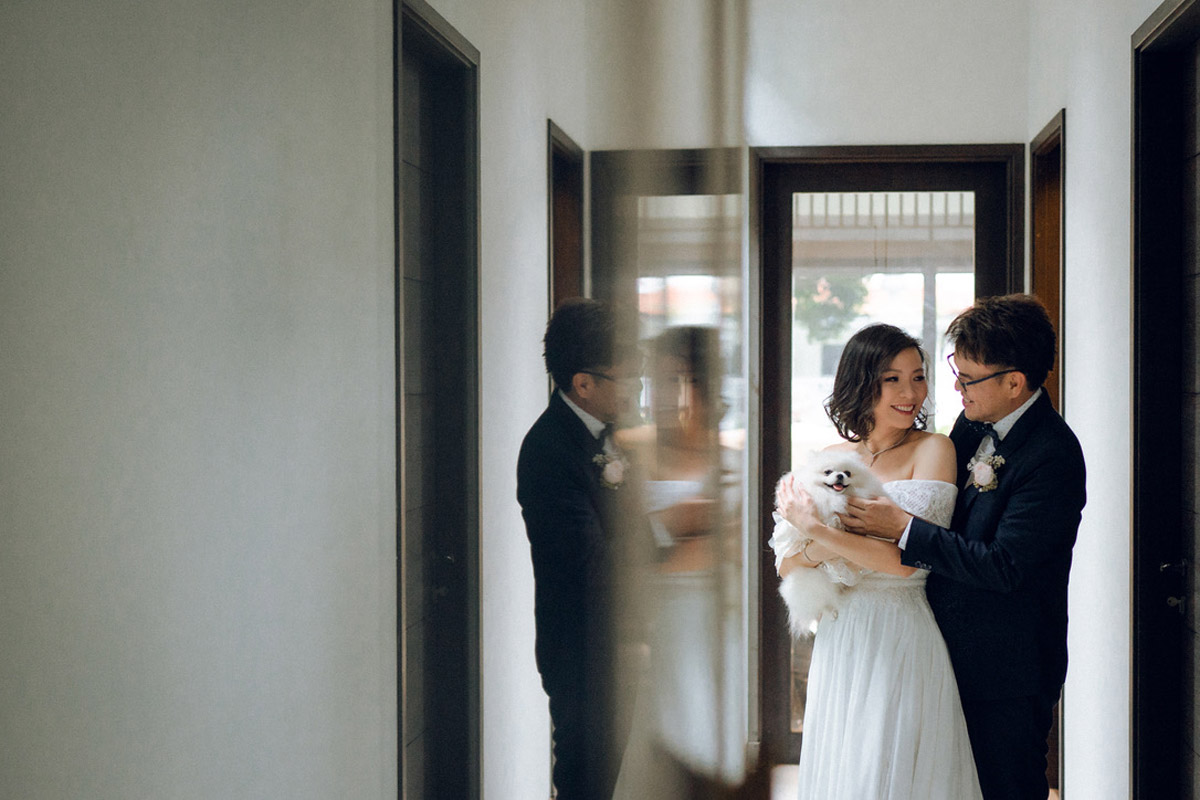 Join us as we delve into Angie and Jeff's wedding journey, highlighting their memorable wedding moments, exceptional vendors who added their unique touch and the captivating elements of their wedding that transformed their special day into an unforgettable celebration of love.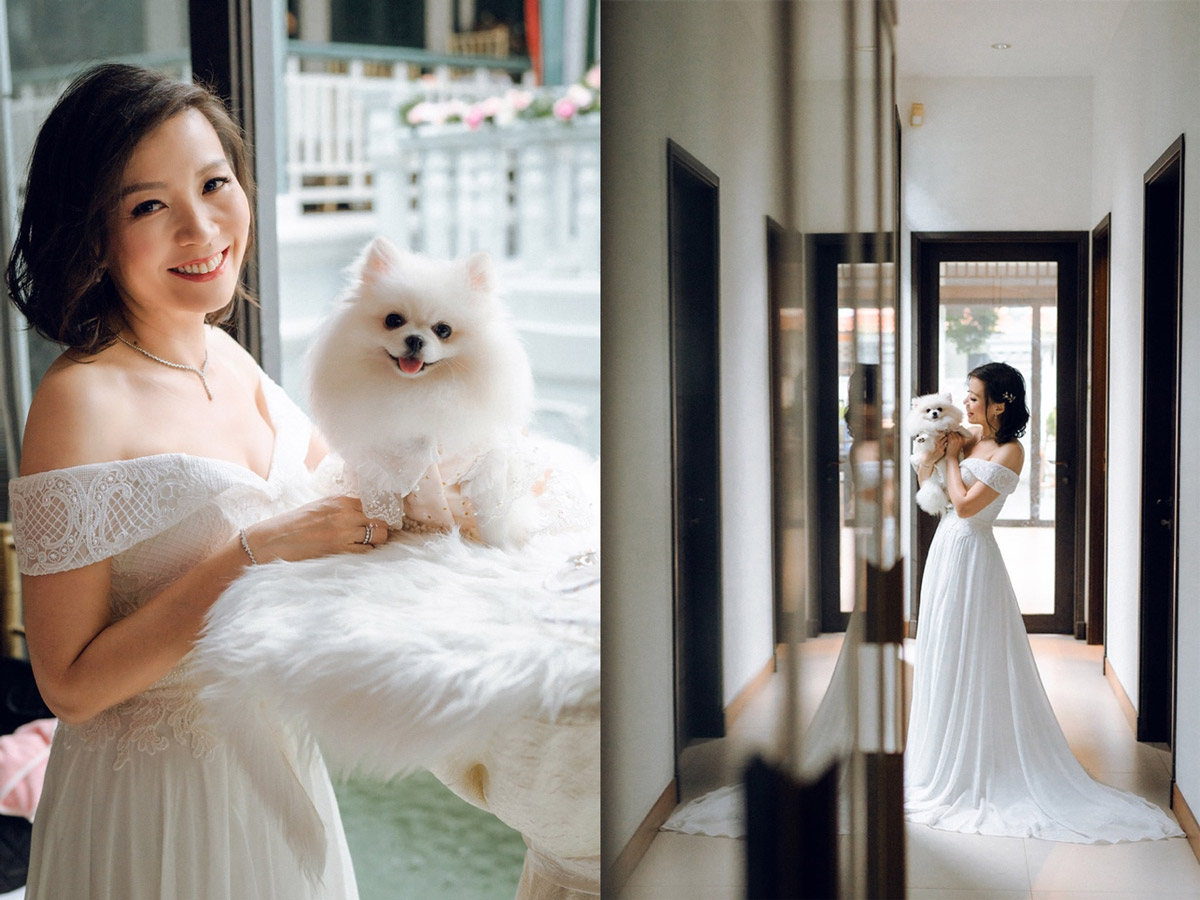 Memorable Moments
Angie: One of the most memorable moments from our wedding was the venue choice. We wanted to break away from the conventional wedding banquet, so we opted for a beautiful heritage house that offered both indoor seating and an outdoor Solemnization area.
With a lineup of engaging games, laughter filled the air, creating a heartfelt atmosphere that delighted our guests. The exceptional wedding musician added a touch of romance to the ambience. And amidst it all, Shanelle, my beloved Pomeranian, became a cherished part of our special day, capturing treasured memories in photos that will forever hold a special place in my heart.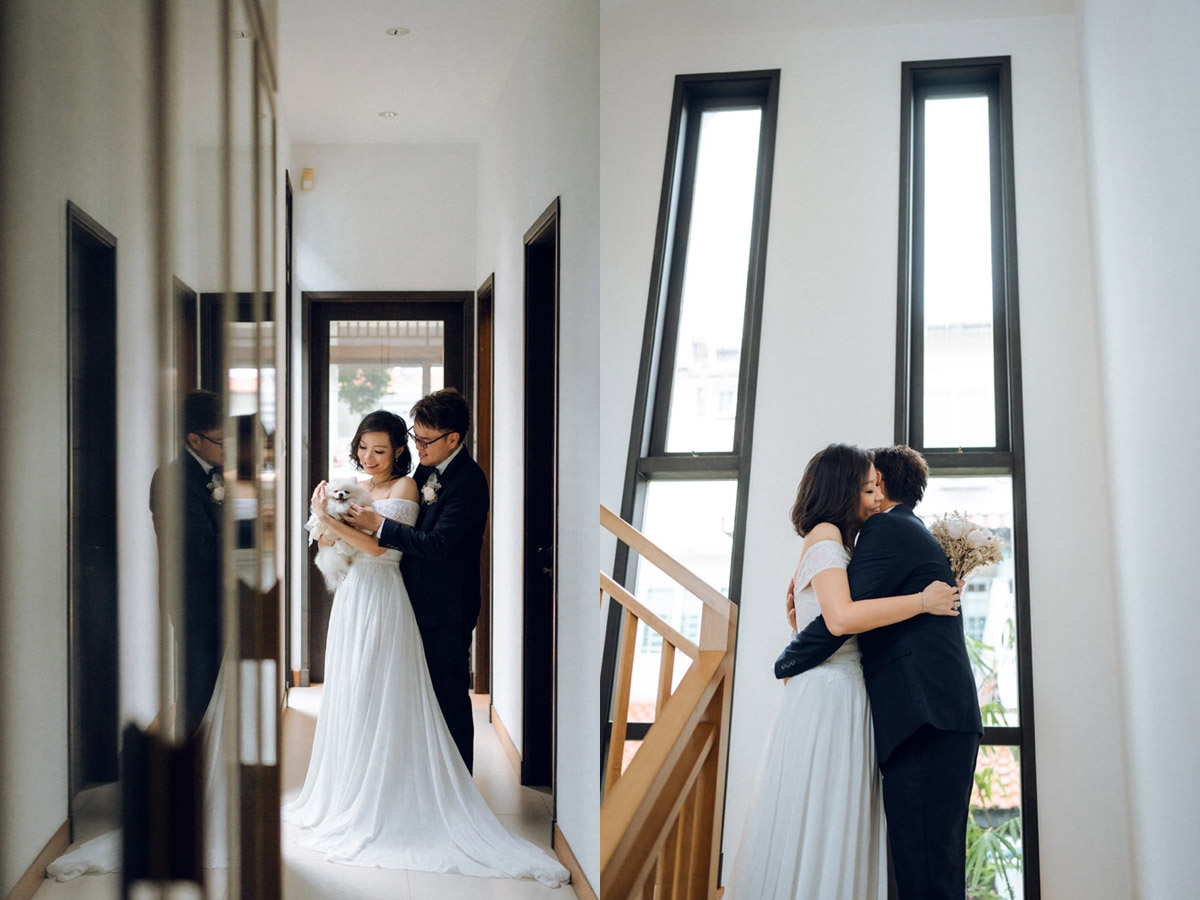 Overcoming Challenges as a Couple and Emerging Stronger Together
Jeff: As with any couple, we faced our fair share of challenges. Our individual lifestyles, values, perspectives, and beliefs sometimes clashed. However, we firmly believe that communication is the key to overcoming these obstacles. We learned to agree to disagree, finding common ground where our views aligned and establishing boundaries that we would not cross. It was crucial for us to remain objective and avoid being too emotional during disagreements. Whenever we found ourselves in an argument, we recognized the importance of taking a timeout. This allowed us to cool off individually and approach the discussion with a renewed sense of clarity and understanding.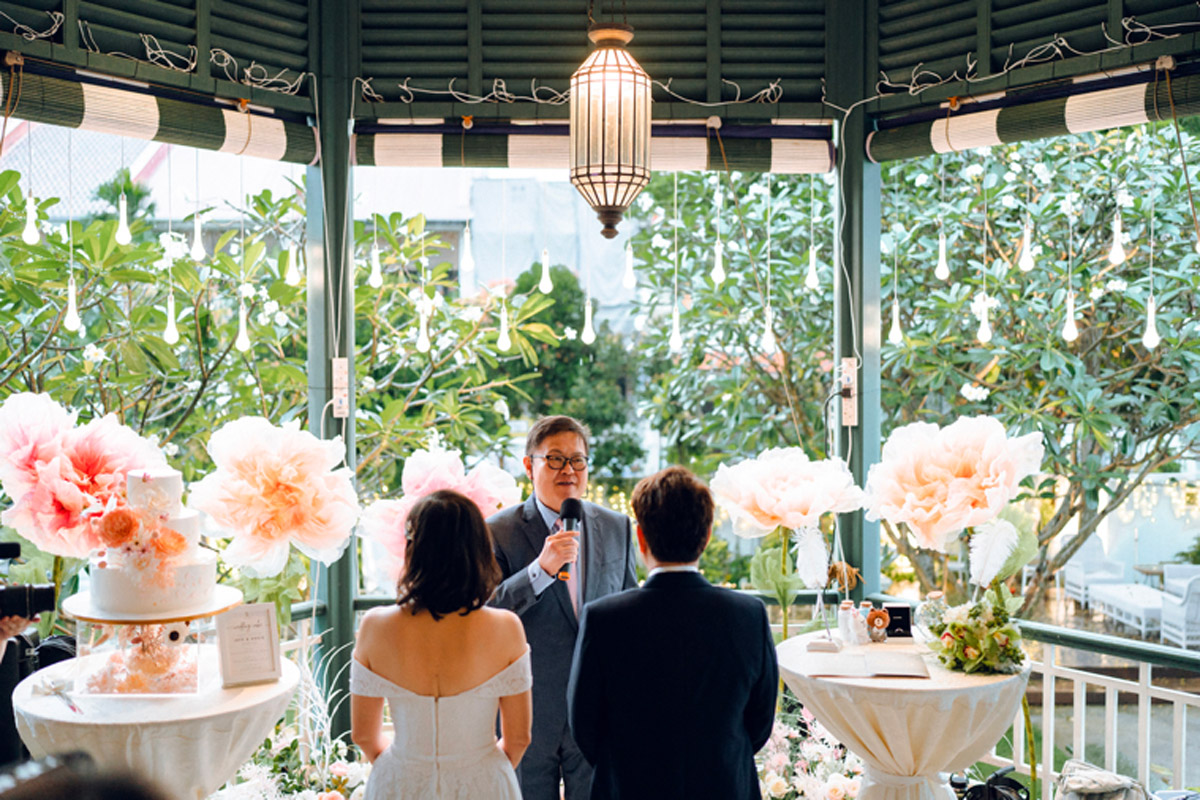 Advice for Couples Seeking a Lasting and Strong Relationship
Jeff: If there's one piece of advice I would give to other couples who want to build a strong relationship, it would be this: Remember that a relationship is a journey undertaken by two independent individuals. We mustn't take each other for granted. It's vital to maintain a heart of gratitude, understanding that our partner treating us well is a choice, not an entitlement. When gratitude disappears, our hearts can harden, leading to a sense of unappreciation and future problems. By cultivating gratitude and cherishing the love and care we receive, we can strengthen our bond and create a lasting connection.
Our love story is a testament to the power of communication, understanding, and gratitude. Angie and I have learned valuable lessons about building a strong and fulfilling relationship. We continue to walk this journey together, celebrating each other's individuality while cherishing the love that binds us.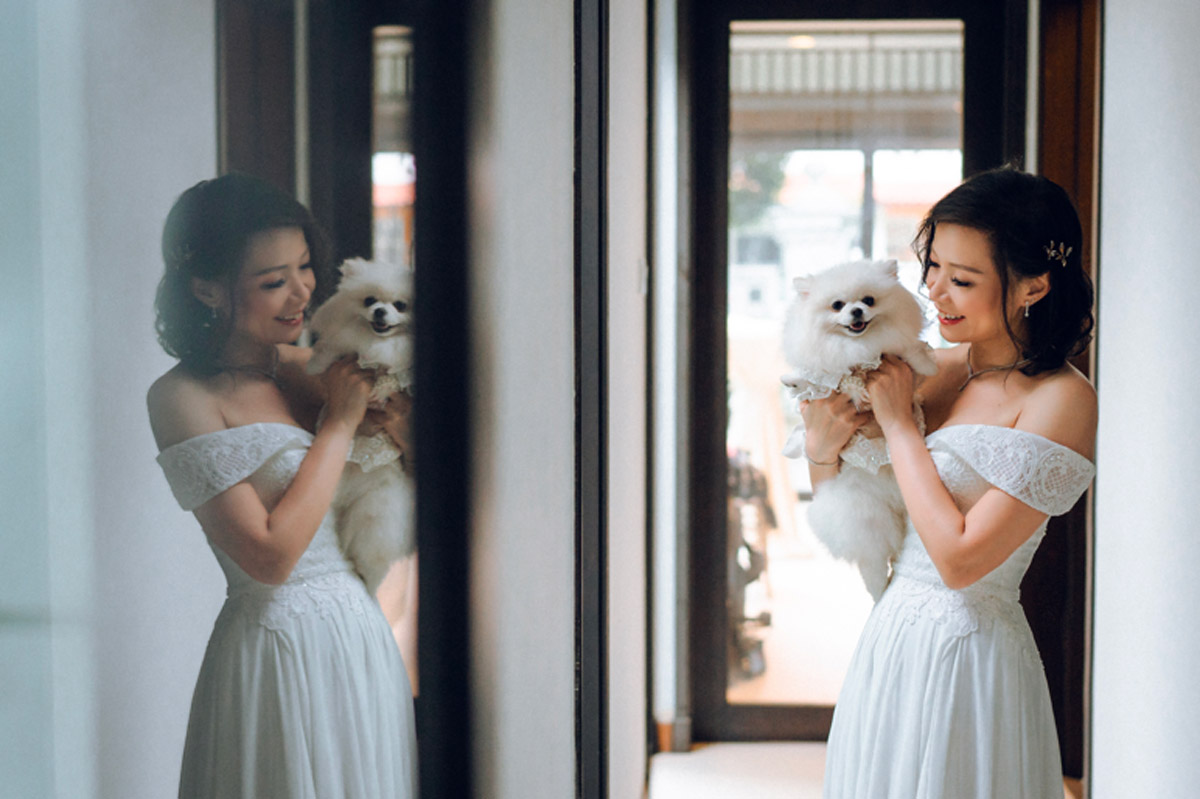 The Bridal Style
Angie: When it came to choosing my bridal look, I found inspiration from the timeless elegance of our wedding venue, Chapel 25, which is a Heritage house. With my wedding venue exuding classic charm and sophistication, I knew I wanted a bridal style that would complement its beauty. Keeping that in mind, I opted for something simple and classy. The Korean bridal look caught my eye as it perfectly embodied the essence of timelessness. It offered a graceful and refined aesthetic that I felt would harmonize flawlessly with the backdrop of the Heritage house.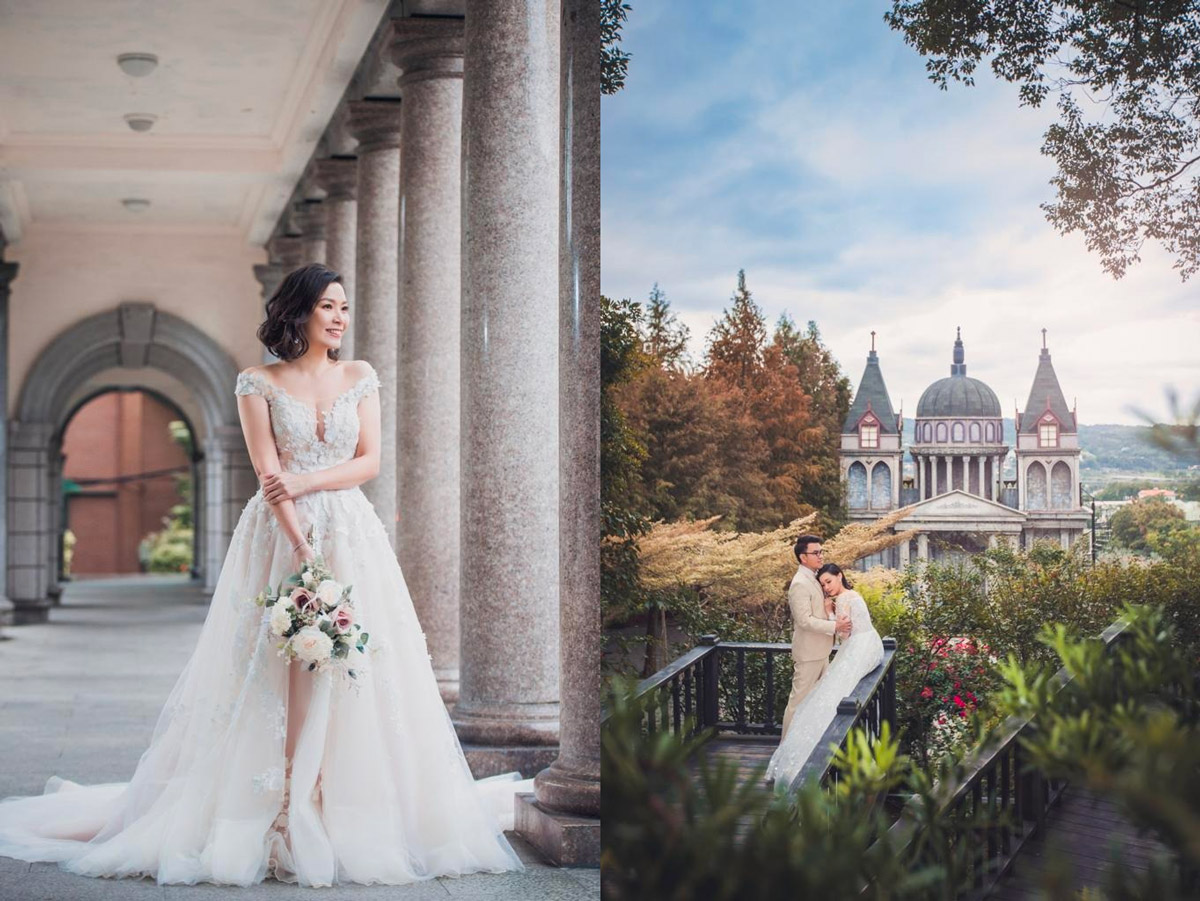 France Paris Bridal Boutique: Pre-Wedding Photo Shoot Experience
Angie: In my line of work, I've come across numerous wedding photography collections featuring different couples. However, I desired something distinct for my own wedding photos. That's why I made the decision to travel to Taiwan and have my pre-wedding shoot at the France Paris Bridal Boutique.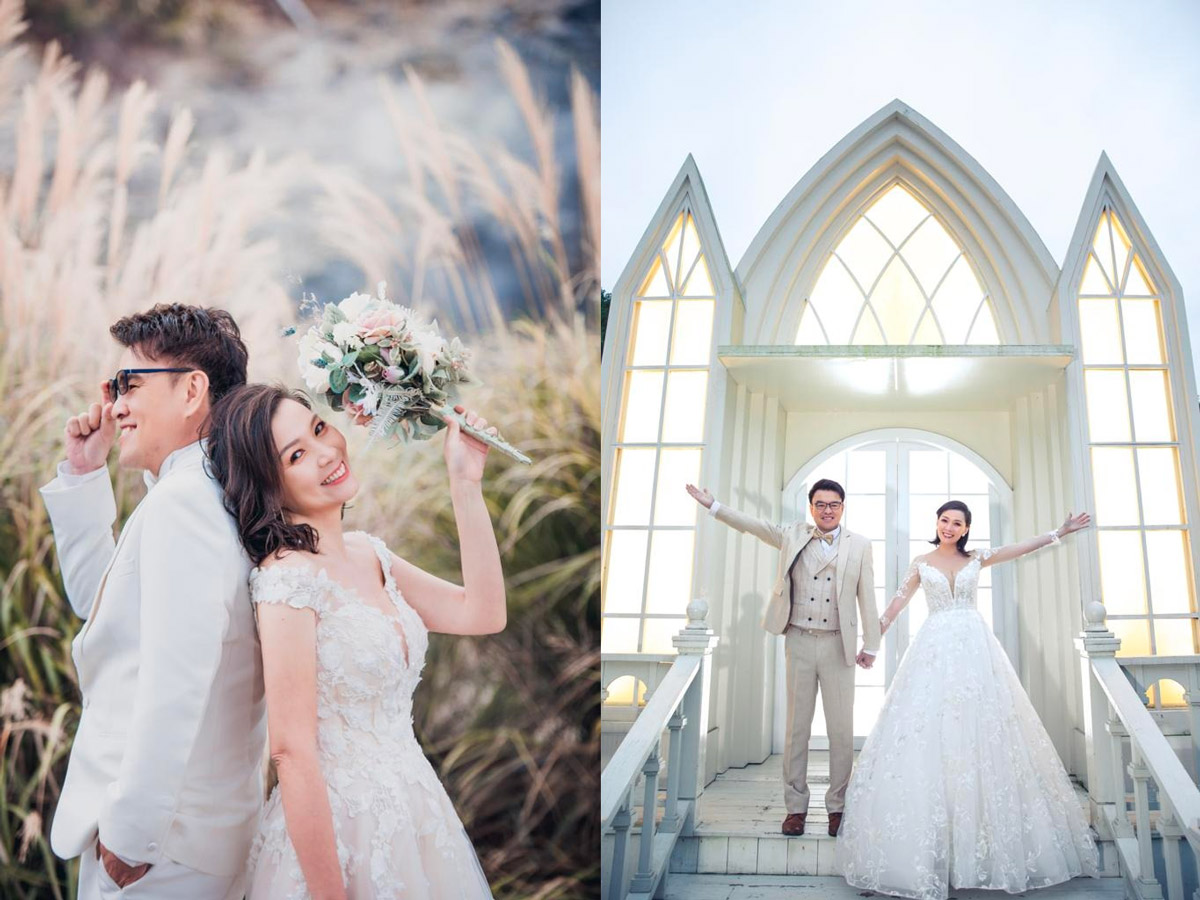 The entire experience was incredibly delightful, akin to a mini-vacation, and the photography session added an extra layer of enjoyment. I was captivated by the enchanting settings and backgrounds of the photography venues, each one enhancing the beauty of the photos and evoking a European ambience in some cases. They took us to numerous stunning locations, including breathtaking natural backdrops featuring mountains and a serene blue sky. The team at France Paris exhibit exceptional friendliness, hospitality, professionalism, and helpfulness, enhancing the overall experience and making it truly remarkable and pleasurable.
Angie & Jeff's Wedding Venue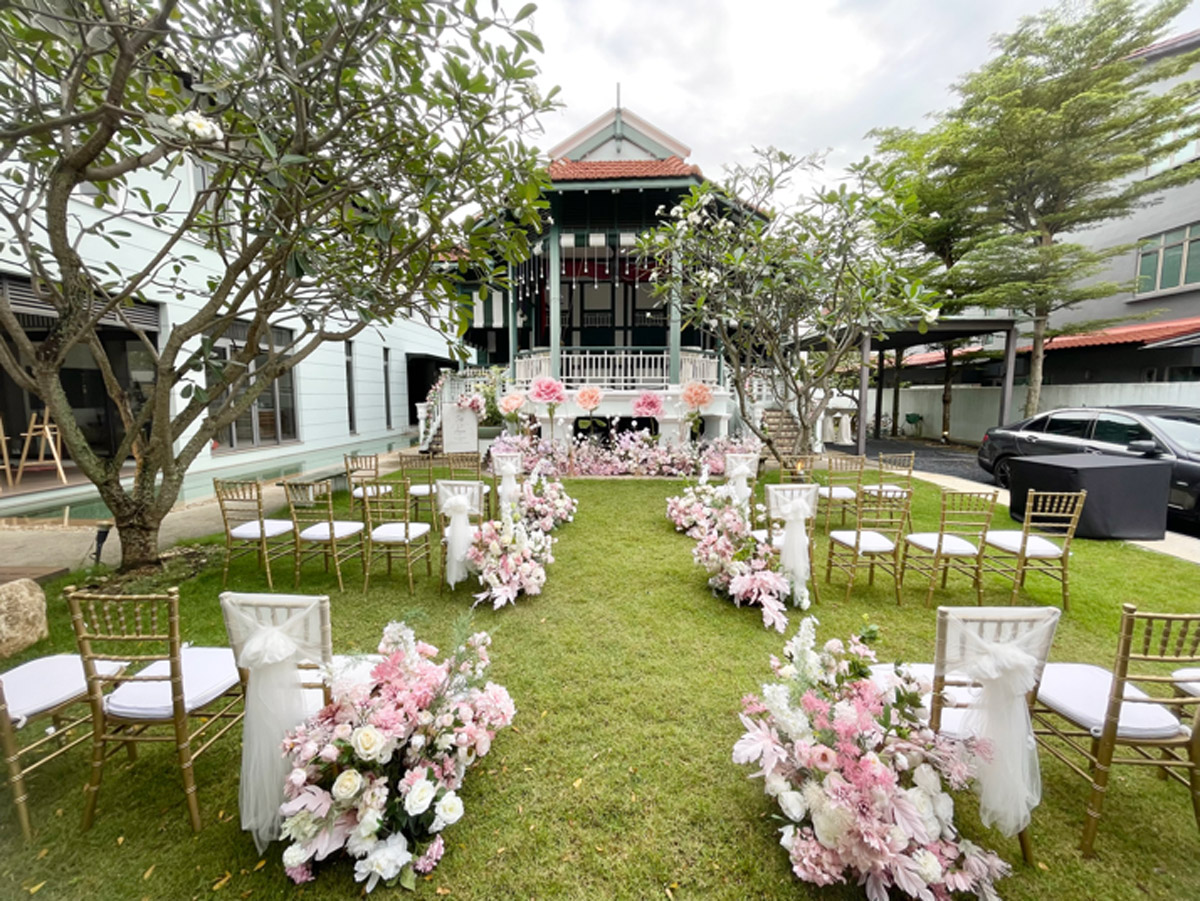 Chapel 25
Love was definitely in the air when Angie and Jeff exchanged their vows at Chapel 25 and it's not hard to see why this venue was the perfect choice for their wedding. Nestled in the midst of lush greenery, Chapel 25 is a heritage gem that provided a serene and romantic atmosphere for the happy couple's big day.
The outdoor chapel at Chapel 25 is simply breathtaking, with a beautifully crafted arch and stunning floral arrangements that added to the ambiance, creating a dreamy and intimate space for Angie and Jeff's ceremony. But Chapel 25 isn't just beautiful, it's also practical. With space for up to 70 of your loved ones, it's the perfect size for a more intimate and cosy wedding celebration.
Overall, Chapel 25 is a venue that combines beauty, practicality, and charm. It's no wonder that Angie and Jeff chose this venue for their special day, and if you're looking for a venue that will provide a serene and romantic setting for your wedding, then Chapel 25 should definitely be on your list of options.
Location: 25 Chapel Road, Singapore 429531
Contact Number: +65 9382 0086
Angie & Jeff's Wedding Vendors:

60 Shutter
When it came to capturing the unforgettable moments of their special day, Angie and Jeff knew exactly who to turn to: 60 Shutter, a photobooth vendor that provided them with an excellent experience. From the moment the guests arrived at the reception, they were greeted by a stunning photobooth setup, complete with a beautiful background chosen from the array of backdrops available.
What made the experience truly special was the personalized touch that 60 Shutter brought to the table. The team worked closely with Angie and Jeff to create a custom photographic design and message that featured the couple's names and wedding date. If you're looking to add some extra fun and flair to your next event, be sure to check them out!
Name: 60 Shutter
Website: http://www.60shutter.com/
Contact Number: +65 9455 1066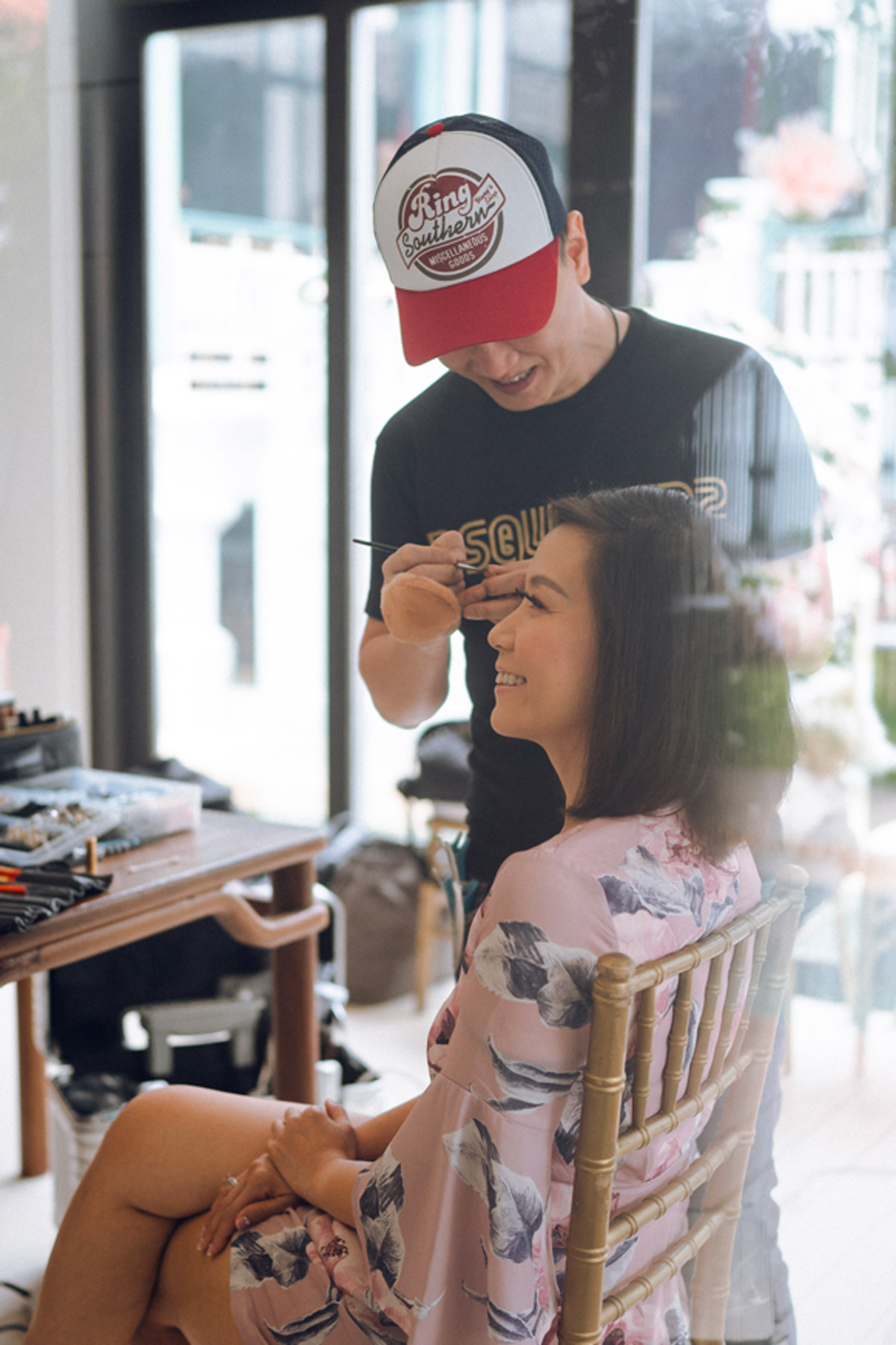 Make-Up Artist: Keith Tan
With Angie and Jeff tying the knot at their wedding, one can't miss the stunning hair and makeup done by the talented Keith Tan. Keith, who is known for his natural and effortless makeup and hairstyles, has won multiple awards for his impeccable skills.
With over 18 years of experience in the industry, Keith is no stranger to the bridal, fashion, and hairstylist scene. His opportunities to study in Taiwan, Korea, and Japan have not only equipped him with the skills but also inspired him in his styling.
Listening closely to Angie preferences, Keith created a look that complemented her natural beauty. His attention to detail and passion for his craft were evident throughout the entire process.
It's no surprise that Keith Tan is a go-to makeup artist for weddings and events. His skill and expertise have made him a force to be reckoned with in the industry. So, if you wish to have your make-up and hair experience to be full of ease and done with finesse, Keith Tan is the one to call on for sure!
Name: Keith Tan
Contact (Instagram): https://www.instagram.com/keith_makeup_artist/?hl=en
Contact (Facebook): https://www.facebook.com/KeithTanCaiZhuangJiaoZhu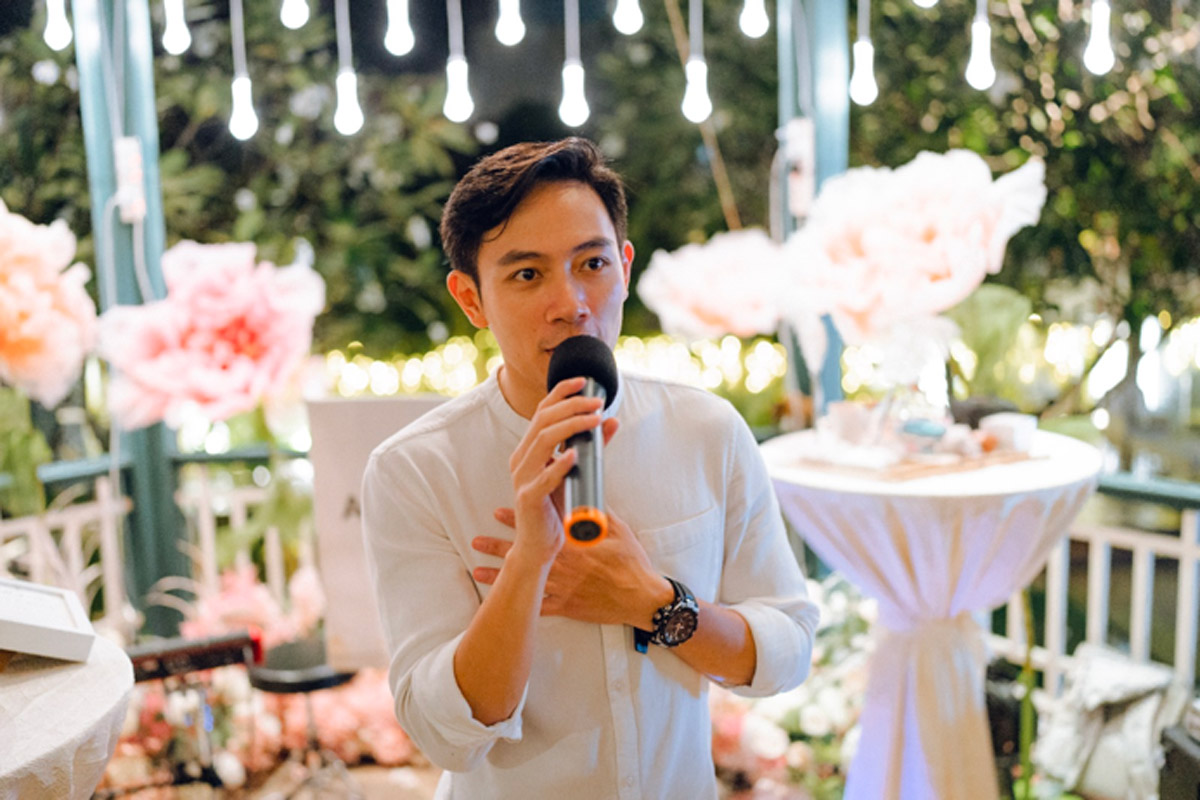 Emcee: Jerald Foo
Angie and Jeff's wedding was a night to remember and a big part of that was thanks to their incredible emcee, Jerald Foo. Jerald, a professional wedding emcee with a passion for acting and hosting, brought his signature humor and engaging monologues to the celebration.
Jerald's mastery of the English language and dynamic stage presence meant that everyone at the wedding was able to participate and have a great time. He truly made the celebration one that guests would be talking about for weeks to come.
If you're looking for an emcee who will bring high levels of energy and entertainment to your wedding, Jerald is the one to call. Don't settle for a boring wedding reception - let Jerald help make your special day one that you and your guests will never forget.
Name: Jerald Foo
Email: Jerald.foo.cz@gmail.com
Contact Number: +65 9271 7212
Videography: More than Bloom
More than Bloom is committed to capturing the most beautiful and genuine moments of your big day, and that's precisely what they did for Angie and Jeff. From the first look to the first kiss and everything in between, their wedding video was a beautiful representation of their love story.
The team at More than Bloom truly believes that every relationship is unique, and they are determined to bring out the heartfelt moments of your story. Their attention to detail is unmatched, and they were able to capture all the little moments that made Angie and Jeff's wedding day so special.
If you're getting married and looking for a videographer to capture your special day or even pre-wedding, look no further than More than Bloom. Their passion for storytelling and commitment to excellence make them the perfect choice for any couple looking to document their love story. Trust us, you won't be disappointed!
Name: More Than Bloom
Website: https://www.morethanbloom.studio/
Contact Number: +65 8518 2190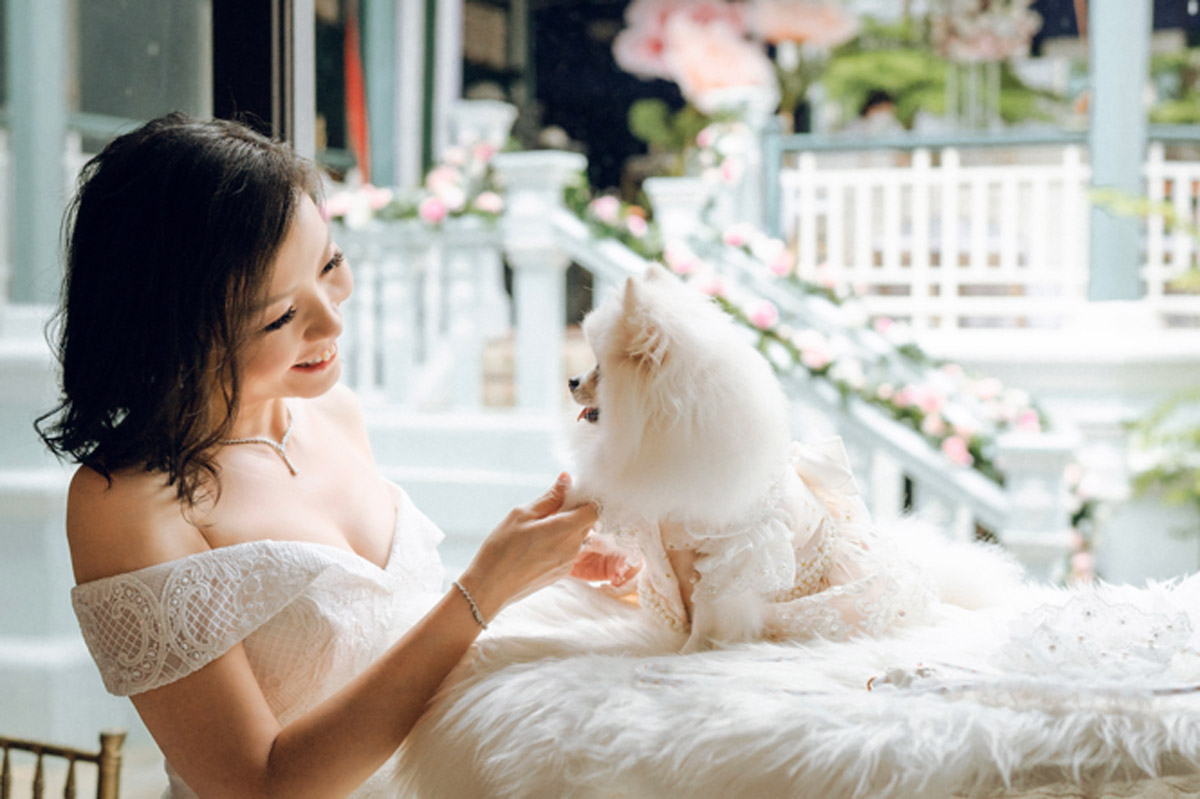 Photographer: 60 Seconds Photography
The talented photographers from 60 Seconds Photography ensured that Angie and Jeff's wedding day was one to remember forever. With a diverse range of photoshoots available, 60 Seconds Photography was the perfect choice for the couple, providing them with all the available options which included pre-wedding, wedding day, lifestyle, and overseas shoots!
Their expertise in capturing the intimate moments between the couple and their loved ones on the wedding day was truly remarkable. Every photo was a testament to the love that Angie and Jeff shared, and the joy that they felt on their wedding day.
If you're looking for a wedding photography vendor that truly understands the essence of love and commitment, then look no further than 60 Seconds Photography. Their passion for capturing the beauty of life's most special moments is evident in every photo they take.
Name: 60 Seconds Photography
Website (Facebook): https://www.facebook.com/60secondsphotography/
Website (Instagram): https://www.instagram.com/60secondsphotography/
Contact Number: +65 9455 1066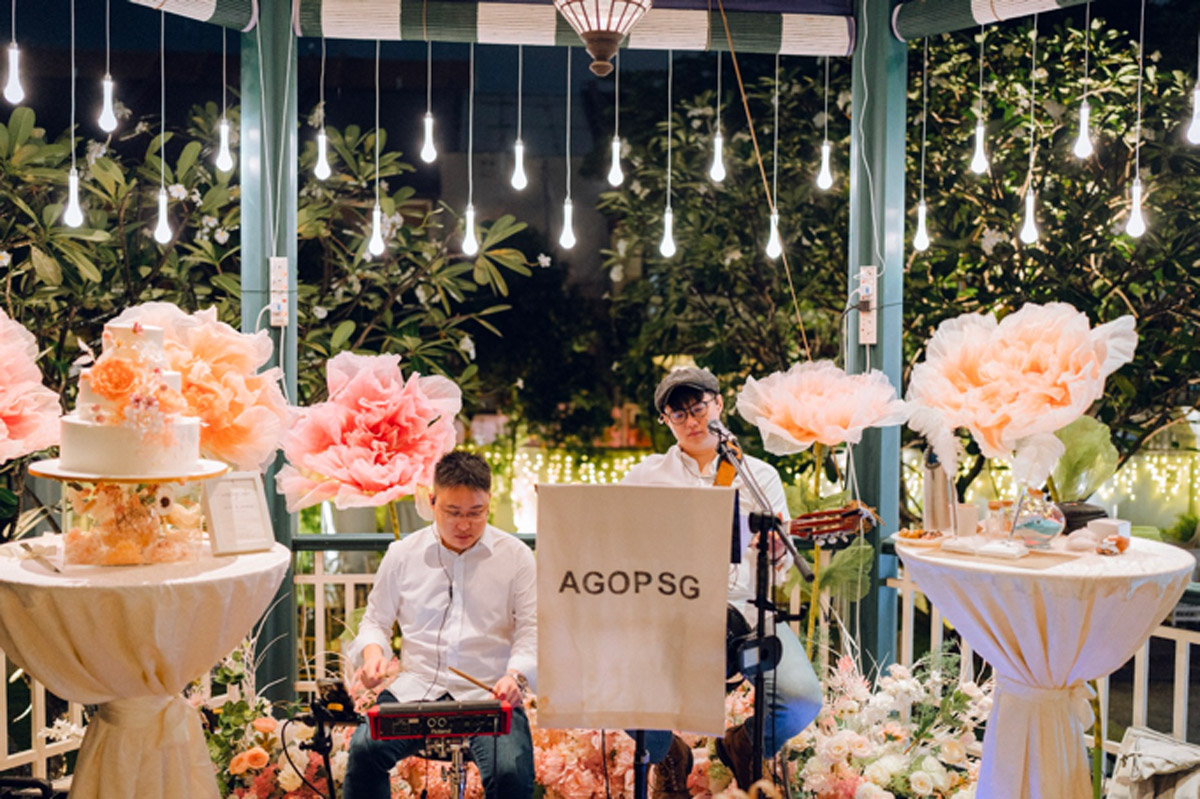 Wedding Musician: AGOPSG
While the decor and ambiance at Angie and Jeff's wedding were breathtaking, it was the live music that truly elevated the wedding experience. The couple had hired AGOPSG, a professional live band that has been performing for weddings, corporate events, and private functions all over Singapore since 2014.
AGOPSG was not just a band; they were performers who had the ability to connect with the crowd and make them feel like they were a part of the show. Their smooth vocals and soulful melodies filled the air through their wedding day, creating an atmosphere of pure bliss.
So, if you're looking to elevate your wedding experience, AGOPSG is the band to hire. With their versatile repertoire, captivating stage presence, and outstanding musicianship, they are sure to make your special day unforgettable.
Name: A Group Of People (AGOPSG)
Website: https://www.agopsg.com/
Contact Number: +65 9229 6329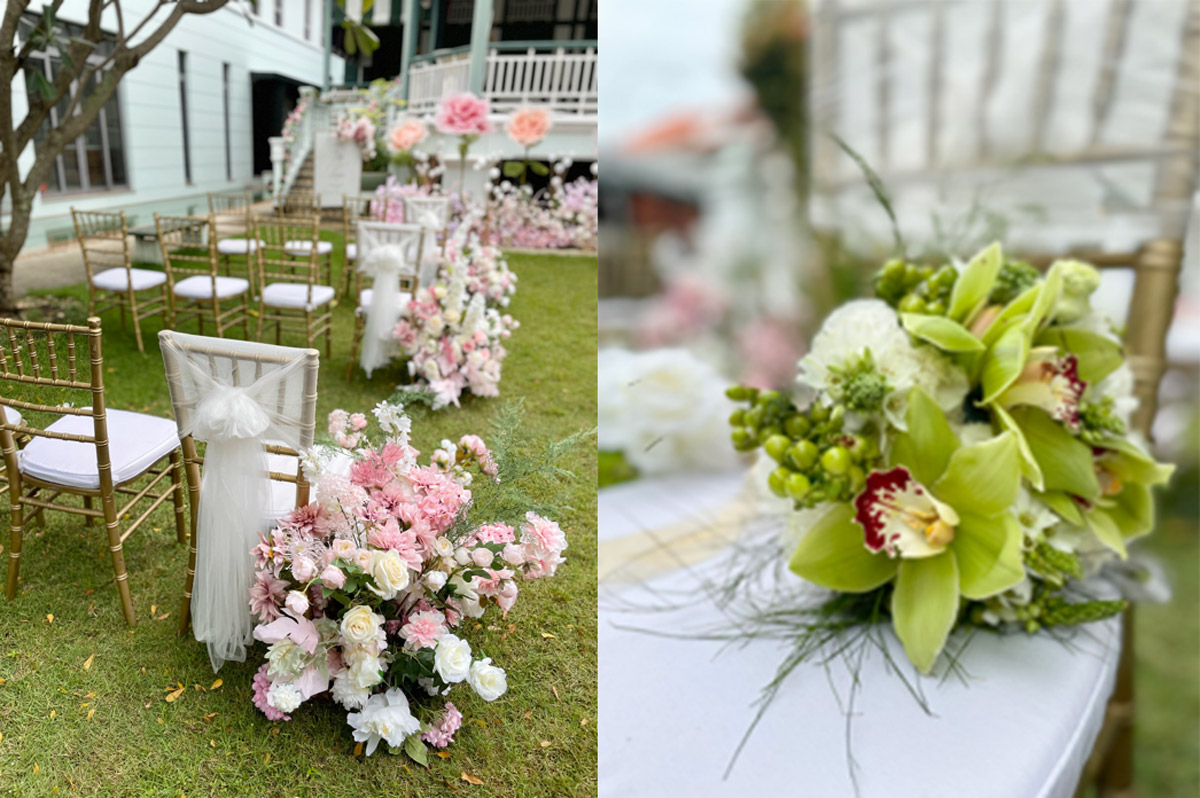 The Interior Collections
One of the most important aspects of any wedding is the flowers, and that's where The Interior Collections came in to bring Angie and Jeff's wedding vision to life. The Interior Collections' team took the time to understand their vision, and worked with them to create the perfect floral arrangements for their big day.
The team took care of every little detail, from the exquisite bridal bouquet to the boutonnieres and reception florals. They understood the importance of every little detail, and worked hard to ensure that every arrangement was perfect.
From the beautiful flowers that spiralled around the chapel stairs to the captivating centrepieces at the reception, every arrangement was a work of art on their wedding day. So, if you're looking for a florist team who will go above and beyond to bring your vision to life, look no further than The Interior Collections.
Name: The Interior Collections
Website: https://www.theinteriorcollections.com/
Contact Number: +65 9270 7756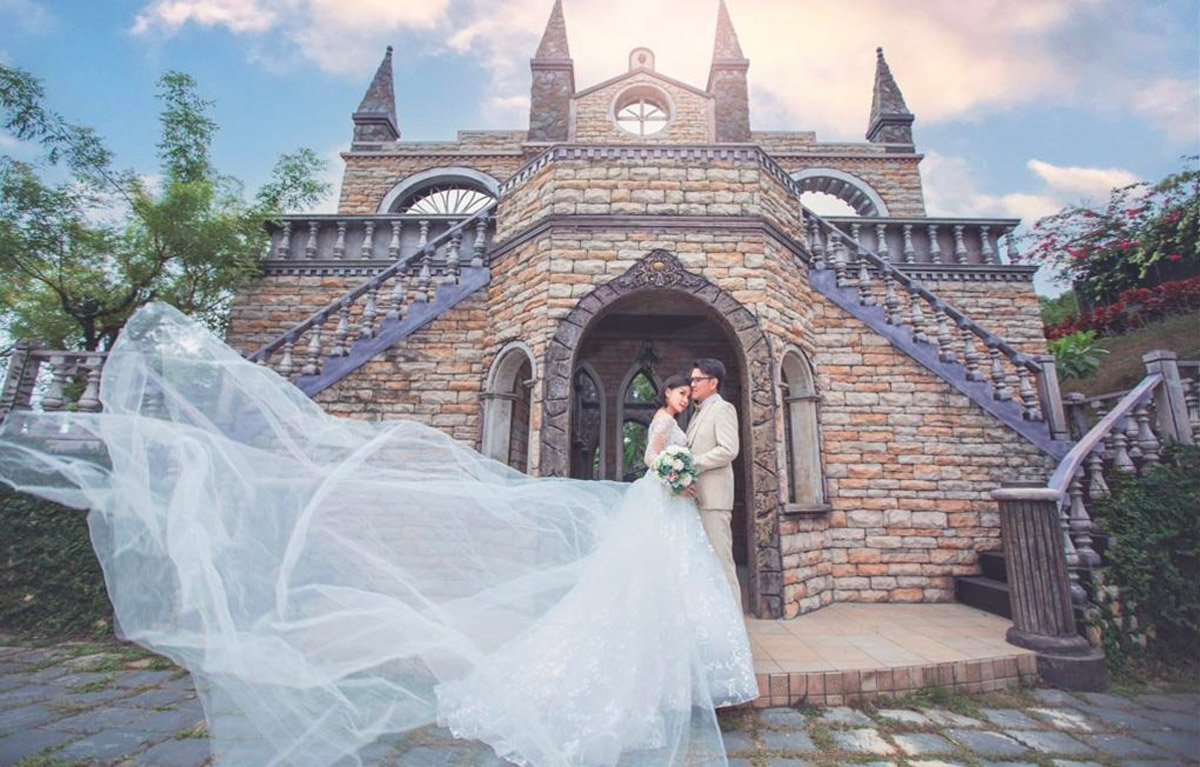 France Paris Bridal Boutique
Angie and Jeff's wedding photoshoot with France Paris Bridal Boutique in Taiwan was nothing short of magical. They were met with exceptional service and Angie had a wide selection of stunning gowns to choose from, in order to find one that suited her style and personality. They were mesmerised by the many beautiful photography venues they were offered.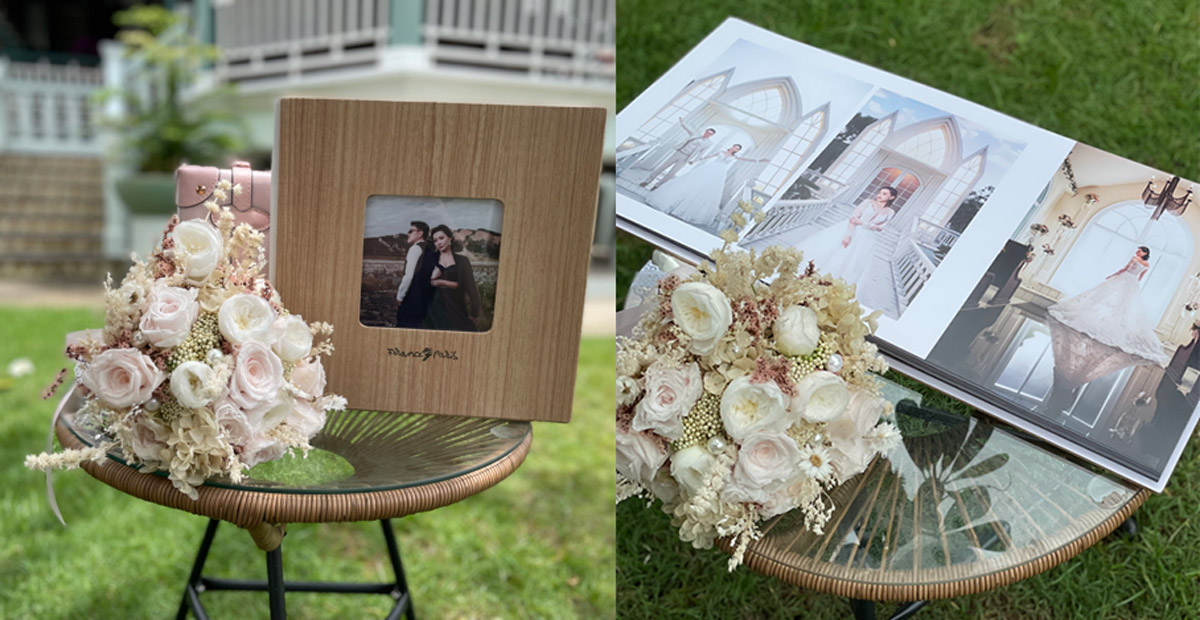 However, the real highlight of their experience was the rustic covered album that they received from France Paris Bridal Boutique. The album featured both pre-wedding and wedding photos and the expert designers worked with them to create a personalized album that was truly stunning. The high-quality printing and durable materials ensured that this album will be a cherished keepsake for years to come.
If you're looking for a bridal boutique that offers exceptional service and can help you create lasting memories, then France Paris Bridal Boutique is the perfect choice.
Name: France Paris Bridal Boutique
Website: https://fpwed.mystrikingly.com/
Contact Number: +65 6385 3911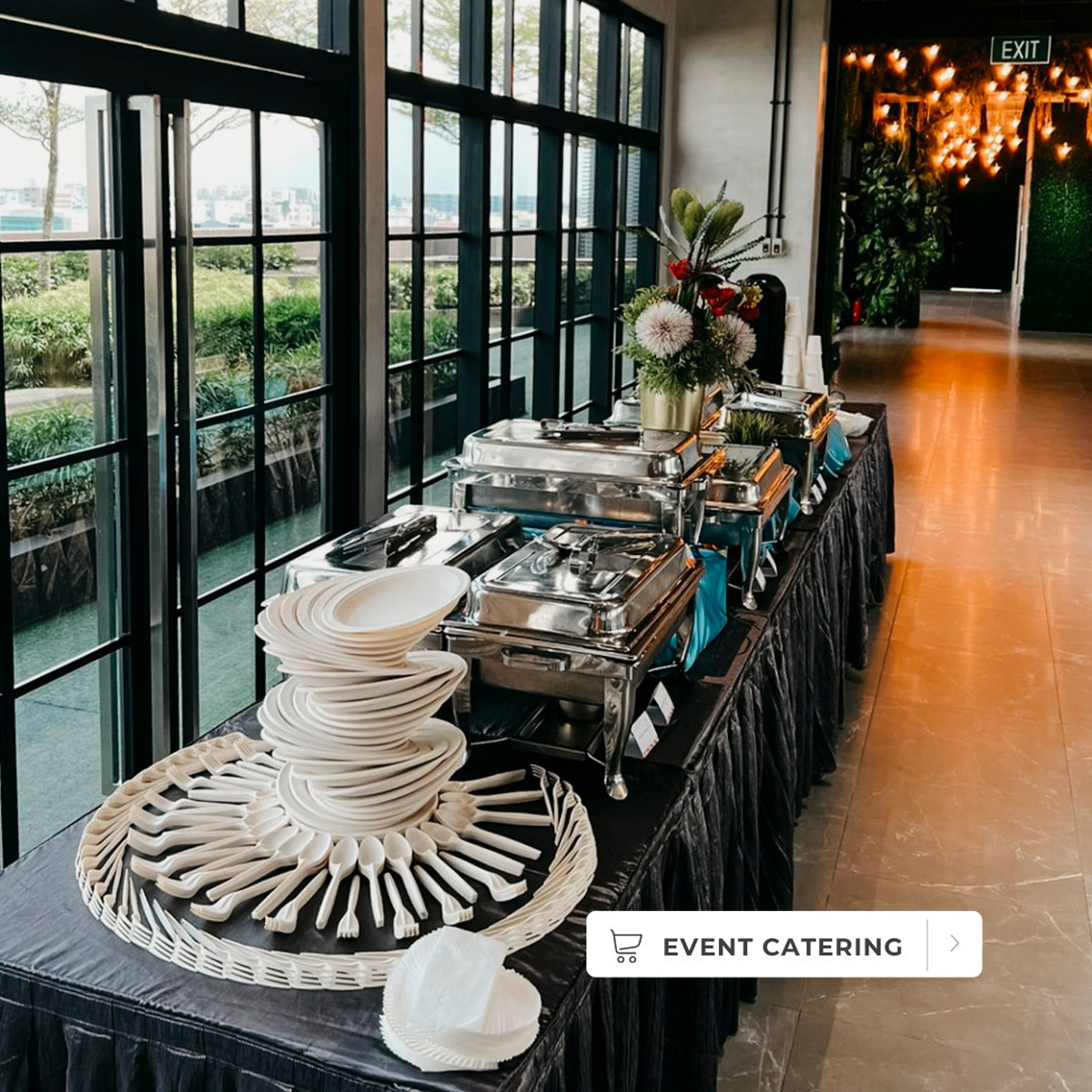 Source: Four Seasons Catering Facebook
Four Seasons Catering
From the moment Angie and Jeff met with the team at Four Seasons, they knew they were in good hands. The team listened carefully to their needs and helped them craft a custom menu that catered to their preferences.
The food was not only delicious but also prepared and served by a well-trained staff who ensured that everything was clean and safe. Their professionalism and experience in the catering industry made all the difference.
If you're looking for a catering service that will make your wedding day unforgettable, look no further than Four Seasons Catering. Their commitment to excellence and customer satisfaction will ensure that your special day is everything you dreamed it would be.
Name: Four Seasons Catering
Website: https://www.fourseasons.com.sg/
Contact Number: +65 6383 3003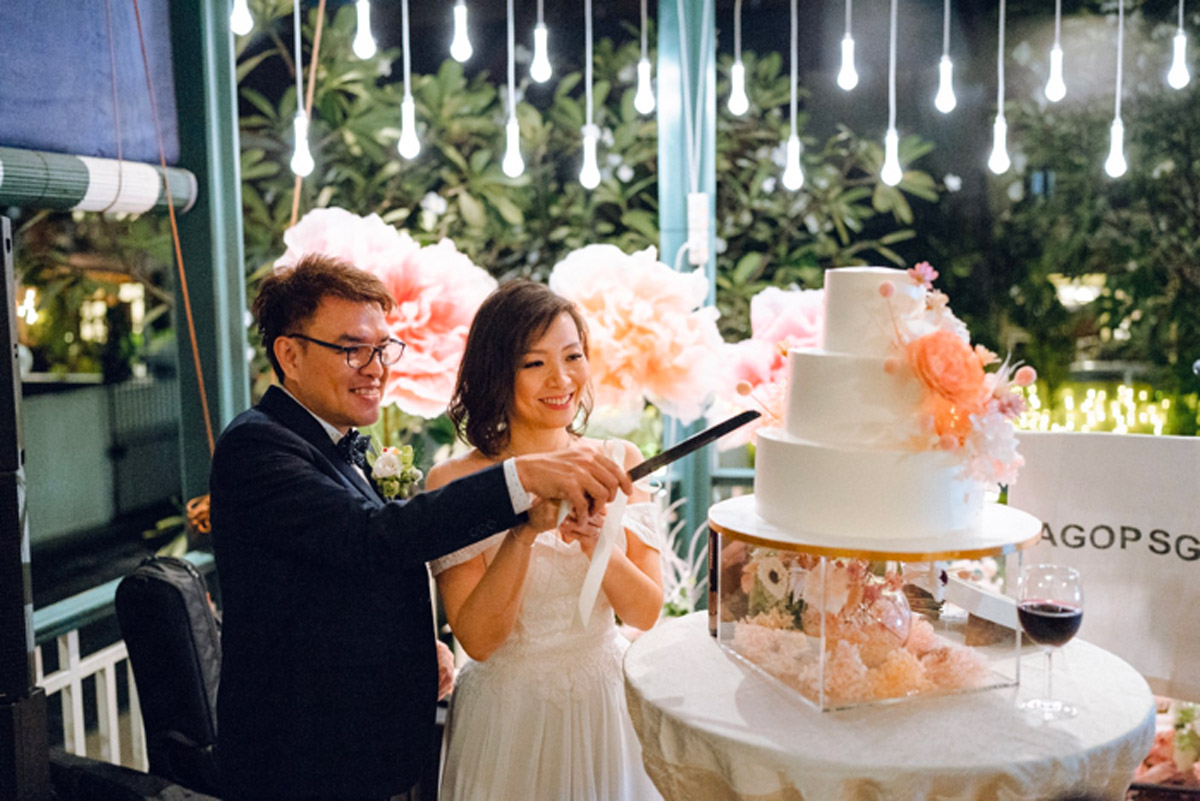 The Pine Garden
Angie and Jeff's wedding became even sweeter with The Pine Garden's stunning three-layered wedding cake. This Singapore-based vendor is known for their expert craftsmanship and attention to detail, and their white, with a tinge of soft pink, wedding cake did not disappoint.
The Pine Garden is a go-to for couples seeking a wedding cake that not only looks good but tastes just as delicious. Their team of expert bakers uses only the finest ingredients, ensuring that every bite of their cakes is a delightful and indulgent experience.
With The Pine Garden, Angie and Jeff not only got the wedding cake of their dreams through customisation, but they also got to work with a vendor who truly cares about their craft. Their attention to detail and commitment to quality makes them a top choice for couples looking to add a touch of elegance to their big day.
Name: The Pine Garden
Website: https://www.pgcake.com/
Contact Number: +65 6457 6159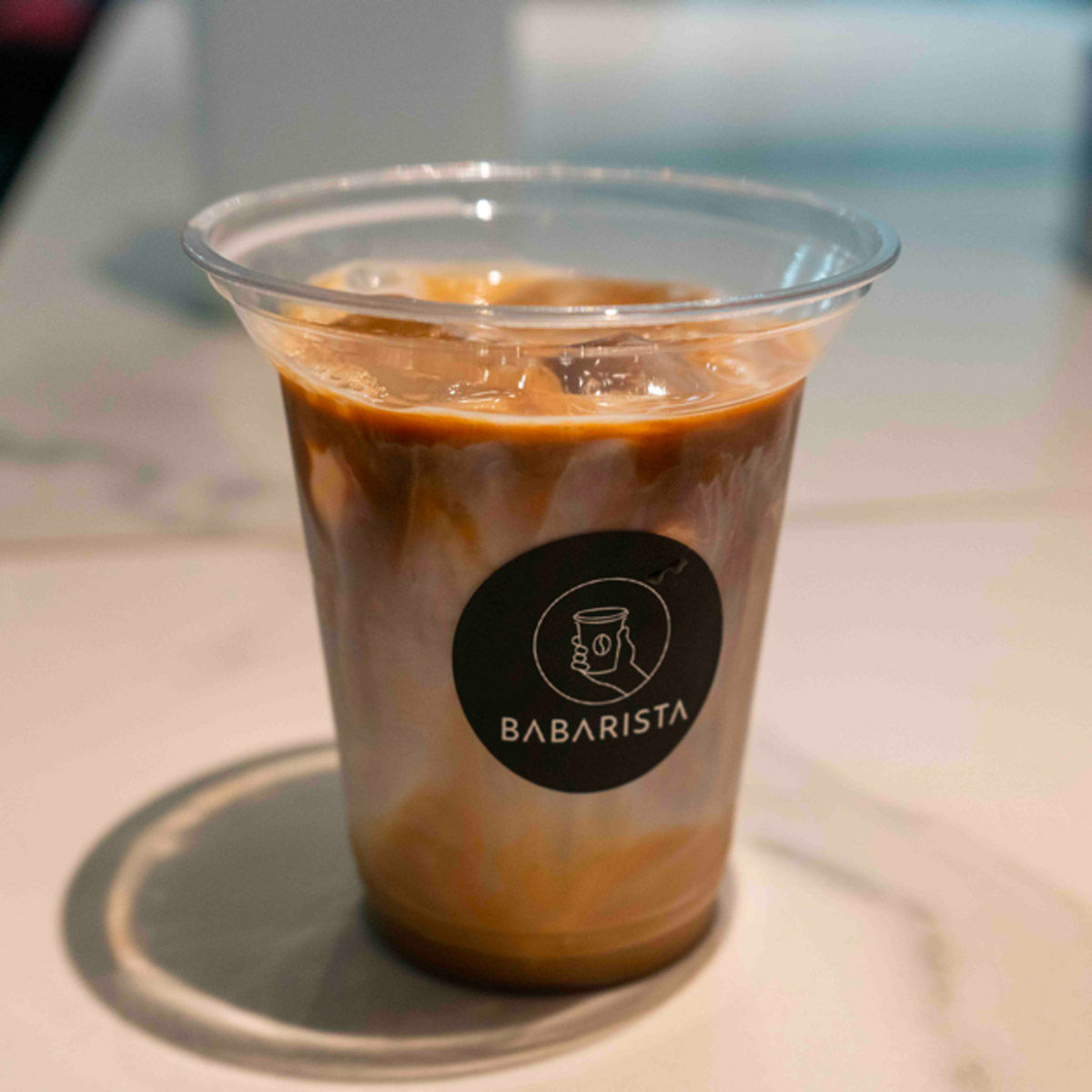 Babarista
Coffee lovers, meet Angie and Jeff - a couple that recently had the pleasure of enjoying Babarista's amazing coffee cart services at their wedding. Babarista is a vendor that provides coffee cart services for weddings, parties, and office gatherings.
They offer a wide variety of drinks, including coffee, chocolate, and chai, and cater to oat milk and ice lovers too. Their custom packages ensure that every event is tailored to the customer's needs and preferences.
Guests were thrilled to be able to enjoy fresh and delicious coffee made to their liking. The baristas were friendly and knowledgeable, making sure that everyone's caffeine needs were met.
If you're planning an event and want to impress your guests with exceptional coffee and service, Babarista is the answer for you. Contact them today to get a quote for your custom package and let them satisfy your caffeinated needs!
Name: Babarista
Website: https://www.babarista.sg/
Contact Number: +65 9489 5335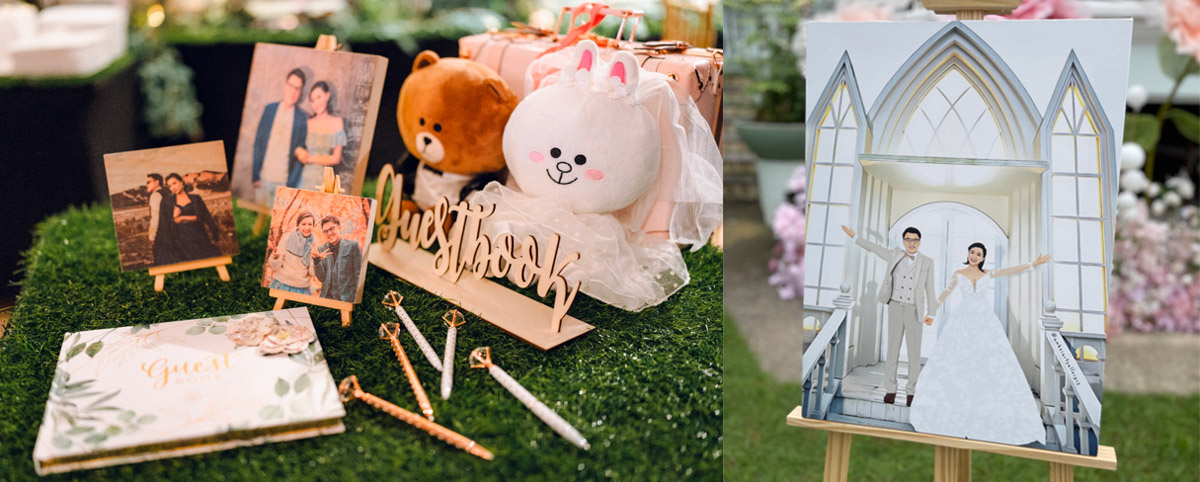 Amber Art Gallery
Angie and Jeff knew they wanted to find a unique and memorable way to commemorate their wedding day, and they found just that with Amber Art Gallery. The company's personalized digital portrait of the Angie and Jeff printed on canvas truly reflects their special day, and will serve as a cherished keepsake for years to come.
But that wasn't all the couple found at Amber Art Gallery. They also discovered a beautiful custom photo on wood print, which added a touch of rustic charm to their home decor. The natural wood grain of the print perfectly complemented their personalized image, and now the couple has a one-of-a-kind piece that perfectly captures the essence of their love.
If you're looking for a unique and beautiful way to commemorate your own special moments, be sure to check out Amber Art Gallery's amazing offerings today!
Name: Amber Art Gallery
Website for digital portrait artwork: https://amberartgallery.sg/products/custom-pet-portrait-digital-pop-art-style
Website for custom wood print photo : https://amberartgallery.sg/products/photo-on-wood-print
Contact Number: +65 8516 4237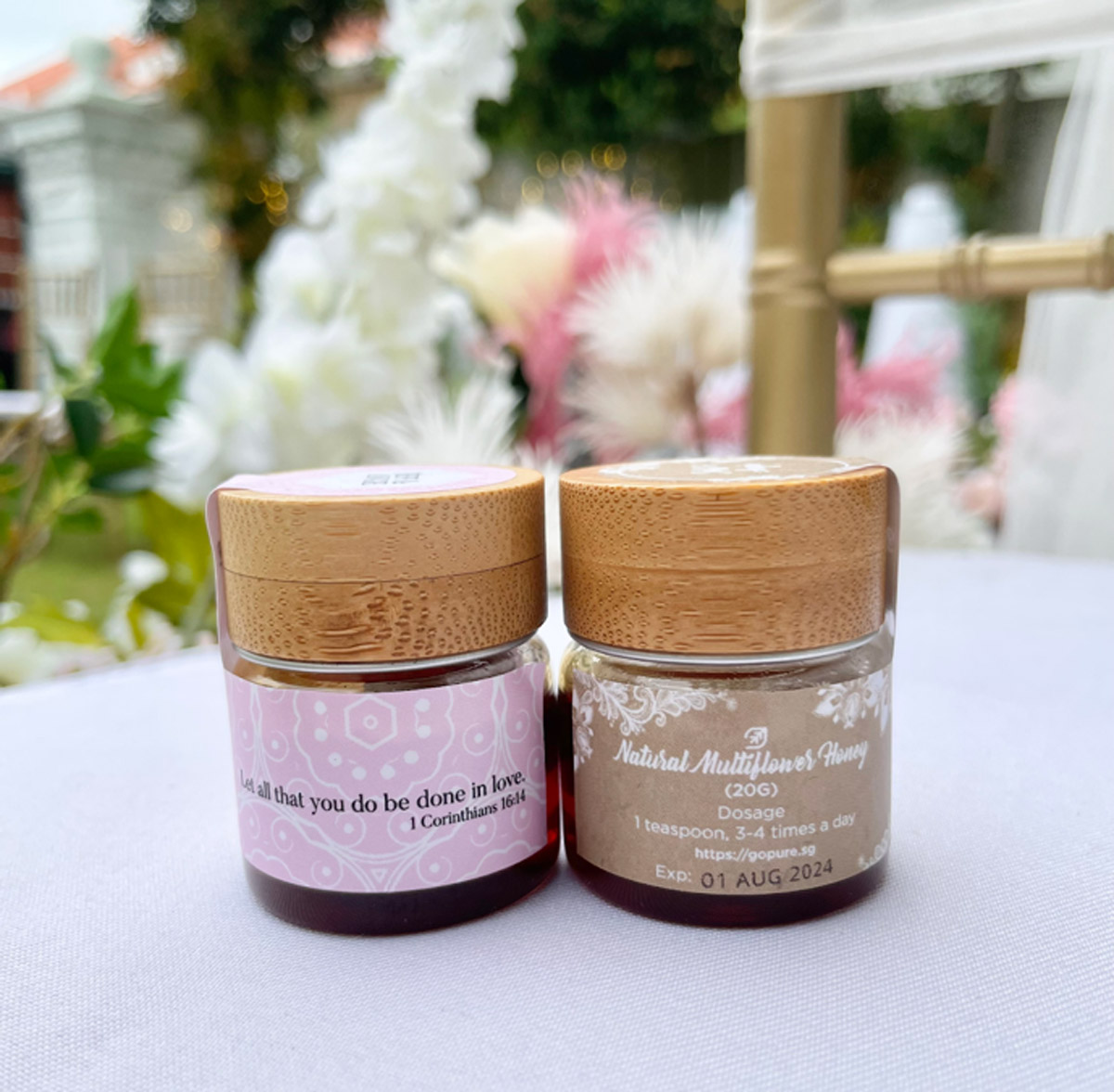 Go Pure Honey
For Angie and Jeff, choosing Go Pure Honey as their wedding favour provider was an easy decision. They were drawn to the company's commitment to sustainability and eco-friendliness, as well as their passion for creating the best honey possible.
Their guests were thrilled with the delicious honey jars, which made for a unique and memorable gift that everyone could enjoy. Moreover, the couple could customize the jars to match their wedding colours and add their own message to them.
With Go Pure Honey, you can be sure that your wedding favours will be a hit. Not only are they delicious and healthy, but also both meaningful and practical. So why settle for ordinary favours when you can give your guests something truly sweet and special? Contact Go Pure Honey today!
Name: Go Pure Honey
Website: https://gopure.sg/products-guide/honey-wedding-favors/
Contact Number: +65 6227 9812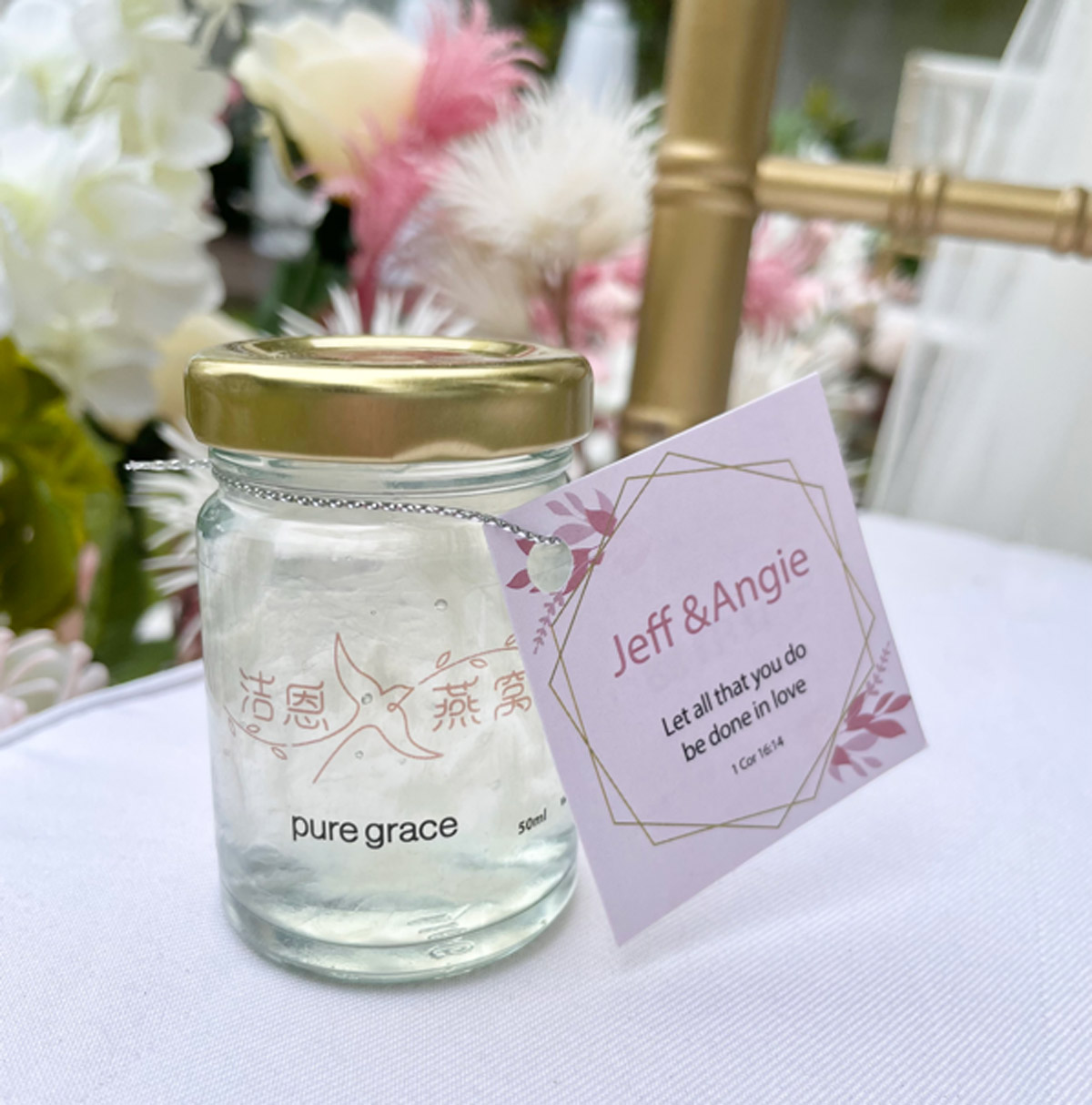 Pure Grace Birdnest
As Angie and Jeff searched for the perfect wedding favour, they stumbled upon Pure Grace and their refreshing bird's nest. They were drawn to the company's commitment to all-natural, preservative-free ingredients and ethically-sourced swiftlet nests.
But what truly stood out for Angie and Jeff was the option to customise the sweetness level of each bottle, ensuring that their guests' taste preferences were catered to.
By gifting your guests with Pure Grace's refreshing bird's nest as a wedding favour, you are not only giving them a delicious treat but also a meaningful symbol of your wishes for their happiness and well-being.
Name: Pure Grace Nest
Website: https://www.puregracenest.com/
Contact Number: +65 9477 9383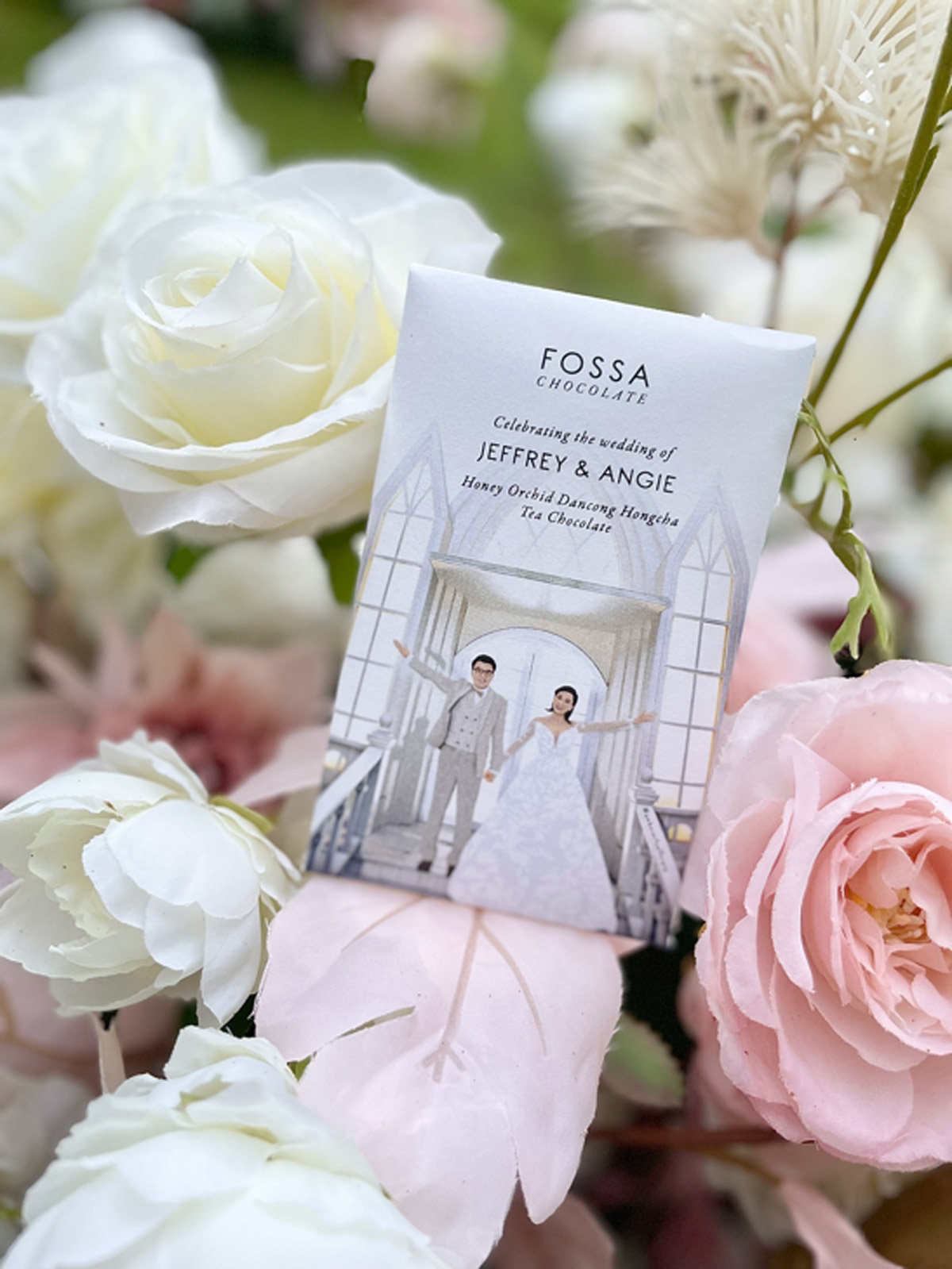 Fossa Chocolate
Instead of the usual trinkets and tokens, Angie and Jeff decided to treat their guests to something truly special - artisanal chocolate from Fossa Chocolate.
Fossa Chocolate is a company that takes great pride in their chocolate-making process, using only the finest, sustainably sourced cocoa beans to create their delicious treats. Their commitment to ethical sourcing means that guests can indulge in their chocolate without any guilt or worries about the impact on the environment.
At Angie and Jeff's wedding, guests were thrilled to receive the beautiful Fossa Chocolate bars that had portrait of the couple printed on the packaging. With its customisable packaging, you can add your own personal touch to the wedding favor.
Choosing Fossa Chocolate bars as their wedding favour was a decision that Angie and Jeff will never regret. Not only did they provide their guests with a unique and delicious gift, but they also supported a company that is doing good for the world, one chocolate bar at a time.
Name: Fossa Chocolate
Website: https://www.fossachocolate.com/favours-wedding-event
Contact only through Facebook/Instagram:
https://www.facebook.com/fossachocolate
https://www.instagram.com/fossachocolate/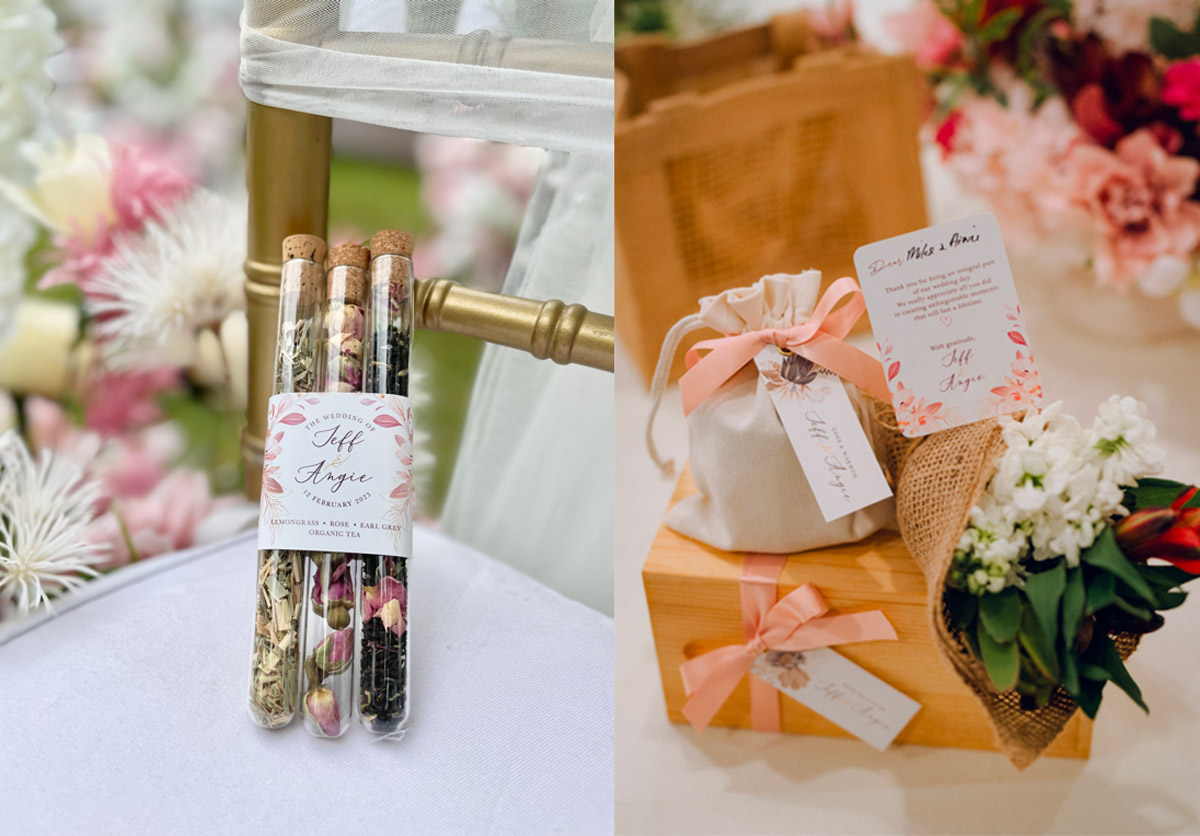 Thank You Gifts: A Love Knot
By opting for A Love Knot's package, Angie and Jeff were able to gift their closest friends and vendors with three jars filled with mouth-watering treats, including mixed nuts, floral tea, and honey. This set is a lovely way to show your appreciation to those who have helped you through your wedding planning up to the special day. Angie and Jeff loved the fact that the package was customizable to match their wedding's theme and colours, ensuring that their friends would receive a truly unique and personalized gift.
But Love Knot's offerings didn't stop there. The couple was also impressed with the company's organic tea bundle, which was the perfect choice for guests who wanted a healthy and delicious alternative to traditional wedding favors. The tea was not only sustainably sourced but also made a bold eco-friendly statement on their special day.
If you're looking for wedding favors that are both meaningful and eco-friendly, A Love Knot is the perfect choice for you!
Name: A Love Knot
Website: https://www.aloveknot.com/shop
Contact Number: +65 8951 1218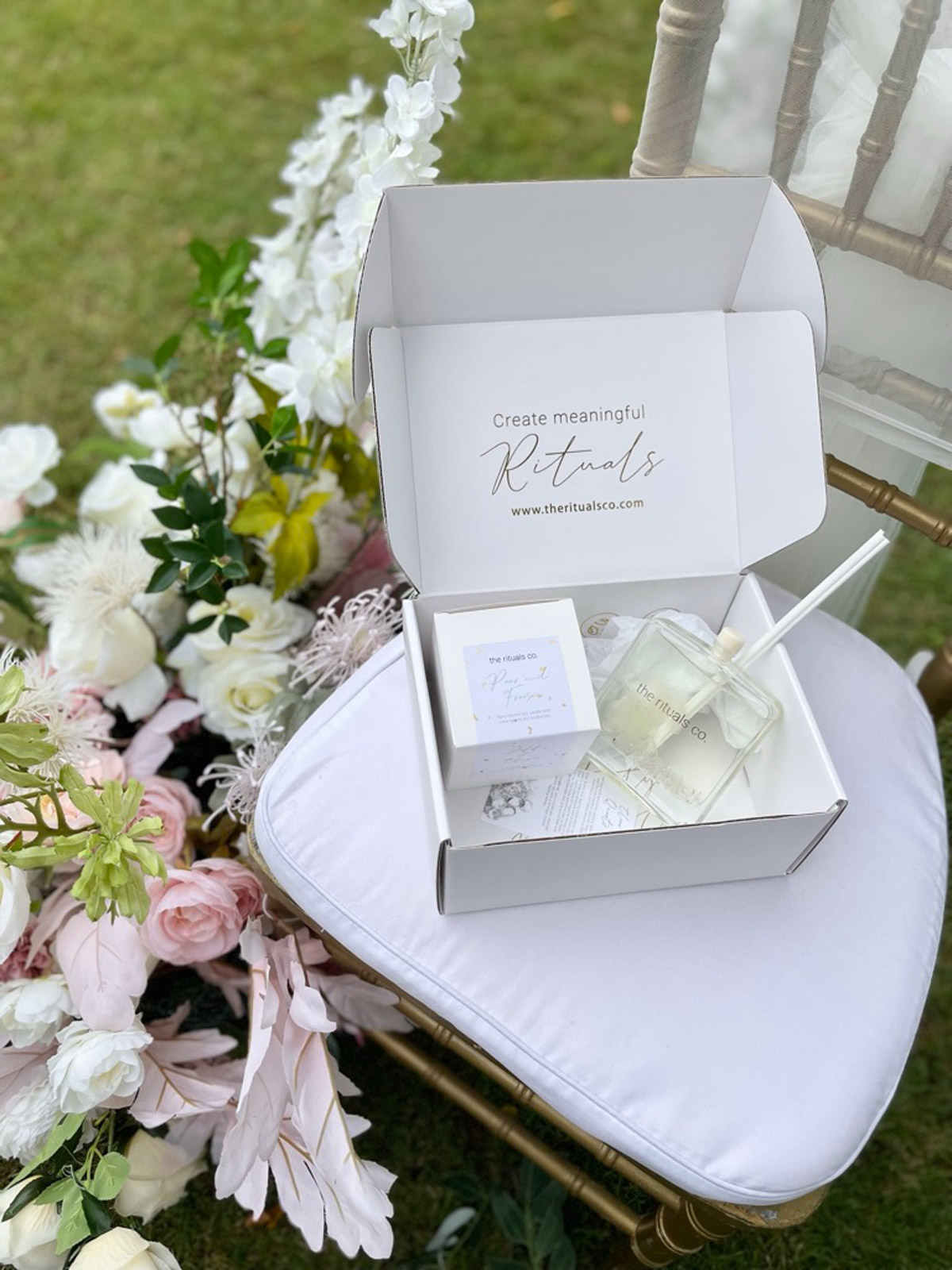 Thank You Gifts: The Rituals Co.
One of the unique wedding favors that Angie and Jeff gave to their close friends and vendors was a gifts set from The Rituals Co. This gift set is perfect way to show your appreciation and gratefulness to those who made your wedding extra special. The gift set included a beautiful Pear and Freesia scented Crystal Candle (5oz) and a Botanical Reed Diffuser (100ml), both handcrafted locally with natural soy wax and clean-certified scents and essential oils. The candle featured a gold-speckled customized label design, adding a personal touch to an already special gift.
The Rituals Co. is a vendor that specializes in creating bespoke wedding favors, fully customizable to suit any wedding theme or style. With gifts starting below $15 per piece and bulk orders starting from 30 pieces and above, they offer affordable yet luxurious options to make any wedding memorable.

Their commitment to wellness and using natural ingredients makes them a great choice for anyone looking for eco-friendly and sustainable wedding favors. So, if you're getting married soon and want to give your guests something unique and special, reach out to The Rituals Co. at hello@theritualsco.com and discover the perfect personalized wedding gift solutions.
Name: The Rituals Co.
Website: https://theritualsco.com/
Contact Number: +65 9002 6106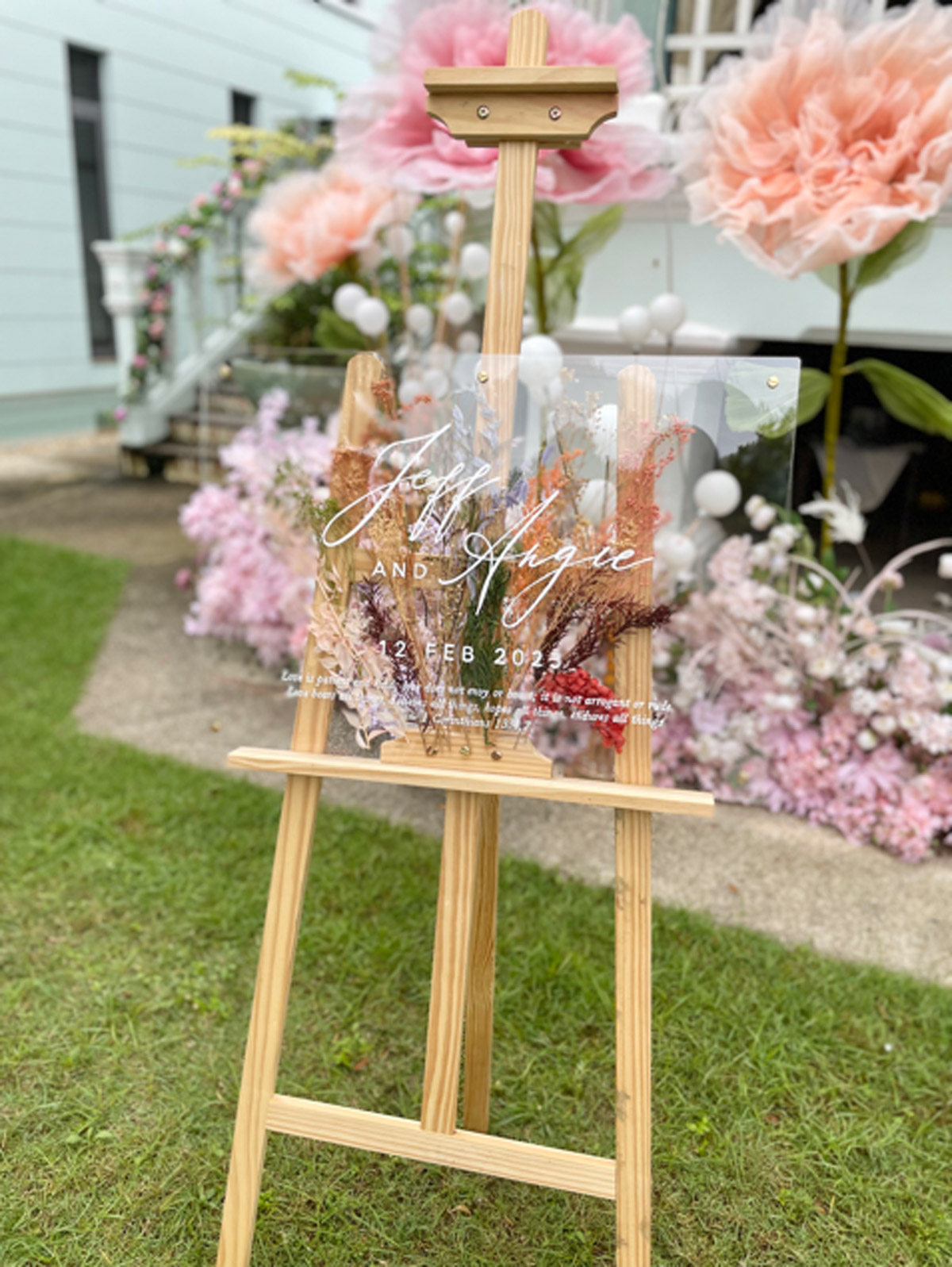 Mylin Design
Mylin Design is a company known for their stunning and modern designs and artworks, and Angie and Jeff knew they could trust them to create a special acrylic wedding signage for them.
The acrylic wedding signage was a beautiful addition to their wedding decor. The white cursive fonts were easy to read and added a touch of sophistication to the overall aesthetic. It was the perfect statement piece to welcome guests to their ceremony and set the tone for the rest of the event.
If you're looking for a stylish and modern way to add some flair to your wedding decor, Mylin Design's customisable acrylic wedding signage is a must-have. It's the perfect way to make a statement and create a memorable experience for you and your guests.
Name: Mylin Design
Website: https://www.mylin.design/
Contact Number: +65 8817 537
Make Your Wedding Dream A Reality Today
Angie and Jeff's wedding was truly magical and it was made possible through the collaboration of talented vendors who added their unique touch. From the stunning venue and captivating music to the exquisite bridal style and personalized wedding favors, every aspect reflected the couple's love and appreciation.
So, if you're looking to create a unforgettable wedding like theirs, we highly recommend considering these talented vendors. With their expertise, attention to detail and dedication to creating a memorable experience, they will help bring your wedding vision to life and make your wedding day truly special.