Pre-Wedding Shoot Inspirations: The Romantic, Quirky, Minimalist & Adventurous
2019-06-24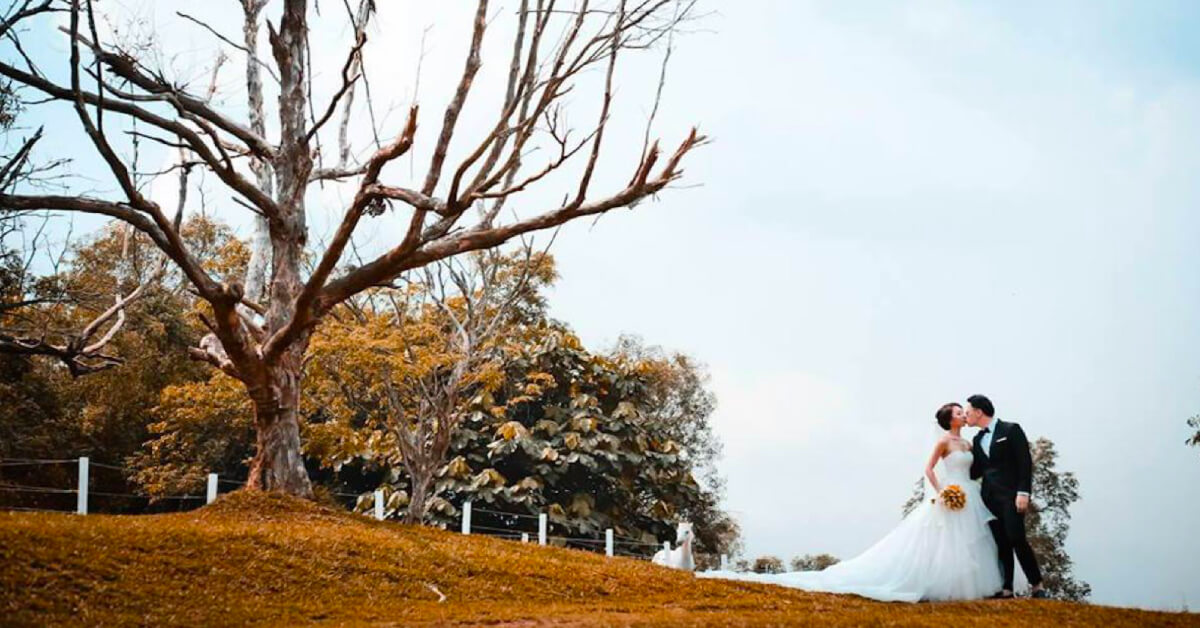 Bukit Timah Saddle Club | Source: 12Loves
Pre-wedding photos are the main highlight of your wedding reception. It's what everyone's going to busy themselves with before you make your grand entrance, plus it's a great way to showcase your personality as a couple!
So do yourself a favour and give the stereotypical locations a miss. Instead, read on for ideas on where to go in Singapore for a backdrop that doesn't just look gorgeous, but also exudes a charm that's distinctively yours.
For the adventure seekers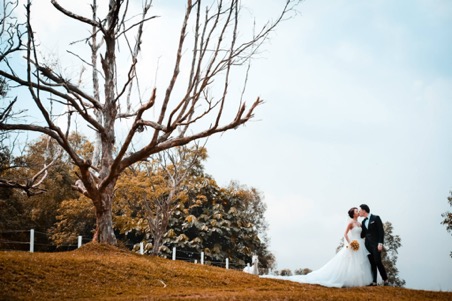 Bukit Timah Saddle Club | Source: 12Loves
If you and your other half are into that active lifestyle and are constantly jetting around the world to fuel your wanderlust, Singapore is actually filled with plenty of places that look like they belong overseas. Transporting you halfway around the world at a fraction of the cost, these places often come with a mysterious rustic vibe thanks to the lush and undisturbed foliage.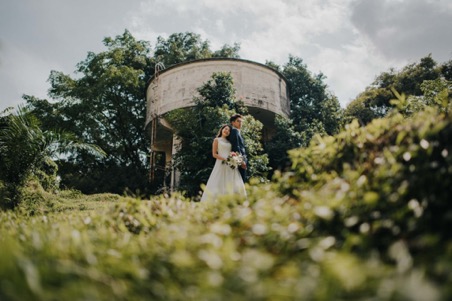 Portstown Road | Source: KAI Picture
Some of these lesser-known secrets include Pasir Ris Park's maze garden with hedges taller than most people, Portstown Road, where an abandoned water tank lies, and Bukit Timah Saddle Club, with white picket fences and majestic horses to pose astride.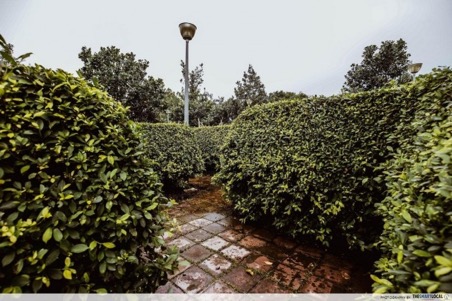 Pasir Ris Park Maze Garden | Source: TheSmartLocal
For the romantic souls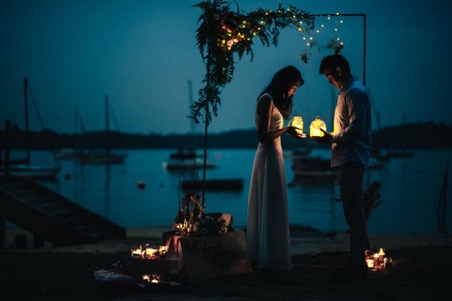 Source: KAI Picture
For those of you who are absolute romantics, an evening shoot by the beach or reservoir with lots of fairy lights will create a dreamy aesthetic that is sure to make hearts flutter. Just remember to interact with the lights à la Brandon Woelfel-style to get that warm, ethereal glow around you - coupled with the serenity of the waters, your photographs will have a magical, otherworldly touch to them.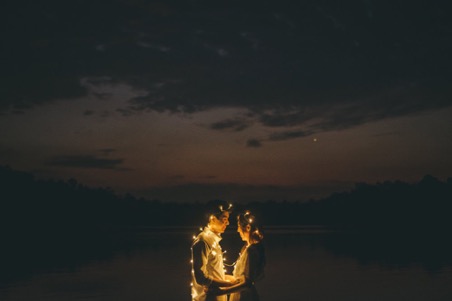 Upper Pierce Reservoir | Source: Juxtapose Pix
For the playful and quirky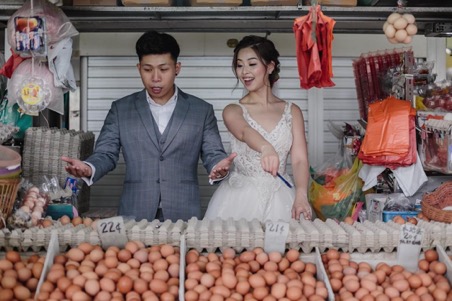 Source: @lensofmira
Young at heart and always up for all things fun with your partner-in-crime? Impress your guests with a quirky set of photos by casting a new light on everyday objects and places! Think simple, ordinary things like road surface markings, your neighbourhood hawker centre, or even IKEA - everyone's go-to furniture store.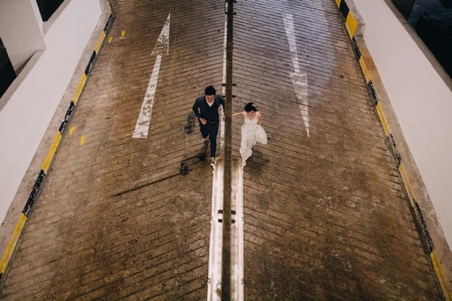 Source: @kai_picture
Plenty of old-school HDB void decks have amazingly photogenic lookout points as well, and you can usually find them at older estates that were built in the 80s and 90s, such as Chua Chu Kang and Simei.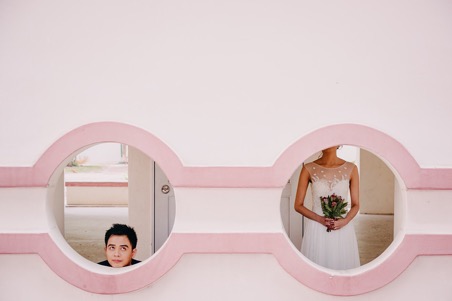 Source: @kai_picture
For the stylish minimalists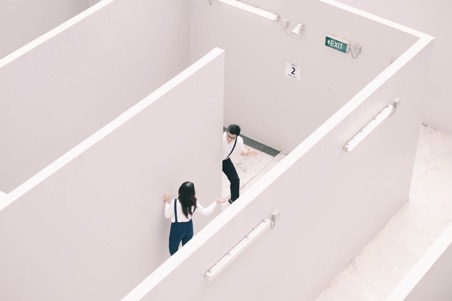 The "Marina Maze" | Source: kerenejesica.blogspot.com
If monochromatic minimalism is your cup of tea, places with solid block colours and perfect symmetry will turn your pre-wedding photoshoot into a Kinfolk-esque feature spread. These include a labyrinth of whitewashed walls located on a rooftop adjacent to Mandarin Oriental Marina Bay, unending columns of pillars under Marina Coastal Expressway, and a striking floor-to-ceiling glass-panelled lobby framed by illuminated cylinders at Millenia Tower.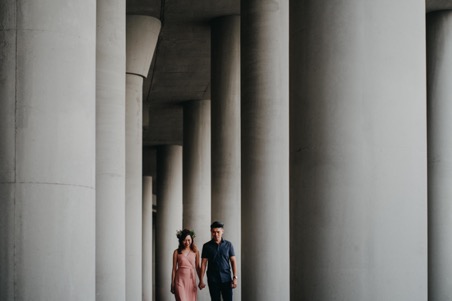 Source: KAI Picture
You can even check on the ongoing exhibitions at the ArtScience Museum. Known for their dazzling and sometimes minimalist exhibitions, we won't be surprised if you find something photo-worthy!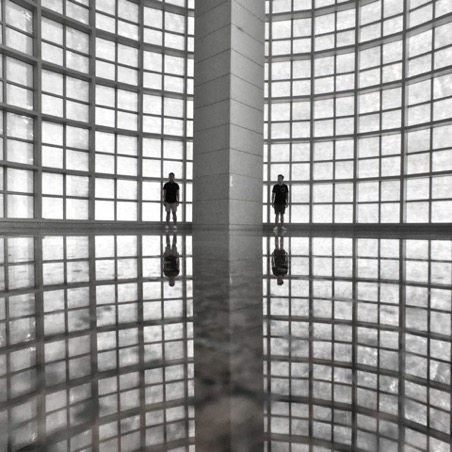 Source: buffalotrip.com
Singapore might be small in size, but it is packed full with photo opportunities fit for a pre-wedding shoot at every corner for every couple. You just have to get creative and look hard enough, and now you've got this article to act as your guide!