SCCC Cultural Extravaganza 2019: Hokkien Wedding Traditions in Singapore
2019-05-16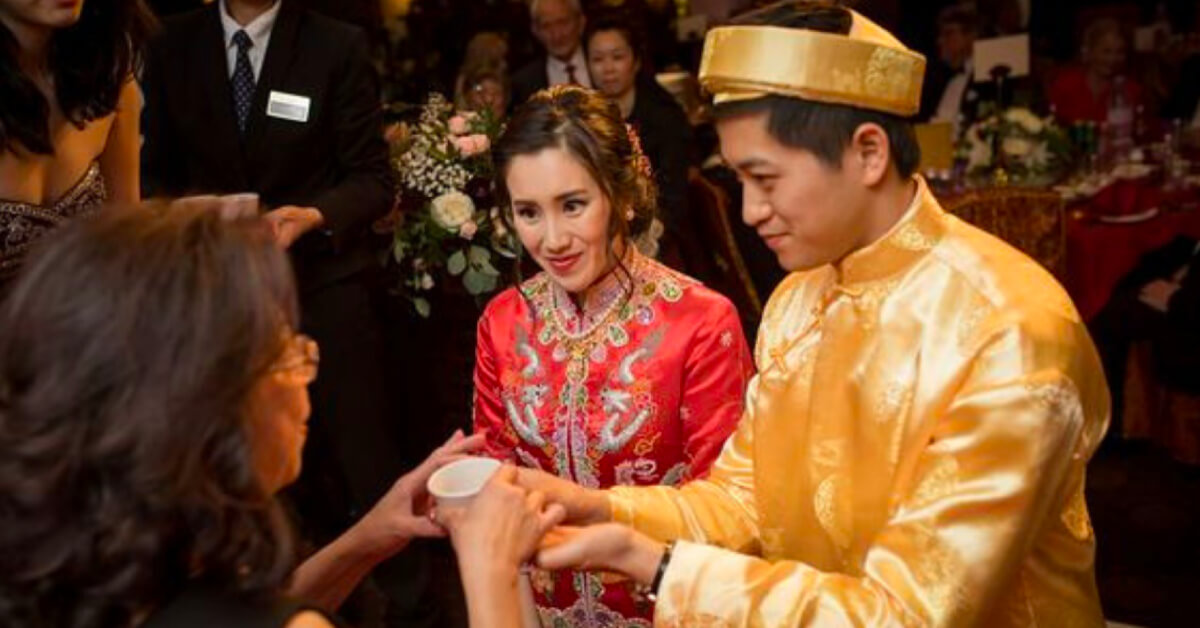 Tea ceremony to respect the elders
Source: Pinterest
Singapore is home to many different dialect groups and cultures, each with their own way of conducting marriage rites. However, over the years, the changes in society and intermarrying between dialects have resulted in an amalgamation of Chinese wedding customs that blended various dialects' practices. Nevertheless, some Chinese couples may still prefer to follow the traditional customs of their own or their partner's dialect. Here's a rundown of Hokkien wedding traditions and how they've changed over the years.
Betrothal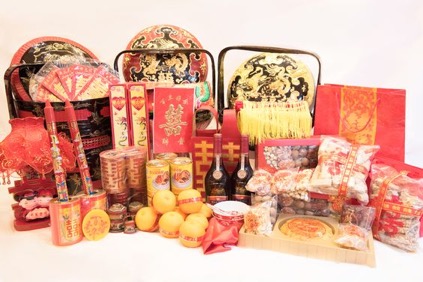 Betrothal gifts often come in huge baskets
Source: Pinterest
The betrothal ceremony, also known as guo da li is one of the hallmarks of Chinese weddings and some Hokkiens practise it to this day. Among the gifts that a Hokkien groom must typically bring to his bride's family are two pairs of dragon and phoenix candles. Another crucial aspect of the betrothal is giving the bride's family the pin jin or 'betrothal money' which originally compensated the family for the loss of their daughter who could have been a breadwinner.
Much of the guo da li gifts are food items such as fruits and Hokkien biscuits. These biscuits are of sesame, peanut, "gong" candle and red bean cake variations and extend respect to the bride's family and elders. Other important gifts to be given at guo da li include hard liquor, which originally demonstrated the groom's family's wealth. In recent years, red wine and champagne are preferred forms of alcohol as they signify the couple's happiness and allude to a blissful union. Many Hokkien families also keep to the tradition of giving twelve oranges and the bride's family will keep half, returning half to the groom's family as six in Hokkien also means longevity, making it a lucky number. Similarly, packets of mee sua are given and half are returned to the groom.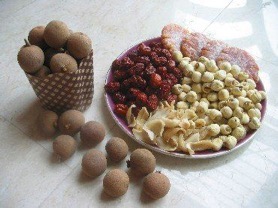 Source: Pinterest | The Betrothal Plate is usually in an auspicious colour of red or pink
Apart from these, there is also the Betrothal Plate which features dried red dates, lily buds, longans, red and green beans, and lotus seeds as well as a red cloth and a golden coin stamped with the double happiness characters. While some couples may choose to forgo the custom of exchanging gifts at guo da li, many opt to buy a set package from a speciality shop.
An Chuang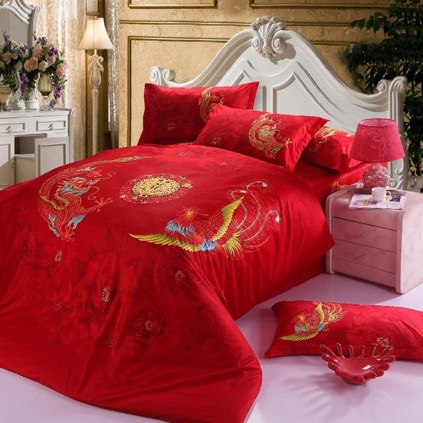 Source: Pinterest | Red bedlinens with dragon or phoenix designs were common
Setting up the nuptial bed was a highly important ceremony for Hokkiens as the auspicious fruit, colour of the bedsheets and even the person who was doing the setting contributed to hopes for many offspring. Done at an auspicious hour and while saying many blessings for the couple, many Hokkien couples do not always practice anymore. If they do, they may not be as particular about the colour of the bedsheets nor the timing and even the style of furniture.
Shang Tou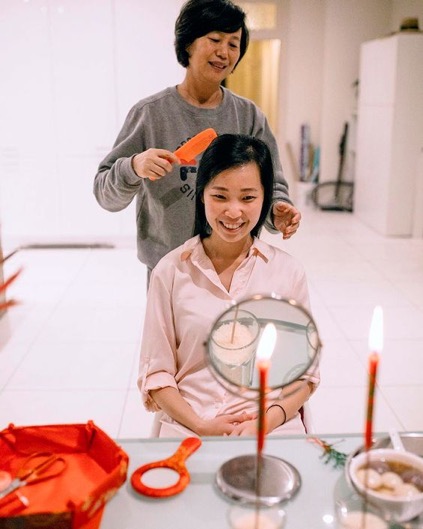 Shang tou is more often performed by parents these days
Source: Pinterest
A ceremony to commemorate the bride and groom's coming of age, hair combing takes place in the couple's respective homes simultaneously although the groom is set to start 15 minutes behind the bride. After the couple has bathed in pomegranate water and dressed in new pyjamas, an auspicious person sets their hair while saying blessings over them with an array of special items present.
Wedding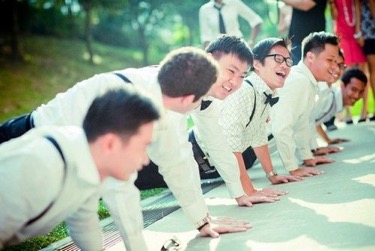 Groom and his groomsmen being 'punished'
Source: Pinterest
When it comes to bride fetching, modern 'gatecrashing' has the groom performing all sorts of outrageous tasks to prove his love for the bride. Traditionally, he answers a question about the bride, sings a song for her and completes a physical task, however the 'sisters' guarding the door have gotten very inventive in recent years. The bride then leaves her house at the stipulated auspicious time, which is between 8am to 10am for Hokkiens, under the cover of a red umbrella and throws one of two fans out of the car as she is leaving. This signifies her entering the marriage as a new woman and committing to carrying on her husband's family line.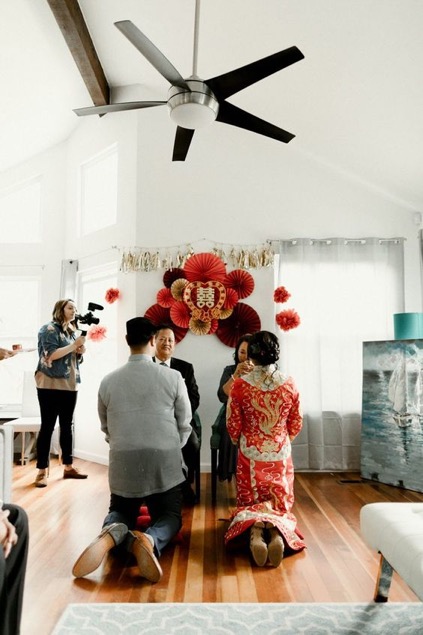 The tea ceremony is one of the most important aspects of a Chinese wedding
Source: Pinterest
The tea ceremony is one of the most significant aspects of a Chinese wedding and is kept by many modern couples. After which, Hokkien couples are served tangyuan as it represents yuan yuan man man in Chinese or a sense of complete happiness for the marriage. Alternatively, mee sua with egg may also be served. In Singapore, many Hokkien couples will perform the tea ceremony for the bride's family on the same day instead of waiting three days as per old custom.
An entire suckling pig may be brought to the bride's house to convey the groom's family's satisfaction regarding the bride and if the ears are clipped off, it indicates that the groom's family acknowledges the girl is not a maiden but welcomes her anyway. Leaving the bride's house, the bride and groom are often given a red packet instead of a bamboo stalk and a rooster and hen according to tradition, although some families may still opt for the traditional route.
These are just a few of the many customs that Hokkien couples undertake for their weddings even in the present. For a more detailed account of these traditions and their significance, head down to Then & Now: Celebrating Chinese Wedding Traditions Exhibition from 25th to 31st May at SCCC Kwan Im Thong Hood Cho Temple Gallery, Level 2.