The 3-Step Guide to Customising Your Diamond Ring
2020-03-03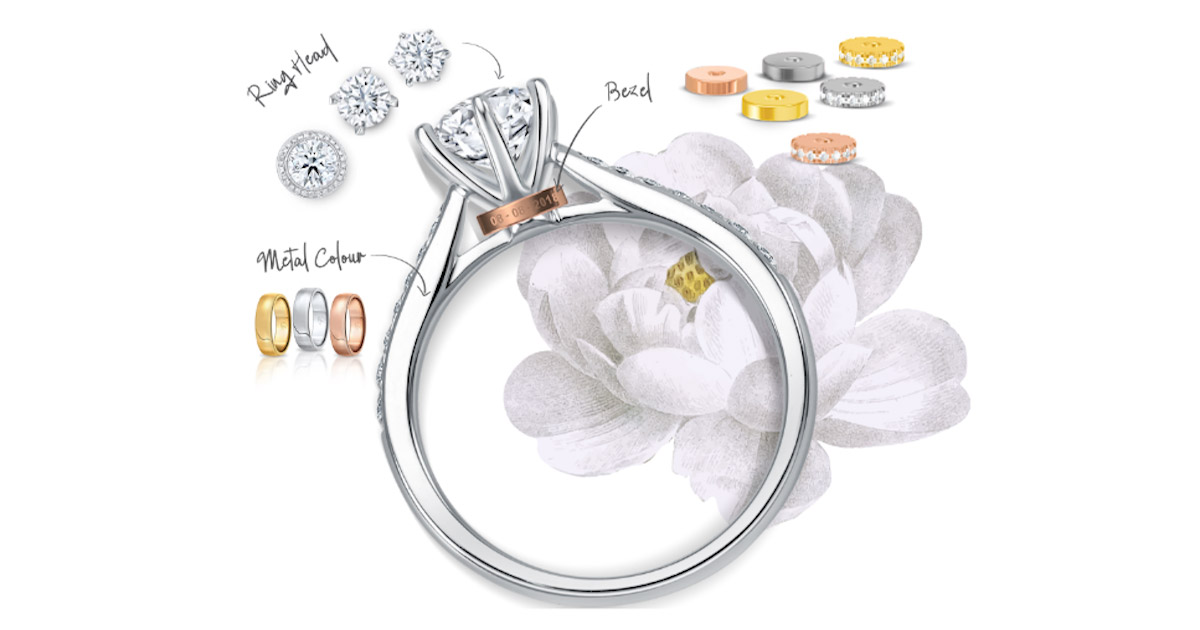 Like diamonds, no two love stories are the same. Be it an engagement ring or wedding band for the person you want to spend the rest of your life with, it should be just as unique as your story. If you're looking to customise a diamond ring, here's a simple three-step process:
Step 1: Choose your ring band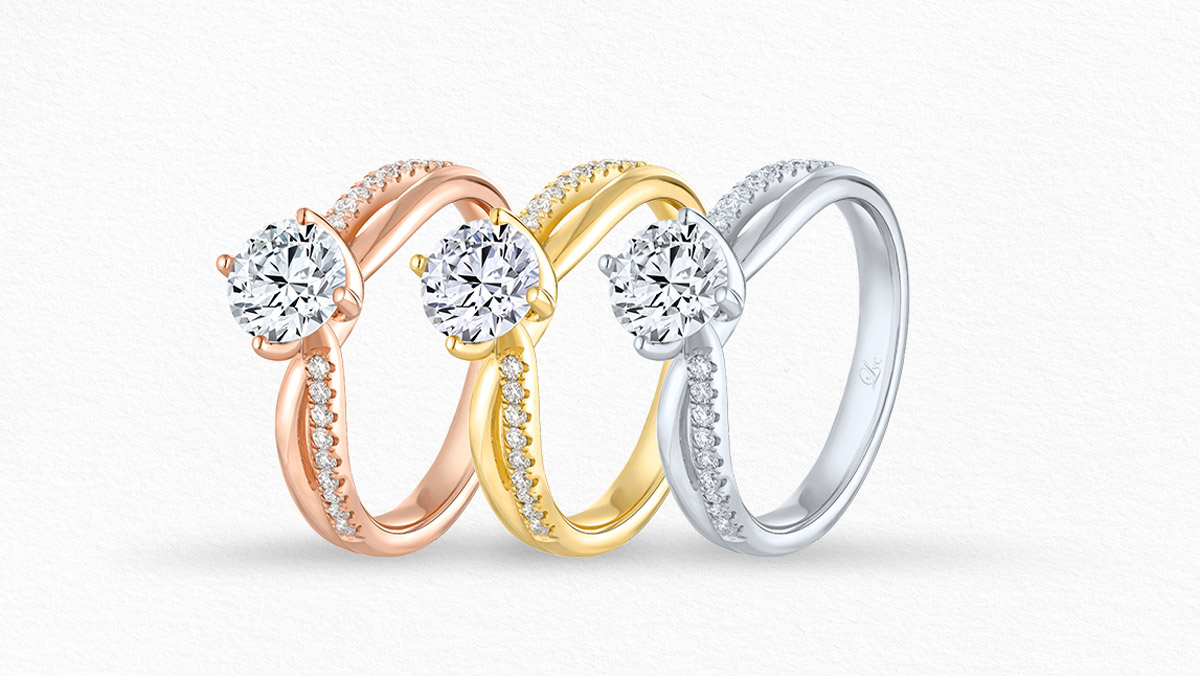 The material
Whether you want your ring band to have a white, silvery sheen, a luxurious yellow shine, or a lovely rose gold hue will depend on the type of metal chosen.
Typically, platinum is the go-to choice for admirers of pristine, white metals thanks to its durability, hardness, and naturally white sheen that will never fade or change colour. An alternative is 18k white gold, which produces a beautiful shine that acts as a perfect backdrop for diamonds.
For those who prefer a bit of colour, 18k yellow gold has always been the traditional choice for wedding bands due to the warmth and luxurious elegance it exudes. Otherwise, 18k rose gold adds a touch of romance to your jewellery and can make for a more unique ring.
Note: If you're choosing gold, make sure to opt for 18k gold as it is less likely to trigger skin allergies.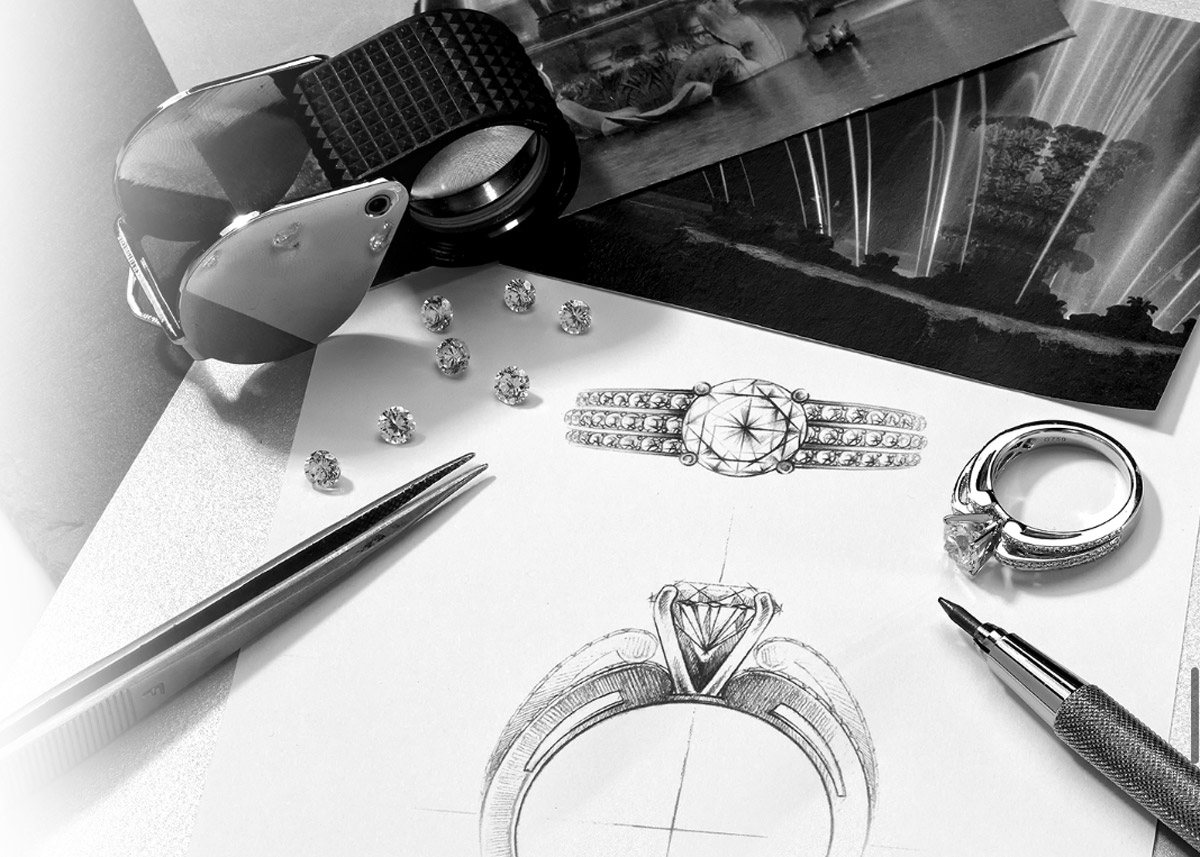 The design
You've got a boundless imagination. Create a custom-design to match it! Whether you wish for your ring to represent everlasting love with two bands intertwining to create an infinity symbol or a simple and classy design that has pave-set diamonds across the ring shank, the sky's the limit. We recommend looking at existing band designs to gain some inspiration — Love & Co. has over 30,000 design permutations!
Step 2: Find your dream diamond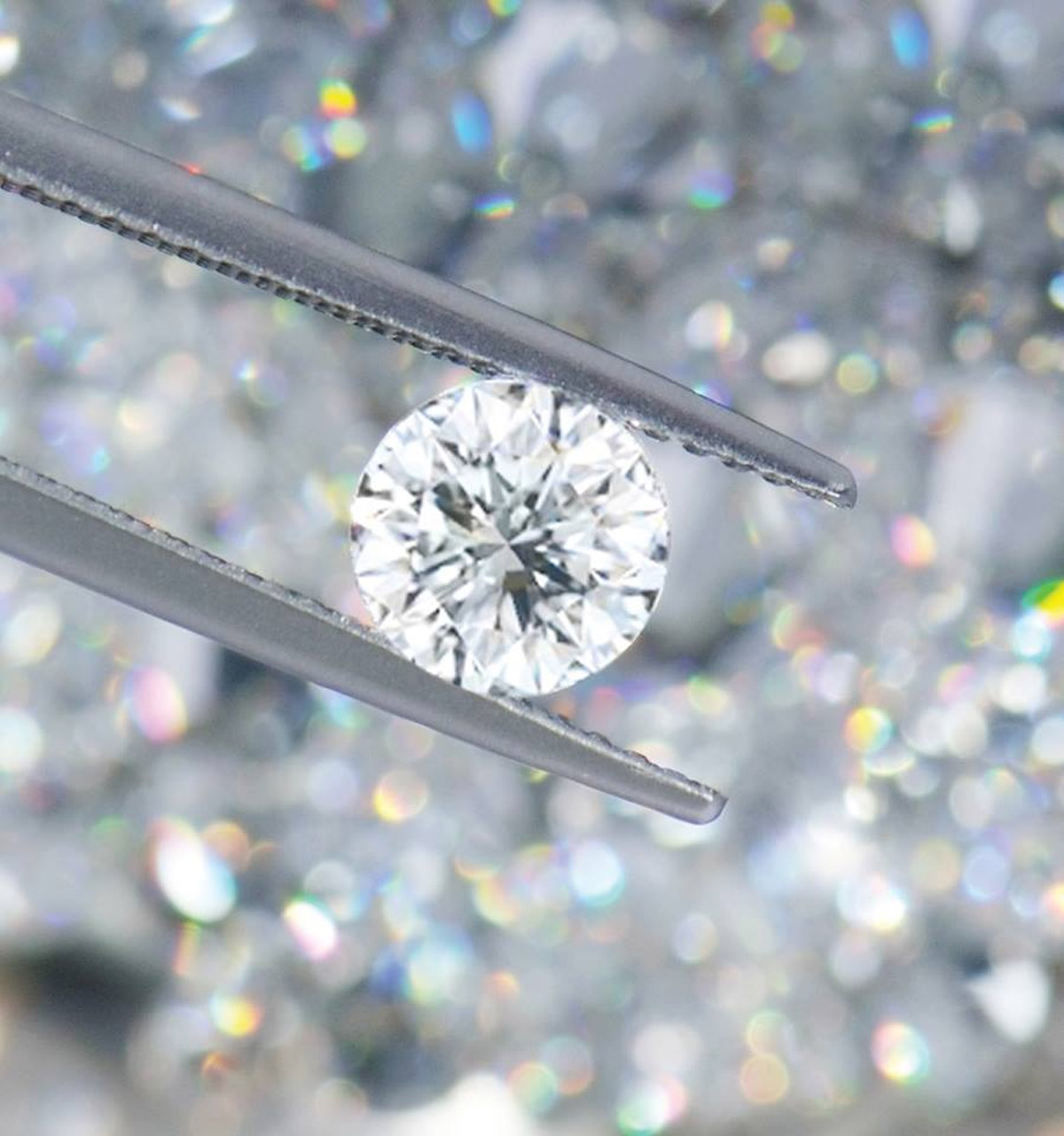 The ideal diamond
What's a ring without its rock? Choosing a beautiful diamond involves deciding on its shape and selecting high-quality options for the "4Cs" — without forking out more than you should. Known as Carat, Colour, Clarity, and Cut, ideally, the "best" diamond would be a rock that's as large as possible, have little to no impurities such that it appears colourless to the naked eye, and shine with a breathtaking brilliance at every angle.
For this, Love & Co.'s Lovemarque diamonds undergo a stringent grading process to obtain certification by the De Beers Group Industry Services — the world's leading diamond company with over 130 years of experience in diamond expertise. Attaining the highest grade, Ultimate, in all 4 parameters of light performance, Brilliance, Sparkle, Fire, and Light Symmetry, the Lovemarque diamond is also graded and certified by Sarine Technologies, an internationally recognised company that specialises in grading the light performance of diamonds.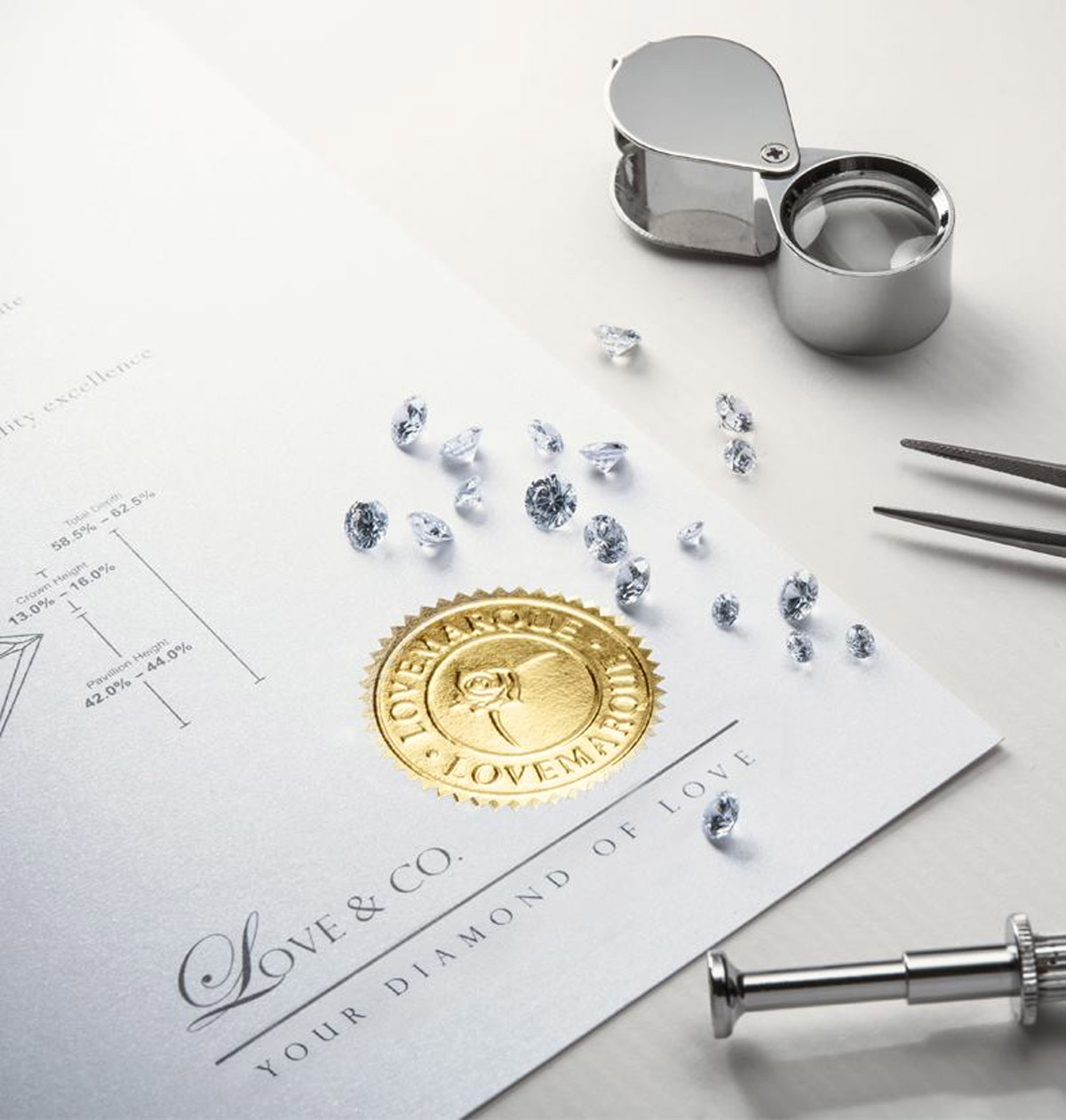 In addition to the rarity of its quality, the Lovemarque diamond bears a unique proprietary ROSE Hallmark on the table of the diamond, representing eternal love. Delicately inscribed with IIDGR's proprietary inscription technology, it also acts as a dual certification by representing Love & Co.'s 50 Promises of Quality, in which every diamond is checked at multiple points to ensure that it is truly befitting of your proposal.
For couples who wish to get more bling for your buck, Love & Co.'s lab-grown LVC Precieux diamonds is a brand new option that's chemically, physically, and optically identical to mined diamonds. Graded on the exact same criteria as mined diamonds certified by the International Gemological Institute, each lab-grown LVC Precieux diamond is at least 1 carat in size and costs up to 50% less than its mined counterpart. Not only great for younger couples to commemorate their love for a fraction of the price, it's also perfect for the environmental-conscious because it's fully-traceable and more sustainable.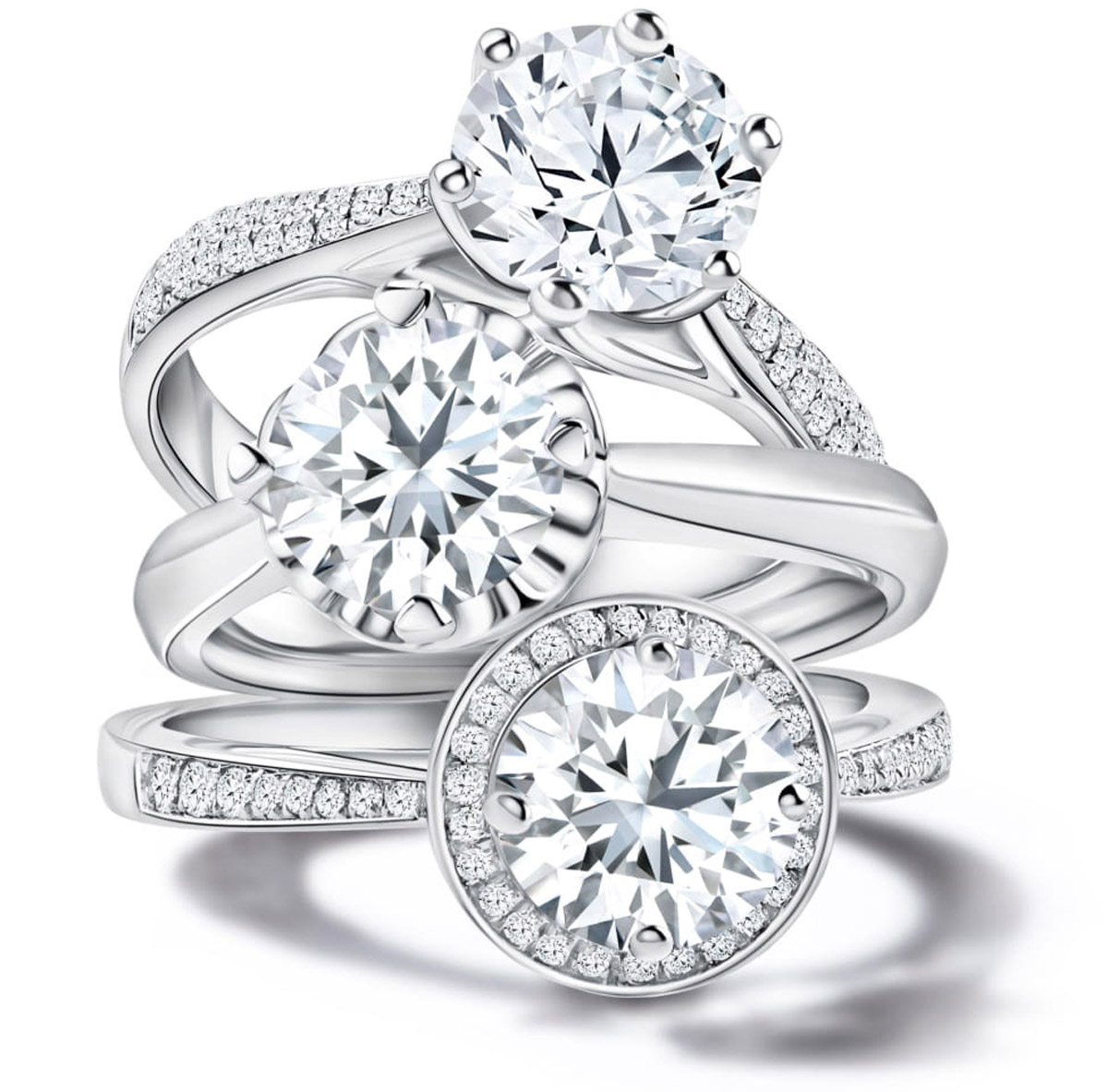 Get the perfect diamond cut
The shape of your diamond is the launching point of your ring's design. No shape is better than the others, and it all boils down to you and your partner's personal preference and how it represents your love for each other. That aside, Round Brilliants are the most popular diamond shape for engagement rings, and as their name suggests, they give off the most brilliance.
Step 3: Envisioning your dream ring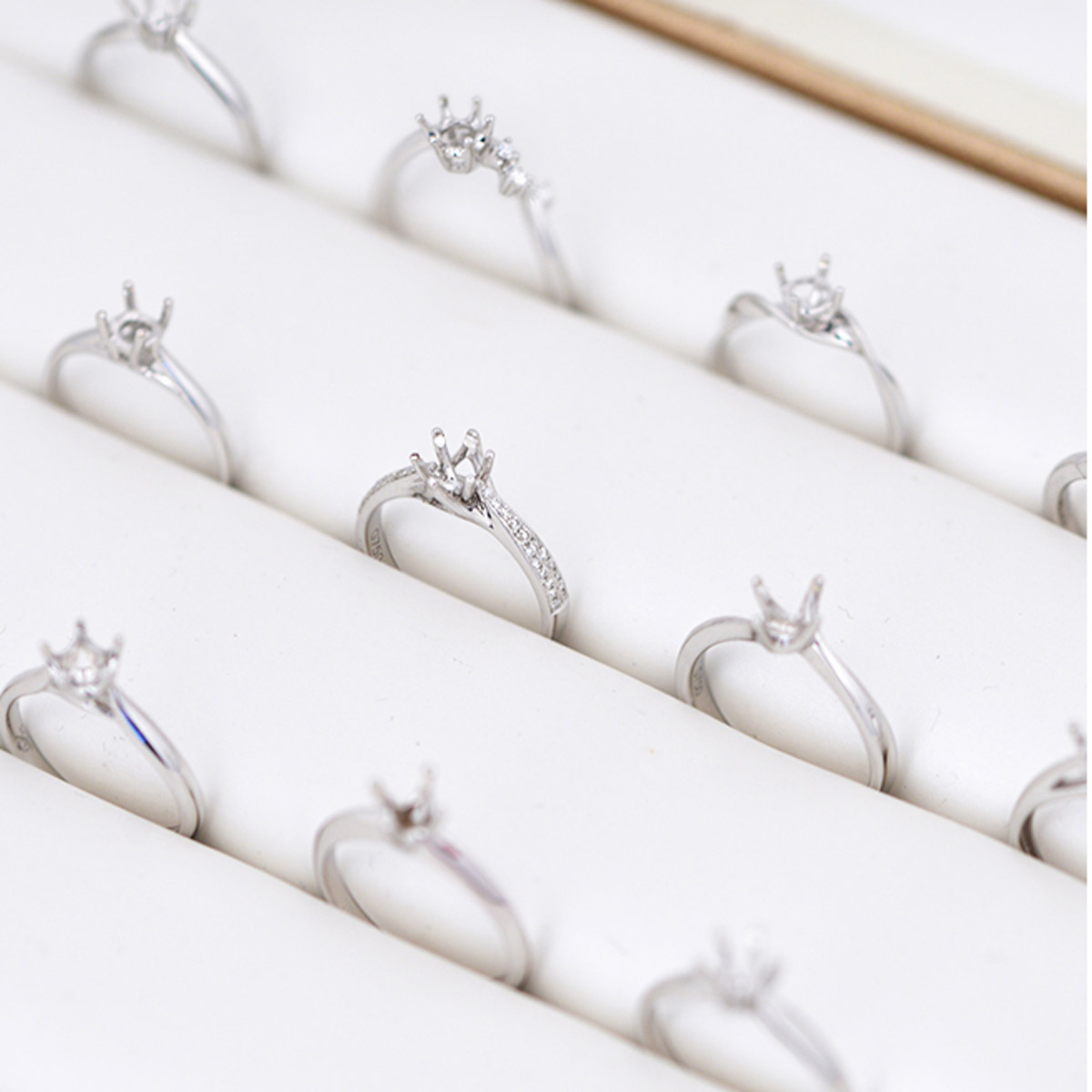 Your ring style and prongs position
Ring heads are the top portions of diamond rings that hold the centre jewel in place. Together with your prong setting, it can greatly shape the overall appearance of your ring, so make sure you take your time to choose one that pleases you from all angles!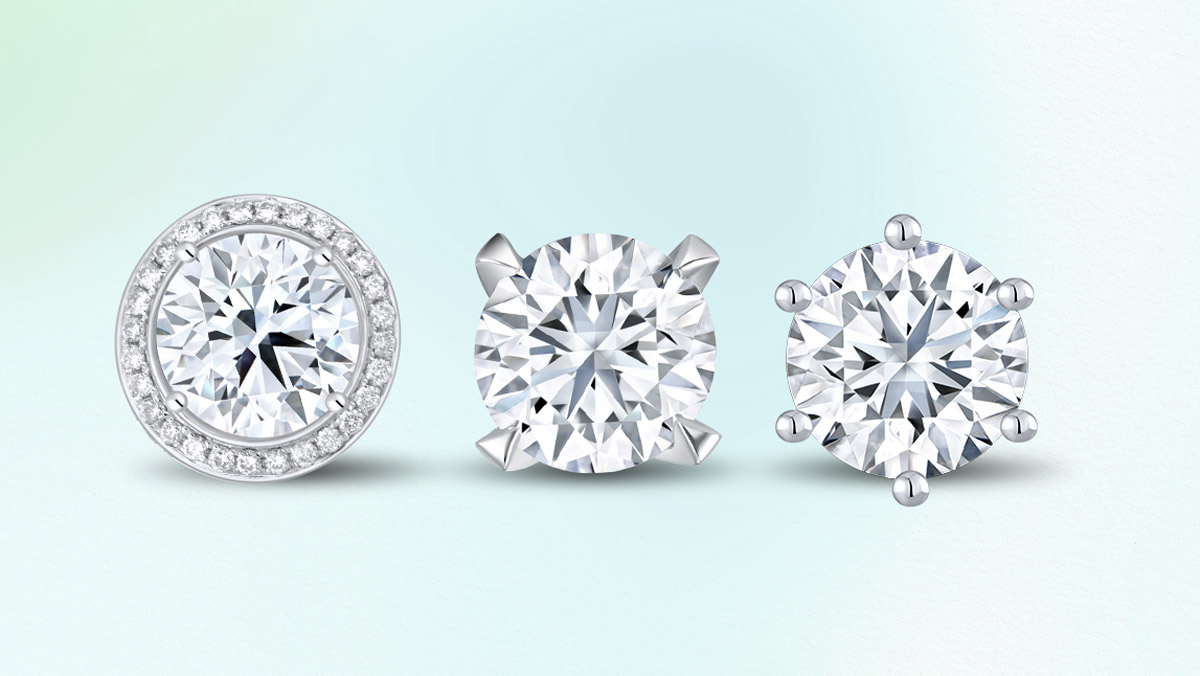 As for the prong, which is a small metal claw that holds the diamond in place, you can choose if you want it to be rounded, pointed, flat, or V-shaped. The overall appearance of your diamond may change depending on the prongs position, so set your prongs position in a manner such that you and your partner will love how the diamond looks every time you stare at it!
Most prong settings feature either four or six prongs, and the former allows you to see more of the diamond but the latter is more secure.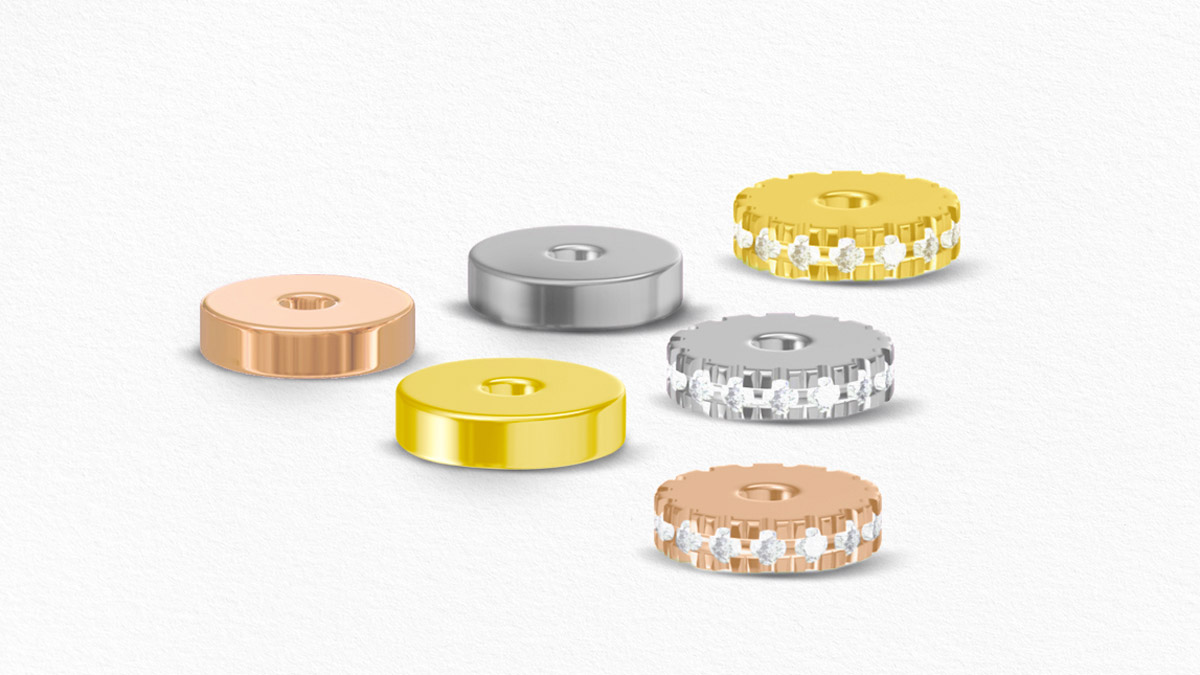 Ring bezel
Choose your ring bezel
Add a touch of sophistication to your ring with your very own ring bezel! The latest innovation from Love & Co., it comes in 4 beautiful designs.
A little help could go a long way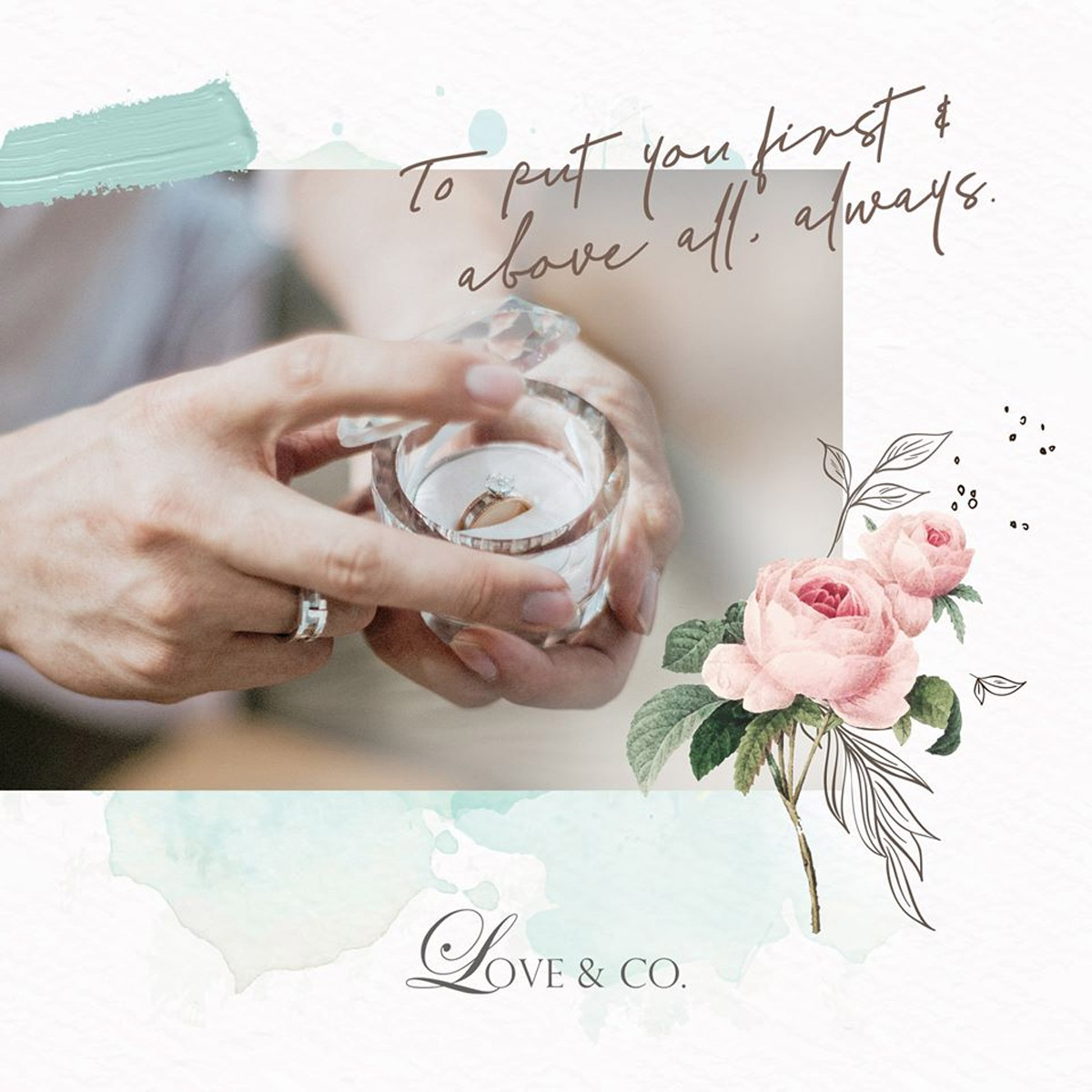 With all these cuts, settings, and materials available for you to choose from, the possibilities are endless and we know that it can be daunting. Sometimes, it helps to have an expert step in to help with the process, and here's where the newly minted LVC Diamond Concierge comes in handy.
Located in Love & Co. stores islandwide, Love & Co. presents a bespoke service that allows you to physically piece components together to build your perfect customised ring right on the spot, unlike the traditional method of sketch drawings to customise a design.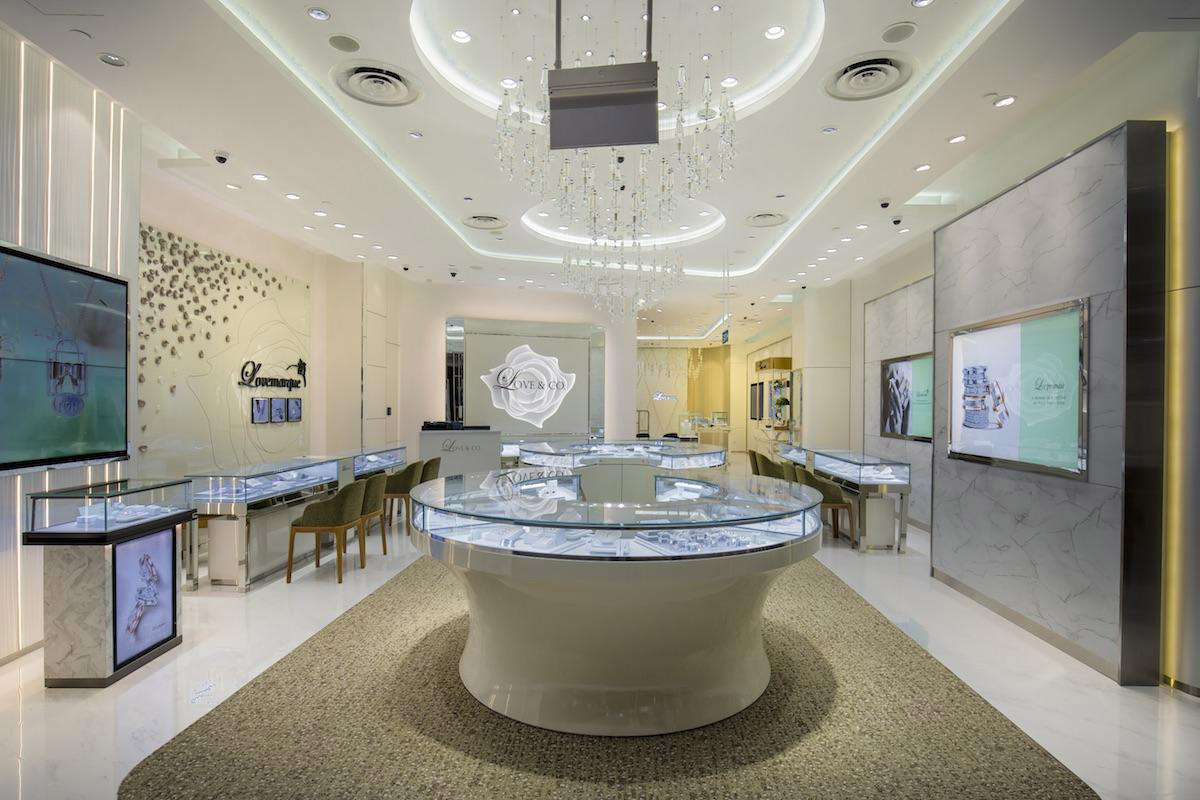 Get hands-on in the diamond selection process and do it as the most seasoned jewellers do at Love & Co.'s Boutique at Jewel Changi Airport.
At Love & Co.'s flagship store at Jewel Changi Airport, you can enjoy the privacy and comfort of a one-on-one consultation in their spacious booths as you choose between their Lovemarque and LVC Precieux diamond and decide on how to customise the ring head, prong position, band material, design, bezel, and more.
With an aim to help couples find that perfect ring for their special love story, simply book an appointment at their flagship store and Love & Co.'s passionate and knowledgeable jewellery specialist will be there to assist you in your journey every step of the way.
Love & Co. Flagship Showroom
Jewel Changi Airport, #01-258, Singapore 819666
Love & Co Pte Ltd

Rating:

Address:

7 Changi Business Park Vista #01-01, Singapore 486042

Phone:

6812 2800