Through The Years: Teochew Wedding Traditions in Singapore
2019-05-21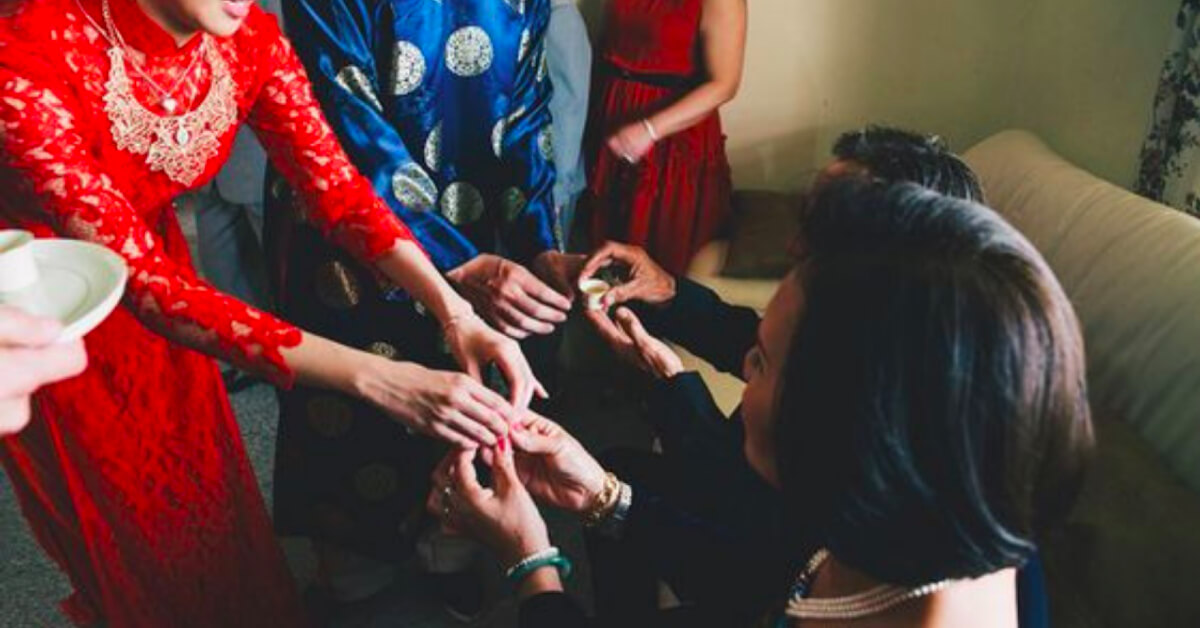 The tea ceremony is one of the most lasting traditions of Chinese weddings
Source: Pinterest
Traditional Chinese wedding practices have been an integral part of Chinese community, with each dialect bringing their unique practices over following their migration. Over time, as the intermarrying between dialects became more common, wedding customs of each dialect often overlap and are practised by Chinese couples in general. For Teochew couples who would like to follow dialect-specific traditions, here are some practices and how they have been adapted in modern-day for you to consider!
Customs and Processions
In the past, Teochews were particular about the matchmaking process where they practised the matching of the couple's eight characters and consulted a fortune teller on their compatibility. While modern Teochew couples are far less particular about this, some may still wish to consult a geomancer on auspicious dates for the betrothal and wedding.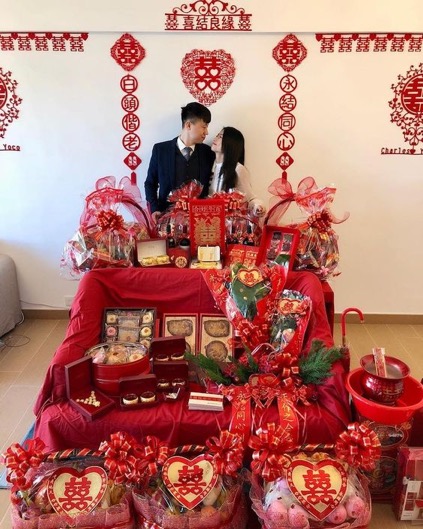 The amount and exact gifts given at guo da li are subject to negotiation between families
Source: Pinterest
The betrothal or guo da li comprised of the groom presenting a range of gifts to the bride's family in a straw basket with pomegranates painted on the side to represent fertility. These gifts included dragon and phoenix candles to be burnt at the bride and groom's houses, a bolt of red cloth to be hung over the bride's house door, a pin jin or bride price which is presently a token sum rather than a recompense to the bride's family, and an assortment of fruit and food. These can all be found in sets to be rented or bought at specialty stores for couples who would still like to adhere to this tradition.
Although the bed setting (an chuang) ceremony used to be conducted by an auspicious figure, with emphasis on the lucky fruit that was tossed on the bed as well as the male child sent to roll on it, along with bed linens and items used to furnish the nuptial chamber, modern Teochew couples rarely follow these strictly. Instead, a parent may be the one to set the bed and while pink or red bedsheets may be used, how closely the rest of the practices are followed vary from couple to couple. Likewise, hair combing (shang tou) is rarely done by an auspicious figure if at all, and many Teochew parents are the ones doing it in the present.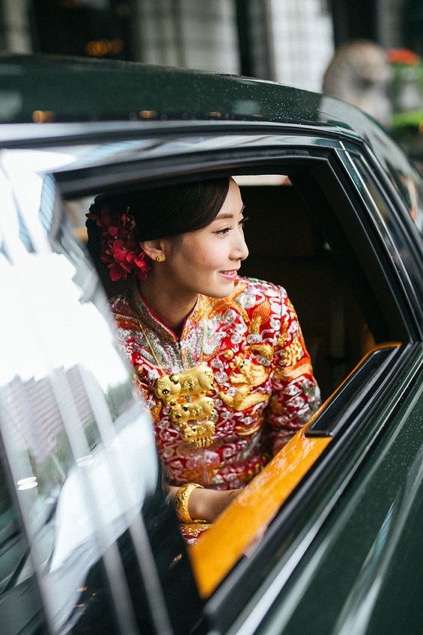 A bride should toss a fan out of the wedding vehicle as she leaves her home
Source: Pinterest
Teochew brides must be fetched before dawn as it is considered unlucky for her to see sunlight before she sees her groom. Teochew grooms can expect to participate in 'gatecrashing' whereby he completes tasks before fetching the bride.
Of all the ceremonies, many Teochew couples still strictly observe the tea ceremony and consider it the most crucial. They may also choose to return to the bride's home to perform the tea ceremony on the same day instead of waiting to return three days later (hui men).
Food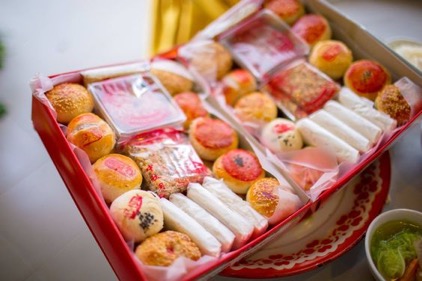 An assortment of traditional wedding cakes
Source: Pinterest
A bulk of the guo da li gifts include food such as oranges, hard liquor, biscuits, a whole suckling pig, peanut and sesame candy and Teochew wedding cakes. Peanut and sesame candies are favoured as gifts by Teochews as they represent a sweet marriage and the many peanuts and sesame symbolise an abundance of descendants. Teochew wedding cakes come in an assortment of six and can be found in traditional bakeries. Some of these cakes are specific to the bride's family such as the Grandma cake which can only be given if the bride's grandmother is alive and well.
In present day, some Teochew families may decide that instead of an entire suckling pig, cans of pig trotters or slabs of pork are also acceptable. Other uniquely Teochew guo da li items include bananas as they symbolise children for the couple. Most of the items given at guo da li are in sets of even number so that half may be returned to the groom's family and the rest shared among the bride's relatives.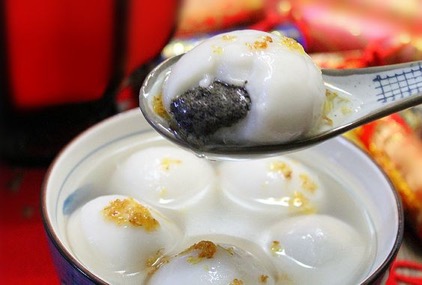 The Teochew version of tangyuan, ar bo ling, comes with a variety of fillings
Source: Pinterest
After the hair-combing ceremony, Teochew families will often give the couple mee sua with two eggs instead of the usual tangyuan that other dialects have. The Teochew version of tangyuan known as ar bo ling is filled with red bean, ground peanut, mung bean or other pastes and served after the wedding banquet instead.
Traditionally, the couple would return to the bride's house only three days after the wedding and go bearing oranges as well as cake to signify that the bride is a married woman. The bride's father would treat his son-in-law to a meal known as gian sai doh. Thereafter, the couple would return to the groom's house with sugarcane stalks for a sweet marriage ahead and a cock and hen to guide them in their future together. However, presently, couples may return to the bride's house on the same day of the wedding and while they may bring oranges and cake, Teochew families might do away with the sugarcane and chickens with a red packet instead.
Jewellery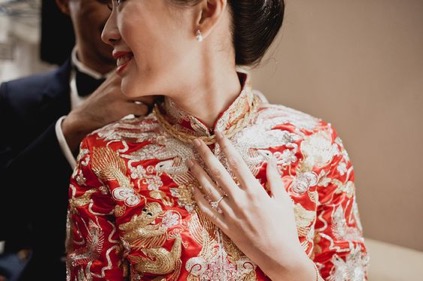 A bride typically receives the si dian jin from the groom's mother
Source: Pinterest
An unmistakably Teochew wedding tradition is the concept of si dian jin, directly translated as four touches of gold. Originally given because the chinese character for gold looked like the roofs of old houses, the si dian jin was meant to assure the bride that she would always have a place in the groom's house and that she would have domestic bliss in her marriage.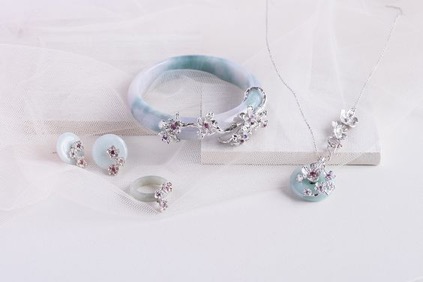 A modern take on the traditional si dian jin
Source: Pinterest
Given from the groom's mother to the bride, the si dian jin typically comprised of a necklace, bracelet, ring and a pair of earrings. While this practice is still followed by many Teochew households, it no longer needs to strictly be those four items of jewellery, nor gold. Nowadays, brides may choose between different permutations and non-gold jewellery such as diamond or jade pieces. Mothers-in-law may even bring the bride shopping with them to ensure that they select jewellery that the bride likes.
These are just a few of the wedding customs that many Teochew families still practise even to this day. In paying tribute to the colour wedding customs of the different Chinese dialect groups, Blissful Brides, together with the Singapore Cultural Centre, is holding an exhibition dedicated to discovering the wedding traditions of the Teochews, Hokkiens, Cantonese and Peranakans. For more information and fun-filled activities, head down to the Then & Now: Celebrating Chinese Wedding Traditions from the 25th to 31st May 2019 – see you there!