Ways to Bring Nature into your Wedding Celebration
2017-12-20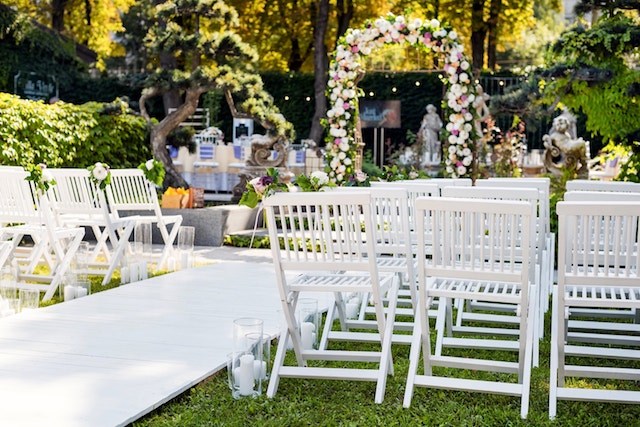 Are you looking for ideas to bring life into your wedding decorations? Flowers are a great wedding tradition, but that's not all! Here are other natural elements you can use to spruce up your wedding venue.
Sand
Sand ceremonies have become a trendy tradition in the last ten years. If you choose to use this as a marriage symbol or have a beach themed wedding, you can bring a sandy touch to the décor, just not in the food. Set votive candles in bowls layered with colorful sand or set up a sand art station for your guests to include their special touch. You can even line your wedding aisle with sand to bring on the beach vibes!
Salt
We're not talking about your average cooking salt, but crystal salts instead! Salt is a nice detail at a wedding to symbolize vitality, longevity and welcome the bonding of families. It is also inexpensive to incorporate into decorations in place of pricey retail options. Salt can be stunning with twinkle lights and cuts of rock salt or even pink Himalayan salt for a soothing glow.
Shells
Simple shells in different sizes add a lot of texture and give a breezy, natural vibe to a beach wedding. They are inexpensive and look perfect in large jars for centerpieces and make a great gift idea for guests.
Stones
If you are after a more minimalist look, stones are great way to set a clean and zen mood that pairs well with water. Use river stones for an effortless, natural feel or use all white ones to brighten things up. A cute idea is to invite guests to write love advice on small stones and place in a jar to take home at the end of the night.
Candles
Candle ceremonies are traditional because of the symbolic bond it represents in marriage. Center your wedding theme around candles and references to love and fire. Candles create a sensual mood and at a good price, you can be as creative as you please.
Incense
If you love aromatherapy, using tasteful incense during the ceremony could be just the tradition for you. Give your guest an olfactory surge that will have them fondly reflect back on your wedding with a satchel of dried incense. Popular wedding fragrances are orange, lavender, jasmine, ginseng and vanilla.
Water
If you have a beach or garden wedding theme, water is the ideal element to showcase. Set the mood for tranquility and use a small waterfall or pond for a soothing touch. Use round, fuller vases filled with water for orchids or lilies or have basins to float the flowers or candles in.
Fire
At an outdoor wedding, tiki torches give an energetic, celebratory feel at any venue. This is also a great way to keep insects away from the dining area. Enjoy the last hour of the night with a spirited bonfire as you are thanking your guests.
Bring the garden to the party with accents of greenery instead of flowers. Add a serene touch of simplicity to the ceremony with bamboo in stone vases. Display succulents or other vibrant plants on table tops for a fresh look. All these are great ideas to bring nature into your wedding venue. If you are a great nature lover, these will be perfect for you!