Wedding Inspiration: An Outdoor Garden Rustic Wedding
2019-09-17



The perfect set up for an intimate, outdoor wedding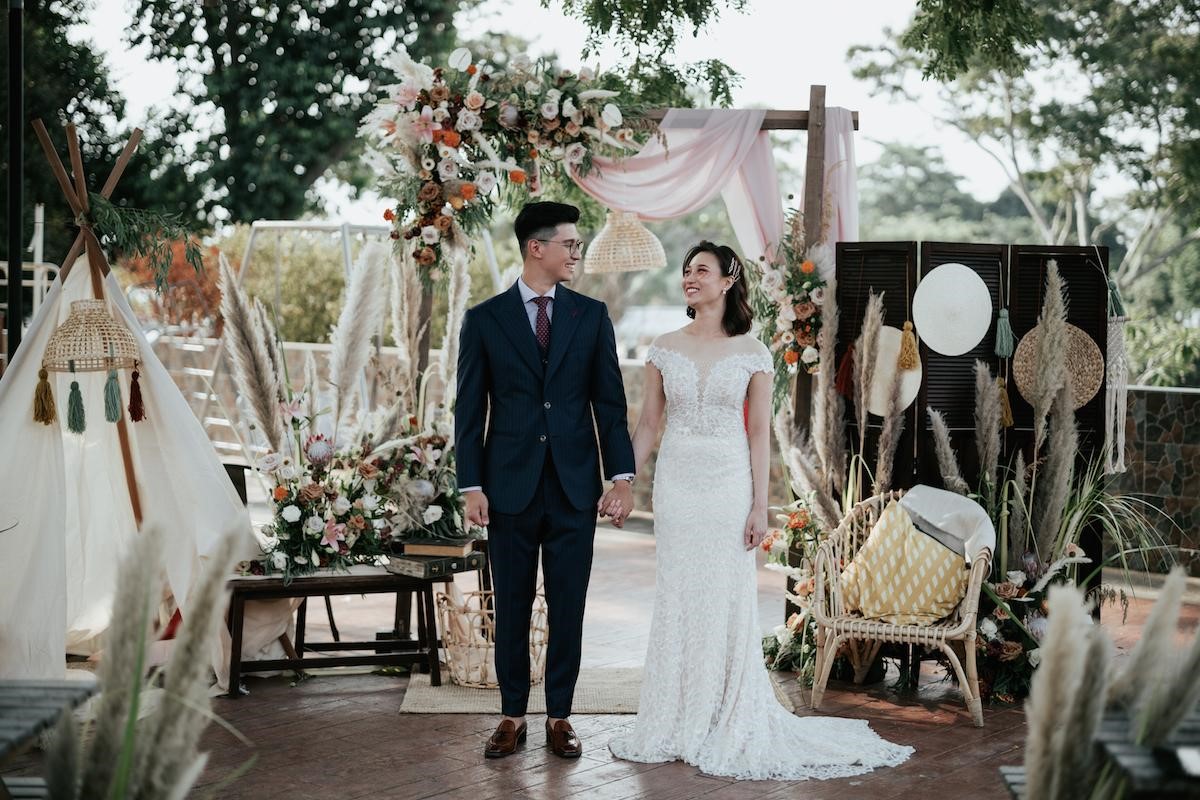 Just like how Disney princesses are no longer sashaying around a grand ballroom, today's brides are also no longer turning to the conventional hotel for their once-in-a-lifetime special day. Instead, intimate, outdoor weddings are on the rise now, so a while ago, we at Blissful Brides gathered some talented folks to put together a 'Garden Rustic' wedding.
The results were breathtakingly stunning. We couldn't be more pleased, and we believe that you will be too on your wedding day with these skilful and dedicated vendors: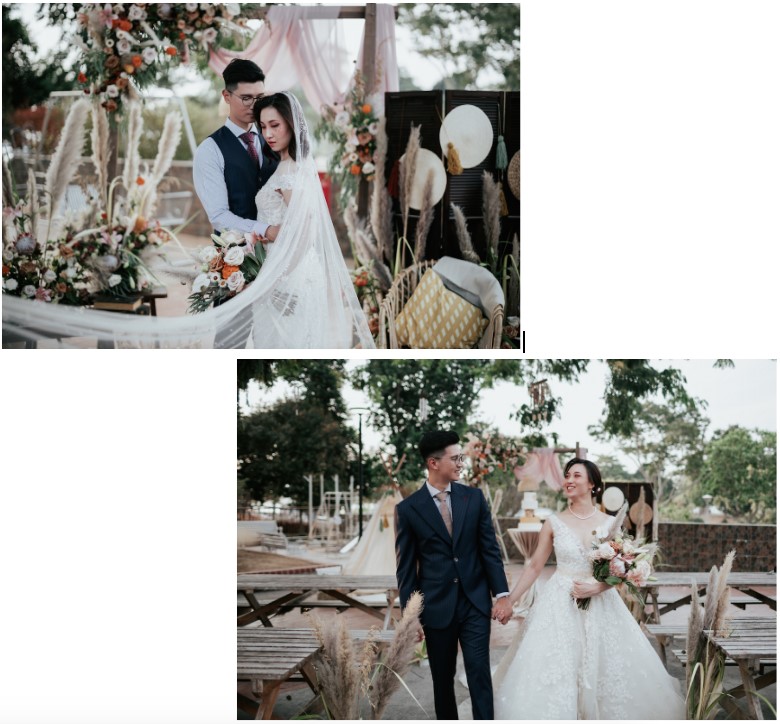 Stylist: Megu Weddings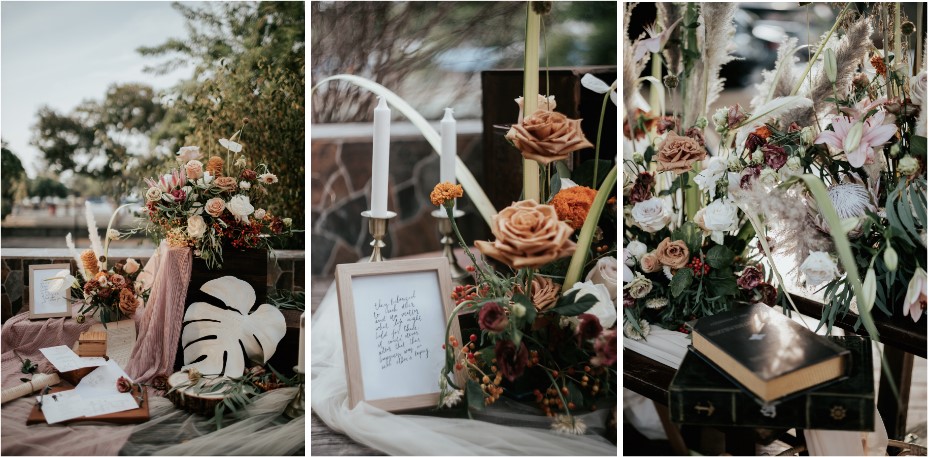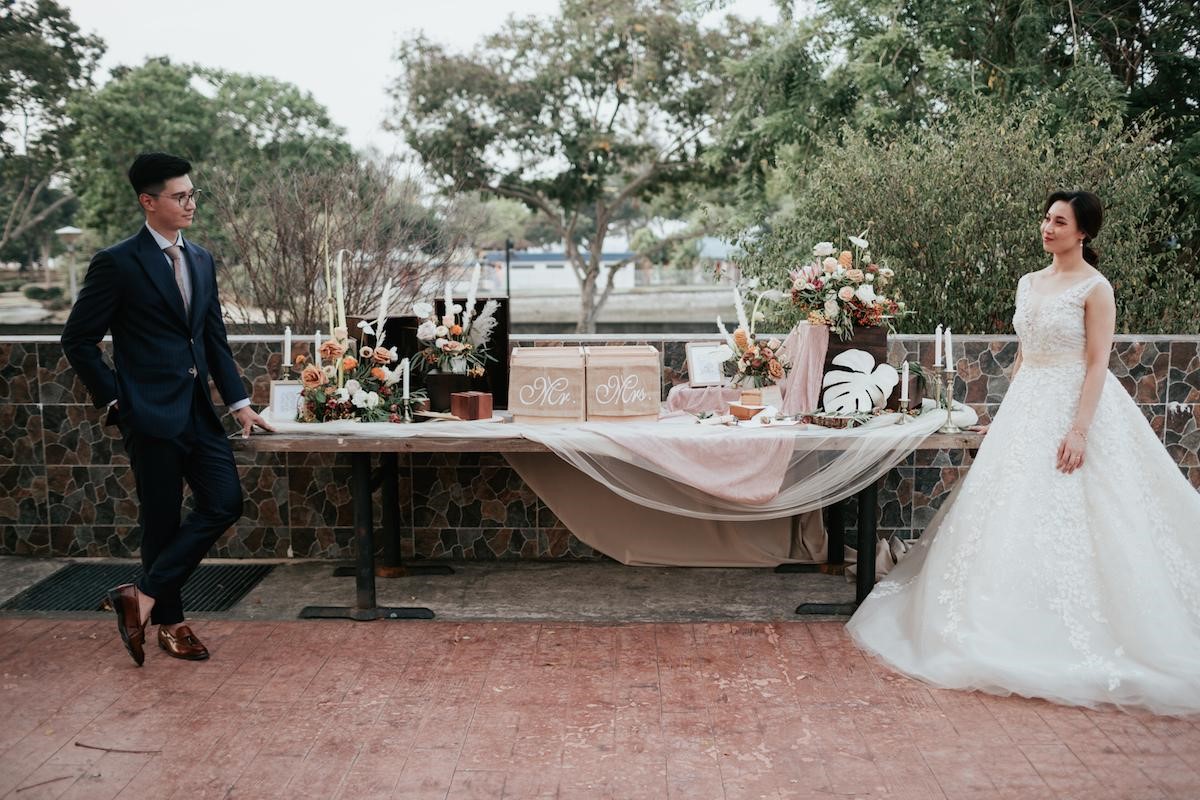 An initiative from MEGU Catering Concepts since 2015, Megu Weddings specialises in both catering and decorations. 'Megu' means 'blessing' in Japanese, which reflects how they feel about being able to be a part of your special day. Because of that, their team of wedding coordinators, chefs, and stylist strive to craft a menu and customise your décor and floral arrangements that truly reflects you as a couple.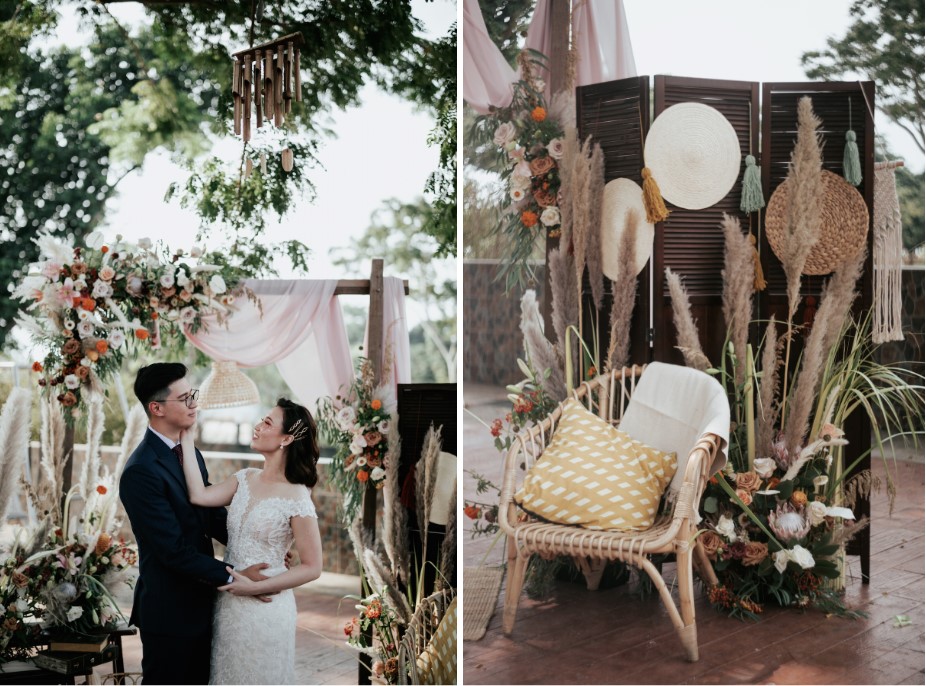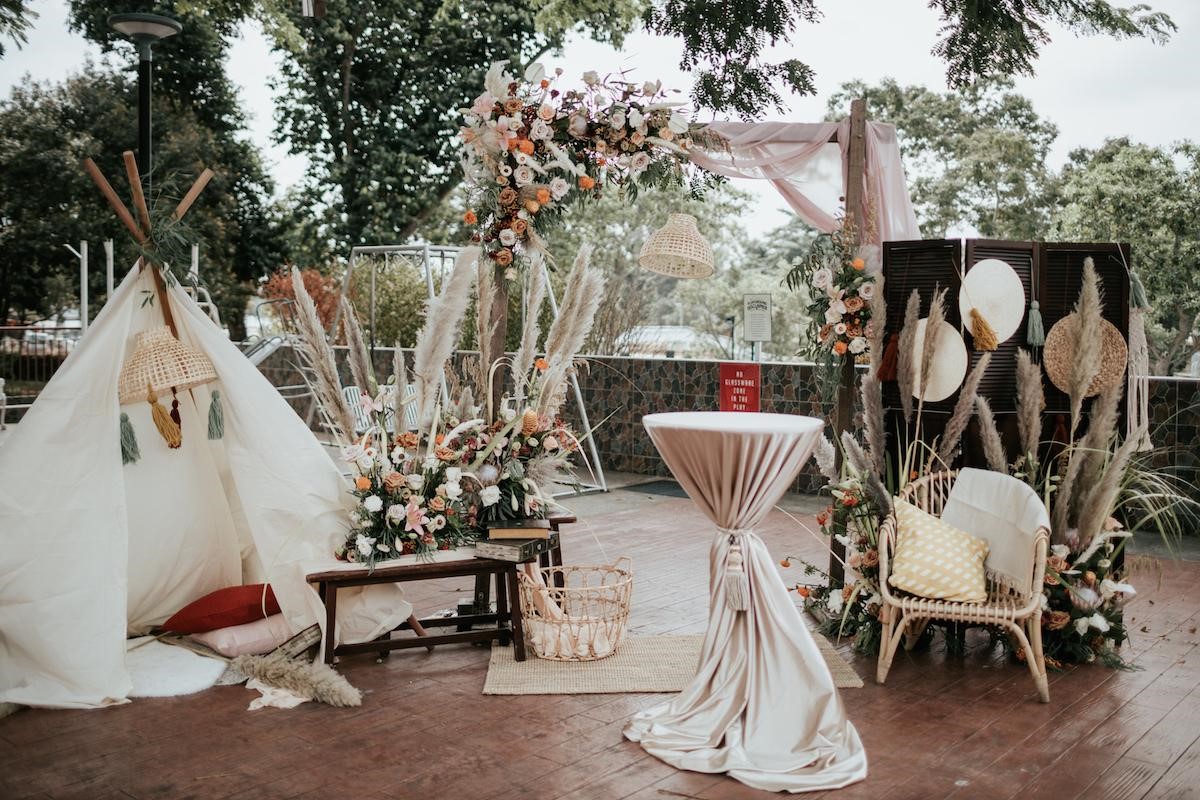 From the styling of the reception and solemnisation table to the necessary floral arrangements needed for your big day, Megu Weddings does it all - with the latest trends and classic traditions to ensure that your venue is stylish yet meaningful.
Website: https://www.meguweddings.com/
Facebook: https://www.facebook.com/meguweddings/
Instagram: https://www.instagram.com/meguweddings/
Florist: Bloomwerkz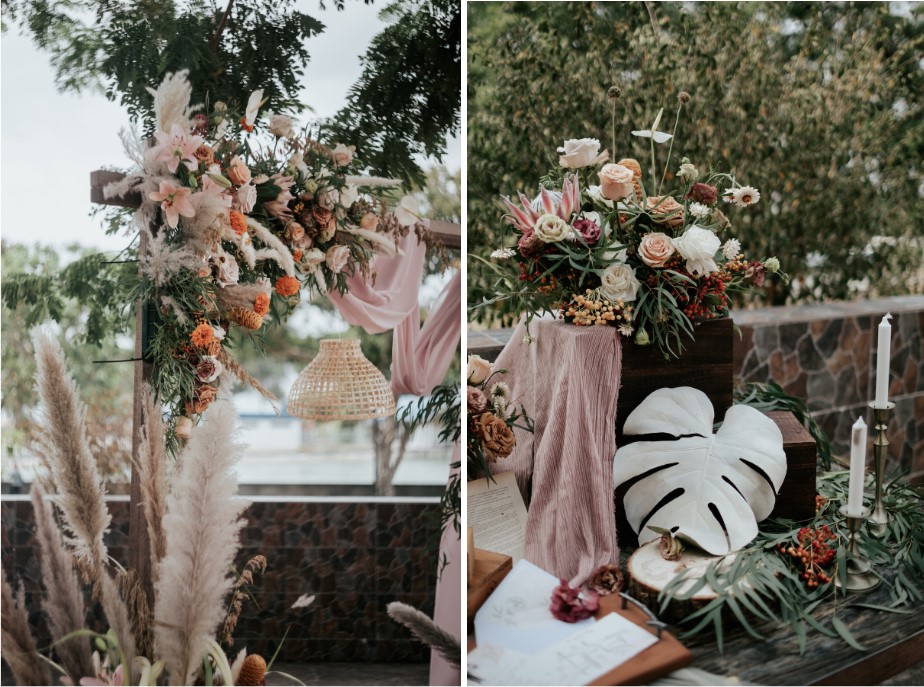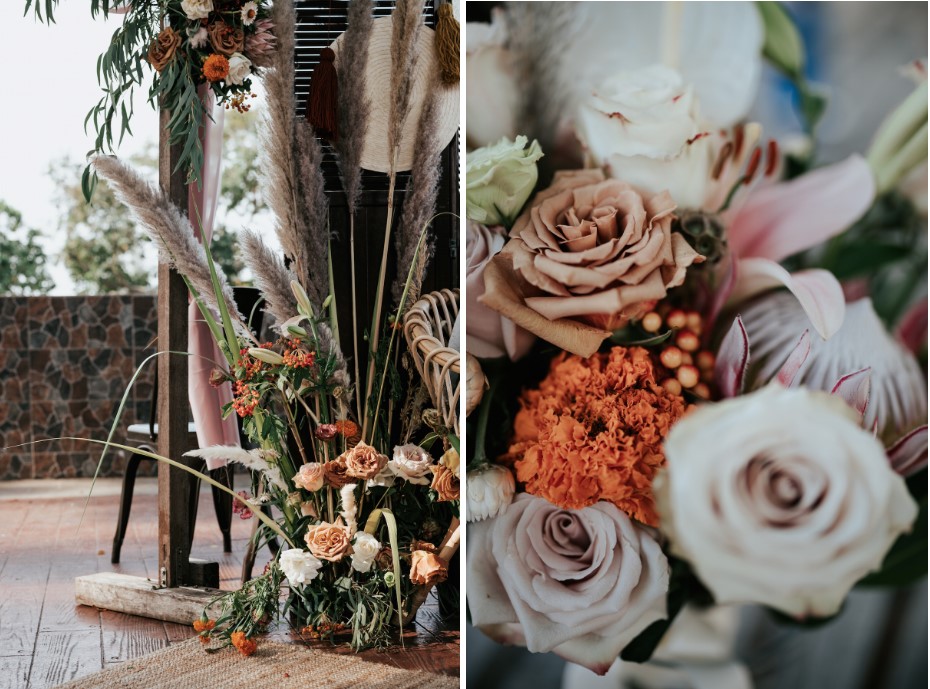 An online floral and design studio that's also the sister company of Megu Weddings, Bloomwerkz's speciality is all things floral. They offer bespoke floral creations that complement and enhance the beauty of the wedding location, your wedding gowns, as well as hair and make-up - a vital must-have for any wedding to look cohesive and well put-together!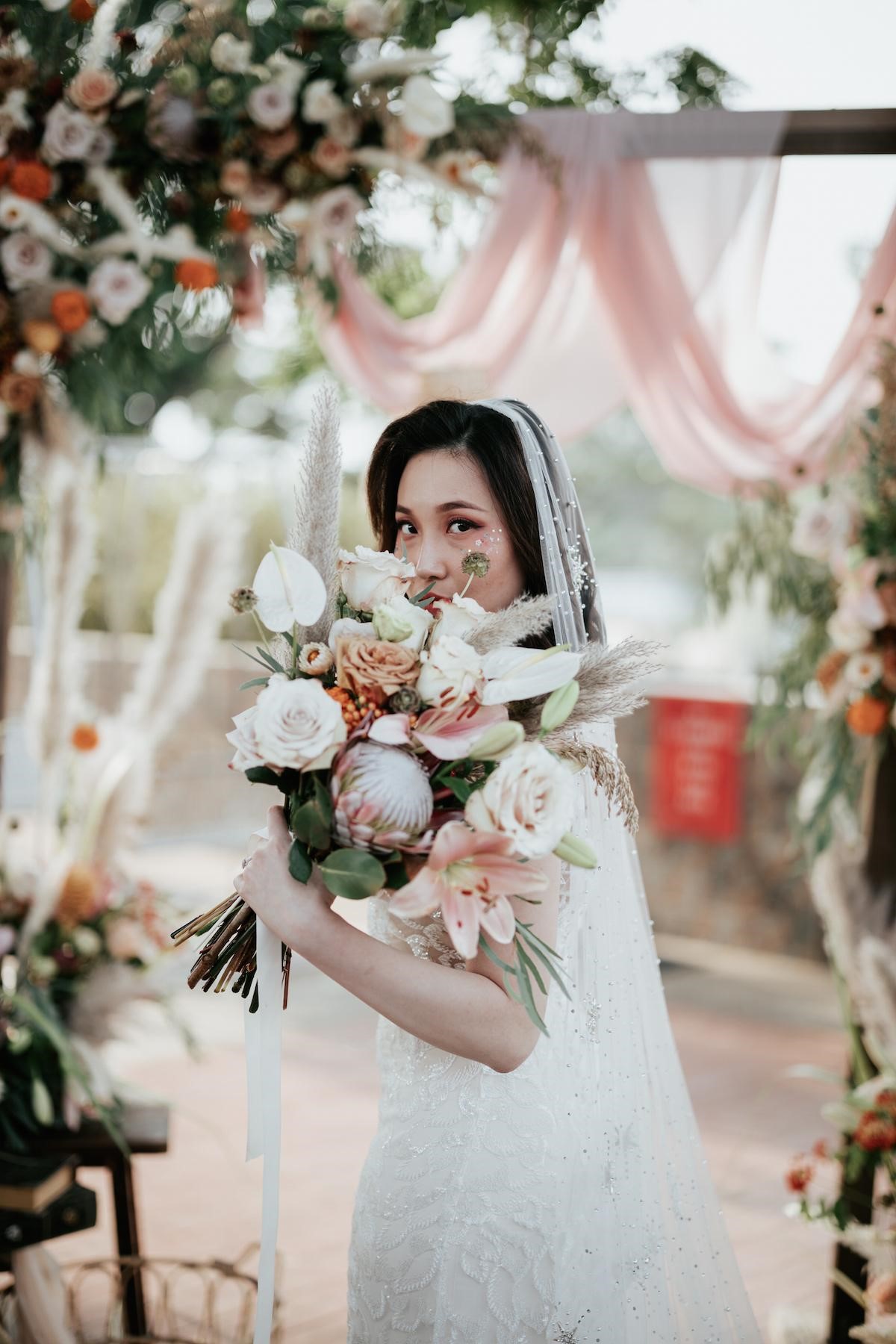 Website: https://www.bloomwerkz.com/
Facebook: https://www.facebook.com/Bloomwerkz/
Instagram: https://www.instagram.com/bloomwerkz/
Gowns: Grace Atelier Weddings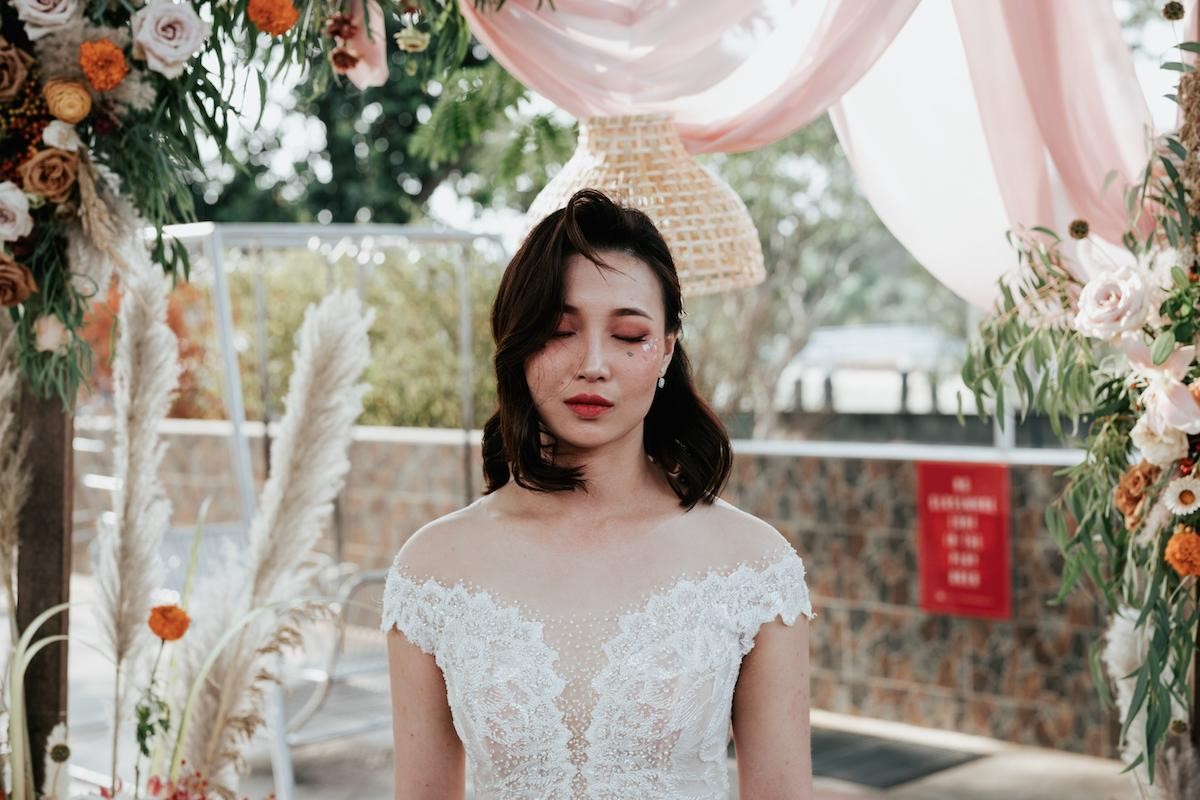 For the sophisticated bride who prefers couture bridal wear and minimalist luxury, Grace Atelier Weddings' curation of bridal wear, evening gowns, as well as bespoke designs embodies the perfect balance of traditional, style, and character.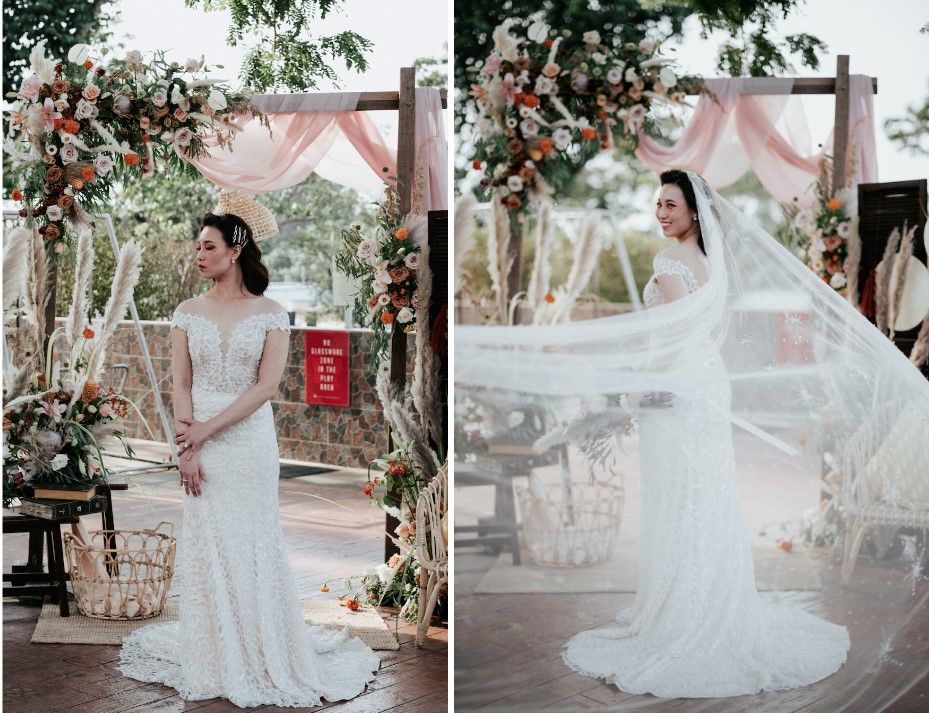 With a belief that every bride deserves to feel beautiful and more importantly, completely true to herself on her special day, their wide selection of handpicked gowns gets updated at least once every 6 months, and you can choose to tailor-make a cheongsam, kua, or any kind of dress you want too.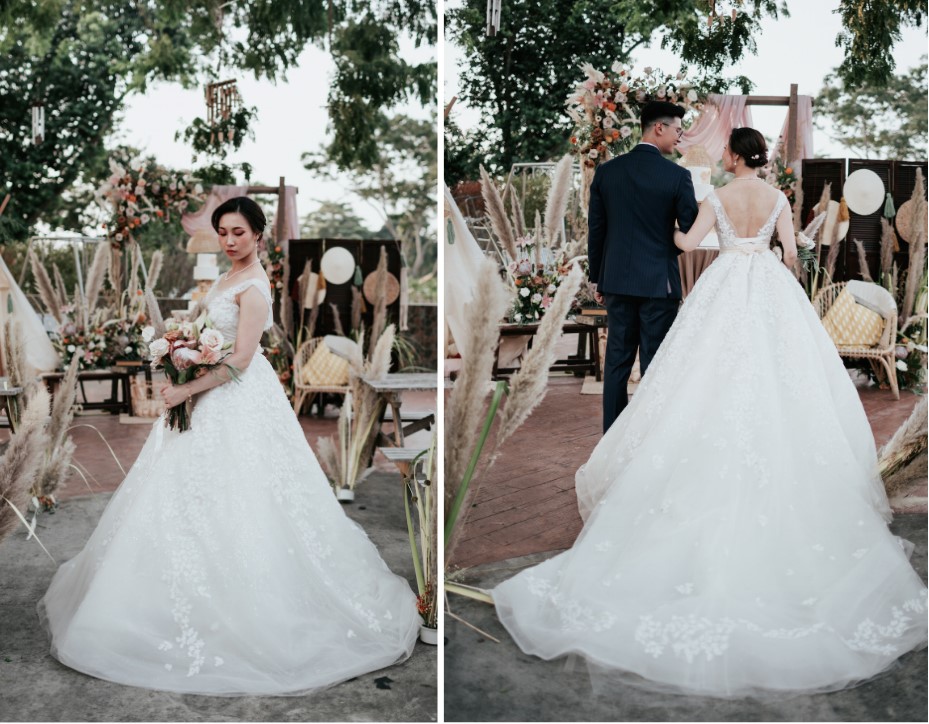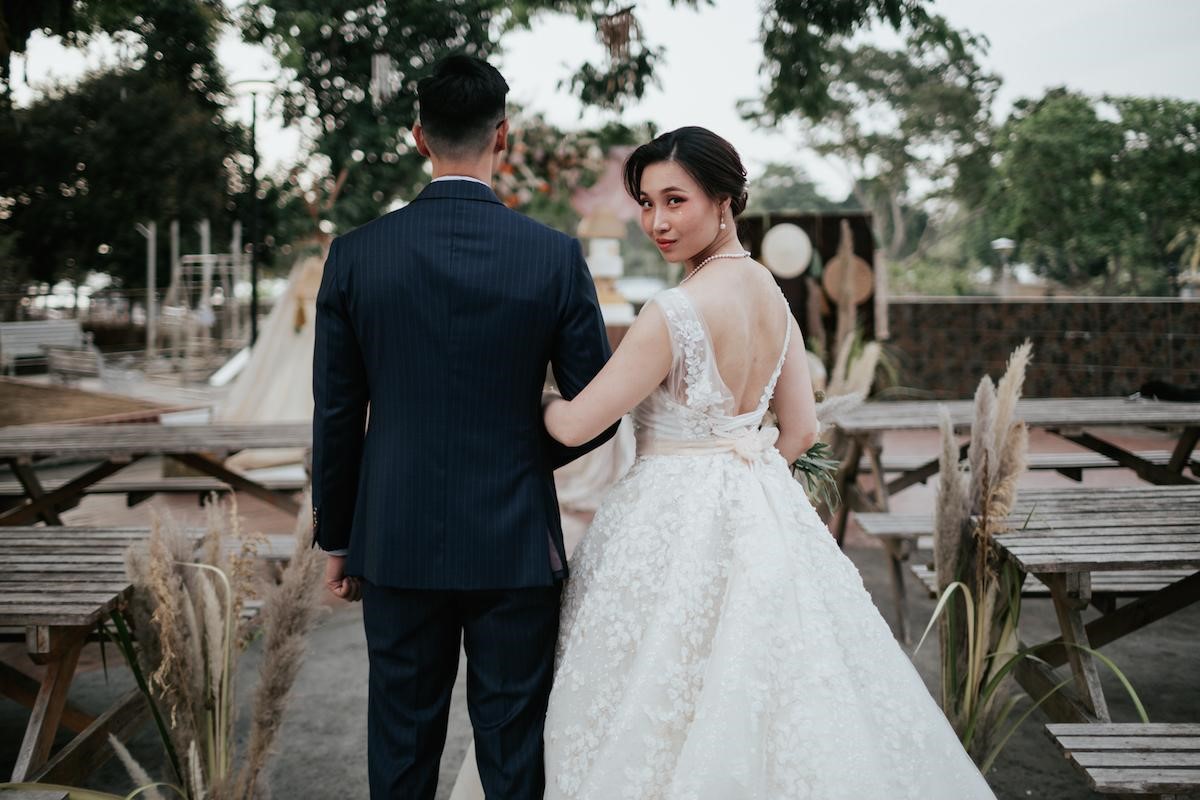 Website: https://www.graceatelierweddings.com/
Facebook: https://www.facebook.com/graceatelierweddingssg
Instagram: https://www.instagram.com/graceatelierweddingssg/
Suits: Assemble SG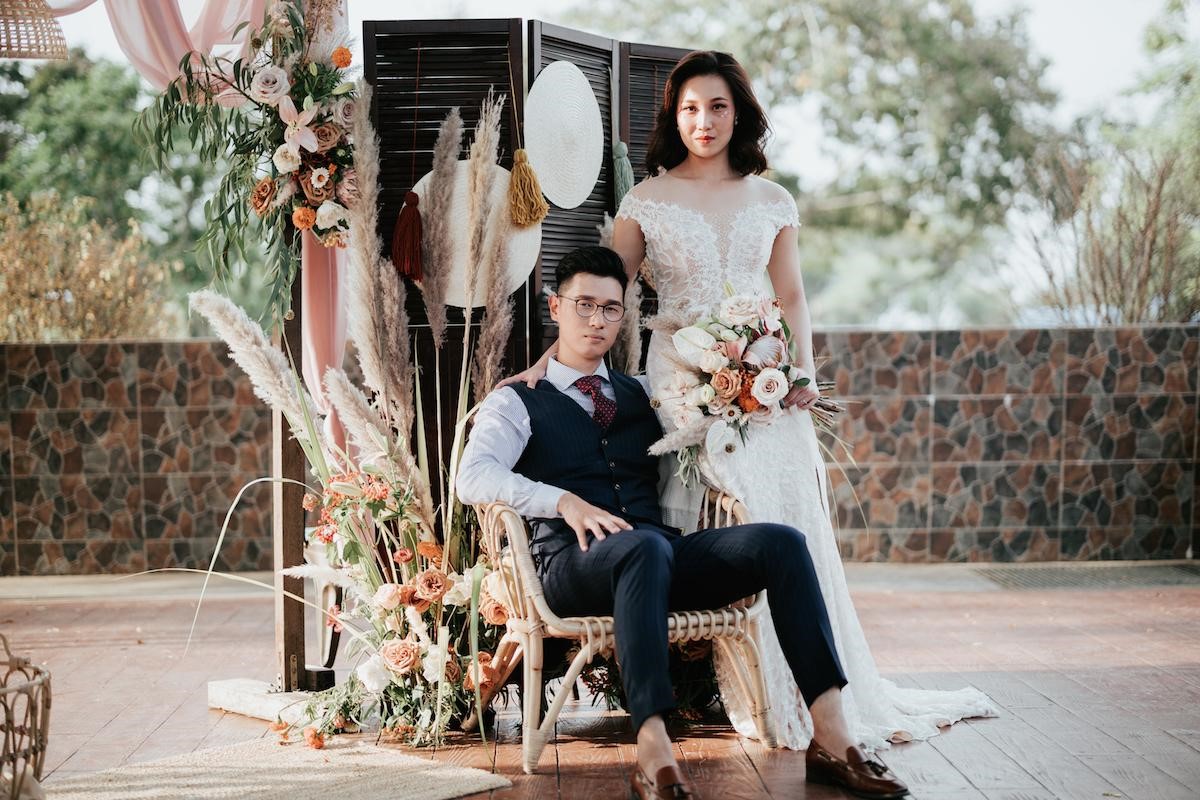 Singapore's first tailor to provide in-house and customisable linings, Assemble SG is the place to go to for a one-of-a-kind suit that not only showcases your personality but also is meaningful enough for a momentous affair that is your wedding. From your favourite picture to your own illustrations, cartoon characters, and more, all you have to do is let your creative juices and take your tailor-made suit to a whole new level.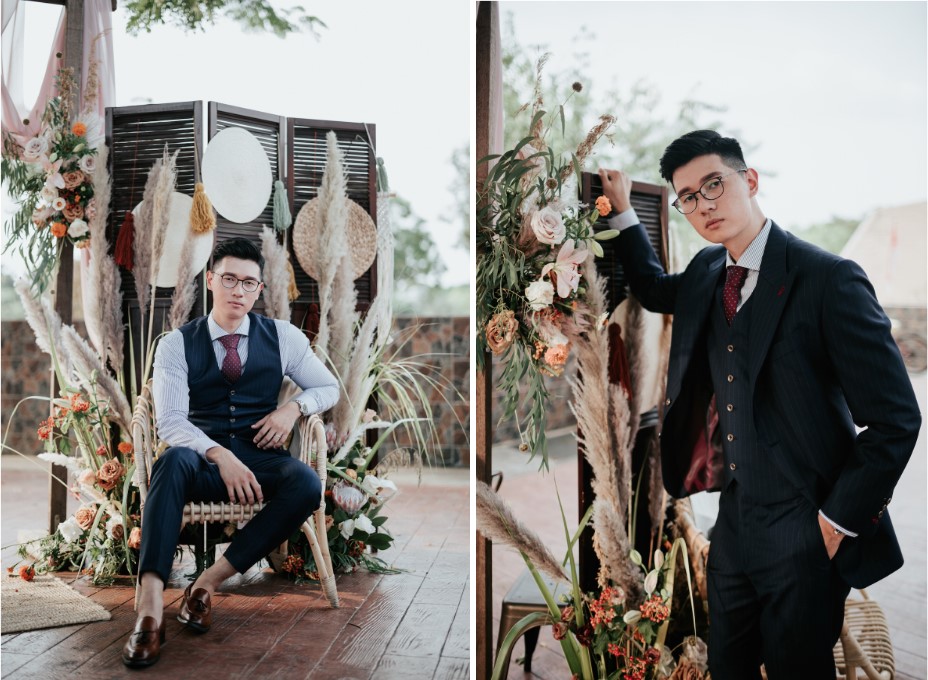 Apart from customising your linings, Assemble SG's suits are also made-to-measure and currently one of the most affordable in the market. Choose from over 900 fabric choices and better yet - have your first appointment right in the comforts of your own home!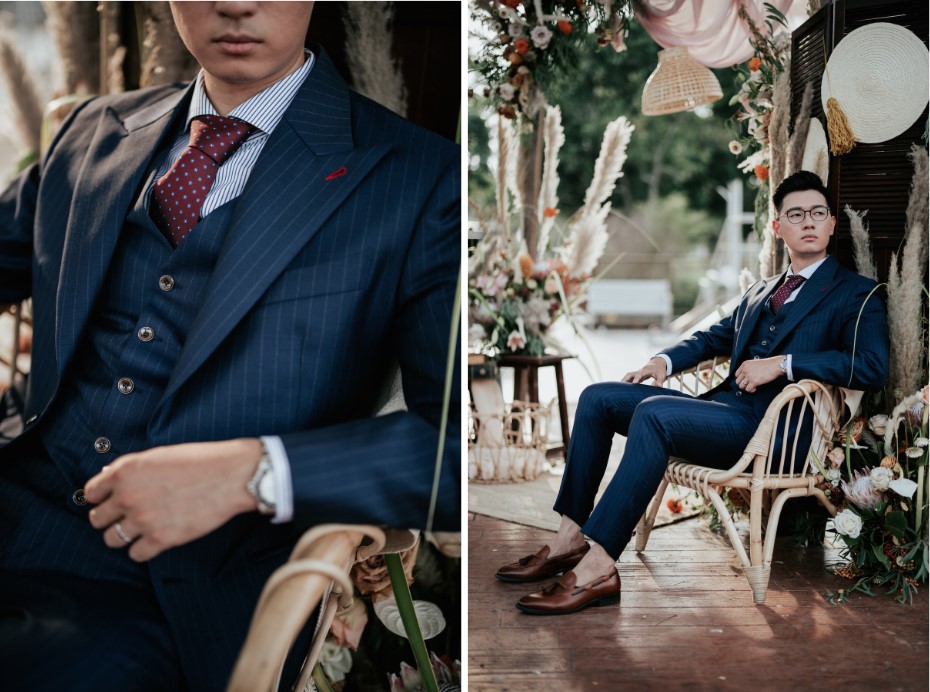 Website: https://assemblesg.com/
Facebook: https://www.facebook.com/assemblesg/
Instagram: https://www.instagram.com/assemblesg/
Hair & Makeup: Makeup Maestro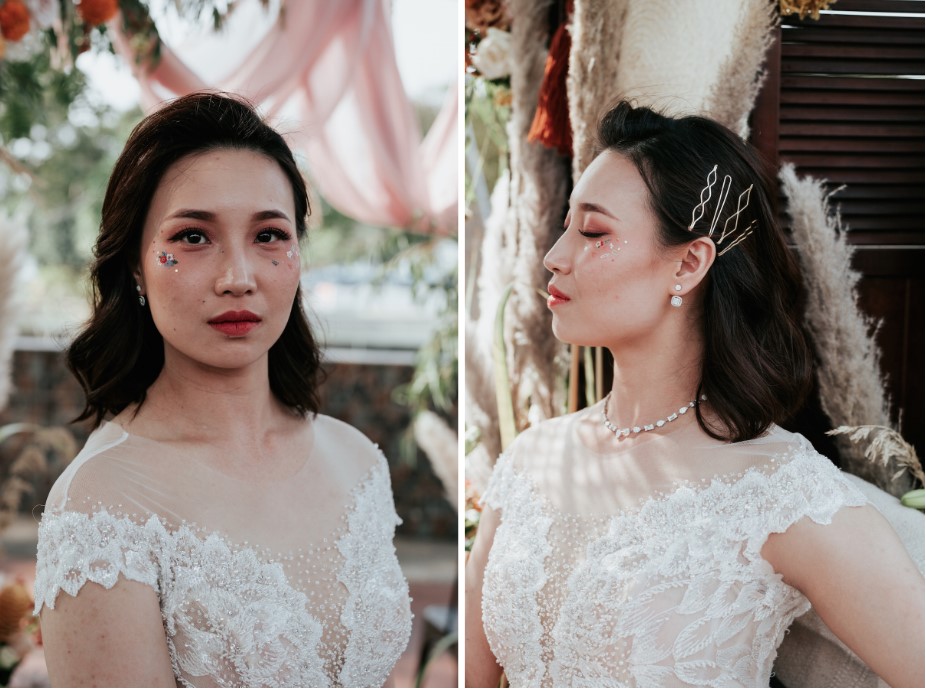 Entrust your face and hair to Makeup Maestro for a magical transformation befitting of your big day! Besides possessing the technical skills needed to make you look your best, their makeup artists also boast artistic flair, allowing them to harmonise your natural beauty with your personality to create a wedding look that is uniquely yours.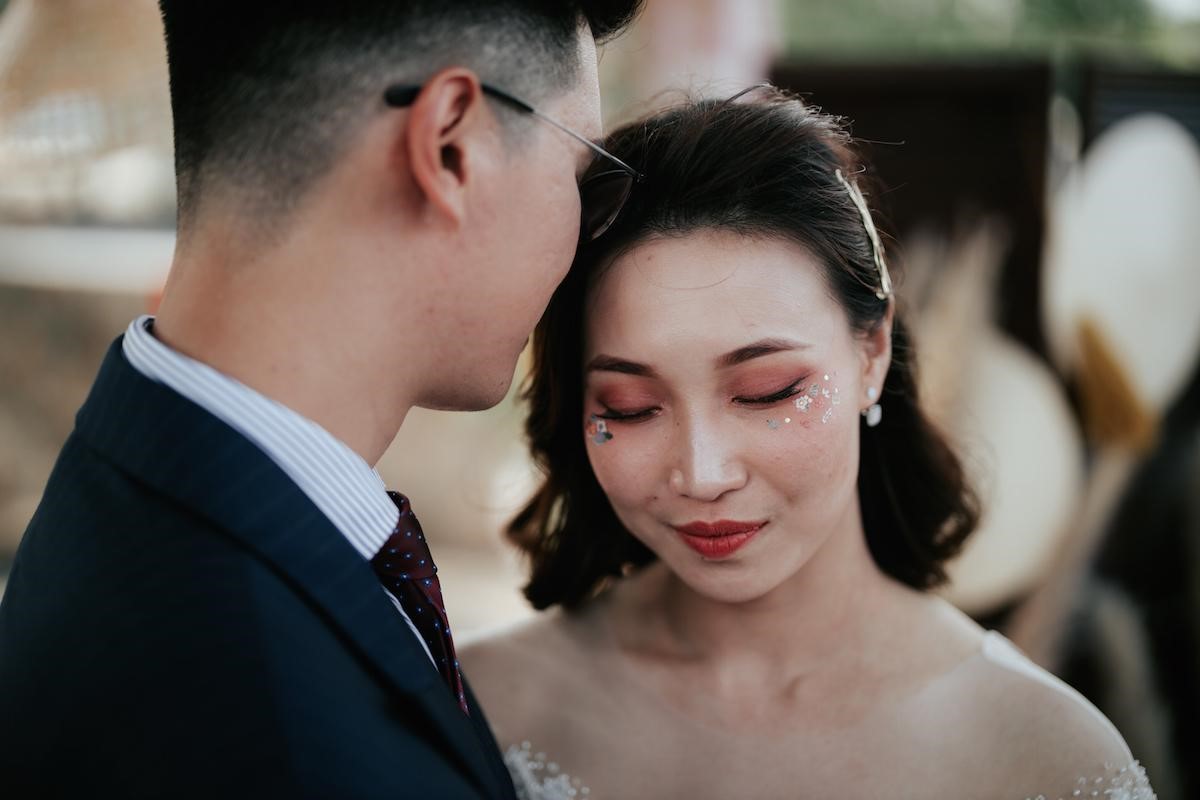 For this shoot, we had Jas on board, one of Makeup Maestro's Lead Artists. For her, bold and edgy makeup with an effortless and slightly messy hairdo is the ultimate eye-catching combination.
Website: https://www.makeupmaestrowedding.sg/
Facebook: https://www.facebook.com/makeupmaestrowedding/
Instagram: https://www.instagram.com/makeupmaestrowedding/
Jewellery: Carat 55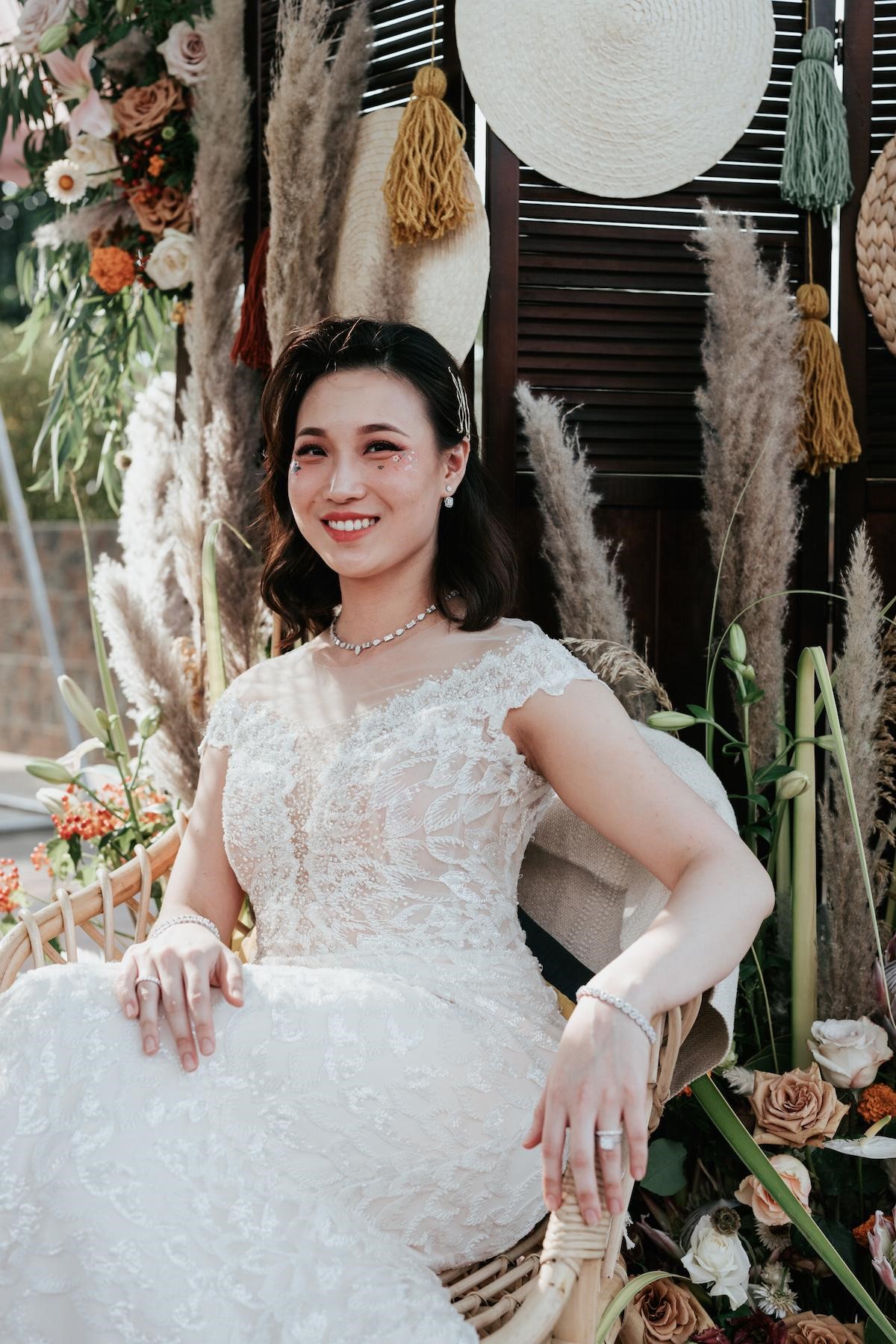 Established with a purpose to make every love story a unique one and fuelled by a passion to make bespoke fine jewellery affordable and accessible to everyone, Carat 55's impressive range of wedding jewellery and customisation services will allow you to add an exquisite and personalised touch to your wedding without breaking the bank.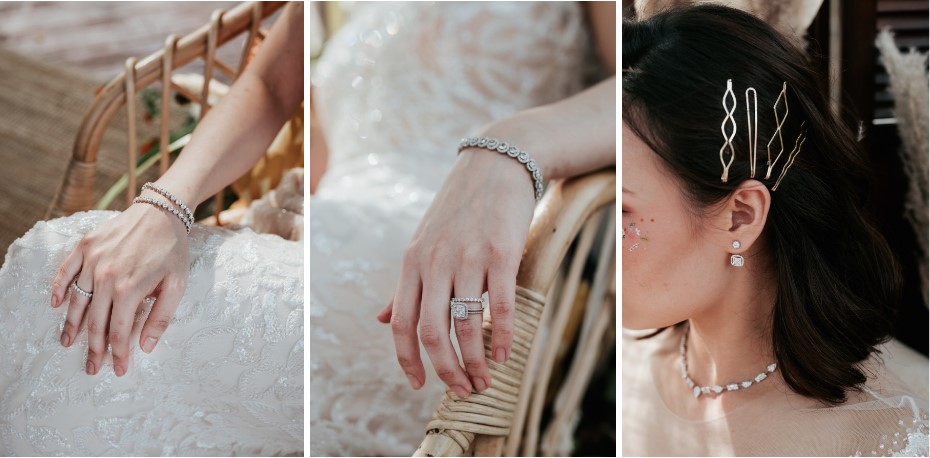 They also adore versatile pieces that can transform itself to suit both day and night looks so that you as the bride can switch easily between jewellery that subtly complements your get up and a bold statement piece that turns heads.
Website: http://www.carat55.com/
Facebook: https://www.facebook.com/Carat55/
Instagram: https://www.instagram.com/carat55/
Venue: Little Island Brewing Co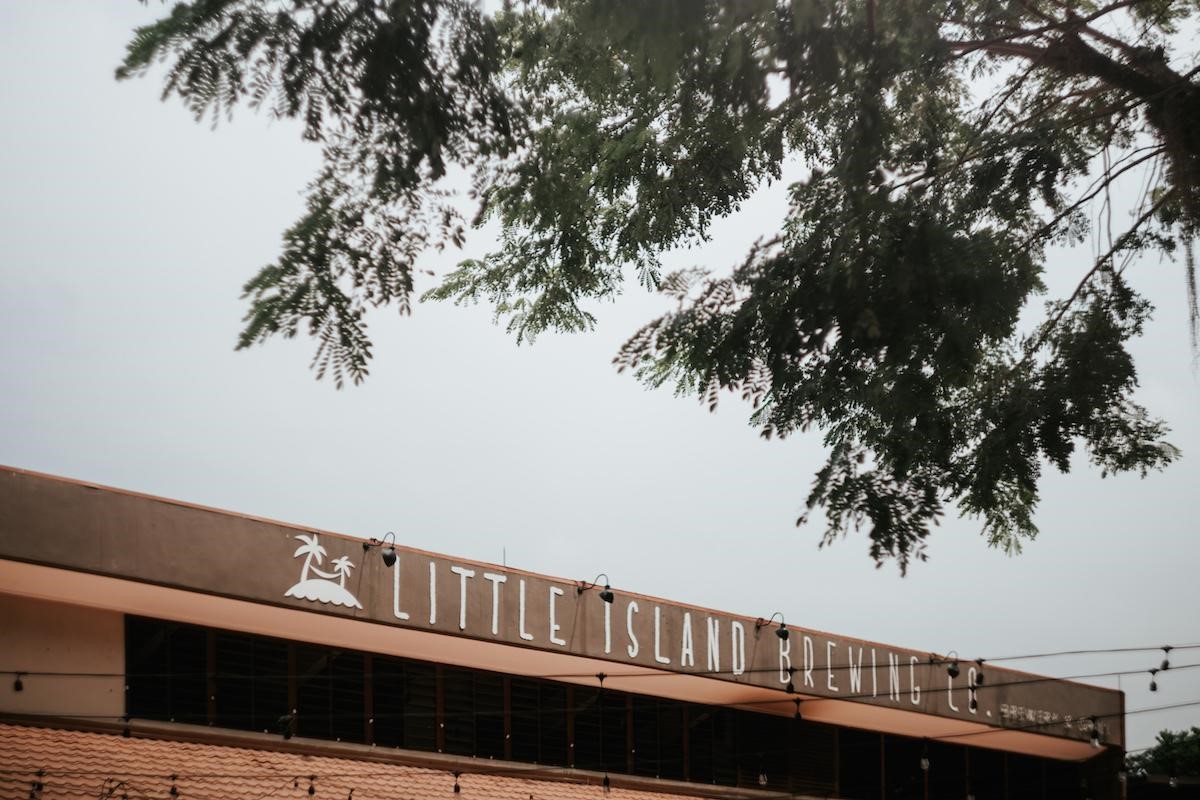 Nothing speaks rustic more than Little Island Brewing Co (LIBC), a microbrewery restaurant and bar nestled in the coastal Changi Village. Surrounded by lush trees and furnished with wooden picnic table and benches in the alfresco area with an industrial-chic sheltered interior, this quaint and cosy venue spans 10,000 square feet (929 square metres) - perfect for an intimate affair with close friends and loved ones.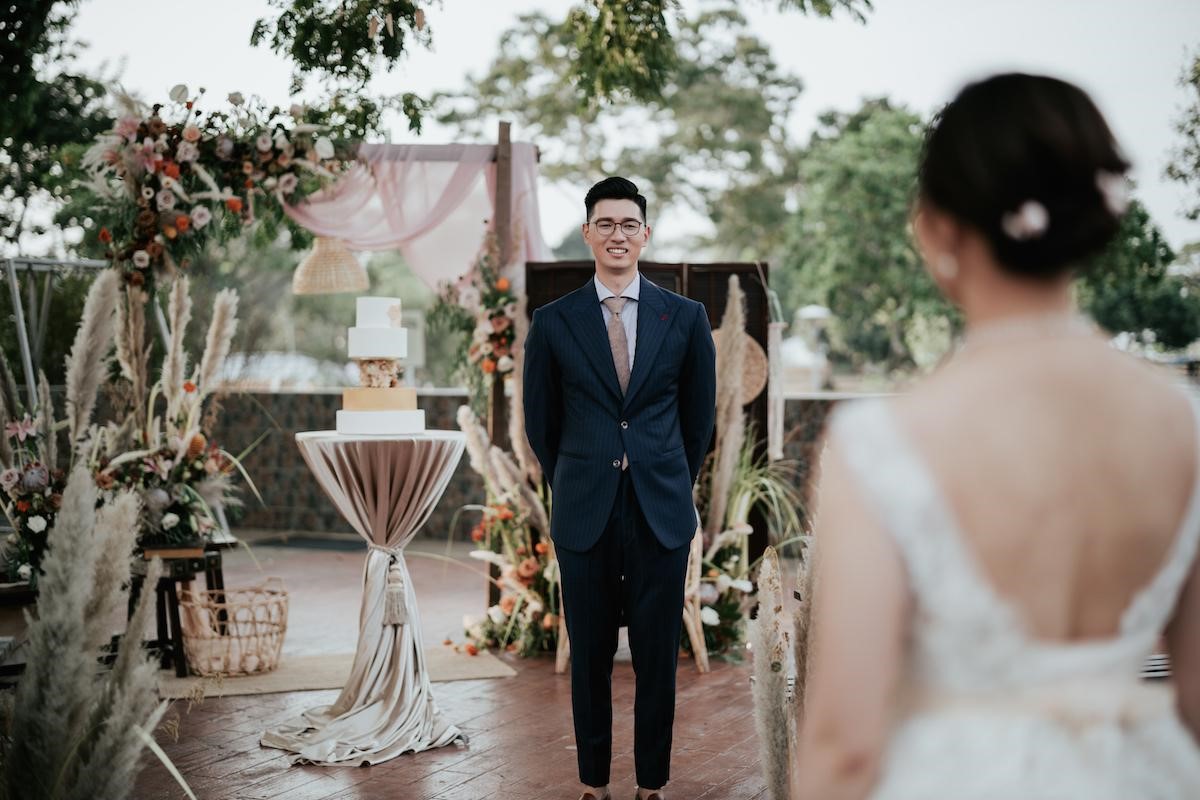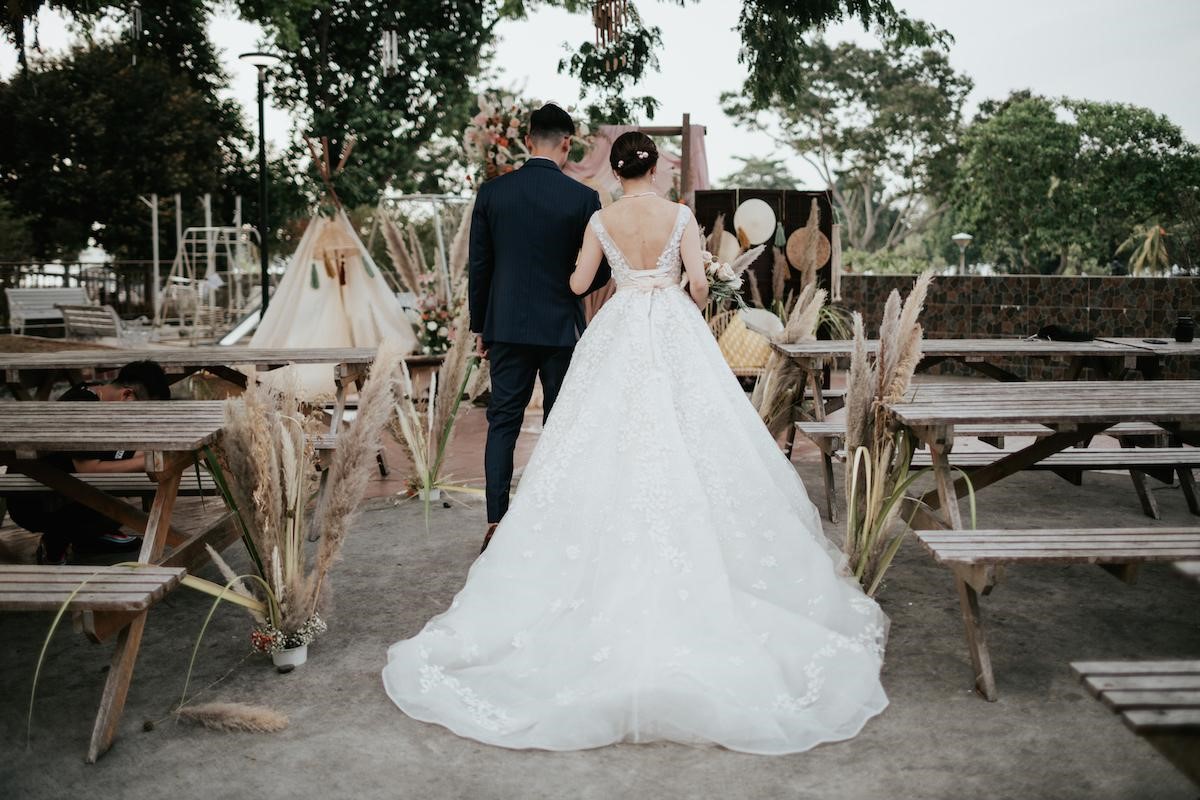 As an added bonus for those who appreciate a good pint of beer, LIBC also brews delicious craft beers that are unfiltered, unfined, and unpasteurised in small batches. Food-wise, your guests can dig into a wide variety of mouthwatering slow-cooked meats - the ultimate combination with ice-cold beer and good company!
Website: https://libc.co/
Facebook: https://www.facebook.com/littleislandbrewingco/
Instagram: https://www.instagram.com/littleislandbrew/
Cake: Afters Bakery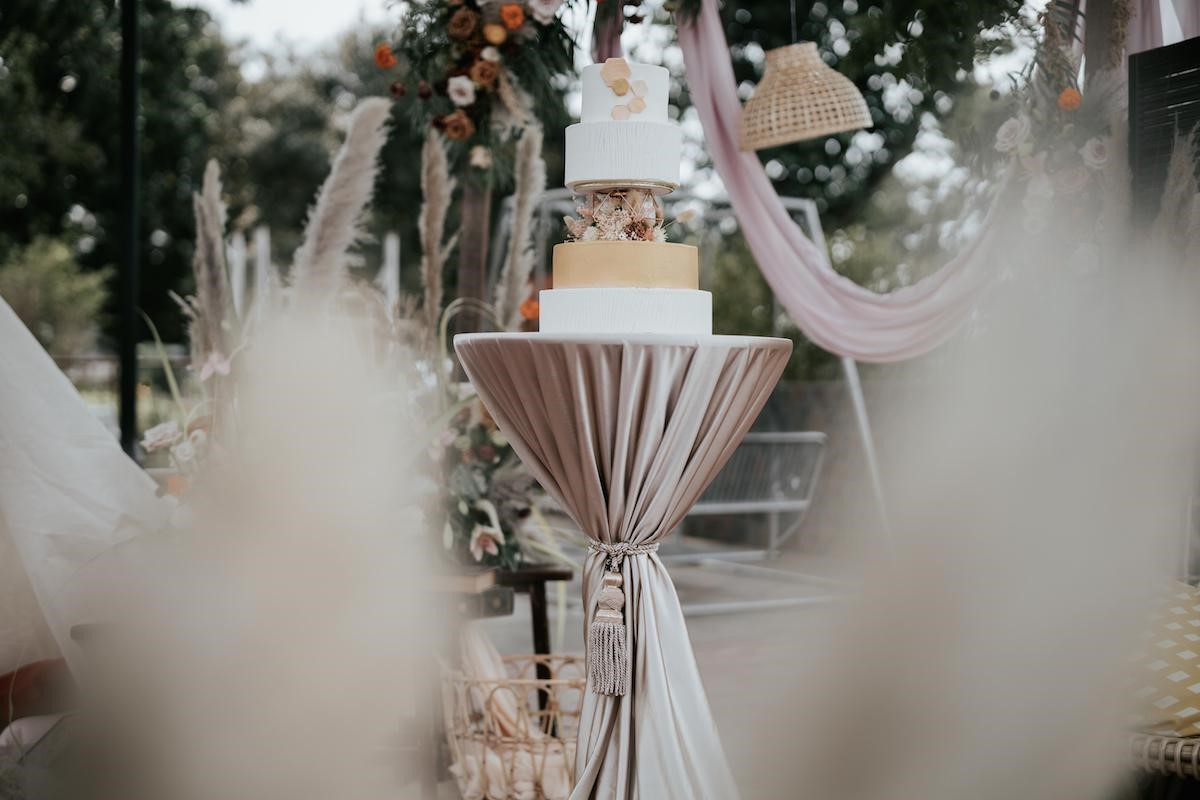 It's not a celebration without a cake, and Afters Bakery is where you can find beautifully customised cakes and dessert tables to sweeten up your already sweet affair! Be it quirky, classy, or in this case, minimalist and rustic, all you have to do is to let Afters Bakery know what you have in mind and they will do their best to deliver. It's also noteworthy to mention that their cake flavours include interesting and delightful choices such as Earl Grey Strawberry, Maple Coffee, and Chocolate Matcha!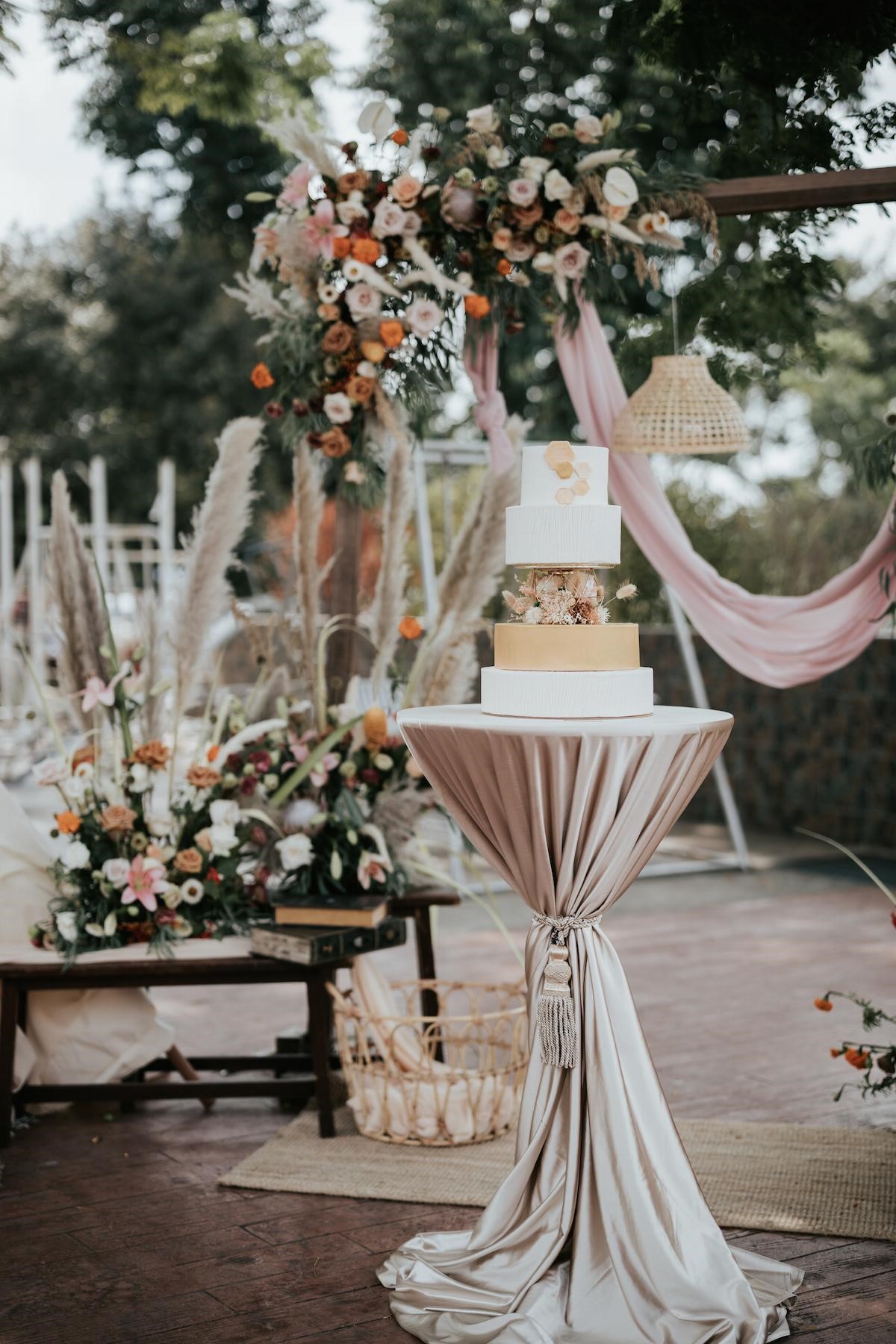 Website: https://aftersbakery.com/
Facebook: https://www.facebook.com/aftersbakerysg/
Instagram: https://www.instagram.com/aftersbakerysg/
Wedding Stationery: Dora Prints & Paper Goods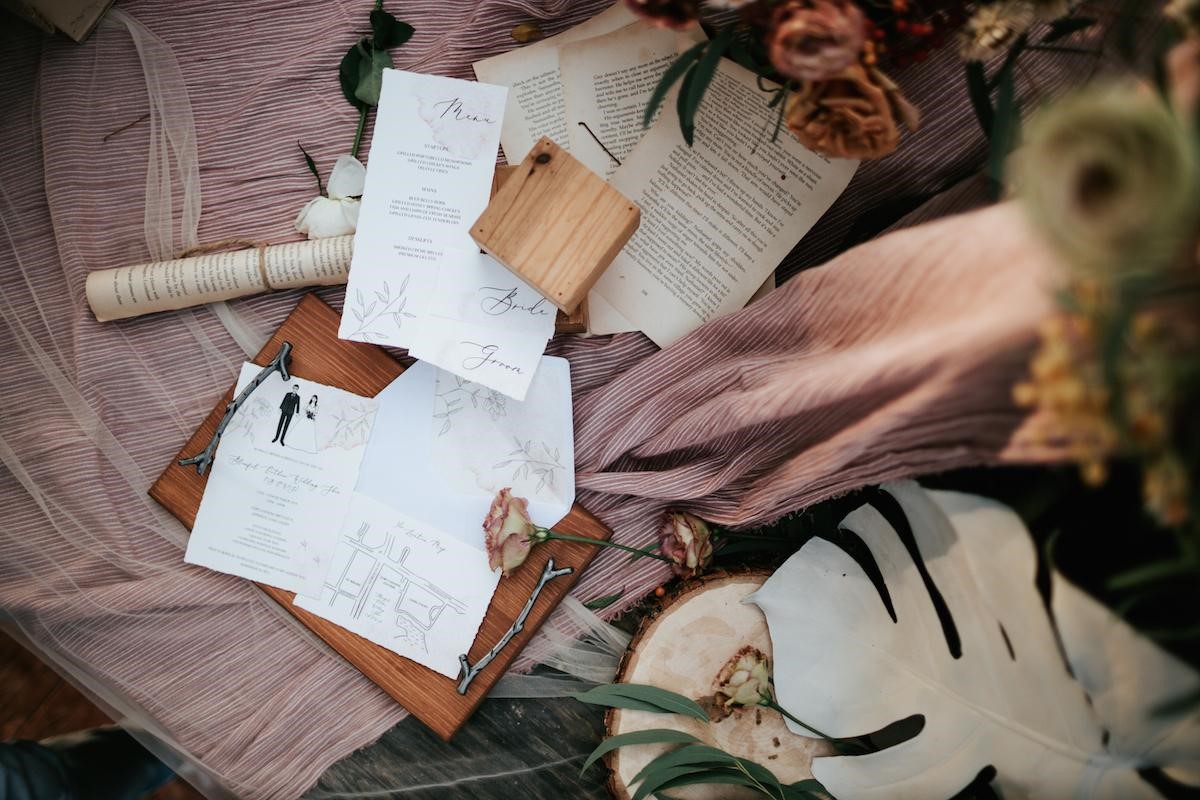 If you prefer a more personalised wedding invite, Dora Prints & Paper Goods is for you. Founded by Dora, an artist and designer specialising in illustrations, lettering, and screen-printing, customised services include not just save the dates and invitations, but also map cards, place cards, menus, vows, and linen backdrop. Simply send her a photo of what you wish to be illustrated and discuss with her the ideas and overall theme you have in mind!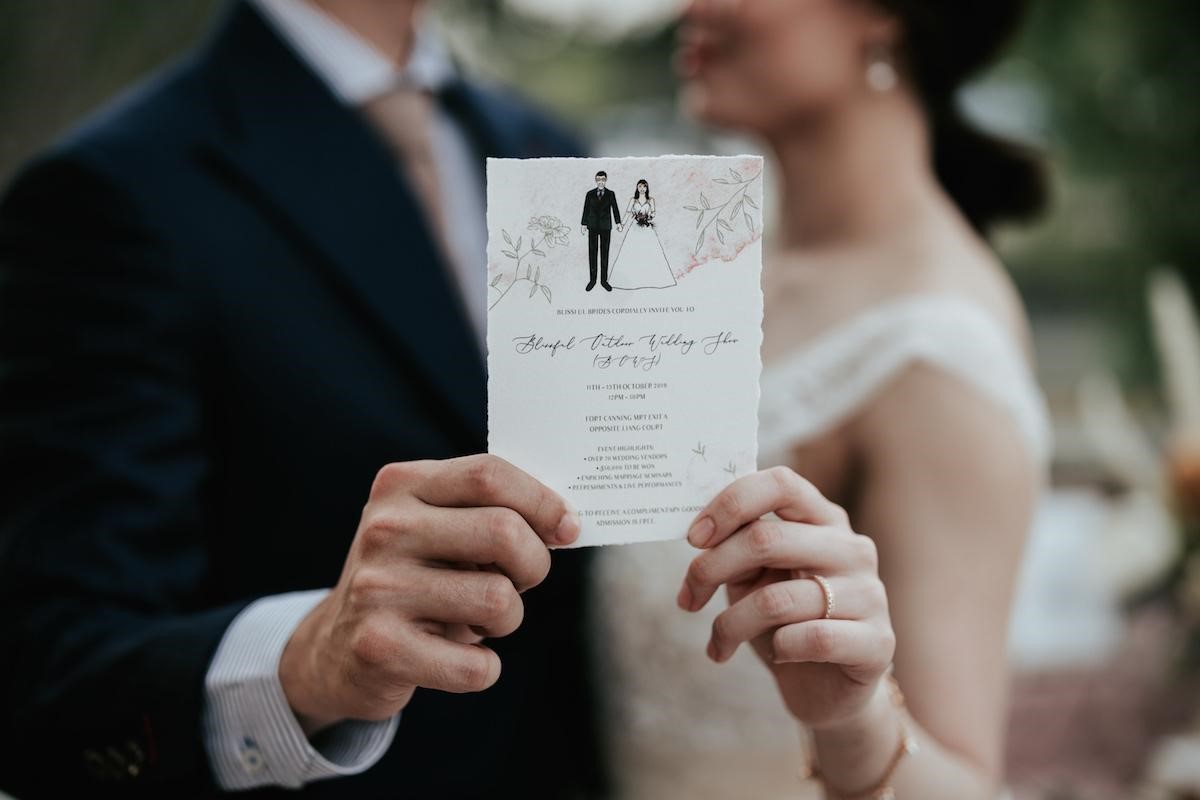 Influenced by her background in textiles, Dora also works with mixed textures from materials like kozo paper, vellum, and fabric, as well as production techniques like foil stamping, debossing, and screen-printing to achieve various patterns and types of wedding stationery.
Do note that Dora and her team are currently taking in projects for weddings from December 2019 onwards only.
Website: https://doraprintsandpapergoods.co/
Facebook: https://www.facebook.com/doraprintsandpapergoods/
Instagram: https://www.instagram.com/doraprintsandpapergoods/
Photographer: Pixioo Photography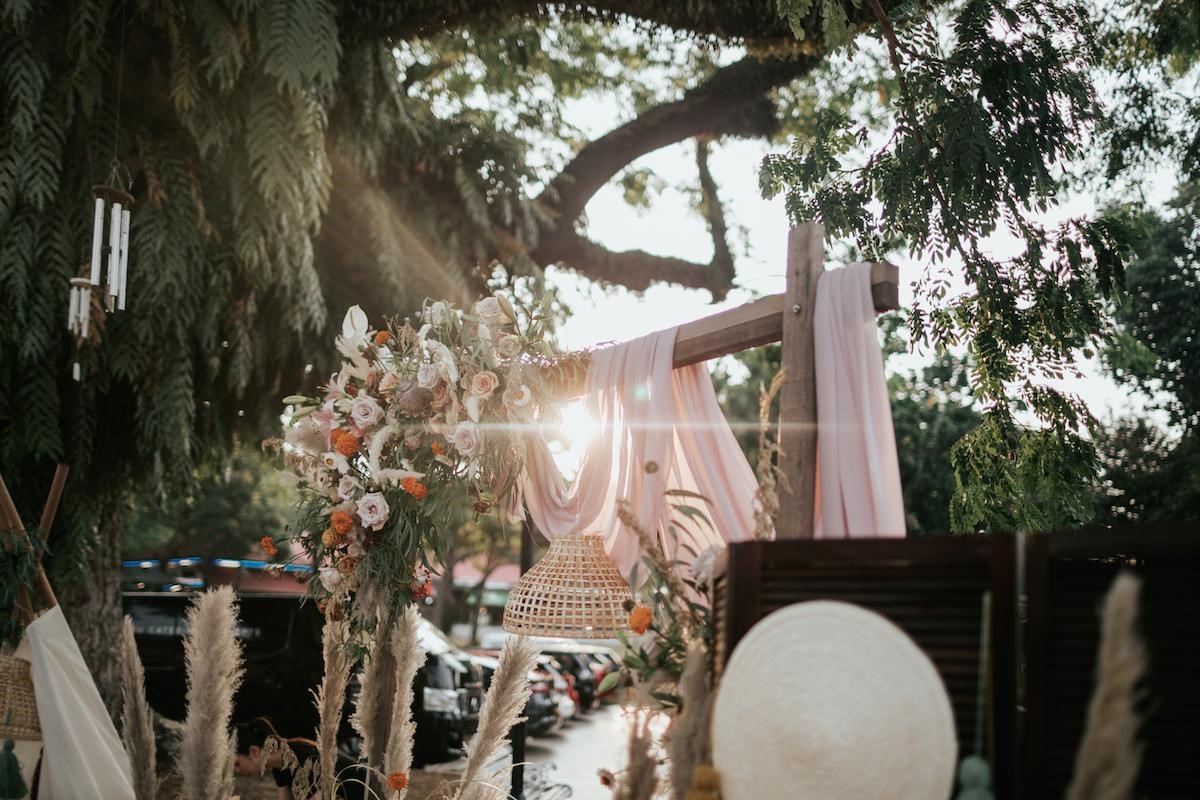 Pixioo Photography is a 3-man team made up of the dedicated and immensely talented photographers Samuel, Brandon, and Gareth. With a penchant for making use of natural sun rays, shadows, and creative angles to create ethereal photos steeped with warmth and love, they are the perfect choice for an outdoor wedding. For this shoot, we had the pleasure of working with Brandon.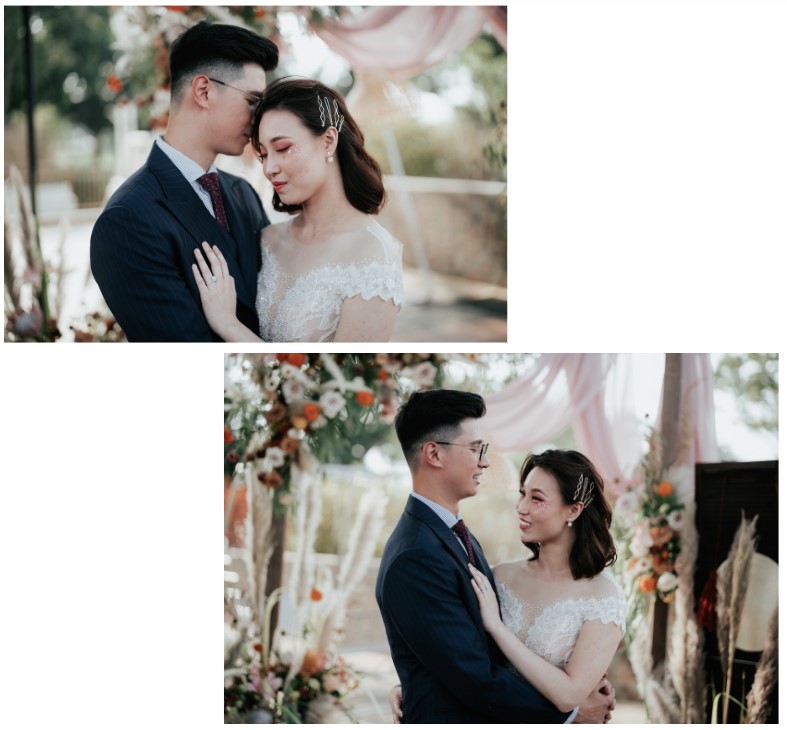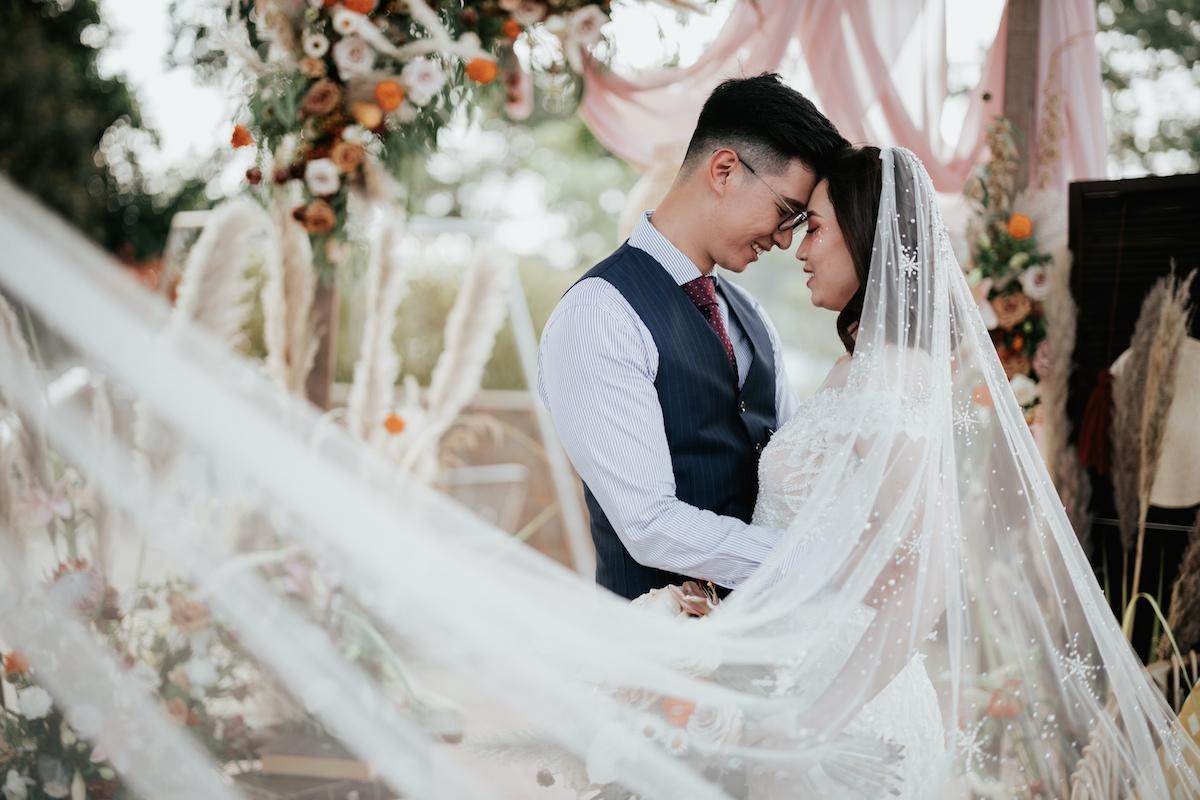 Website: https://www.pixioo.com/
Facebook: https://www.facebook.com/PixiooPhotography/
Instagram: https://www.instagram.com/pixioo/
Videographer: Highest Kite Weddings
In line with the soulful, rustic theme of the wedding, Highest Kite Weddings' films are cinematic works of art. Masters of capturing those subtle and fleeting moments of beauty and love, the folks at Highest Kite Weddings makes it a point to shun cookie-cutter angles and templates, preferring to deliver something special unlike any other instead. To quote them, "we all have our own stories to tell, so let us share yours with the world."
Website: https://www.highestkiteweddings.com/
Facebook: https://www.facebook.com/HighestKiteWeddings/
Instagram: https://www.instagram.com/highestkiteweddings/