Wedding Inspirations: 5 Hollywood Weddings
2018-09-15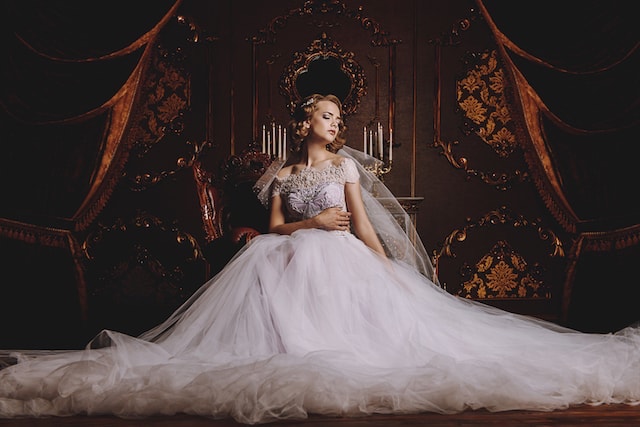 Weddings are some of the most highly anticipated celebrations, especially so when it's those of celebrities from ceiling flower decorations to castle wedding receptions, here are some of the most glamorous and extravagant weddings to draw your wedding inspiration from!
Prince Charles and Princess Diana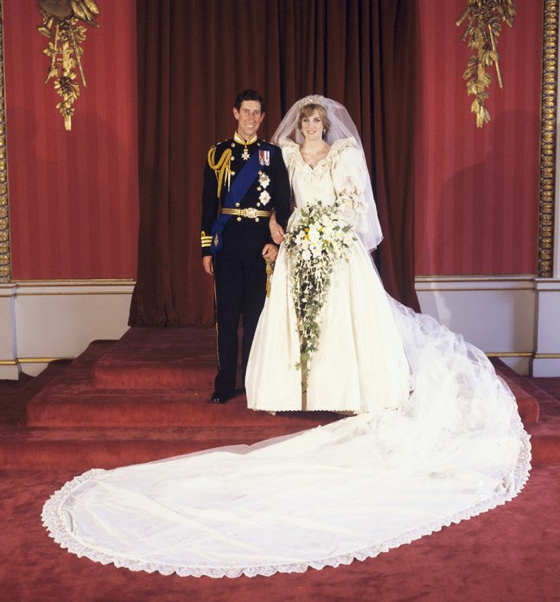 Source: GitHub
The title of the most iconic and expensive wedding to date belongs to none other than Princess Diana and Prince Charles. Their 1981 wedding was said to cost about $110 million, where the royals spared no expense from transport to the bride's outfit. Princess Diana's dress alone came with a hefty price tag – with its twenty-five-foot train and detailing of about 10,000 pearls. The then princess-to-be was also chauffeured to the venue in a glass coach.
If you're a fan of this princess's outfit, there are various gowns that have been inspired by Princess Diana's original for sale or rent in most Singapore bridal shops. While hiring a glass coach may not be as feasible, opt to splurge on your dream car as your wedding transportation instead.
David & Victoria Beckham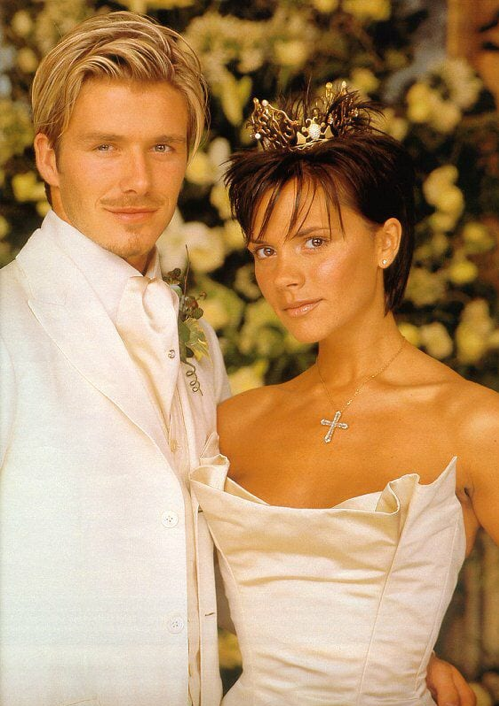 Source: vanglaini
While not exactly royal, this British power couple hosted a wedding that was fit for royalty. Their wedding was held in an Irish castle complete with golden thrones and a gold and diamond tiara. They colour-coordinated both their outfits in white—Victoria in a white Vera Wang dress—then changed into matching purple outfits for the reception. This star-studded event was witnessed by about 250 guests and had performances from known names like Sir Elton John. To end the night, the couple and their guests were treated to a firework show that lasted about four minutes.
While tying the knot in a castle isn't exactly possible in Singapore's context—unless you're planning a destination wedding—there are multiple wedding venues in Singapore fit for an extravagant wedding. If you're a fan of Vera Wang, various Singapore bridal shops may have one perfect for you.
If you're especially keen to include at least one aspect of the Beckhams' wedding into your own, hire either a Bentley Azure or a Bentley Arnage as your wedding wheels just like they did.
George Clooney and Amal Alamuddin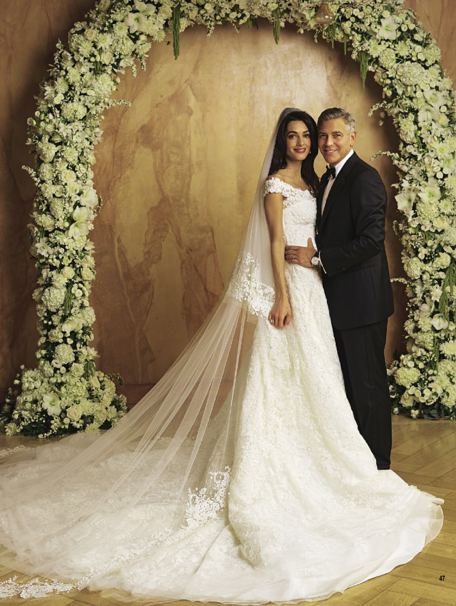 Source: papercitymag
Once known as Hollywood's most eligible bachelor, George Clooney got married to human rights lawyer, Amal in a dream wedding in Venice, Italy. The star couple dressed to the nines for their wedding with Amal in a $380,000 off-the-shoulder gown and George in Giorgio Armani. In addition to the usual wedding expenses, the couple also shouldered the cost of their guests' transport around the venue as well as their accommodations at luxurious hotels. To top it all off, their wedding was reportedly stocked with about 10,000 bottles of alcohol.
Destination weddings, in general, may cost more than usual. However, unlike the Clooneys, you're not expected to foot the bill for guest accommodation. While your guests will truly appreciate it, it isn't always the most affordable option. Instead, speak to the hotel or accommodation venue for possible discounts because of a large number of guests.
Brides-to-be looking to replicate Amal's dressing can simply do so with the various off-the-shoulder laces dresses seen in abundance in Singapore bridal studios.
Pierce Brosnan & Keely Shaye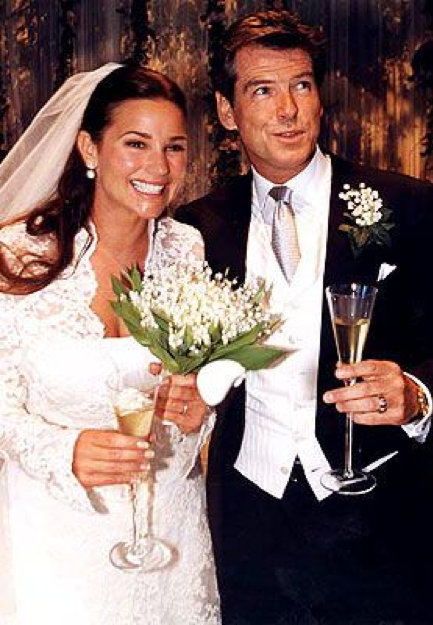 Source: Pinterest
Former James Bond actor, Pierce Brosnan, and wife Keely Shaye exchanged their vows in a historic Irish church followed by a reception in an Irish castle. The 007 star's wedding was an all-around lavish affair with a seven-tier cake, a tiara for the bride and fireworks. The couple's wedding was anything but subtle, especially when the bride surprised her groom with an ice sculpture of Rodin's The Kiss.
While castles and fireworks are not available on our island, you can still include certain aspects like tying the knot in a relatively historic church in Singapore, donning a tiara or surprising your groom with a gift – granted it won't be as extravagant as Keely's gift. Instead of an ice sculpture, surprise him with a performance or something that will last longer.
Kanye West & Kim Kardashian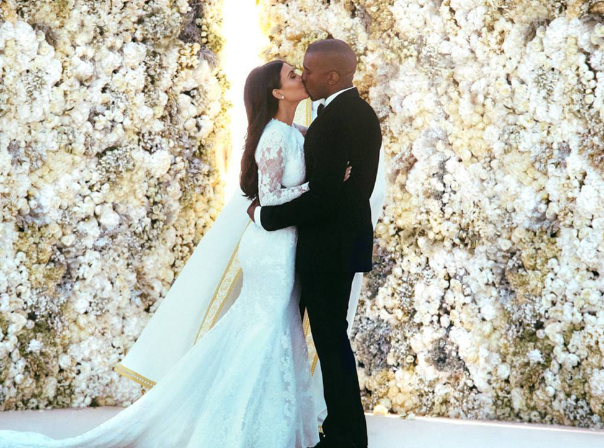 Source: E! News
Kim and Kanye tied the knot in Florence, Italy with a week-long celebration prior to that in Paris. In addition to the exorbitant cost of the various venues, the couple also spent big bucks on their outfits, flowers and food for a wedding of a lifetime. In addition to that, Kimye also made certain their guests had an experience like none-other with unique additions such as having their names engraved onto the marble table instead of the usual name cards and performances from celebrity friends like Lana Del Rey and John Legend.
While this Hollywood couple splurged on their wedding, you can still imitate certain aspects. One way is to hold a week-long celebration like them but a toned-down version. This week-long celebration can be as simple as gathering small groups of family and friends to spend time together or a slightly more detailed one with activities planned. You can also include unusual activities into your wedding to make it more interesting.
Despite the extravagance seen in these weddings, nothing says happily ever after more a celebration filled with love, joy and as less stress as possible in the lead up to it. Remember, your wedding should be about your spouse and you and while these extravagant weddings may seem like the dream, it may not always be your dream.