What Bridal Gown Colour Perfectly Suits Your Skin Undertone?
2022-05-17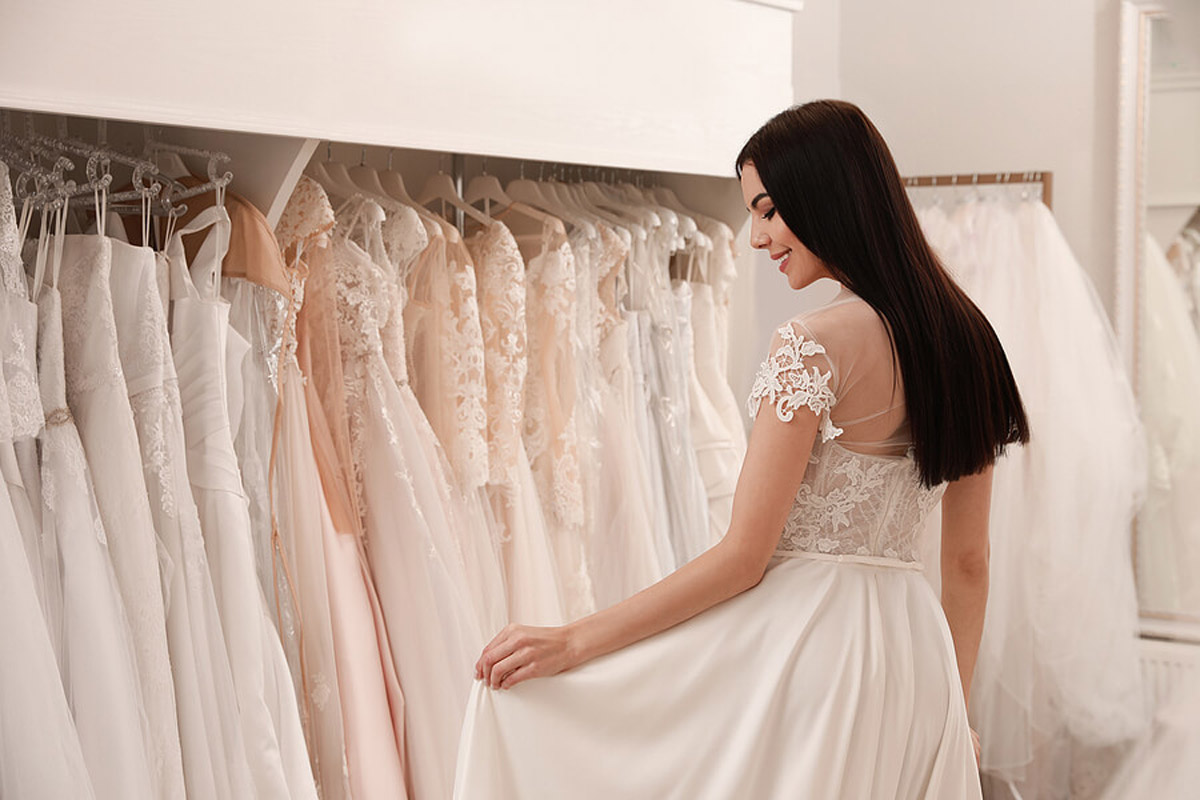 Your wedding is going to be the biggest day of your life, so you want to make sure you'll look your absolute best on that special day. To achieve the perfect bridal look, it's important to find the right fit, style, and colour for your wedding dress. Whether you're purchasing a bridal gown or opting for a wedding dress rental, carefully selecting the perfect wedding dress is essential.
One of the most vital factors you should consider when choosing your bridal gown is your skin undertone. By knowing your skin undertone and matching it with the colour of your wedding dress, you can make your natural beauty shine on your special day, even without the help of too many bridal accessories. To help you achieve an impeccable look on your wedding day, read on to find out the best bridal gown colour that suits your skin undertone.
Identifying your skin undertone
The first step to selecting the right bridal gown colour is to identify your skin undertone. Skin undertone refers to the subtle hue underneath your skin's surface. It shouldn't be confused with your skin tone, which is your surface skin colour. There are typically three types of skin undertones: cool, warm, and neutral.
Cool undertones are usually associated with skin that has hints of pink, blue, or ruddy red complexion. On the other hand, warm undertones fall somewhere between the range of peach to yellow and golden. Sometimes, people with a warm undertone can also have sallow skin. If you have a neutral undertone, this basically means your undertone is nearly in the same colour as your skin tone.
There are several ways to find out what your skin undertone is. However, one of the easiest ways you can do is to look at the veins in your wrist. If your veins are blue or purple in colour, you likely have a cool undertone. If you have greenish veins, chances are, your undertone belongs to the warm type. Lastly, if your veins are colourless, or they simply match the colour of your skin, then you probably have a neutral undertone.
Choosing a bridal gown colour based on your skin undertone
Your skin undertone is among the most significant factors that'll bring beauty to your wedding-day attire. It'll make the biggest difference turning your bridal gown from "Oh, that's nice" to "Oh wow!"
Your skin undertone influences what shades of fabric and jewellery will suit you best. For this reason, it's necessary to consider your undertone when choosing your wedding dress. Here are the bridal gown colours that'll perfectly match your skin undertone:
To balance your skin undertone and the colour of your bridal attire, choose a wedding dress or veil with a creamy or warm yellow finish if you have a cool undertone. These colours will warm up the cool hue of your skin.
If you want a more alternative bridal look, you can also choose pastel shades like peach or cream. As much as possible, try to avoid a wedding dress or accessories in bright white shades, as they might end up looking awkward on you.
Like cool skin undertones, striking a balance is the key to selecting the best bridal gown colour that matches warm undertones. If you have a warm undertone, a wedding dress that comes in a cool colour, such as bright white, blue, pink, and purple, would suit you best.
To complement warm undertones, cloudy, smoky shades are ideal, as they provide the necessary contrast. For brides with warm undertones, bridal gowns with yellow shades should be avoided, as they might draw the warming tones from your skin and make you look a little "washed out."
Wedding dresses and accessories in neutral or nude shades will look stunning against neutral skin undertones. If you have a neutral undertone, pick a bridal gown with a natural white or grey shade and pair it with a wedding veil or headpiece that has a blush or champagne tone.
Unlike cool and warm skin undertones, people with neutral undertones don't have many limitations on their wedding attire. Pretty much any shade of dress will look amazing on a bride with a neutral undertone, so you have a wide range of options to choose from!
Conclusion
Your wedding is indeed going to be one of the most important events of your life, so it's necessary to plan and prepare everything, including your bridal look. As the bride, you'll be the centre of attention the entire day and night. Hence, you want to make sure you'll be in a coloured dress that brings out your unique personality and flatters your beauty. By knowing your skin undertone and matching it with the colour of your wedding dress, you can surely look your absolute best on your big day!
If you wish to have a hassle-free wedding preparation, feel free to reach out to us here at Blissful Brides. Whether you need assistance searching for the best bridal gown rental in Singapore or the ideal florists in town, our reliable team is ready to help you meet all your needs and wants in no time. Get a quote from us today to be one step closer to achieving your dream wedding without much fuss!