6 Winter Wedding Inspirations for an Enchanting Big Day in Singapore
2019-09-07



Tips to achieve a whimsical winter wedding in Singapore
It may be perpetually sunny here in Singapore, but that doesn't mean that you can't include some winter wonderland fun into your wedding theme. By adding a little festive cheer, your big day can give off a magical feeling. Whether you're taking ideas from Pinterest or getting some help from a wedding planner, check out these inspirations below to make that winter wedding even special.
Colour palette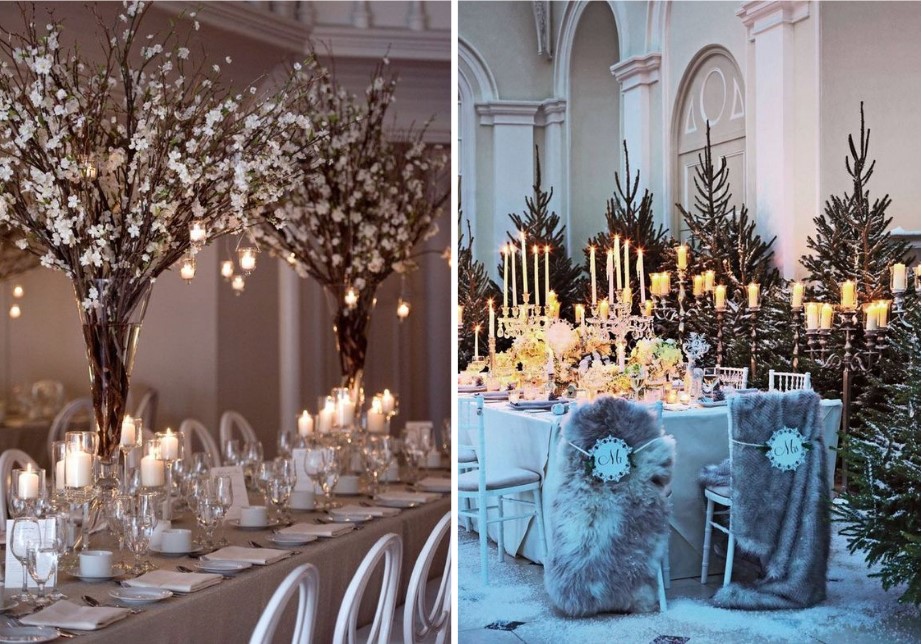 Source: Pinterest
Make up for the lack of snow in this tropical country by opting for an all-white colour scheme in your wedding venue! Using a muted grey and blue colour scheme can also help to emphasise the 'snow' aspect of a winter-themed wedding.
Another alternative is to use traditional 'holiday greens and reds' against the white to enhance the atmosphere of a winter wonderland. You can use white-coloured velvet linens on the tables that are reminiscent of a snowy landscape and incorporate splashes of green with table décor. Consider using winter blooms like ranunculus and juniper to add some elegance to your centrepiece!
The atmosphere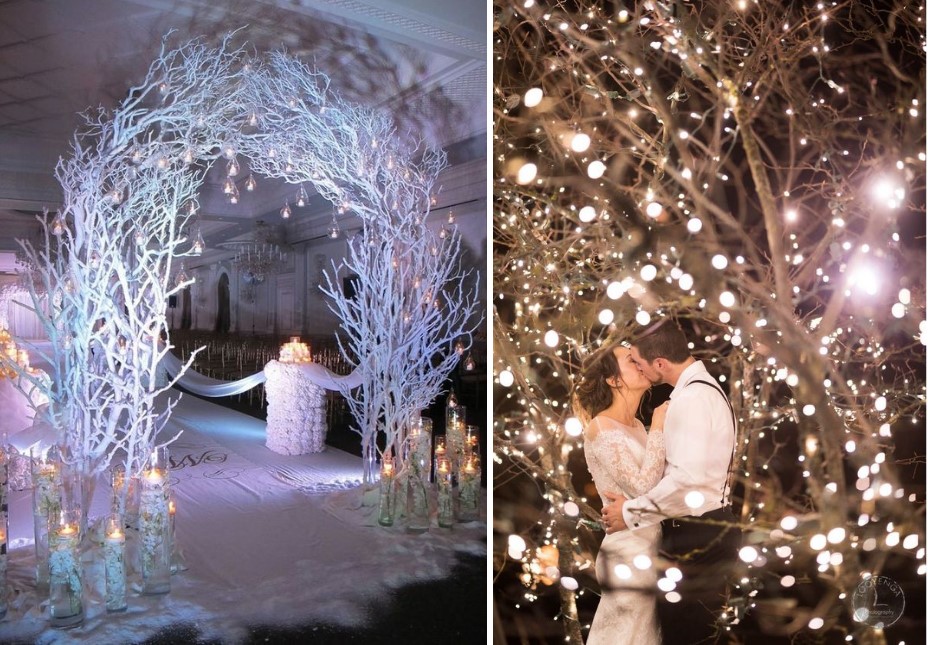 Source: Pinterest
Aside from the colours, ensuring that the atmosphere of your wedding locations is well put-together will really sell your winter wonderland theme. Otherworldly lighting is definitely necessary for the venue, using colours like light purple and ice blue to evoke the right mood for your wedding.
Candlelight is also essential to any wintery setting, so don't scrimp on that! However, you can opt for LED candles and fairy lights for a fire-safe effect that still creates an enchanting atmosphere.
Finger foods and desserts
What's more exciting than desserts? Serving themed desserts. Get creative with your winter wedding catering ideas to excite your guest and their tastebuds! Besides serving tea and coffee, consider adding a hot cocoa drink to the menu. You can also top off your desserts with snow-like frosting, edible silver glitter, white chocolate coating, or powdered sugar so that they feel right at home in a winter-themed wedding.
Hair and makeup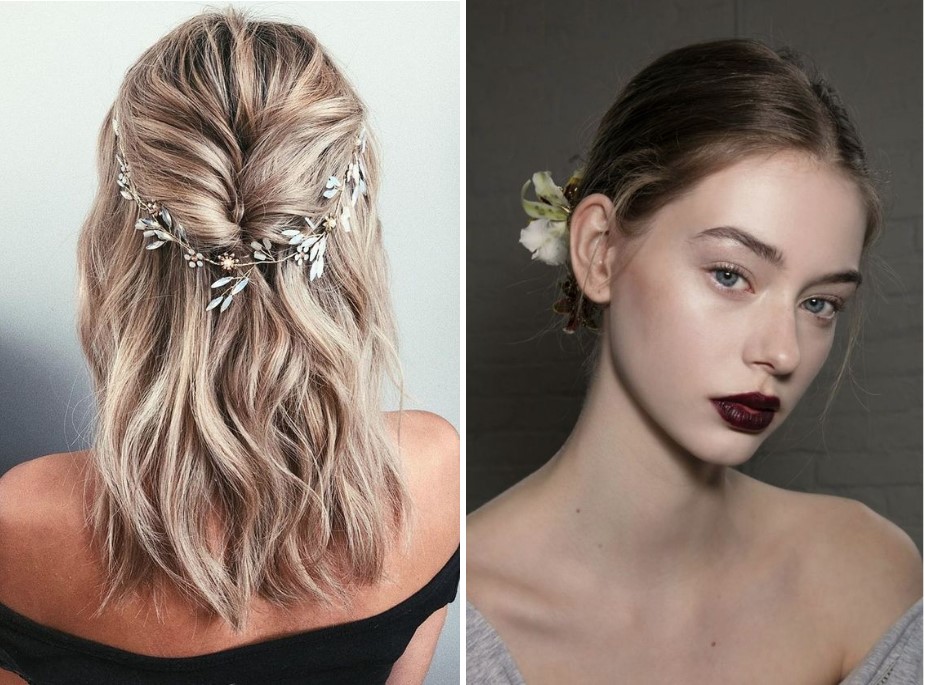 Source: Pinterest
Serve a stunning ice queen look with a bold red or deep burgundy lip colour, paired with a subtle smokey eye. It will not only stand out beautifully against your white wedding gown but also add a glamorous element to your look!
For your hair, you can choose to either wear it up or down so long as you pick accessories that match the overall winter theme – birdcage veils and rhinestones in white can add an elegant touch to your whole ensemble.
Details on your wedding dress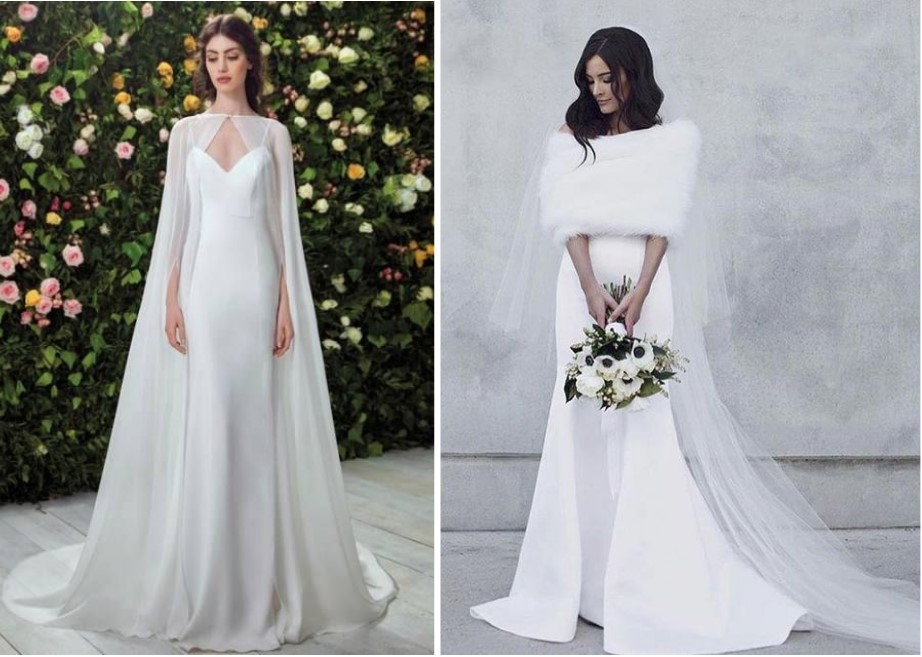 Source: Pinterest
The good thing about having warm weather 365 days a year here in Singapore is that you won't have to deal with the chilly temperatures that come with the winter season. This means that if your reception is hosted in an outdoor wedding venue, sleeveless gowns can still be an option! Otherwise, for those who wish to have it indoors in a wedding ballroom:you can opt for a faux-fur coat to add to your bridal style.
When browsing in bridal shops, make sure to look for materials such as satins, velvets, and metallics for your wedding gown rental. Detailing and luxe embellishments like brocade, beading, and snowflake-like laces can also make a huge impact. Also, nothing says chic like the addition of a cape or cloak for a striking look.
Incorporate real winter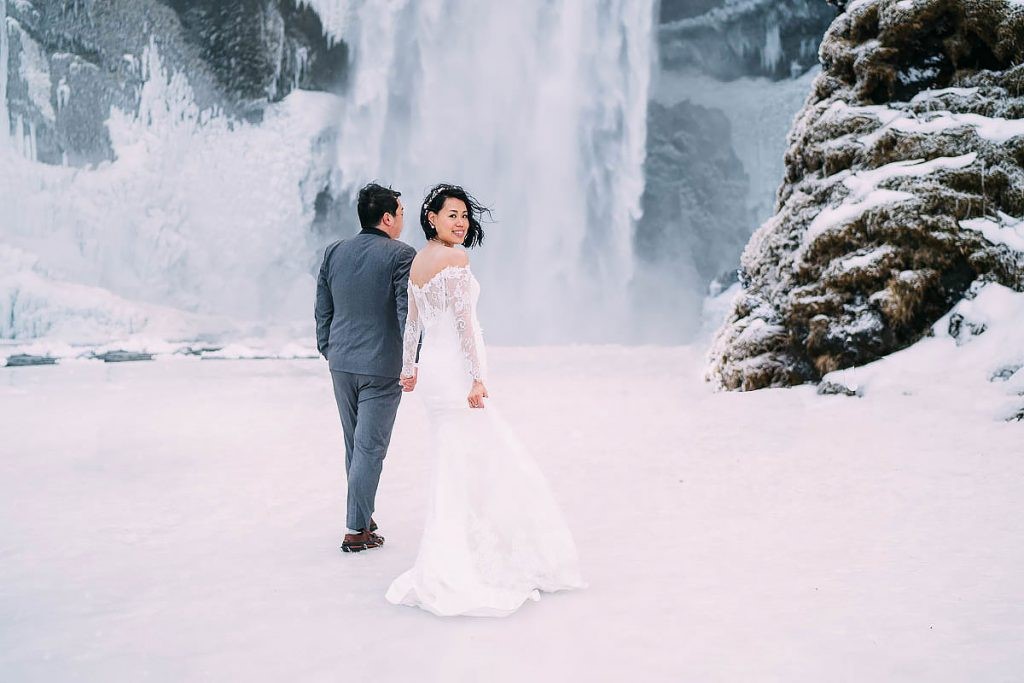 Source: Albert Palmer Photography
Do this with your pre wedding photoshoot! If you wish to take your winter wedding theme to the next level, plan an overseas photoshoot during wintertime in a snowy destination. Winter offers a magical fantasy-like backdrop that will leave you with dreamy and mesmerising photos, and it is also a great way to share your love story as a couple. You can use these photos in your wedding invites, guest wedding favours, or reception table decor to tie the whole theme together!