7 Romantic Garden Wedding Sites in Singapore to Tie the Knot
2020-10-13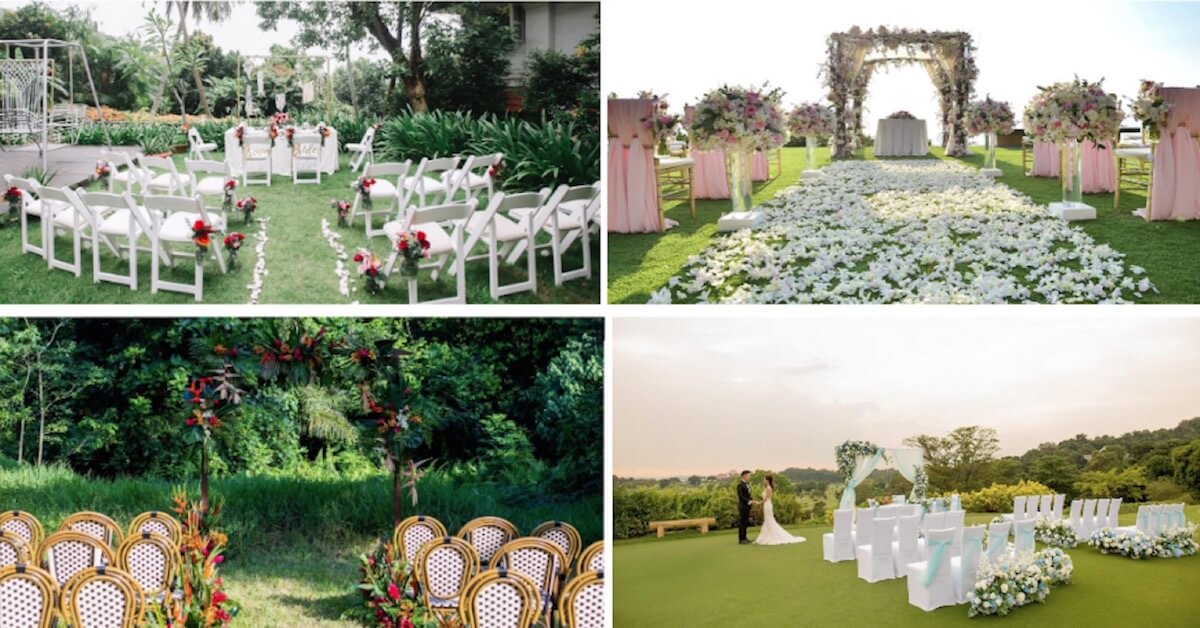 Lush greenery, beautiful blooms, and viridescent leaves – these are just some of the attributes that make a romantic and ethereal garden wedding. Add a few wedding decorations here and there and you're all set for a magical day.
Contrary to popular belief, a garden wedding venue doesn't just comprise of an expansive green space. On top of an outdoor garden wedding, there are also other options such as a glass pavilion or a villa. Luckily for you, you won't need to scour all over the Internet for the perfect wedding venue because we've done it for you!
Take a look at these 7 romantic garden wedding venues in Singapore that'll steal everyone's breath away.
1. Glass Pavilion & Larkhill Mansion at Amara Sanctuary Resort Sentosa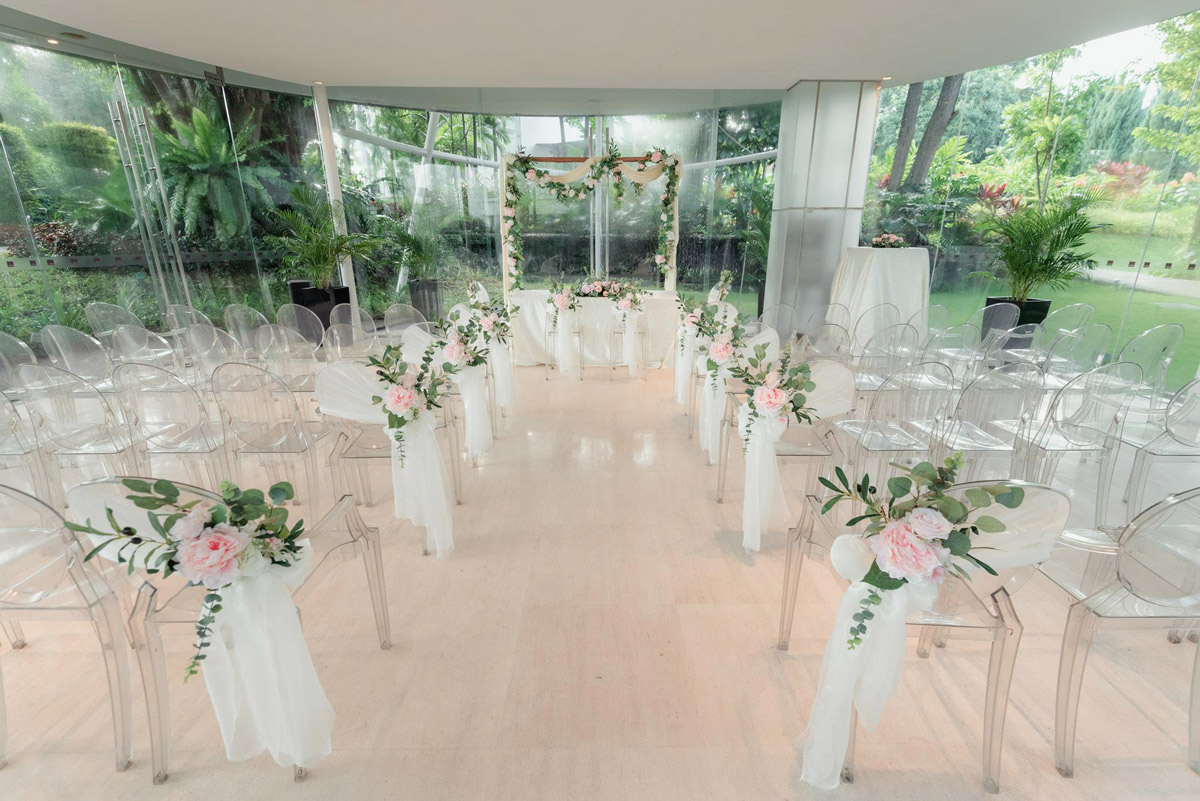 Glass Pavilion
Source: Amara Sanctuary Resort Sentosa
Recreate a garden paradise at the Glass Pavilion, where couples who love nature can rejoice at the unobstructed, 360-degree view of the lush greenery all within the comforts of an indoor space! A cosy and fully air-conditioned location that seats up to 50 guests, the Glass Pavilion is made almost entirely out of glass, and allows you to enjoy your day without having to worry about wet weather and the sweltering sun.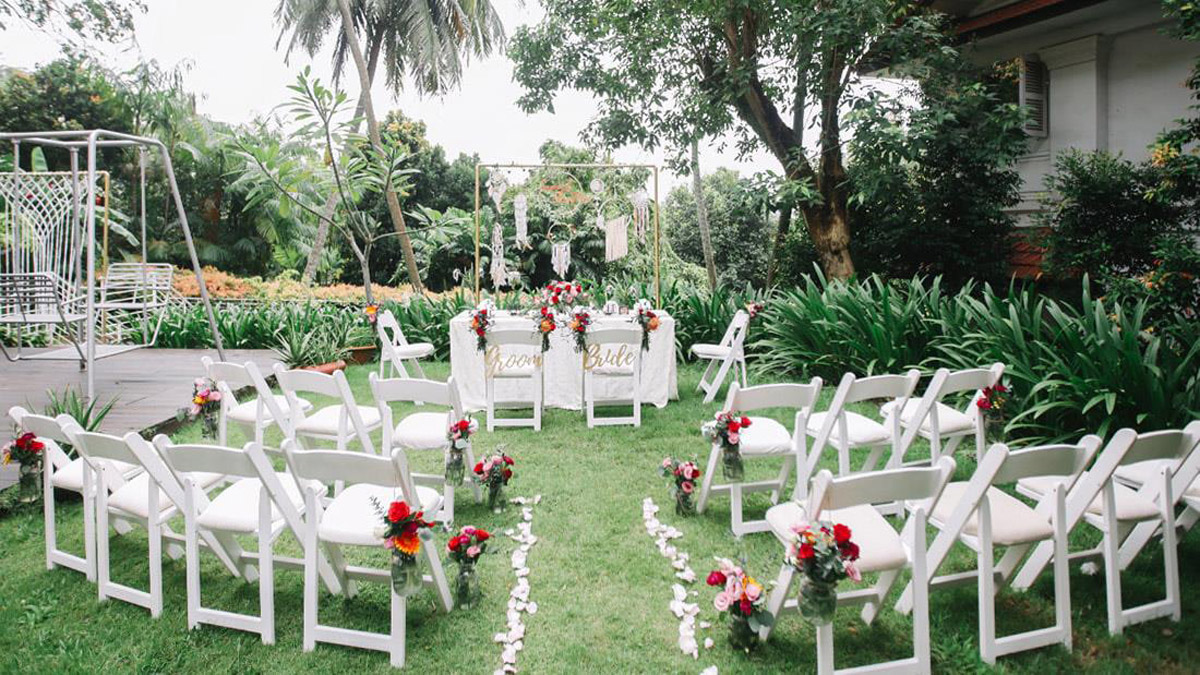 Larkhill Mansion's private lawn
Source: Amara Sanctuary Resort Sentosa
Alternatively, the Larkhill Mansion is an intimate and serene venue where you and your significant other can host a private wedding party or solemnisation on the lawn. A beautifully restored 2-storey colonial building, its vintage architecture sets the stage for an English garden-inspired affair.
Address: 1 Larkhill Road Singapore, Singapore 099394
Tel: +65 6825 3838
Website
2. Sentosa Pavilion & The Pyramid at Sentosa Golf Club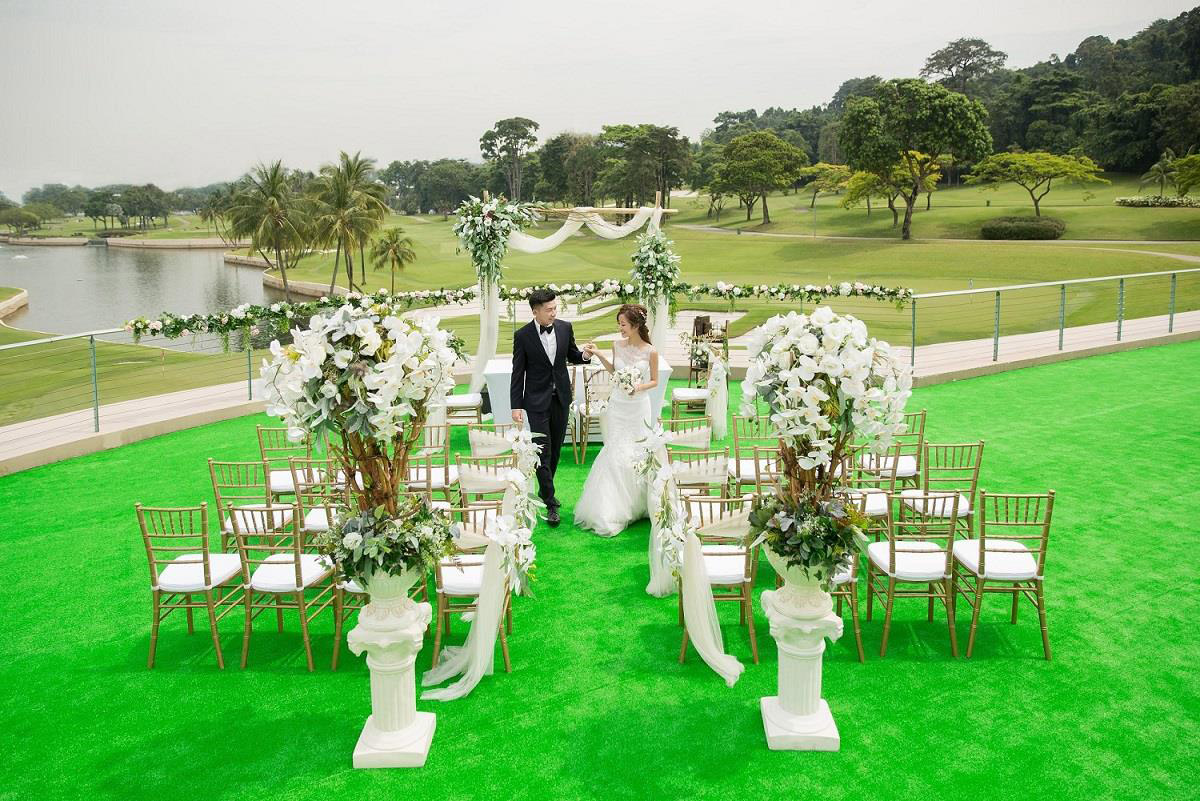 Sentosa Pavilion
Source: Sentosa Golf Club
Surrounded by lush foliage and crystal clear waters, Sentosa Golf Club is an incredibly convenient and cost-effective option for couples who wish to hold a 'destination' garden wedding.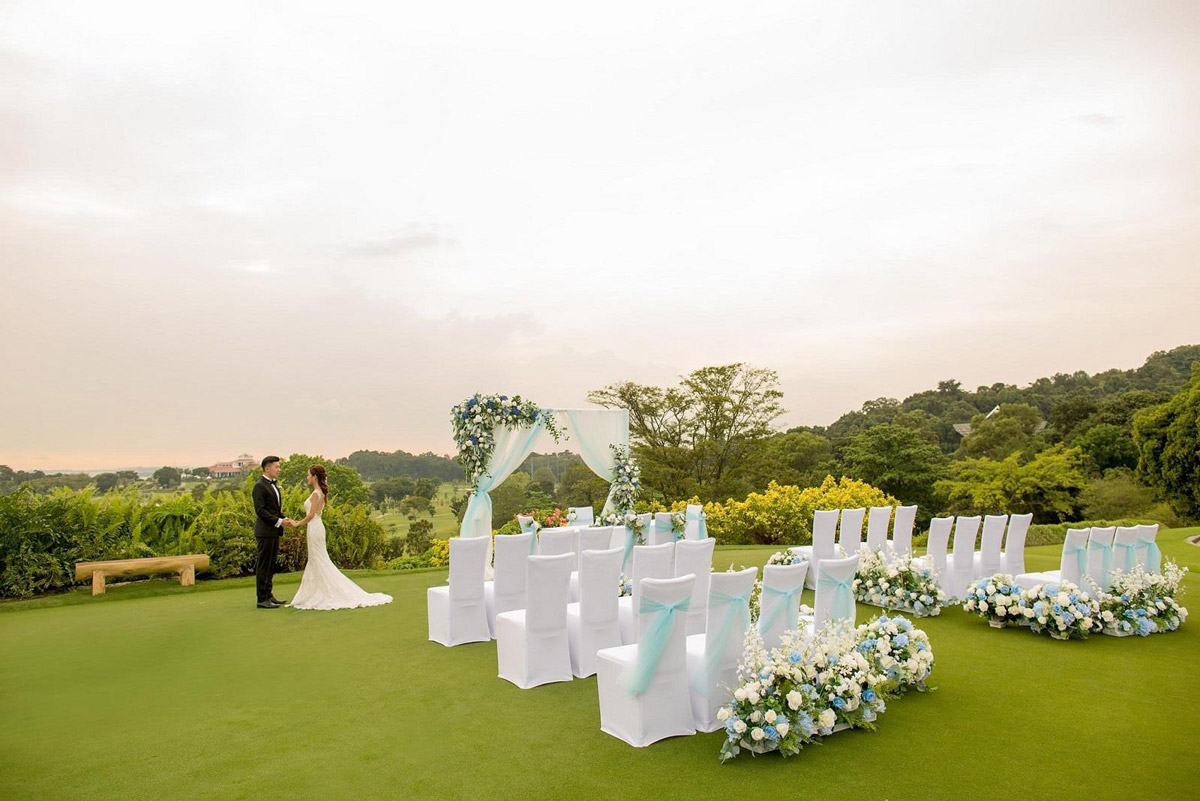 The Pyramid
Source: Sentosa Golf Club
Located far away from the hustle and bustle of the city, it offers two unique garden-esque settings – the Sentosa Pavilion, which features the harbour skyline as an idyllic backdrop to award-winning green fields, and The Pyramid, which is a whimsical venue set on the highest point of the island that provides a breathtaking view of a majestic waterfall and lush foliage!
Address: 27 Bukit Manis Rd, Singapore 099892
Tel: +65 6275 0090
Website
3. Garden Terrace at Hotel Fort Canning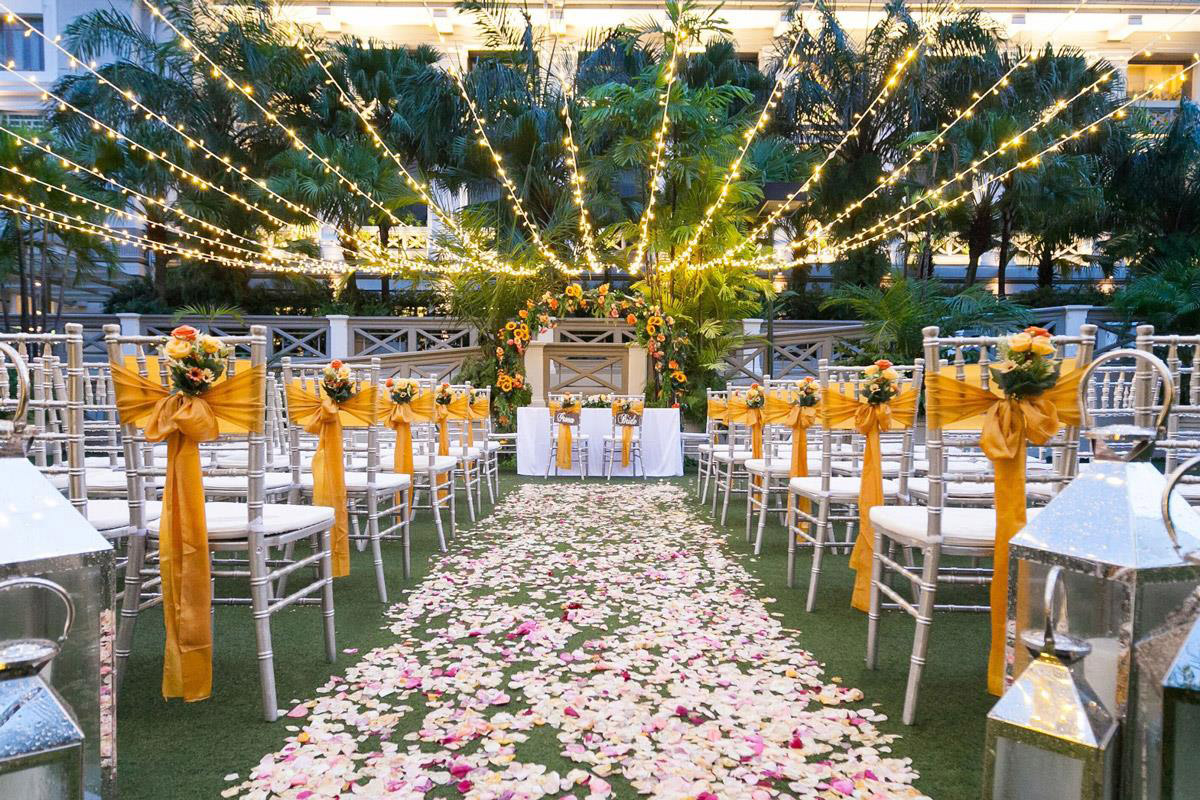 Source: Hotel Fort Canning
Hidden away within the lush 18 hectares of Fort Canning Park is the luxurious conservation hotel, Hotel Fort Canning. Once a British military administration building, today, this colonial gem is the premium location for any couple who's looking to make their dream garden wedding come true.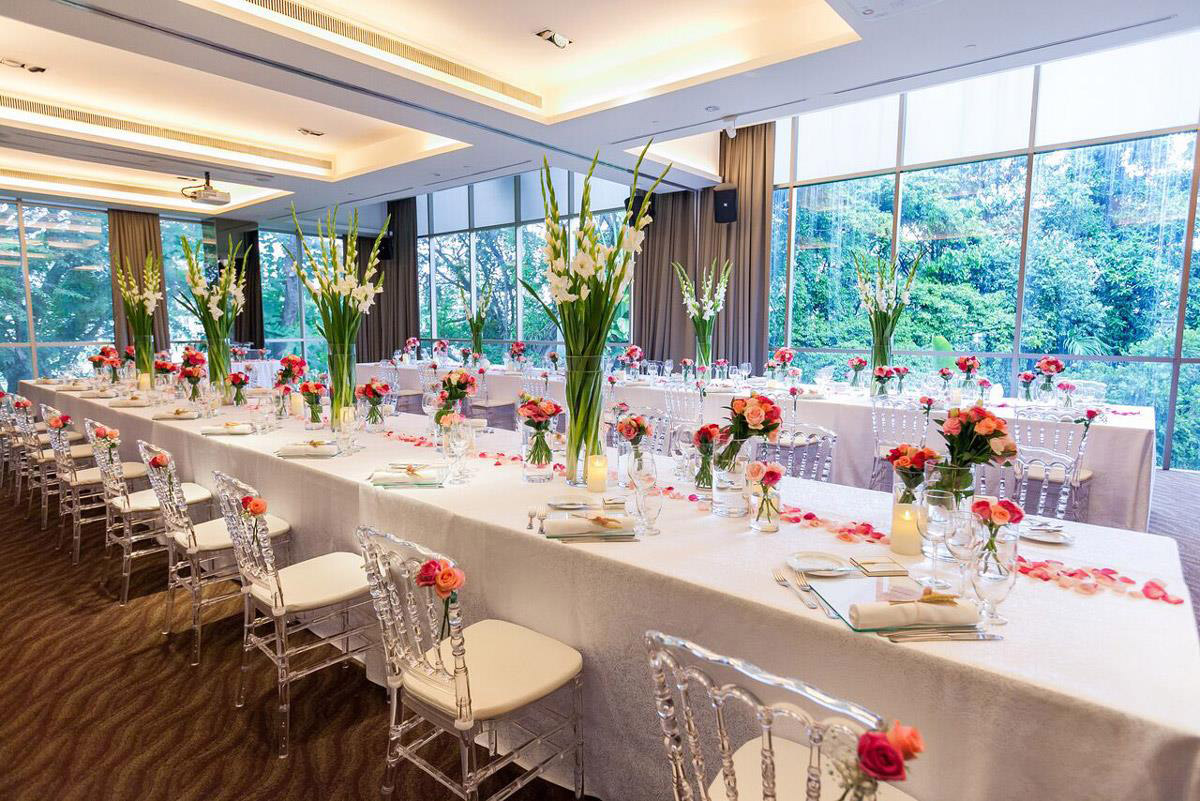 Source: Hotel Fort Canning
Host your solemnisation with your closest friends, family, and precious pets at the Garden Terrace, a quaint space with lush green turf artfully decorated with rows of fairy lights. Once it's over, the hotel has many spaces for both intimate gatherings and exquisite banquets, including Singapore's largest air-conditioned marquee, a glass house that allows you to take in the rich flora and fauna around you, or a function room with an unparalleled panoramic view of the tree-tops!
Address: 11 Canning Walk, Singapore 178881
Tel: +65 6559 6770
Website
4. Courtyard at The Villa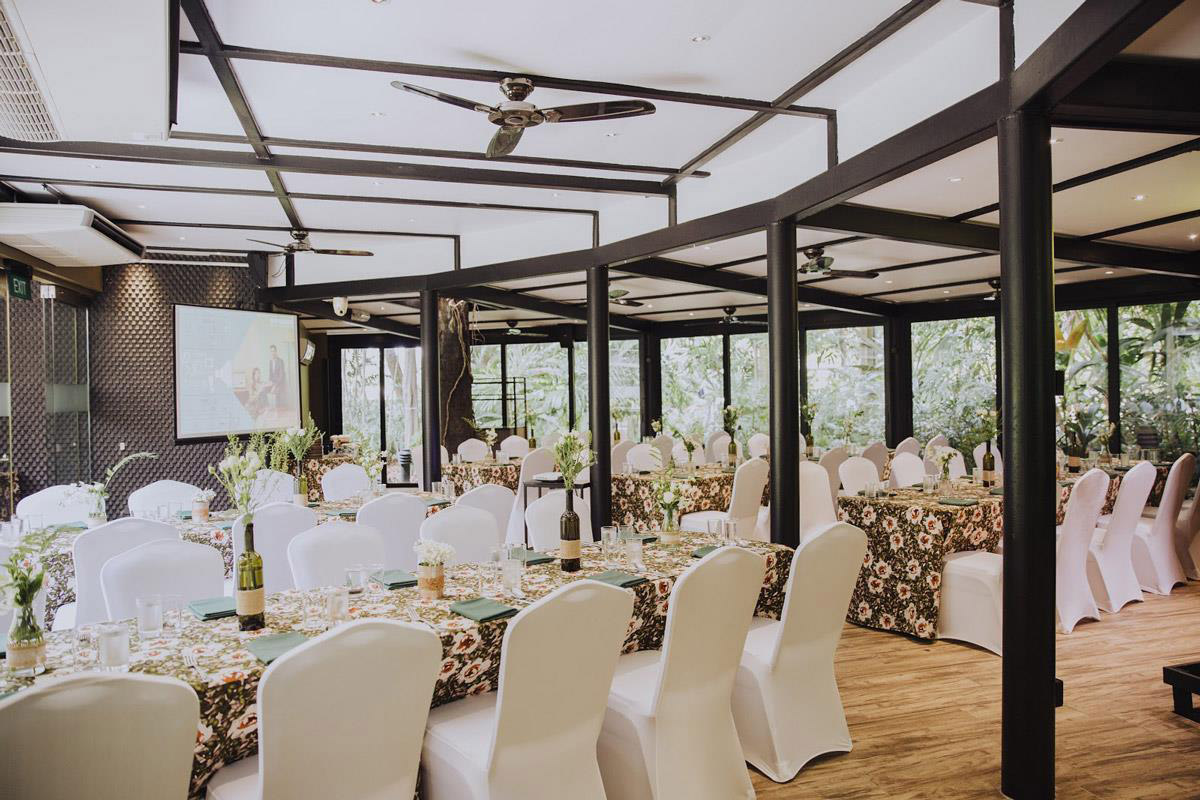 Source: We Are Spaces
Nestled in the only tropical garden in the world to be listed as a UNESCO Heritage Site, The Villa is the perfect wedding venue if you're planning for a garden theme. While it boasts three distinct spaces in one venue that can be booked either together or separately, the Courtyard, in particular, is where you can enjoy the best of both worlds – a beautiful garden scape that preserves the natural wonder of an outdoor wedding, and the comforts of an elegant indoor space and air-conditioning.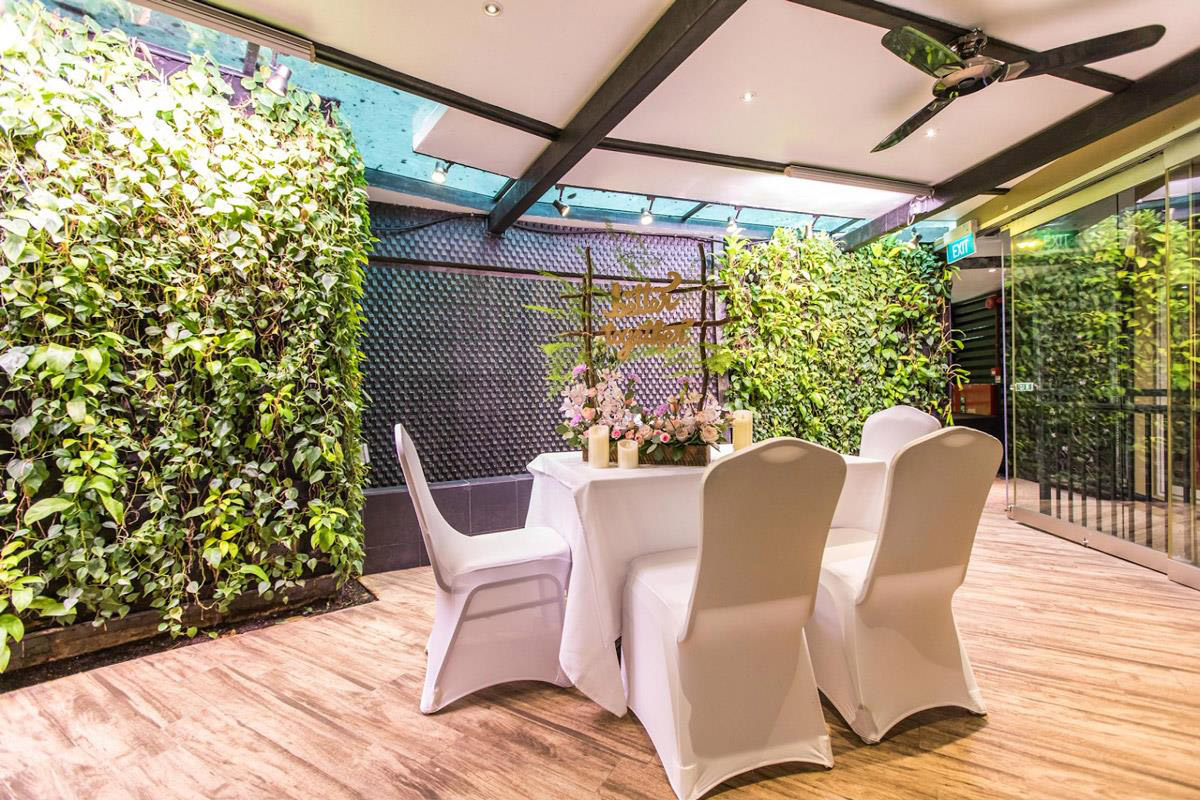 Solemnisation set-up in front of an auspicious water feature at the Courtyard
Source: The Villa at Singapore Botanic Gardens
Fully air-conditioned, the Courtyard can hold up to 78 seated guests and is surrounded by walls of floor-to-ceiling windows, providing a 360-degree view of the beautiful Ginger Garden. The adjacent patio can also be adapted into a reception bar or photo taking area, perfect for entertaining your guests! As for the banquet, their Halal-certified resident restaurant, The Halia, will satisfy you and your guests with scrumptious local-European fusion dishes.
Address: 1 Cluny Road (via Tyersall Avenue) Ginger Garden, Singapore Botanic Gardens, Singapore 259569
Tel: +65 6484 0711
Website
5. La Terrasse at Novotel Singapore on Stevens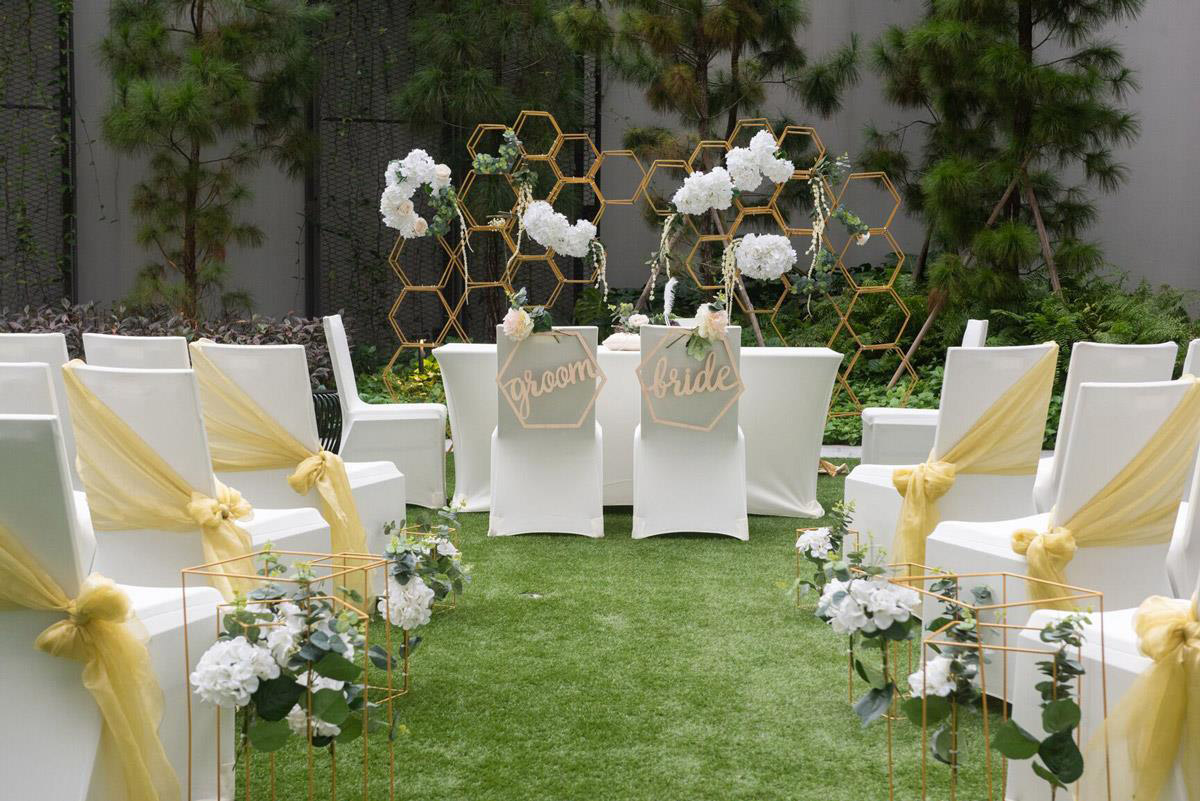 If you're planning for a sweet, botanical style solemnisation, La Terrasse is an award-winning outdoor courtyard at Novotel Singapore on Stevens that is perfect for an intimate celebration of you and your partner's love. Bordered by tall walls and set aglow with plenty of natural sunlight, sit under the honeycomb-inspired arch with your honey or an idyllic flower arch of gorgeous spring bloom as you take your sacred vows in front of your friends and family!
Once the solemnisation is over, you can also take your celebration indoors at any one of the function spaces that is fitted floor-to-ceiling windows, or at Winestone, a swanky, cosy European restaurant that serves individually-plated authentic modern European cuisine.
Address: Novotel Singapore on Stevens, 28 Stevens Road, Singapore 257878
Tel: +65 6491 6100 | +65 6491 6114
Website
6. The Backyard at SIRI HOUSE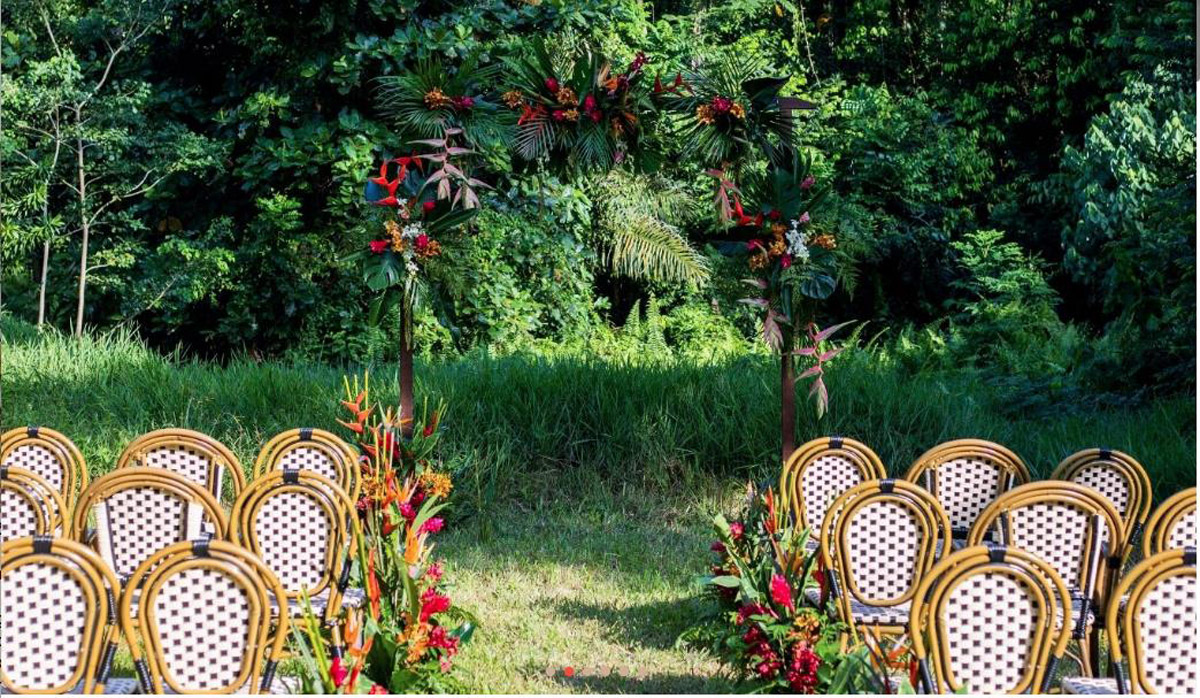 Source: SIRI HOUSE
SIRI HOUSE at Dempsey is a lifestyle, social, and dining space created by one of Thailand's most trusted luxury property developers. What this means is a magical venue waiting to whisk you away for a tropical garden wedding that seems nothing like anywhere in Singapore!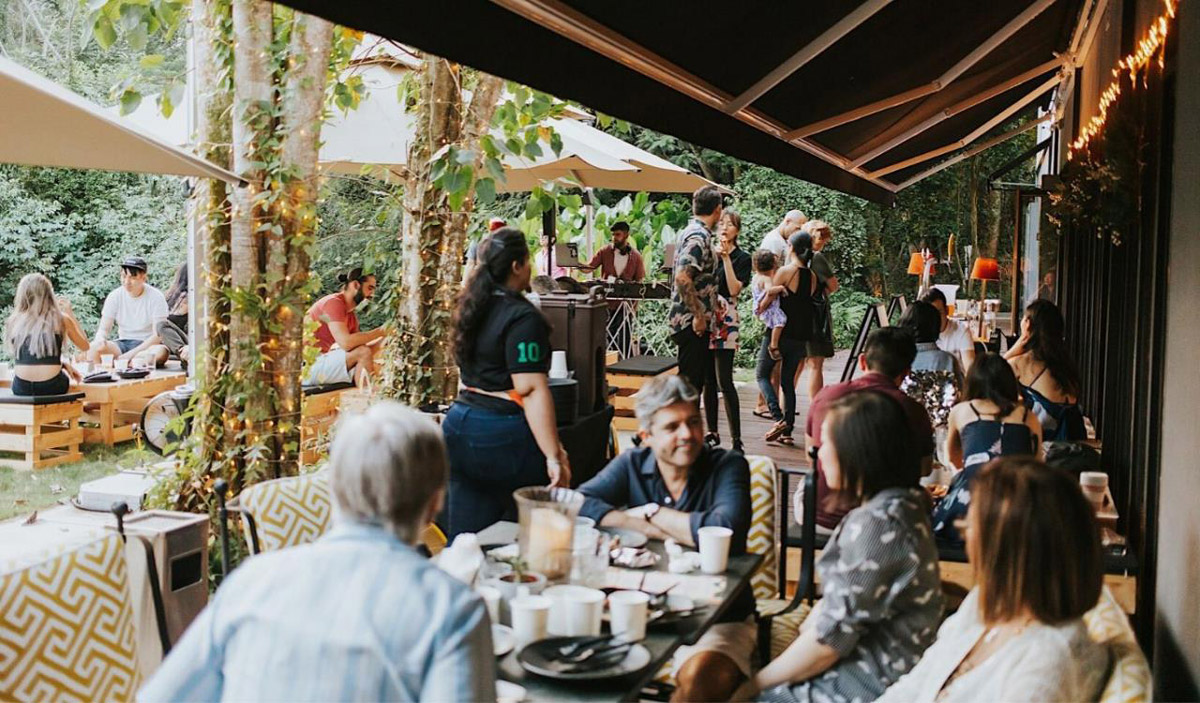 Source: SIRI HOUSE
Quirkily coined The Backyard, SIRI HOUSE's outdoor deck is set amidst the lush greenery of Demsey Hill. The beautiful blend of the tropical garden, woodsy décor and custom fabrics and furnishings offer a rustic and comfortable space that brings life to an intimate celebration.
Location: Block 8D Dempsey Road, 01-02, Singapore 249672
Contact Number: +65 9239 1714
Website
7. Classic & Laguna Lawn at Dusit Thani Laguna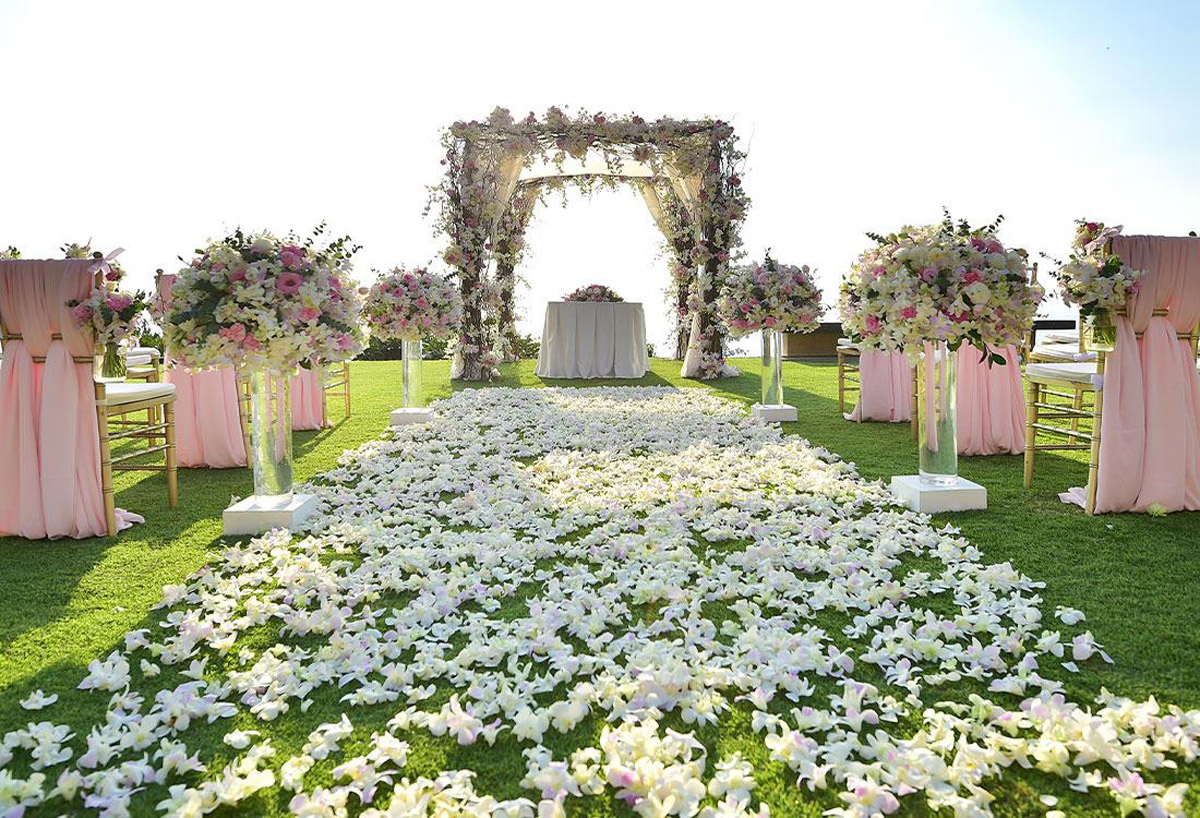 For those who want a luxurious and regal garden wedding experience, Dusit Thani Laguna is Singapore's newest luxury resort — you can even be ferried to the resort in a chauffeur-driven Rolls Royce!
With sprawling green fairways everywhere, couples can expect to be surrounded by vibrant greenery and scenic landscapes that mimic a destination wedding experience perfectly if they choose to utilise the outdoor venues, such as the Classic and Laguna Lawns.
Address: 11 Laguna Golf Green, Singapore 488047
Tel: +65 6841 8888
Website