Countdown Calendar: From A Year to A Day Before Your Wedding
2022-04-26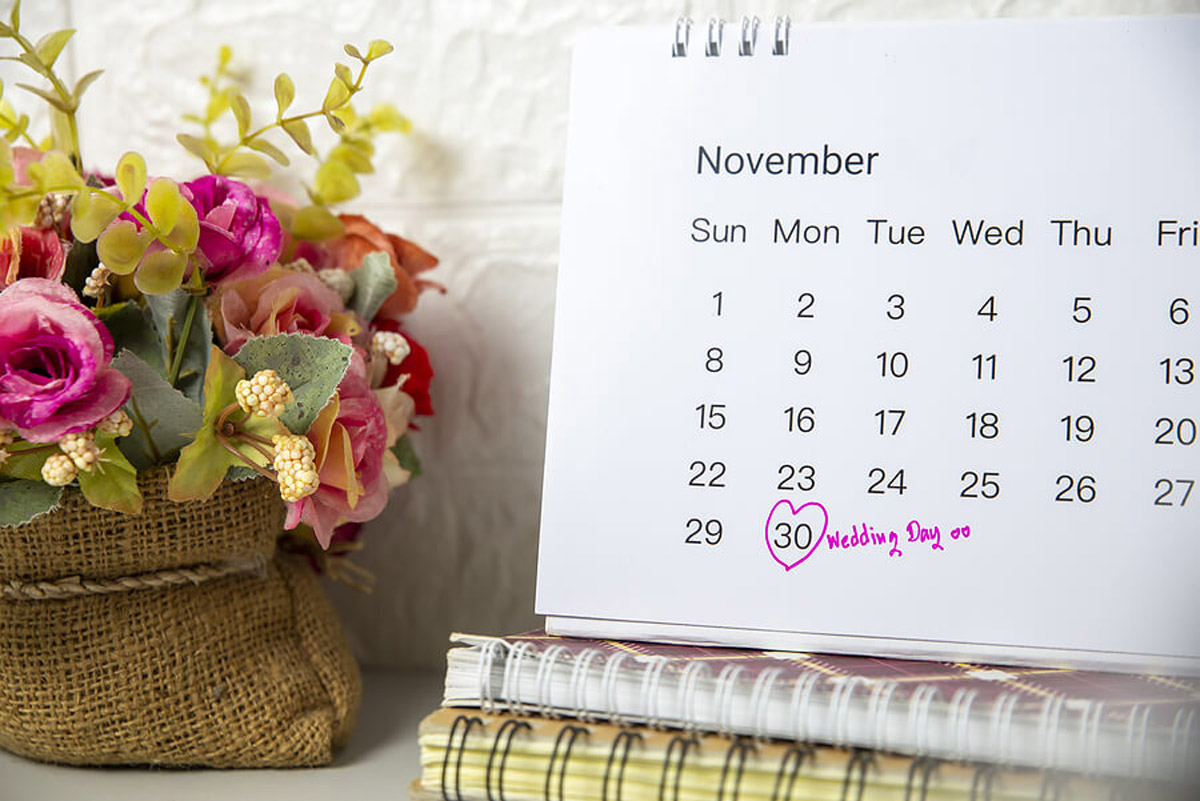 After the euphoria of the engagement, you may find yourself simmering down with practicalities. Planning a wedding can certainly feel like a giant mountain of tasks you have to handle. But fret not— no matter the scope and size, it's all down to proper planning and time management. So, allow us to run you through a comprehensive, month-by-month wedding planning checklist!
Twelve months to go…
You have a lot of time on your hands. Enjoy the feeling of being engaged— share news of your engagement with the people that matter. Take stock of your wedding and honeymoon budget with your fiancé and start thinking about your wedding theme and style.
Eleven months to go…
Hire and meet with your wedding consultant and discuss details. If you are planning on doing a traditional Chinese wedding, discuss the customs and rituals you would like to include. Select an officiant or solemniser and start meeting with photographers, caterers, florists, and musicians. Reserve locations for the big day, including the tea ceremony, wedding banquet, and reception.
Ten months to go… nine months to go…
Choose and order your wedding gown, as well as your qipao or cheongsam if you are planning on doing the Chinese tea ceremony. Start making orders for your complete bridal look and accessories, such as the veil, shoes, and jewellery.
Share your theme and rituals in detail with your vendors so they might customise their services. Also, start determining the menu to be served at your reception, ensuring that you include guests' special dietary needs!
Eight months down… seven more to go…
Do a gown fitting to make sure you're still the right size for your bridal outfits. Select your bridesmaids' dresses and accessories, as well as that of your flower girls and ring bearer. Choose your florist, keeping in mind all the venues to be decorated.
Put your head together with your fiancé to discuss wedding rings, especially if you want a certain style or special engraving. Research honeymoon spots as well! Book your photographer, videographers, musicians, and entertainers. Prepare the flow of the programs, including the rituals and ceremonies, and then begin making wedding invitations.
Six months, five months…
Go wedding cake tasting and select your bakery of choice. Reserve transportation to be used during the big day, and then arrange reservations for rehearsals for both wedding banquet and wedding dinner venues.
Four months, three months…
Have the groom try on and order his tuxedos and other wedding day attires. Arrange and organize his groomsmen's outfits. Go over your wedding day hairstyle with your hairstylist. With all the conventional details down, you can now brainstorm on special activities you can do, such as a bachelorette party or a post-wedding brunch.
Two months before your wedding
Prepare and mail the wedding invitations! Do another gown fitting and organise your gowns' delivery and pickup dates— the groom should also do the same for his attire.
You may be receiving gifts around this time, so don't be too busy so as to forget to write thank-you notes. With your parents, start shopping for a gift to give your fiancé. Your honeymoon travel plans should already be ironed out during this time, especially if it involves travel. Do final preparations and send out invitations for your rehearsal dinners and practice runs.
One month before your big day
The busiest month! Confirm your orders and discuss delivery times with your vendors, starting with your florist. With your wedding planner, you can determine seating and table arrangements for guests. Also, be sure to correspond with wedding ushers about their individual duties. Confirm reservations for all venues, from the tea ceremony to the honeymoon.
Finalise your invitations. Call anyone who hasn't RSVP'd and send the final headcount to the caterer or your wedding planner. If your honeymoon is a send-off affair right after the ceremony, you might even need to start packing for your honeymoon.
The day before your wedding
For Chinese weddings, the bride and groom have their shang tou hair-combing ceremony the night before the wedding in their respective homes. It is a ritual that represents their transition into married life and adulthood.
That aside, the last day should be one for tranquillity, composure, and looking forward to a new light-filled chapter of your life together.
The bottom line
Planning a wedding is equal parts exciting and exacting. Should you require any assistance, you'll be happy to know that here at Blissful Brides, we aim to take the stressful load of your wedding planning needs -- from evening gown rentals to searching for your wedding venue. So, are you ready to live the wedding of your dreams? Ease the search for wedding vendors and make it simpler by getting a quote from us today!