Finding Your Perfect Wedding Ceremony: 5 Unique Wedding Styles
2019-12-17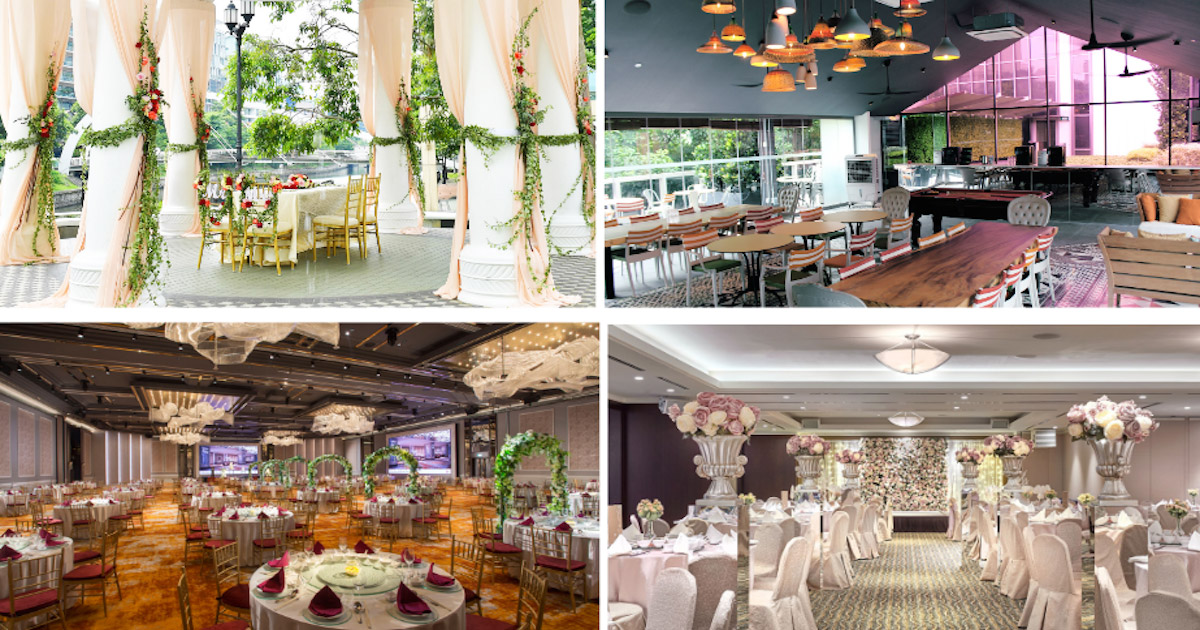 From choosing your wedding decor to deciding on your wedding menu, there are many things involved when planning for your big day. However, before you can actually get started, you and your significant other will first have to decide on a wedding style, and in turn, a suitable wedding venue.
Whether it's a classic grand ballroom affair, an informal and fun celebration, or a simple yet romantic solemnisation, here are 5 different wedding styles to help you find your dream wedding and venue easily!
1. Grand and formal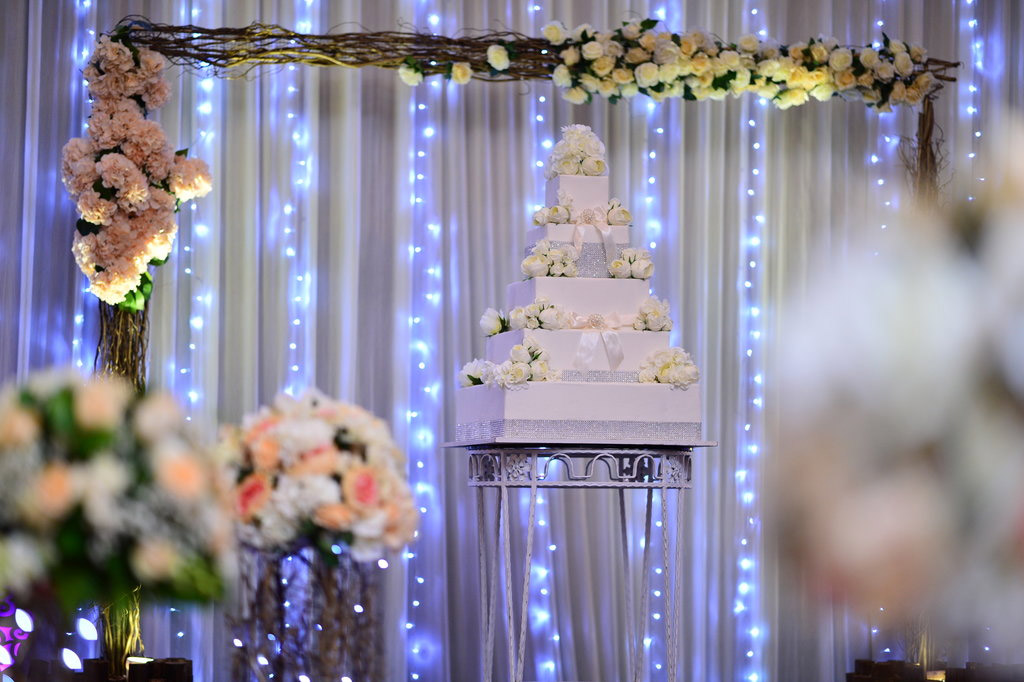 Source: Orchard Hotel Singapore
If you're all for glitz and glamour, set your sights on a grand wedding in a ballroom. Such weddings often include a large guest list, a banquet, and an overall lavish celebration befitting of a momentous occasion such as your wedding. One such venue that can meet these requirements is none other than Orchard Hotel Singapore.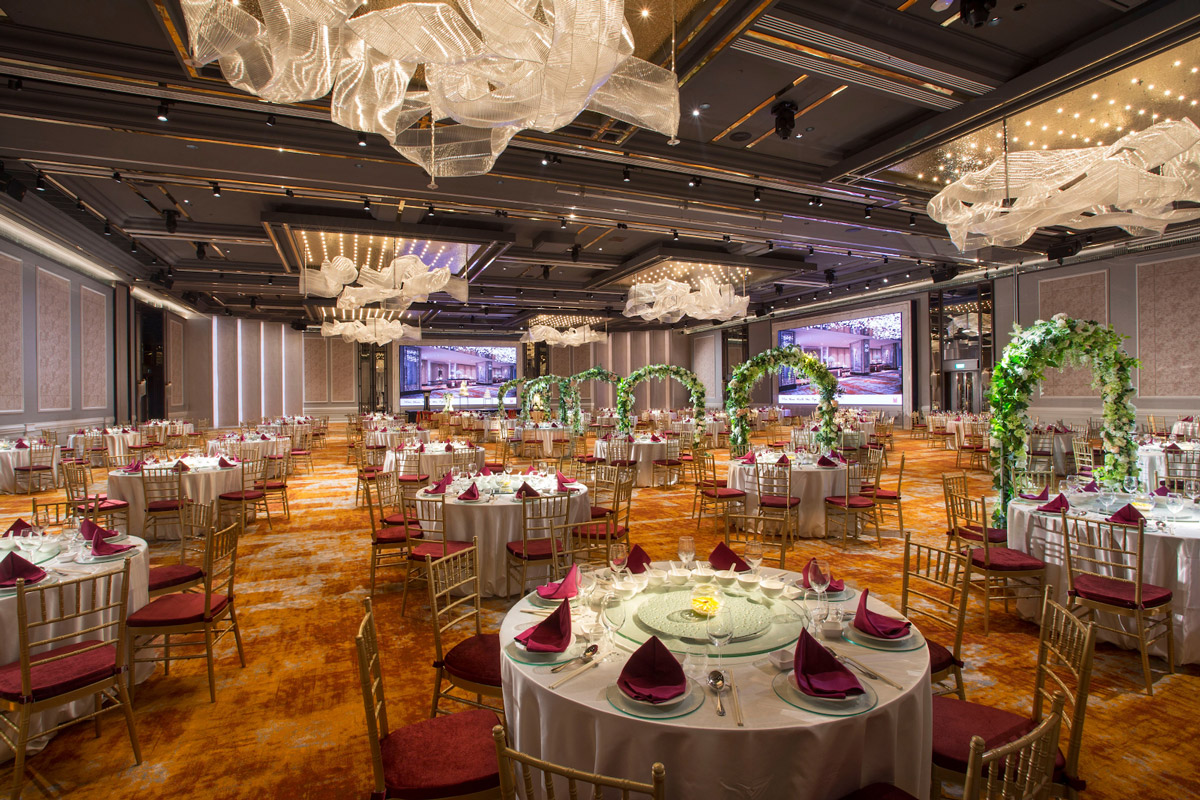 Having undergone a glamorous makeover recently, Orchard Hotel Singapore now boasts an opulent and pillarless ballroom that is one of Singapore's largest at a whopping 10,000 sq ft. Its sheer size alone makes jaws drop, and besides being able to fit up to 1000 guests, it is also equipped with two floor-to-ceiling LED walls, statement lighting, and state-of-the-art audio-visual capabilities so that even the guests seated at the back of the ballroom can see and hear the stage and your wedding toast clearly.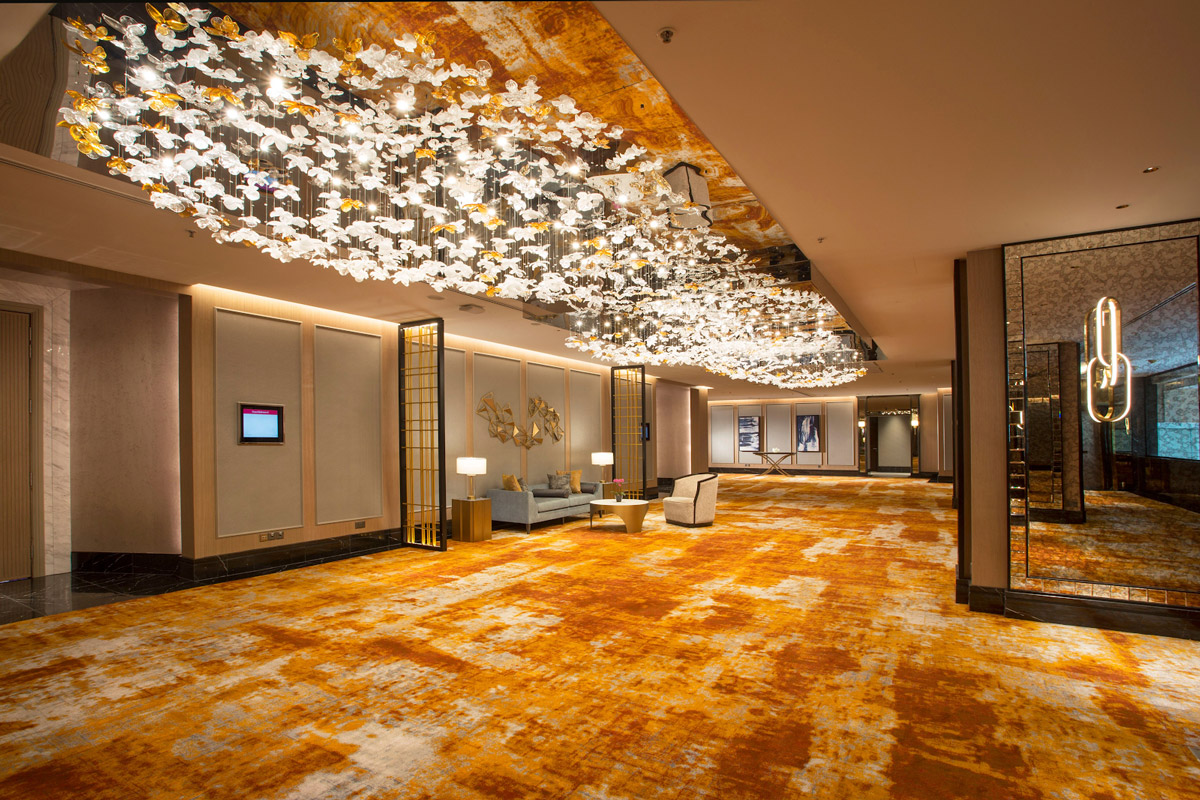 Orchard Hotel Singapore's new foyer with floating Orchid-inspired chandeliers
Orchard Hotel Singapore also has four award-winning culinary concepts – Hua Ting Restaurant, The Orchard Cafe, Mon Bijou, and Bar Intermezzo – to impress your guests with gastronomical delights such as Cantonese fine dining cuisine and artisanal French dishes!
Orchard Hotel Singapore
442 Orchard Road Singapore 238879
2. Intimate and cosy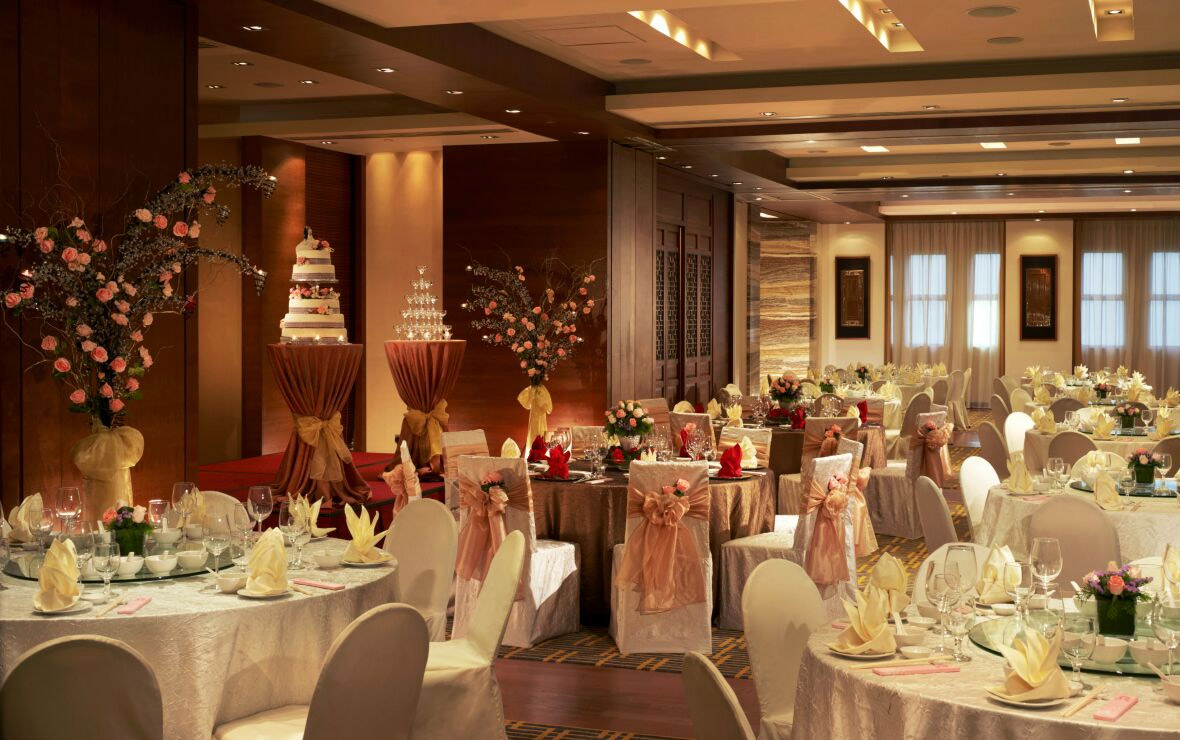 Source: Copthorne King's Hotel
Perhaps a smaller, cosier celebration reserved for close-knit friends and family is more up your alley. Enjoy the highlights of a wedding – your march-in, revelling in well-wishes of your loved ones, and merrymaking – without fanfare and pleasantry!
For such an intimate affair, a restaurant or a cosy ballroom is a good venue choice. Besides being able to accommodate your wedding party comfortably at a more cost-effective price, it will also guarantee epicurean dishes.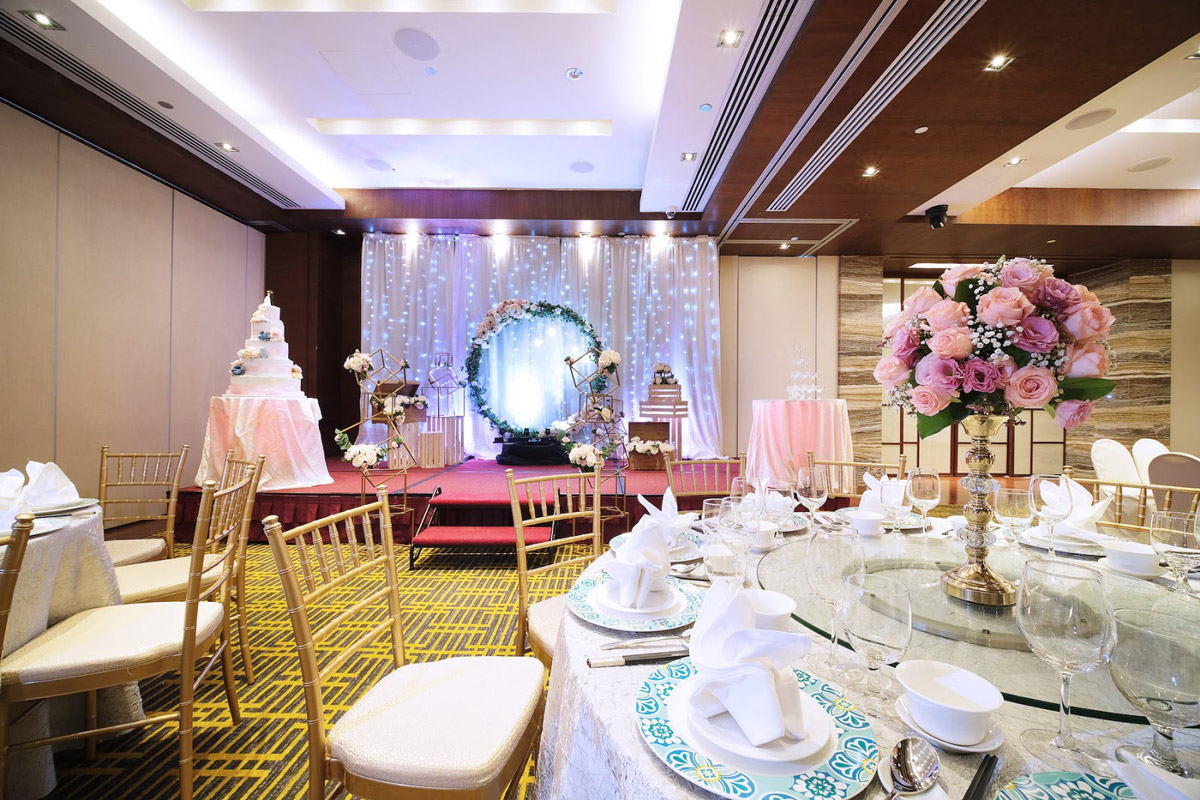 Treat your kindred guests to authentic Cantonese cuisine at Copthorne King's Hotel's award-winning Tien Court Restaurant or ballroom, which will both be magically transformed with exquisite blooms and themed decor. Priding themselves on their impeccable hospitality and dedication to making your wedding a delightful occasion not just for you, but for your guests as well, you can rest assured that your friends and family will be in good hands with top-notch service from the restaurant staff.
Copthorne King's Hotel
403 Havelock Rd, Singapore 169632
3. Casual and fun
Not everyone enjoys a traditional wedding banquet. If you and your other half are free-spirited, adventurous souls, kickstart your journey as a married couple with a fun and unconventional wedding ceremony instead!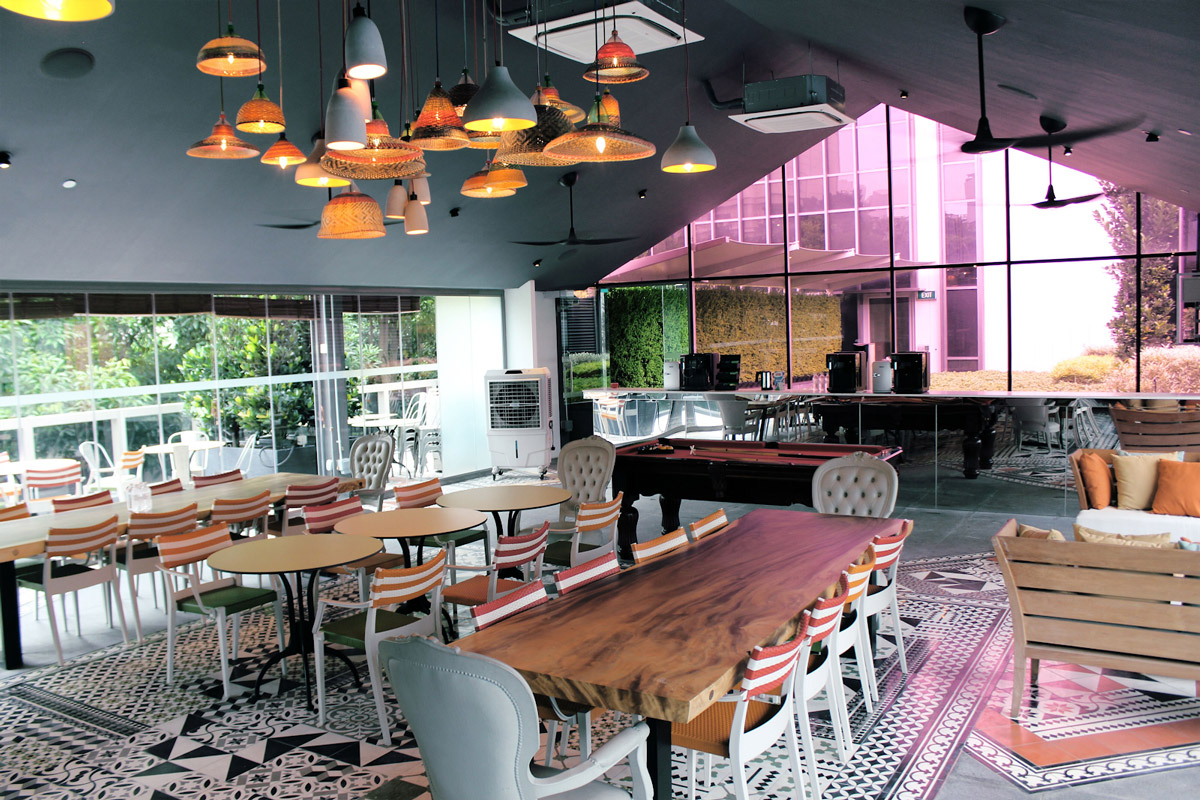 M Social Singapore's MySpace
A poolside party and a beach wedding are some ideas worth considering, but if you'd like to save the hassle of having to plan for wet weather emergencies, we've got just the solution – M Social Singapore.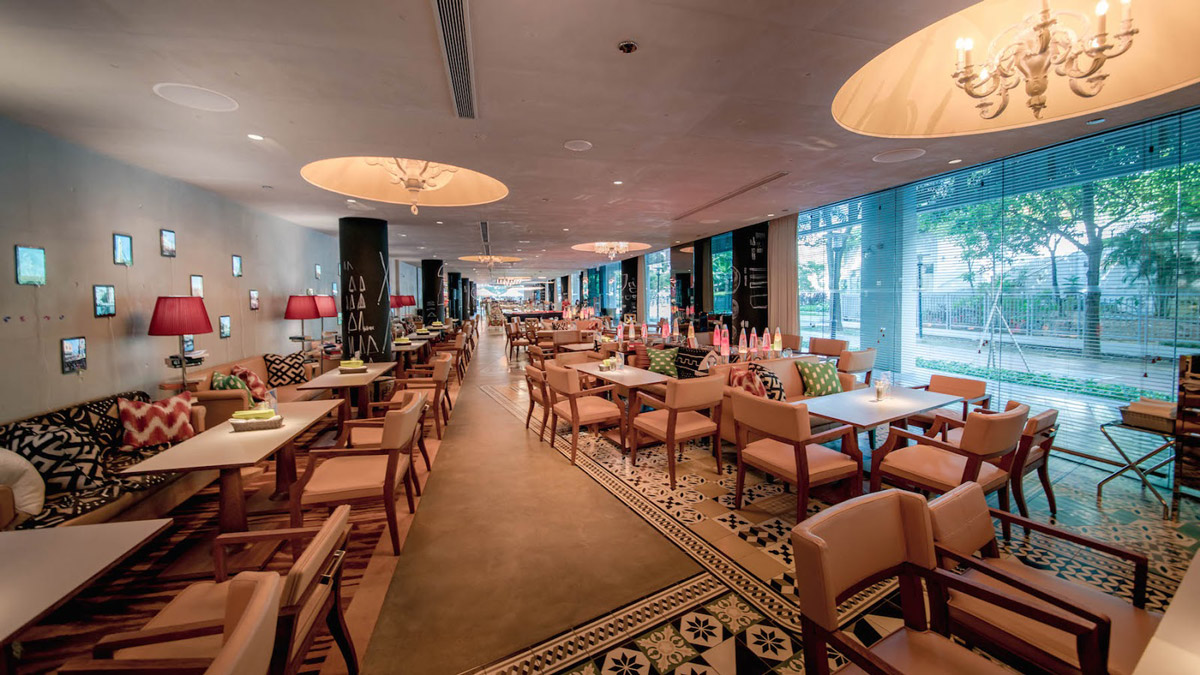 Beast & Butterflies
Boasting eclectic and rustic decor, choose to either wed at MySpace, a casual communal space that can sit up to 50 guests, or have your guests dine at the vibrant and quirky Beast & Butterflies restaurant, which can hold up to 130 guests.
Solemnisation packages for high tea, buffet lunches, and buffet dinners are available, and they include fresh floral arrangement, usage of AV equipment, complimentary carpark passes, as well as mixed nuts during your cocktail reception and free flow coffee and tea throughout.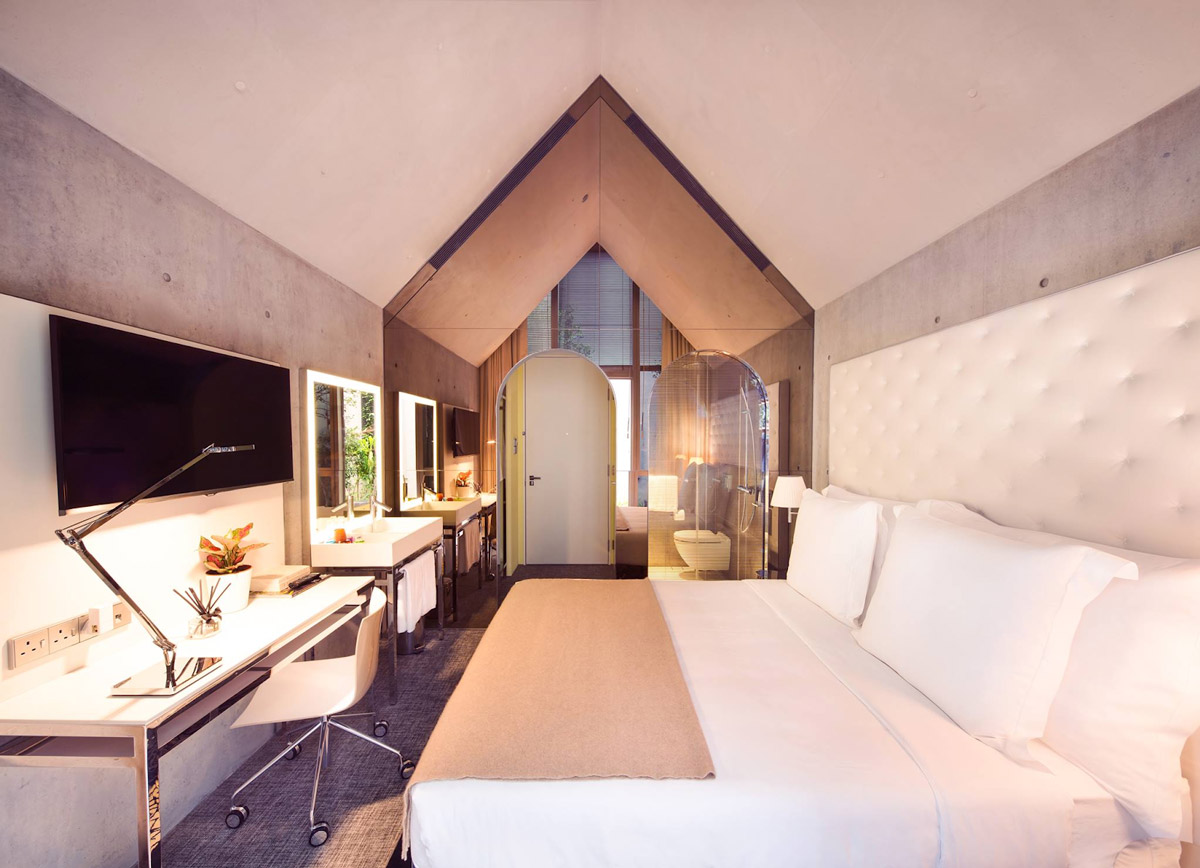 Source: M Social Singapore
After that, stick around to play a game of pool with your buddies or retreat to a chic alcove or loft-style room that's cosy with a unique Scandinavian-like design to recharge before your next escapade as a married couple – your honeymoon!
M Social Singapore
90 Robertson Quay, Singapore 238259
4. Dreamy and romantic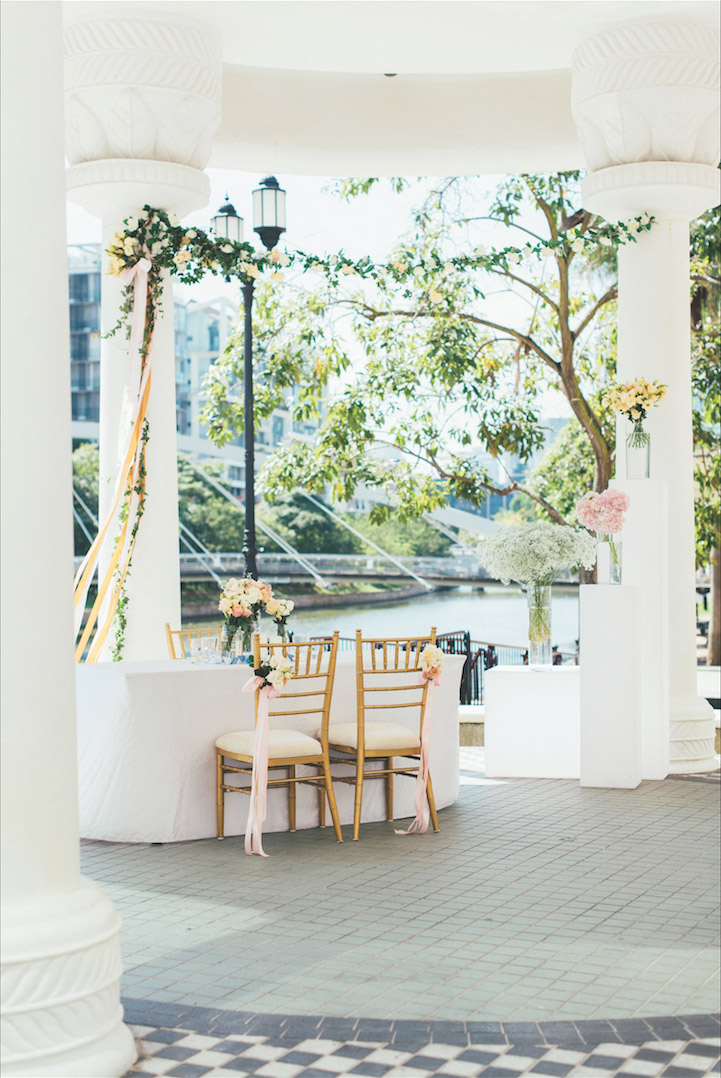 Starry-eyed lovebirds, this is for you. If you're looking for a wedding that can fully encapsulate the bliss and love between you two, nothing says romantic more than an ivory white pavilion by the riverside.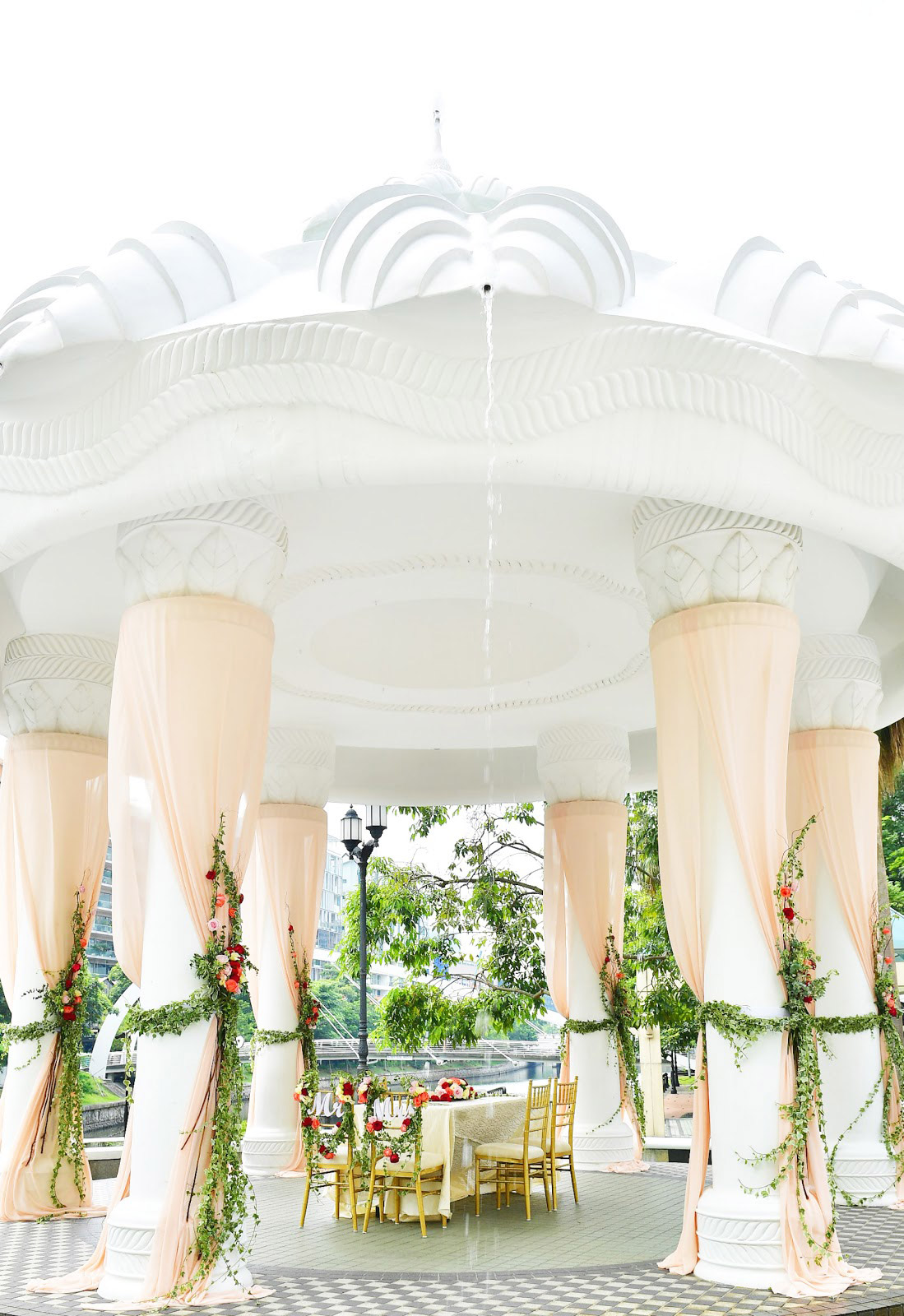 Breathtakingly set against the picturesque and tranquil Singapore River, Grand Copthorne Waterfront Hotel's outdoor pavilion is perfect for a solemnisation and looks like it came straight out of a fairytale when decorated with elegant blooms and rustic greens.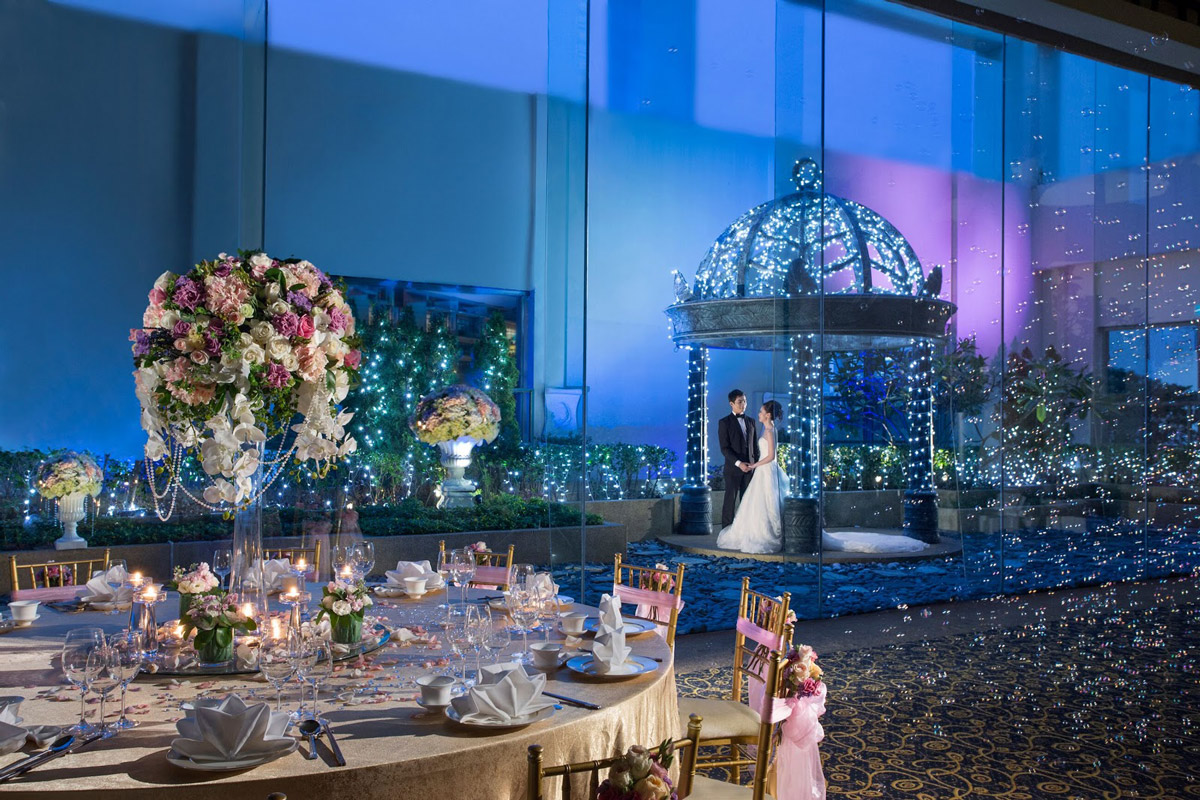 Source: Grand Copthorne Waterfront Hotel
You can then adjourn to their Grand Ballroom, which is best-suited for a lavish wedding celebration and known for its stunning view of an idyllic garden that comes with a mini pavilion of its own. Adorned with twinkling fairy lights, the garden is an enchanting sight to behold at night.
Grand Copthorne Waterfront Hotel
392 Havelock Road Singapore 169663
5. Exclusive and luxurious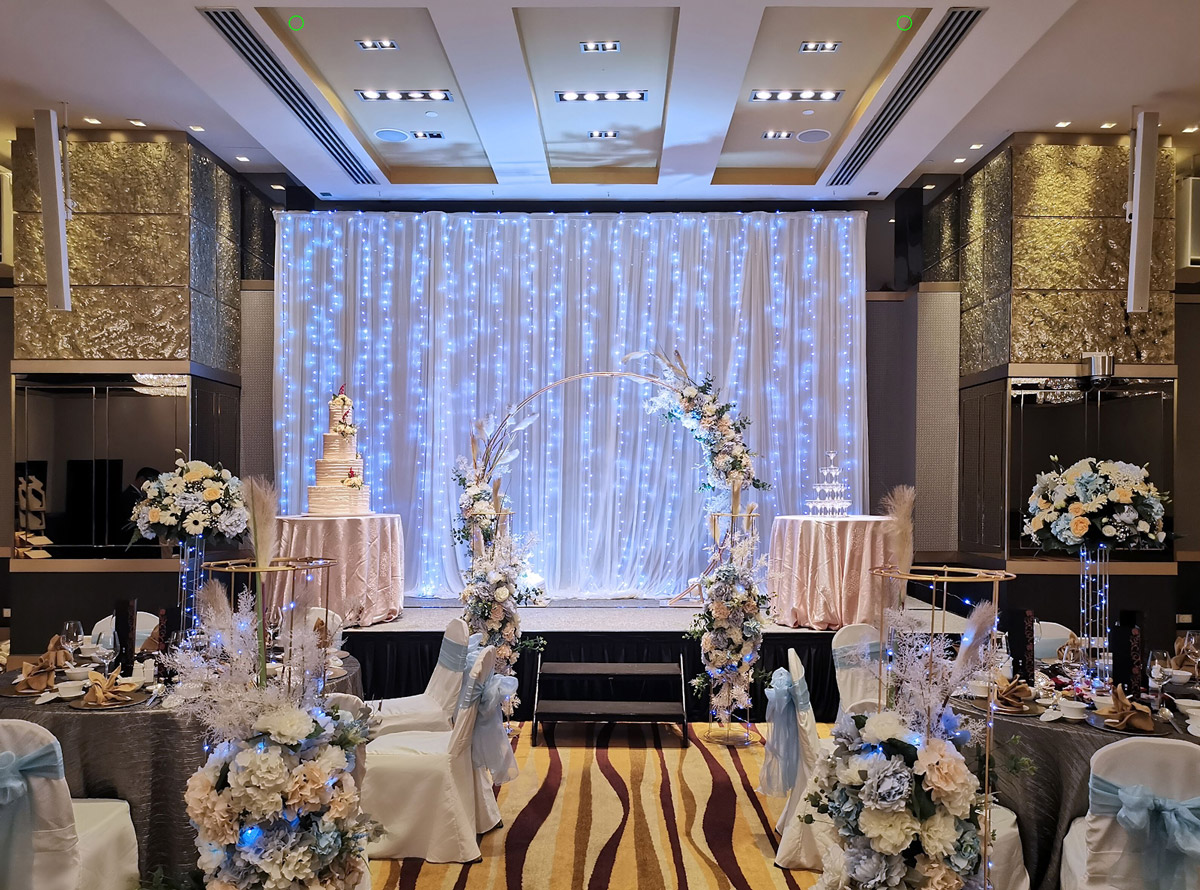 M Hotel Singapore's Bohemian theme
Your wedding is a once-in-a-lifetime event, so it's no surprise if you wish for it to be a special day that's all about you and your sweetheart. Make yourself feel like royalty by pampering yourself constantly during the wedding, which is something that M Hotel Singapore can help out with!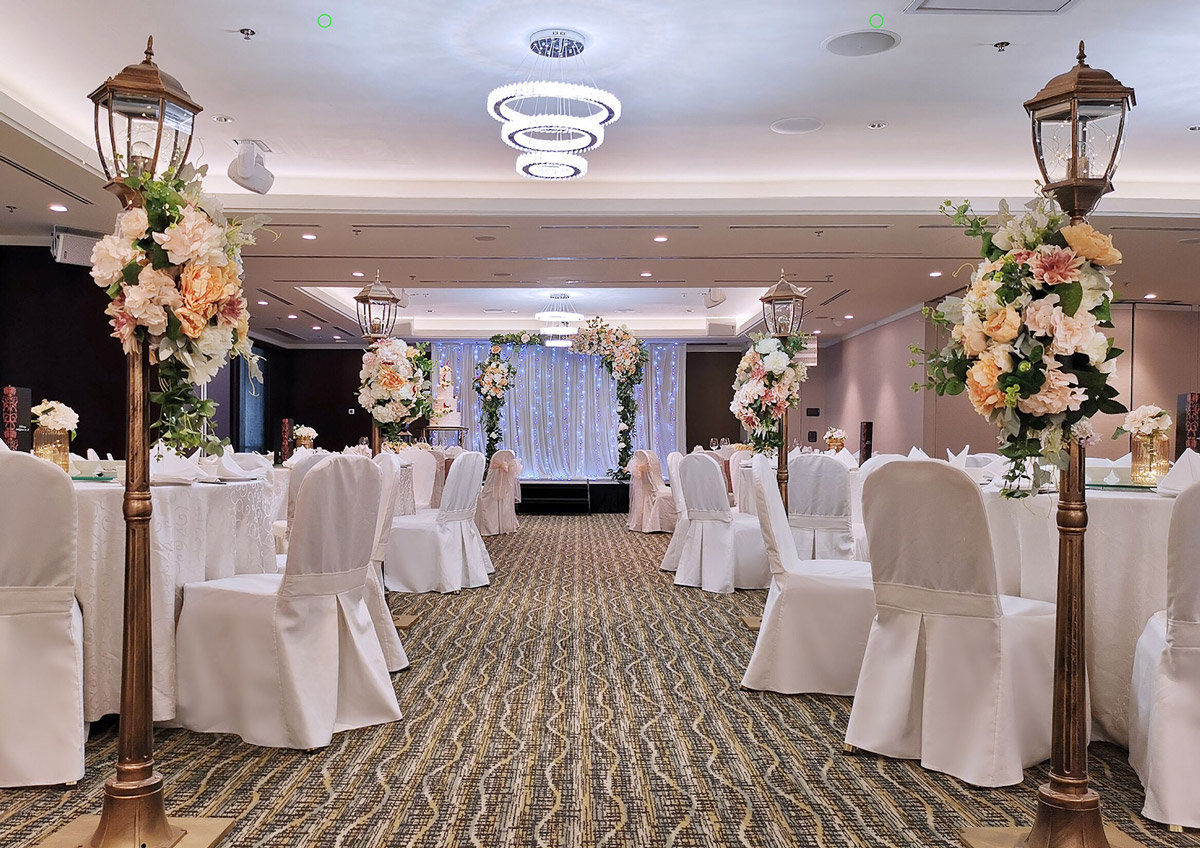 M Hotel Singapore's Anson Room and Whimsical Garden theme
At M Hotel Singapore, cast your worries aside and simply enjoy your day with top-quality cuisine, service, and impressive audio and visual technology in their luxurious ballrooms. The Grand Banquet Suite and Anson are equipped with a private kitchen and culinary team of its own, ensuring a top-notch wedding banquet experience.
For touch-ups, the adjoining VIP lounge of the Banquet Suite makes for easy gown changes so that you can be decked out in your finest for the magnificent evening ahead.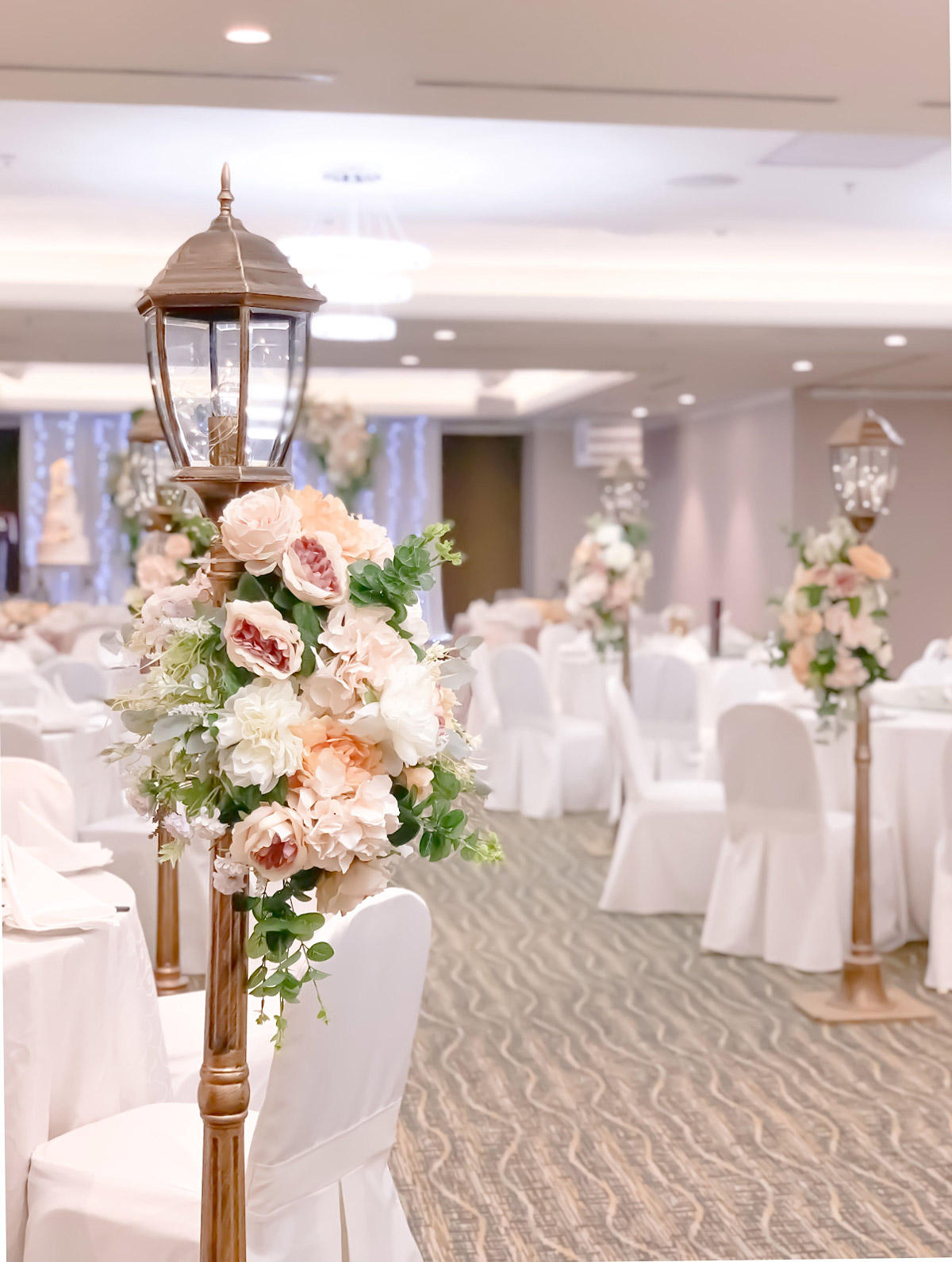 A close-up of the Whimsical Garden theme
They also have a wide variety of themes to cater to every couple's personality and preferences, and 2020's exclusive new themes include The Covenant, which sets the traditional wedding arch against contemporary yet rustic florals, vines, and fairy lights, Bohemian, a trendy theme that adds a touch of nature to their modern Banquet Suite, Whimsical Garden, which recreates a romantic Eden indoors, and Double Happiness, a tasteful blend of auspicious reds and champagne hues.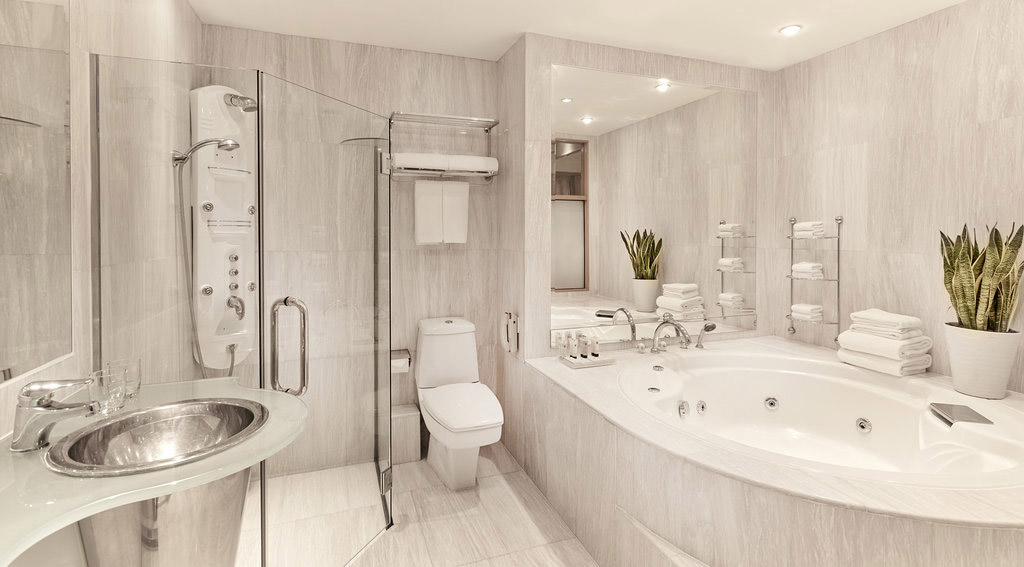 Once the wedding is over, you can also soak your fatigue away in the Bridal Suite' in-room jacuzzi – an indulgent end to your memorable day!
M Hotel Singapore
81 Anson Road Singapore 079908
Now that you've found your ideal wedding style and corresponding wedding venue, book it fast and stand to win your dream honeymoon! Millennium Hotel and Resorts Singapore is currently holding a lucky draw, and three lucky couples who book their wedding with any of the five venues mentioned above by 1st March 2020 will be eligible to win:
1st Prize: 4D3N Hotel Stay in London + SGD $2,000 Travel Voucher
2nd Prize: 4D3N Hotel Stay in Dubai + SGD $1,500 Travel Voucher
3rd Prize: 4D3N Hotel Stay in Shanghai + SGD $1,000 Travel Voucher
Let the wedding bells ring!
This article was written for Millennium Hotels and Resorts Singapore.
Copthorne King's Hotel

Rating:

Address:

403 Havelock Road Singapore 169632

Phone:

63183116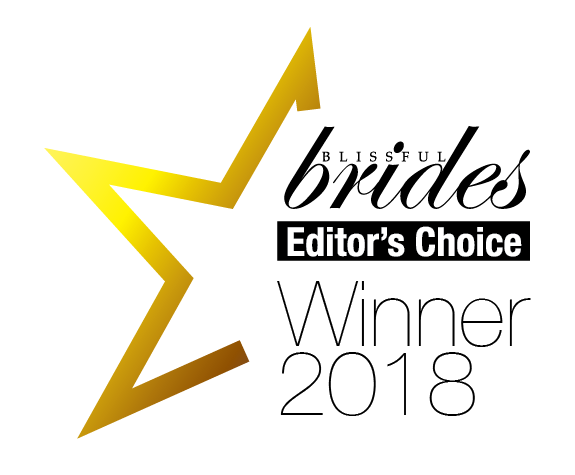 M Hotel Singapore

Rating:

Address:

81 Anson Road Singapore 079908

Phone:

+65 6500 6211

Fax:

+65 6224 3173