Hair Accessories Guide: Magical Pairings for Every Bride's Hairdo
2019-12-29

So you've found your dream wedding gown and wedding jewellery - congratulations, the next step is to complement them with the perfect hair-do and add some hair accessories as the finishing touches!
More than just to hold your hair in place, hair accessories also help to light up your entire look. If you are ready to turn the charm up a notch, here's how to be a real head-turner while walking down the aisle:
Feather and Pearl Fascinators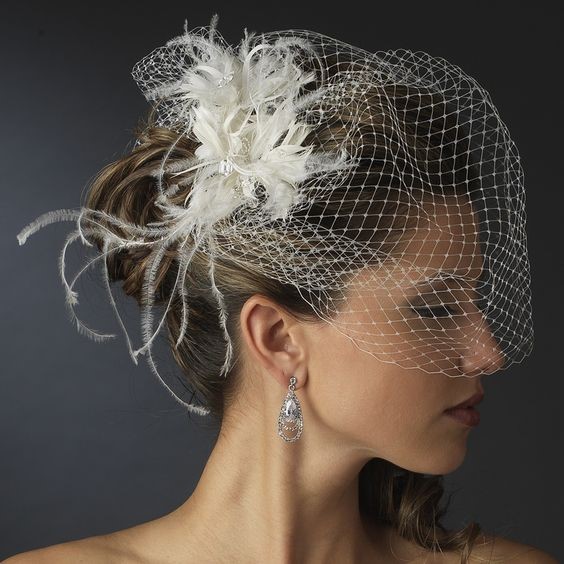 Source: Pinterest
Perfect for the bride who fancies herself some old-school vintage glamour, big feathered fascinators embellished with glossy pearls can be pinned right beside your bridal hair bun!
Creating a dramatic and flamboyant look à la The Great Gatsby, those who prefer a more elegant look on your wedding day and at your pre-wedding photoshoot can opt for more subtle designs too.
Floral and Pearl Pins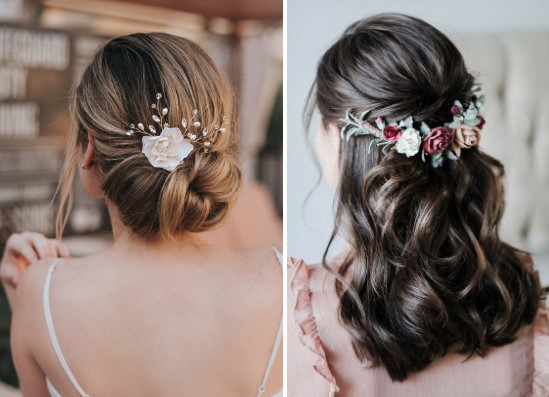 Source: Pinterest
An effortless pairing for beach and outdoor wedding venues, floral pins are one of the most affordable ways to add a whimsical and romantic style at the altar. To stand out even more, look for floral designs like silk orchids, lilies, or roses that match your wedding bouquet!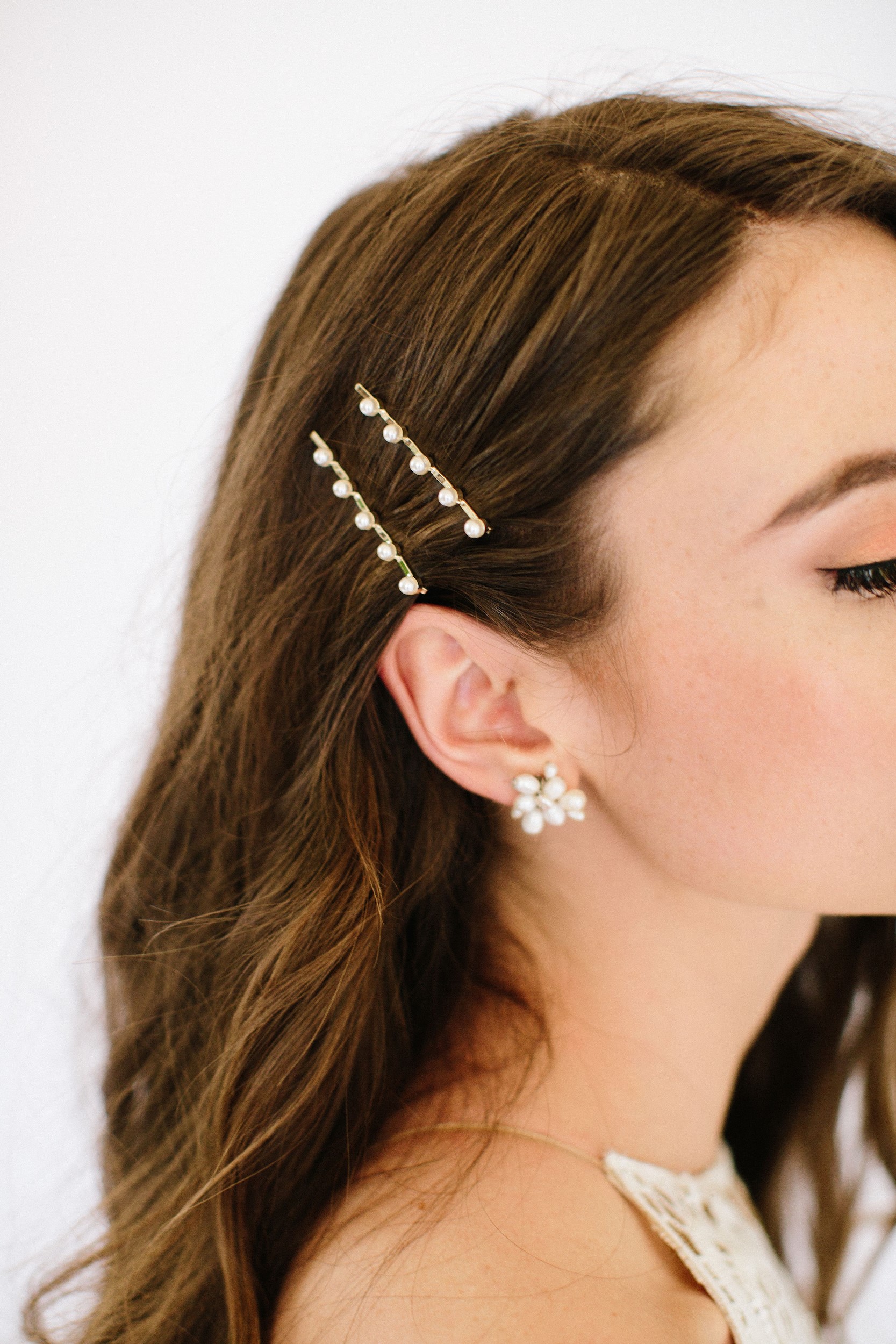 Source: Pinterest
These pins can be placed anywhere on your hair – try placing it in a fishtail braid, or simply pin them in a full-volume, messy up-do to up the elegance. Pearl hair pins offer the same alluring effect. Whether you choose to wear them by themselves or in clusters, they are the epitome of "simplicity is best".
Here's a tip: use them as matching accessories between you and your bridesmaids!
Embellished Headband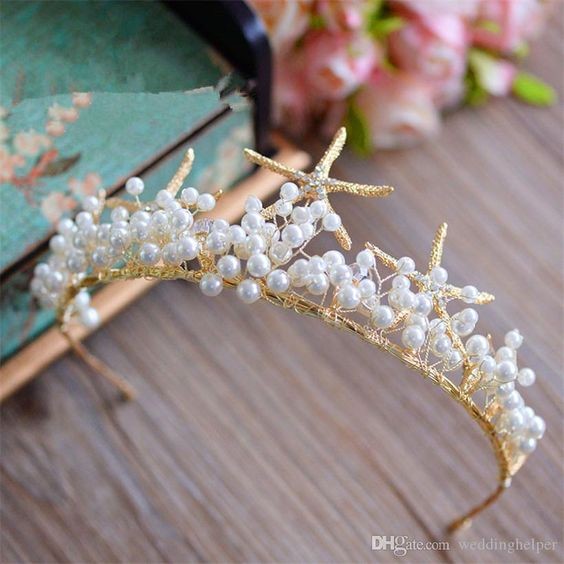 Source: Pinterest
A delicate headband embellished with rhinestones, crystals, or diamonds exudes a playful sophistication when combined with loose curls or a half-up hairstyle. For the fashion-forward brides, opt for a double headband for twice the glitz and glamour. These jewels on your hair will help to catch the light and make you shine no matter where you go!
Earthy Crown and Hair Vines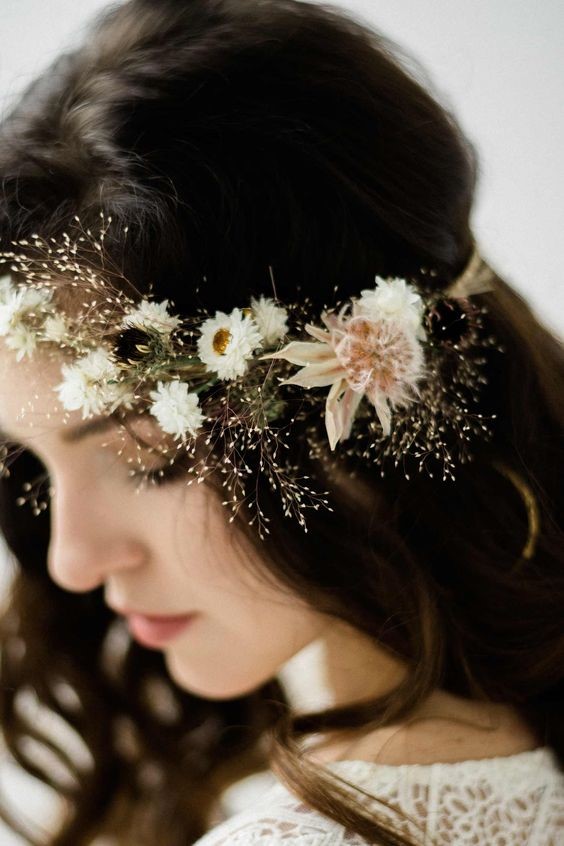 Source: Pinterest
A beautiful crown braided with fresh flowers, leaves, and thin branches or twigs can create a fairy-like look for your garden wedding. A wreath placed upon long curly locks or straightened hair can also give you a refreshing, elvish look.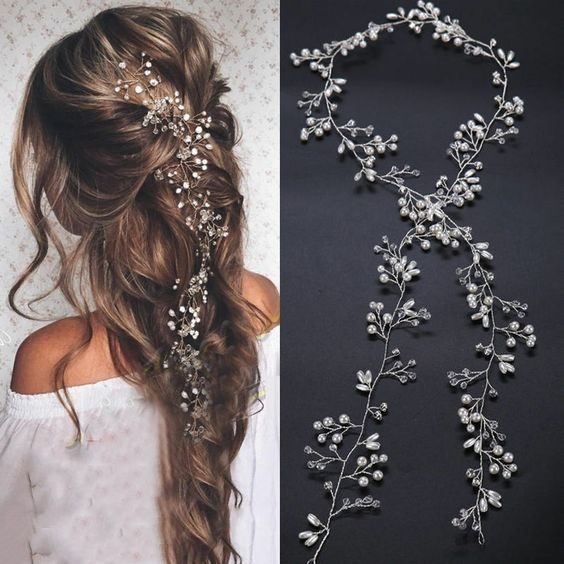 Source: Pinterest
Hair vines are also a popular hair accessory that is easy to sport. Simply adorn your hair with them by blending them in as part of a loose braid!
Hair Combs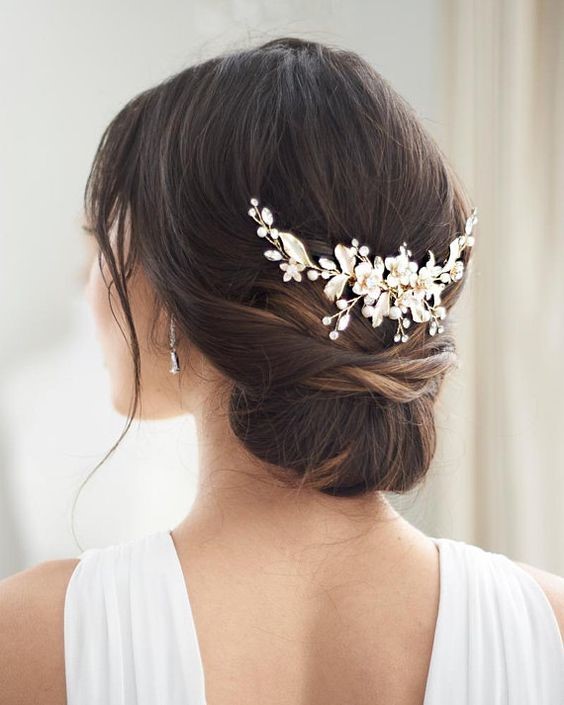 Source: Pinterest
This hair accessory has been around for centuries and is a timeless classic. Typically used to secure your bridal veil, the hair comb can be decorated with different features such as silver leaves, dainty flowers, or traditional motifs.
The bridal comb is also easy to put on, sliding comfortably into your hair and can be placed at the front, side, or back for a sparkly finishing touch. We recommend pairing a hair comb with partial up-do, especially low chignons!
Grecian Crown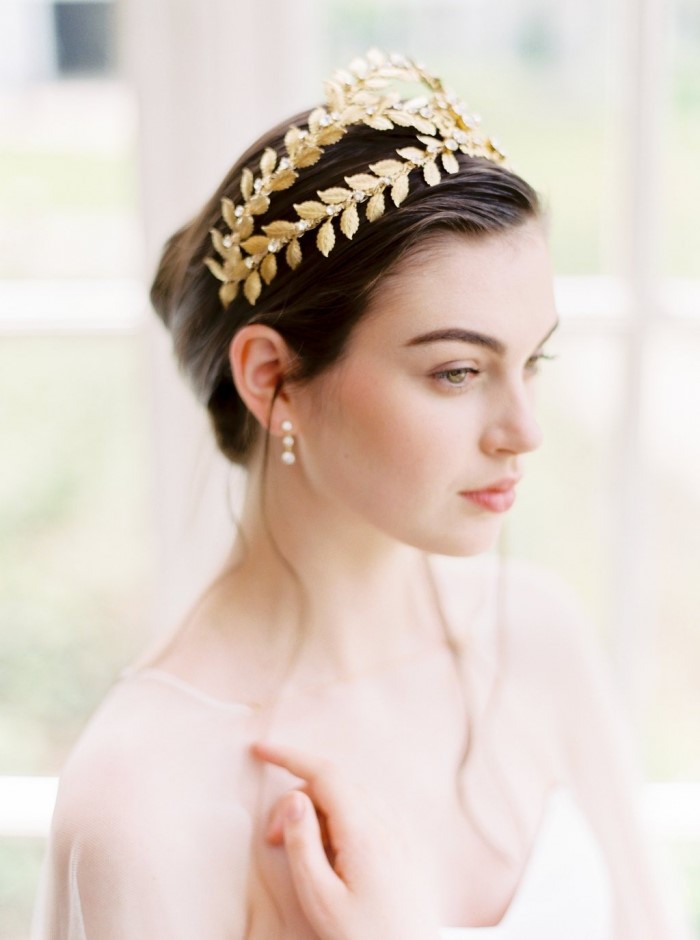 Source: Pinterest
Slightly different from your typical jewelled crowns, Grecian crowns are ethereal golden-plated leaf crowns that instantly transform brides-to-be into glorious Greek goddesses.
It pairs perfectly with a sheath wedding dress, and a useful tip when wearing your crown is to wear it about an inch or an inch and a half back from your hairline to perfectly frame your face and balance out your features.
Now that you have a rough idea on what kind of hair accessories you'll be sporting on your big day, be sure to bring them along to your bridal shop fittings – it's always good to try them on in a "full dress rehearsal" to make sure that they really look good!