How to Plan the Perfect Traditional Chinese Wedding
2022-07-28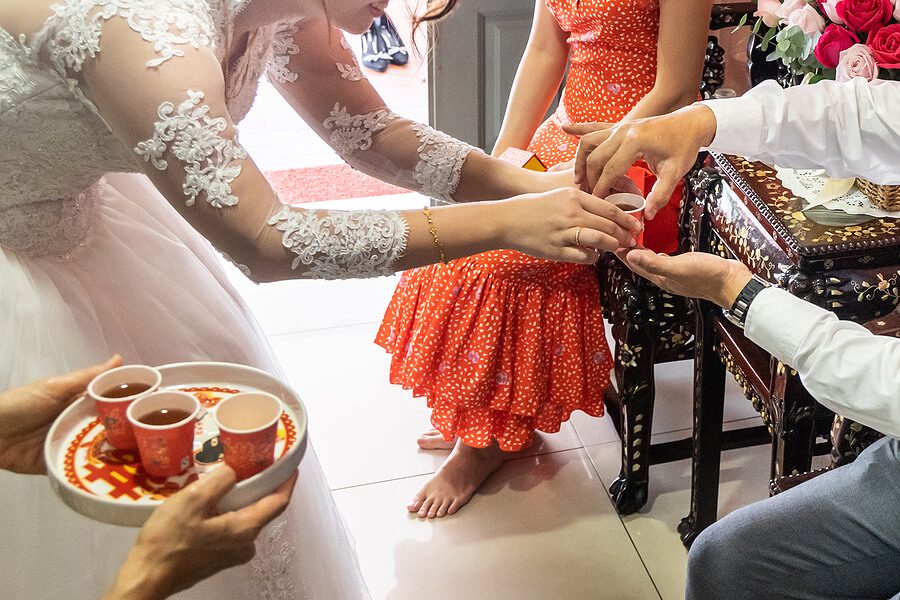 Weddings are meant to be joyous occasions, beautiful ceremonies where friends and family members from both sides come together to celebrate the union of two people in love. But they can also be filled with plenty of pressure. Planning a traditional Chinese wedding, especially, can be a daunting task. If you are planning the traditional Chinese wedding of your dreams, you will know that there are many traditions and customs to be followed, from the engagement to the wedding day itself. However, once you know what to expect, it can be one of the most exciting experiences of your life. Here at Blissful Brides, we are committed to being a one-stop resource in helping you plan your special day from head to toe.
With comprehensive guides, tools, and resources on every aspect of wedding planning, Blissful Brides aims to help you discover the best local wedding suppliers and vendors in Singapore. Our wide team of experienced wedding planners can provide you with a wealth of knowledge on everything you will ever need to know about planning a traditional Chinese Wedding, and assist you every step of the way, so you have more time to focus on the things that matter – like having the best day of your life.
The Betrothal Ceremony
The Betrothal Ceremony, or Guo Da Li, is an important event in Chinese culture that usually takes place two to three weeks before the actual wedding day. Besides selecting an auspicious wedding date, this ceremony serves as a formal meeting between both families where dowry and gifts will be presented to the bride by the groom's side of the family. The dowry and betrothal jewellery, especially, is a key feature of the occasion, ranging from gold bangles to 4-piece sets, or Si Dian Jin, depending on the dialect group of the bride.
Here at Blissful Brides, we provide you with a wide range of vendors who offer the finest quality, custom-made gold bridal wedding jewellery for your special day. We believe that every bride deserves the best. Hence it is important to us that each bride gets the most beautiful pieces to last a lifetime and be passed down as heirlooms.
The Tea Ceremony
The Chinese tea ceremony is a time-honoured and significant occasion for both the bride and groom. It is a mark of respect to the elders by serving them tea and a way to receive blessings in return for the marriage. Yet, many couples are unsure of where to start or how to go about planning it.
Whether it is venue selection, invitations, preparing a tea set, or choosing the tea for the ceremony, it can be a lot to take on. Our experts at Blissful Brides have the experience and knowledge to help you develop a customised plan that meets your needs while honouring traditions and ensuring you do the occasion right. If you are planning on hosting a Chinese tea ceremony, it might be prudent to be prepared beforehand and seek help from a wedding consultant who can lend their expertise and ensure your big day goes off without a hitch.
The Wedding Banquet
The wedding banquet, or "Xi Jiu", is a grand affair that takes place after the wedding ceremony. It is an important part of Chinese culture and a way for family members to gather and congratulate the newlyweds. And with this often being the big finale to your wedding, the key to making it a success is in the details.
The first thing you will need to do is decide on and book the venue for your wedding banquet. Then it's about sending invitations and arranging catering and entertainment for your guests. Perhaps you will also want photographs taken at this once-in-a-lifetime event to be kept as memories forever.
It can all become a little overwhelming and taxing on a bride or groom-to-be. Here at Blissful Brides, we have a vast array of vendors who are able to assist you with any aspect of your wedding banquet preparations, many of whom have been crafting unforgettable wedding banquets for years – all at the best competitive prices to help you make the most out of your special day.
Conclusion
Planning the perfect traditional Chinese wedding doesn't have to be a hassle. Blissful Brides offers top-notch wedding planning services that can help you make your dream wedding come true, alongside all the resources and information you need to make your big day perfect. With our experience and expertise in this field, we can create a custom package that fits any budget and style. Get a quote from us today for a blissful start to your happily ever after!