Finding the Perfect Fit
2016-05-20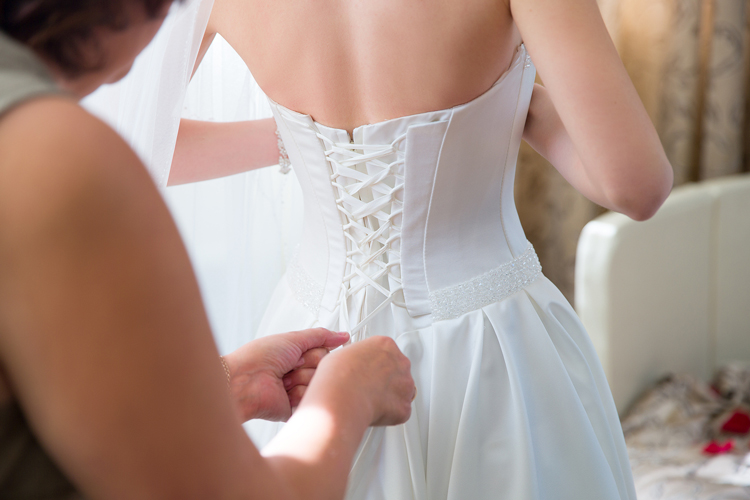 There are as many different types of wedding gowns available as there are women to wear them. However, not all gowns will look good on everyone. Be aware of your body shape, and try on the gown styles that best accentuate your unique figure.
Short and petite: You may want to consider a high neckline, A-line, empire, or princess silhouettes, small collars and cuffs, short sleeves or sleeveless with long gloves. Or, dresses that are trim at the neckline and shoulders to draw the eye upward. You should stay away from a belt, unless it is a very narrow one. Try to avoid frills and excessive detailing.
Tall and slender: Look for dresses with trims that wrap completely around the gown and veil, wide midriffs and sashes, large collars, big cuffs, flared or tiered skirts and low necklines.
Thin: you can choose fabrics that are softly draping or heavier and have texture or a bold pattern. They may have a sheen, such as satins, velvets, and brocades. Choose a dress with a full, gathered skirt with lots of ornamentation. Consider long, full sleeves, a bloused bodice top, a cropped jacket, a sash in a contrasting colour, or a wide sculpted collar.
Pear-shaped: Choose a gown with a long, textured bodice and abundant trim. This creates the illusion of a fuller upper body, while drawing the eyes to that area. Full sleeves that extend the shoulder also help. The skirt should accentuate the waist and be simple, with controlled fullness. Stay away from slim, sheath silhouettes, very full skirts, heavy ornamentation in the hip area, and high necklines, which make the shoulders look narrower.
Hourglass: Make the most of your waist by balancing your proportions in simple classic lines. Off-the-shoulder sleeves and plunging necklines are fine. You do not want too much detail on the bodice or skirt; they have a tendency to make you look too heavy.
Full-figured: Consider a princess silhouette featuring vertical panels with no waist seam or the straight, sleek lines. Avoid heavy or clinging materials, bold patterns, contrasting colours, or figure-hugging styles such as the sheath or trumpet skirt. To minimize hips, a dropped V waist will be most flattering. Intricate embroidery near the neckline draws attention to your facial features, as will a V- or shallow U-neckline.
Big-busted: You may wish to stay with elongated bodices and necklines that are V- or U-shaped or high with a keyhole yoke. Avoid cinched waists or empire styles that come up high under the bust, and clingy fabrics that accentuate your fullness. Choose instead full, billowing skirts with lots of ornamentation, which will create a curvier lower body. Keep sleeves simple with a natural shoulder line, and avoid adornments on the bodice.
Broad shoulders: Look for dresses with smooth set-in sleeves, low V necklines or high, covered necks. Avoid puffed full sleeves, bare necklines, broad collars, haltered tops and shoulder pads.
Narrow shoulders: Drape them with cape collars or capelets. Accentuate them with sleeves that gather at the top, necklines that are bare or widely curved, and shoulder pads built into the dress.
No matter what the trend of the moment is, always choose a gown that you feel comfortable in, as well as one that looks attractive on you and is flattering to your figure. Watch in the mirror how it moves when you walk and ask someone honest (read: your mother or your best friend) how it looks from the back; remember that most of your guests will see more of you from the back than any other way.