What Are The Popular Engagement Ring Trends For 2020?
2020-05-16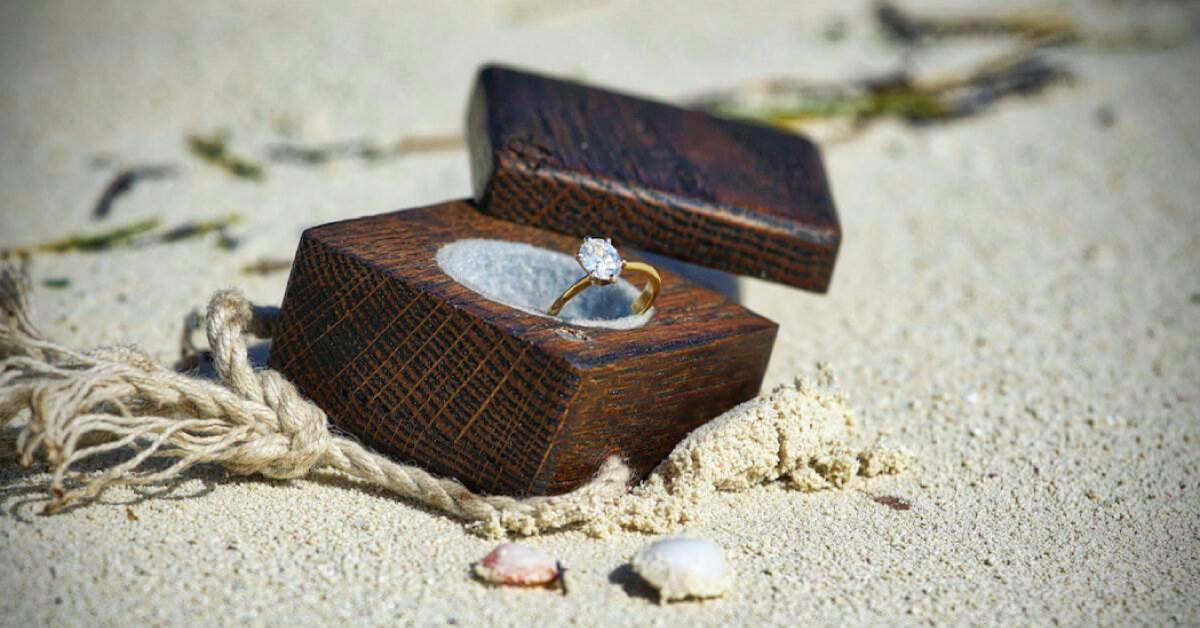 Cover image source: Peter Hansen on Unsplash
A symbol of an everlasting bond and promise, gifting an engagement ring has become a customary practice between couples who wish to get married in the future. And while its symbolism remains the same, we've witnessed engagement ring trends wax and wane over the years.
If you're unsure about what type of engagement ring you should get for your sweetheart or yourself, here are the most popular engagement ring trends of the year to give you some inspiration!
Oval-Shaped Diamonds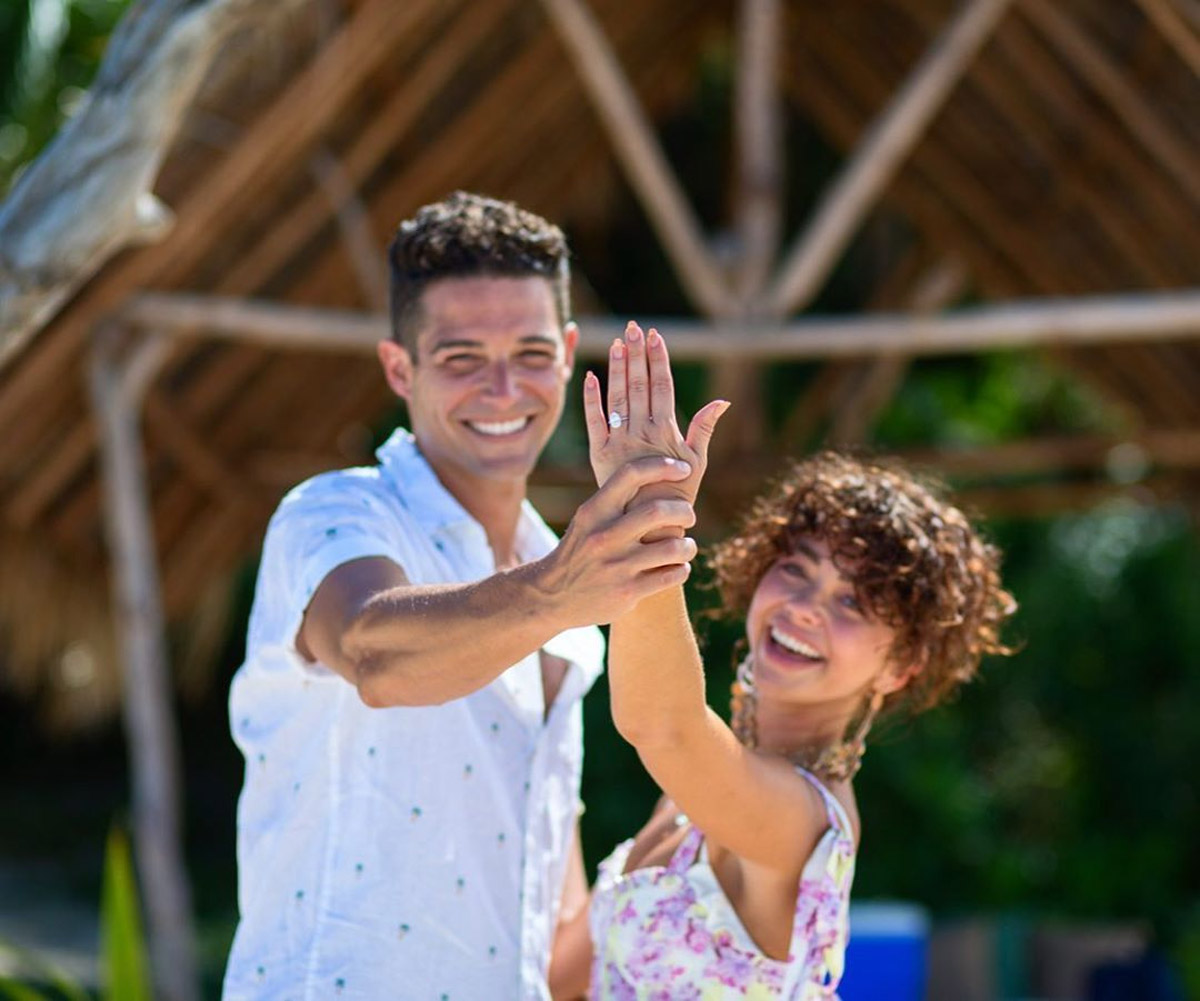 Source: @sarahhyland
Kicking off the list are with oval-shaped and antique diamonds. Pear-shaped diamonds may have been all the rage last year, but oval-shaped diamonds have now taken its spot. With celebrities like Blake Lively and Sarah Hyland seen sporting oval engagement blings, it's little wonder why. Furthermore, this shape not only shows the carat weight well, but it's one of the more finger-flattering out of the diamond shapes.
Afterthought: Before you purchase an oval-shaped gem, ensure that the shape suits your finger. Wide shapes – oval, marquise, emerald, and rectangle – will make wide fingers look slimmer, while those who have slender fingers can afford to rock smaller stones. Also, don't merely settle for diamonds as your first and only choice! Venture out and discover other stones that are just as beautiful and worthy to sit on your fourth finger!
Yellow Gold Bands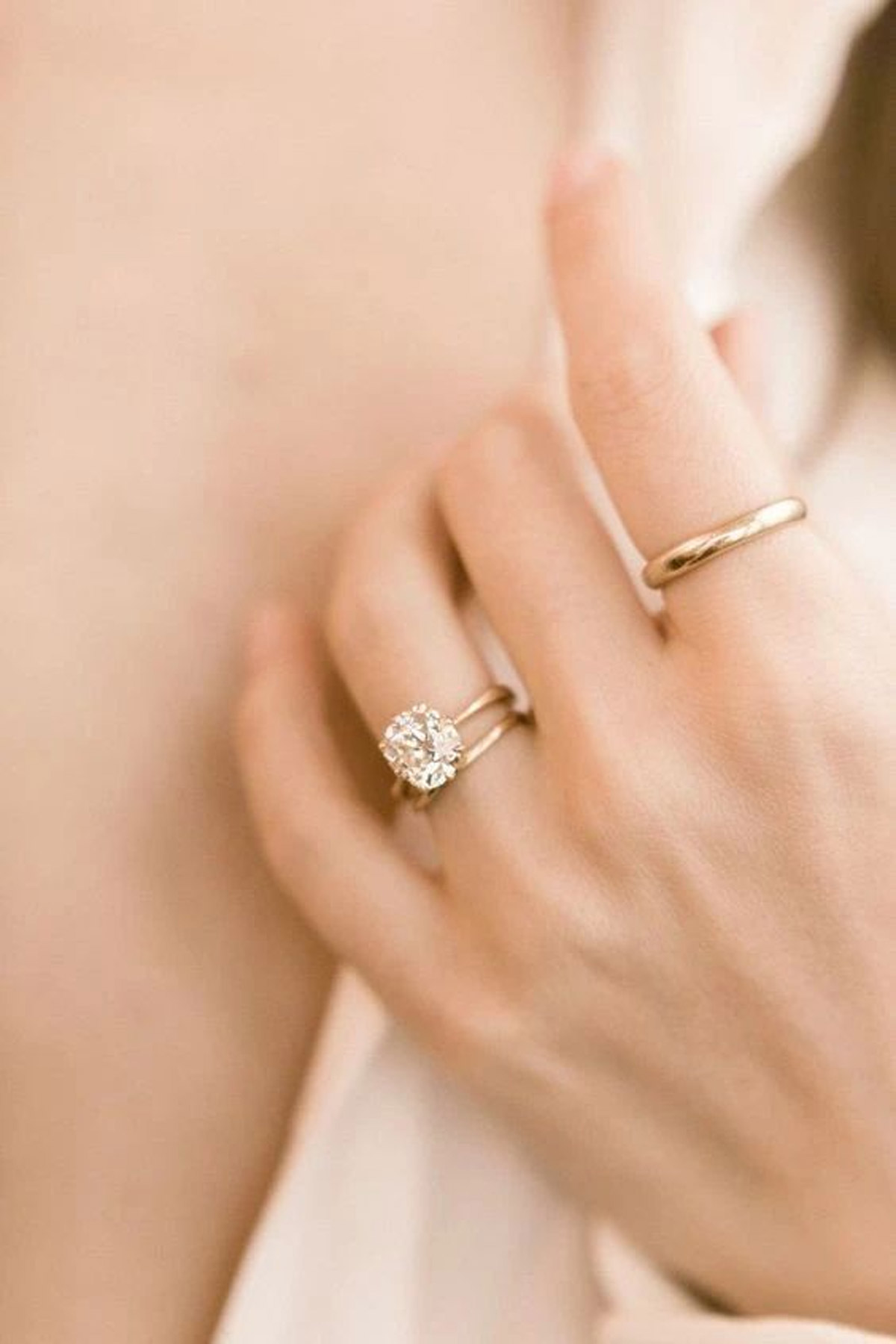 Source: clotheoo
Yes, yellow gold is having a comeback! White gold and platinum were rather popular among consumers for quite some time, but not this year. Due to the resurgence of vintage and retro-inspired styles, there's been an increase in yellow gold ring bands once more.
Afterthought: While it may be steadily rising in popularity, yellow gold, unfortunately, does not suit everybody. Yellow gold (and by extension, rose gold) look best on warm skin tones. If you have a cooler skin tone, it's best to go for cooler metals such as white gold and platinum. Of course, if your skin tone is on the neutral side, you can enjoy the best of both worlds! Both white and yellow metals will suit you perfectly.
Stacking Rings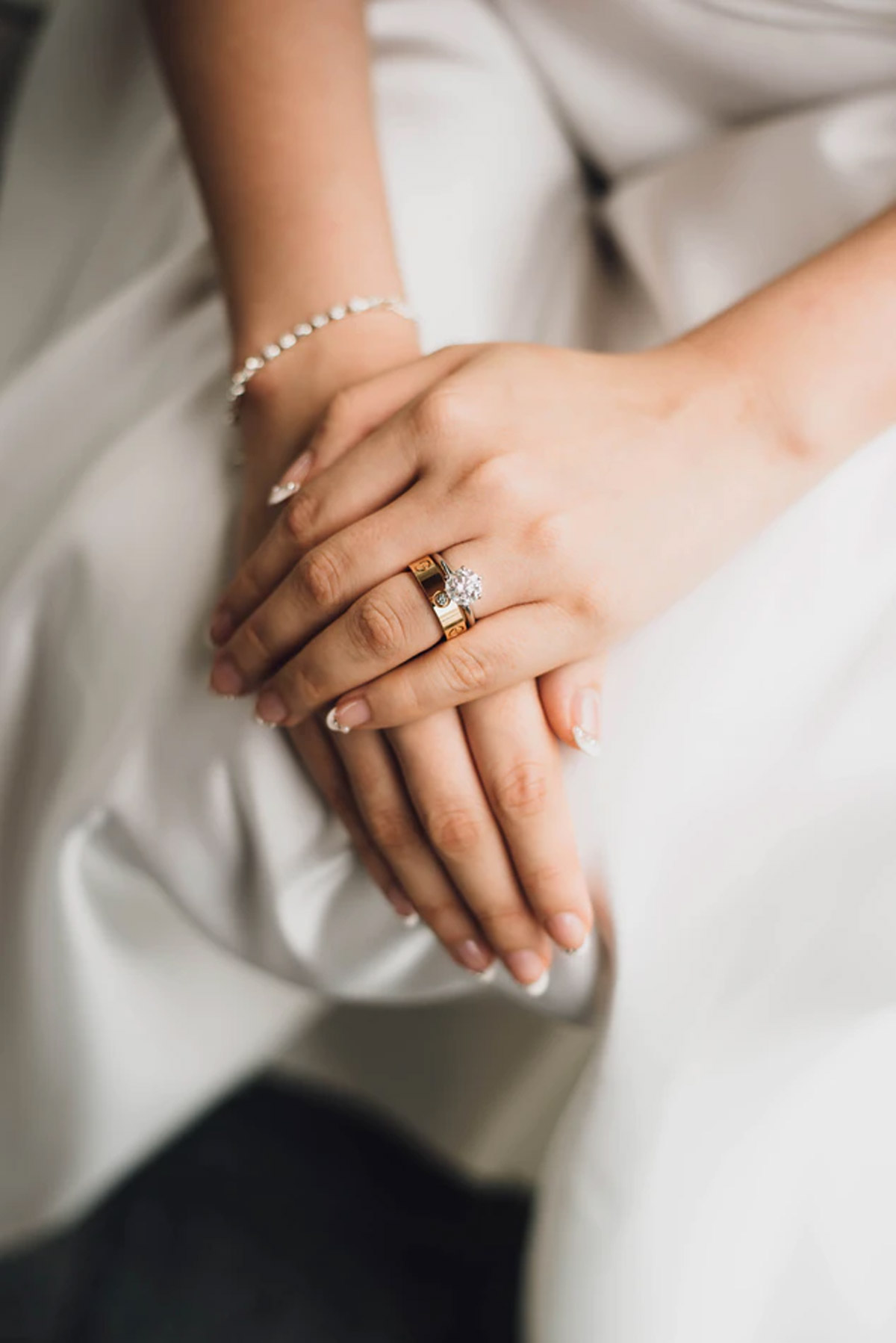 Source: chuttersnap on Unsplash
Jewellery stacking is not a new concept, but it is arguably a rather contemporary move for a bride-to-be. Many brides are wearing their engagement, wedding, and eternity rings on one finger today, and Hailey Beiber is one of those brides, opting for a diamond-encrusted nesting band to bring out the charm of her engagement ring. How you decide to stack them is entirely up to you, but one thing's for sure – it'll definitely be an eye-catcher at your wedding reception.
Afterthought: The general rule of stacked rings is, 'less is more'. This might seem like a paradox since it is, after all, several rings stacked on top of each other, but the idea is to keep each individual ring as thin or simple as possible so that they do not end up looking chunky when they are stacked together. It is also not advisable to wear stacked rings and a big ring on the same hand as your hand will look overcrowded with jewellery. Always maintain balance and keep those different types of rings to a minimum!
Sustainability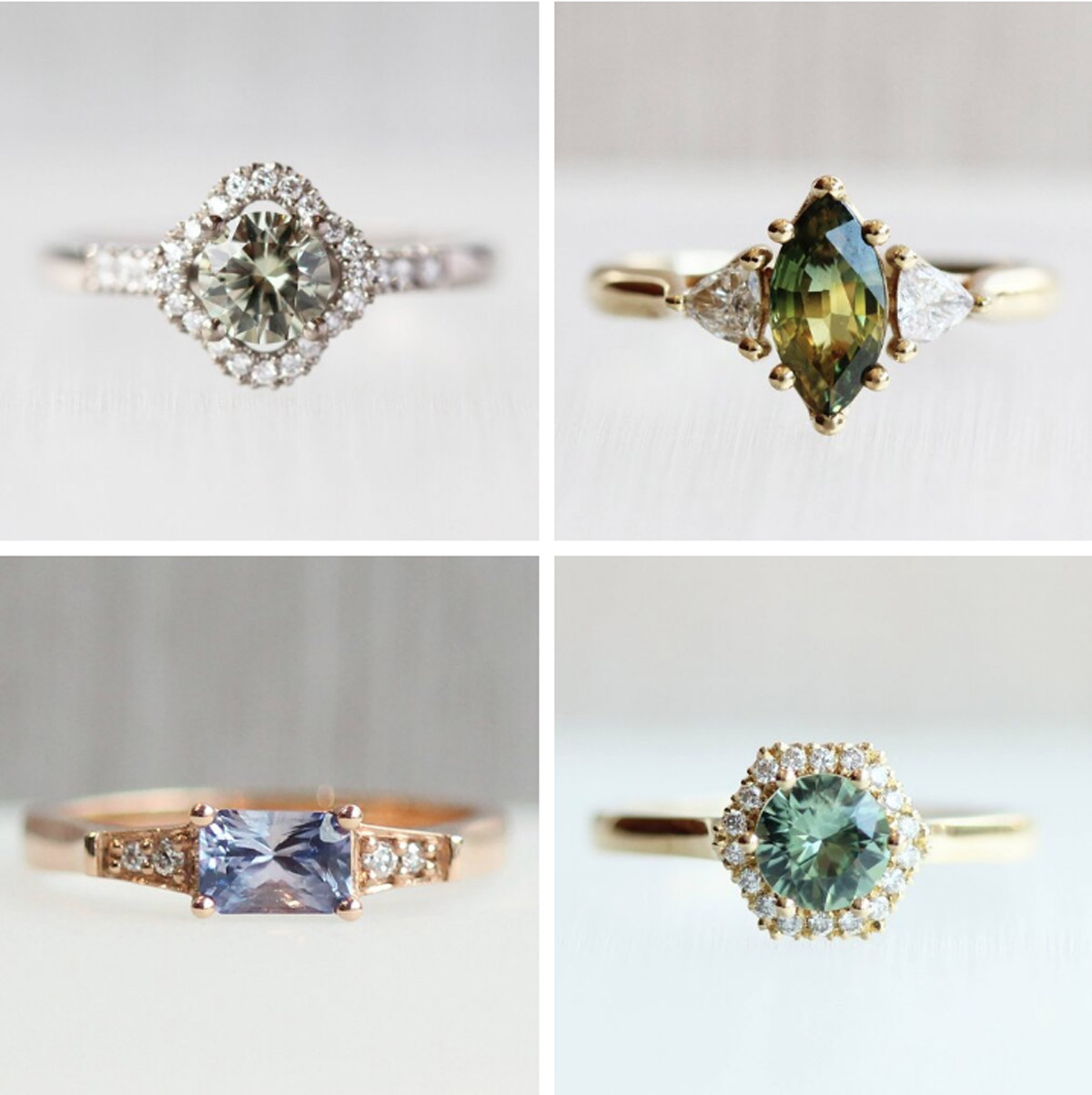 Source: The Good Trade
With a rise in environmental and humanitarian awareness amongst many Millenials and Gen Z, many jewellery ateliers have included sustainable options into their collection in order to match demand. This may be lab-grown diamonds, recycled metals, or simply ethical jewellery. Give your engagement ring a newly-added layer of sustainability and you'll not only look good, but feel good too.
Afterthought: Many of these jewellery brands could be on the pricier side due to the extra resources required to procure carefully-sourced materials and support an ethically-driven practice. Ensure that your budget has been carefully allocated accordingly if you intend to include such a piece of meaningful jewellery!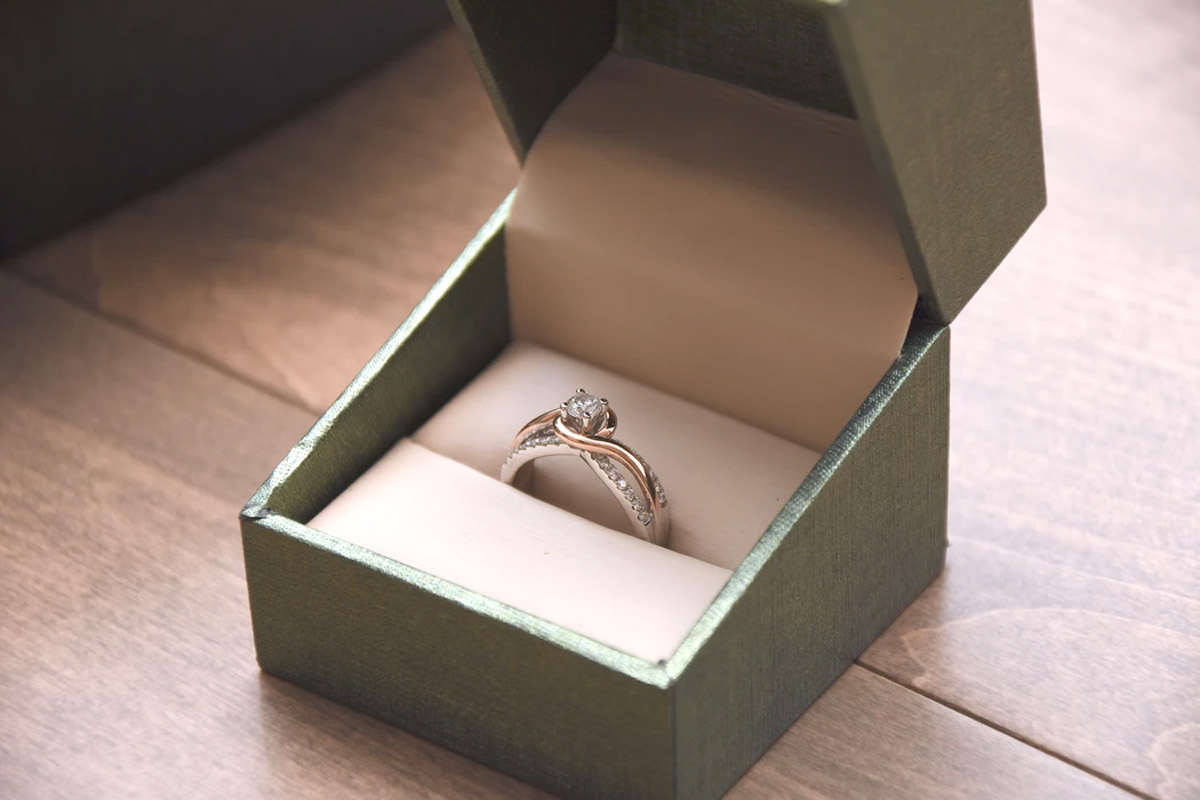 Source: Jackie Tsang on Unsplash
At the end of the day, these trends are simply meant to be inspirational guides for you as you shop for your engagement ring. So long as the both of you fancy the ring and it holds significant importance to you, it really doesn't matter what it looks like, what's it made of, and how much it costs!
Due to the Circuit Breaker measures, engagement ring shopping may be a tad difficult right now. However, though jewellery ateliers are not physically open, there are some jewellers that offer virtual consultations and an online retail store for your convenience, so you can still continue to shop and plan for your proposal in the comfort and safety of your home!