4 Ways To Involve The Groom In Wedding Planning
2018-04-11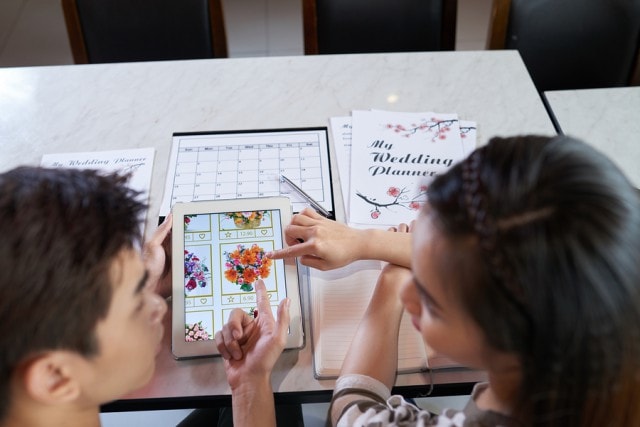 From wedding dress shopping to picking out the centerpieces, the process of wedding-planning can be an overwhelming one. Who better to help plan the biggest day of your life than your significant other? While they may not exactly be the best person to help decide if daisies are better than tulips, it is important to seek the opinions of the groom – after all, this is his wedding day too!
From finding out about his ideal wedding to having him decide on the choice of entertainment, here are ways to rope your fiancé in on the wedding planning fun!
Understanding his ideal wedding
As the focus is typically on the bride, it is easy to neglect the groom's desires. While it is unnecessary to rope him in on every detail, it is important to sound out his thoughts. For instance, while he may not be too bothered about the flavor of the wedding cake, the groom may have some concerns regarding the look and feel of the wedding. It is advisable to consider all opinions and not make the wedding a one-sided affair.
Consult your partner and ask his opinion
Whether it is the colour palette or the style of your pre-wedding photography, do have your partner weigh in with his thoughts and be open to hearing his ideas. While some decisions may seem trivial, your fiancé will feel appreciated to have his opinions heard.
Task delegation
There may be no set tasks for the bride and groom, but it is recommended to delegate the wedding tasks in accordance to your strengths. Is your man more of an organiser than you are? Then perhaps it is better for him to manage to seating arrangements. If you're the craftier of the two, do then take the initiative to take the reins for the wedding décor.
Involve his family
It is natural to involve your close ones in your wedding-planning journey; but if the planning committee is made up of solely your side of the family, the groom will inevitably feel a little left out. As your partner will have an easier time getting involved in the wedding planning process, be sure to ask his family for some advice and help.
Remember that the wedding is ultimately a single day, while the marriage is for the rest of your life. So do be sure to make your choices together, to share the load and most importantly, to have fun.