Gold-class Standards For The Golden Couple Only At One Farrer Hotel
2021-06-17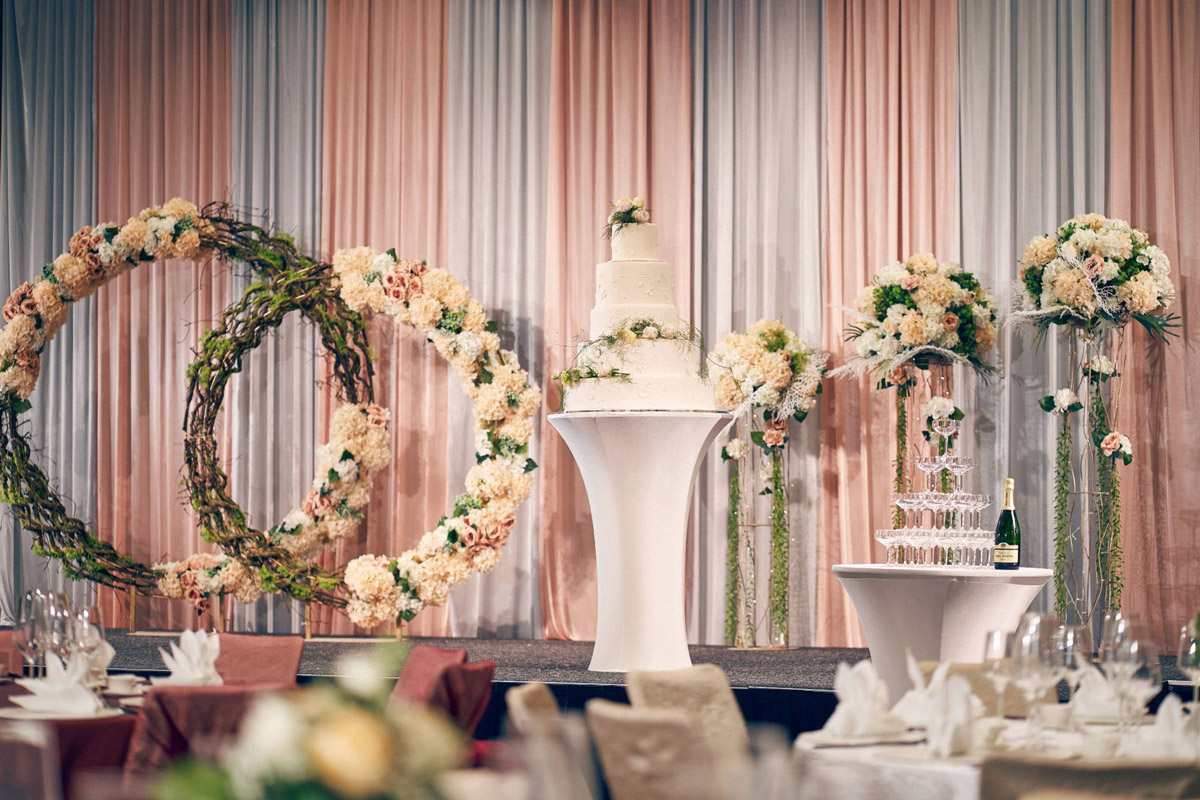 Anxiously looking for the perfect wedding location with the grandest venues, delectable cuisines and stellar coordination and services? Well, look no further because One Farrer Hotel has everything you're looking for and more!
Situated a mere stone's throw away from Farrer Park MRT, this hotel offers the best of both worlds — being close to the hustle and bustle of Orchard Road while also being at the heart of cultural districts like Little India and Jalan Besar. With such unbeatable convenience and enriching culture, One Farrer Hotel quickly rose in rank and popularity among the industry and patrons alike.
However, one of their greatest claims to fame has definitely got to be their unparalleled expertise in executing the wedding of your dreams. Understanding the stress, pressure and rigour associated with wedding planning, One Farrer Hotel's assembly of hospitality professionals along with their exquisite venues are more than competent enough to fulfil your requests. From a lavish, grand-scale affair to an intimate, private event, it's a guaranteed celebration.
Elaborate and Immaculate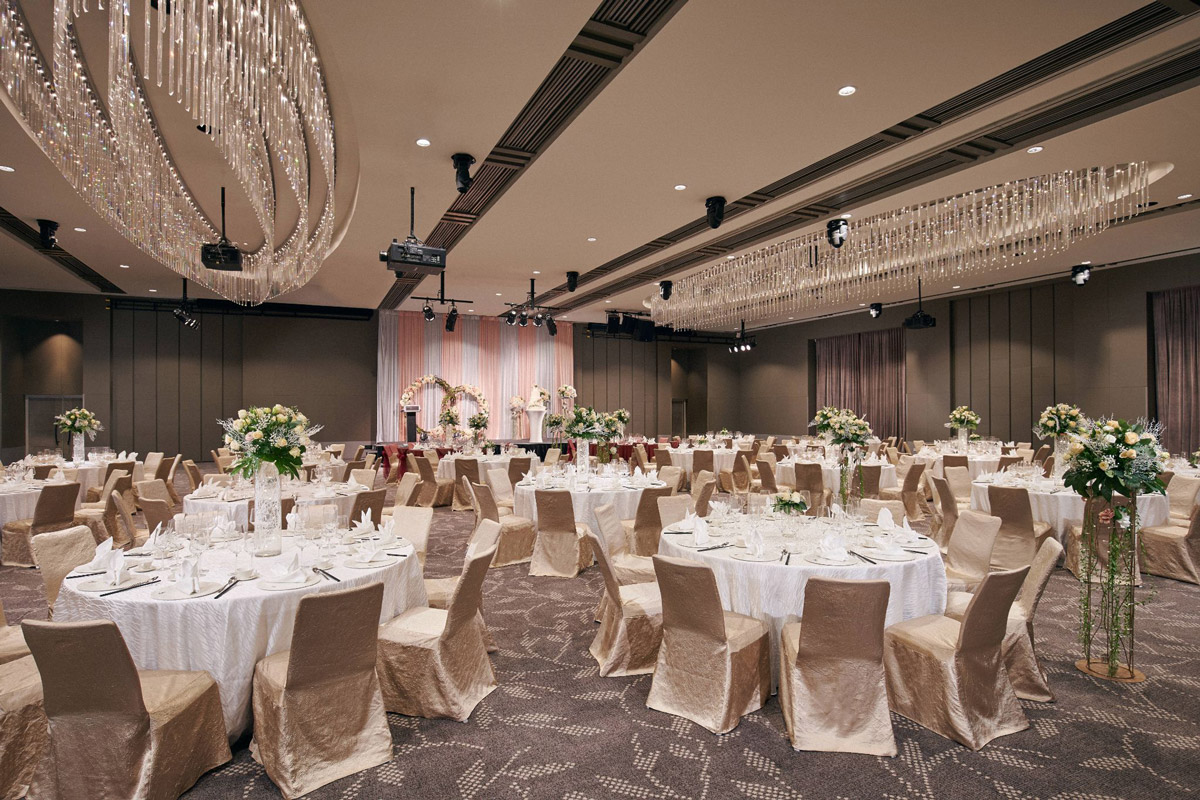 The Grand Ballroom
As its name suggests, the Grand Ballroom certainly hits the mark; sophisticated, elegant and — most importantly — grand, this ballroom is perfect for brides who've always envisioned their wedding to feature lavish banquets and lively receptions.
At 698 square metres, the pillarless Grand Ballroom is capable of hosting resplendent banquets of up to 40 tables. Although pillarless, its ceilings stand at an astounding height of 5.7m adorned with modern chandeliers as finishing touches. To say that this breathtaking ballroom is an architectural marvel in all its conjoined modernity and grandeur would be an understatement.

Refined and distinguished theme layouts
Moreover, couples may look forward to sharing their finest moments displayed on twin 4.5m screens. Complete the immaculate mood with their smart lighting solutions capable of fine-tuning and complementing the ambience for each table.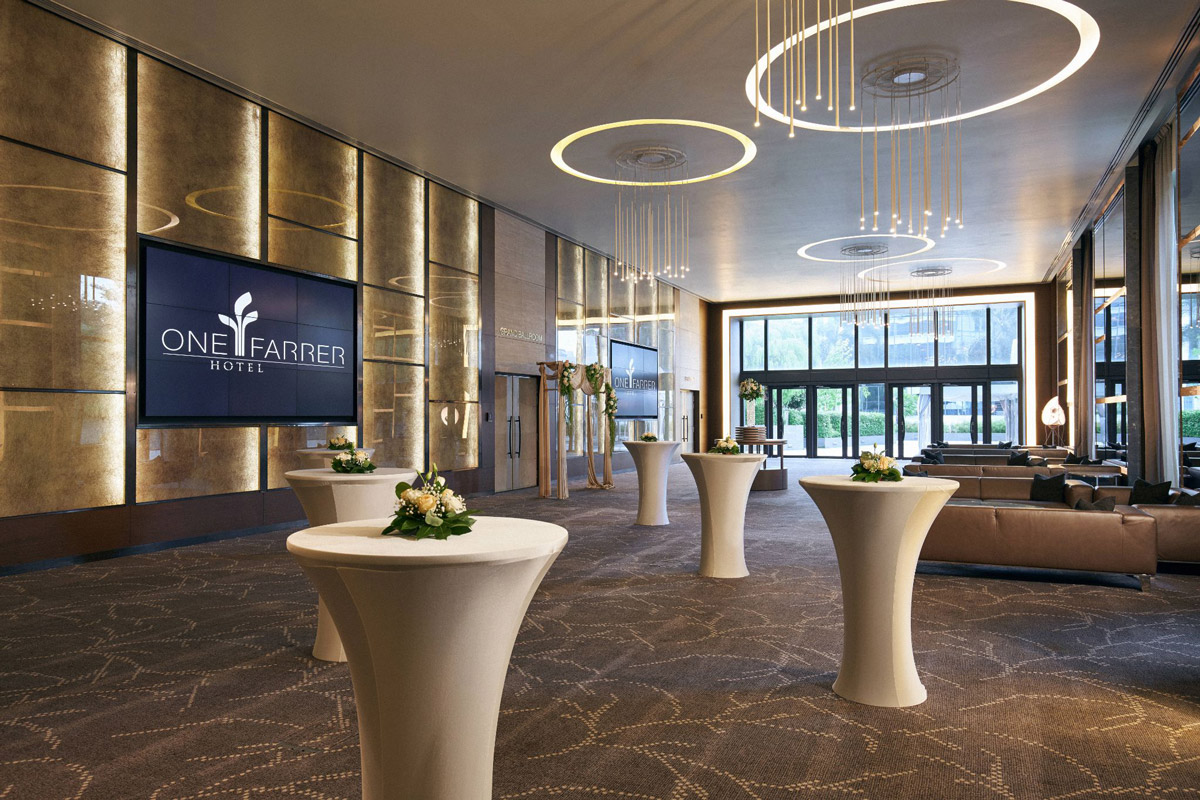 Ballroom Foyer
Prior to COVID wedding regulations, wedding guests also had the opportunity to retreat to the adjacent Ballroom Foyer for some lighthearted banters and taste-test some hors d'oeuvre together during the pre- or post-wedding receptions.
Overall, the Grand Ballroom is an opulent venue for any occasion from pre-event receptions to your tea ceremony or solemnisation. If anything, you and your guests will end the night imprinted by fond memories of an unforgettable celebration.
*As of 10 June under Phase 2 (HA), wedding receptions are currently prohibited. Weddings also have capacity limitations with and without PET (pre-event testing).
Relish in the Delish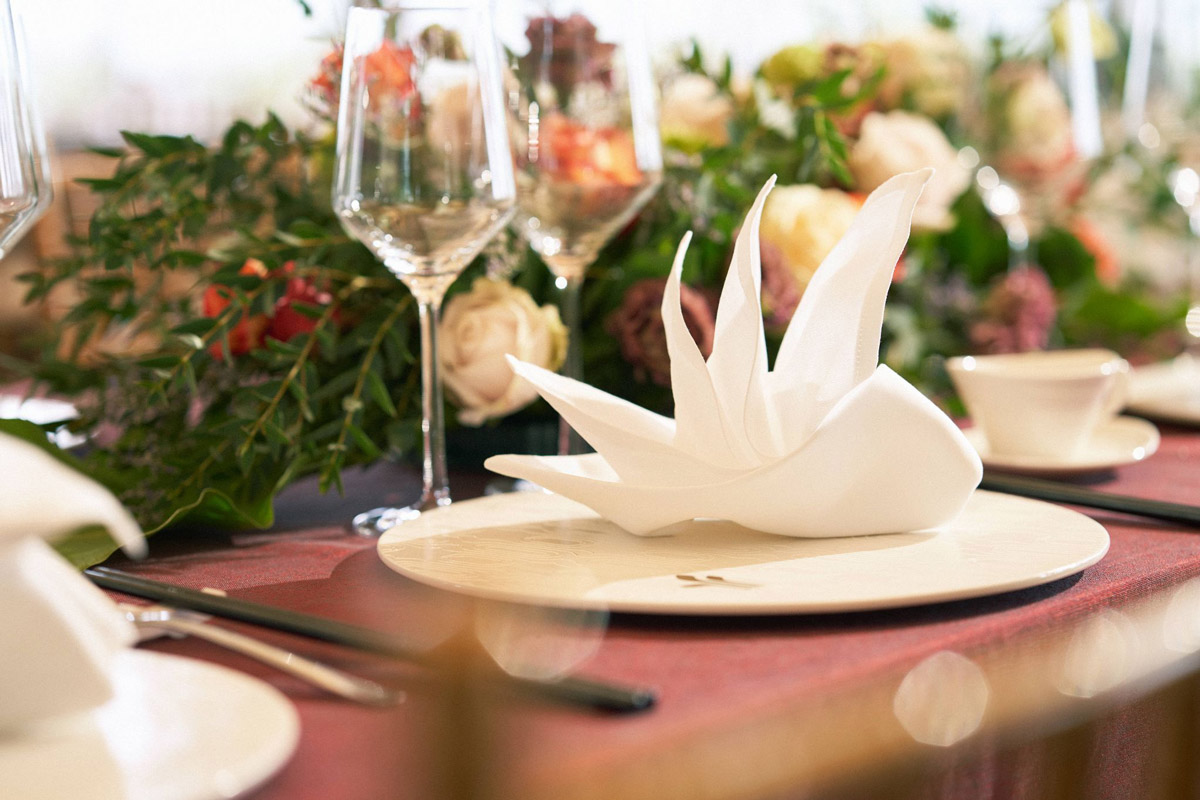 During the course of indulgent feasting and merrymaking amidst the banquet, guests may wonder: Who can they pay their compliments to? Well, the epicurean delights come courtesy of Executive Chinese Chef Wong Yaw Vun and his team. With a decorated culinary portfolio and years of experience to boot, Chef Wong has specially curated 7-course lunch and 8-course dinner menus certain to tantalize diners of all ages.
Menu highlights include:
exuberant double-boiled 10 head abalone with black truffle,

succulent slow-cooked pork knuckle with chestnuts,

sautéed prawns in homemade XO sauce,

traditional steamed garoupa with spring onions and,

chilled black sesame pudding with almond seeds and mango puree as a sweet finish.
Notwithstanding the preset Chinese menu, couples actually also have the liberty to customize their menu from a selection of over 40 items to suit their tastes for the wedding banquet. Of course, however, if Chinese menus aren't your cup of tea, don't worry. Chef Wong is also equally skilled in catering to the Western palate.
For couples with their eyes set on the Grand Ballroom, do check out the venue's 2021 wedding package for a detailed outline of its menu customisation options.
A Sweet Honeymoon Night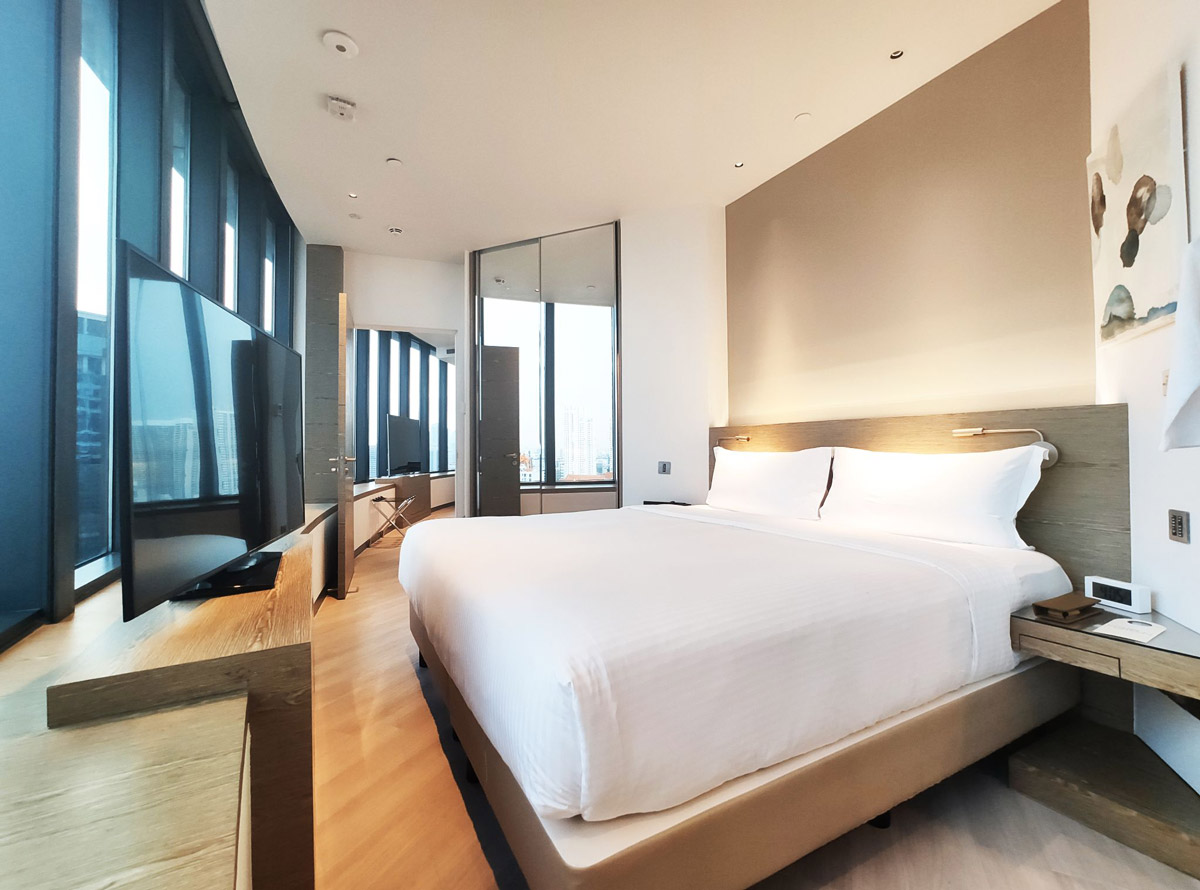 Mint Suite
No wedding is complete without a complimentary bridal suite for the newlywed couple to spend their first honeymoon night in comfort. Adjourn to the refurbished Mint Suite with top-of-the-line hygiene features comprising antimicrobial gapless vinyl flooring and roller blind fabrics, as well as anti-viral wallcoverings and paints.
These cutting edge add-ons and instalments are particularly pertinent during this pandemic because their designs facilitate effective and efficient disinfection without compromising on your comfort. One Farrer Hotel is dedicated to making your accommodation's sanitation and hygiene their top priority.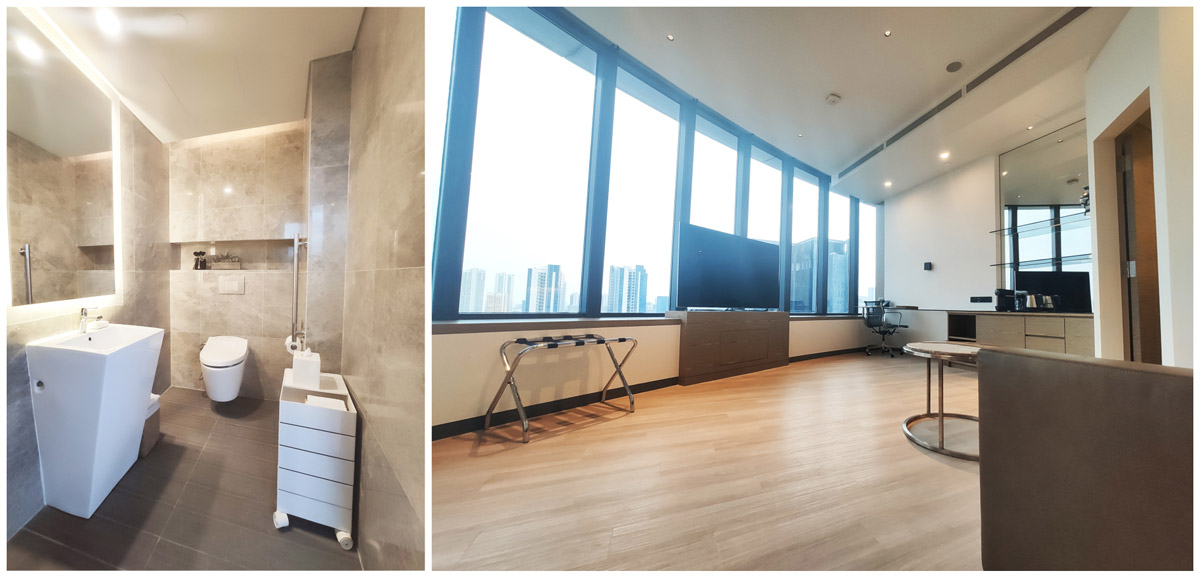 Powder Room and Living Room
Apart from those features, the Mint Suite is ideal as a bridal suite overall. It comes complete with a living area and powder room for helpers and guests. The room's bay windows are definitely the highlight — spanning across the entire room's forefront. These wall-to-wall windows offer contemplative moments of reprieve with expansive, 360-degree views of the city right from the comfort of the bed.
Last but not least, high-speed Wi-Fi connection and intelligent mood lighting are a given to adjust the ambience to you and your beau's preference.
Feel free to use the Mint Suite to accommodate your bridal entourage and carry out your bridal prep during the day before winding down in this deluxe room for some well-deserved rest and relaxation. Start off the day as fiances and end off your first night together as a married couple.
Hospitality at its Finest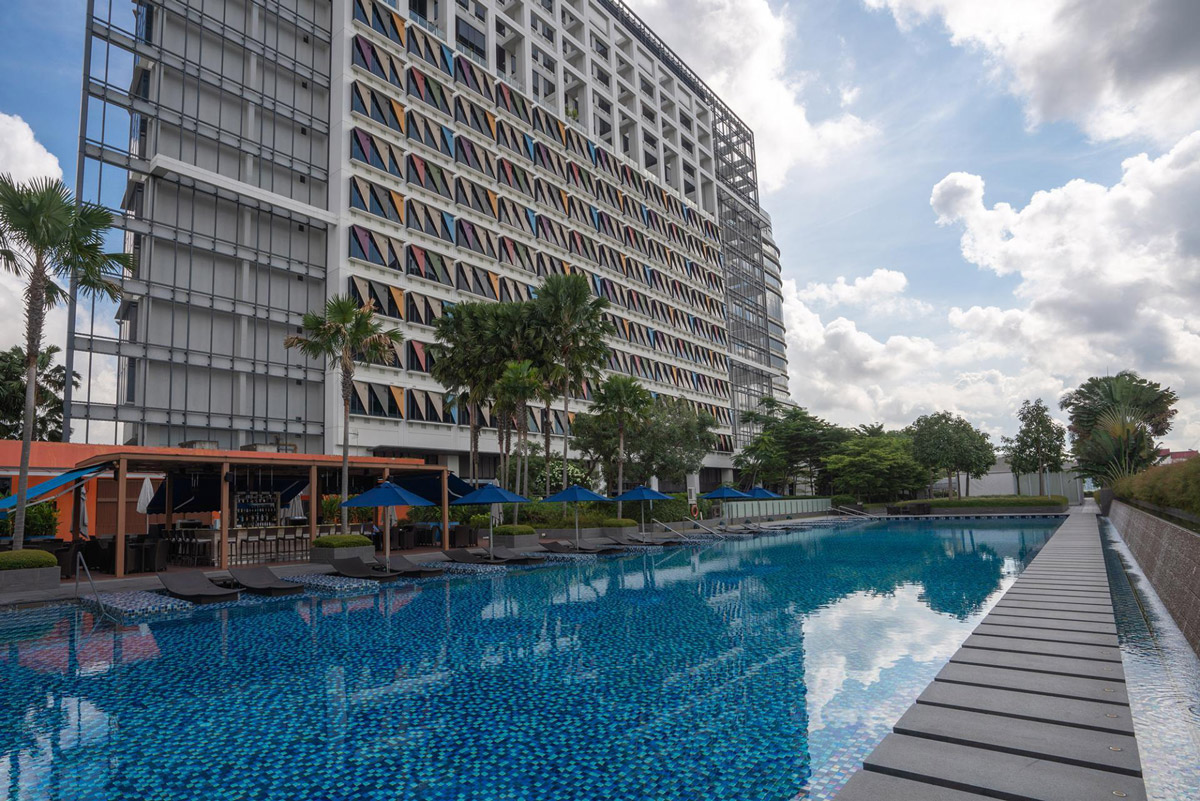 Source: One Farrer Hotel via mysuitcasejourneys
Probably one of the most unique qualities about One Farrer Hotel is its 'hotels within a hotel' concept. Housing the Mint Hotel, Loft Apartments and Skyline Hotel & Sky Villas all within the esteemed Farrer Park Hospital.
Undoubtedly, One Farrer Hotel is SGClean certified and ready for post-COVID events. Their protocols strongly abide by enhanced hygiene procedures advised by medical professionals at Farrer Park Hospital.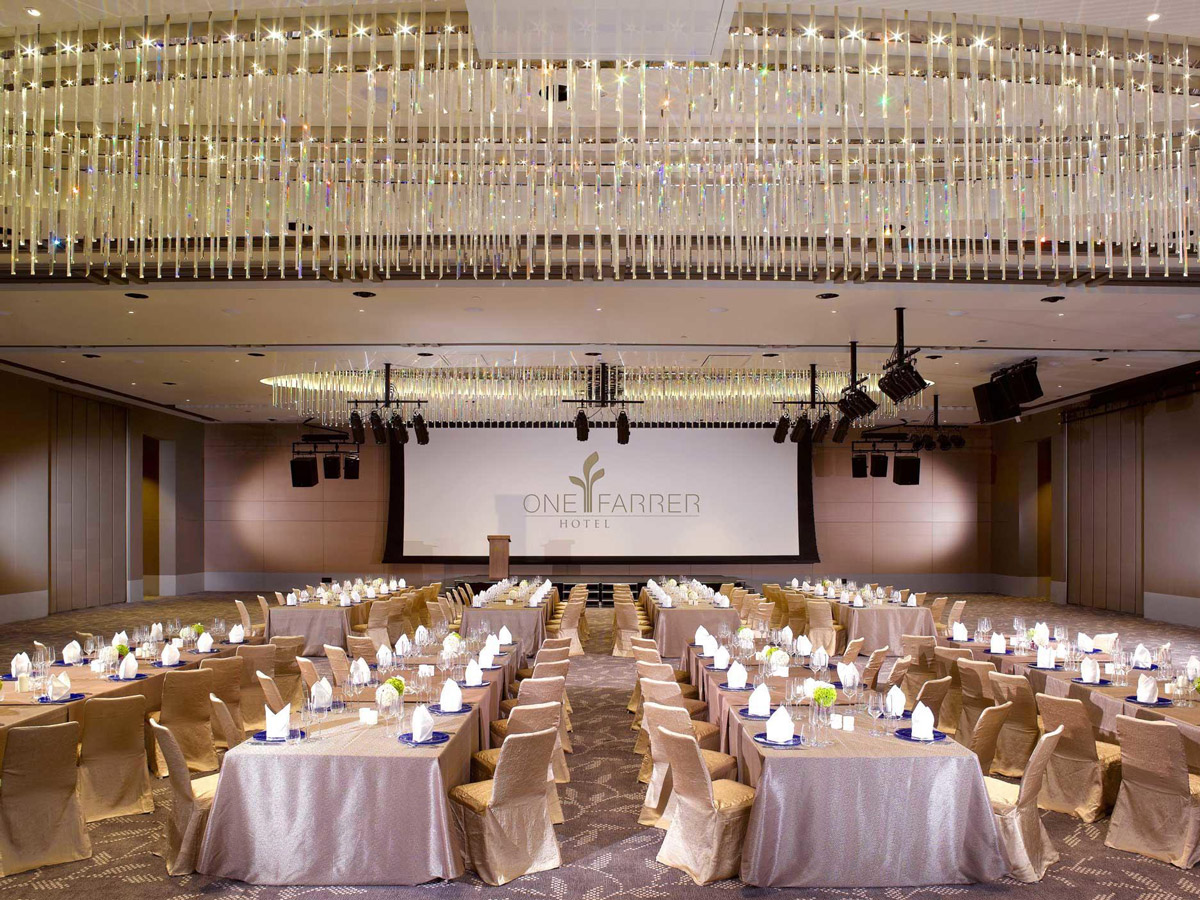 Conference Centre
It's obvious by now that its state-of-the-art ballrooms and conference centre featuring modern connectivity and infrastructure make them prime facilities for live, virtual and hybrid events. This means that your wedding proceedings can be streamed to breakout rooms within the hotel and online. Do check out their hybrid solemnisation package here!
Whatever your wish may be, will be their command — they'll turn all your magical moments into treasured memories for the time to come. So, relinquish your worries and rest assured in One Farrer Hotel's capable wedding team in getting you hitched during this season without a hitch!
Contact details
Address: One Farrer Hotel, 1 Farrer Park Station Road, Singapore 217562
Tel: +65 6363 0101
Email: events@onefarrer.com
Website: https://www.onefarrer.com/
Social Media
Facebook: @onefarrerhotel
Instagram: @onefarrerhotel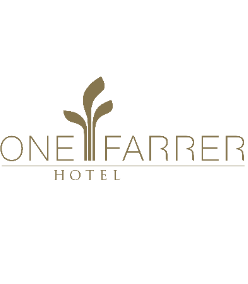 One Farrer Hotel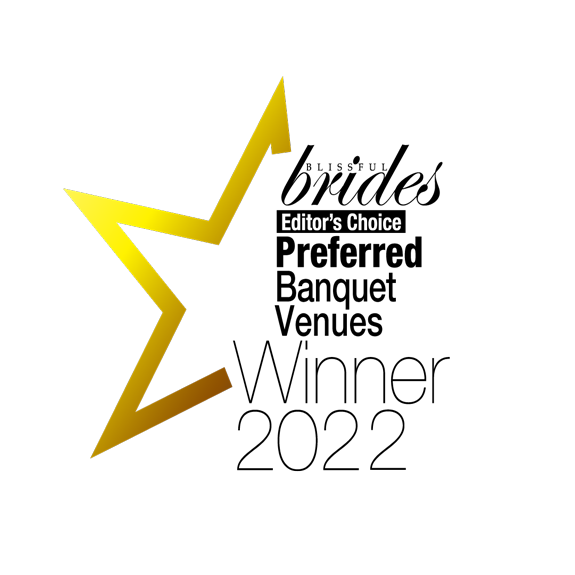 Rating:

Address:

One Farrer Hotel, 1 Farrer Park Station Road, Singapore 217562

Phone:

6363 0101