Riverside Romance: Weddings with Grand Copthorne Waterfront Hotel
2021-06-18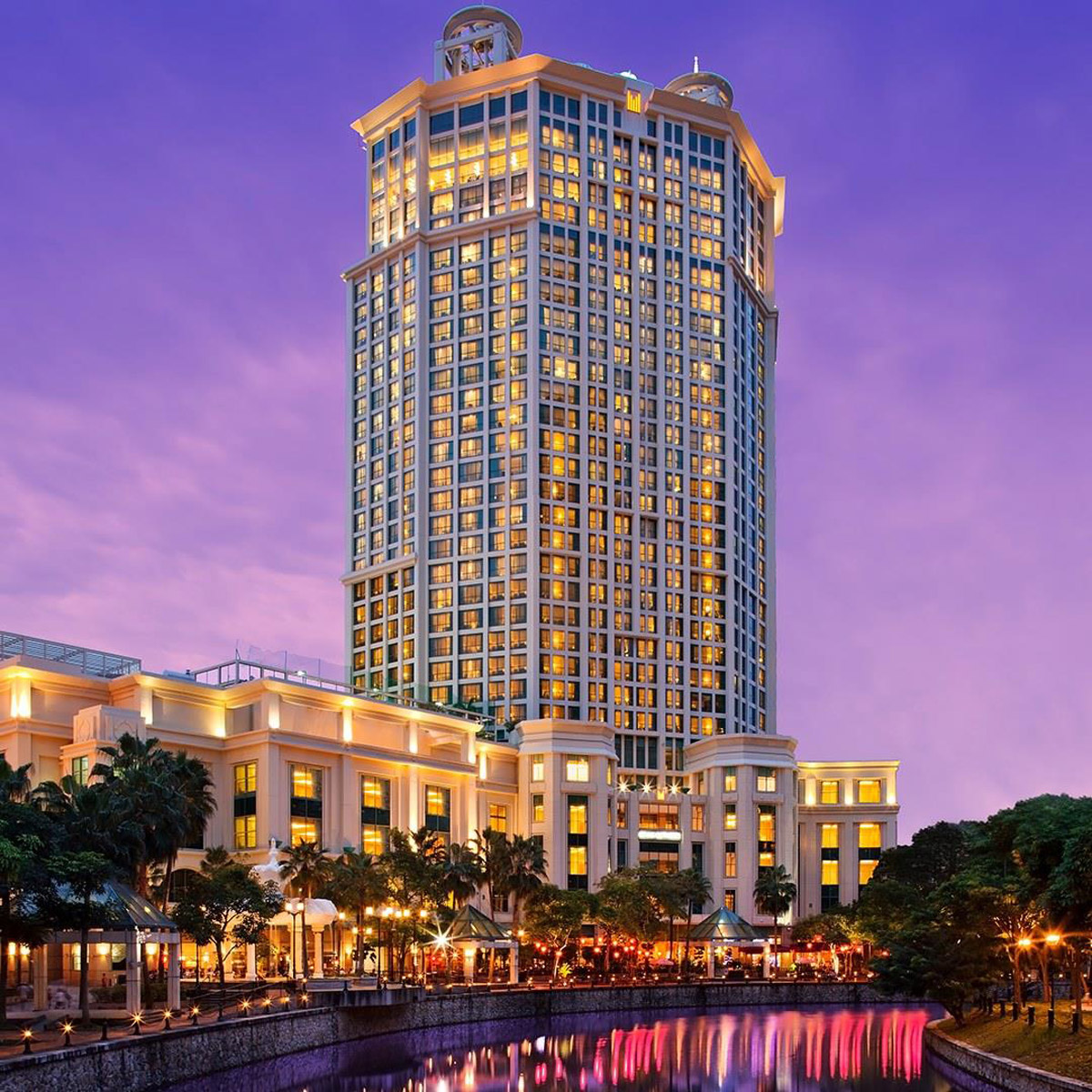 Stellar location, and even more stellar service. That's exactly the kind of hospitality you'd expect from such a distinguished establishment as Grand Copthorne Waterfront Hotel. Managed under Millennium Hotels and Resorts, the hotel chain boasts an impressive history and acclaim both locally and internationally.
Known for its exceptional venues for every occasion, the hotel is designed to impress couples with its exquisite ballrooms, banquet rooms, restaurants and more for all their wedding ceremonies. Additionally, with special perks like customised floral arrangements and a dedicated team of wedding specialists — nothing is too impossible of a wedding request.
To top it all off, the Singapore River poses as an excellent backdrop detailing the iconic metropolitan landscape of Singapore. Get ready to be swept away by riverside romance only at Grand Copthorne Waterfront Hotel!
Be Spoilt for Choice for Venues
Perhaps one of the greatest claims to fame of Grand Copthorne Waterfront Hotel is their stunning selection of venues, each with its own distinct set of characteristics to choose from.
Dazzle the Night Away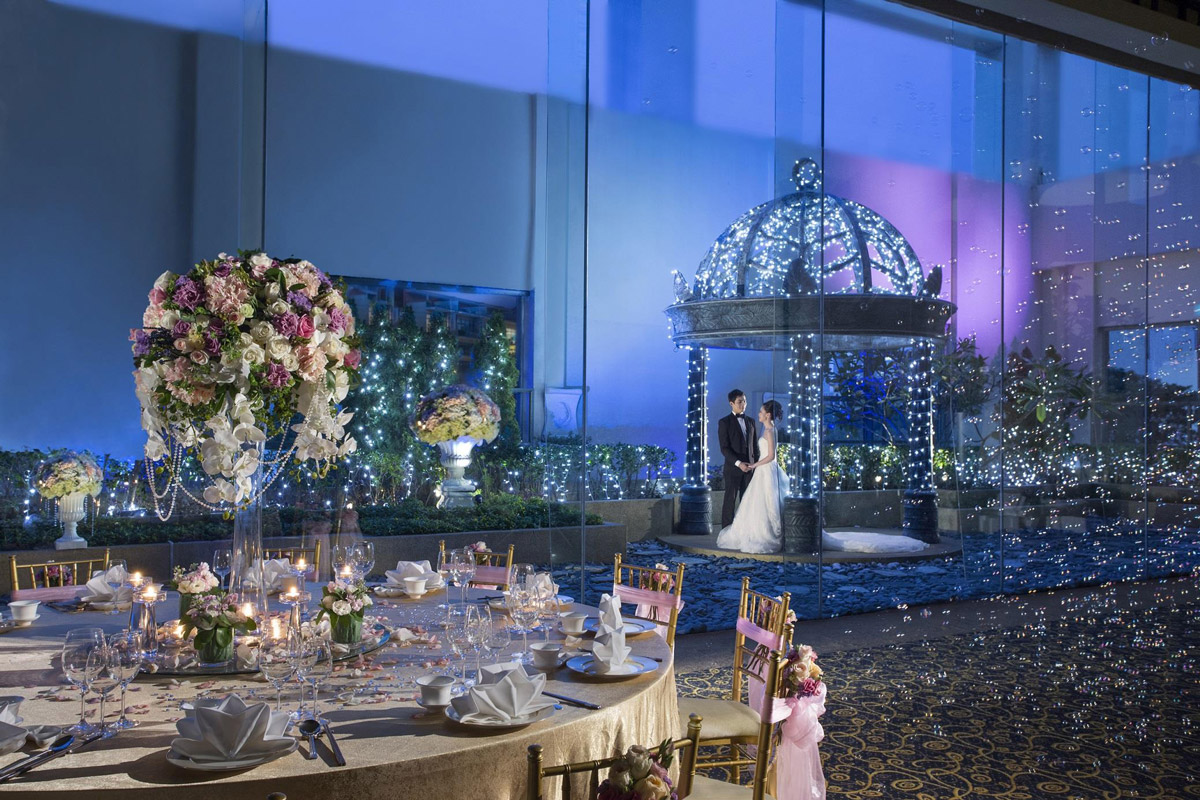 Grand Ballroom
First up on the list, The Grand Ballroom is the ballroom to be at. This pillarless ballroom is an astounding six metres in height, covering an extensive 852 square metres and with a seating capacity of up to 650 guests. However, that's not all.
Enshrined by beautiful glass walls stretching the entire room, guests will be treated to a stunning panoramic view; together with an exquisitely landscaped garden and gazebo, the sight is sure to take your breath away! As an added bonus, the ballroom comes to life even more after dusk with dainty fairy lights delicately outlining the silhouettes of the fixtures.
For those brides who've always dreamed of their very own enchanted garden wedding, The Grand Ballroom certainly meets its mark.
Sophistication and Class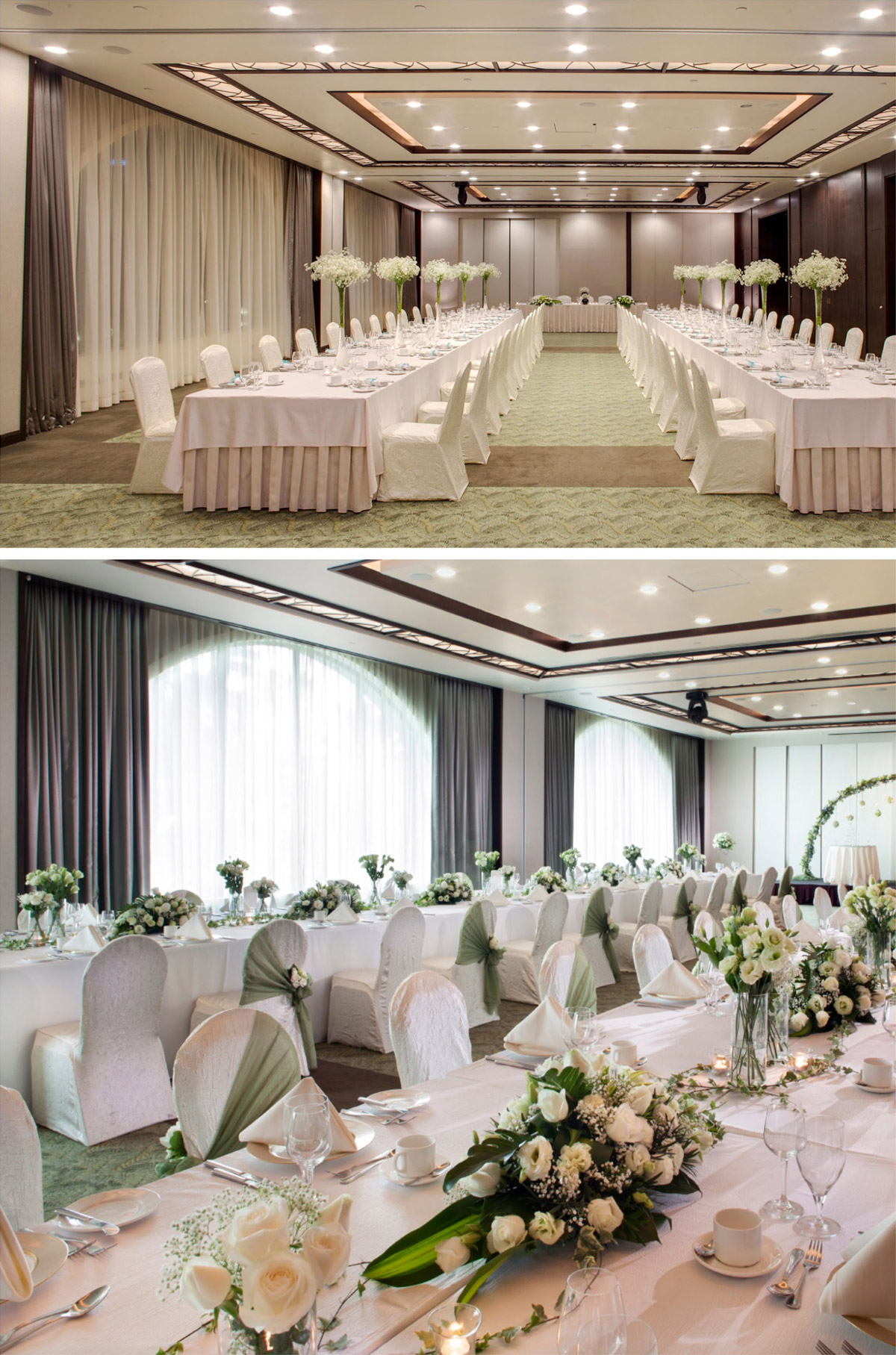 Riverfront Ballroom
For those preferring a more delicate ambience, the Riverfront Ballroom is an excellent banquet option with its sprawling long reception tables or extravagant round table sets (up to couple's preference) with a modest stage stationed at the table ends. Decorated with a whimsical garden arch draped by dangling flowers, the decor ties in cohesively to exude an air of sophistication and grandeur. In total, the banquet tables can accommodate up to 200 guests.
Moreover, the Riverfront Ballroom can be segmented further into three smaller rooms to develop an even more intimate and cosier atmosphere for your celebrations.
Additionally, whether it's scintillating sun rays or moonbeam shine, the elegant floor-to-ceiling windows in conjunction with sheer curtains filter in light from the outside beautifully and give the ballroom an illuminating glow.
Golden Paradise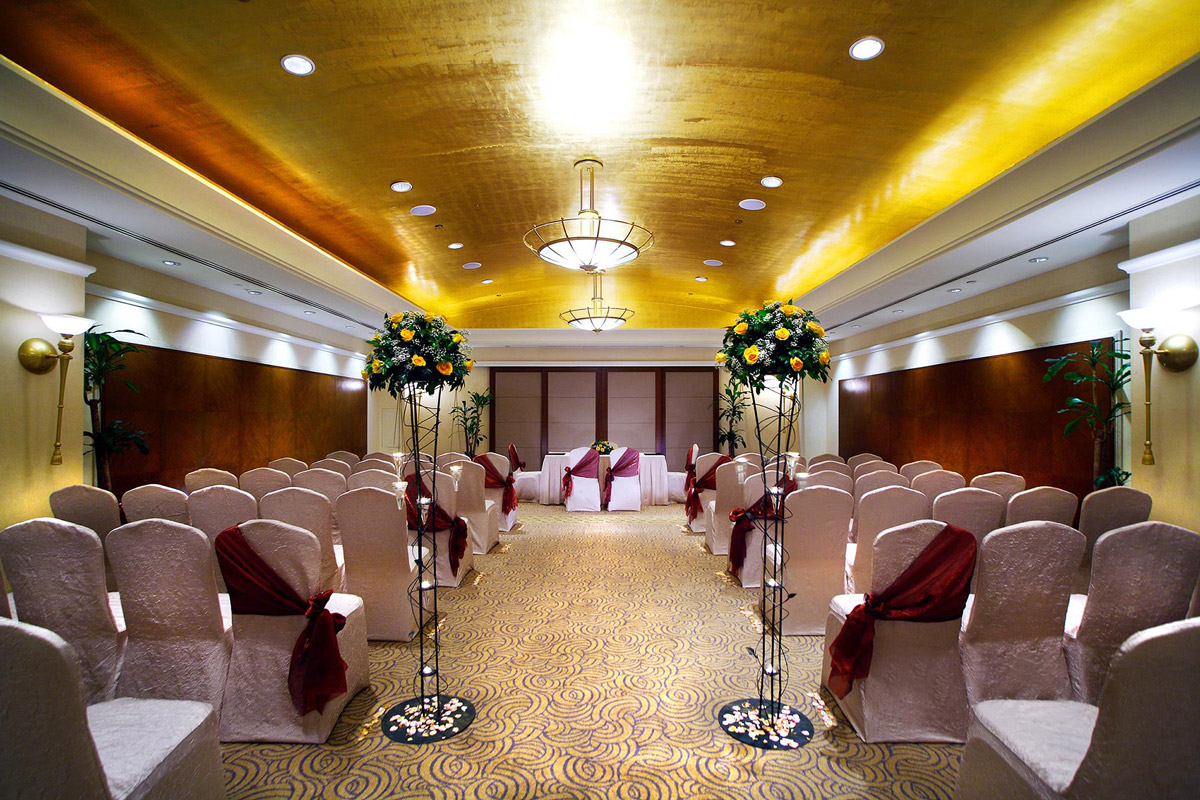 Paradiso
If anything exudes richness, Paradiso would be an obvious choice. Given its golden hues and deep brown tones, refinement is Paradiso's middle name. Moreover, its smaller size optimises it for a more intimate setting, making it ideal for smaller-scale solemnisation ceremonies.
Additionally, the chapel-like arrangement of the wedding chairs and solemnisation table blends the essence of the traditional and modernity together into one cohesive theme. Indeed, Paradiso honours the privacy and meaningfulness of the holy matrimony between two lovers.
Tranquillity by the River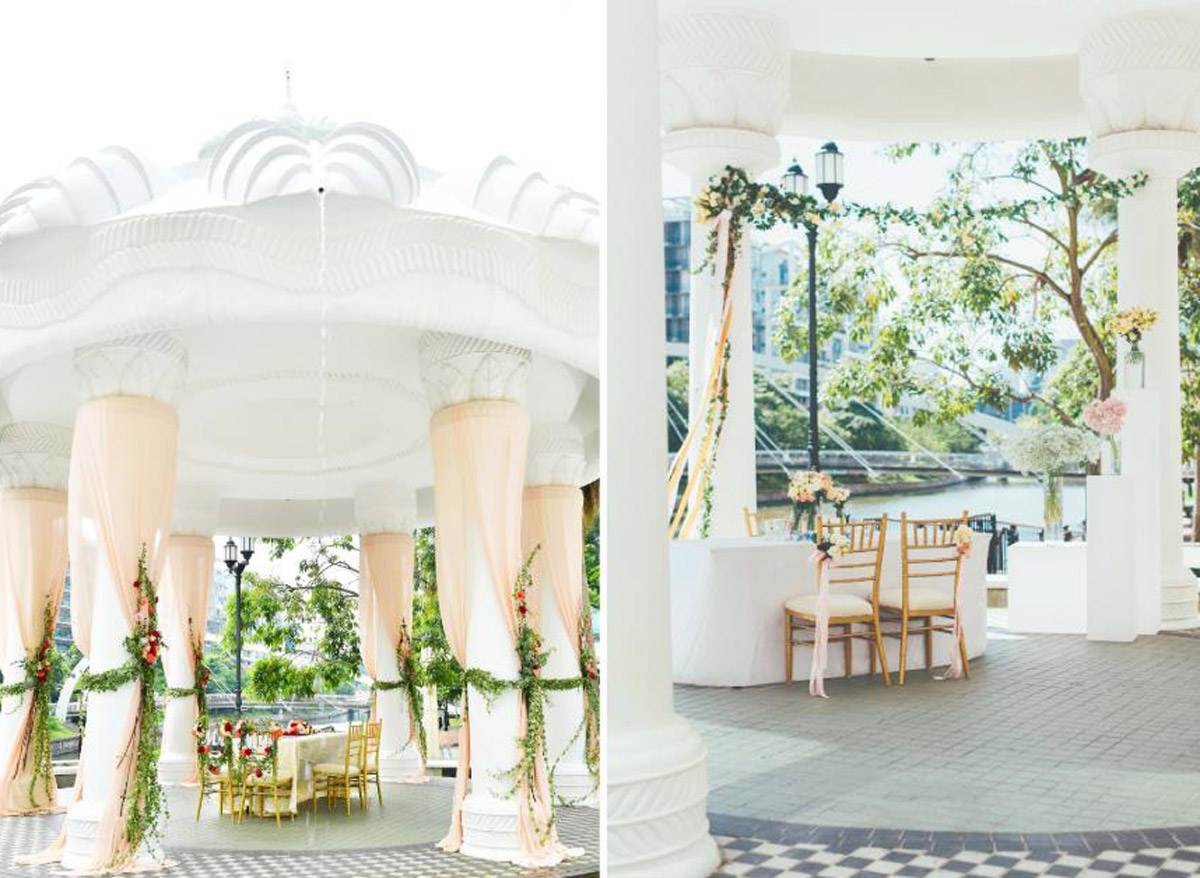 The Promenade
Moving on to the outdoors, nothing quite beats the beauty of Mother Nature. Take advantage of Singapore's most iconic river — the Singapore River — and the CBD skyline that envelopes it. In this outdoor setting, The Promenade promises to deliver a dreamy solemnisation like no other. Capable of hosting up to 50 guests, bask in the serenity of the calm, flowing river and the wafting of a soft, gentle breeze.
Competency and Efficiency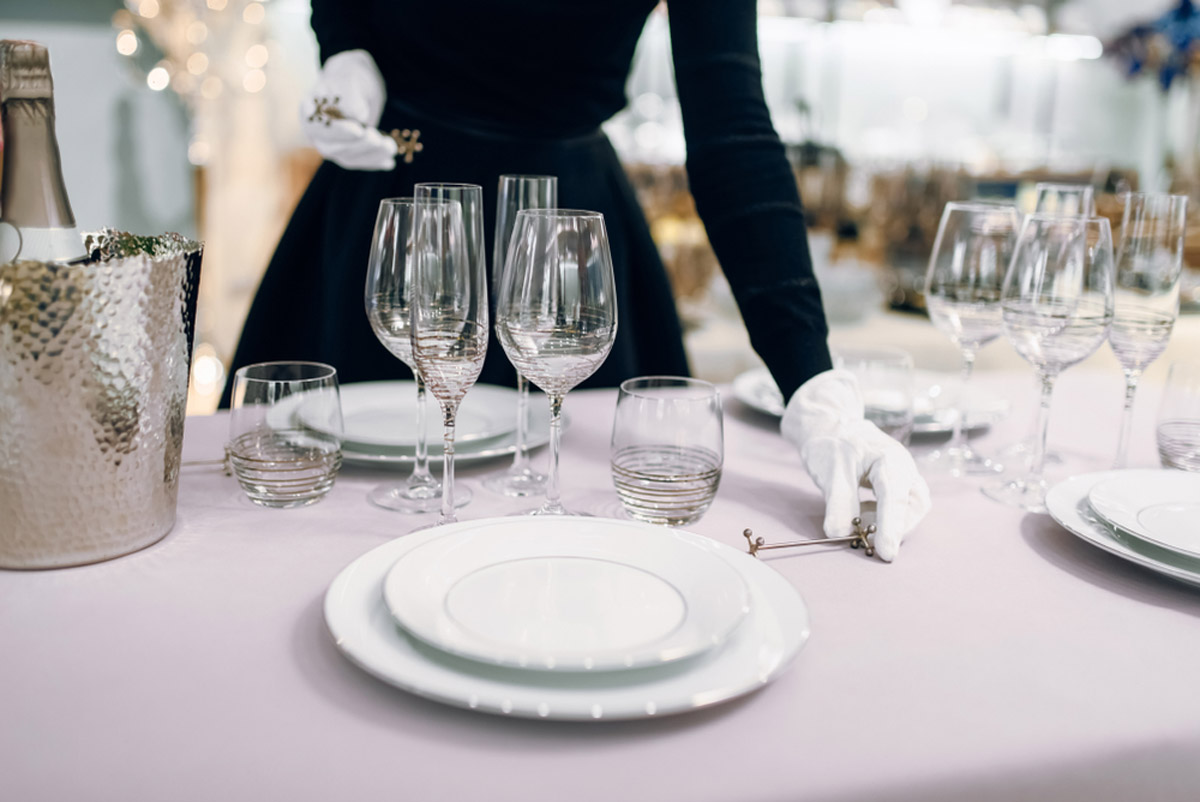 Rome wasn't built in a day, and neither are weddings planned in a day. It takes a team of dedicated individuals to execute and actualise all the intricate details that go into wedding planning.
Luckily for you, Grand Copthorne Waterfront Hotel is proud to present their dedicated team of expert wedding planners with tons of experience under their belt. With their help, couples can rest assured about all the minutiae of their wedding preparations — from arranging floral decorations to curating the first march-in and banquet menus, not a detail goes missed under the capable hands of their competent wedding planning crew.
Going Virtual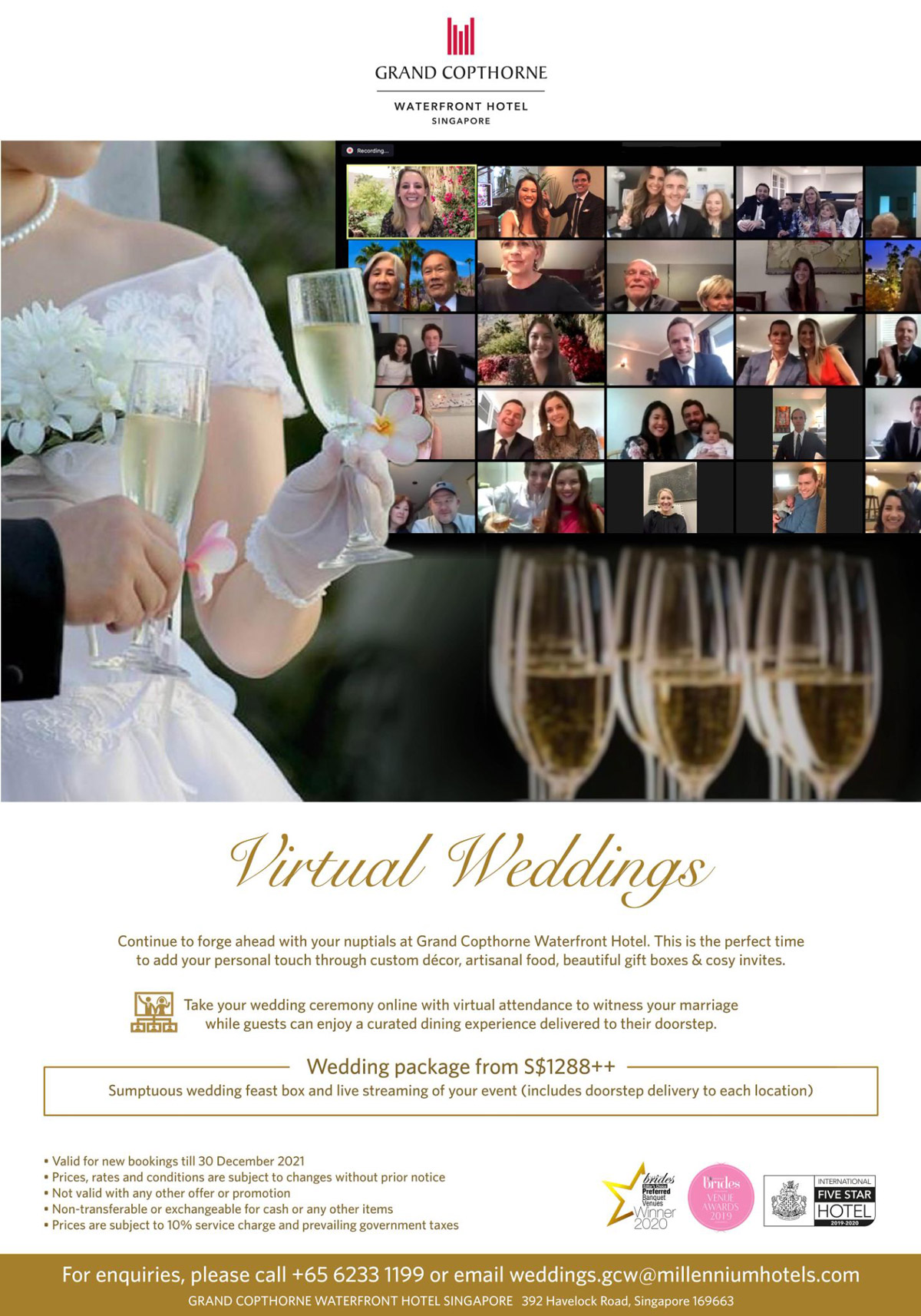 Speaking of competency: Improvise, adapt, overcome — this is precisely the mentality that Grand Copthorne Waterfront Hotel's team has adapted into their wedding service procedures for you during these challenging times. With wedding restrictions in place, the number of attendees permitted is constantly fluctuating. To assist with your wedding plans, Grand Copthorne Waterfront Hotel has recently launched a bespoke virtual wedding package option.
From custom decor, artisanal food, tasteful wedding favours and sincere invitations — these are just some of the customisation possibilities. Starting from $1288, your guests will be entitled to an impressive gastronomical spread delivered right to their doorstep as they witness your wedding through live stream.
Take advantage of technology and forge ahead with your wedding nuptials with confidence in the digital space.
For more inquiries, please contact Grand Copthorne Waterfront Hotel at the following:
Contact Details
Address: Grand Copthorne Waterfront Hotel, 392 Havelock Road, Singapore 169663
Tel: +65 6233 1199
Email address: Weddings.gcw@millenniumhotels.com
For more additional information, you can find them online at:
Website: http://www.celebrateatgcw.com/weddings
Instagram: @GrandCopthorneWaterfront
Facebook: Grand Copthorne Waterfront Hotel