Understanding the History and Significance of Si Dian Jin
2022-10-26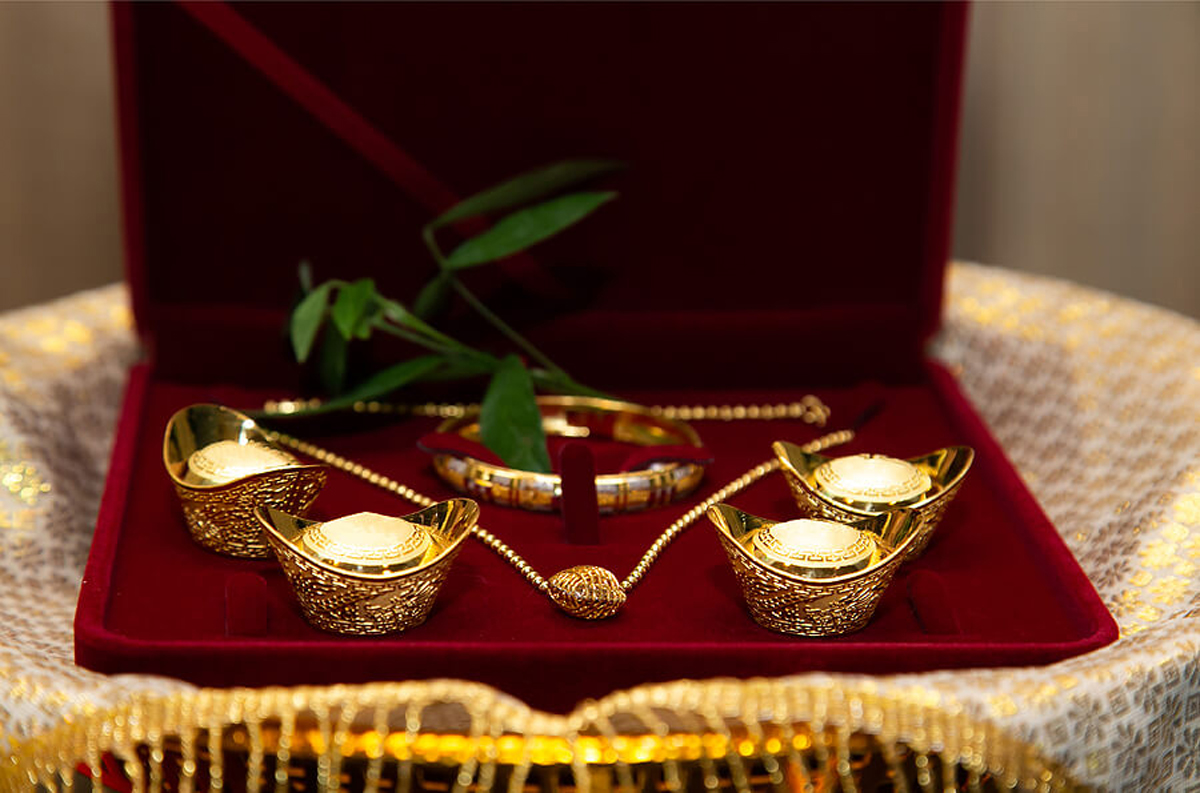 There are many forms of weddings all throughout the world. Each of these types comes with unique customs and traditions that are still observed to this day. Chinese weddings are probably one of the most prominent forms of wedding that are rich in traditions and superstitions to follow. A traditional Chinese wedding includes a variety of customs and ceremonies, many of which have been observed for centuries.
Among the most popular Chinese wedding tradition is the gifting of the Si Dian Jin set. The term "Si Dian Jin" basically translates to "Four Touches of Gold." If you are unfamiliar with this term or this Chinese tradition, you are on the right page! Continue reading to learn more about the history and significance of Si Dian Jin.
What is the history behind Si Dian Jin?
Si Dian Jin is a centuries-old Chinese wedding custom that originated in the Chao Shan region of Guangdong, China. It is practised and observed by the Chinese Teochews, and it refers to four gold pieces of jewellery presented to the bride as a betrothal present: a ring, a necklace, a set of earrings, and a bangle.
During the Guo Da Li ceremony, the mother of the groom will present her daughter-in-law with a set of gold jewellery. The Chinese term for "gold" has a resemblance to the curved rooftops of Teochew houses, thereby symbolising that the daughter-in-law will be properly taken care of and will be welcomed warmly in her new home.
Today, the tradition is adopted by many Hokkien, Cantonese, and other Chinese families, but the practice still varies among dialects. For instance, Hokkien and Cantonese households may focus on getting only one or two jewellery items, whereas Teochew families typically offer a four-piece set of jewellery. The most typical jewellery gift is a set of bangles.
What is the importance of each Si Dian Jin jewellery piece?
A fundamental custom of Chinese weddings is the giving of Si Dian Jin, which has deep meaning and symbolism. To have a deeper understanding of the significance of this custom, here are what each piece of jewellery in a Si Dian Jin set traditionally represents:
Ring –

The ring symbolises the couple's commitment to each other. It is frequently seen as a sign of love, good fortune, and prosperity.

Necklace –

The translation of the Chinese word for "necklace" is "continuity." Therefore, the necklace in a

Si Dian Jin

set refers to the connection of two families and the development of a harmonious relationship.

Earrings –

A pair of earrings represent the perfect pairing and union between the bride and the groom.

Bangle –

Bangles are typically designed with symbol animal elements, such as the phoenix and dragon. The phoenix is commonly associated with rebirth, beauty, and grace, whereas the dragon is often portrayed as a benevolent and powerful protector. These two symbols, worn together on a bangle, represent the ideal balance of yin and yang.
Conclusion
Chinese weddings are undoubtedly one of the most culturally rich weddings in the world. Their traditions and practices are not only distinct and fascinating, but also rich in significance and symbolism. By knowing the history of the Si Dian Jin custom and the meaning behind every jewellery piece in a Si Dian Jin, you can better understand why traditions like this remain important and widely practised today.
In Singapore, Guo Da Li is a ceremony observed by many families. If your family is one of them, and you are in need of a Chinese wedding tradition expert to guide you on these customs and rituals, Blissful Brides is here to help you!
We have various resourceful, reliable, and complimentary concierges that can assist you in planning successful traditional Chinese ceremonies and weddings without much stress. Get a quote from us today, so we can auspiciously prepare for your Guo Da Li ceremony in no time!