Real Love Lasts: Anecdotes from Wedded Couples
2020-02-16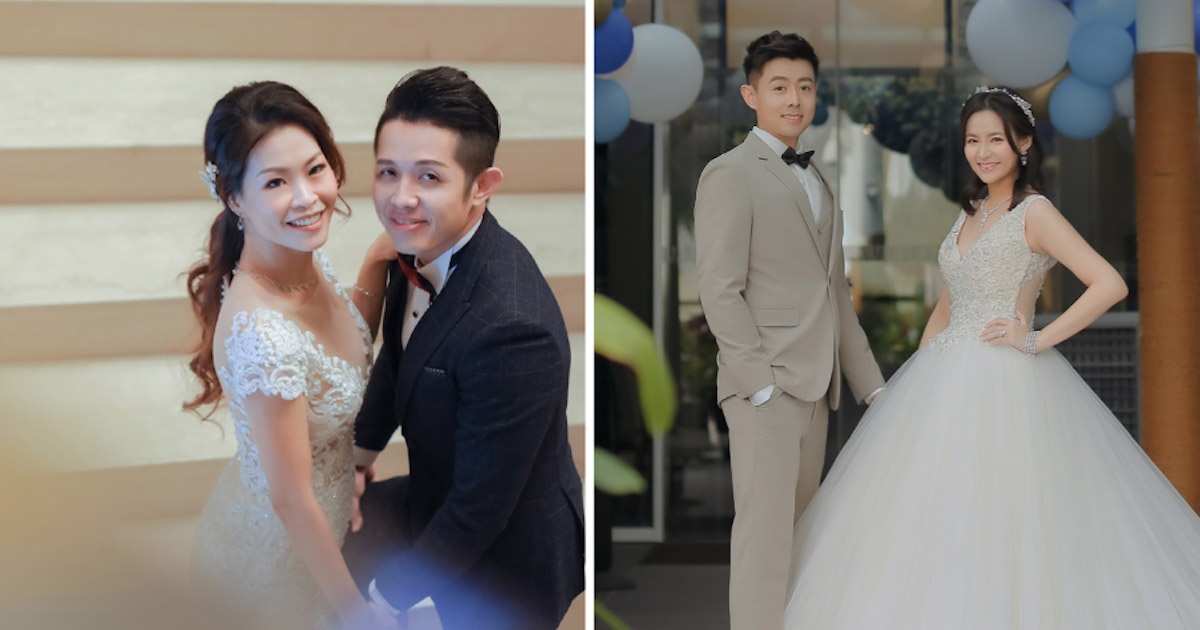 "To be fully seen by somebody, then, and be loved anyhow – this is a human offering that can border on miraculous." – Elizabeth Gilbert
No marriage is perfect, but no matter the journey, what's important is weathering the good and bad times together, being there for each other, and embracing life with your beloved.
_________________________________________________________________________________________________________________
Groom: Roy Fong, Business Development Manager for Jean Yip Group and Holdings, 32
Bride: Cheryl Wee, Actress and Entrepreneur, 32
2 years of marriage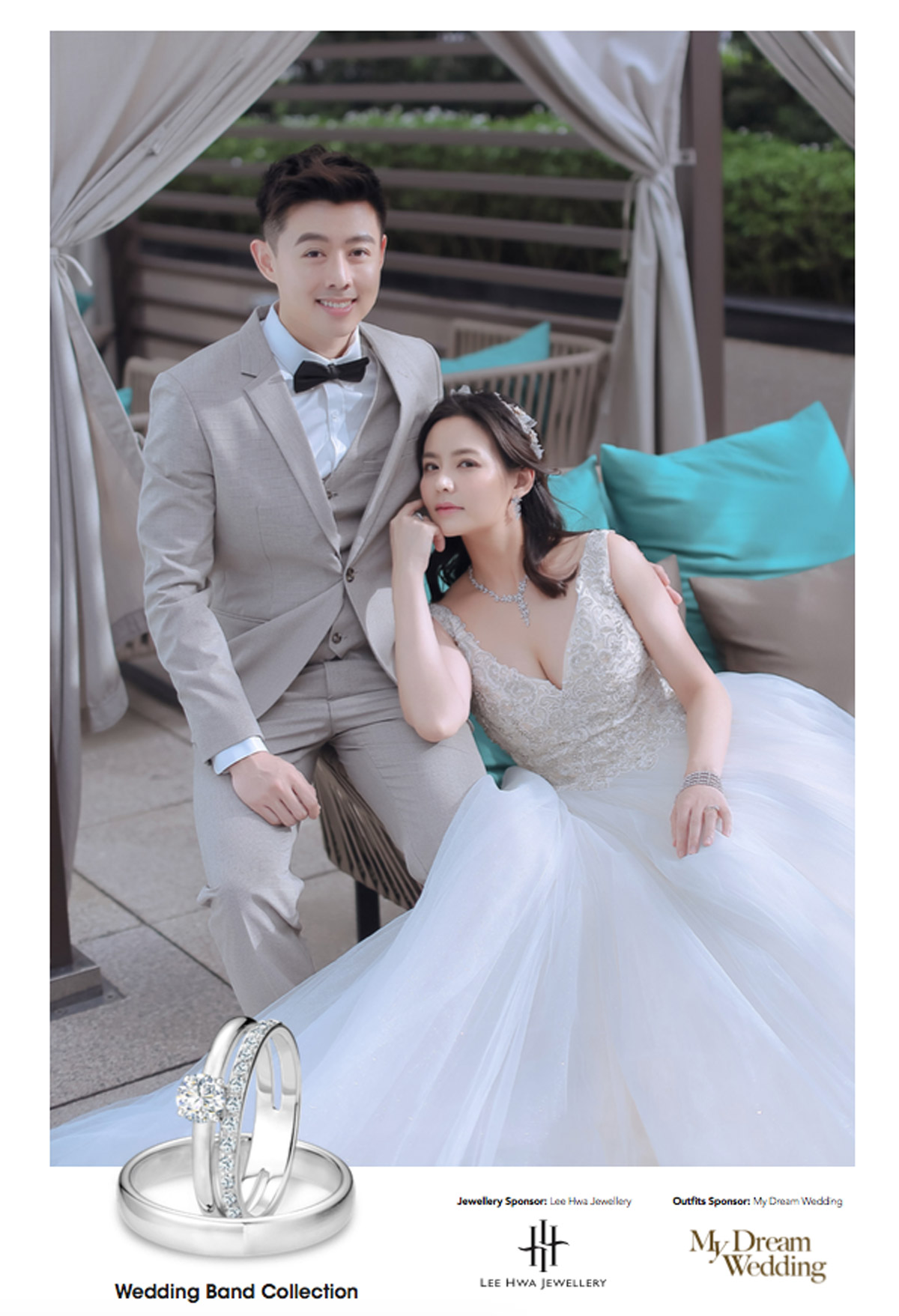 What was your first impression of each other?
Cheryl: When I first saw Roy, I don't think he actually saw me. It was very cheesy because I'm the quiet and more unassuming one in school, and so even though I thought he was pretty cute I wanted to go on with my JC life without letting him know me because I was too shy. Also, because I had never dated before that, I thought that he was somebody that I could envision as my partner.
Roy: There was one weekend when we had to go back to school to get a teacher's signature, and we had to queue in a long, single line just to get it. We were all in our school uniform when suddenly, a girl entered in her own clothes with braided hair, and I remember thinking that her confidence and her eyes were the most mesmerising things that captured my attention.
How does it feel marrying your first love?
Cheryl: It felt very surreal, especially now, since we have two kids of our own when we met 15 years ago. I would say that marrying your first love requires a lot of give and take from both sides. It also makes you feel very "xing fu", which I would say that the closest that embodies it is happiness and feeling blessed.
Roy: It's about very simple things. We always find joy in the simple, everyday things that we do together, and we always look forward to enjoying each other's company.
What advice can you give to newlyweds?
Roy: Have children. Ever since we had kids, both of us have grown a lot as individuals. We had to shift the focus away from ourselves and give our love to another human being instead, which is something very beautiful. We also learnt a lot about each other and have to constantly work as a team, and simple things like encouraging and covering for each other make us both very happy.
Cheryl: If the husband makes his wife happy, he will have a good life – it might sound cliche but it's true. Also, there are a lot of changes that newlyweds have to adapt to and a lot of people may unintentionally interfere with your best interests at heart, but while community support is very important, it's also equally important to remember their advice and perception might not be completely applicable to you and your partner.
You and your partner are unique individuals, and you will have to decide together as a couple what is truly best for the both of you. Don't peg your partner to an idealised role model because this will create expectations that can turn into added stress for both parties.
What challenges have you faced in your marriage and how did you overcome them?
Roy: Prior to getting married, we've known each other for 13 years and so a lot of issues were already resolved beforehand. We also went for a marriage preparation course and right after we got married, we had a child, which really brought us even closer.
Cheryl: I'm quite impatient by nature and when I get overly stressed out due to work, it's very easy for me to snap at Roy sometimes. That is a big challenge because he might feel like I'm not prioritising him properly. Having a job, having children, and living with your parents all provide different sets of daily stresses that can be very challenging to manage, but it is fulfilling at the same time.
What have you learned about each other after your marriage that you never knew or realised before?
Roy: I didn't know how strong Cheryl was. Her tenacity and endurance are really very impressive and I have a newfound respect for her and mothers in general for going through everything with so much love on a daily basis.
Cheryl: After living together and working together in Jean Yip Group and Cheryl W, Roy is now a friend that I turn to for almost everything. He's a lot more patient than I thought because it's not easy living with me, and he has never complained about our different working styles and often covers my back when I am too tired or busy. He is also very tolerant and he has so much drive and passion to help my parents grow their business and achieve their dreams. Plus, as much as he says that I do all these things at home, he helps out a lot too, just so that I can rest more.
What do you like best about being married?
Roy: It just feels very comforting to know that every day, you can come home to the person you love.
Cheryl: I now have somebody to turn to all the time. Because we do almost everything together, there's somebody there for you no matter what, whether you're happy or angry or sad.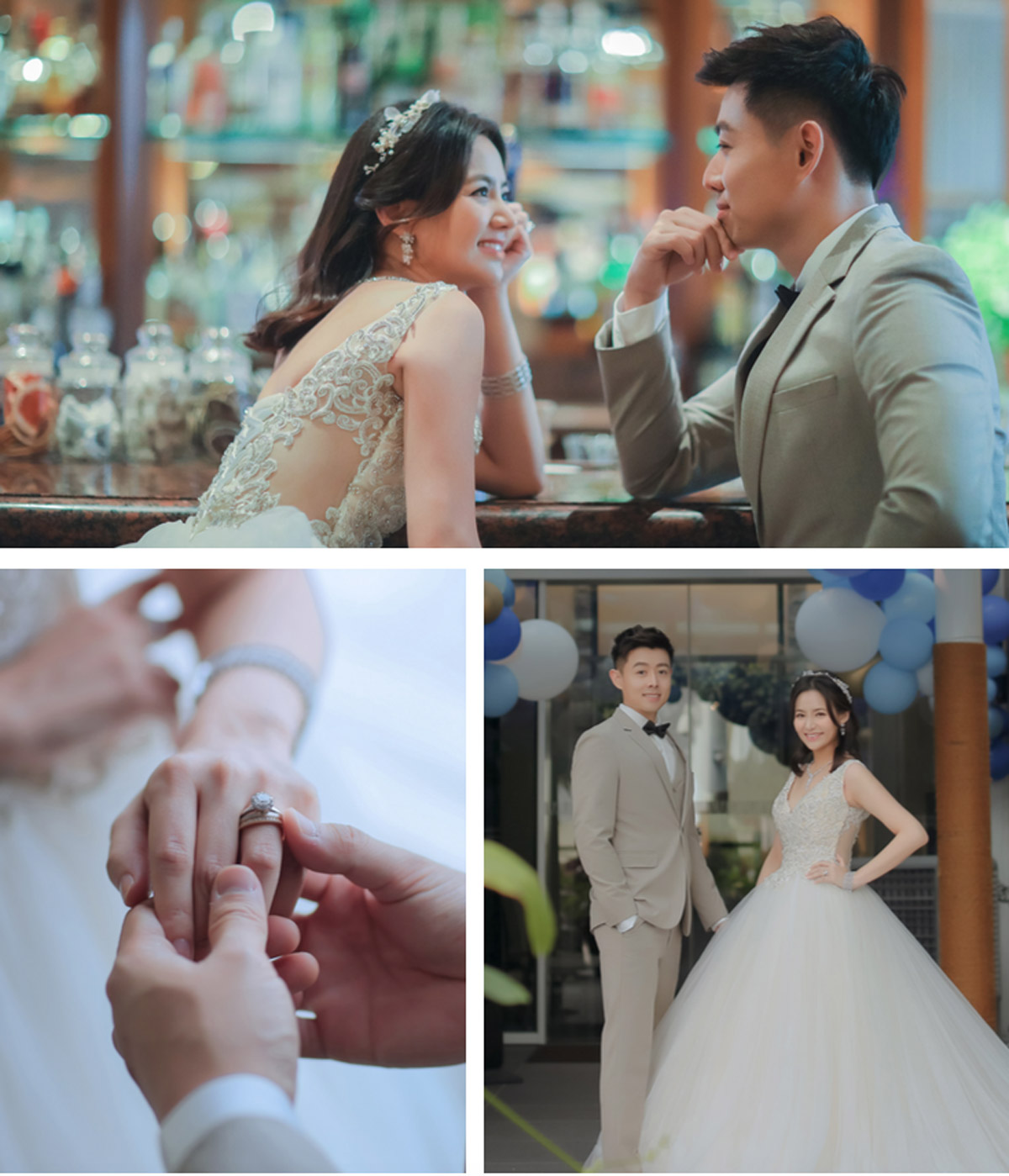 _________________________________________________________________________________________________________________
Groom: Joseph Tan, Financial Services Manager at ACQUITY and Million Dollar Round Table Member, 39
Bride: Sherry Heng, Pet Travel Operator, 37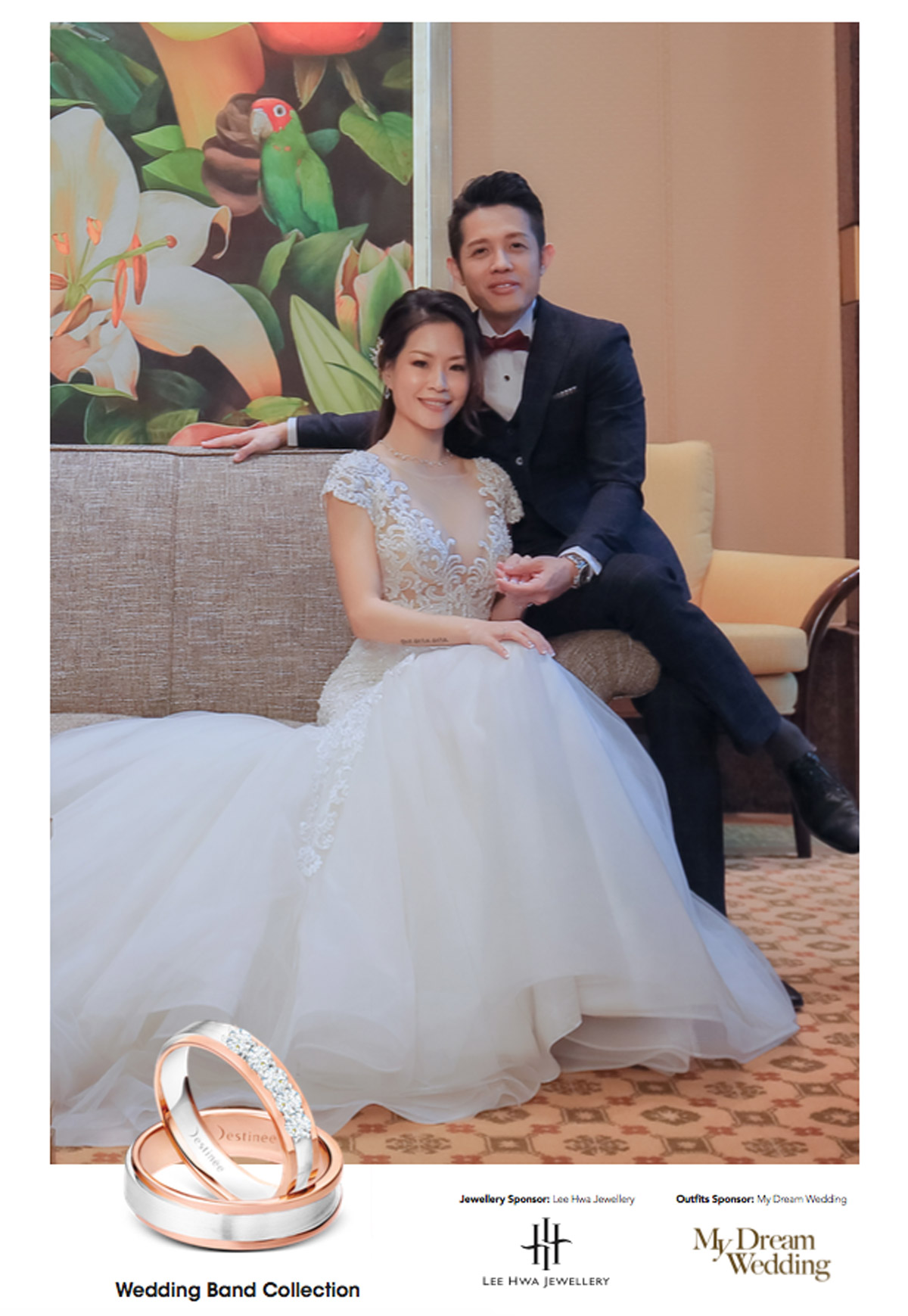 How did you two meet?
Joseph: We met because she saw me on Friendster, 15 years ago. She asked me out for coffee, and we met at Siglap's Starbucks, which is still there. Two months ago we just went back to sit at that very same seat that she waited for me at!
What was your first date like?
Joseph: We went to Zouk, and I was the one who asked her out on that date.
When did you realise that you were in love with each other?
Joseph: It was love at first sight for me, but I don't know about her. Until today, I still remember what she was wearing when we first met, which was a white top with three-quarter sleeves and an A-line skirt. But the time we officially declared our love for each other was when I asked if she would like to have my baby.
Sherry: It's the same for me. If I didn't love him, I wouldn't have agreed to have his baby with him.
What have you learned about marriage so far?
Sherry: It takes a lot of communication to support a marriage. Don't keep anything inside, because the only way to truly understand and connect with each other is to talk things out.
Joseph: For me, it's a commitment. Do it once, do it right.
What are the biggest challenges that you've faced as a couple?
Joseph: To add on to what Sherry said, you can talk, but you might not be communicating. The biggest challenge is trying to make sure that whatever you hear and say is really communicated properly and not just verbal white noise.
Sherry: Getting to know each other deeply. Which, again, can be done through communication. Couples often get angry with each other because they don't understand what the other party is thinking of or trying to convey, but if you communicate earnestly, you can understand where the other person is coming from and usually, it's out of love.
How do you deal with busy schedules?
Sherry: A couple needs to make time instead of going around your schedule. You prioritise your time together!
Joseph: I agree with Sherry – you make time. But also, the experience that you have during that allocated time must be natural and organic. You cannot be thinking of what you need to do after the time spent together; you have to put yourself entirely in the moment and really savour the time with each other.
How do you deal with misunderstandings?
Sherry: We talk things out. I believe that we shouldn't be afraid to speak what we feel just because we worry that the other person might get more upset. After you've both calmed down, take time to approach the topic again with an open mind. If you simply sweep it under the rug, it will most likely resurface in the future.
How do you keep the spark alive in your relationship?
Joseph: At first, we thought that our 'honeymoon period' will last about 6 months, but so far it's still going strong. I guess it's because there is a finite amount of things that you can know about each other when you first meet. Once you've found out everything there is to that person, that is when things may get a little boring and the spark may diminish a little. So the antithesis of that is to constantly grow and evolve as a person so that there's always something new for your other half to find out about you. This is how a relationship remains exciting.
Any tips for a happy, long-lasting marriage?
Joseph: Firstly, you must begin with the end in mind. Once you get married to someone, you must think to yourself that you'll be buried with this person, and constantly strive to do things in a way that makes you as happy as you can in the relationship.
Sherry: I would say that you should always go back to why you fell in love with this person in the beginning.
Joseph: Yes, and this only works if the person doesn't deteriorate over time, because then you won't even be as good as the person you were at the beginning of the relationship. You have to constantly upgrade yourself, in terms of both your appearance and character.