Bridal Magazine in Malaysia
2017-09-27

Bridal Magazine in Malaysia
When you are reading a bridal magazine do you ever wonder, "Who did these graphics? Who came up the website for this? Who manages this" Well that is us Blissful Brides promotes many bridal magazines in Singapore as well as bridal magazines in Malaysia. We also help maintain their websites and organize online sites.
Our program, Citrus Media, is a program that helps the bridal magazines gain bridal magazine subscriptions by helping promote their websites and maintain them. We also help them with their services.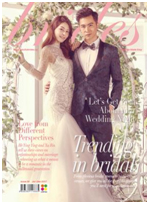 We print for magazines. We print some annually and some biannually. It all depends on the magazine, what they want, what their needs are. We are a highly profitable business and we work really well in partnerships with others.
We also do events for wedding magazines. Like I said earlier we really are very good partners with many bridal magazines. We help do events such as wedding shows to help promote brides magazines and to also help your special day.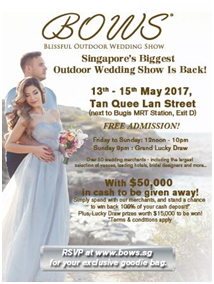 Our company also services web pages. We service many bridal magazines web pages. We help maintain the websites and update them as needed. Our company will add their latest information for them and also keep it maintained and looking nice. We will help with graphics and keep it neat and professional.
We also will do personal websites if your website needs to be revamped or redone and you need help. We will help you create the website needed to make your company thrive in the industry. We have our experts create a website that will please you and your customers.
We have a website that will update many bride to be's on wedding shows in the area and updates on wedding information. We will always keep all our websites up to date because our specialists are always updating our pages with the latest information.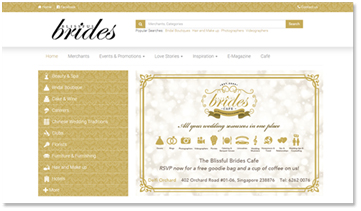 We also do Blissful Brides Cafe. This is a new feature to our system but we always are up for a challenge. Blissful Brides Cafe is where you can consult in someone who will help you with wedding plans up to the day and after. This will help you be prepared and know what to expect and what to do before your day to be prepared for the big day. We will provide all the best wedding related services in Singapore so you are prepared and know which direction to head. Our goal during this meeting is to have you step one foot in the doorway and not be lost wondering where to start.
Our goal is to make sure that the public is pleased. We want to make sure your day is special so we want to make sure all our sources are up to date for your benefit. We will help you with everything needed on your wedding day. We have many sources to make sure you can find the perfect wedding magazine. We want to have you attend our wedding shows and be informed of when they are, where they are located, and when the next one will be so that you can see potential decorations or dresses that may be included in your big day. We keep up with our websites so it is as less stress on you as possible. It really is our goal to make you stress-free and have easy access to all the resources you need to make your day special.