All About Si Dian Jin: Is It Still Necessary These Days?
2023-04-10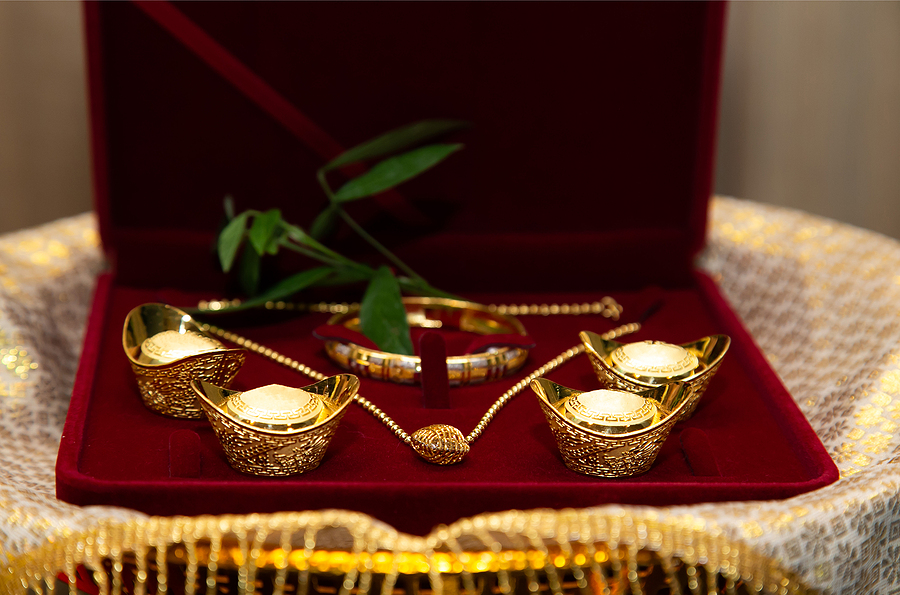 The gifting of Si Dian Jin is a long-standing wedding custom of the Chinese culture that is continuously observed to this day. The term "Si Dian Jin" essentially translates to "Four Touches of Gold," as it was customarily a four-piece set of betrothal jewellery consisting of a bangle, necklace, ring, and a pair of earrings. This jewellery set is given to the bride as a way of welcoming her into the family and bestowing blessings on the newlyweds.
The origins of the Si Dian Jin custom date back several centuries ago in Guangdong, China. Despite being a centuries-old tradition, the gifting of Si Dian Jin remains an essential practice for many soon-to-be brides and grooms in China, Singapore, and other Asian countries. To understand why, here are some of the reasons why Si Dian Jin remains relevant in modern times.
Si Dian Jin as a Form of Promise and Blessing
The meaning that attaches to Si Dian Jin makes this wedding present unlike any other. Because it's given by the bride's soon-to-be mother-in-law, it signifies the latter's acceptance and blessings for the abundant marriage. When you receive Si Dian Jin, it doesn't only establish the tone for your relationship with your mother-in-law, but it also represents a promise that you'll be taken good care of by your new family.
Most sets of Si Dian Jin are meaningfully crafted with auspicious and customary motifs, which indicates that it's deeply filled with symbolic meaning. It's for this reason that some parents or grandparents also buy a set for their daughters and granddaughters as a way of bestowing bountiful blessings.
Si Dian Jin as a Family Heirloom
Soaked in tradition and imbued with blessings, the value of Si Dian Jin goes beyond being a mere set of golden jewellery gifts. It's one of the very first meaningful presents a bride receives from her in-laws, thereby making it a highly symbolic gift and is considered a family heirloom.
Although Si Dian Jin is usually made from gold to symbolise wealth and provide monetary value, it also means that the bride can keep the present for decades and pass it down to her children. The next generation of your family will surely appreciate the history and profound meaning of this heirloom jewellery when it's already their time to get married.
The Use of Si Dian Jin Beyond the Wedding Day
Just because Si Dian Jin is a customary practice doesn't mean that it must look old and outdated. As the times have evolved, many modern brides now prefer to have pieces of jewellery that are contemporary, versatile, and can be worn for everyday use. Even if it's going to be inherited by the future generations of your family, you can still sport your Si Dian Jin jewellery pieces after your wedding day.
Fortunately, the Si Dian Jin sets being offered these days already incorporate sophisticated, modern designs that still heavily align with age-old beliefs. For instance, stylish symbolic motifs, such as Perennial Lily and Peony, pay homage to traditional Chinese custom while still being trendy pieces that can be worn with everyday outfits.
Conclusion
Although quite traditional, Si Dian Jin continues to be an essential rite of passage for numerous soon-to-be brides in Chinese families. Aside from being an expression of staying true to your heritage and roots, having a family heirloom that bears emotional significance and familial blessings for your marriage is something that's truly valuable. Therefore, it comes as no surprise that the Si Dian Jin custom remains remarkably relevant to this day.
Should you require professional assistance in carrying out Chinese wedding customs, such as Si Dian Jin and Guo Da Li, Blissful Brides is here to help you! Blissful Brides has a variety of reliable complimentary concierges that can help you plan stress-free and successful traditional Chinese ceremonies. We also offer a bunch of other services that'll help you pull off a truly blissful and memorable wedding, such as venue booking and bridal gown rental in Singapore. Get a quote from us today to get started!