8 Must-Have Tools to Make Wedding Planning Easy
2020-10-14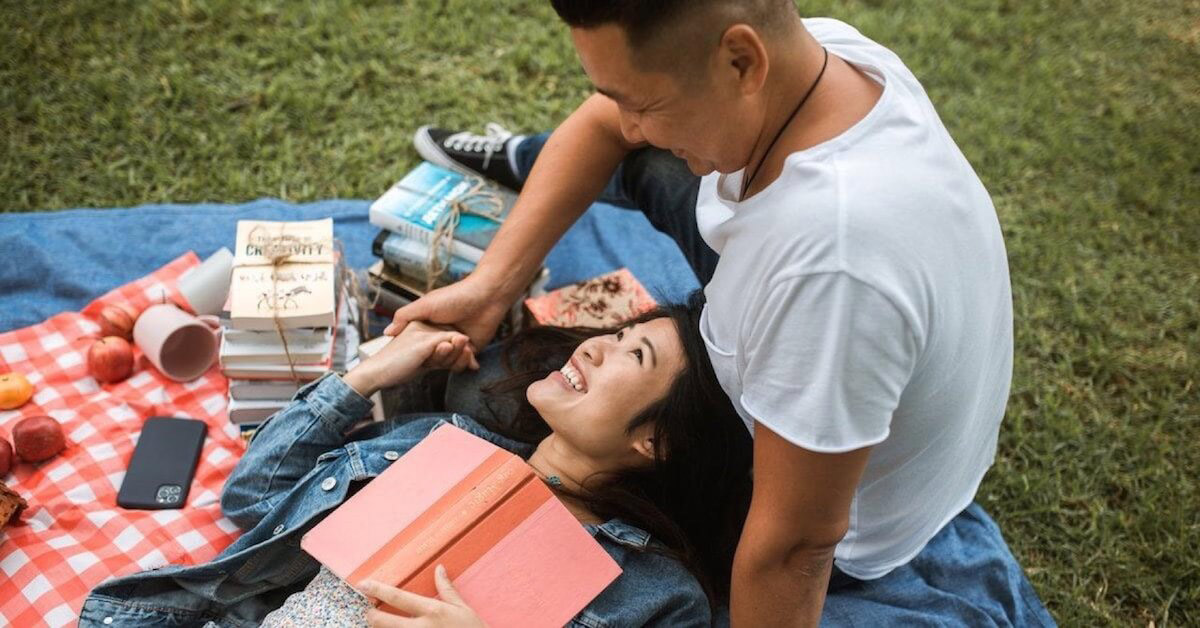 Source: RODNAE Productions on Pexels
Congratulations! The love of your life has finally popped the question and you're now on a quest to realising your dream wedding. It'll be one of the biggest celebrations you've ever put together and for some, it can get rather overwhelming. Alas, it doesn't have to be that way!
At Blissful Brides, we aim to make wedding planning easy so that all you have to focus on is enjoying yourself, as you rightfully deserve to. From a guiding checklist to a nifty function that allows you to reach out to 450 vendors at once from the comfort of your home, here are 8 wedding planning tools to streamline your wedding preparation process!
1. Wedding Checklist
If you're not quite sure what your first step should be, our handy wedding preparation checklist is here to help. This checklist will guide you through every step, going as far back as 18 months prior to you wedding.
It starts with important discussions that you'll need to have with your partner, and includes essentials such as selecting a bridal studio as well as reminders on what you'll need to do during and after the actual wedding!
The best part? You can curate and customise it however you like, and set prompts for certain tasks. Once you're done with something, check it off from the list — you'll no longer miss or forget anything, no matter how small!
2. Wedding Gown Gallery
With fellow brides-to-be in our team, we understand that scouring for the perfect wedding dress is a necessary yet arduous task. Ease the process by looking through our wedding gown gallery, where we feature some of the most beautiful and ethereal bridal and evening gowns bridal shops have to offer. With an extensive range of cuts and designs, you're bound to find one that suits your body shape, preference, and budget without having to go through the hassle of combing through multiple sites!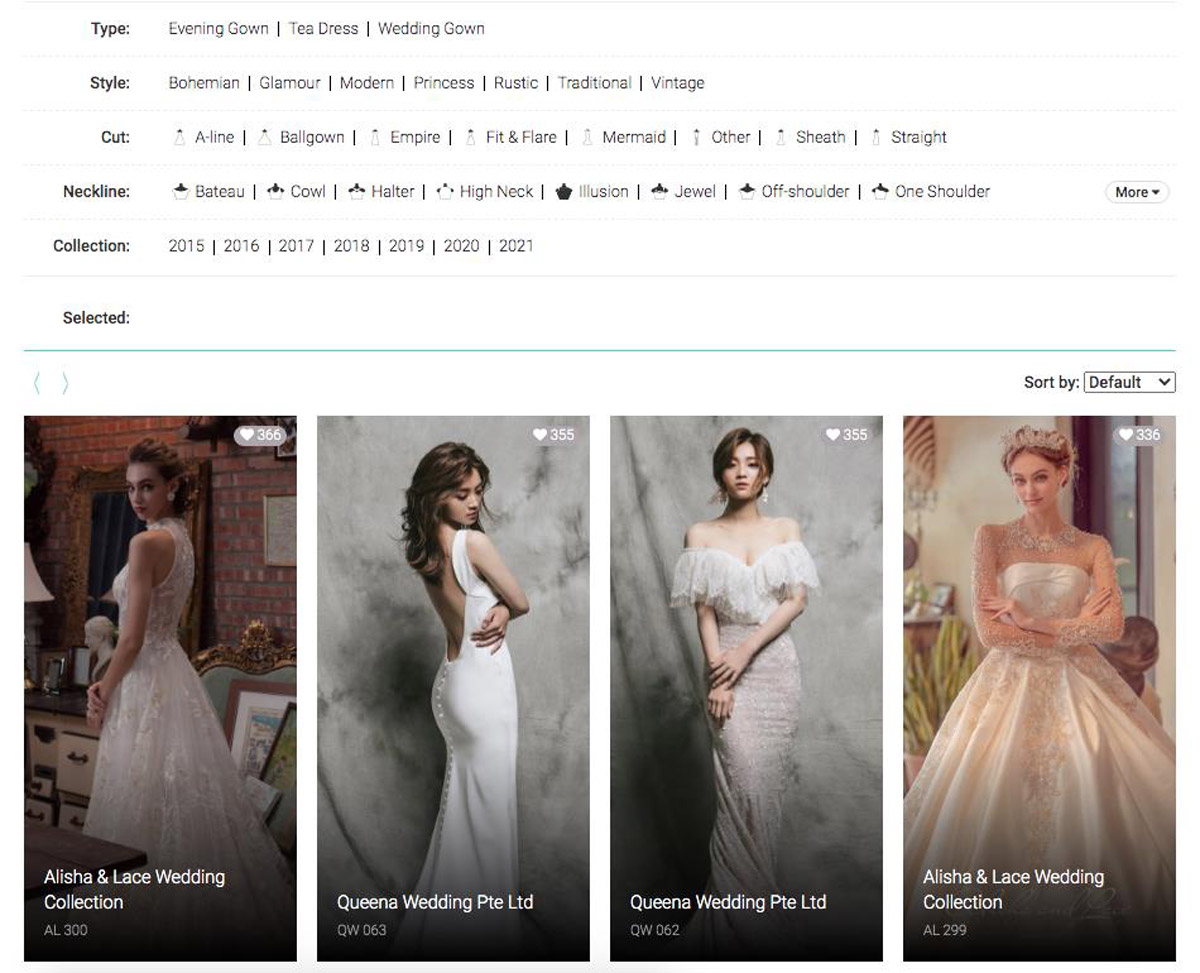 Filter your search to narrow your choices even further!
3. Get A Quote
Instead of going out of your way to find the ideal vendors for your wedding, let them come to you! With our Get A Quote function, all you have to do is to simply fill up a short form to send a request for a service or product.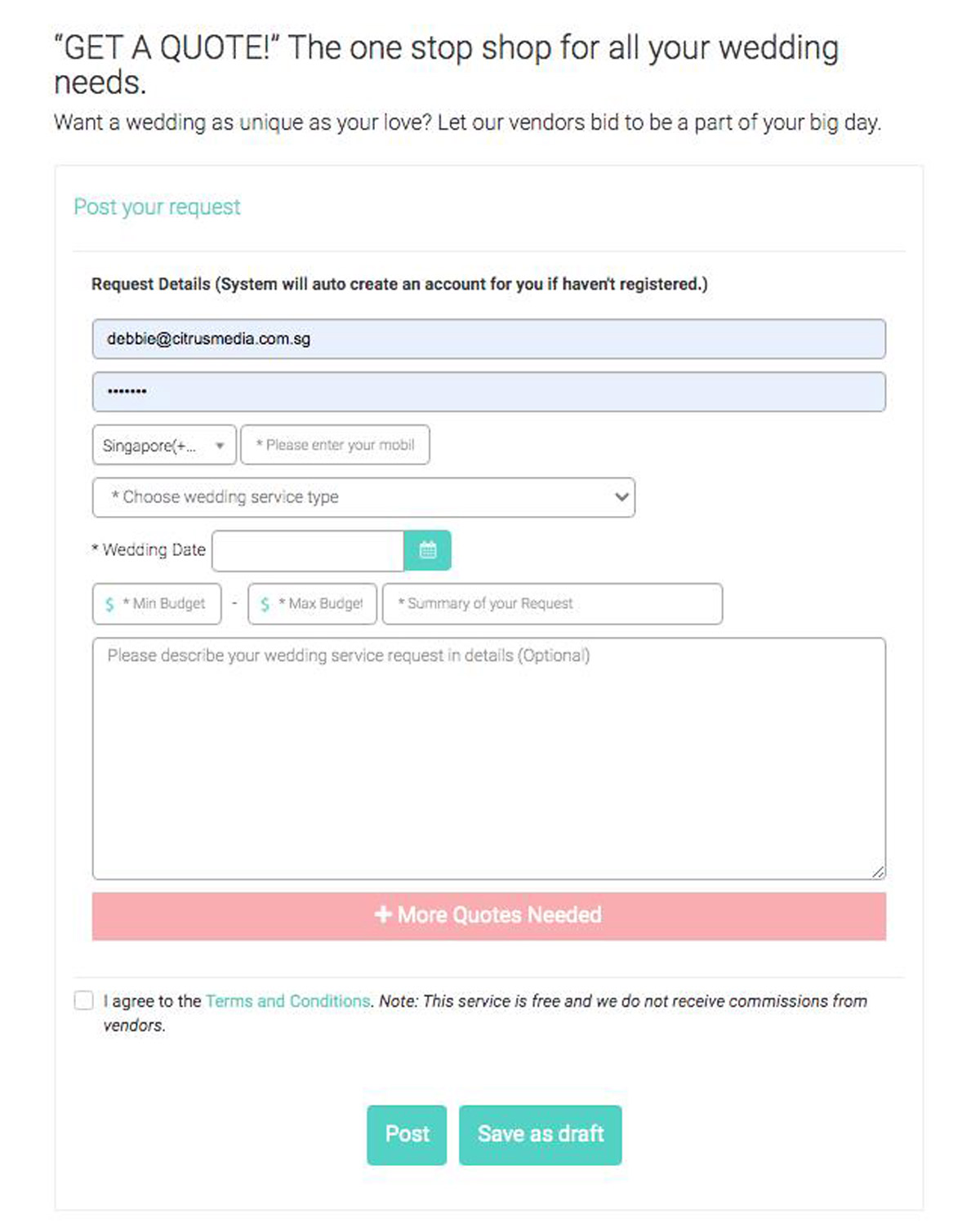 Make sure to include your budget and additional details (if any) to help the vendor in coming up with an accurate quote! Once you're done, all you have to do is wait for the merchants to respond with a bid in just 48 hours and pick the one that seems most suitable. You don't even have to leave your home!
4. Wedding Budget Calculator
One of the things that make wedding preparations overwhelmingly challenging is the need to balance your wants with your budget. Preparing for your big day can be a slippery slope as many would often hire wedding services without taking the expenditure into account, and end up bringing debt into your marriage.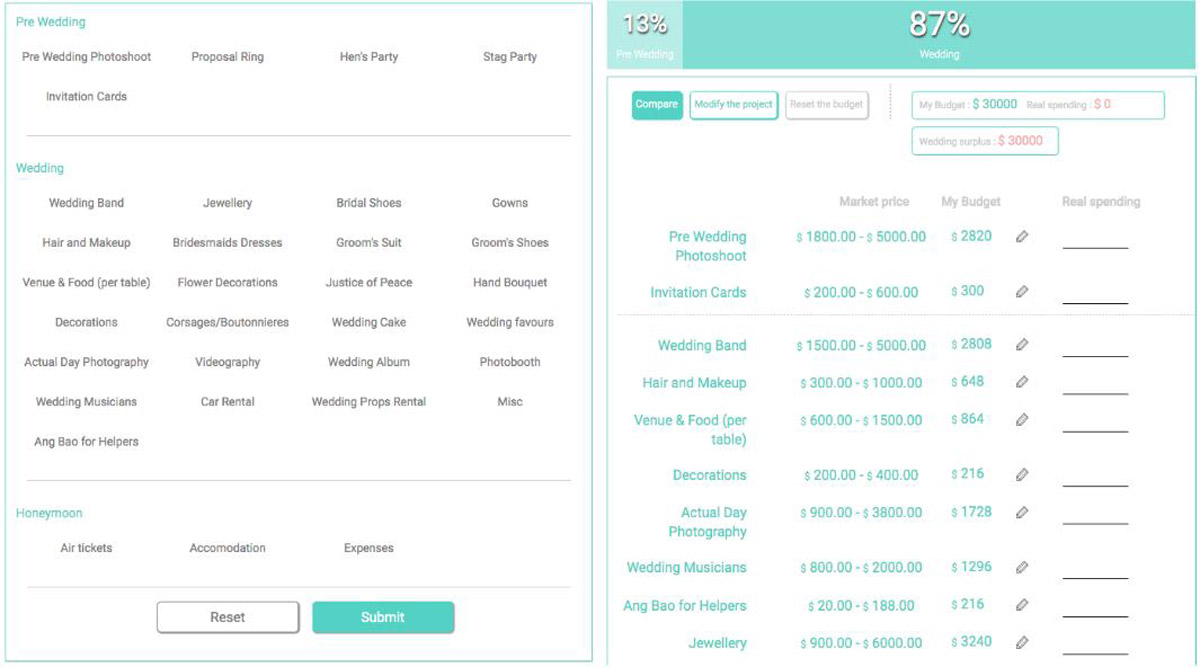 Input your budget, select what you need to budget for, and our calculator will do the rest! Of course, feel free to edit the budget accordingly with advice from a financial consultant.
With our wedding budget calculator, that will not be one of your worries. You'd be able to keep track with your expenses, ensuring that they're all within the budget you've allocated. Don't let yourself fall into the financial troubles from wanting to materialise your big day!
5. Guest List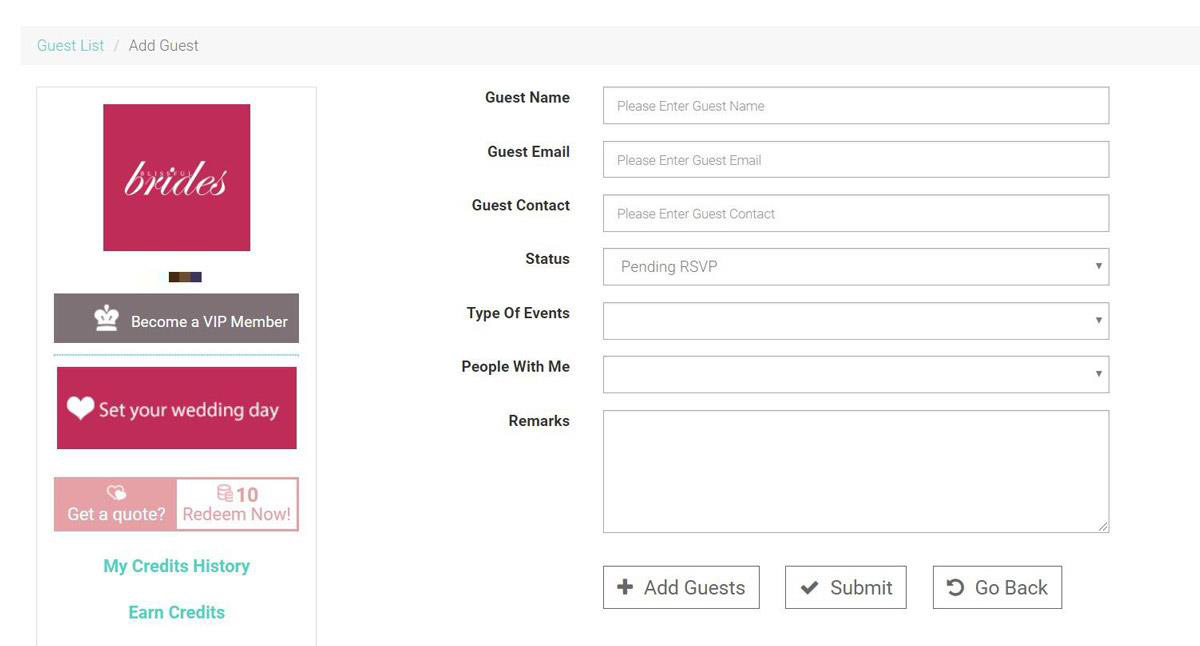 Unless you're inviting a handful of guests to celebrate your marital union, keeping track of the number of guests you're planning to invite can be tricky. Now you can stay organised and stay on top of your guest in a breeze!
With this handy tool, you'd be able to compile your guests and categorise them according to the relationship (i.e. bride's/groom's guest and the relationship the two share such as mother and father). You'd be able to key in their contact details, the table they're assigned to, and whether they've accepted your RVSP or otherwise! The data can be imported or exported from and to Excel for easier use.
For more details on how to use our Guest List function effectively, click here!
6. E-Invitation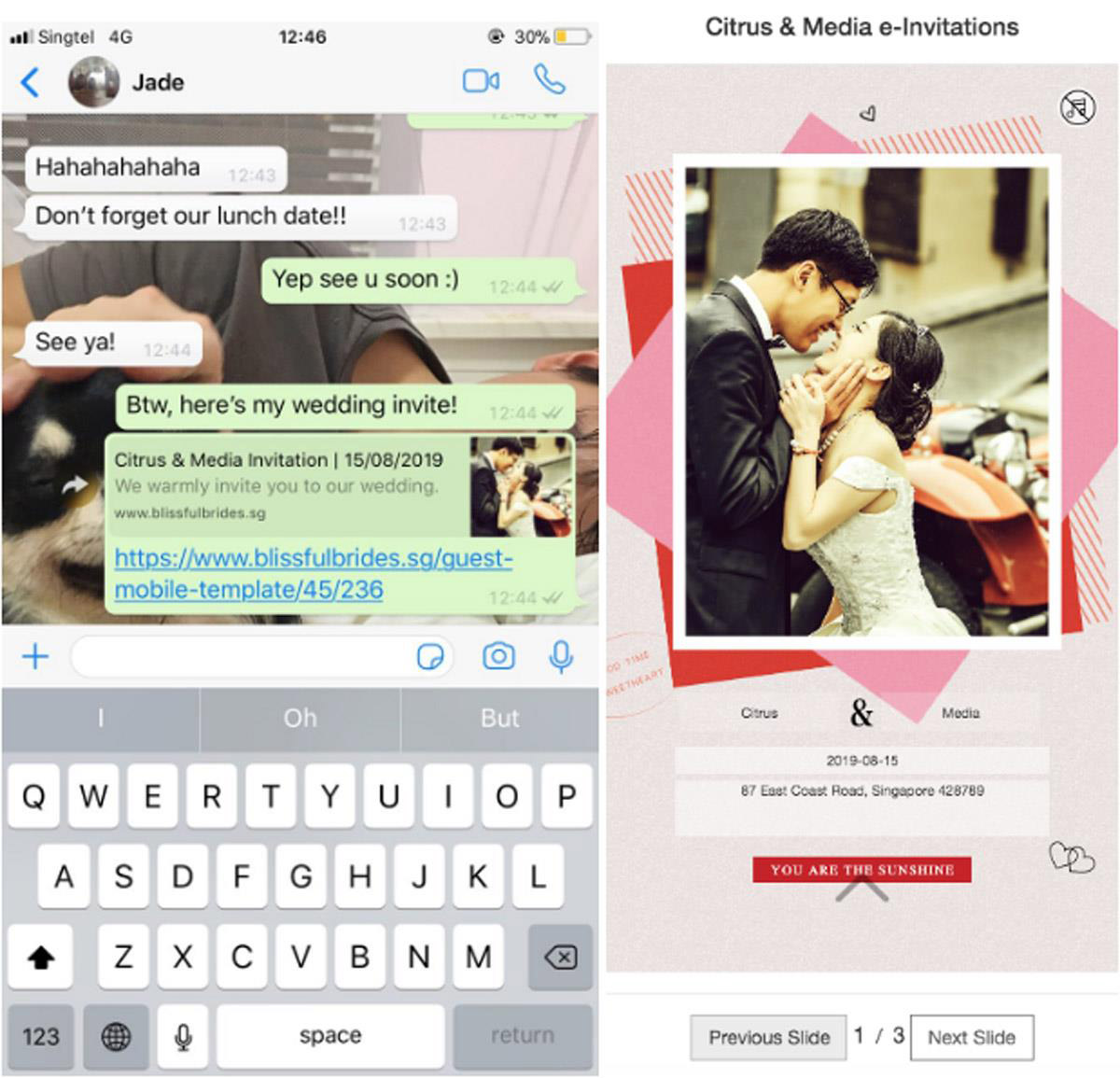 Forget traditional invites, it's time to welcome digitalisation and start handing out E-invites instead! They're customisable, convenient, great for the environment, and most of all, affordable!
Find out more about our E-invite templates and functions in this guide! They are linked to our online guest list function and seating planning tool too, so that you can blast out your invites and keep track of your RSVPs like a pro.
7. Seating Planner
Now that you've collated your guests and confirmed their attendance, it's time to plan their seating arrangement. With convenience and ease in mind, this seating planner helps you to keep track of all your guests and the seats available so that you don't have to worry about missing anybody out!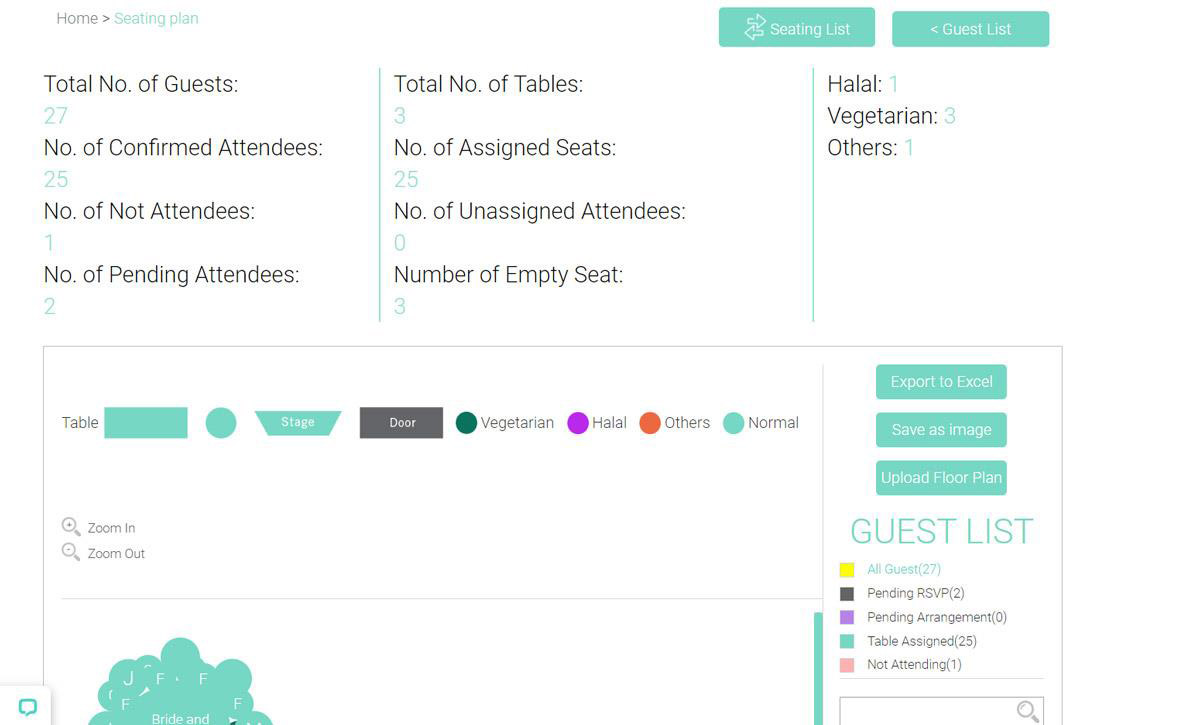 It also allows you to play around with various seating arrangements, be it banquet style, long tables, or whatever floats your boat! You can also include details such as the estimated location of the doors and stage, so that you can get a clearer picture of how the day's floor plan would look like.
Find out more about our seating planning tool here!
8. Wedding Day Itinerary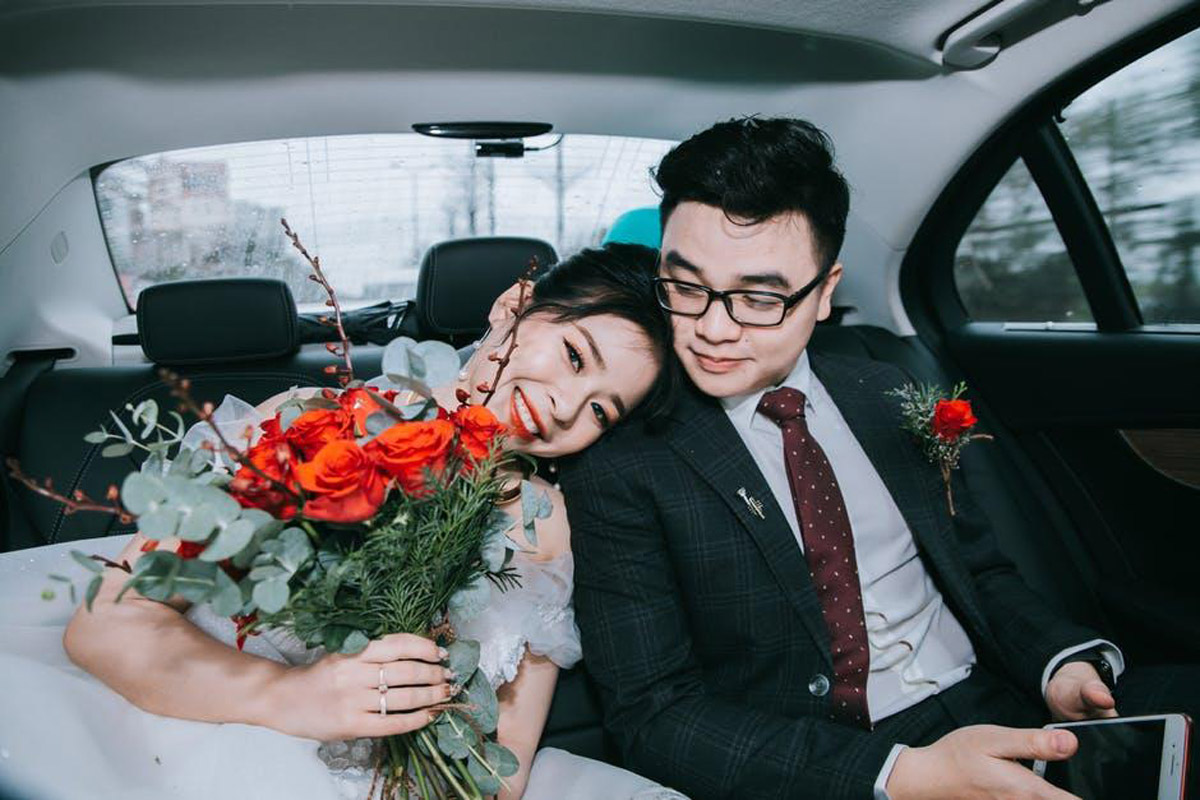 Source: Tiến Dũng on Pexels
Finally, your wedding day has arrived and if you think it gets easier from here on out, think again! On top of your jittery nerves, the hustle and bustle around you will increase the likelihood of you forgetting a few details here and there.
To ensure that the wedding day finishes smoothly with a bang, customise your wedding day itinerary to have a better understanding of how the actual day will roll out. Better yet, you can share it with your bridal entourage so that everyone is on the same page!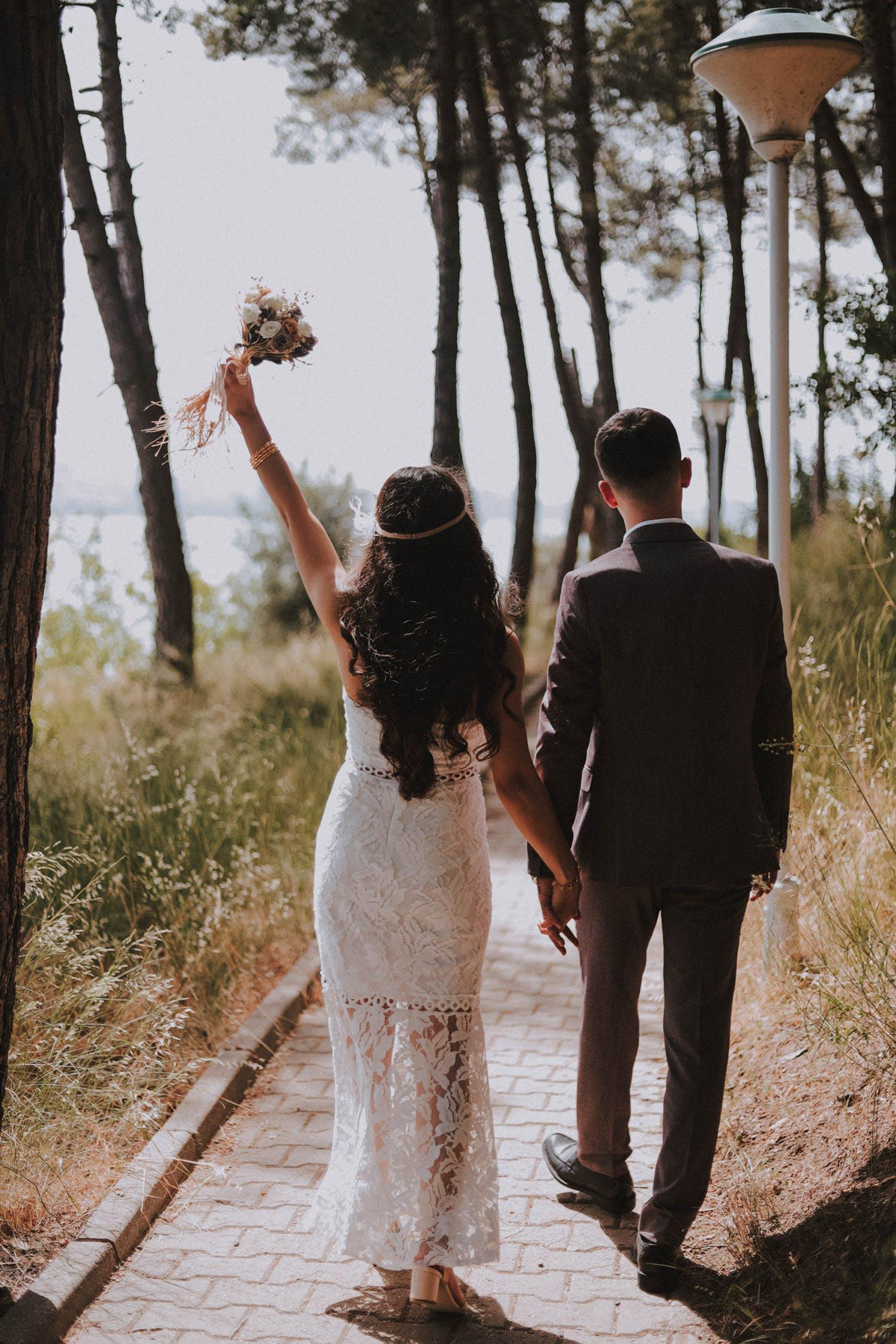 Source: Emir Kaan Okutan on Pexels
Wedding preparations are undoubtedly tricky, especially if you have little to no experience in planning for one. Bookmark these handy tools to tick all the boxes in your wedding planning checklist and have fun planning for your big day!