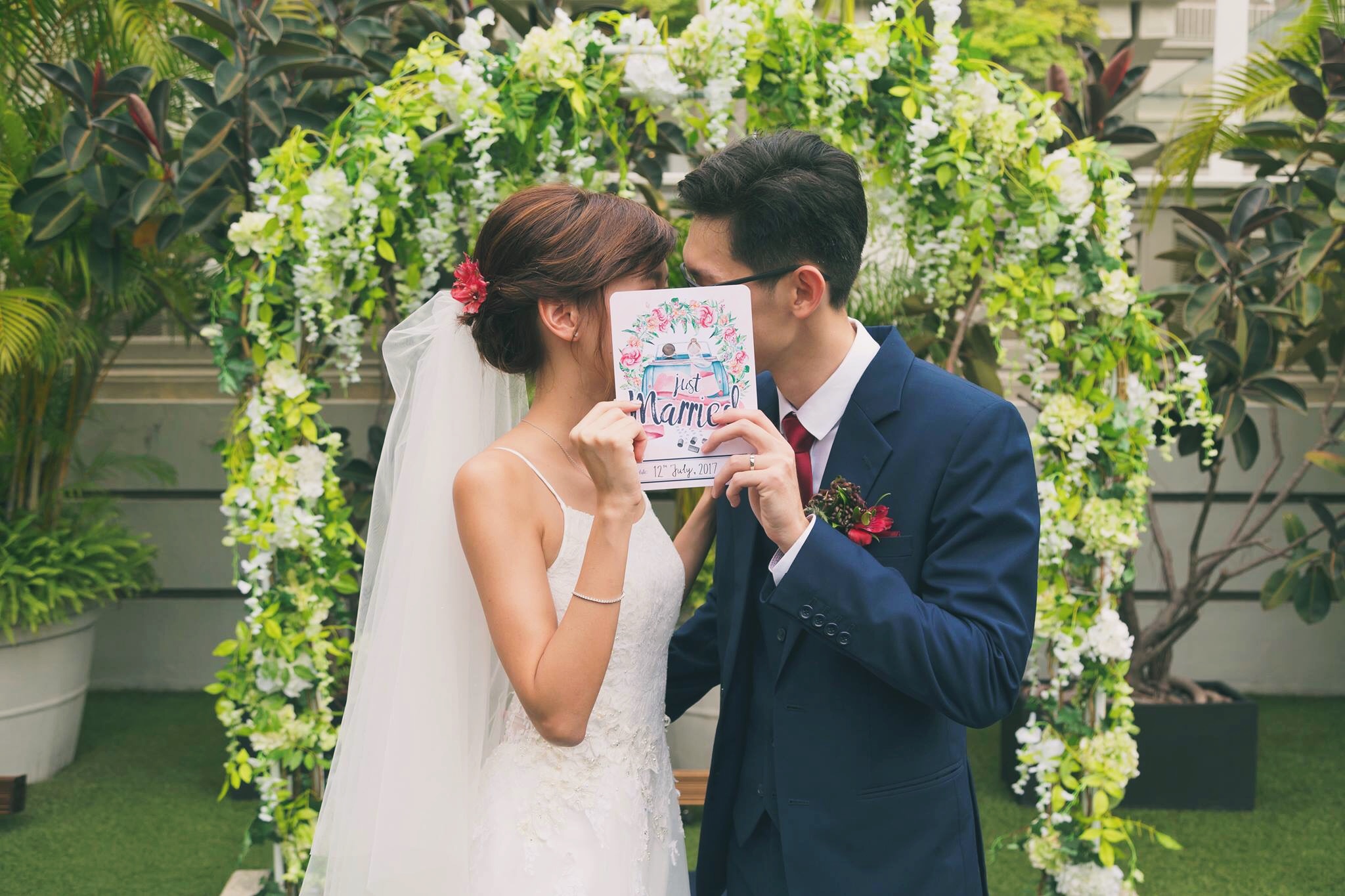 Denise: I am in the banking industry and he's a chemist. I love writing and taking photos of everything, and of course, being in photos. He's my #instagramhusband — a very awesome and patient one I must say. He's always so supportive of everything I want to do or pursue. Let's just say we are completely different individuals, perhaps that's why we are so attracted to each other! I don't know how this is relevant but in a relationship, there is a fun one and a funny one – of course I am the fun one while he is the funny one!
Roy: We love, we laugh, we play and fight just like any other couple — but what is special about us is that we never give up; the trust and commitment we share are the pillars in our relationship. We hug on a daily basis and we continue to impress one another to this day, and that is never going to change.
Denise: We first met when we were 13, in secondary school, but we only got together when we were 20. We reunited during one of our class gatherings and I was surprised to see how puberty treated him. He had grown so much taller than me!
We reconnected, we talked and surprisingly, we hit it off right from where we left off in secondary school. It didn't take long for that spark to start a fire and soon after, we got together on 12th July, 2009. Here we are, married on our 8th dating anniversary.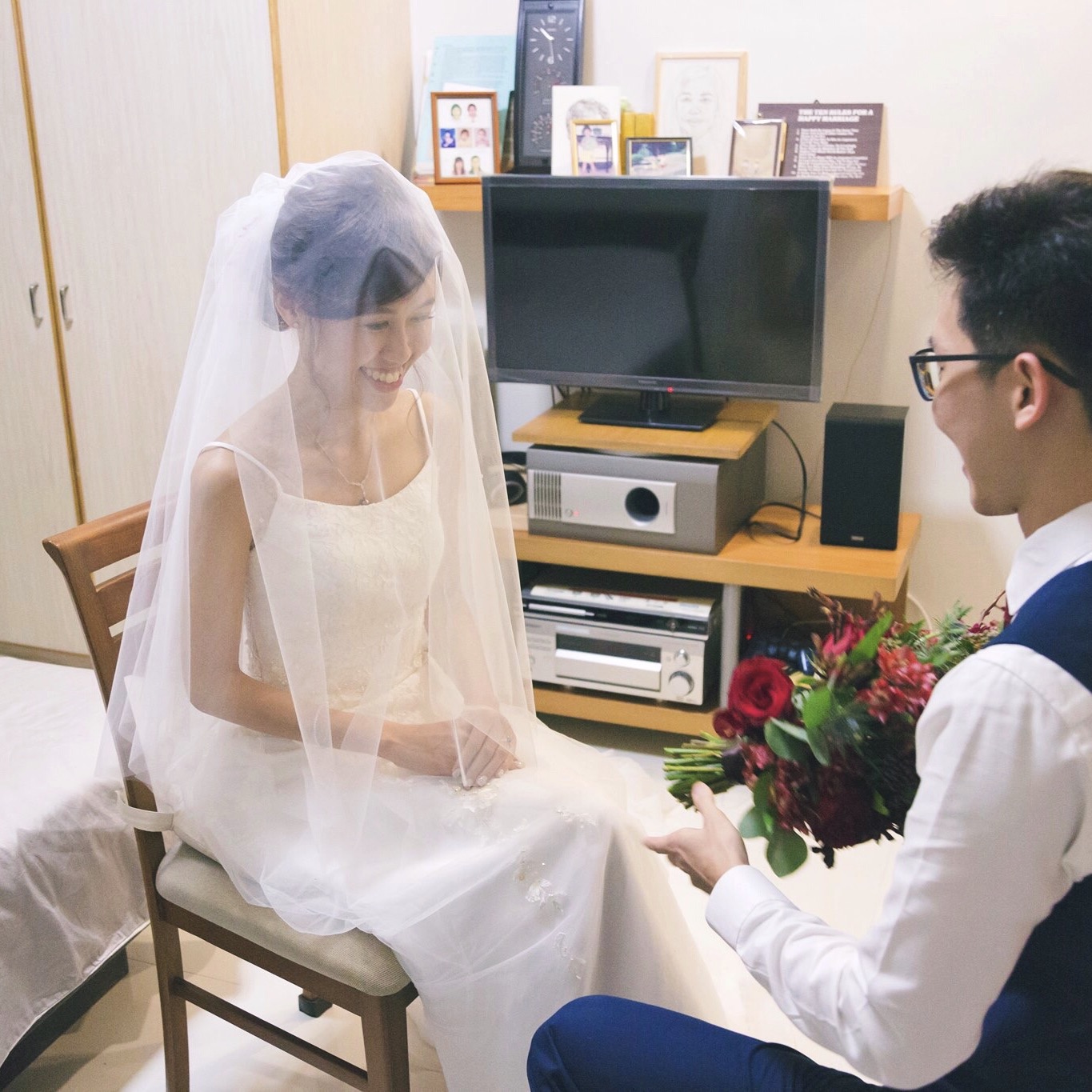 Roy: 2002 was the year we enrolled into Regent Secondary School, and that was when it all started. Though we weren't in a relationship till much later, it sure paved the way to where we are now.
(On their relationship) Denise: In one word, it is wonderful. I love the way we communicate and the way we support each other. In every relationship there should be a certain level of trust, and I trust this man with my life. I love how he builds my character and makes me want to be a better person not just for him, but for myself. He taught me patience and how to be kind. Seriously, this life is better than fiction.
Roy: We met with several obstacles, but our relationship is mostly ups and it must only go up. I mentioned trust and commitment earlier, and a relationship like ours is only possible because we share the same vision right from the start.
Proposal
Roy: I was the one who proposed! Anyway, I wasn't nervous or shy. Everything felt perfect and right. When I popped the question, she reacted in a way I can never forget. She was in disbelief and yet so adorable.
Denise: He planned a surprise trip to the Maldives, and he proposed after dinner on the second night. It was incredibly romantic and all except that I had already changed out of my dinner outfit, into my nightie which surprised him very much. I still remember him asking, "Huh you changed already?" and me replying, "Why cannot… *points to outfit* this is more comfortable mah!"
When he popped the question, I was too surprised to even respond. I mean, we were already in the Maldives, you mean the surprise doesn't end there? I was so blown away.
Roy: The place was magical, almost like a dream. The setting was romantic and at the same time, so candid. The skies were dark enough for the stars to shine, and she was laid back in the sun chair using her gadget.
(On reacting to the proposal) Denise: I was in a complete state of shock and even after he asked three times on bended knee, I was still too surprised to say "Yes!" He put on the most beautiful sapphire ring I have ever seen onto my finger anyways, and I finally came to my senses and exclaimed, "Yes! Yes! Yes!" It started to rain suddenly and we rushed into the water villa to further revel in our bliss.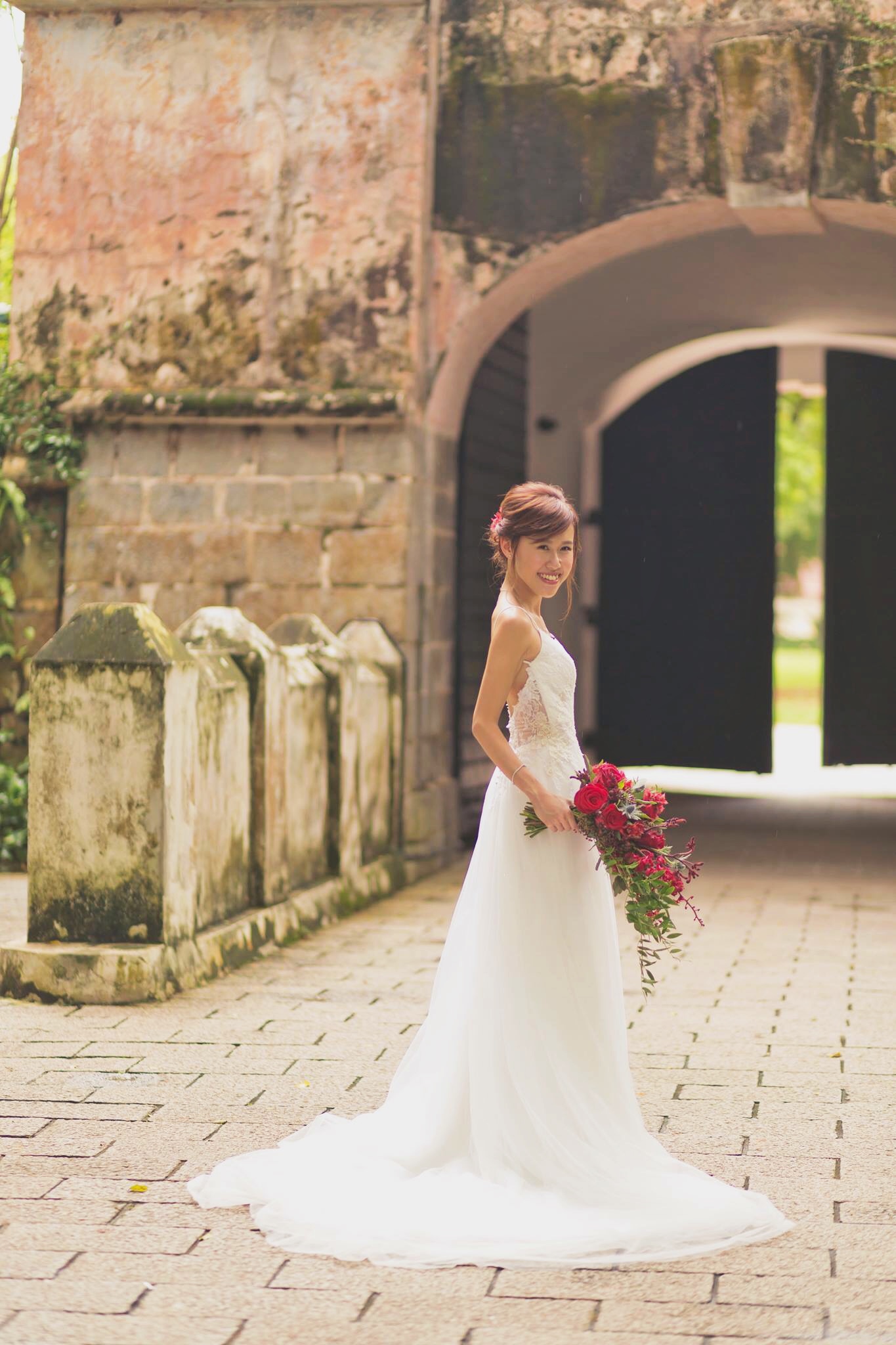 Bride's Style
Denise: I don't know if there was a wedding theme — but if there was one, it revolved mostly around my engagement ring. We had a strict colour palette: Navy blue and deep red, with a hint of silver and gold. My evening gown was in the most gorgeous shade of navy I had ever seen, and so was his suit. It was a strict red roses only kind of wedding, with zero Baby's Breath because that's not how I roll. Surprisingly, it all came together very beautifully but I might be biased because it is my wedding.
I knew I wanted to go with a low back wedding dress because I wanted to get a tattoo on my back and reveal it on my wedding day. The dream dress materialised but my dad said no to the tattoo. I also wanted to keep the front of the wedding dress modest, revealing only my collar bones. So it was always about the back details, but at the same time, not over the top. I'm all about keeping it classy, because it never goes out of style. I also knew I wanted something easy to move in so that I wouldn't need help with my dress — yes, I am very practical too!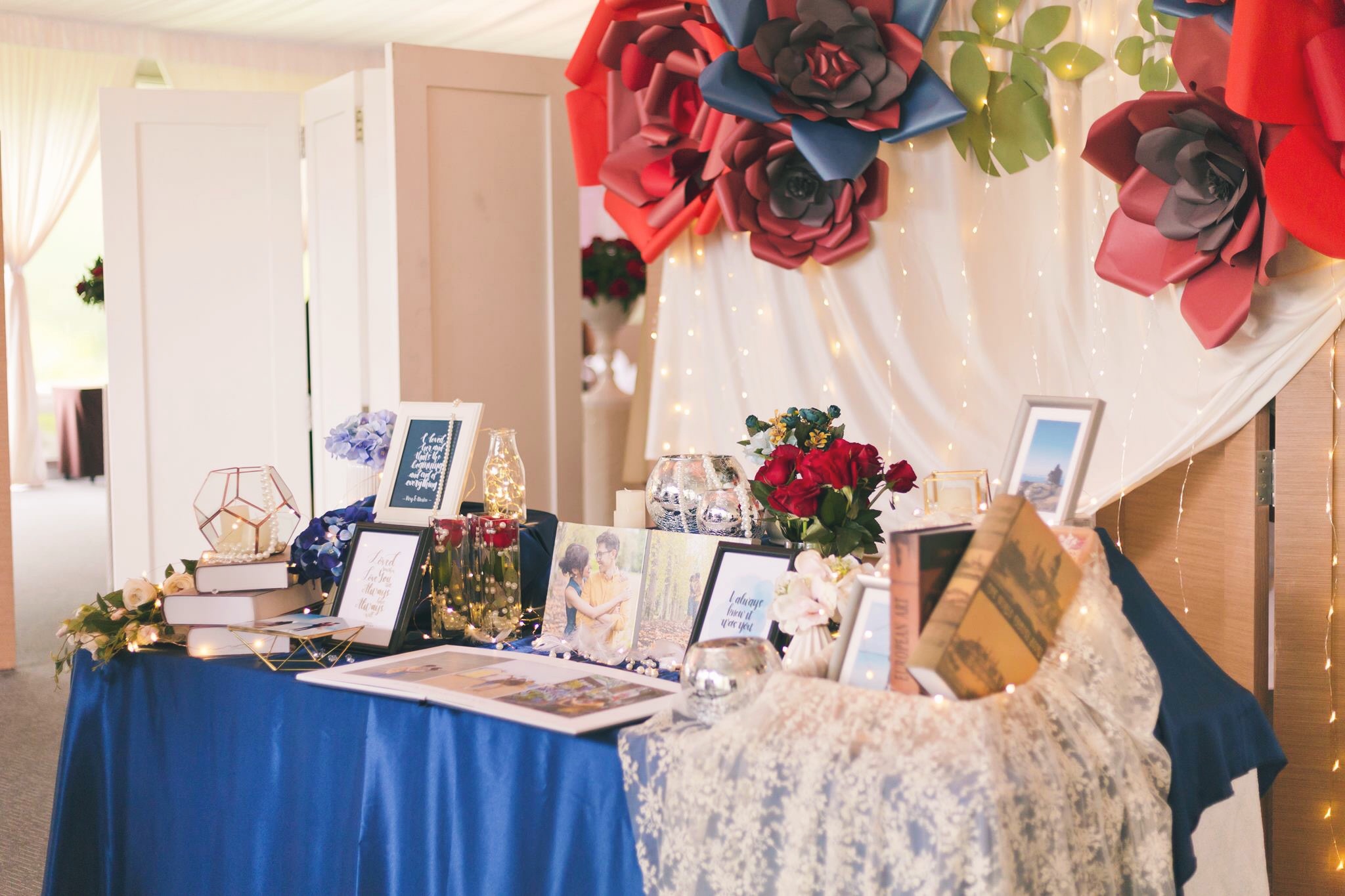 Reception
Denise: Both the solemnisation and banquet were held at the beautiful and majestic Hotel Fort Canning. I fell in love with the Grand Marquee the first time I laid my eyes on it. It was the only hotel we visited given that we had only six months to plan our wedding!
It fulfilled everything I wanted in the 'no red carpet and four walls' department. It had a quiet grandeur about it and when we first entered the Grand Marquee on our wedding day, simply put, it took our breath away.
Roy: It was her dream venue. Anything that makes her happy, makes me happy. You could say I started practicing the, "Happy wife, happy life" mantra before even getting married!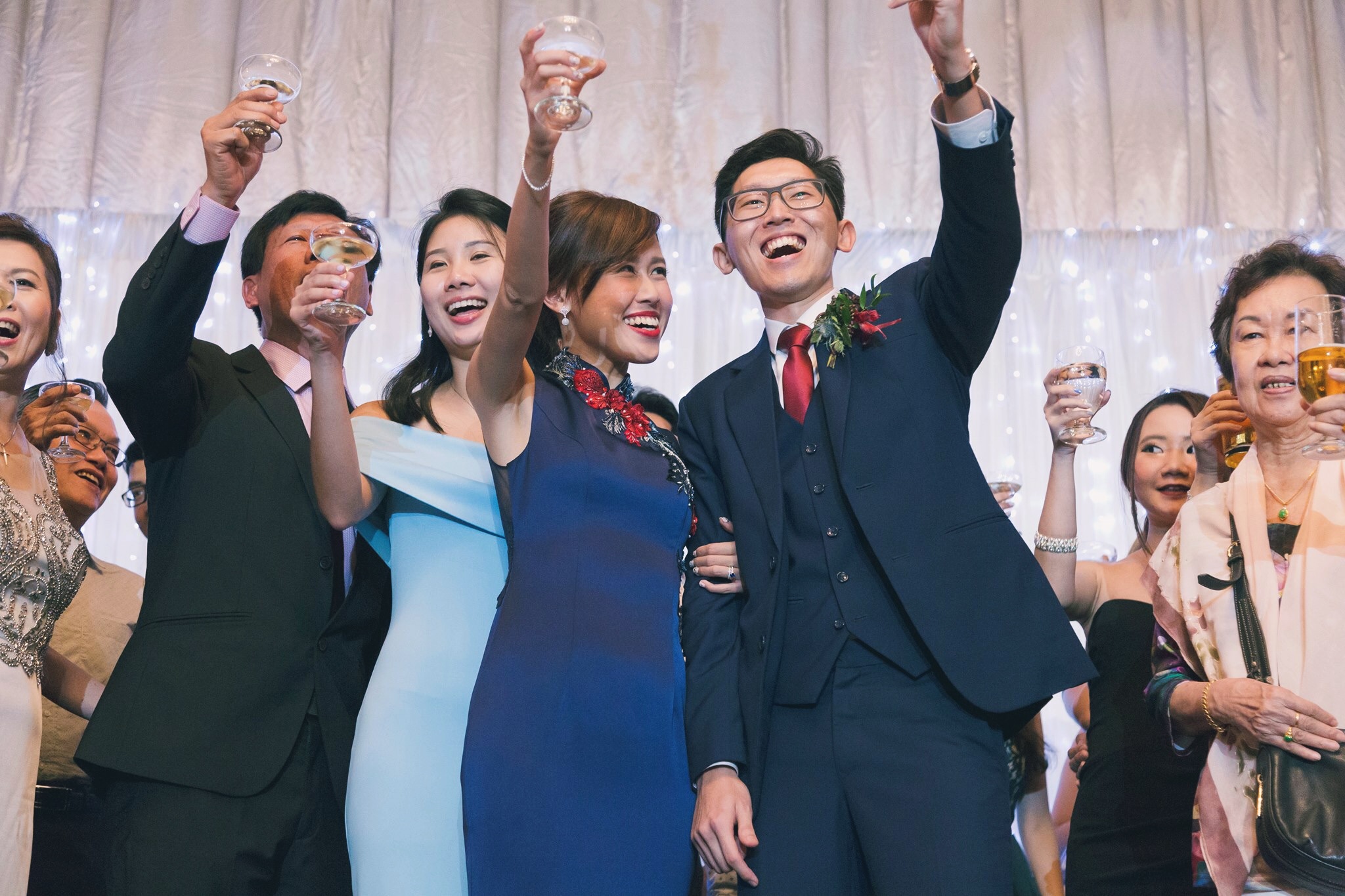 Memorable Moments
(On walking down the aisle) Denise: Oh my goodness, is this really happening? I am getting married now! Oh no! My dad is holding up my dress too high! Oh I've got to smile instead of worrying about that! Smile now! I'm getting married! This feels like a dream!
Roy: I felt excited and calm at the same time. Excited because we were finally taking our next step to the rest of our lives together, but calm because she's my home and where my heart is.
Denise: There were so many fond memories of that day but my favourite was when we served tea to our parents and they gave us their blessings.
Roy: My best memory was when Denise placed all her trust in me and walked down the aisle for our second march in despite feeling overwhelmingly nervous.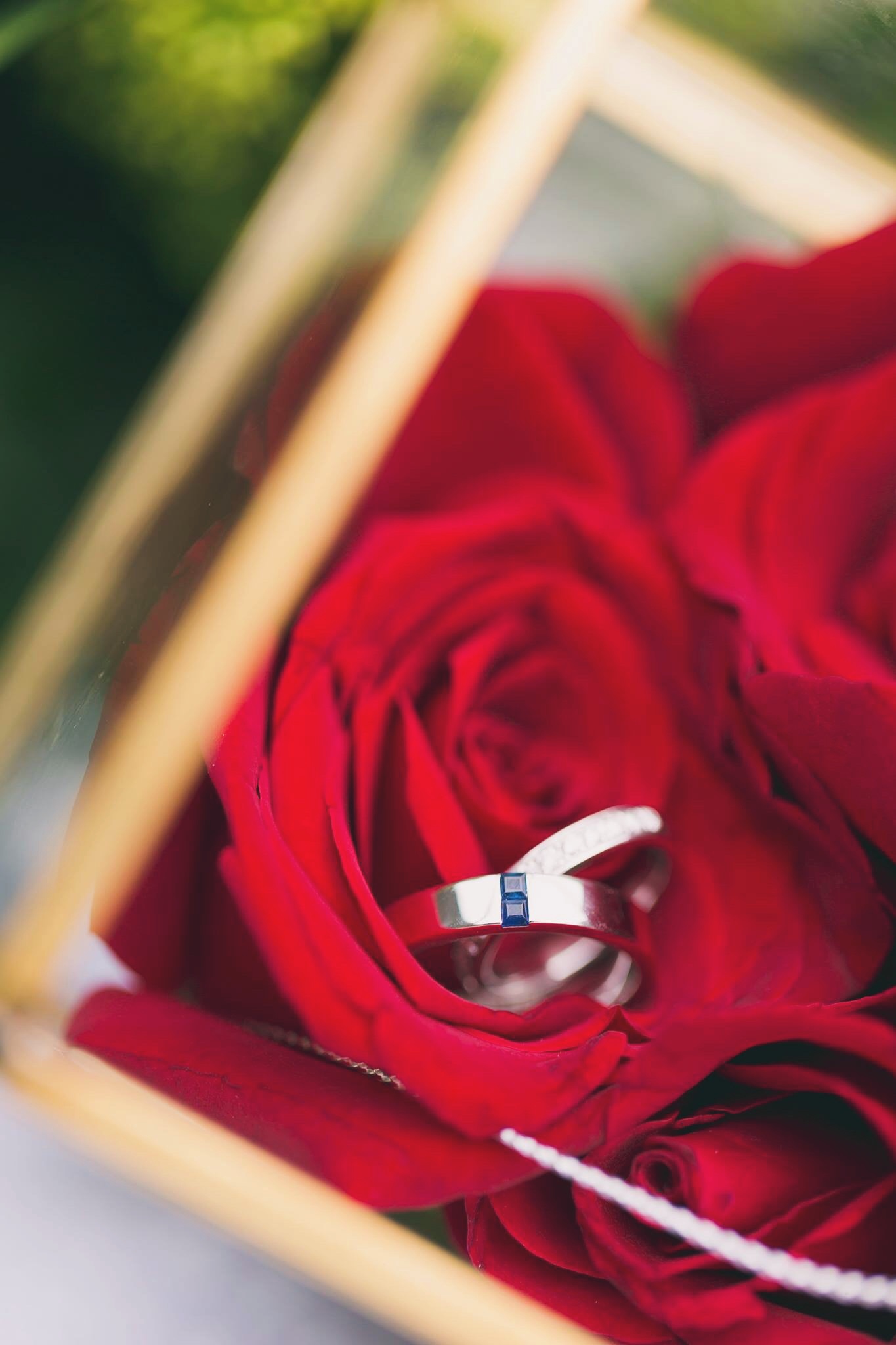 Accreditations
Venue: Hotel Fort Canning
Gowns and Suits: Emanuel B. Couture
Pre-Wedding Photography: Edmund Leong Motions & Stills
Pre-Wedding Gowns: Emanuel B. Couture
Hair and Makeup for Pre-Wedding Shoot: Fei, provided by Edmund Leong Motion & Stills
Hair and Makeup for Actual Day: Kelly, provided by Emanuel B. Couture
Actual Day Photography: Edmund Leong from Edmund Leong Motions & Stills
Actual Day Videography: Eddy from Edmund Leong Motions & Stills
Roving Photographer: Edmund Leong Motions & Stills
Bridesmaid Dresses: Fayth
Groomsmen Bowties: H&M
Nails: Manicure Empire
Wedding Cake: Les Jumelles Treats
Wedding Favours: Hotel Fort Canning
Bachelorette Party: Ximula Sail
Venue Styling: Reception décor by Sirius Pine, aisle runner and mirror calligraphy by Nehohmee
Flowers: Main Bridal Bouquet by Florals by Benita, bridesmaids posies and car décor from Bespoke with Bloomeys
Wedding Photo Book: Artisan Prints