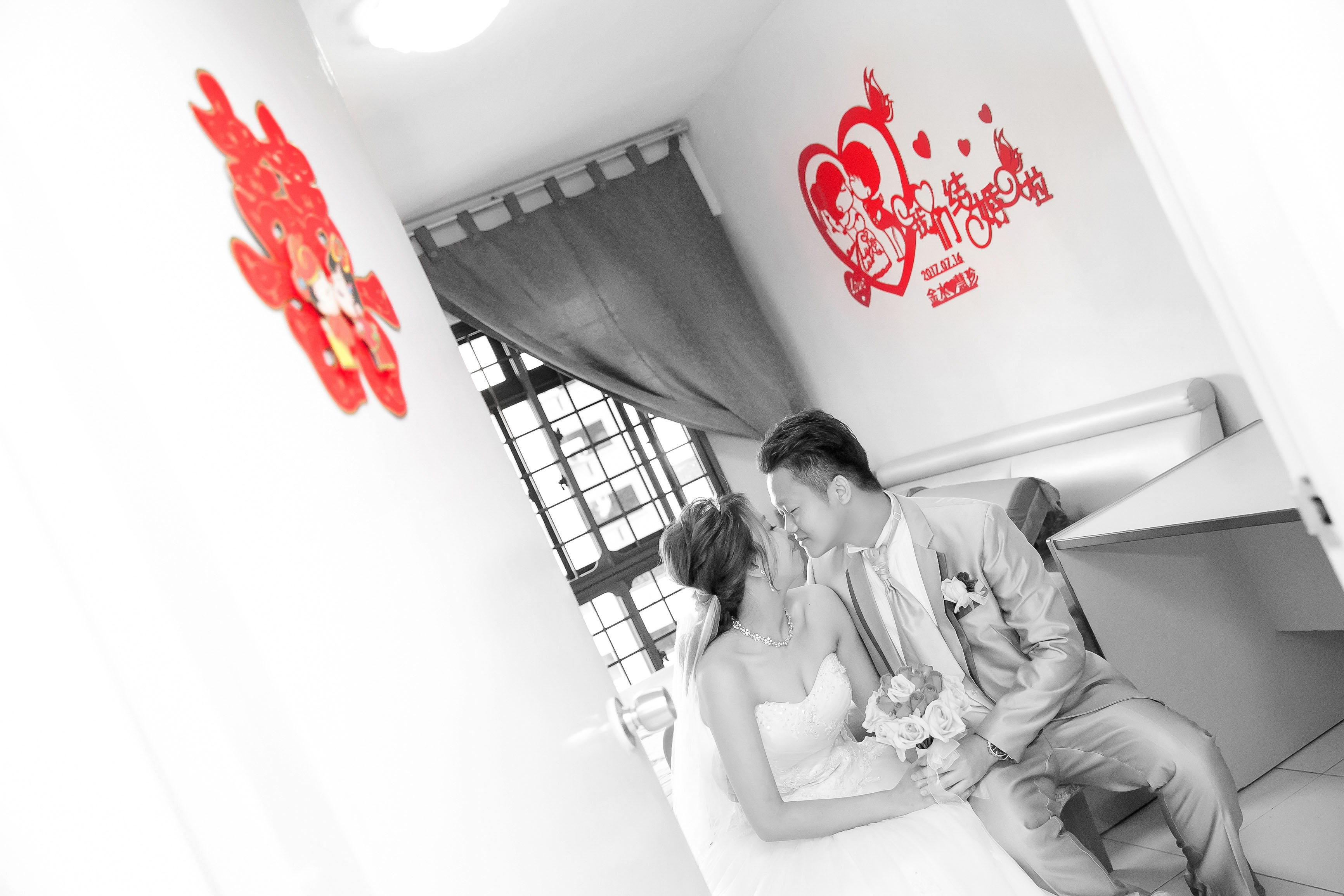 Proposal
Jazzer & Jeline: We first came to know each other through an online game in early 2013. Till now, we don't really know the exact reason we started talking, but we would go online almost every day to chat to each other.
As we have a number of common interests and beliefs, we hit it off instantly as friends and got together in the later part of 2013! We were together for three years before we decided to take our relationship to the next step.
Jeline: The proposal came as a pleasant surprise during New Years in 2017. As usual, we would on a date for the annual countdown celebration and to enjoy the fireworks display. Jazzer did the planning months before and asked his sister for help for the proposal. He put in lots of effort in sourcing ideas that I love.
Surprisingly, I did not suspect anything was amiss — which I would normally do. The proposal took place after the firework celebration at his place. They decorated the entire place with trails of rose petals and my favourite fairy lights all around. I said, "Yes," and it is certainly the best memory that I could ask for!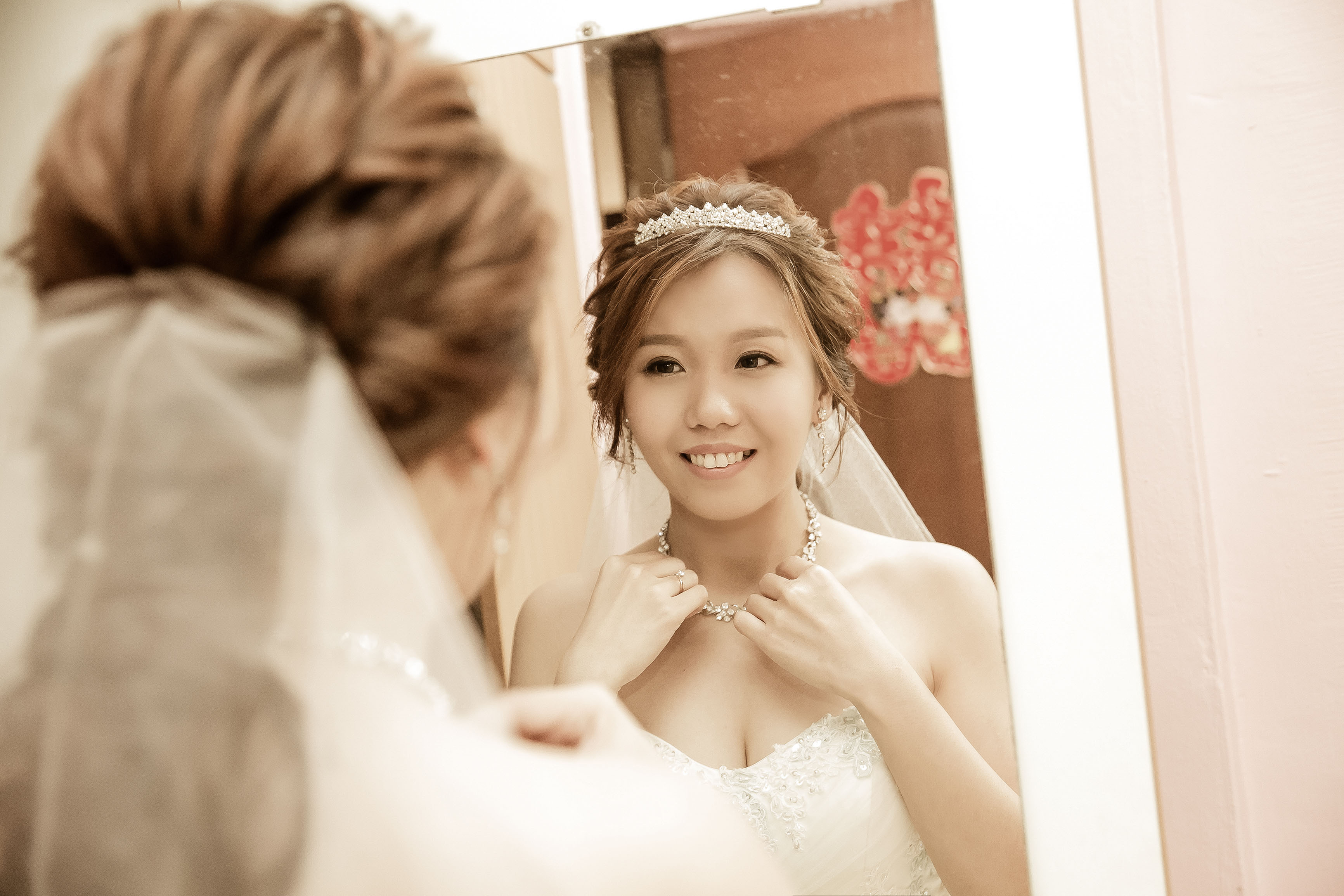 Bride's Style
Jazzer & Jeline: We signed a full wedding package with Bridal Concept Singapore, so provided us with the gowns, suits and makeup for our pre-wedding photoshoot and actual day photo services.
Jeline: Our initial thought was to find a gown that was simple and sweet and which would complement body shape. I went online to read up on styles and found a number of gowns that I think would be suitable for me. I showed our coordinator, Sally, who was very patient in assisting me throughout the whole gown selection process.
What I eventually chose was somehow different from what I initially visualised it would be. For our photo-shoot, I wore three gowns with differing styles: One was a simple yet sweet white wedding gown, another a very bold red and sexy evening gown and lastly, an off-shoulder cute and sweet casual pink gown. 
For my actual day, I picked a white tube wedding gown that came adorned with white blue roses and most importantly, a manageable train length. I also chose an off-shoulder evening gown that was very sweet and gave that princess feel for after. I couldn't take my eyes off these two gowns when I tried them on! I used the same off-shoulder pink dress from the pre-wedding photoshoot for the Registry of Marriage (ROM).
I loved how the gowns were able to make me feel sexy and glamorous; I feel like a better version of myself when I am wearing them. My husband couldn't take his eyes off me when I was in the gowns! Even many of my guests commented that I looked beautiful in them.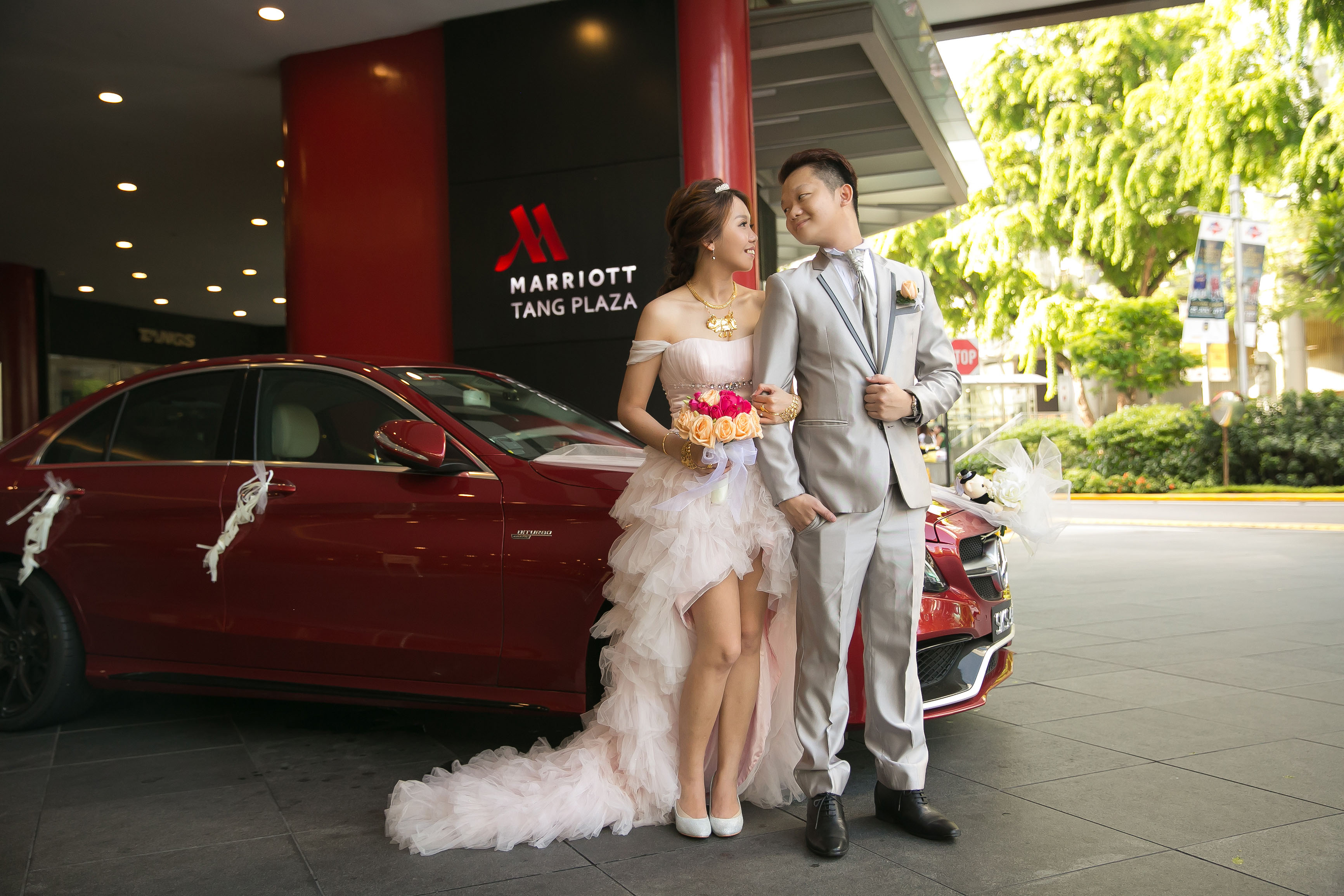 Reception
Jazzer & Jeline: We started our venue search 10 months prior to the day of our wedding. We did a lot of research and read up online and listed down our critical criteria. We would like to have a Chinese intimate banquet at a centralised location. This helped us narrow it down to a couple of venues to explore.
Moreover, during the quarterly BOWS event, we managed to meet some vendors to compare individual packages. After much research, we finally chose Singapore Marriott Tangs Plaza Hotel for our special day. A very special thanks to Denise and the Marriott team for the wonderful coordination and customised arrangement they planned for us!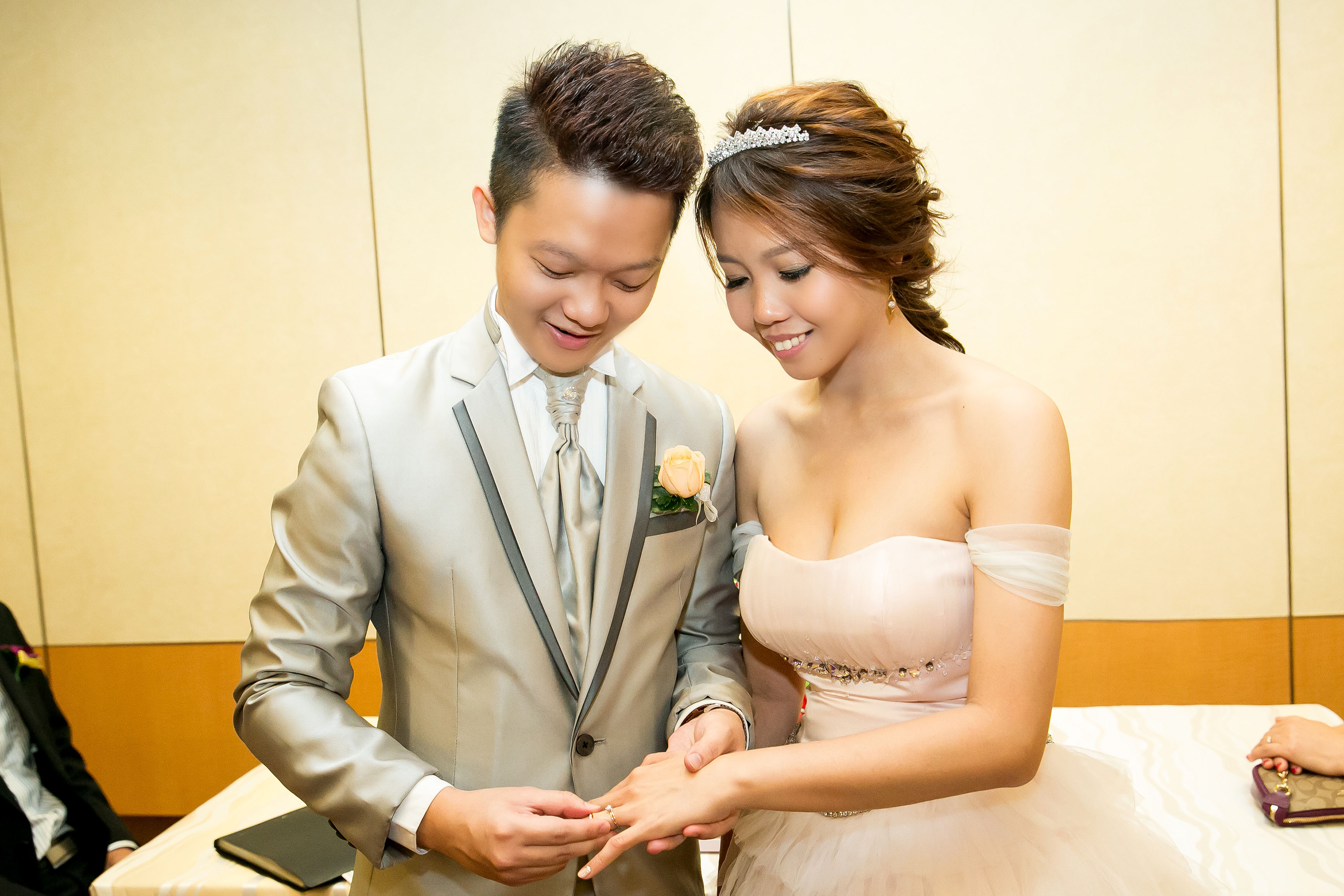 We had a fairy lights theme for our stage and light flower decorations for our guest table arrangement, which were all within the package that Marriott offered. Passionate about doing things ourselves, we decided to have the rest decorated with our own creativity; from sourcing of raw materials online to creating the final product, the process had been straining but fun, memorable and definitely worthwhile. To add on to the effort of our wedding, we even did our montage and photoshoot videos all by ourselves!
Our guests totally enjoyed the banquet and had commented heavily on the uniqueness of our wedding ideas.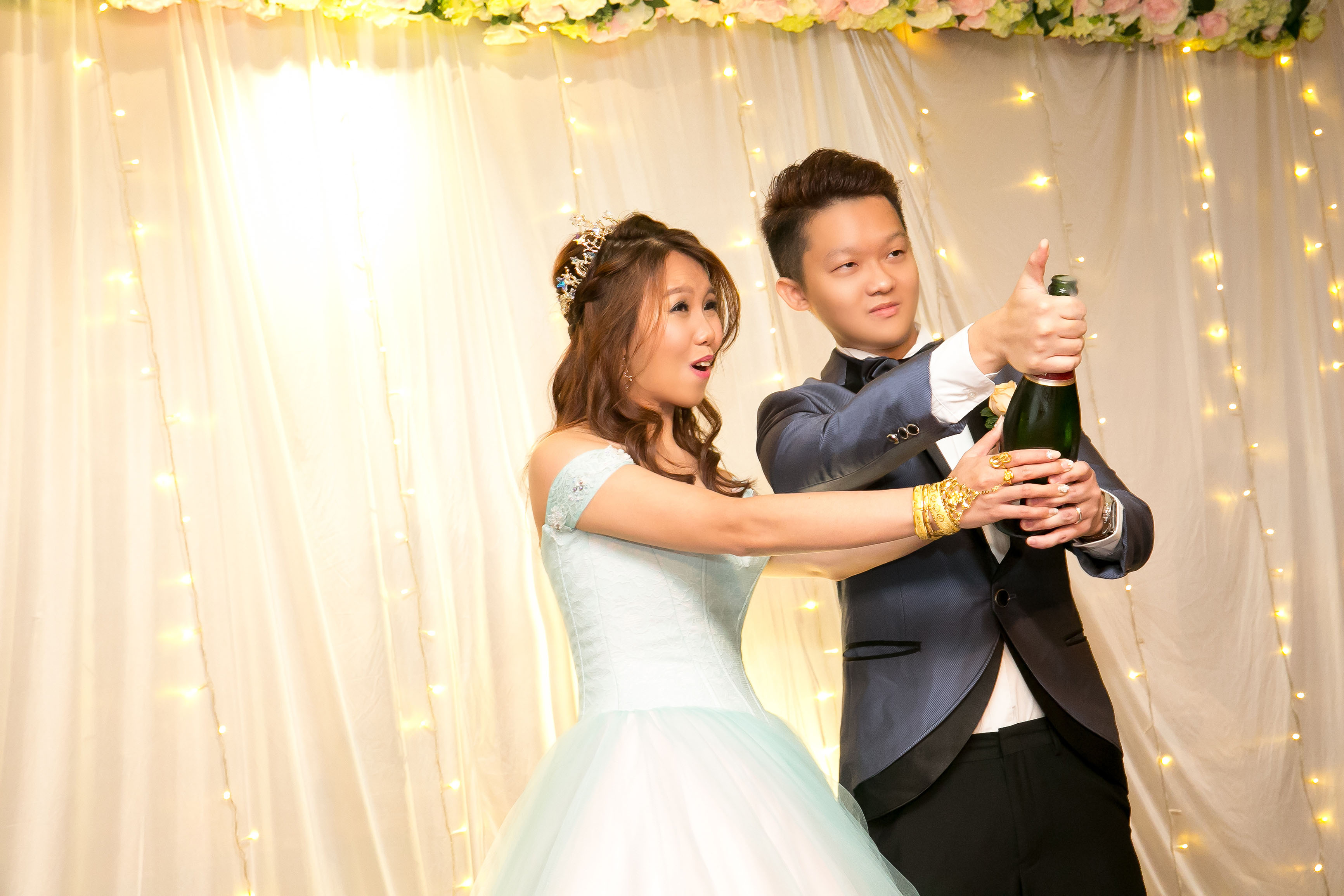 Memorable Moments
Jazzer & Jeline: Our most memorable part of the wedding was during the half hour ROM solemnisation. As we exchanged our vows and our wedding rings, a flood of memories flashed through our minds: The ups and downs we experienced throughout the whole relationship, to the actual day where we decided to take the step to marry, up to the day we decided to commit the heavy responsibilities we read to one another in our vows.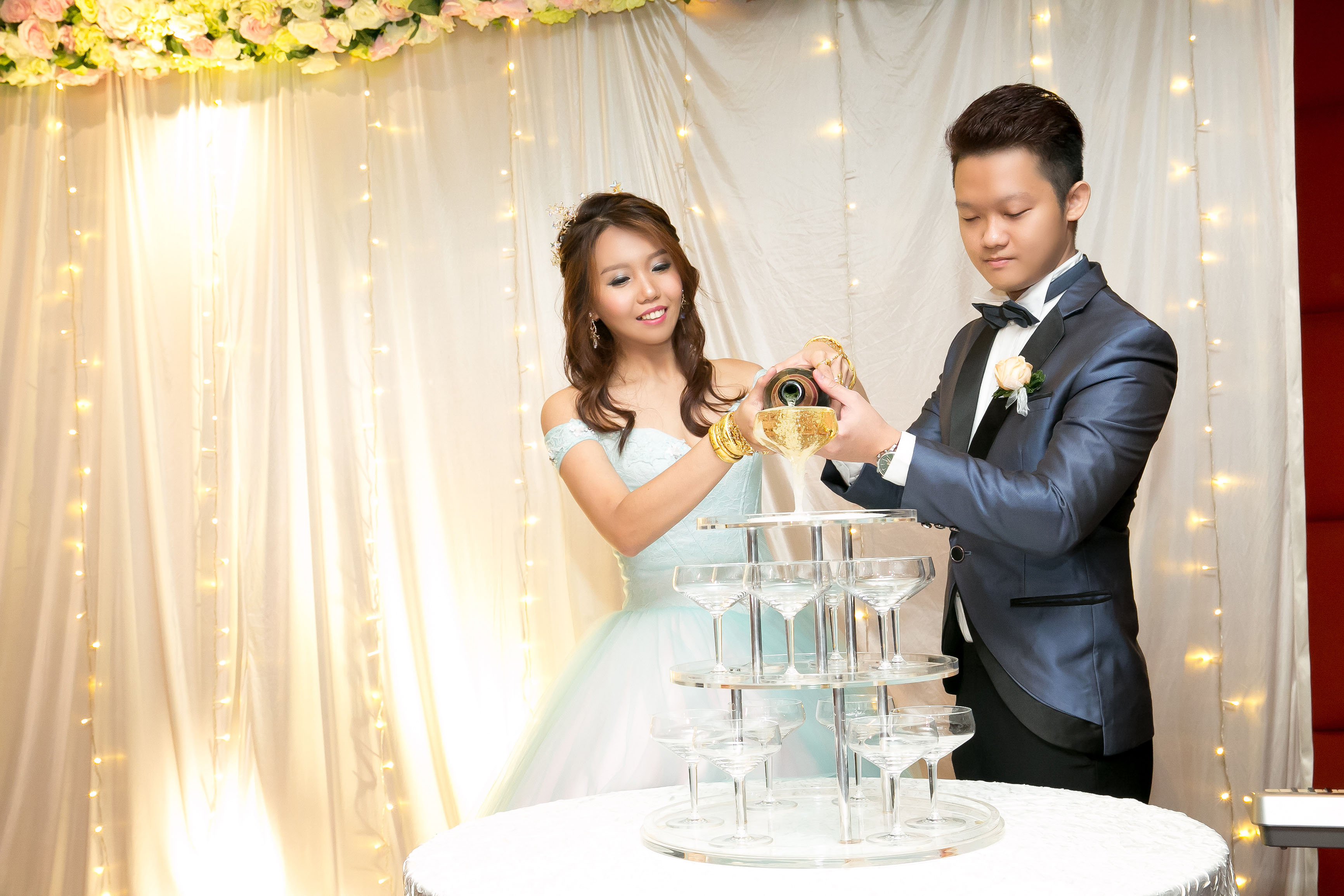 After so many months of preparation, and with both our relatives and closest friends as witnesses, we were finally and officially announced as husband and wife. 
We cannot express how much we'd like to thank all the friends and relatives who were involved in our wedding preparation — you know who you are!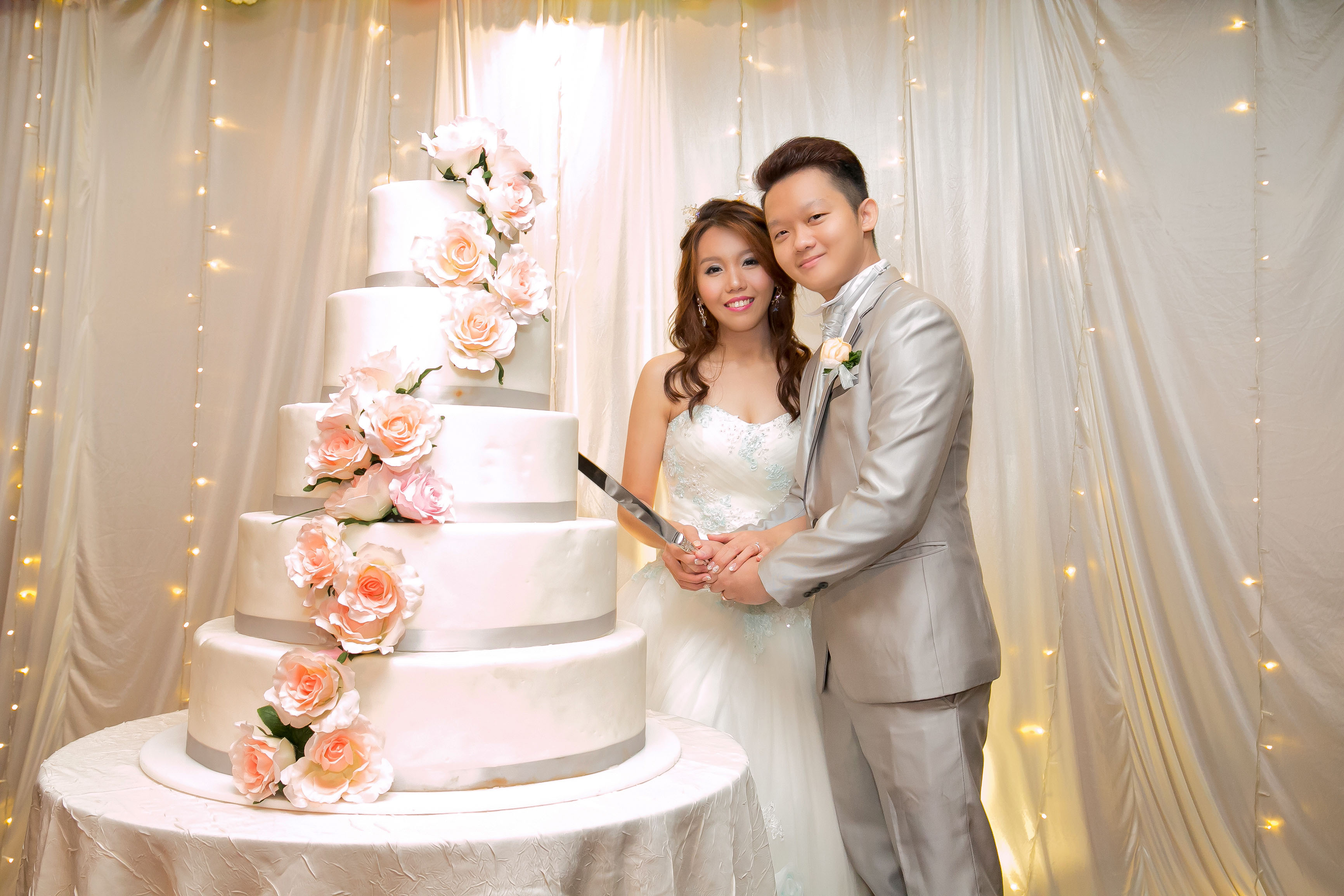 Accreditations
Venue: Singapore Marriott Tangs Plaza Hotel
Photography: Bridal Concept Singapore
Wedding Gown: Bridal Concept Singapore
Evening Gown: Bridal Concept Singapore
Suits: Bridal Concept Singapore
Hair & Makeup: Bridal Concept Singapore