Derrick Ong & Samantha Tian
VENDORS : PARKROYAL on Beach Road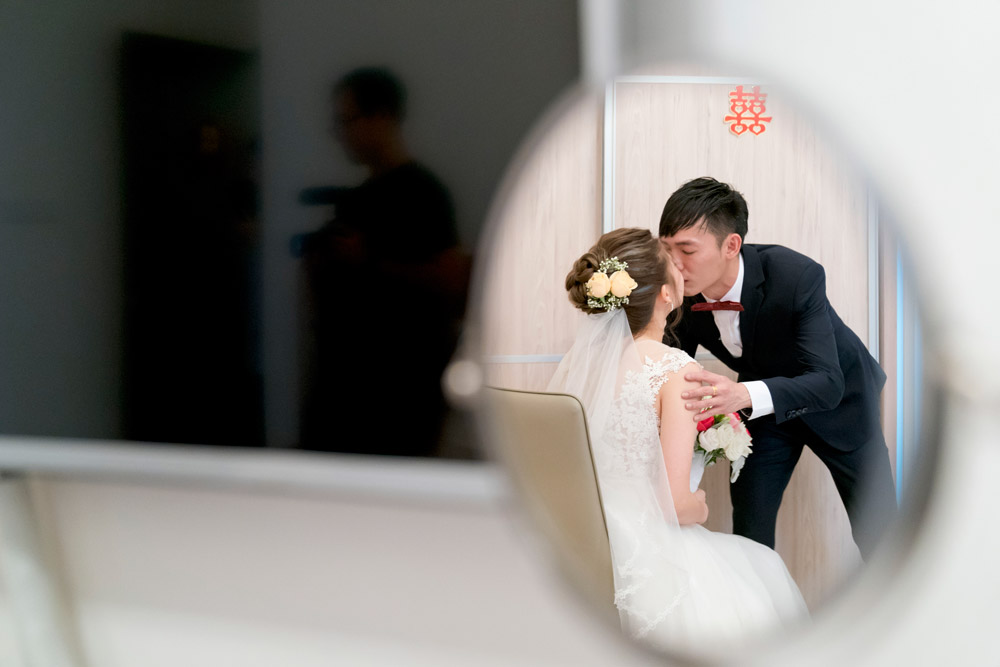 Proposal
Derrick: We met nine years ago after I graduated from Temasek Polytechnic. I was tasked to help my juniors with their final major project regarding a flight deck simulator for SIAEC. I only got to know Samantha after she was assigned to me during a handover at that time.
What struck me was her personality. She was a bubbly and happy-go-lucky girl, always putting others and helping others first before herself. We immediately clicked and started to talk and text each other more frequently as time went by. Alas, my love for her grew deeper day by day, so I decided to make my move — and that is how our love story started.
On 9 April 2016, which also happens to be her birthday, I decided to pop the question in front of our families, relatives and close friends. The proposal caught her by surprise as she thought that it was merely a birthday celebration with friends.
The planning took about two months and was mainly for hunting for the perfect proposal venue. After rounds of discussion with friends, I decided on the Bedok Market Place. It's a familiar place for her as it's a place where she's always celebrated her family's birthdays.
Moreover, the space is huge and its car park could accommodate all of our invited guests. Most importantly, it allowed her to see the most important questions from the top with the help of some of my best friends.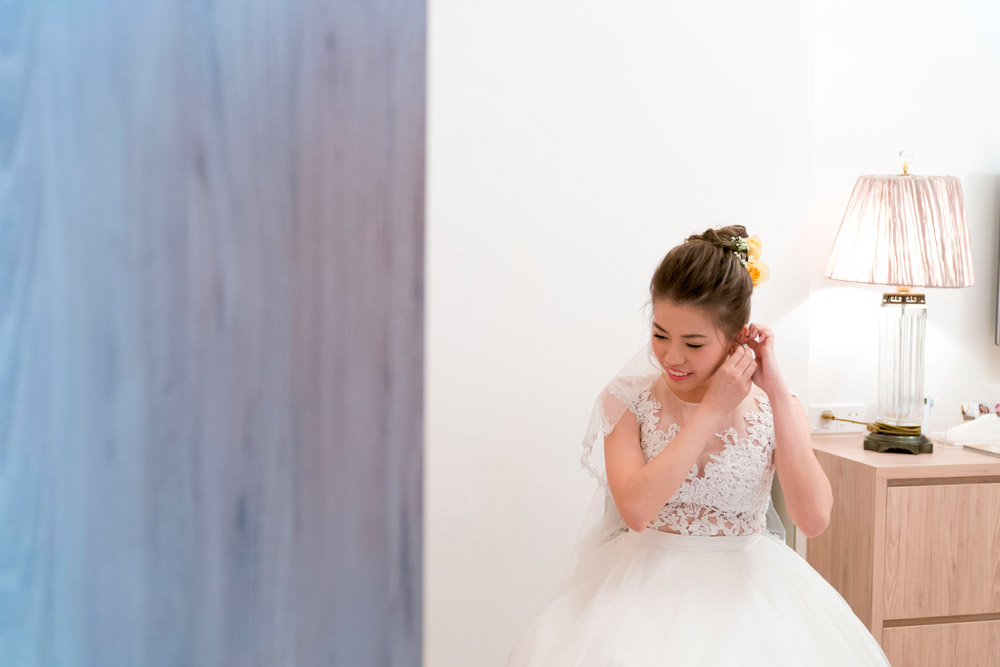 Bride's Style
Samantha: We rented our wedding outfits from a local boutique called Rico-A-Mona. It was undeniably love at first sight for their large variety of gowns as well as their top-notch service. I visited it three times to really make sure that I loved their gowns and that their prices were within my budget before confirming.
I had three gowns and a suit for my husband from Rico-A-Mona. The first gown was an off-shoulder mermaid dress with a super long train. It was upon choosing the pre-wedding shoot gowns that I fell in love with this off-shoulder immediately. Not to mention, the lace train was so pretty.
The second gown is a shimmery silver ball gown that my husband chose. He fell in love with the gown after I tried it on and after much persuasion and despite how heavy it was (nearly 3kg), I gave in and agreed on that gown. The third dress was for our ROM, which I wore in the morning for the gate-crash.
Rico-A-Mona were really kind to lend me an external tulle outer skirt to make sure I looked grand despite the morning event. The only drawback at Rico-A-Mona is that during the peak period, you must remember to choose your gowns way in advance.
Each individual dress was of different styles and materials, from soft lace to tulle, shimmery silver beads and so much more. Look at the pictures, they paint a thousand words.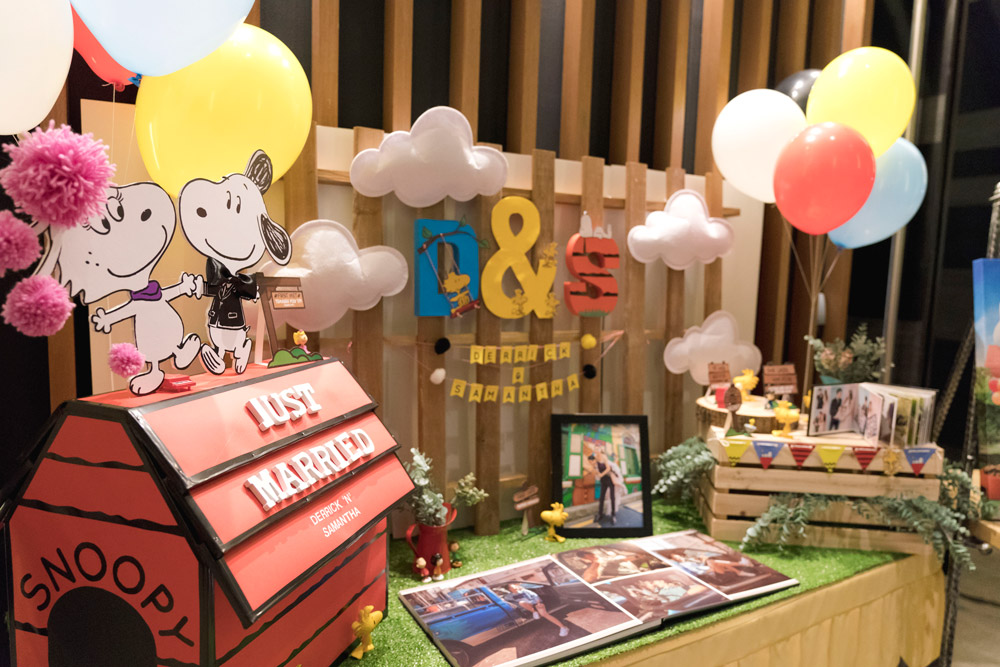 Reception
Samantha: We did a lot of planning for the wedding venue, which started with the budget for each table, the number of guests and visiting a few hotels before deciding. Like most couples, we wanted a wedding venue which was lavish and pillar-less. Yet, what mattered most to us were the food reviews.
We chose Parkroyal on Beach Road because of its wonderful food reviews from friends, relatives and social media. These were some of the important factors when we were picking out the perfect wedding venue.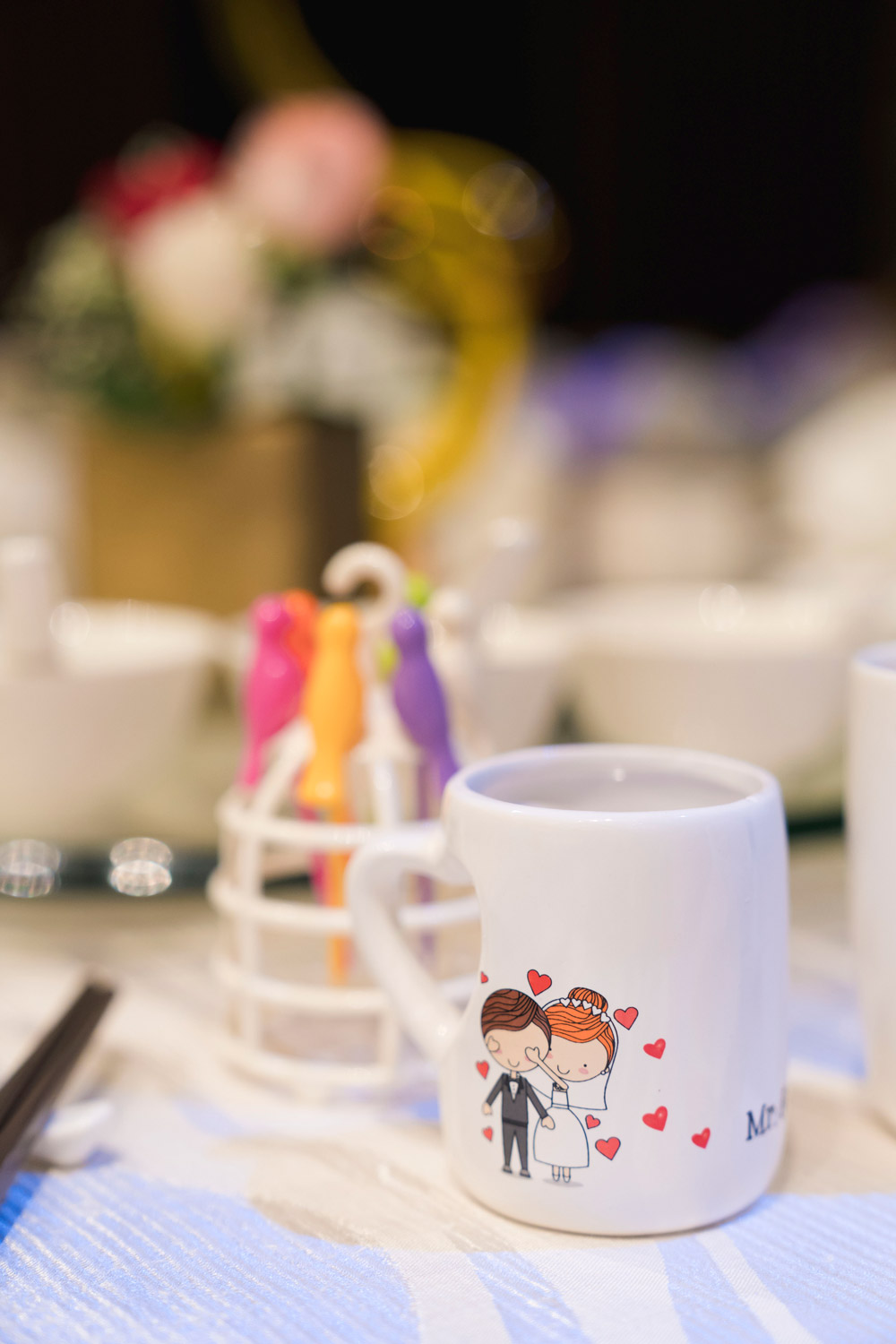 For the decor table, we decided on bright colours and a touch of quirkiness. Our friends from TOUFOOFOO knew how much love we have for Snoopy, so they specially decorated the table with the cartoon character just for us. It was perfect; the decor unveiled bits and pieces of our milestones together.
The hotel, on the other hand, provided us with a series of themes for us to choose from. In the end, we decided on the garden theme. As our décor table had a number of colours, we requested for the banquet setting to include a colourful mixture of florals in red, pink and ivory. I thought to myself: At least, the theme will match my hand bouquet, right? (laughs).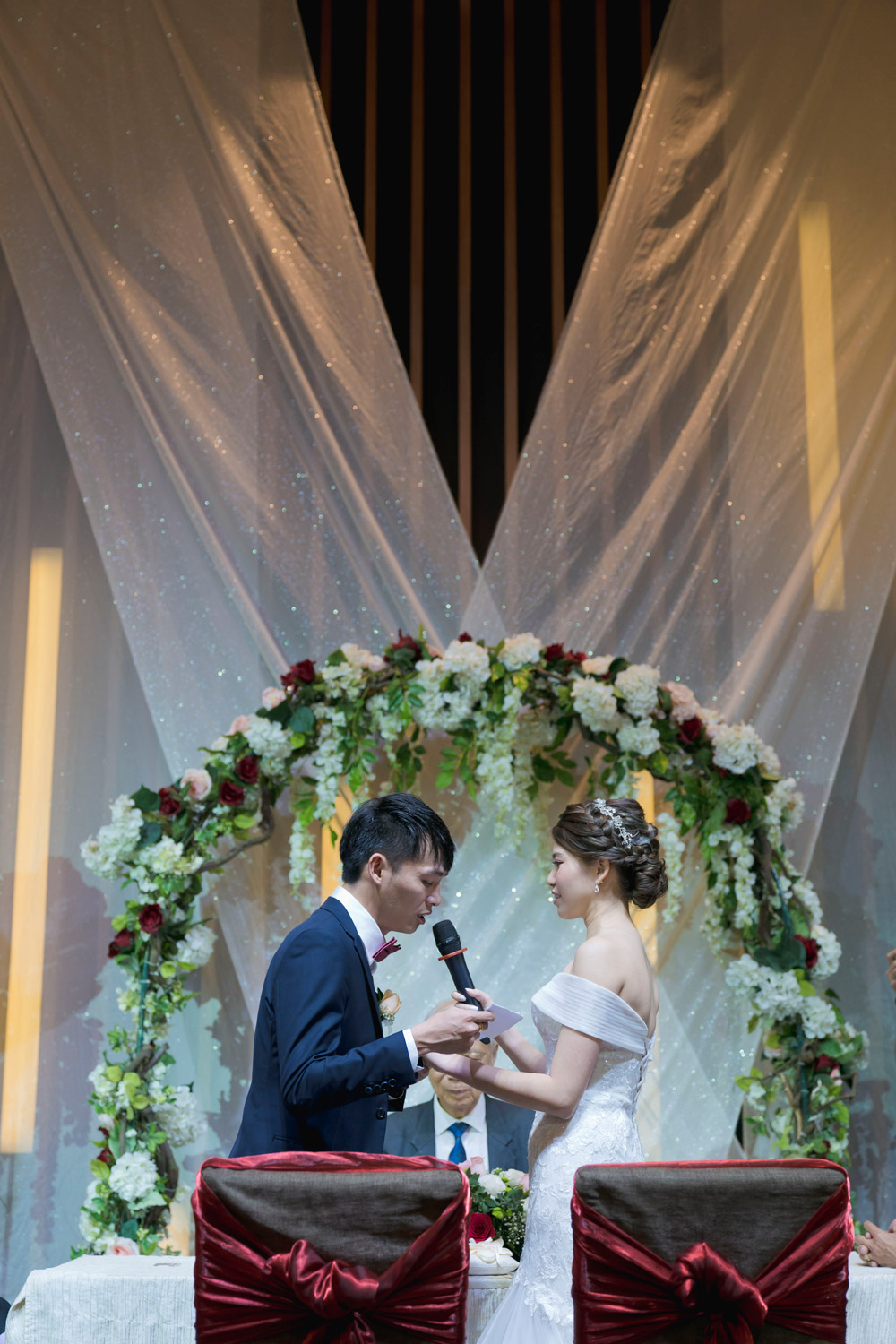 Both: We received lots of positive feedback from our esteemed guests with regards to the quality of food. The hotel was generous with their serving portions and the banquet staff were friendly and helpful. All in all, a well-deserved thumbs up to Parkroyal on Beach Road!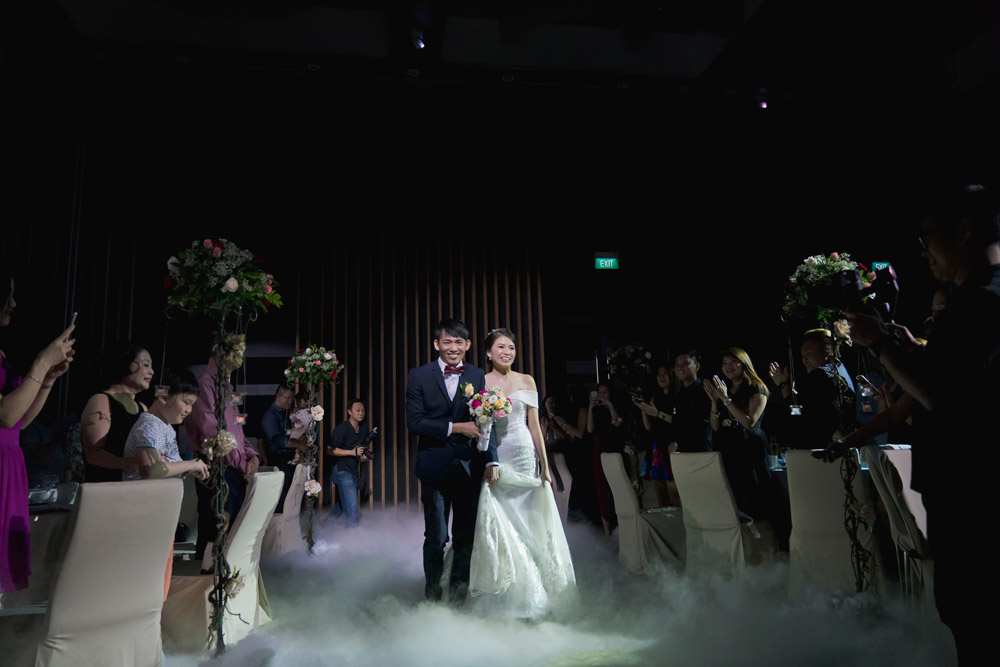 Memorable Moments
Derrick: We absolutely loved the entire event — from the gatecrash to the tea ceremony and the banquet dinner. There were just so many happy moments and memories made on the day itself. It was also during the ROM solemnisation march-in when my father-in-law handed Samantha's hand over to mine that made me realise how important my role is as someone who is responsible in taking care, supporting and loving the woman I am lucky to be with.
The exchange of our wedding bands and vows in front of all of our families and relatives also made us incredibly nervous. We were so worried that we were going to say something wrong in front of the Justice of Peace.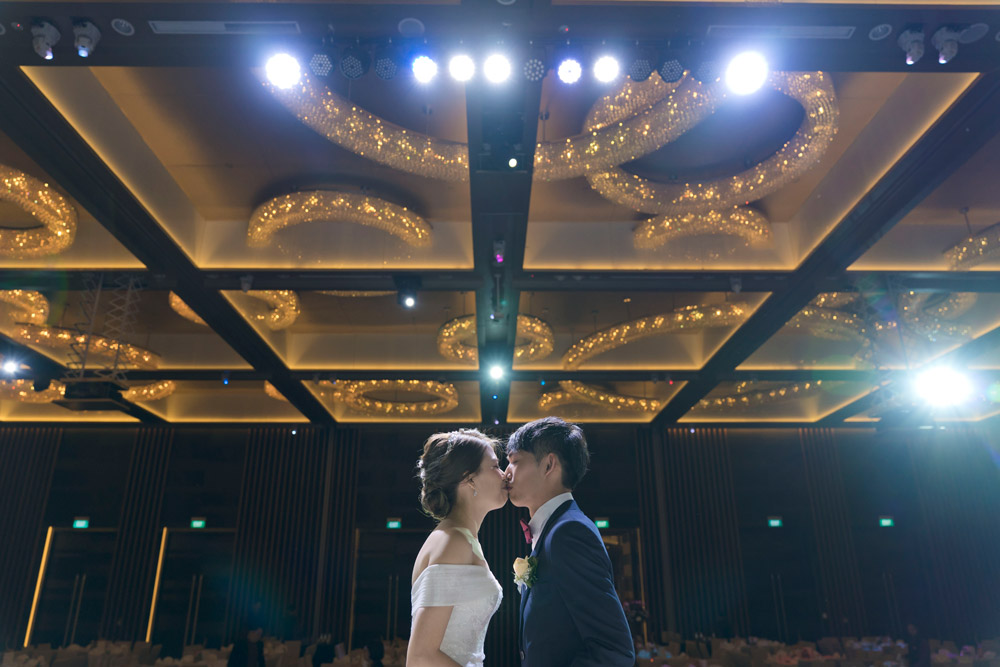 Lastly, during the first march-in for the wedding banquet, it was slightly more relaxed and different because all of our guests were smiling at us, clapping and cheering loudly, as if we were superstars walking down a red carpet. Even though we were scared and nervous, we really enjoyed ourselves walking under the spotlight.
For both of us, we think that marching down the aisle was our most memorable moment. It was before the march-in that we both had butterflies in our stomachs. Luckily, we had one of the best banquet managers on our side to help calm us down.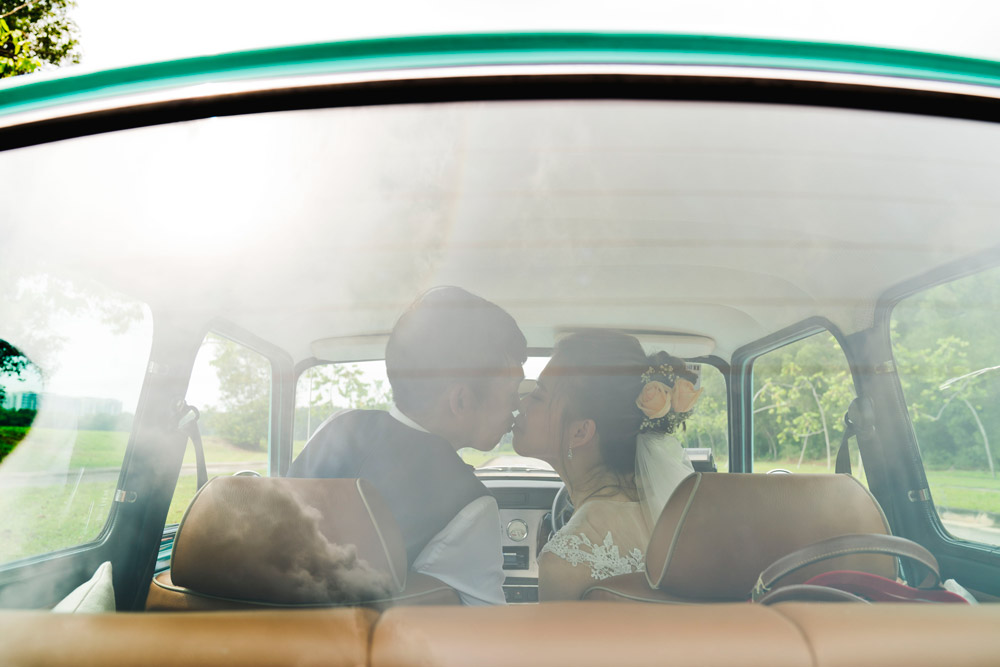 Accreditations
Photography: Edmund Leong Motion & Stills
Videography: Edmund Leong Motion & Stills
Venue: Parkroyal on Beach Road Singapore
Wedding Gown: Rico-A-Mona
Evening Gown: Rico-A-Mona
Suits: Suit Yourself/Rico-A-Mona
Hair: Rico-A-Mona (Shirly Ooi – MUA)
Makeup: Rico-A-Mona (Shirly Ooi – MUA)
Flowers & Décor: TOUFOOFOO