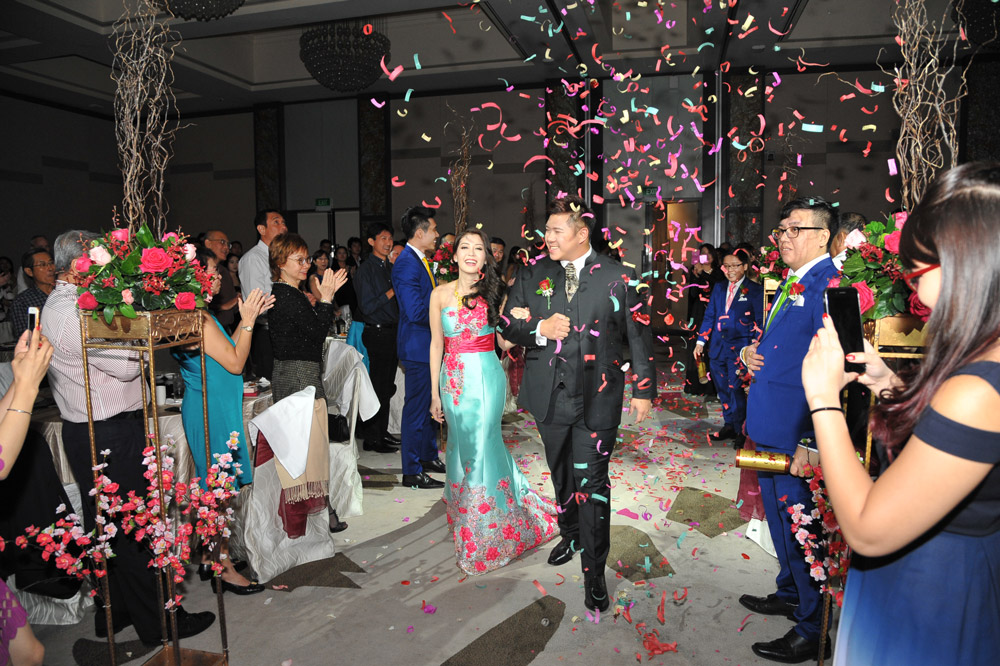 The love story
Denyse: We met through some mutual friends while doing the thing I love doing most – gymnastics. I was intrigued by the daredevil, who was trying his hand out at the gym despite his lack of experience. He caught my attention with a hilarious yet magnificent landing from a backflip. We remained friends for some years until we realised that there could be something special.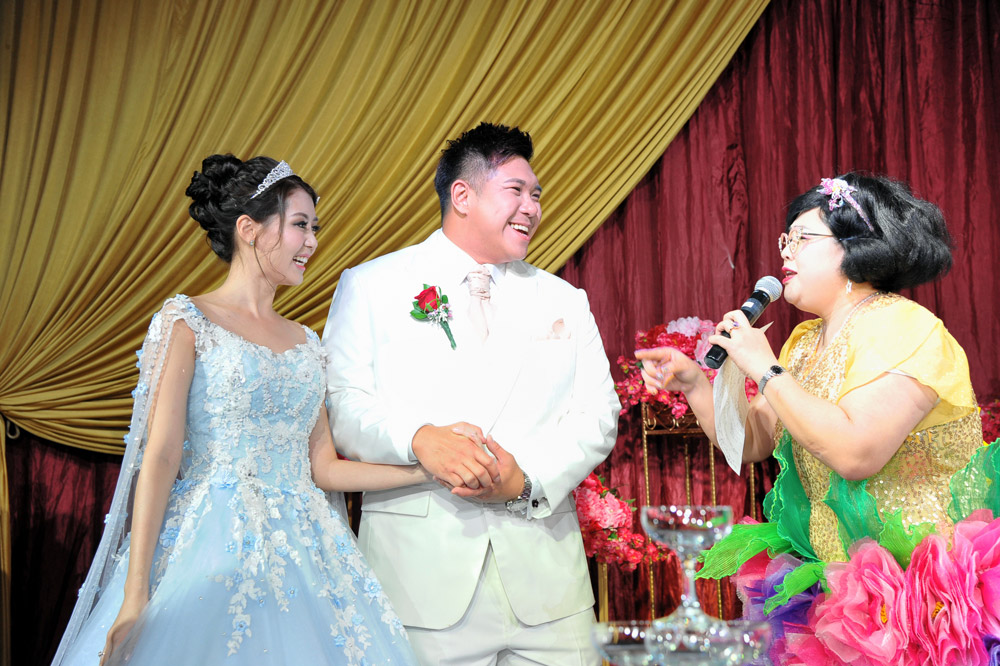 The proposal
Gary: I proposed to her on Christmas Eve while we were on a family vacation in Japan. There were about twenty of us on tour and the itinerary was packed with activities. There were very few opportunities for us to sneak away for some couple time, but I managed to convince her to take a walk with me after a dinner – she did not suspect a thing!

Denyse: I like to tell the story a little differently. Gary definitely missed out the part about walking for half an hour in the cold, along a busy bridge, past a dumpster etc. We ended up in a park, although not the national park that he originally intended. I still tease him about winging the proposal. On the way back, we walked past a shop that had the Chinese "Shuang Xi" on its window. It was like the proposal was meant to be. We celebrated with some ramen at a hole-in-the-wall type stall run by a Japanese family.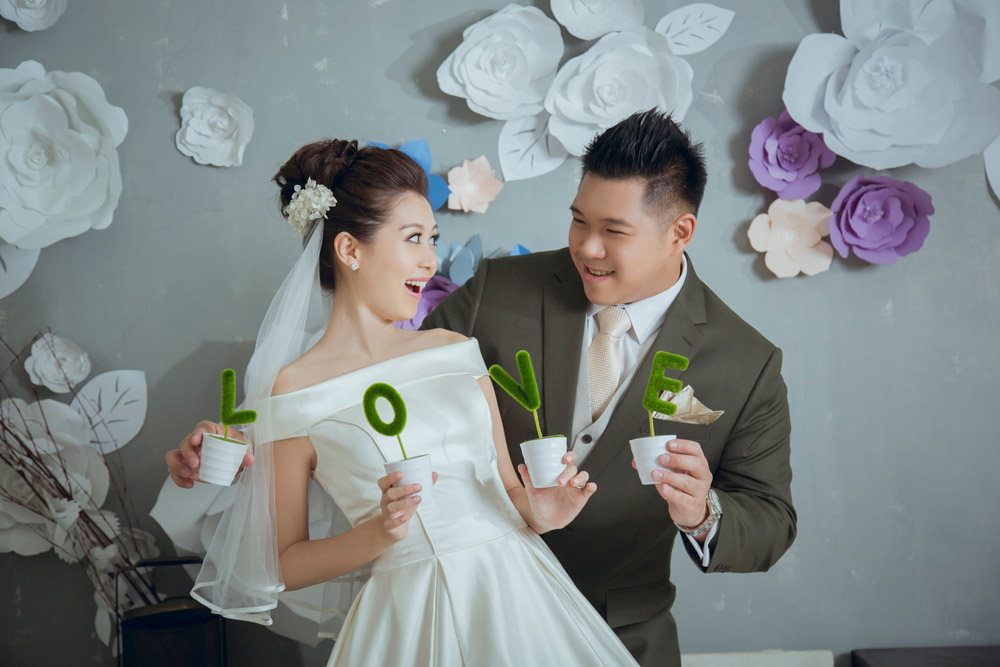 Style of the bride and groom
Gary: I am not a "standard sized" guy so I knew right away that I would have to get custom-made suits. I contemplated making my suits in Thailand – but we did the math and the costs eventually add up. I had very specific designs, colours and quality in mind, so I ended up combing all of Far East Plaza for a tailor that I felt comfortable with. I went with Picadilly Tailors as the owner had great ideas and suggestions, and also knew exactly what I wanted.

The suit that I wore for the solemnisation was an olive green suit with a notched lapel collar. It was a bold choice – so bold that the colour can barely be found in the market. I paired the suit with a pale gold tie and pocket square.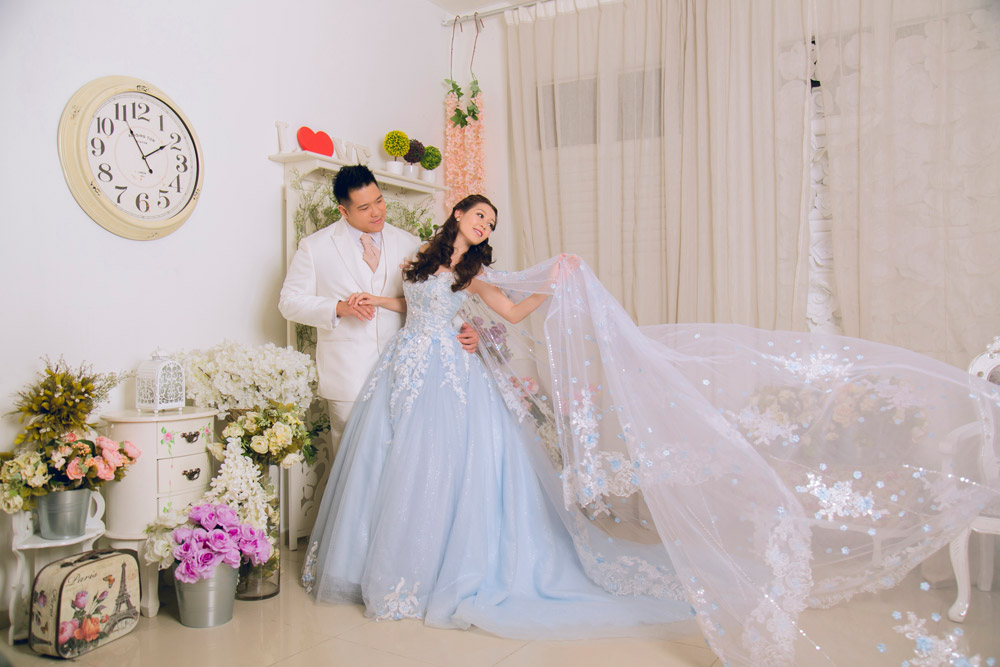 The white suit was inspired by my wife's Cinderella-inspired dress. Selection of the material was key here so as to avoid looking too bleached white, or too gaudy. I paired the suit with a nude coloured cravat and pocket square.
The third suit is my favourite. I knew that I wanted a black suit, but these can come across as dull and boring. I was inspired by a catalogue and decided to go buttonless. Instead of collars, the jacket ran straight down and had a slightly higher collar (think mandarin, but modern). Because of the way the material was cut, the jacket had to fit me to a tee. This was paired with a paisley cravat and pocket square.

I had on matching vests for all three suits. My father-in-law, brother-in-law and groomsmen got their suits from Picadilly Tailors as well.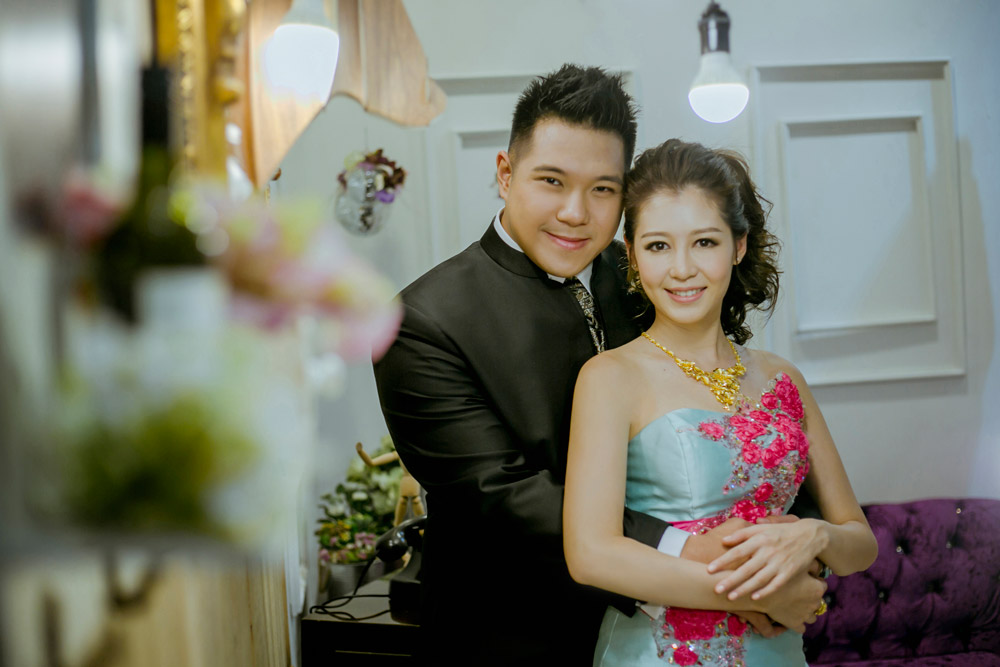 Denyse: My dream wedding always featured a church – so the solemnisation gown I had in mind was a modest dress with clean lines, no train, no lace, and absolutely no bling. This did not leave much room for imagination for my wedding stylist Jessie, but I knew I had found the dress when she first showed it to me. It was a ball gown with a big poofy skirt, perfect for accentuating my small waist. The neckline and backline ran straight as the bodice folded over to produce a slight off-shoulder look. The satin material was the perfect hue of ivory – not too white, and not too yellow – and had a unique matt finish to the look. To make the gown appear even more classic, we modified the gown to zip with satin covered Victorian buttons running down the length of the back (originally a corset lace-up).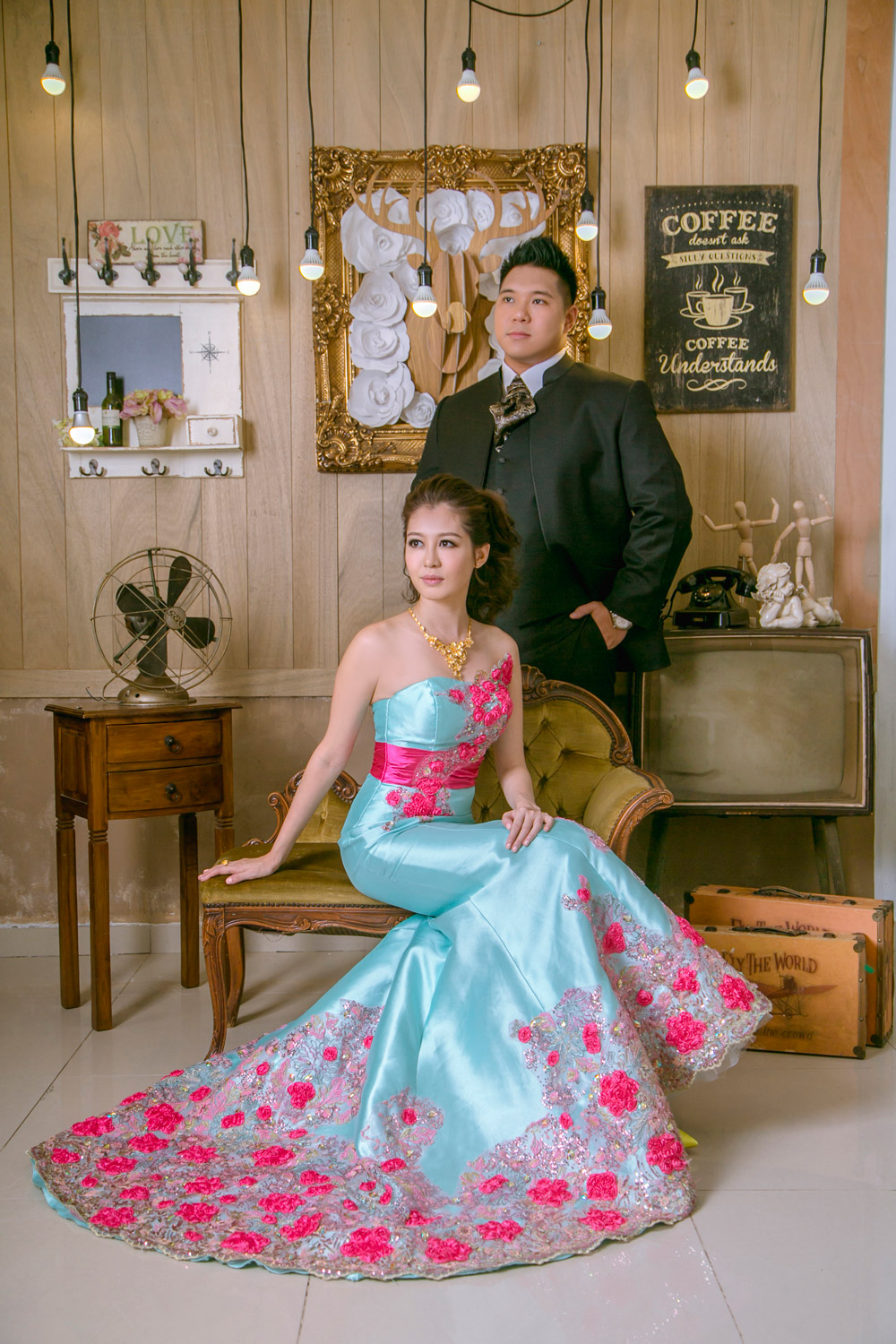 My husband and I immediately decided on the first gown the moment we saw it on display at Bridal Concept. It was a blue Cinderella-esque ball gown with layers and layers of tulle and an explosion of crystals, sequins and flowers. There was a huge dramatic cape was just as littered with crystals and flowers, which started from the two endpoints of the off-shoulder neckline, and ran to a few meters behind me! I adore this dress because despite its elaborate designs, I did not feel like I was lost in the dress and definitely felt like a princess.
Getting to our second gown was also an interesting choice and the type of dress that most would not take a second look at. My husband and I found on the rack a mermaid-cut dress with a straight tube neckline with the loudest combination of Tiffany turquoise, fuchsia flowers, floral motifs, and aurora borealis crystals. I was confident that I could pull off that look. My husband? Not so. Guess who turned out to be right? (Winks).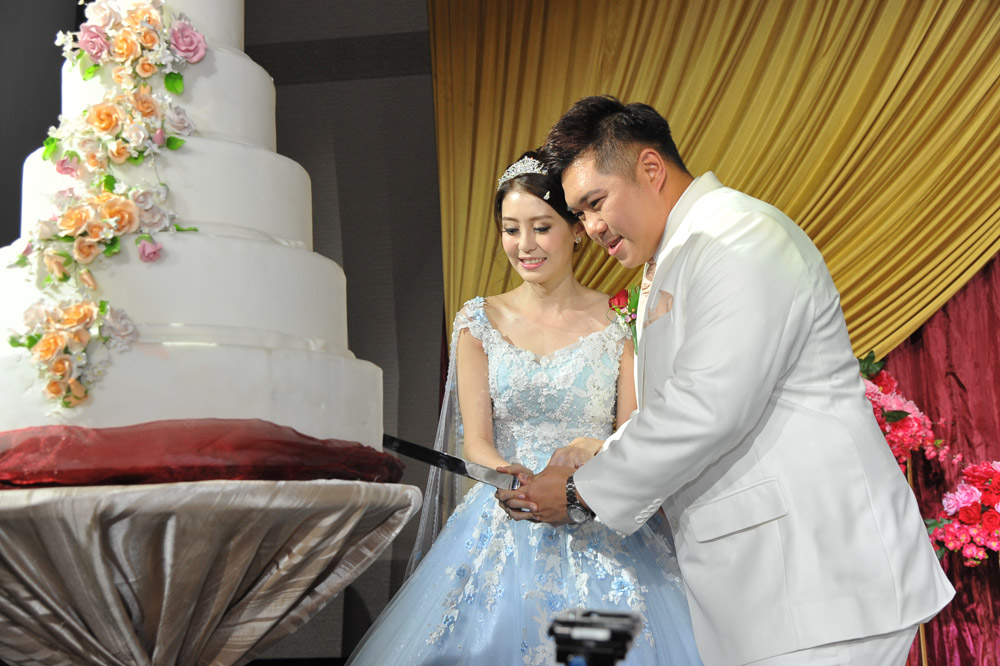 Reception
Our selection of the wedding venue was based on a few criteria – height of the ballroom (high ceiling and no pillars), size of the ballroom (can accommodate at least thirty tables), display and decor (we were insistent that all guest tables came with show plates), choice of banquet menu and of course, pricing. We were also conscious of the service levels of the banquet coordinator.

As part of our package with Novotel, we decided to go with an oriental theme. The décor was more than sufficient and although we did not require add-ons, we did re-purpose the flowers and props from our solemnisation ceremony that was held earlier in the day. We wanted to stay away from pinks and pastels as we felt that the theme was tired and overused. We wanted bold colours that were not overly bright or cliché. As such, we ended up going with a romantic combination of burgundy and navy blue. My husband also surprised me with a full display of princess memorabilia, including a Beauty and the Beast snow globe. We even had a Shrek themed photo booth, accompanied with props like baby dragons and the gingerbread man.

We wanted to plan a guest-inclusive wedding. As we knew that we would not have the chance to spend sufficient time with each of our guests, we wanted to be sure that the program would keep them well entertained. We engaged an awesome emcee Happy Fei Fei to do just that. Our guests thought that it was one of the most fun weddings that they have attended in a long time.