Edwin Quek & Pearlyn Tan
VENDORS : Shangri-La Rasa Sentosa, Singapore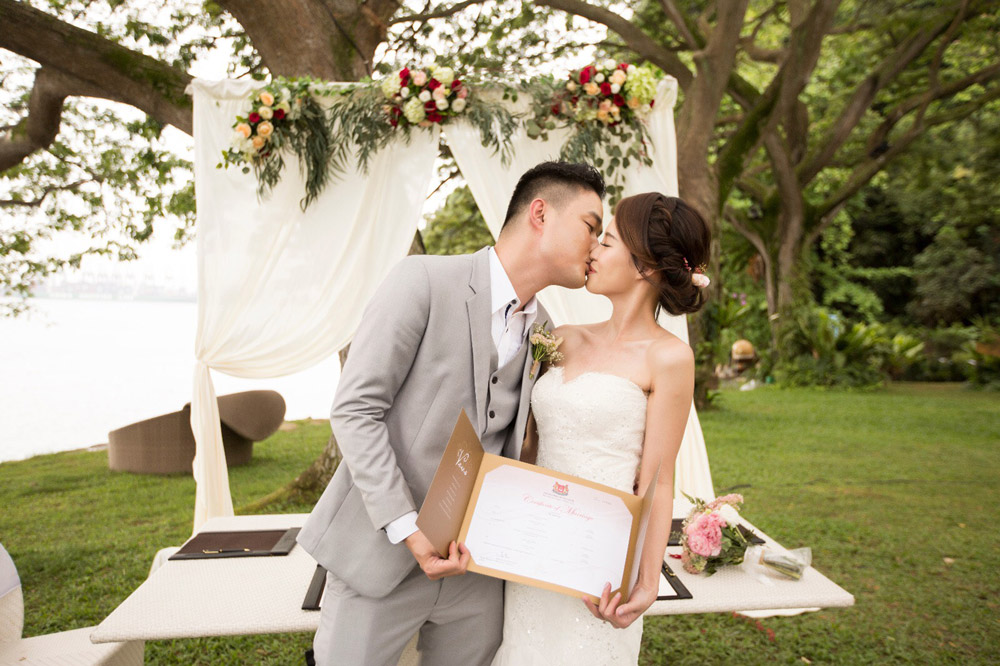 The love story
Edwin: We met during a game of netball and I was introduced by a group of Pearlyn's close friends. I was there to lose weight. Believe it or not, but getting to know Pearlyn during her first session with us after my few years of trying-to-shed-some-weight-netball-sessions was a bonus! We played two games before she got injured, and I got lazy. We were from the same secondary school and hostel in National University of Singapore (NUS) but never knew each other back then. So life is funny sometimes. We went on a few dates and the rest is history!

The proposal

Edwin: I brought her to The Lighthouse at Fullerton on her birthday in 2016. She fell in love with the place and the rooftop bar had a relaxing and cosy vibe. I loved the ambience of the restaurant, so I decided to drop a surprise proposal at the same restaurant in September 2017. I have planned for a surprise proposal but it was an intimate affair. Michelle, Pearlyn's sister and her close friend, LiLing were the chief architects of the proposal. They went to great lengths to prepare the props for that night. Pearlyn did not really catch on as I had told her that I had a fifty-percent off coupon at the restaurant!

The chief architects and I made one recee trip to the restaurant prior to the proposal to ensure that every detail was planned for. The restaurant manager and his team were really helpful in attending to the details and acceded to our requests regarding the décor and reserving a space on the rooftop bar.  A few of her close friends hid at the stairway, and surprised her when I popped the question ¬– all of which transpired on the rooftop bar, in front of other stunned diners!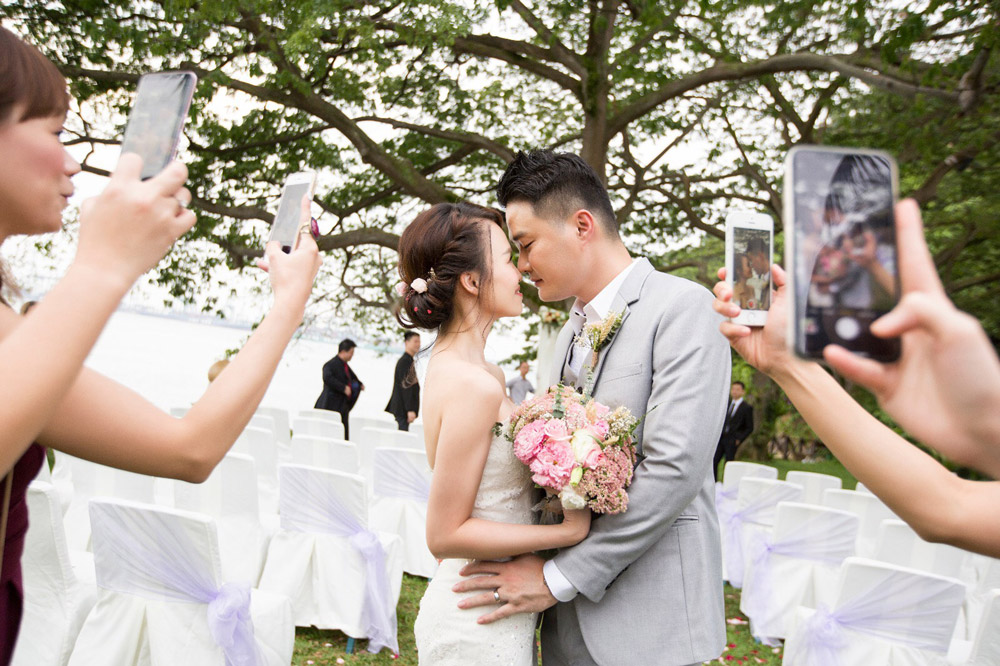 Style of the bride 
Edwin: Pearlyn did not really have any strict requirements (which was a relief), but she was looking for a dress that was simple yet elegant. The task sounded simple but we had actually spent a fair bit of time at the bridal studio. Kudos to June, from Story Wedding for her patience ¬– she was a real gem to work with.

For her morning gown, Pearlyn had opted for a white, simple and light dress that also doubled up as her solemnisation gown, which was held beachfront. The dress was perfect, as it was stylish yet comfortable to last the day.

For her evening gown, Pearlyn had opted for a white off-shoulder dress. This was a special gown as the accompanying veil was about three metres long and was clipped to her hair. We were initially worried that the train will have an adverse effect on the hairdo, but our skilful makeup artist, Shih Leng, ensured that the train was secured to her hair.

The second evening gown was a unique dress in bluish grey hues and detailed by fine stitching. The dress was a super puffy one that is supported by two cans-cans. I could barely stand alongside her during the march-in.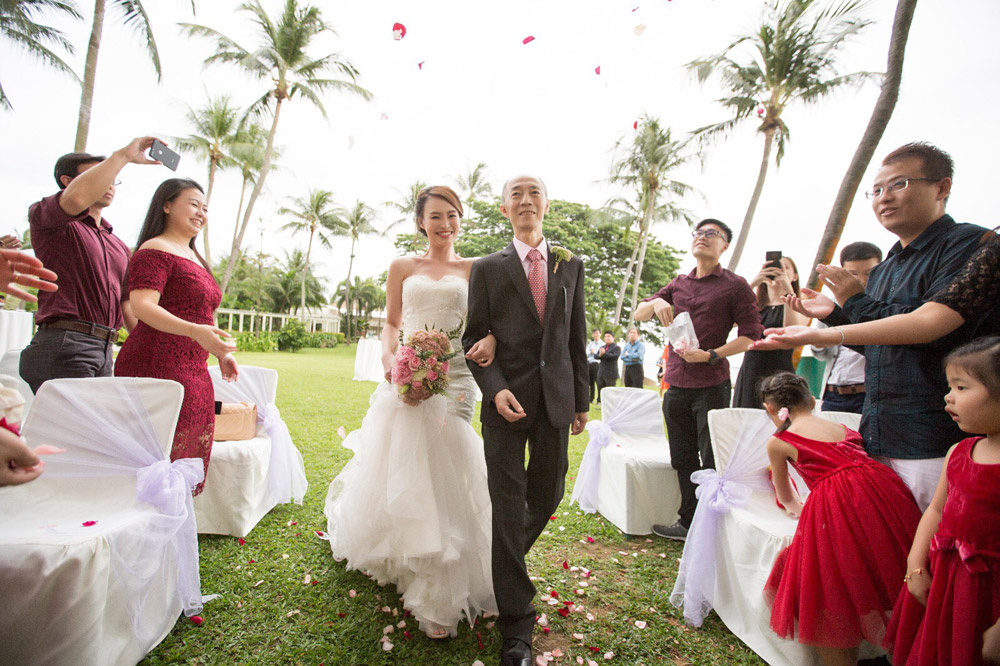 The reception 
Edwin: We did not really have a wedding theme – we just wanted to keep the wedding simple and enjoyable for our friends and family.

However, I had wanted a unique solemnisation ceremony and had wanted to host it by the sea. Together with our guests' comfort in mind, Rasa Sentosa Resort offered the perfect combination of an outdoor solemnisation venue and an air-conditioned banquet hall. Our event manager Wen En's experience, close attention to details and humour helped to relieve most our wedding-planning anxiety.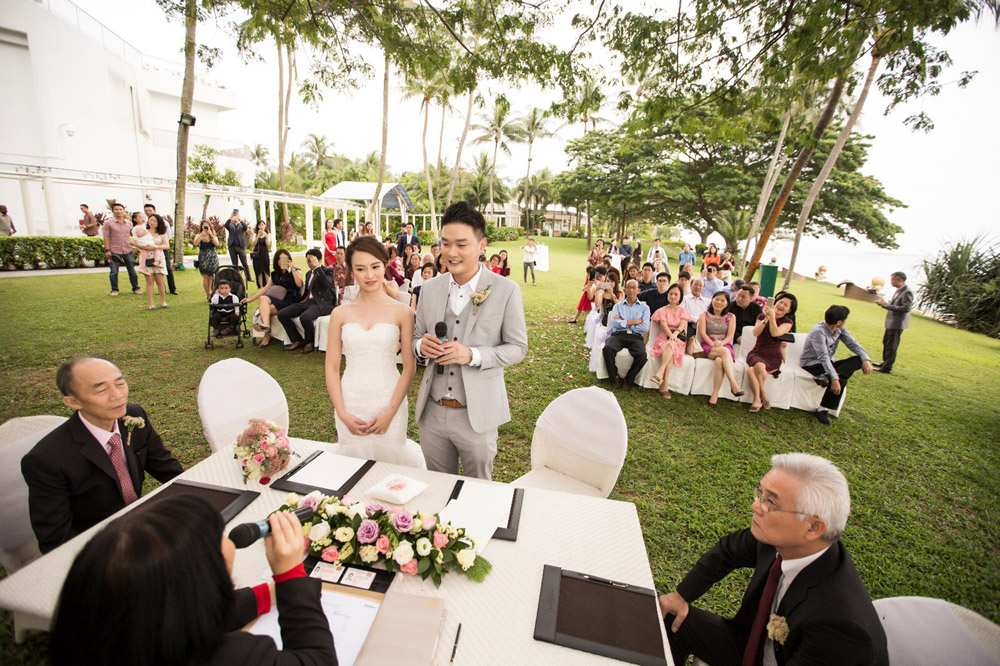 We were very fortunate to have engaged Peony Studio, who catered to most of our flora-related requests ¬– their attention to details was excellent! Pearlyn's cousin, Krystal, a creative individual whom we highly recommend, put up our reception décor.
The food at Rasa Sentosa Resort was great, and the banquet manager on duty that night was really attentive to our needs and even taught us the proper way of march-ins. We are really fortunate to have met so many wonderful people at the hotel.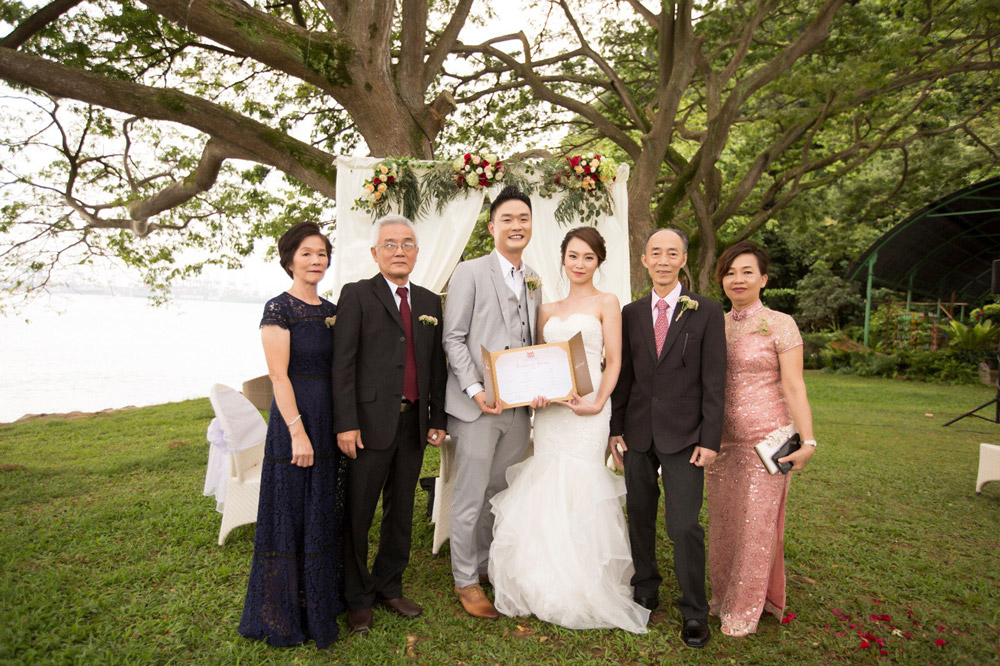 Memorable moments 
Edwin: The most memorable moment has to be the beachfront solemnisation ceremony by the Rocks. We have been hoping for good weather for the entire week and it was perfect! The setup of the place was beautiful. Together with the cool breeze and view of the sea, the ceremony was simply perfect. We honestly did not know that an outdoor solemnisation ceremony could be this fun. Our Justice of Peace, Madam Lee Lay Peng, was an experienced and jovial lady who made the entire ceremony an enjoyable and stress-free one.  We took a drone photo (courtesy of Pearlyn's sister's colleague) and really hoped that our relatives and friends enjoyed themselves!