Edison Lin & Shirley Neo
VENDORS : 60 Seconds Photography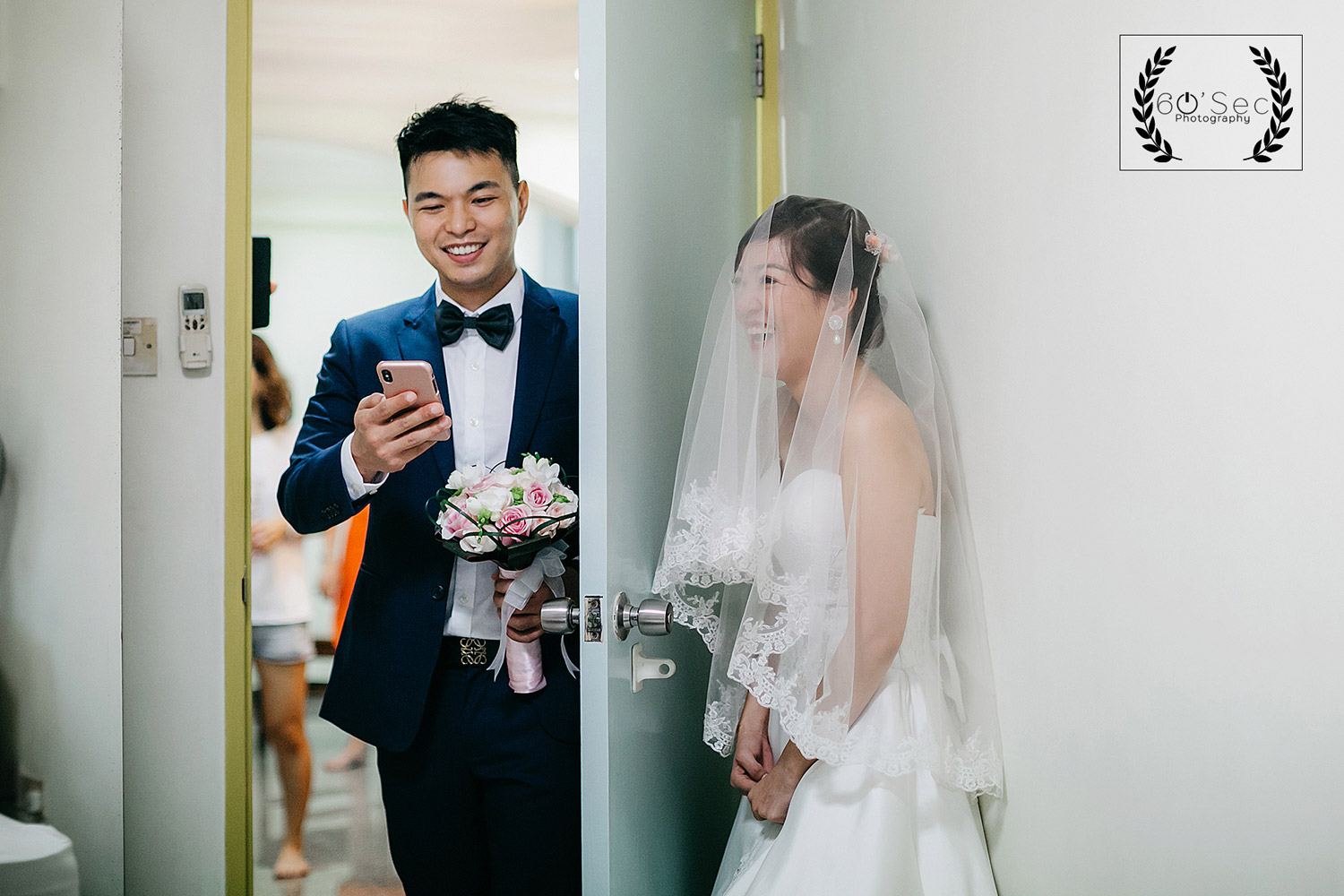 The Love Story
Shirley: We knew each other since we were 13 and were secondary schoolmates. When Edison decided to go abroad to further his studies after his national service, we had to go through a long distance relationship. I remained in Singapore to complete my education and started to work while Edison was studying in Australia. There were many challenges throughout our relationship, especially since we were both at different stages of life. However, through the ups and downs, we have learnt to be appreciative, supportive, trusting and respectful of each other over the years. It really was not easy as it took us more than a decade!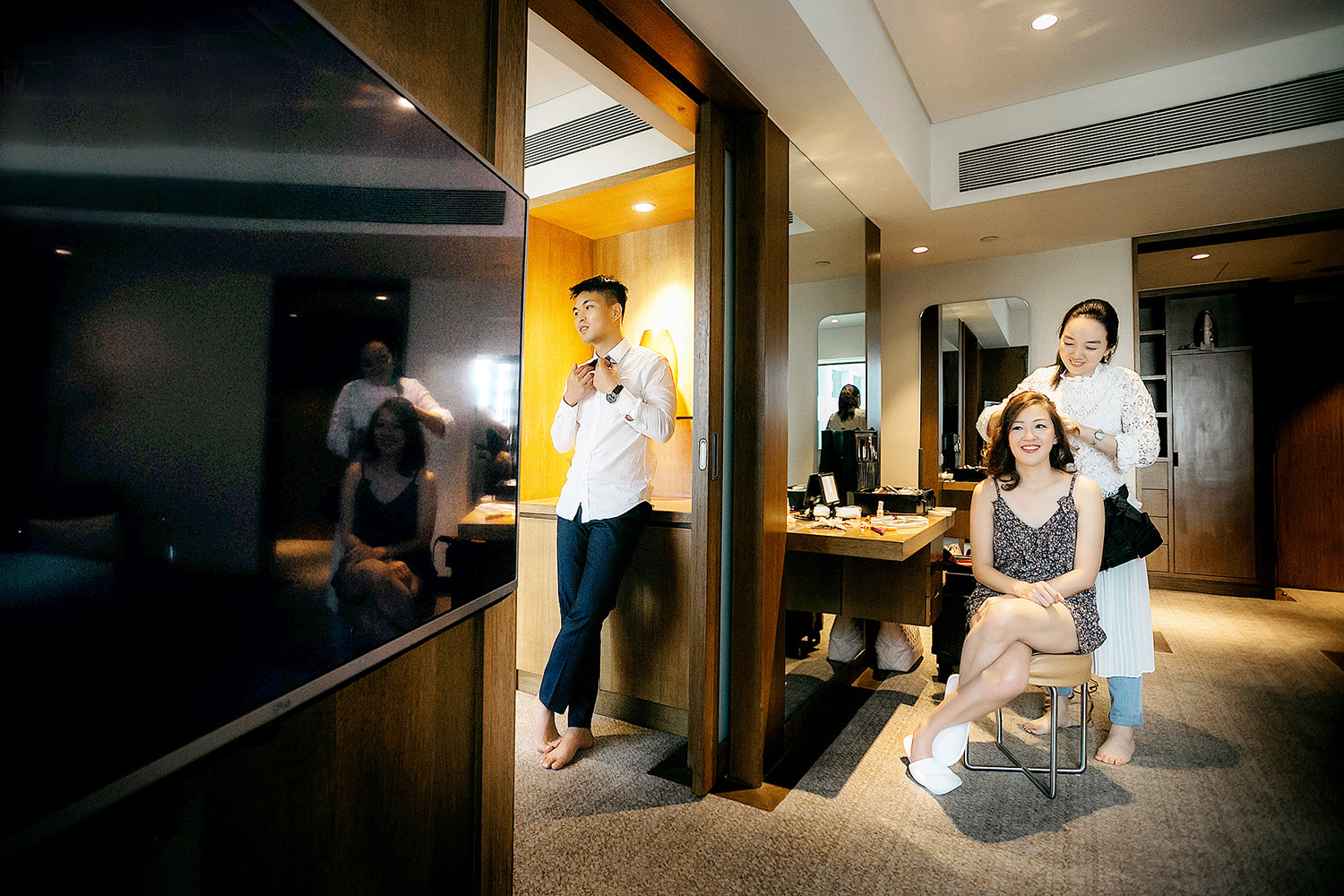 The Proposal
Shirley: There was no proposal, (laughs). Being together seemed so right and I guess our turn came after this long journey. We decided to get married, start a family and be each other's companion for the rest of our lives.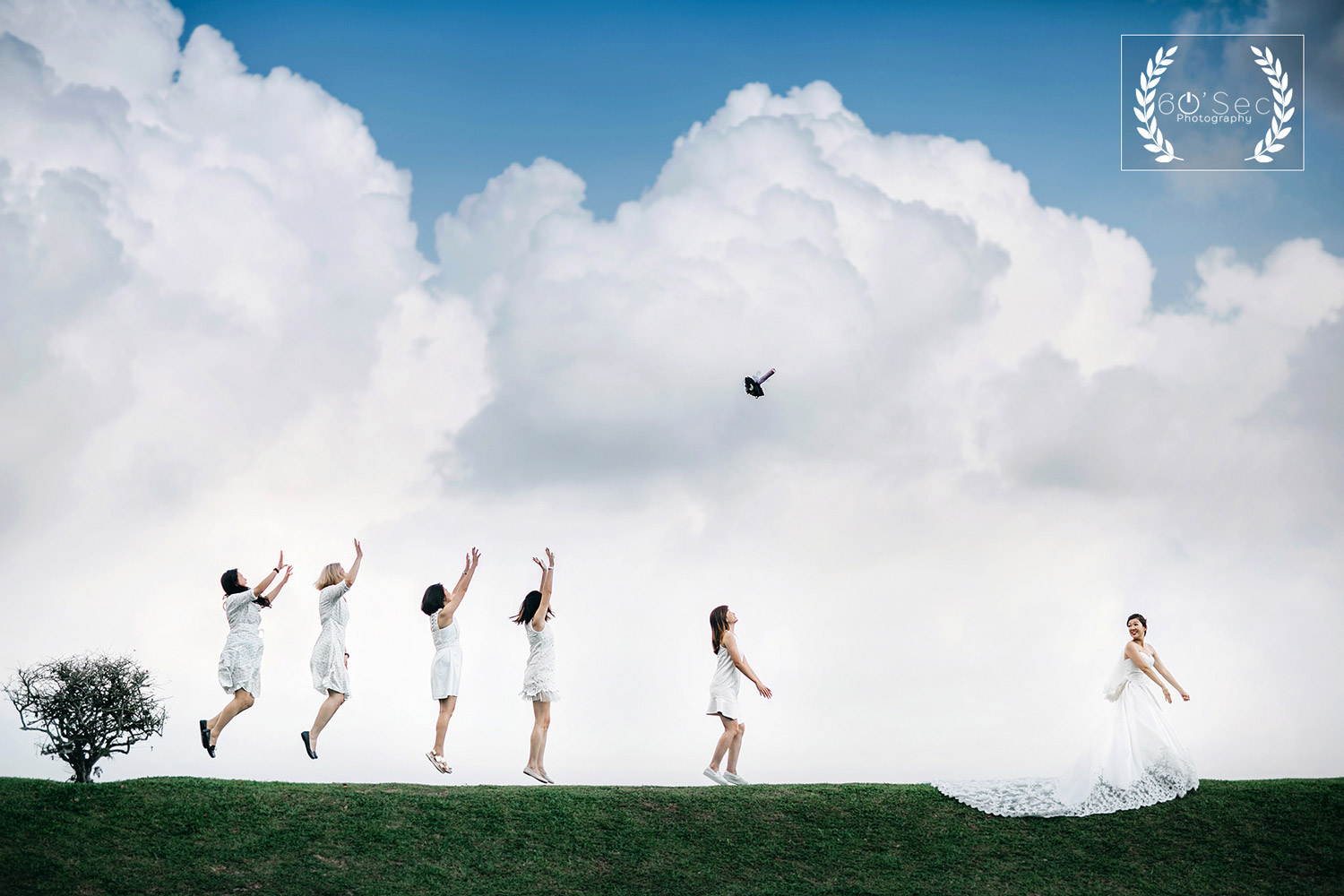 Bridal Style
Shirley: I was looking for something simple and elegant yet with form- fitting silhouettes that still included traditional details like a mandarin collar and embroidery. We actually did our pre-wedding photoshoot in Korea but I had difficulty finding a dress I wanted. Our makeup artist, Sandy, then recommended Queena Wedding. She even had the boss of Queena Wedding fly down from Taiwan for us to consult with and alter the dress. One of the dresses I chose was an Erika red lace evening gown with a mandarin collar.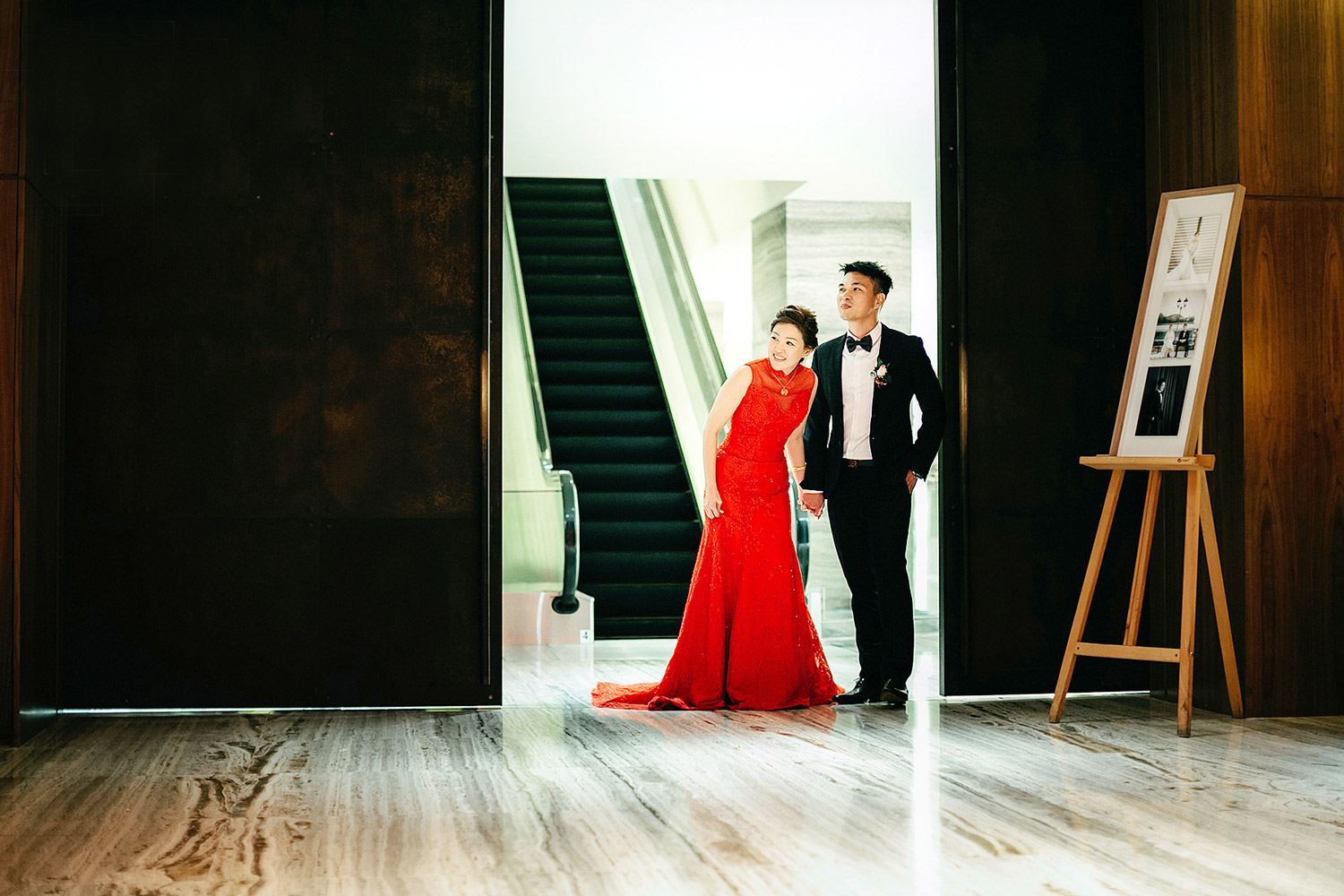 The Reception
Shirley: Edison and I are both family- orientated and we have many friends between us that we have known since we were teenagers. We wanted the dinner to be cosy with just family, close friends and a live band for guests to mingle freely before dinner and catch up over dinner. Hence, the wedding venue was easy for us. Edison attended one of his best friend's wedding years ago at The Gallery ballroom and he wanted to hold his wedding there ever since. The Gallery ballroom comprised of a loft kitchen, lounge, two Ateliers for our ROM ceremony and dinner for a completely exclusive event.
However, the challenging part of our wedding was to host 300 guests with a vegetarian menu. Edison is a food-lover and we wanted to ensure the food tasted good, especially since most of our friends and relative flew down to Singapore for our wedding. We are very thankful to Hyatt as we had three rounds of food tasting and the chef accommodated and customised our menu to perfection. Our guests had a really good time, the food and music were both also excellent.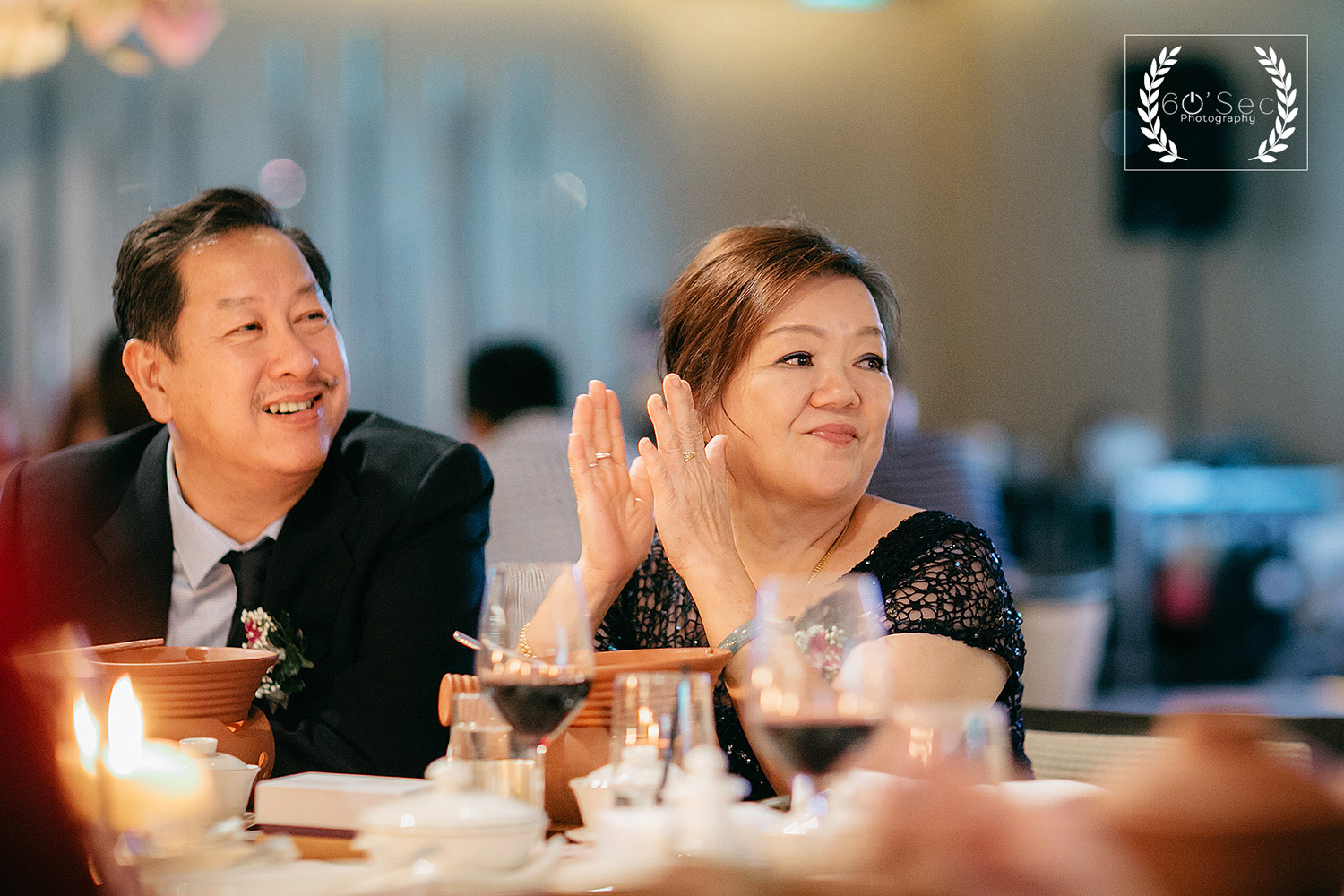 Memorable Moments
Shirley: The most memorable moments can be attributed to the wedding photos and video from 60 seconds photography and Alanmitchi. When we were discussing our video montage with them prior to the wedding, they suggested
we do a thank-you video to our parents and siblings. We can never thank them enough and by doing a video to show our gratitude, we had enough time to really pen down and straighten our thoughts that were filled with many childhood memories.
The montage began with a morning express video with some candid and playful shots of the "brothers and sisters" and the beautiful setting in the afternoon at Seletar from 60 seconds photography. It was followed by a video of our childhood memories and a thank-you message to each of our family from Alanmitchi.
We did not do a second march-in, so we were also watching the video and photos on the screen. Those images and videos were both funny and sentimental. Everyone had a great night and these images and videos are our most memorable moment.