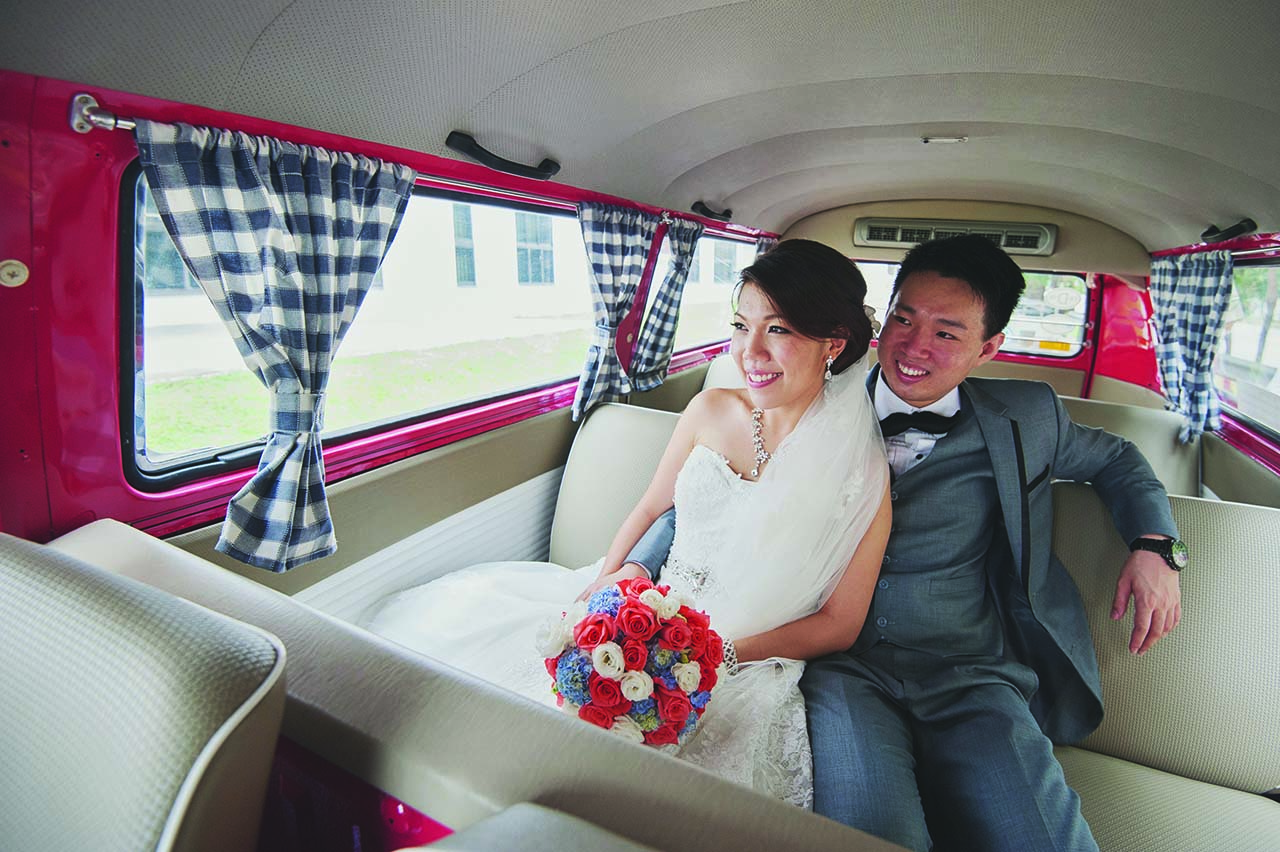 Proposal

We were classmates back in Anderson Junior College, who only got acquainted when we were selected as group leaders for an orientation camp. Our friendship began when we subsequently bonded over activities such as mass dance practices and camp mascot building. When we realised we lived just ten minutes apart from each other, we started to go to school together in the mornings and thus began a whirlwind courtship of movie dates, texting and star gazing that lasted two months. We officially got together on Valentine's Day in 2003.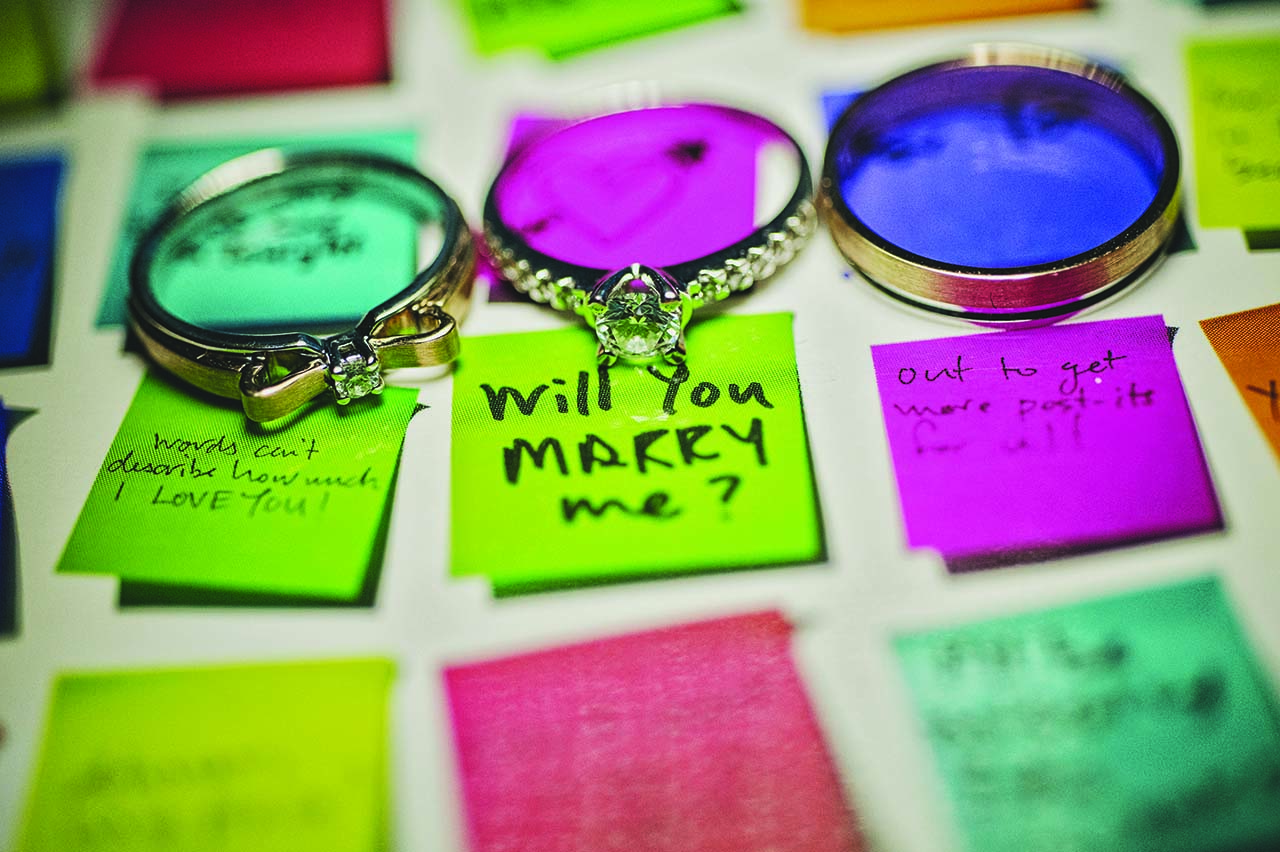 Wen Hao proposed to me on February 14 in 2014, which marked our 11th year anniversary. It was a very intimate setting, with just him and me in my room. He had flowers delivered to my house, and upon entering my room, knelt down and held my hands while giving a heartwarming speech. I felt amused, happy and above all, touched, because it was so rare for him to show his romantic side.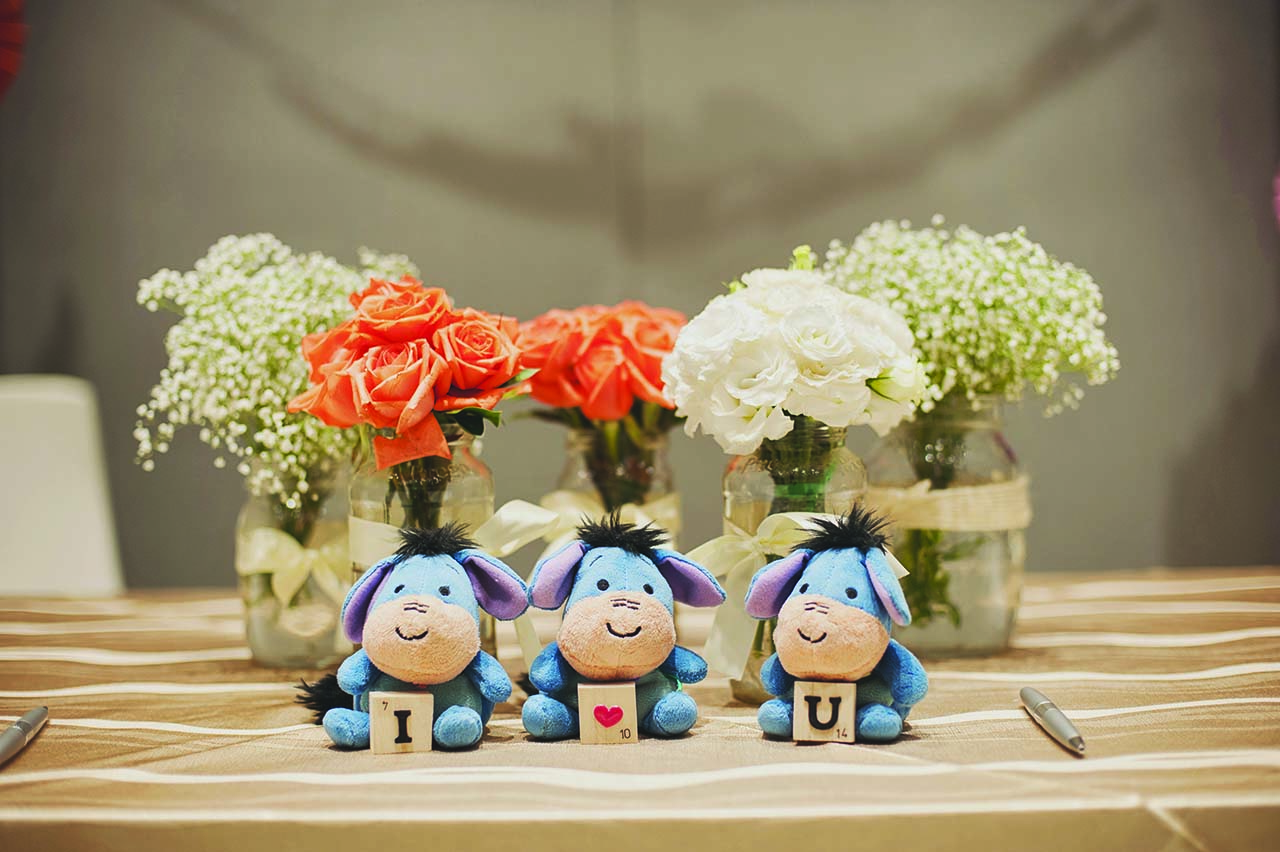 Bride's Style

My white gown was an easy choice, as I had already decided that I wanted one with a strapless, sweetheart neckline and an A-line silhouette. I was particular about the embroidery as well, and wanted it to evoke a romantic and elegant feel. As for my red trumpet gown, it required a little more work with me having to visit the bridal boutique twice. But it was definitely worth it; it had a gorgeous colour complete with an exquisite mermaid cutting, and we absolutely loved it.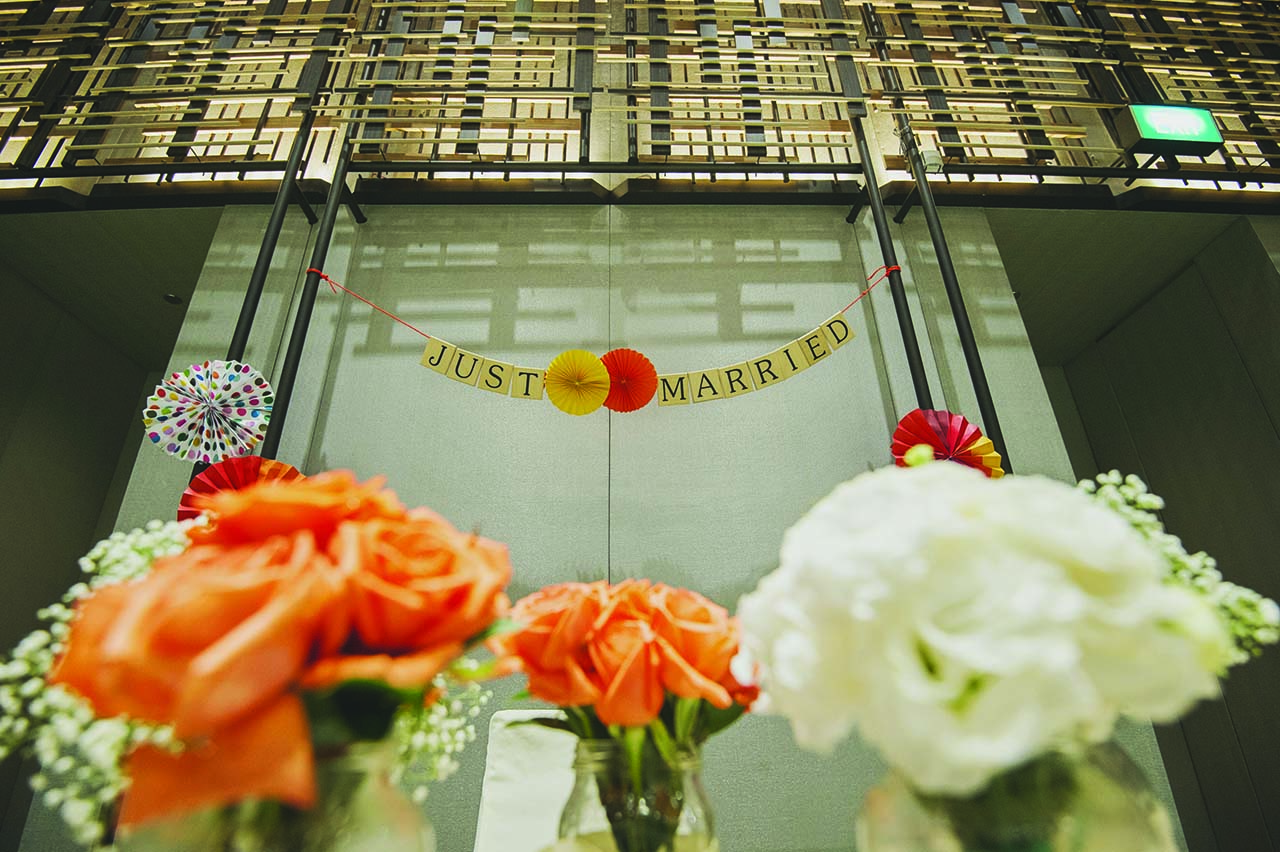 Wen Hao's morning suit was made in Bangkok and we adored it for its shade of grey and stunning fabric. We also picked it because it was more versatile and not overly groom-like, so that it could be worn for other future occasions. His other suit was especially well-cut as it was made to measure by our bridal shop. It had a dark blue finish and came with a matching polka-dot patterned bow tie.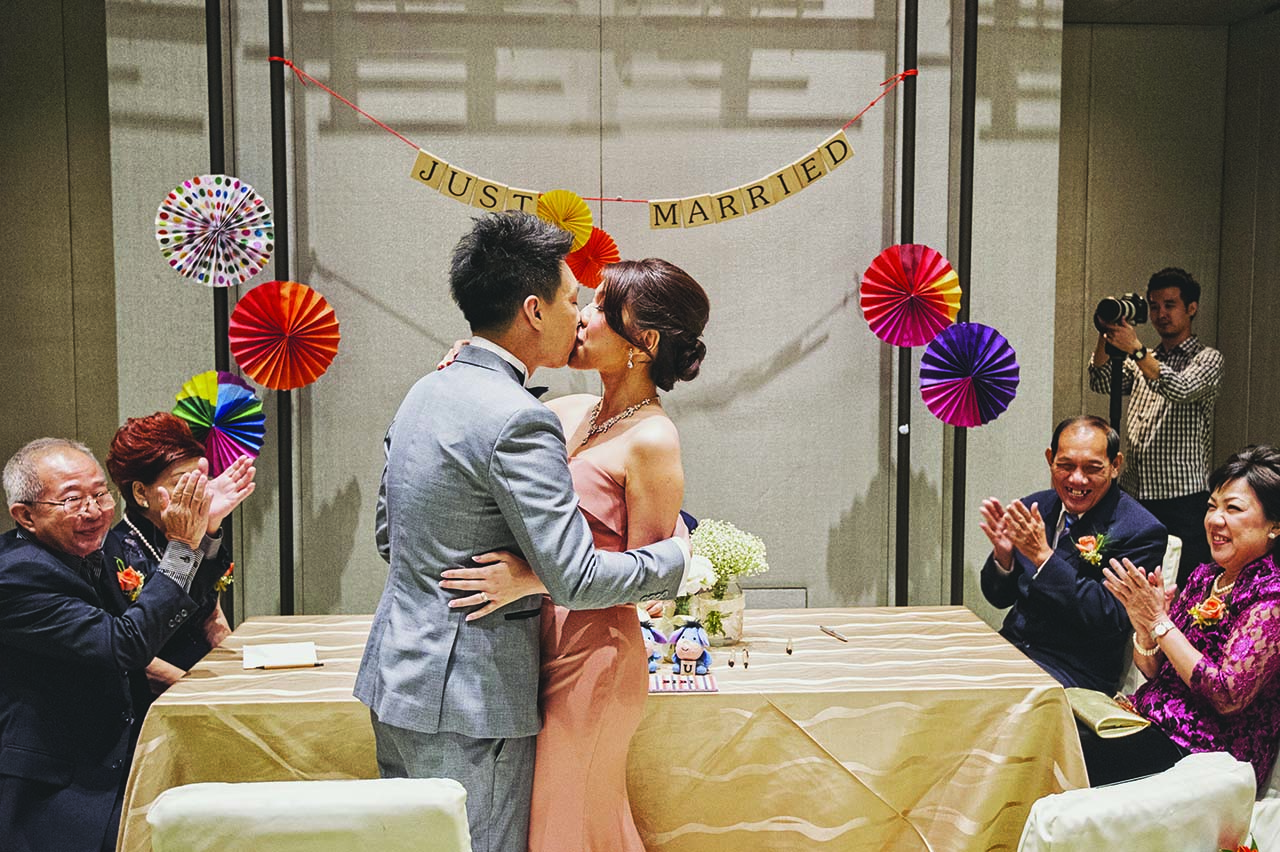 Reception
We chose our venue based on a recommendation from a friend, who also had her wedding there. The hotel's cozy seating and the ballroom's unique ceiling configurations appealed to us. I was not a big fan of chandeliers and the like, so the furnishings seemed perfect. Furthermore, its eco-friendly theme resonated with Wen Hao, as he specifically wished to omit the traditional shark fin dish from the dinner banquet.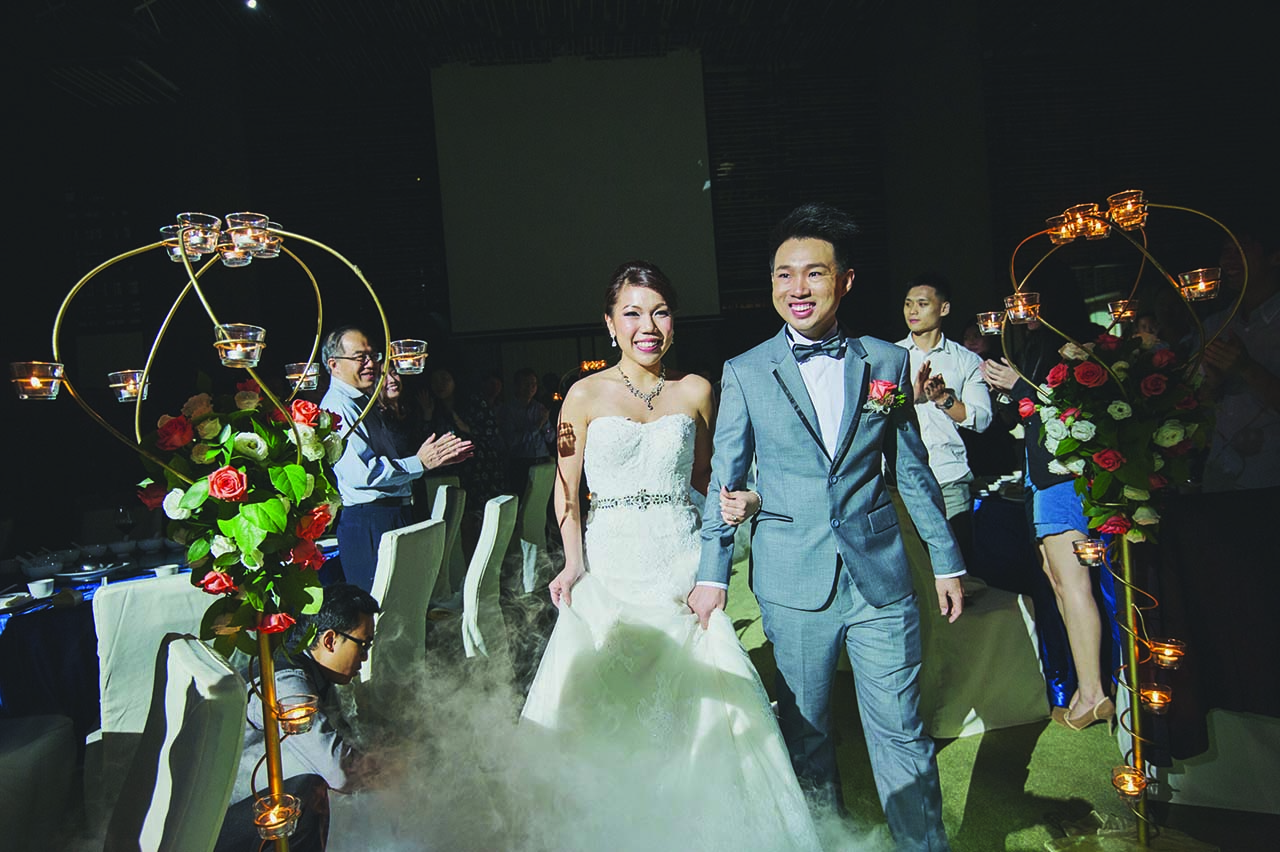 Our theme was inspired by Paris and revolved around the coral, white and blue colours. The food was pre-selected from the hotel's menu and was very well-received by guests; they especially loved the cod fish! They were also delighted with the Kombi Rocks van that fetched them to the venue, and the array of giveaways at the reception – there were old-school airplane toys, iced gem biscuits, and all sorts of handmade décor.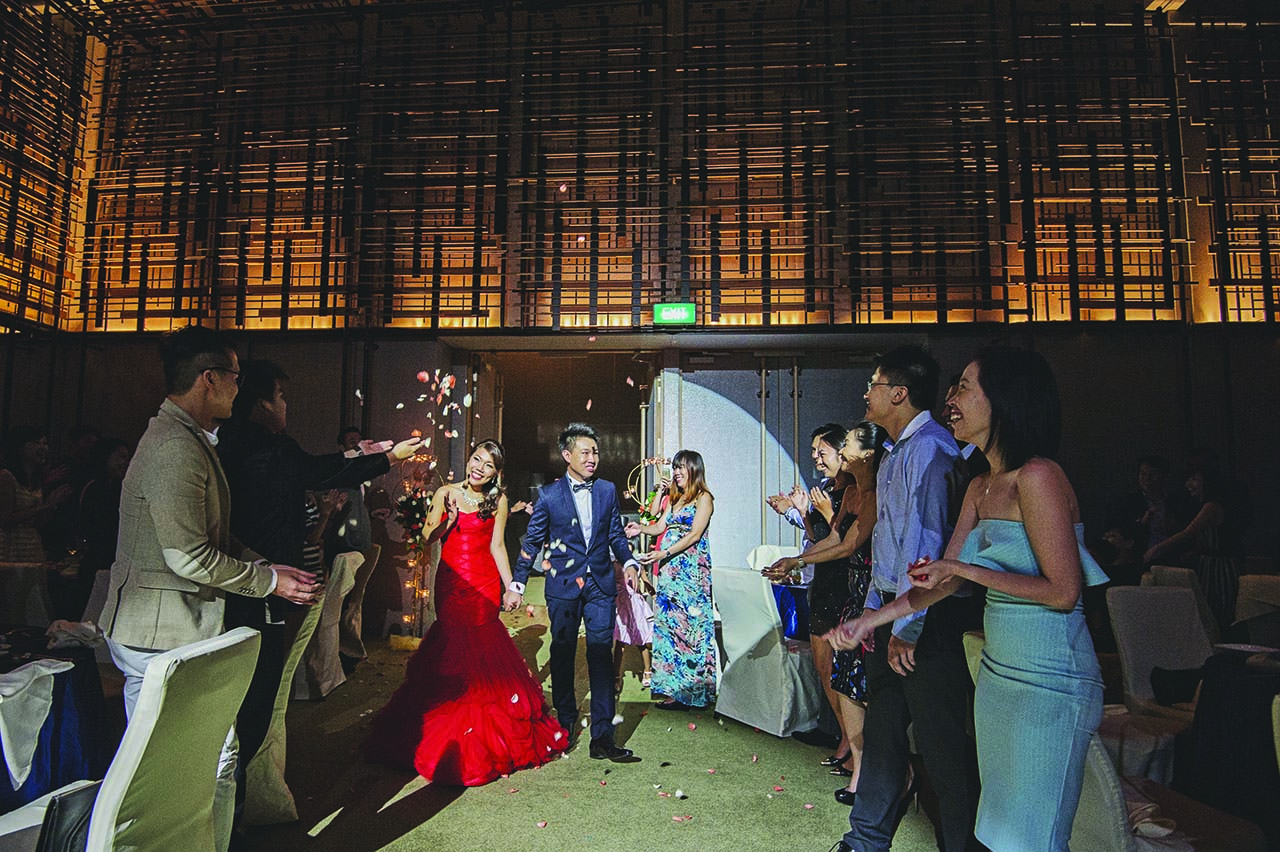 Memorable Moments
We will always remember the feeling of our march-in amidst cheers from friends and family, and presenting the 'Thank You' speech that was specially dedicated to the people dearest to us. A memory that stands out for me is when Wen Hao serenaded me with my favourite duet twice – once before entering my room, and another time on stage.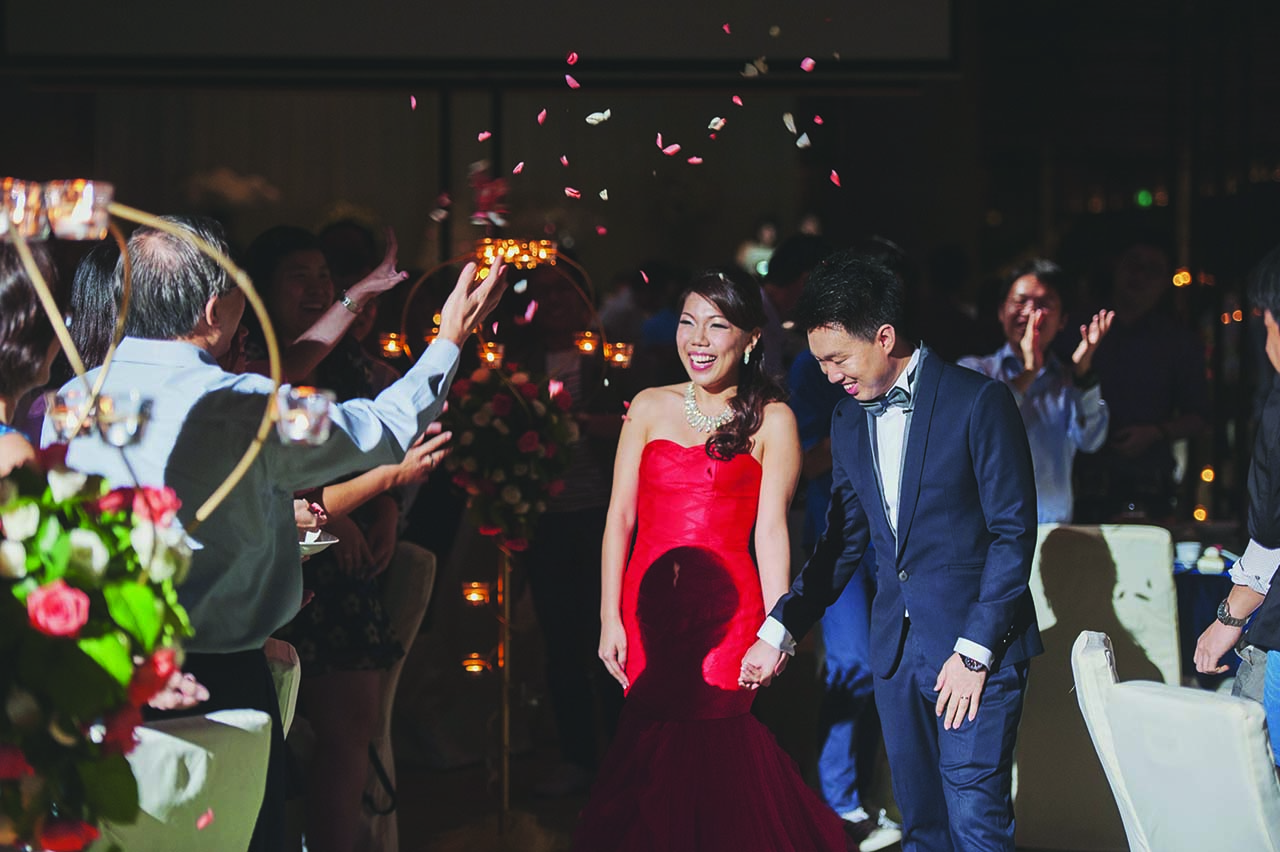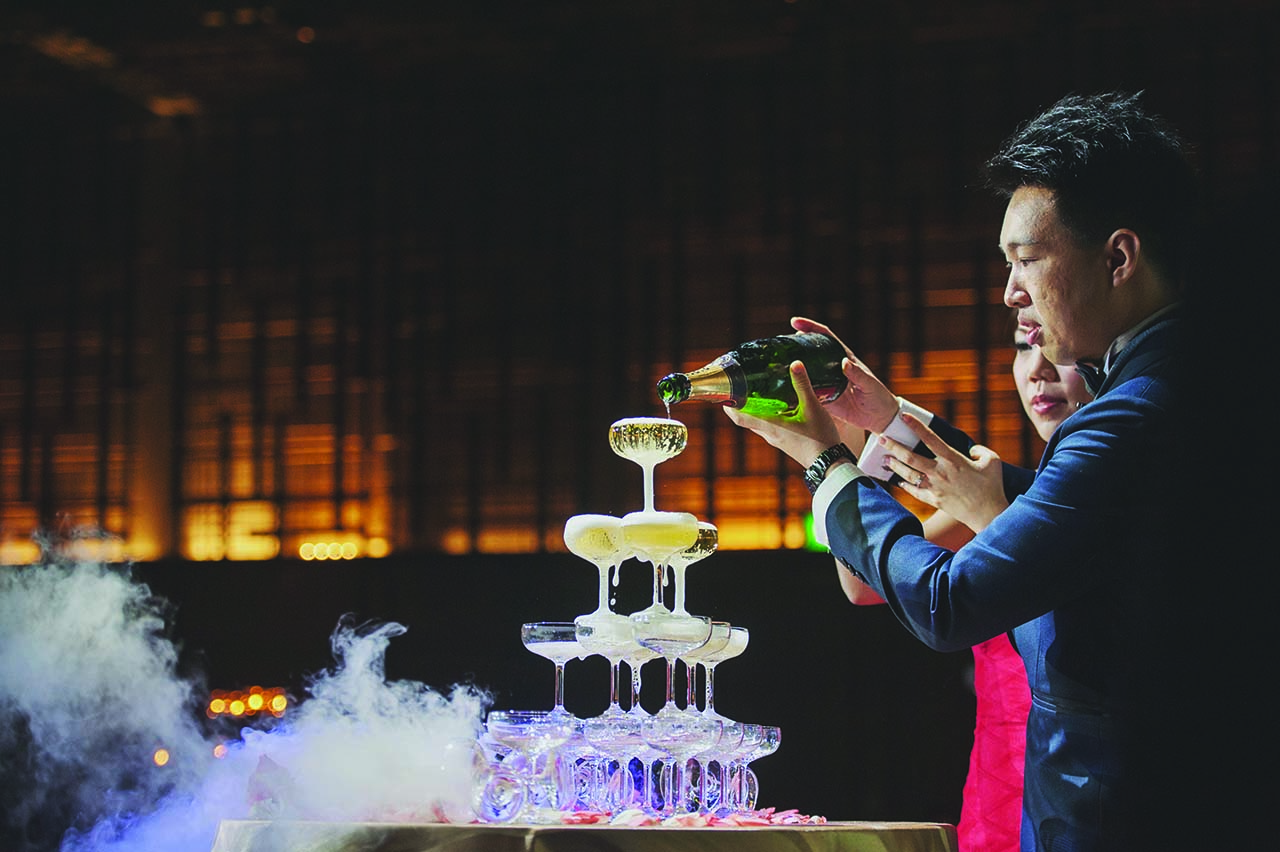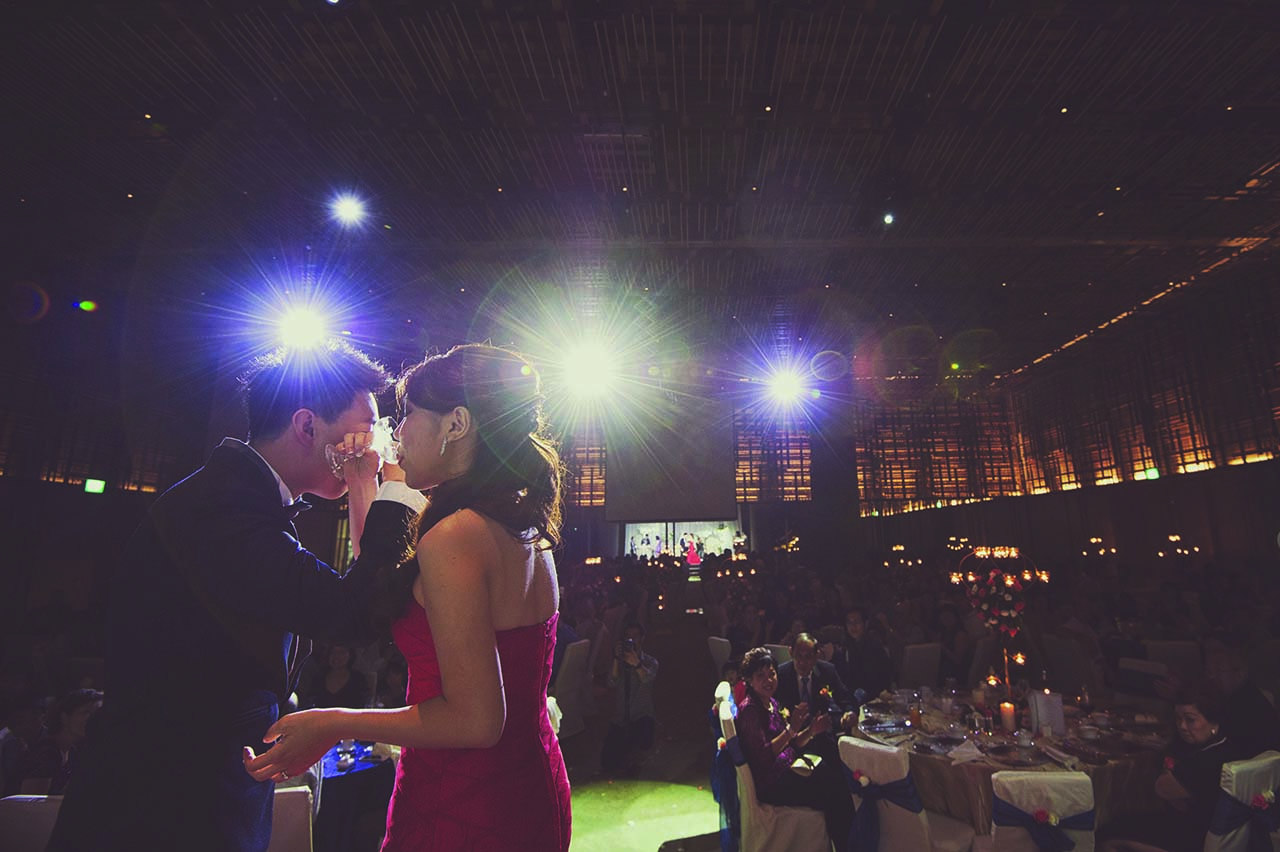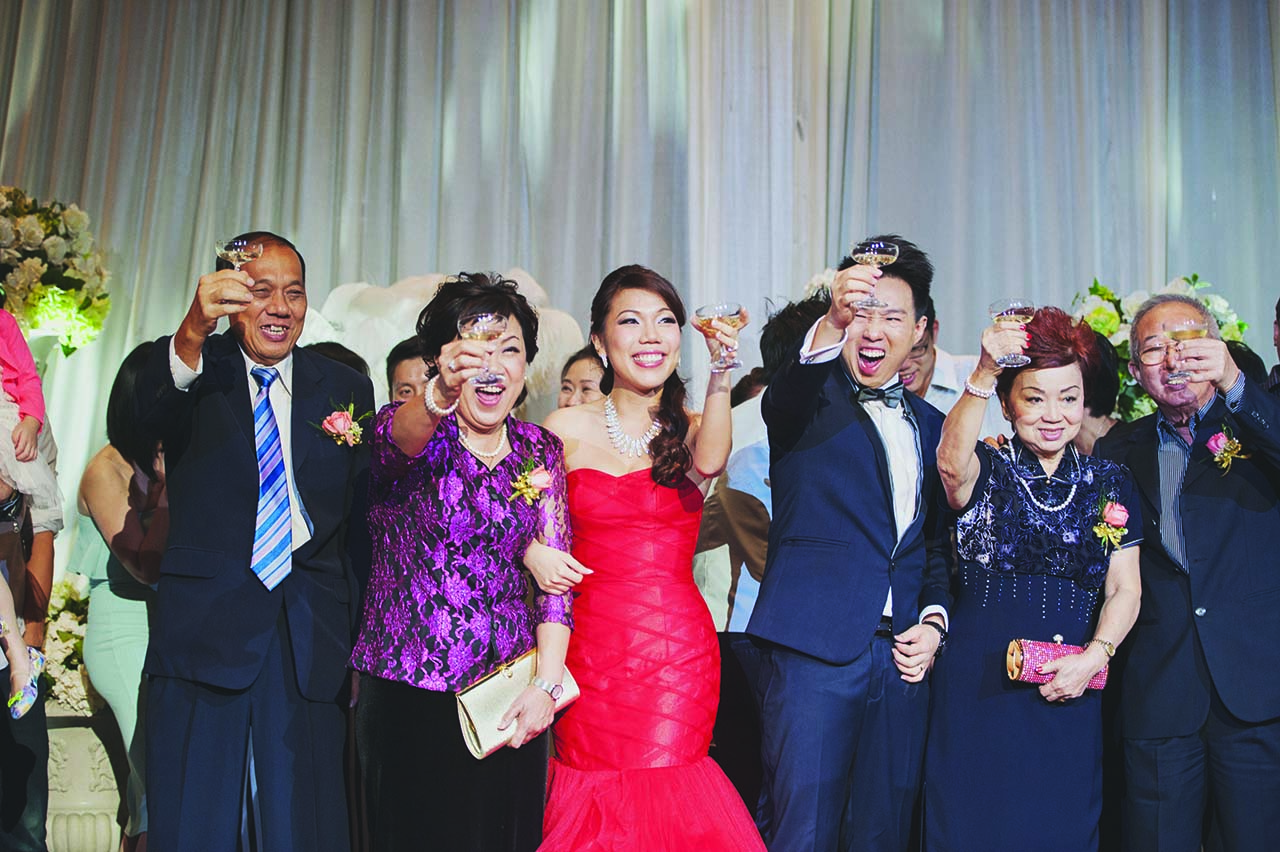 But the most precious recollection for the both of us was the exchanging of vows. I could truly feel all the sincerity and love he poured into those words. Just looking into each other's eyes at the end of the night and being filled with anticipation for the start of our lives together was the best memory of our wedding day that I could ever ask for.