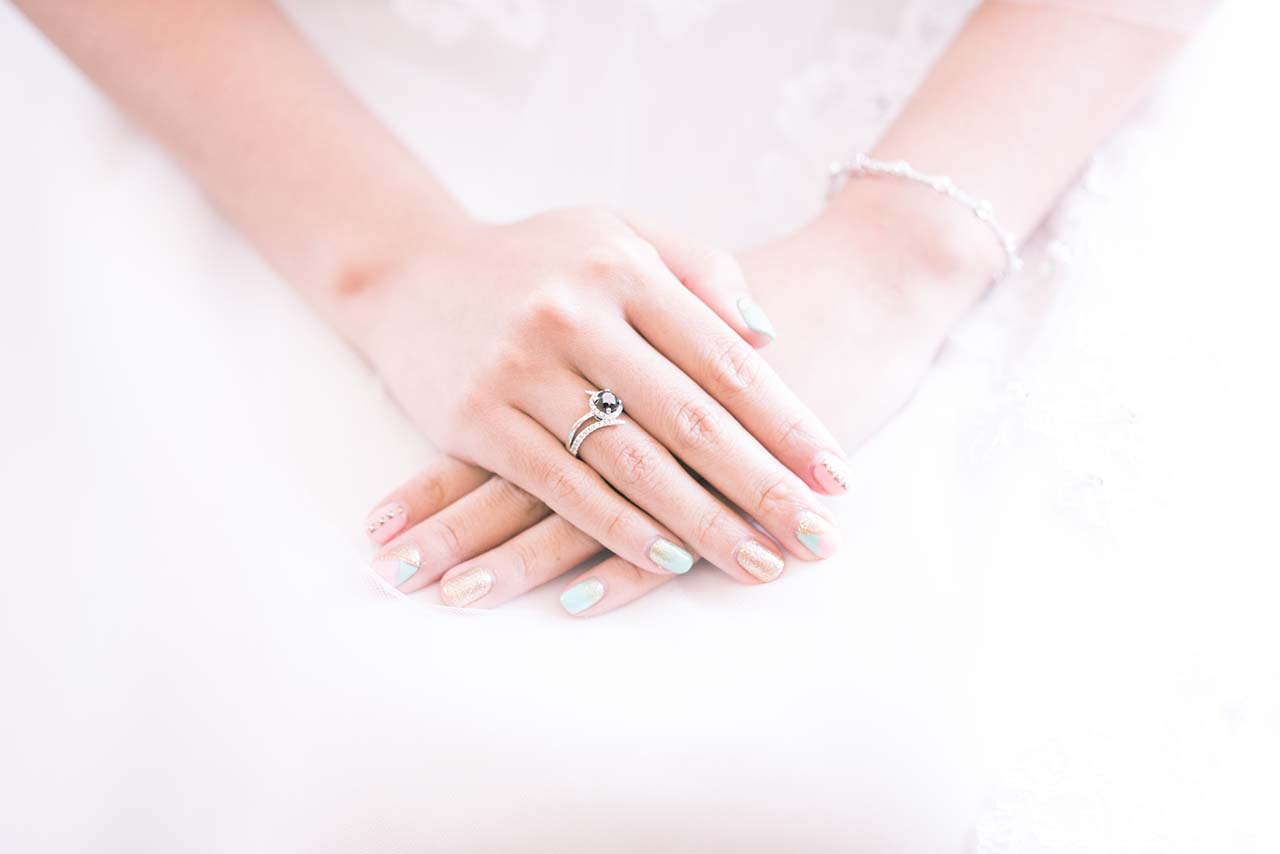 We started out as loggerheads, but we went through a lot together. We survived through tsunamis of pain, tears, heartache and stress due to the challenges life threw at us. One fateful day, nearing Sarah's birthday, I intentionally raised an issue that left her in dismay. I said that I could only marry her in five years as I needed time to focus on my career and dreams before settling down. She was really shocked. After the longest two minutes, she relented with an "okay". I suggested bringing her out to lunch to cheer her up. Little did she know, I planned this months ago.
As we approached the restaurant, she suddenly saw a whole bunch of frenzied people rushing towards her she was in great shock. It was all of her close friends, some returning from overseas, all proclaiming in gusto, "Surprise! Happy Birthday!" She was in so much awe she shed tears of appreciation. We ate heartily until a video came on screen, it was me! At the end of the video, I came out with a bouquet of tulips, and I knelt down and popped the question! She cried immediately and shouted: "Why would I say no! Yes of course!" And, the deal is sealed.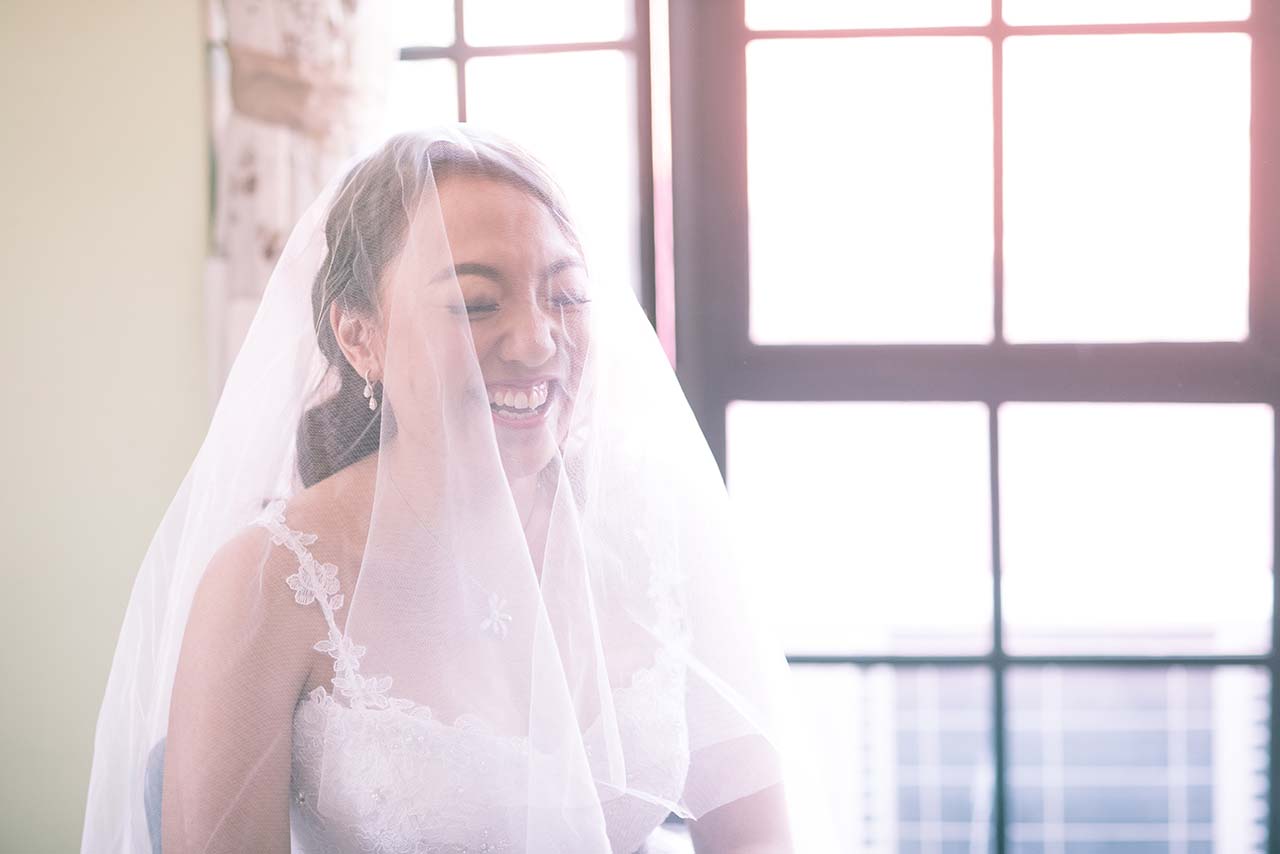 I opted to tailor my dresses, so I looked at the collections of famous designers like Ellie Saab and Vera Wang for inspiration. I like things clean and simple. So, I chose the designs that had clean lines and subtle details, not forgetting a flattering shape.
Both my wedding and evening gowns were by Valens Couture. My first gown is a white gown worn for the church wedding. My tailor decided to use three layers of soft tulle for the skirt and French lace for the top. The skirt was a round skirt to make it look more flattering, with thin flowery straps for support and comfort. A black satin sash was added in for the classy look.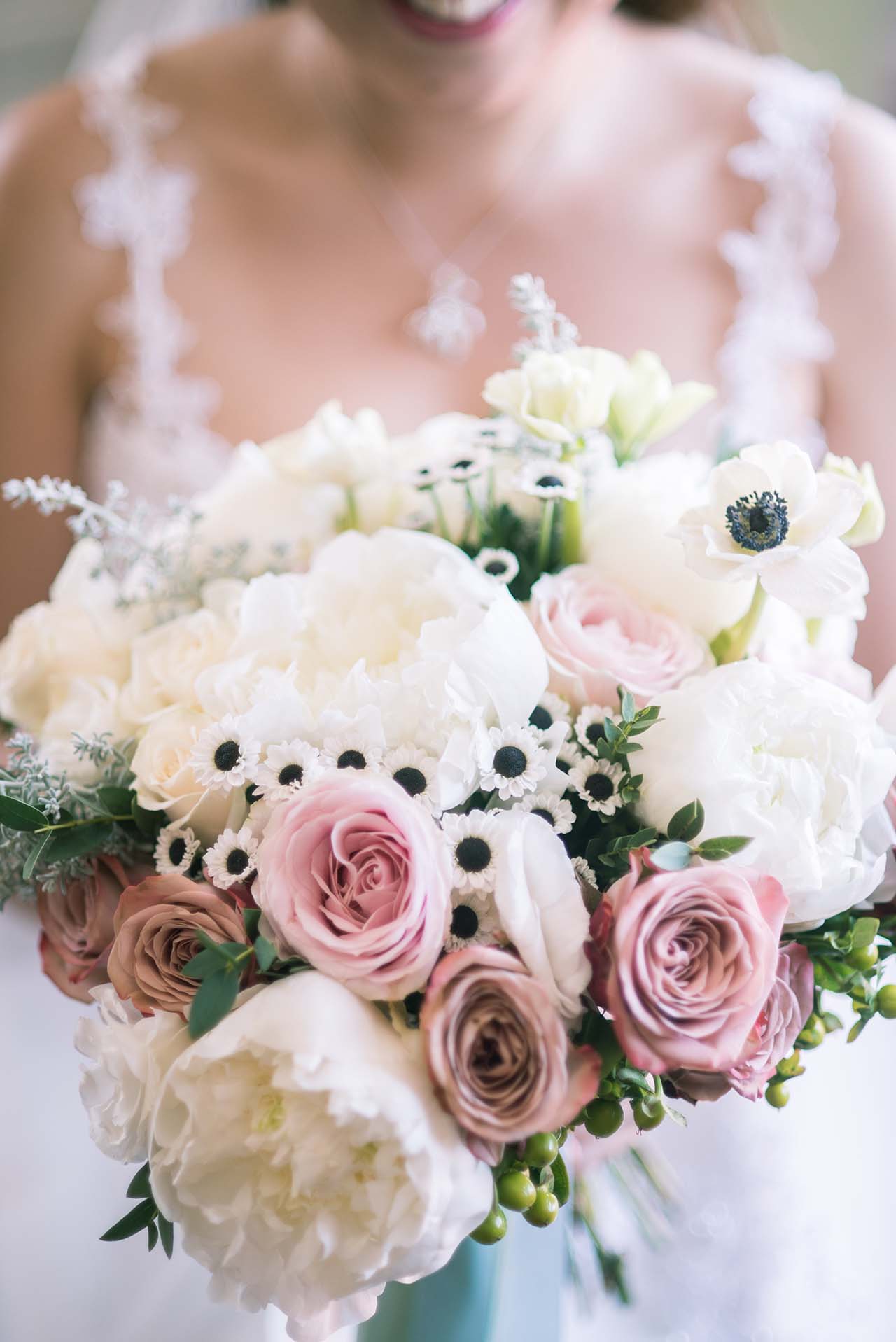 My second gown was in sequined peach for the first march-in during the dinner banquet. This dress was inspired by the sequined trend with an oriental twist. The skirt has a high slit to show off some skin, cleverly concealed with the peach satin outer skirt to create a 'peekaboo' effect. French lace was used for the detailing.
My third gown was royal blue gown and worn for the second march-in during the dinner banquet. Inspired by Ellie Saab, it used light materials like soft chiffon. An illusion neckline was used to create a broader neckline, hence a slimmer waist. The dress was made into a comfortable mermaid skirt that was not too tight or fitting and leaves space for movement and comfort.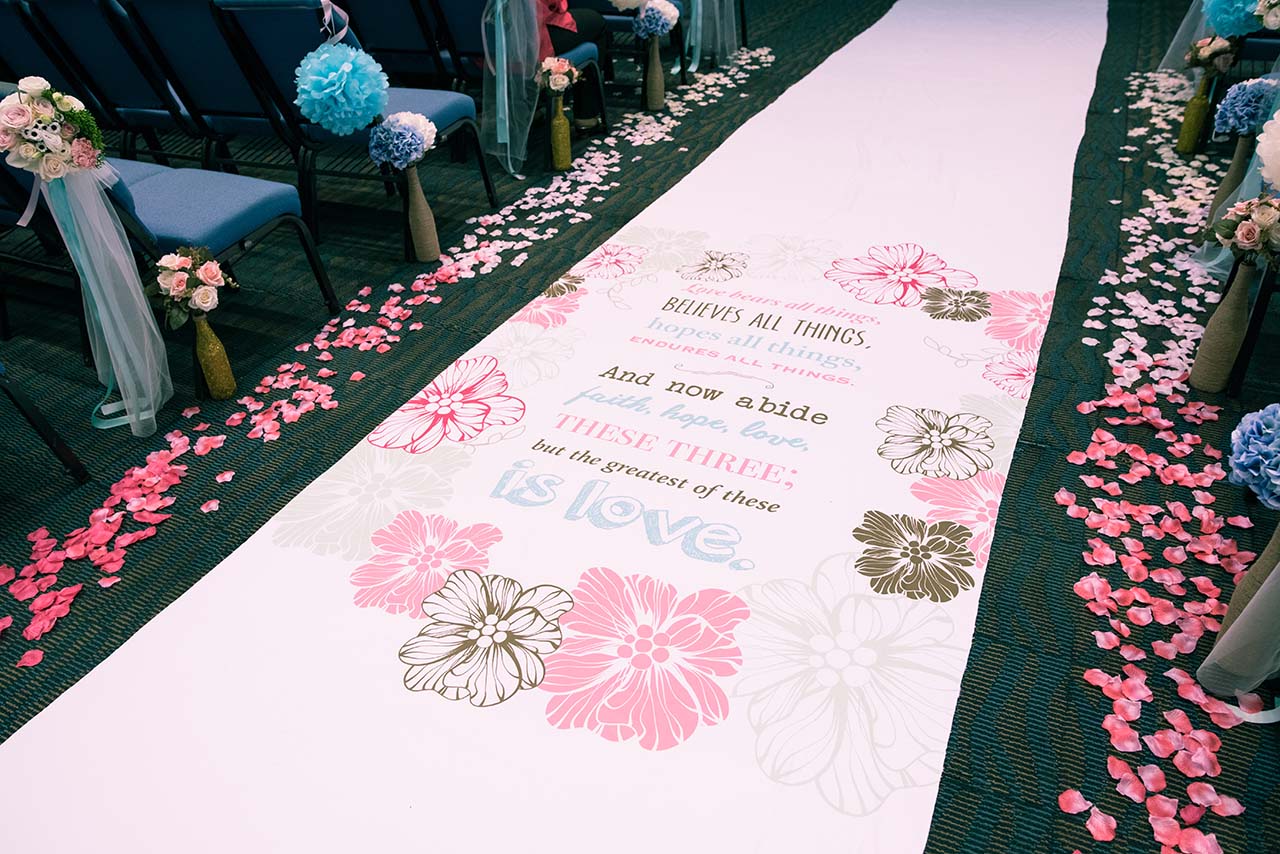 We had our church wedding at City Harvest Church as it is the church we grew up in and where we met. Our color theme for the wedding is Tiffany Blue, Pink and Gold We had a 1.8-meter aisle that was lined with pink and white roses wrapped in tiffany blue satin ribbons done by Royal Blooms. Our wedding lunch reception hall was decorated with fairy lights and photos, balloons and the all-time favorite dessert table. We engaged Love with Details who helped us to create a dessert table according to theme with vintage Mickey Mouse as centre of attention.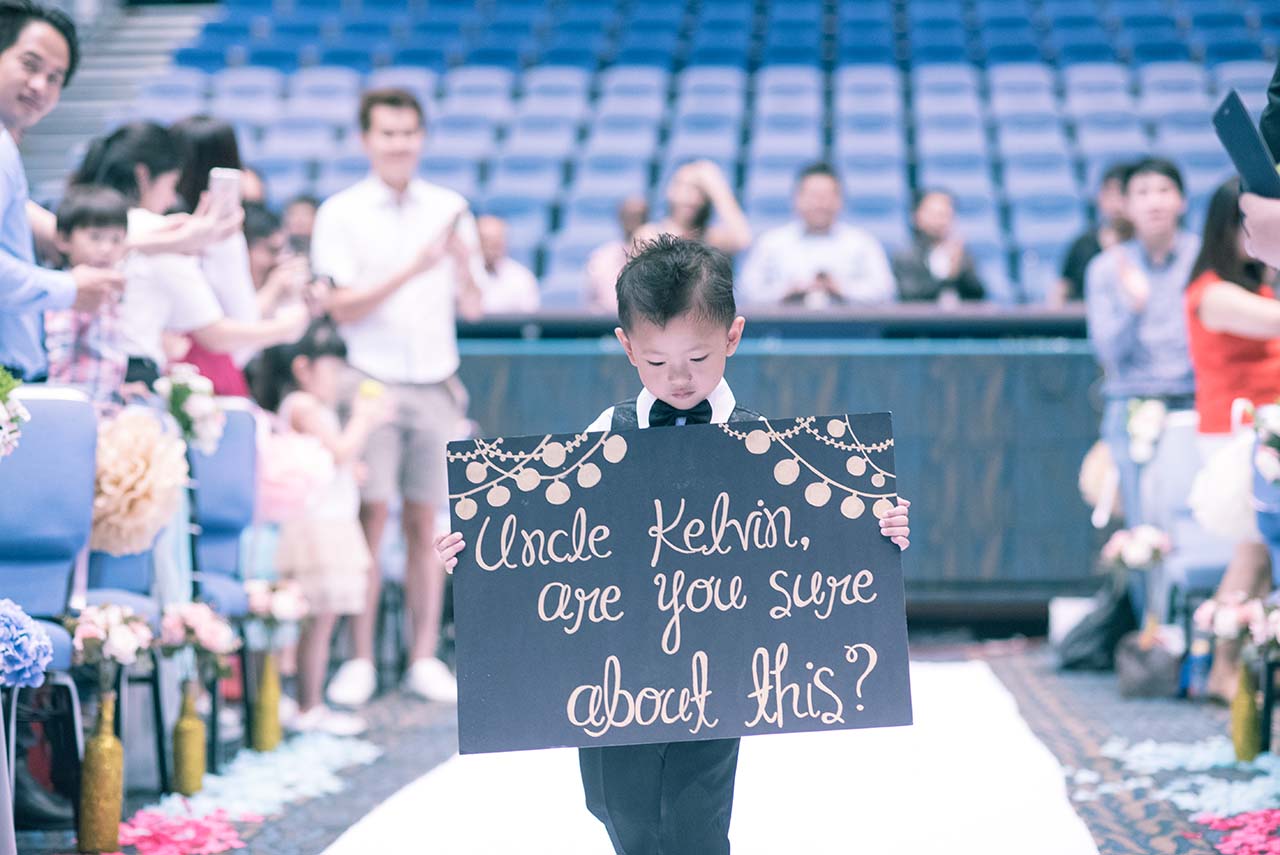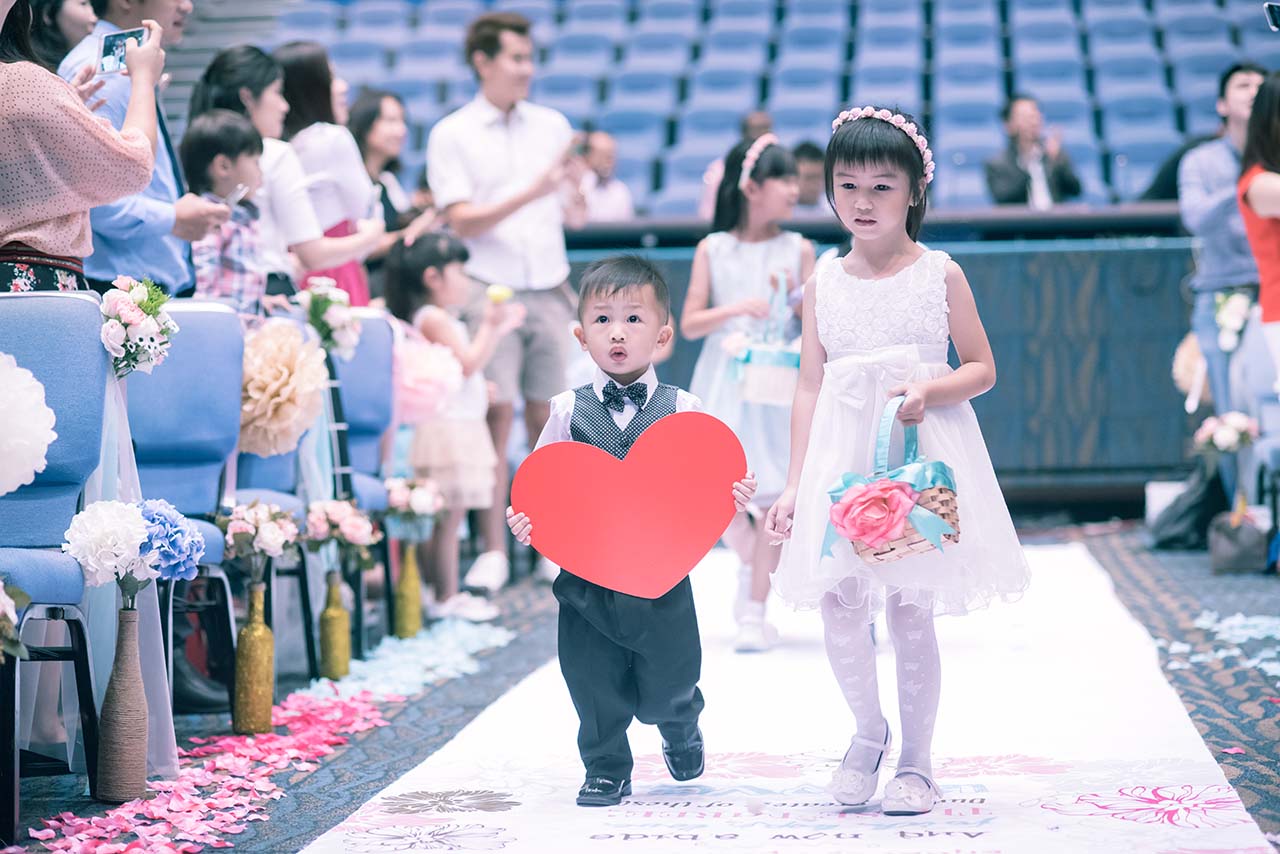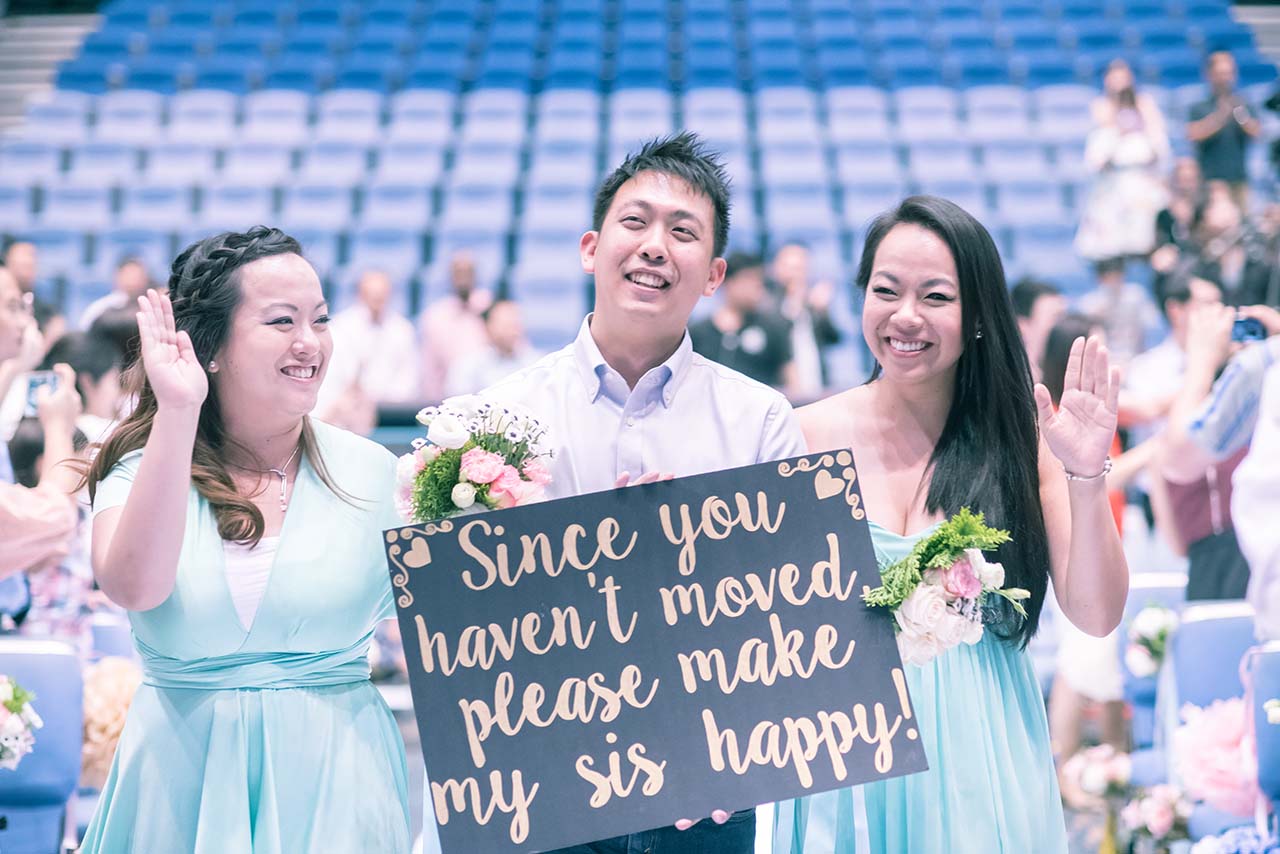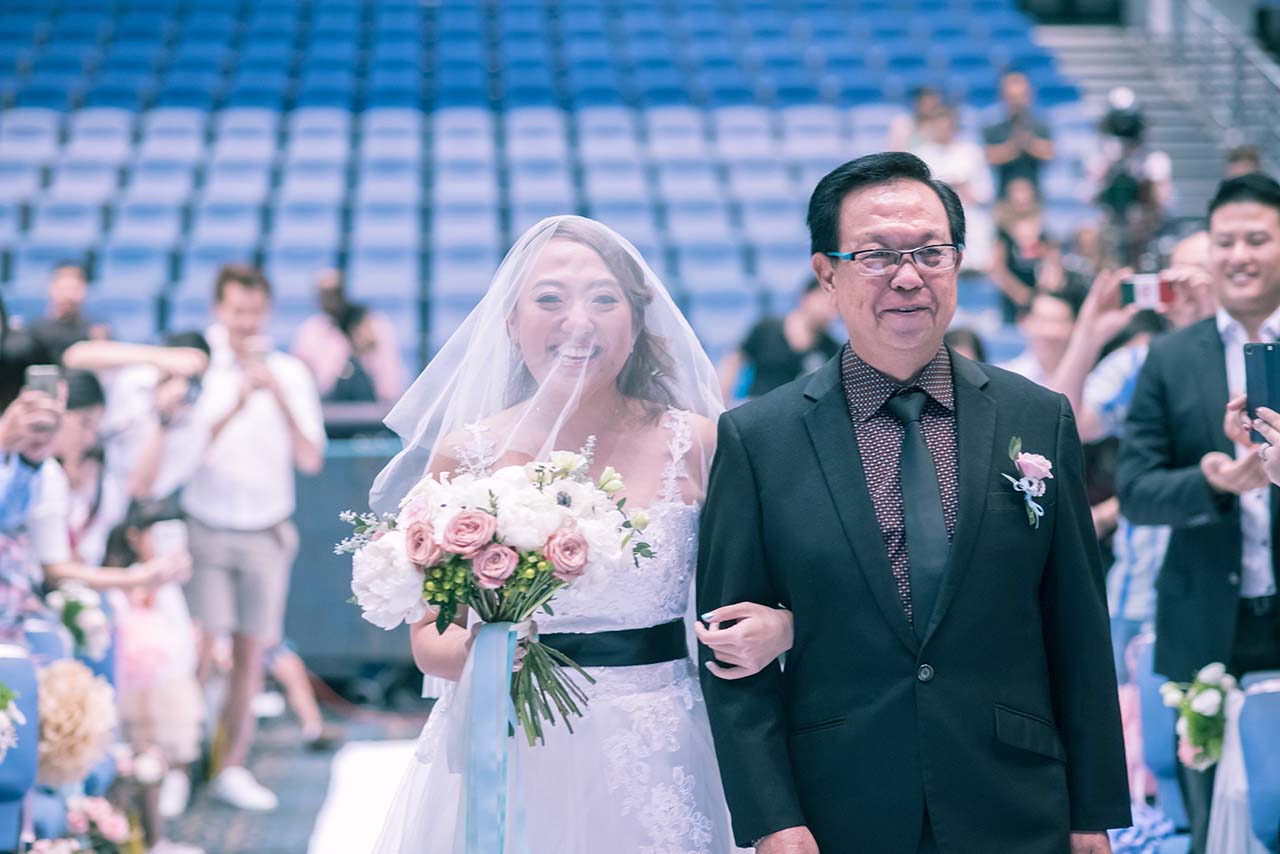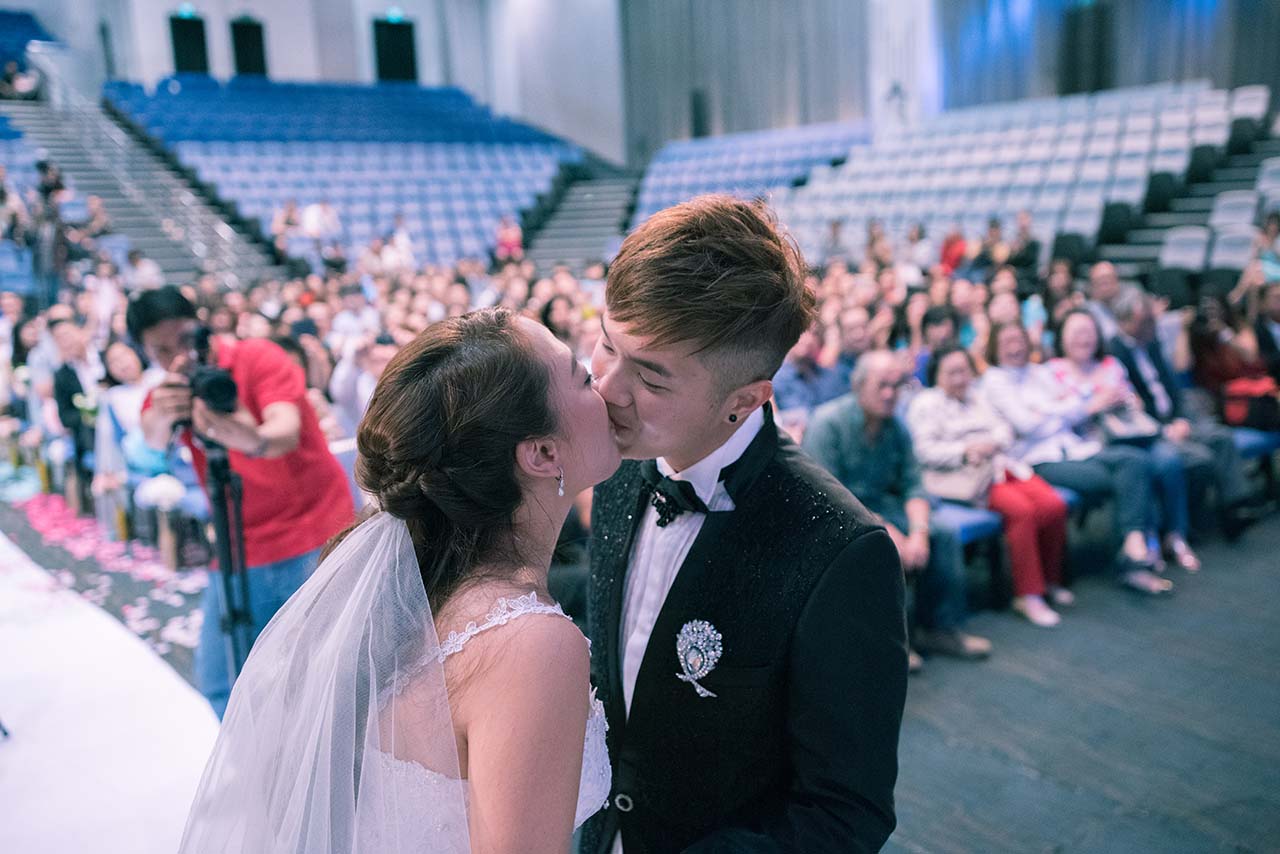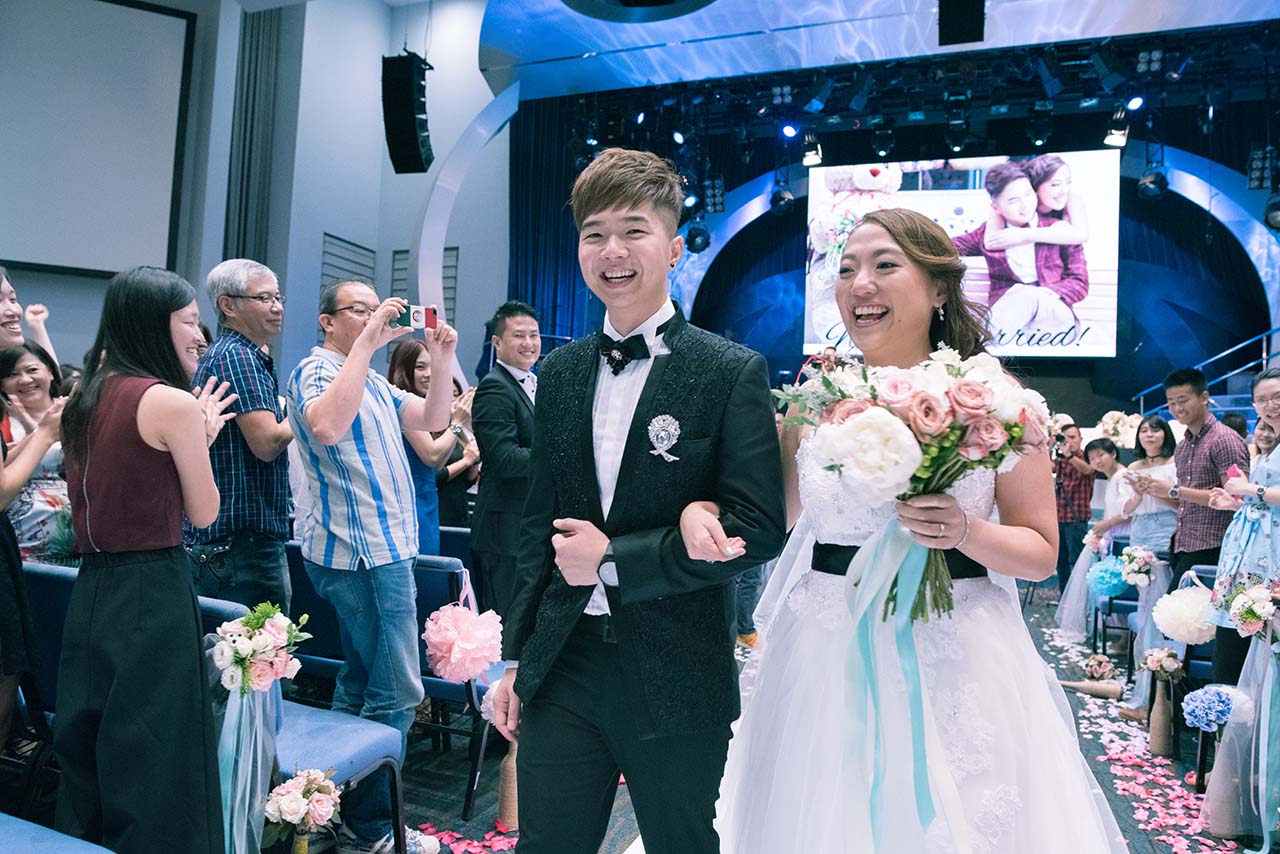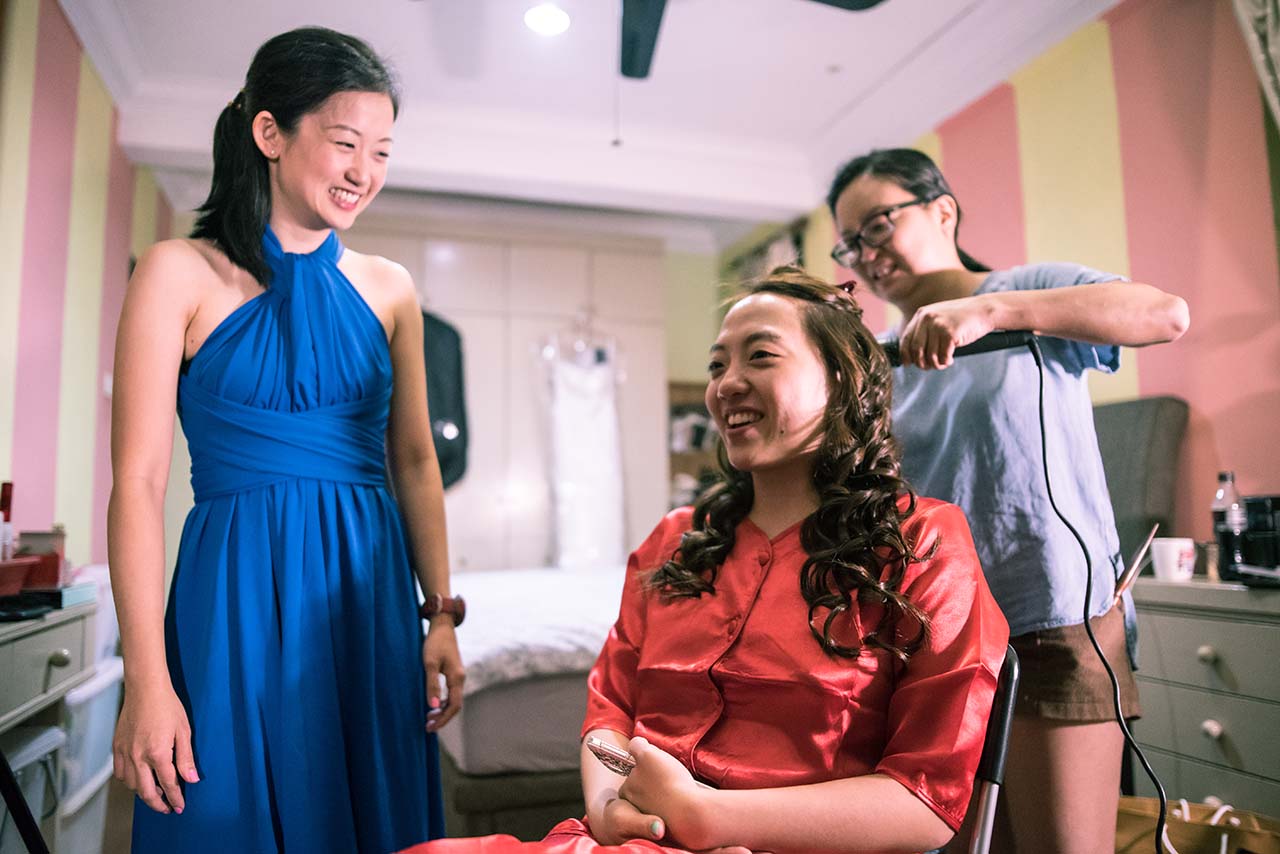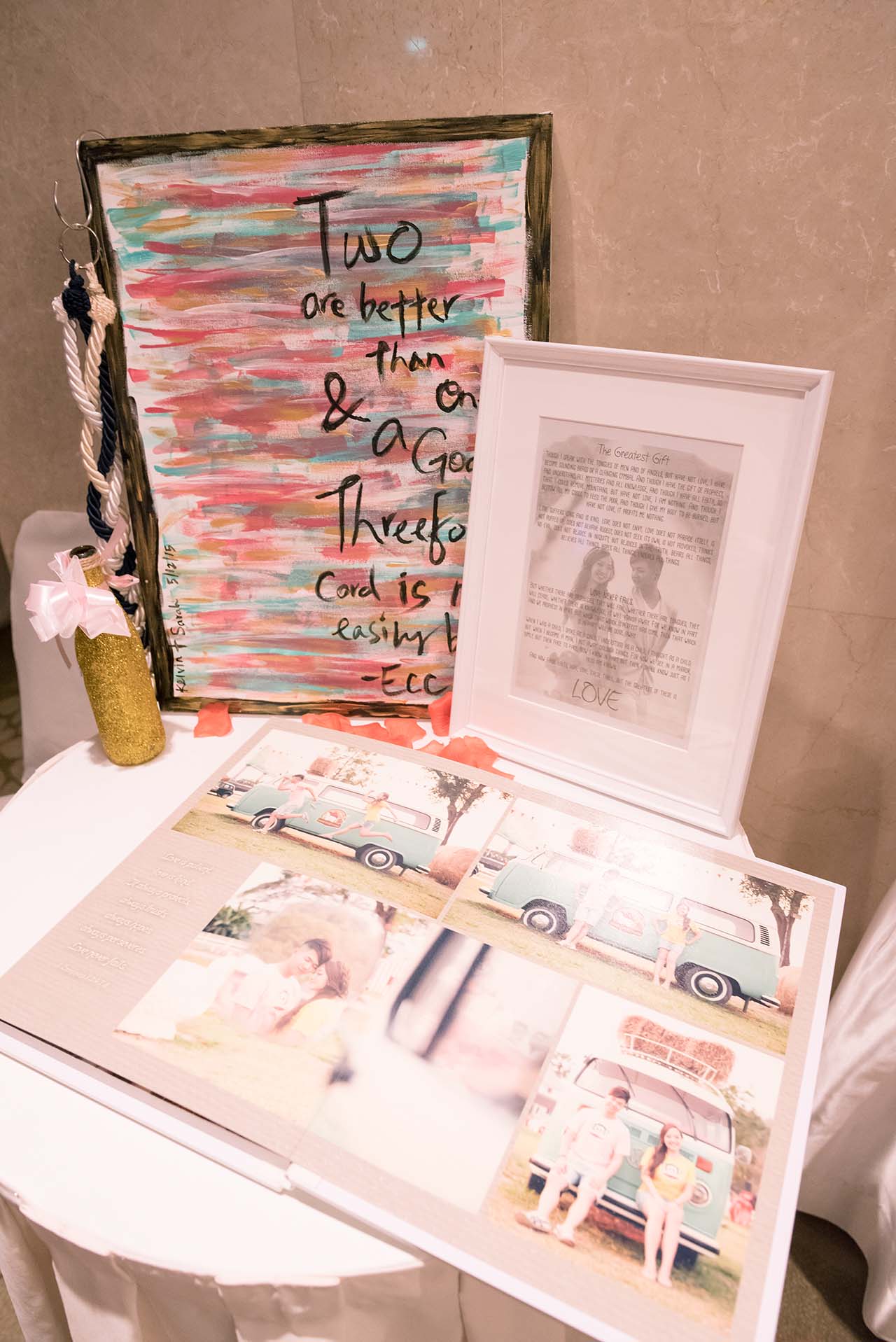 Our wedding dinner banquet was held at York Hotel, Carlton Hall. We decorated the hall with fairy lights, pictures, balloons, streamers, and roses of the same color theme. Many guests commented that Golden Braised Sharks' Fin Soup, Szechuan Spicy roasted chicken, Blackberry Mayo Prawn and Fragrant Glutinous Rice with Preserved Meat dishes were delicious and though they were very full by the fifth dish, they had to finish the eight-course meal.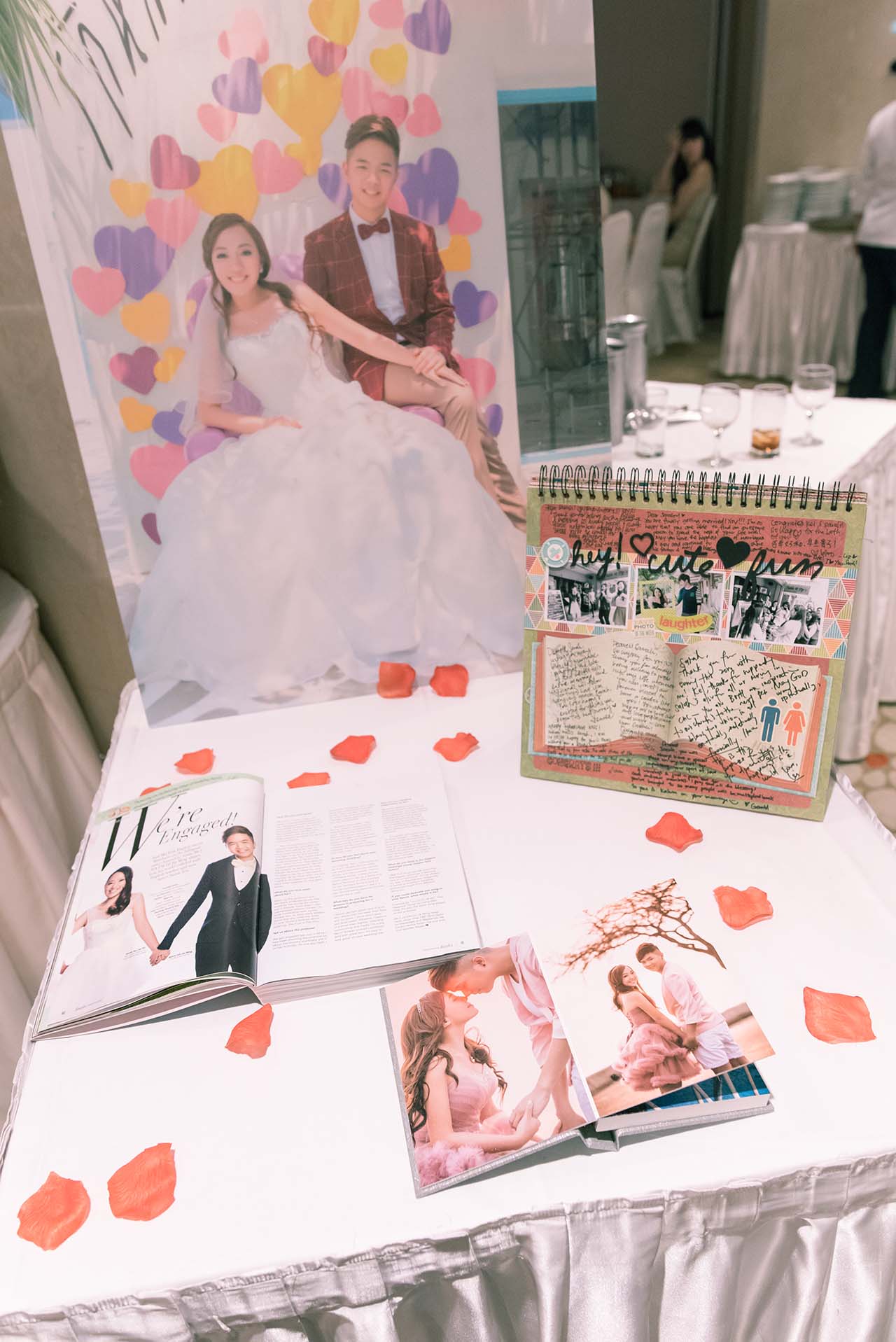 We enjoyed the entire process of our wedding planning with The Wedding Entourage from the beginning to the end. It was definitely an exciting process and you learn more about the other party with each stage of planning.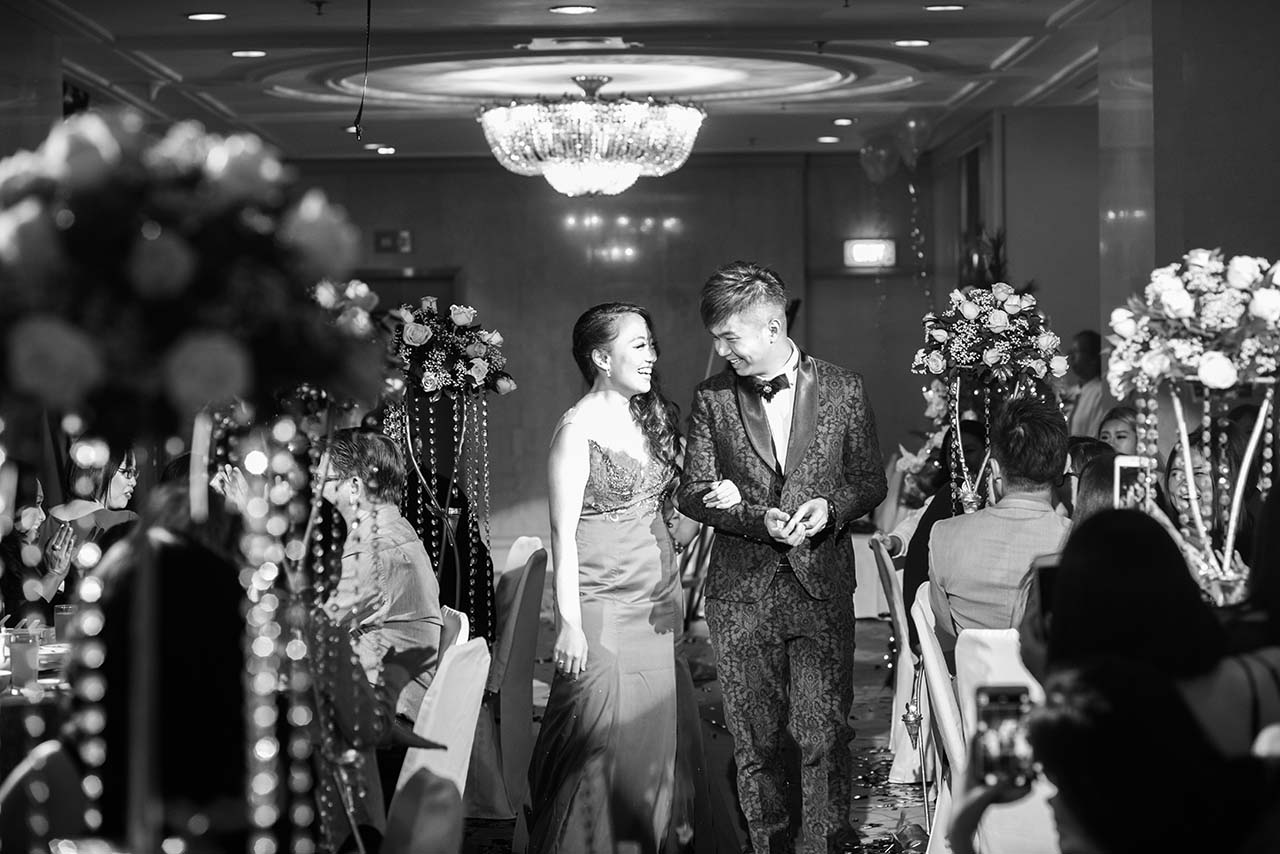 We definitely missed the planning of our wedding. The one moment we will never forget is the moment when all our loved ones, family and friends gathered in the ballroom to share and celebrate the special occasion with us.