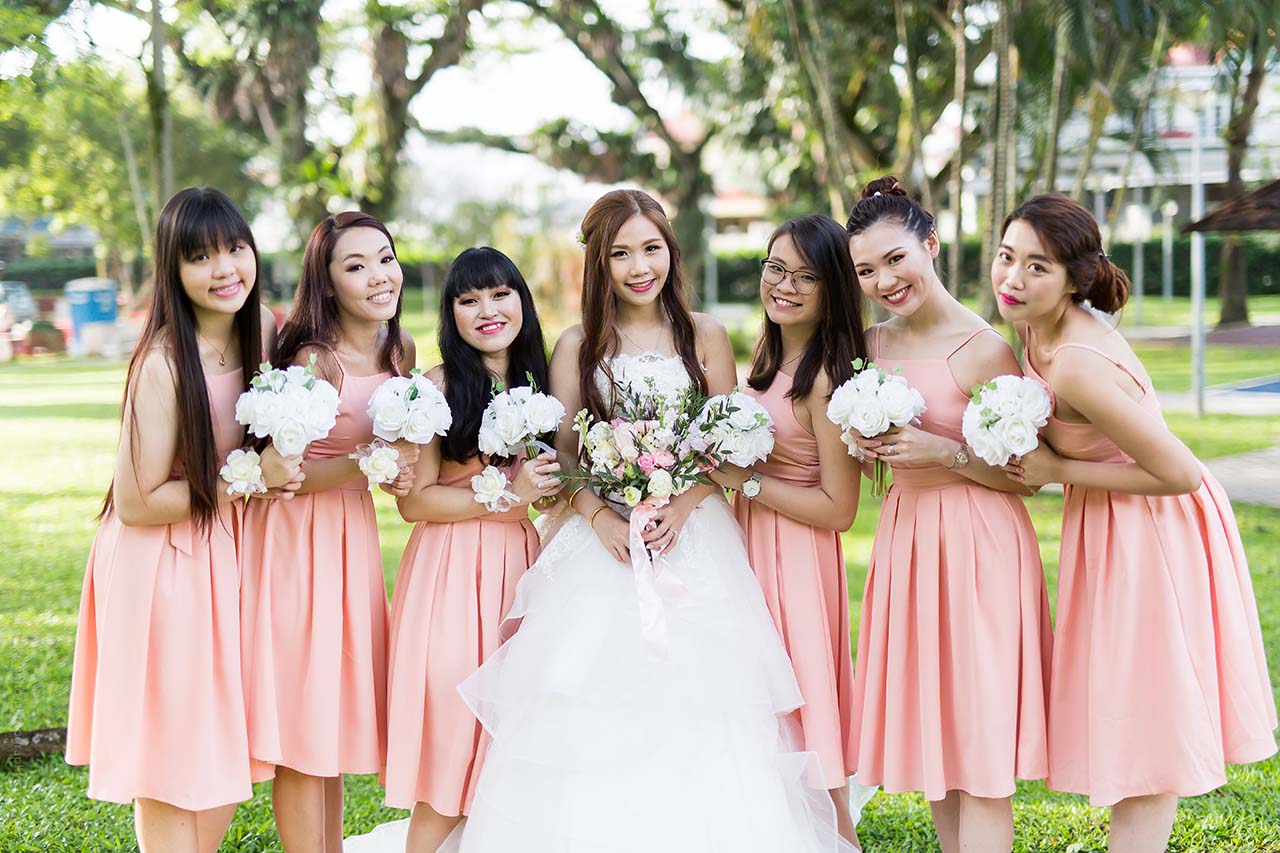 She chose a total of five gowns for the wedding. The white layered gown she wore in the morning has a ballgown cut, which made it easier for her walk to around in. She paired the gown with loose curls and flowers in her hair to suit our "dreamy garden" wedding theme.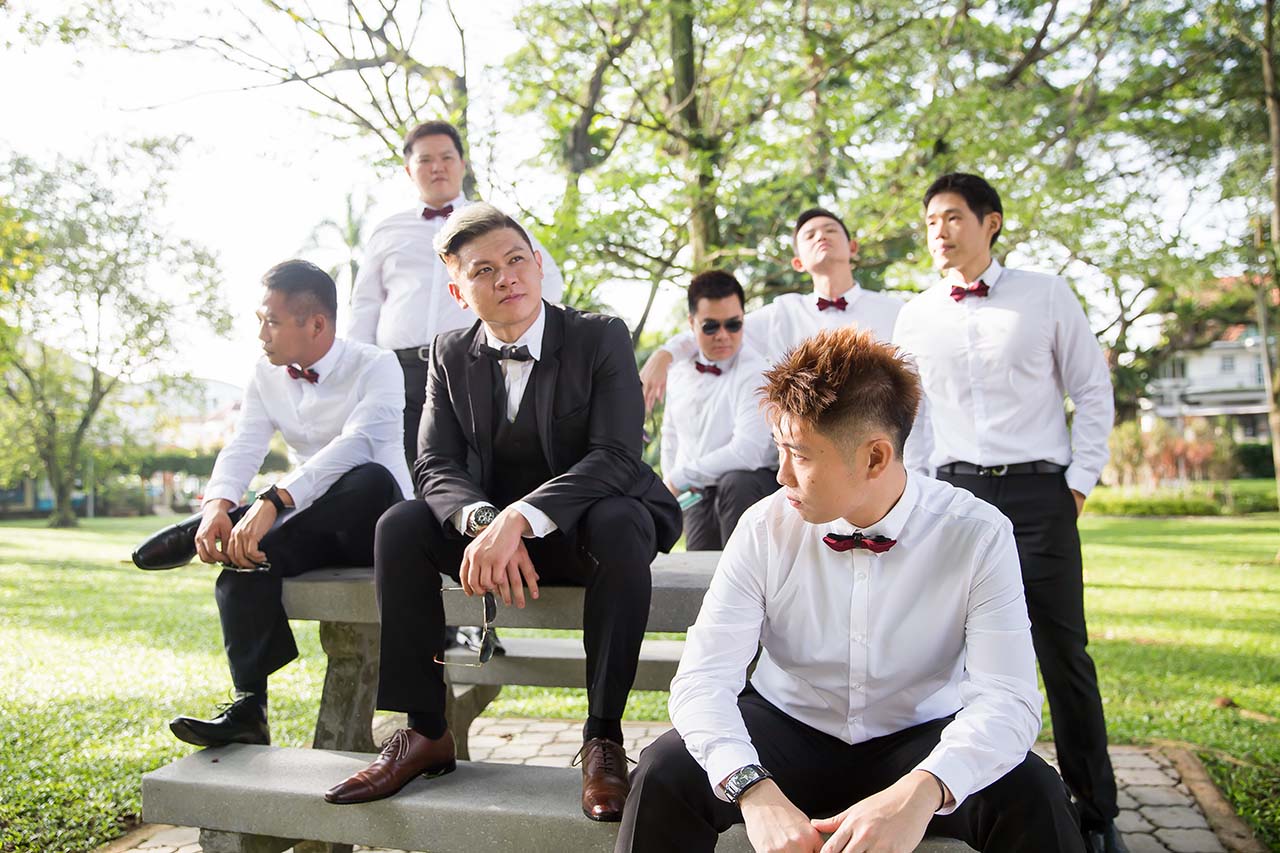 We chose a garden theme for our ballroom and requested for the florals to be mainly ivory and pink. We also requested for a wooden floral arch for our solemnisation – even our ring holder was rustic a "bird nest"! Our photo booth, candy bar and other signages also revolved around the theme. 
We curated our music playlist according to the programme flow and had mainly happy celebratory love songs which resulted in lively and positive vibes at our wedding, which reflected our relationship accurately as a couple. We also gave all our guests macarons as favours in addition to the default ones provided by the hotel.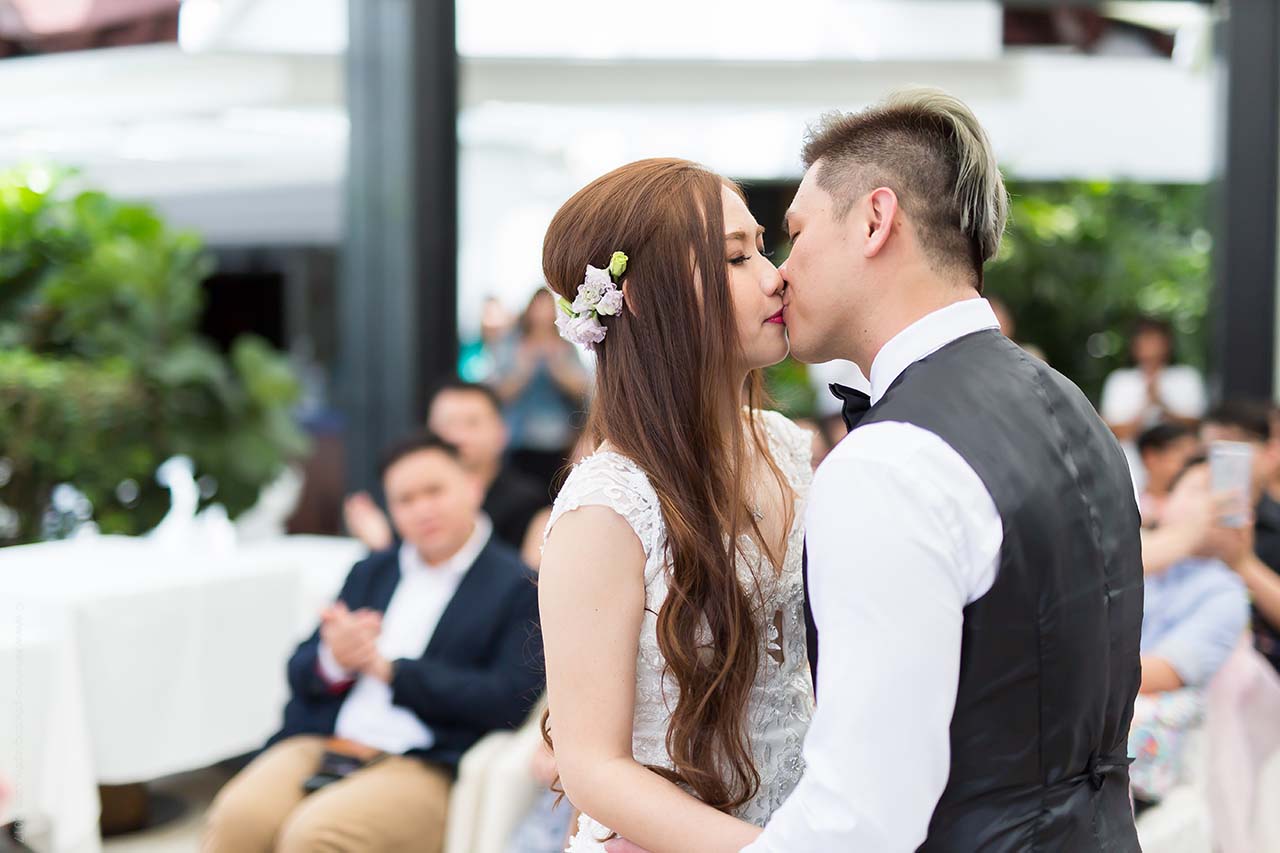 A month before the proposal, I went to her house to ask her parents for her hand in marriage and gathered her close friends to surprise her in a hotel suite at Pan Pacific Hotel two days after our four years anniversary. She was oblivious to the whole plan even after she entered the decorated suite until she saw the photo montage which I did for her! The montage included photos from our dating days and after the video ended, I came out with a saxophone playing "Nothing's Gonna Change My Love For You". I had secretly taken up a private saxophone lessons just to play this song and it took me about 6–7 lessons to get the hang of it! After that, I popped the most important question with a bribe: A pair of Jay Chou concert ticket – of course she said yes!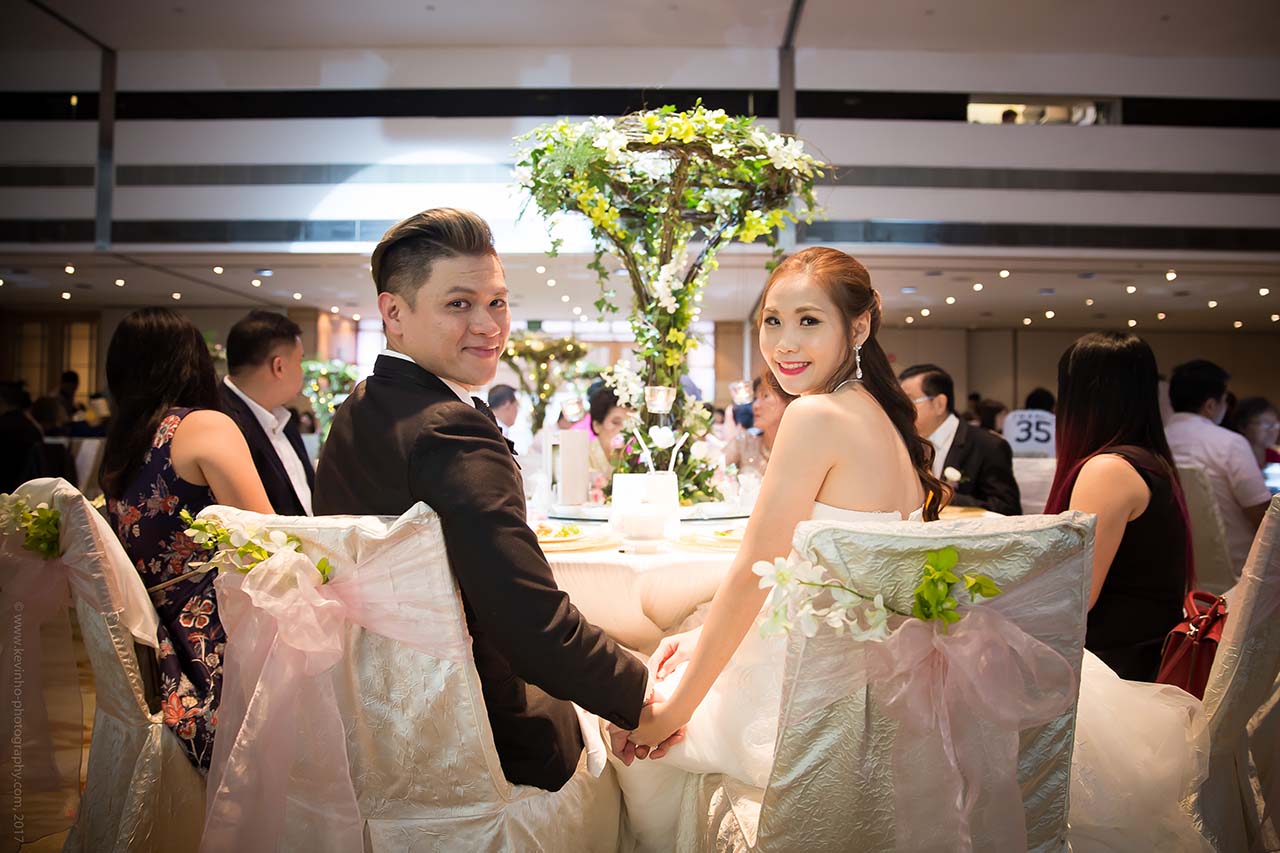 Right from the start, we knew we wanted a banquet so we shortlisted a few hotels based on capacity and availability. She had always liked outdoor weddings but due to the hot weather in Singapore, it is not really feasible for 3-hour banquets, so we tried to look for a hotel with an outdoor solemnisation venue as it has a shorter duration. Marriott has a poolside pavilion which is also sheltered in case of rain, so that was perfect for us as we did not have to worry about the weather. The Marriott is also centrally located in Orchard, making it very accessible for our guests!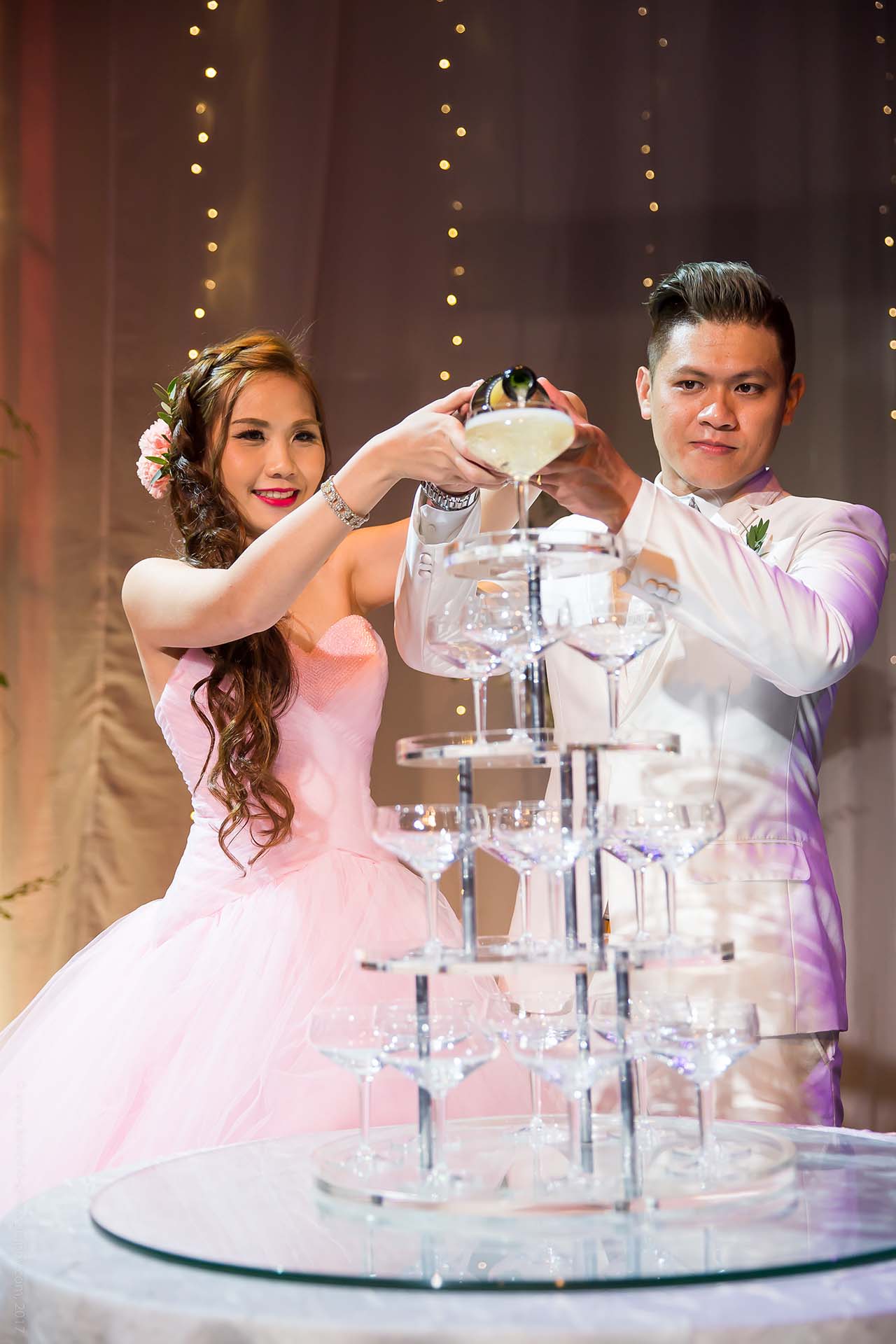 Our favourite part of the wedding is the first march in as it was a touching moment to be surrounded by all our loved ones on such a special day. We also enjoyed the mingling session with our families and friends after the second march in and when our morning highlights were screened. A memorable moment was when we exchanged our vows and the funniest part was definitely during the gatecrash when my groomsmen and I had to complete six fun challenges that represented the six criteria to be a good husband before the bridesmaids allowed me to see my bride.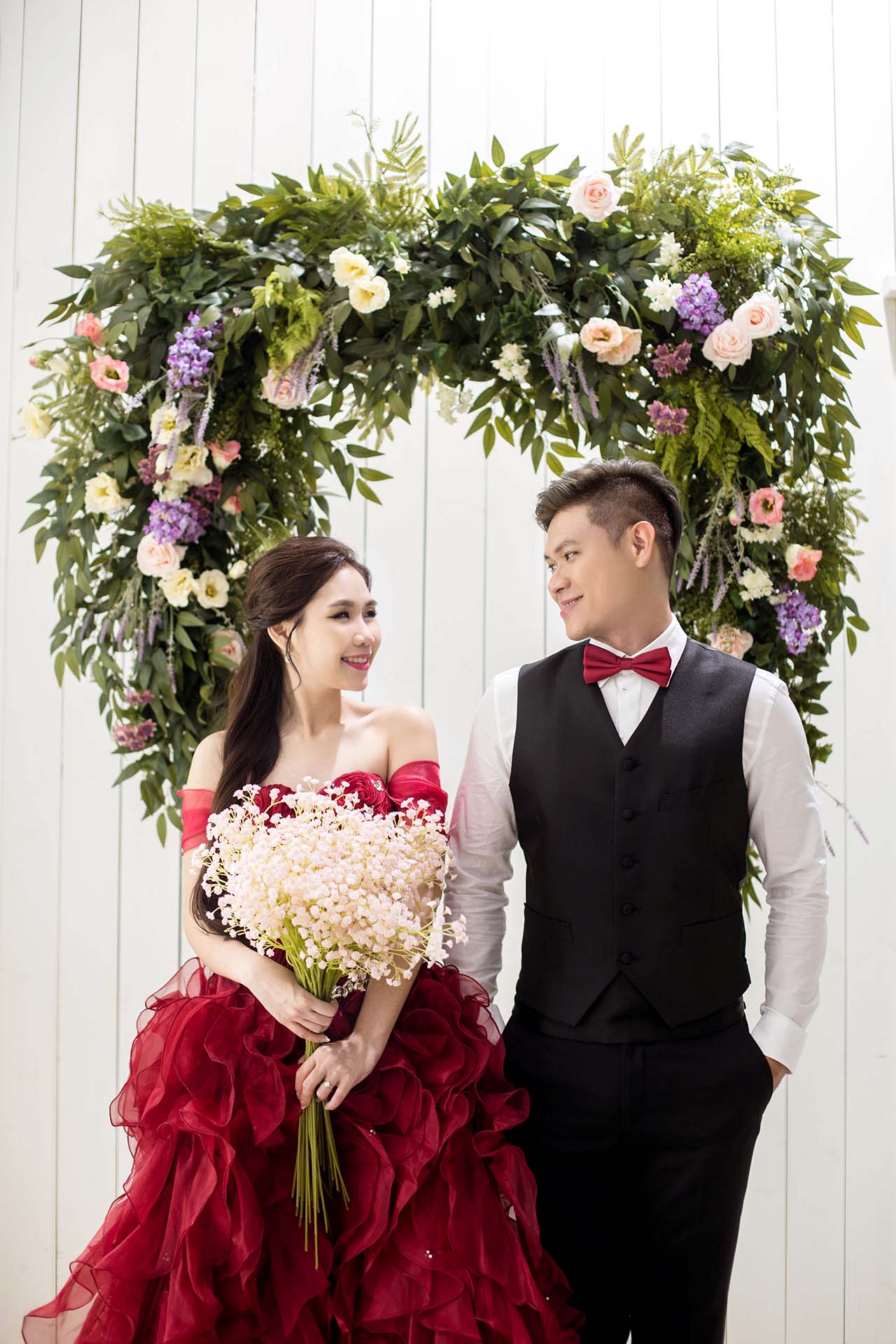 For the tea ceremony, she wore a red embroidered mermaid gown. She first saw the red gown on a mannequin in the bridal studio and she fell in love with it right away after trying it on. It's definitely her favourite out of the five because the material and design is very flattering. She was dressed in a white mermaid gown for the outdoor solemnisation, a classic white gown for the first march in, and a sweet gown in pastel pink for the second march in. Most people go for glamour when choosing the evening gown but she took this one as it suits her character more.