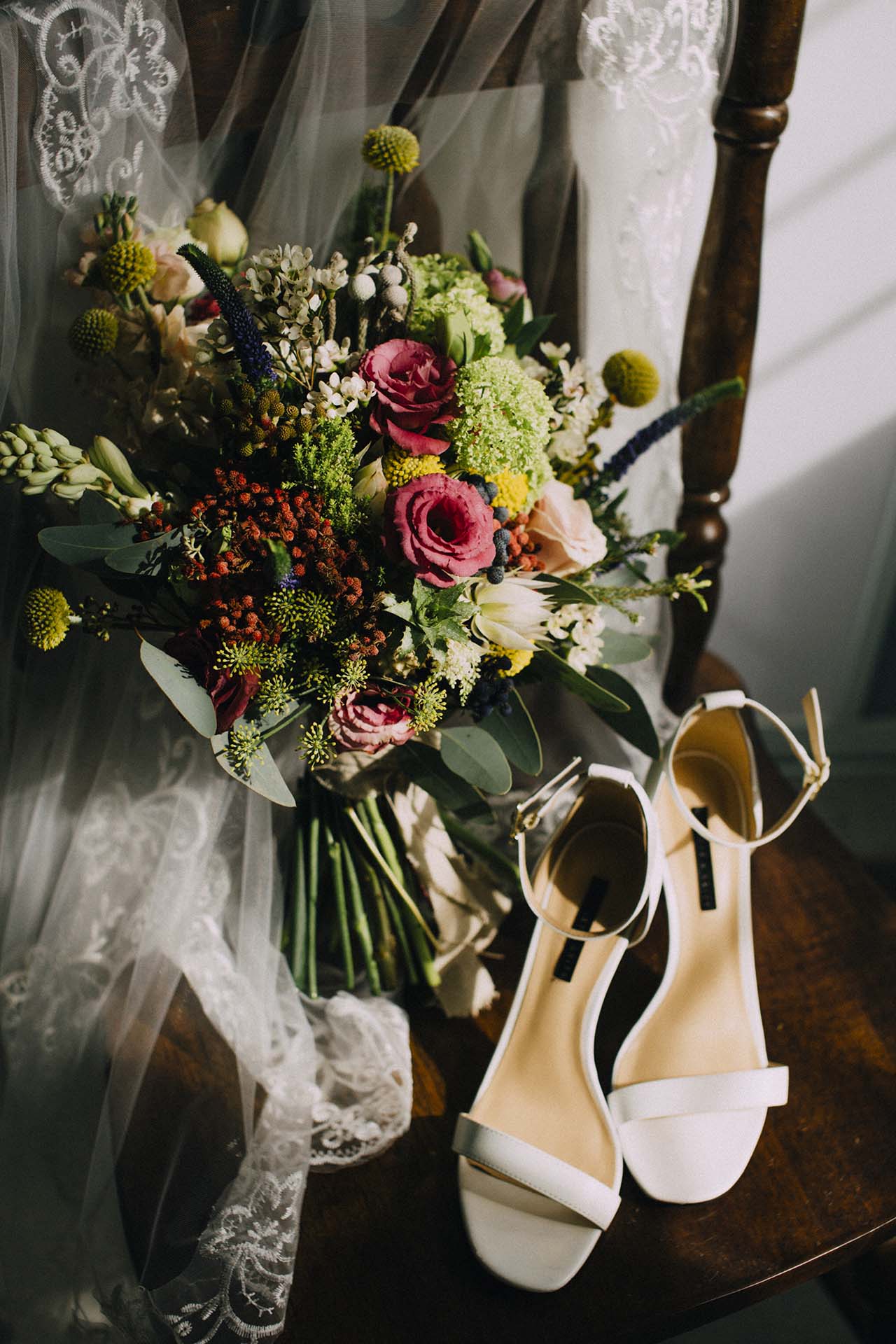 It happened on our trip to Nepal in October 2015. We love the outdoors and have always wanted to visit Nepal, so we planned for this trip an entire year before.
We went on a 5-day trek on the Annapurna Circuit — it was a wonderful experience. Every morning, we would wake up between 6 – 7am to start the trek and would stop and rest for the day at the next guesthouse in the late afternoon. Since we were trekking everyday, I didn't wear makeup at all.
On the second to last day of the trek, we had to wake up at 4 in the morning to trek up Poon Hill (it's a hill to the locals, but I swear it was a mountain to us city kids) to catch the sunrise. Only on this very morning, Zac kept asking me, "You sure you don't want to wear makeup? We're going to take lots of pictures up there." I was like, "Um, no. I'll just wear my sunglasses!" At this point Zac, who had a stubble on his face, was now suddenly clean-shaven; and I found it odd, but just brushed it off — it was 4 in the morning, and freezing!
It was tough trek up to the top of Poon Hill — dark, freezing and we couldn't see an end. When we finally got up there, it was so worth it – the view was extremely breathtaking! While I was busy taking countless photos of the view, Zac was frantically finding the perfect spot and setting up his cameras. Of course, once again, I had no clue – only because I thought that he was doing something for work (he used to work at an advertising agency so he's always up to creative mischief of some sort).
Once he was all set up, he got me over and told me we were going to take a picture together. Then, it happened! He got down on one knee and said, "This is it," while I, in shock, replied "Now?" — all while my left hand was stuck in my pocket. He popped the question, I cried and said, "Yes!" I still had my sunnies on, so no worries about makeup. *laughs*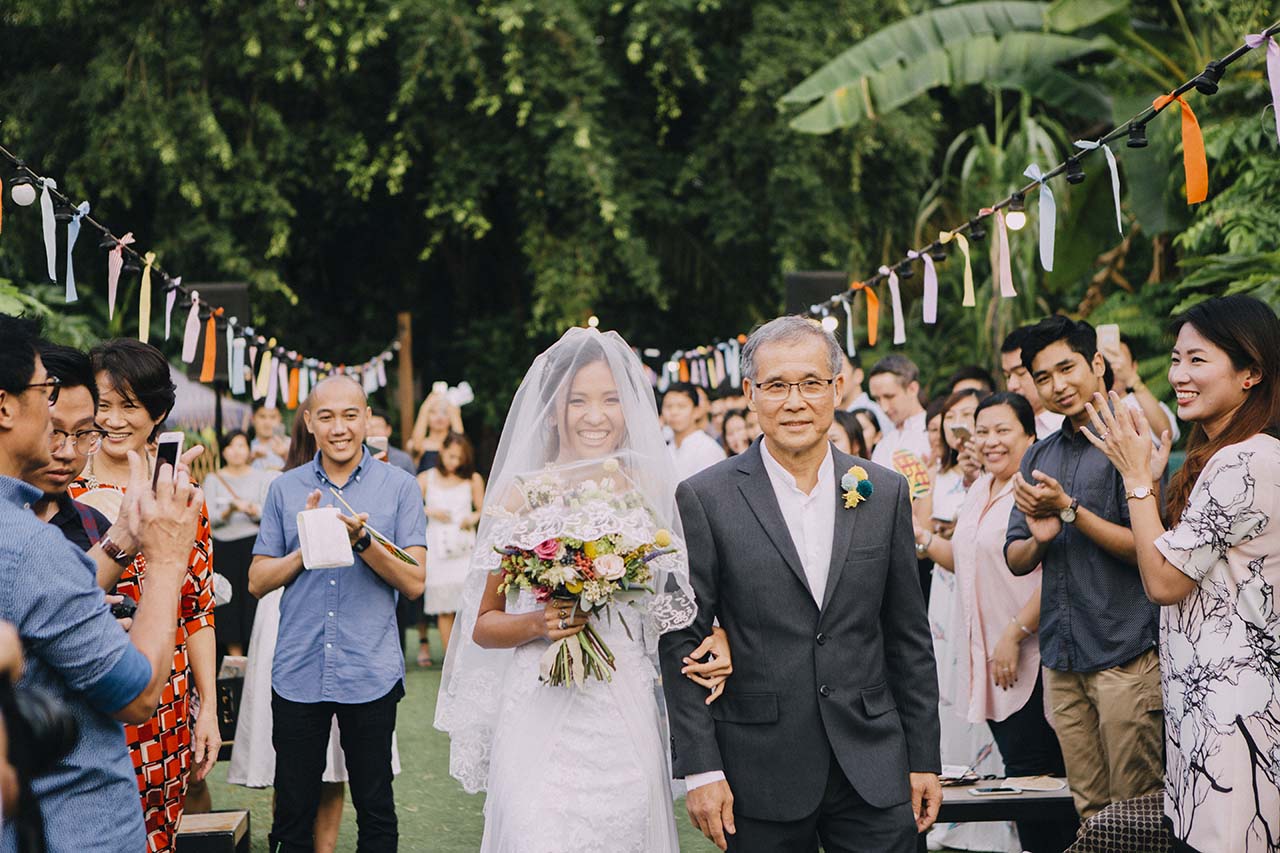 We had customised Nike shoes, which we changed into after the ceremony for our march-in at the restaurant. Well, we actually ran in for our march-in and we danced all night long in those shoes too!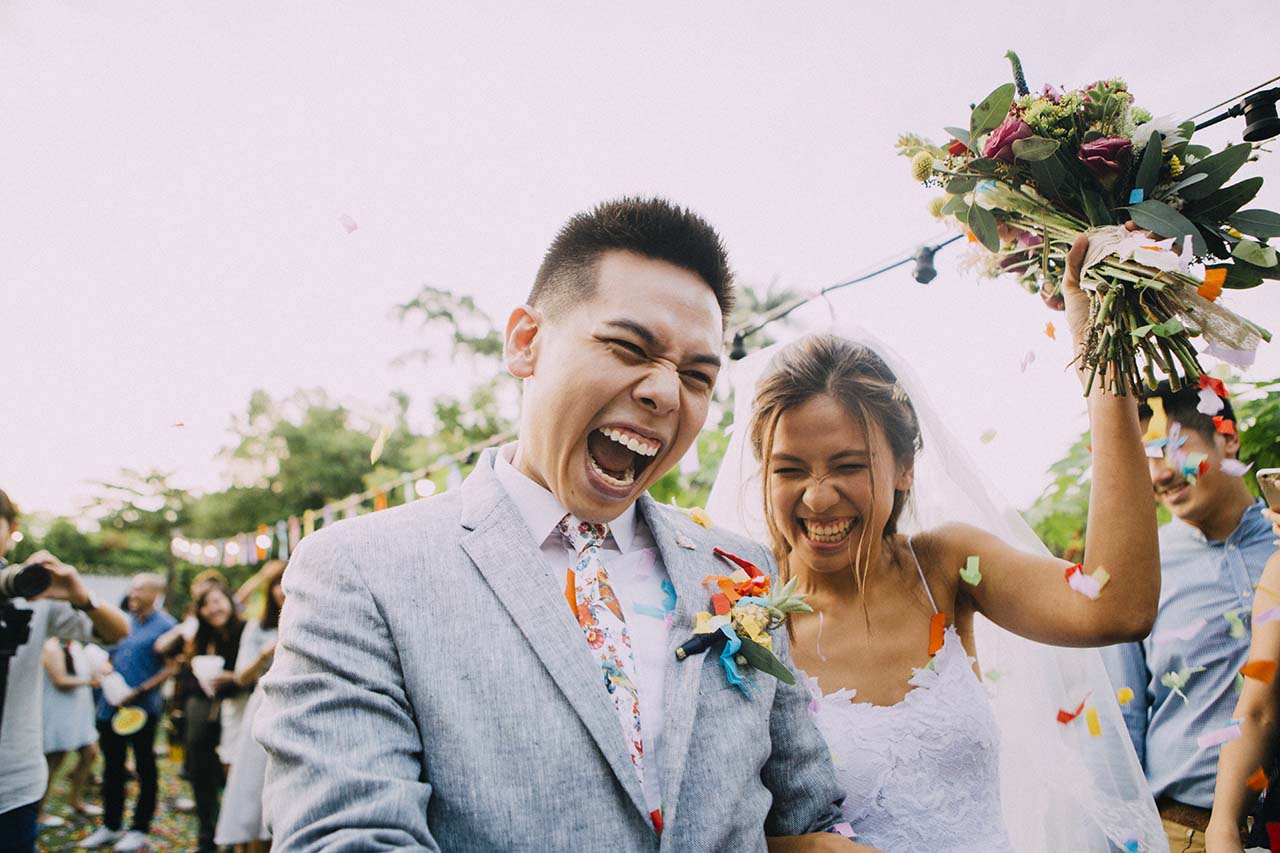 We knew we wanted something fun, casual, and not at all pretentious or glamorous. We also wanted splashes of colour set against a white and un-fussy backdrop.
The only things we DIY-ed ourselves were the canvas bags which were part of our wedding favours and wedding invites. Our wedding invites had hand-punched confetti which fell out when our unsuspecting guests opened them. *laughs*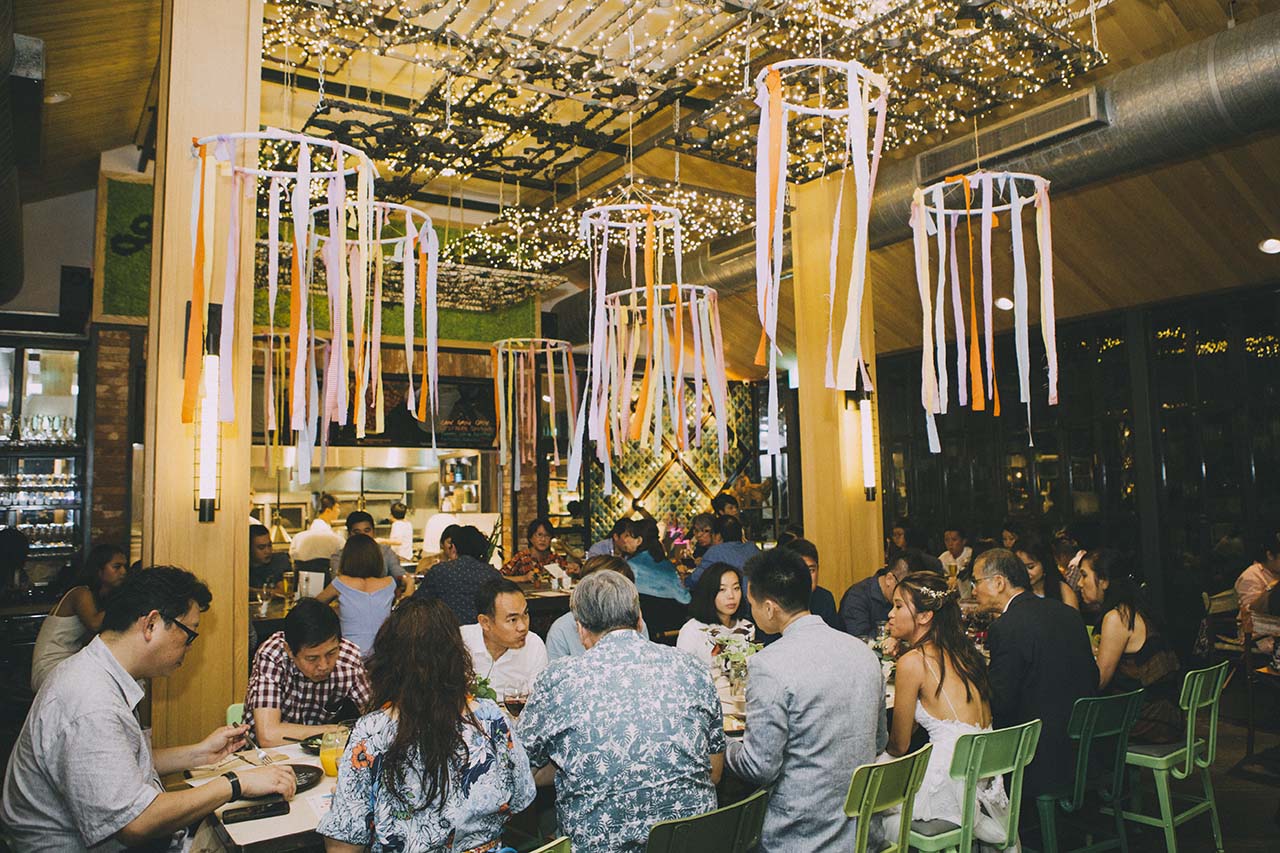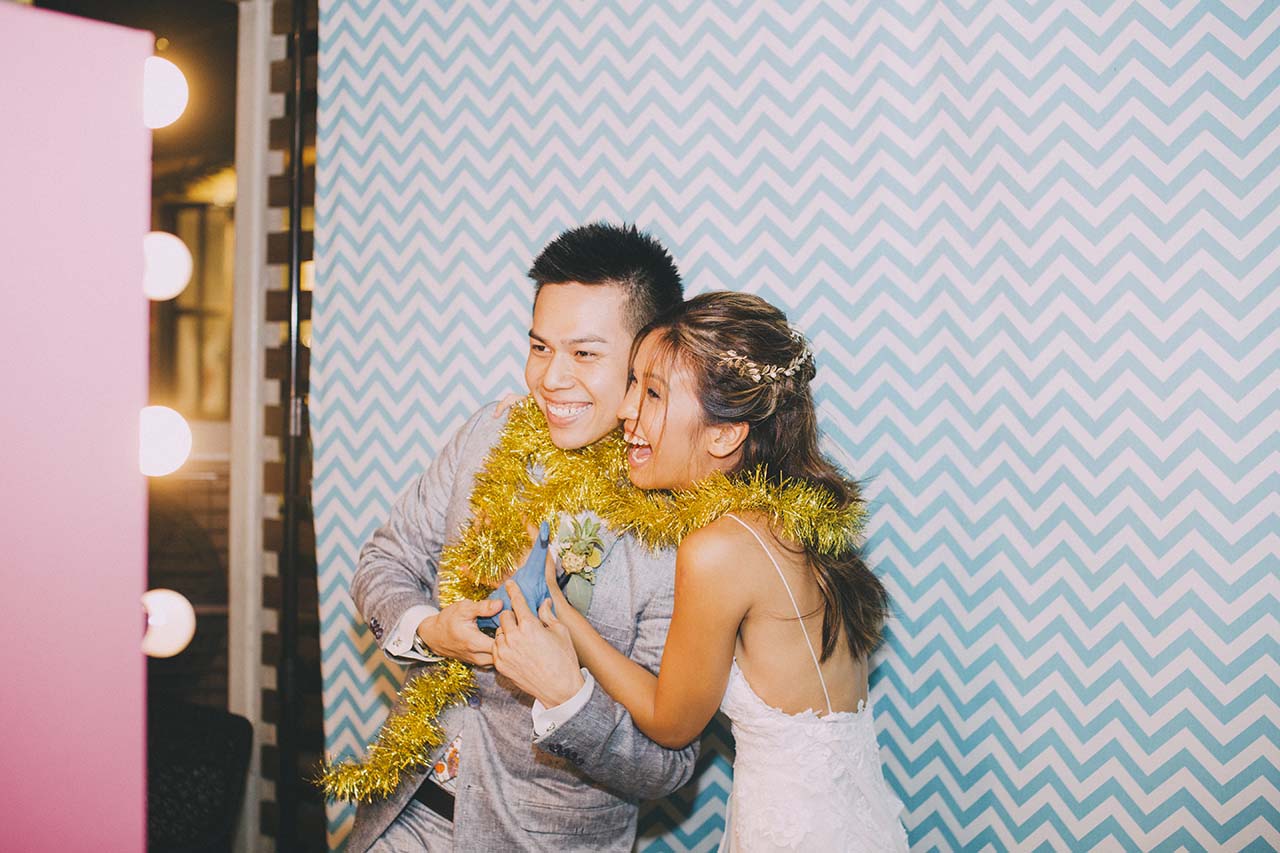 We wanted to DIY the entire venue ourselves because I knew exactly what I wanted — macramé backdrop, confetti, pom poms, dinosaurs etc. But as the day of the wedding drew closer, I realised that there was no way we could DIY everything ourselves, even with the help of our friends. Hiring One Night Spaces was probably one of the best decisions we made while planning the wedding. Melvyn made all our dreams come true, down to every nitty-gritty detail.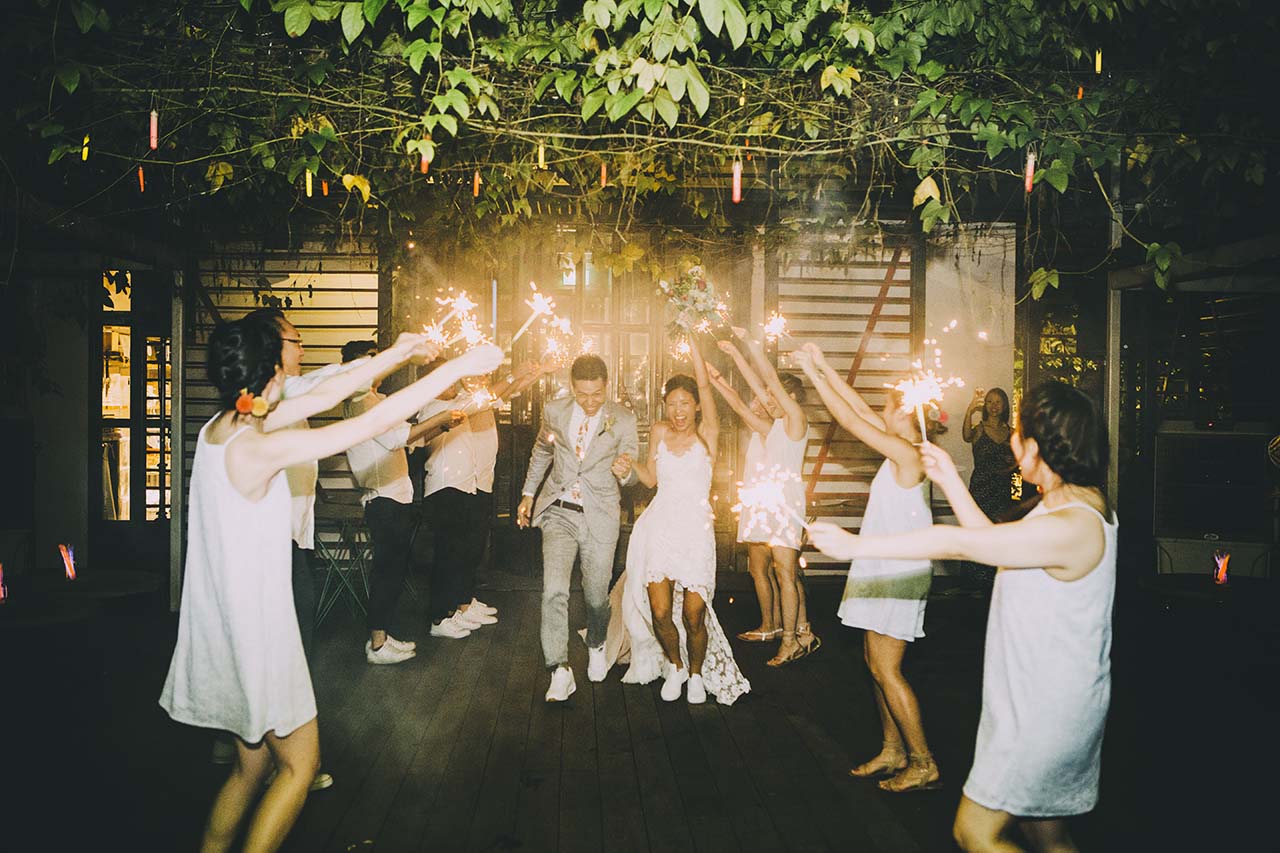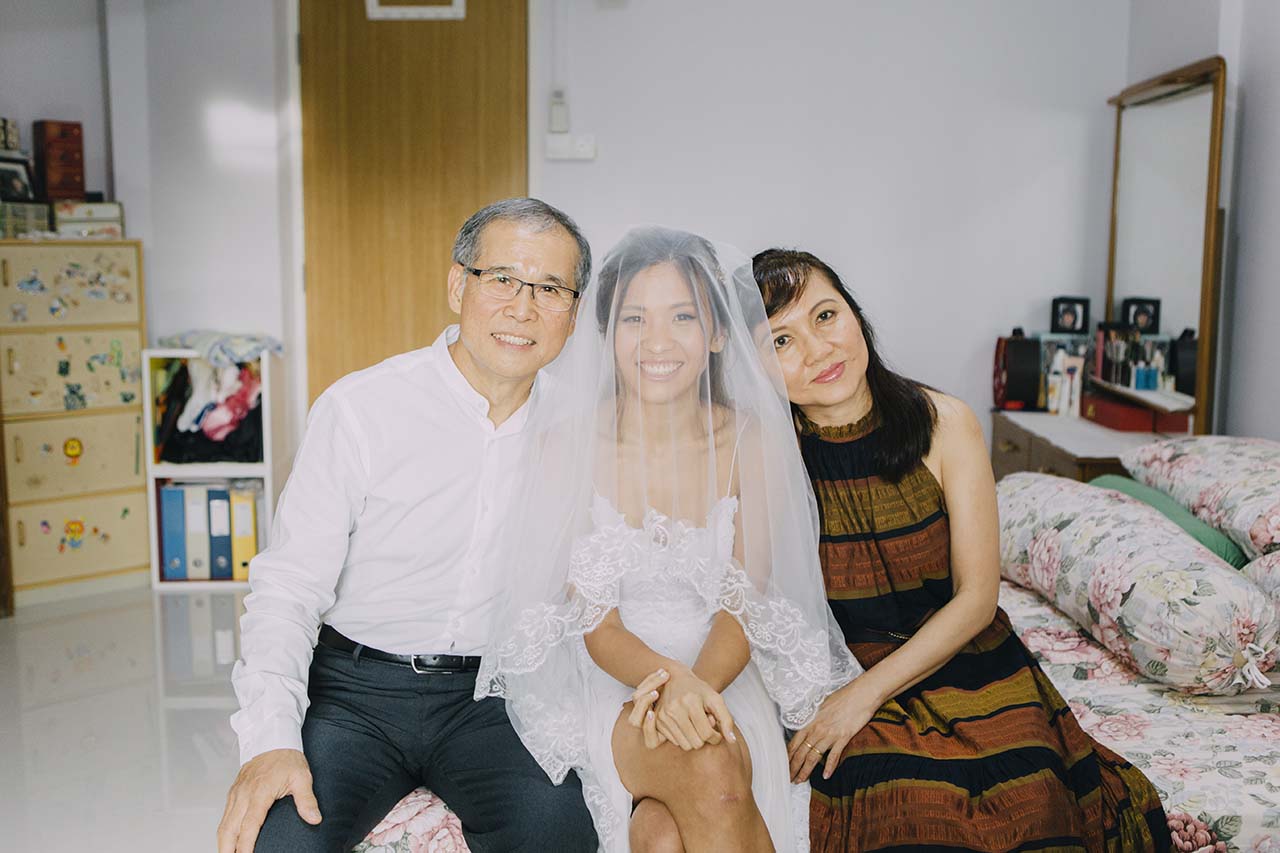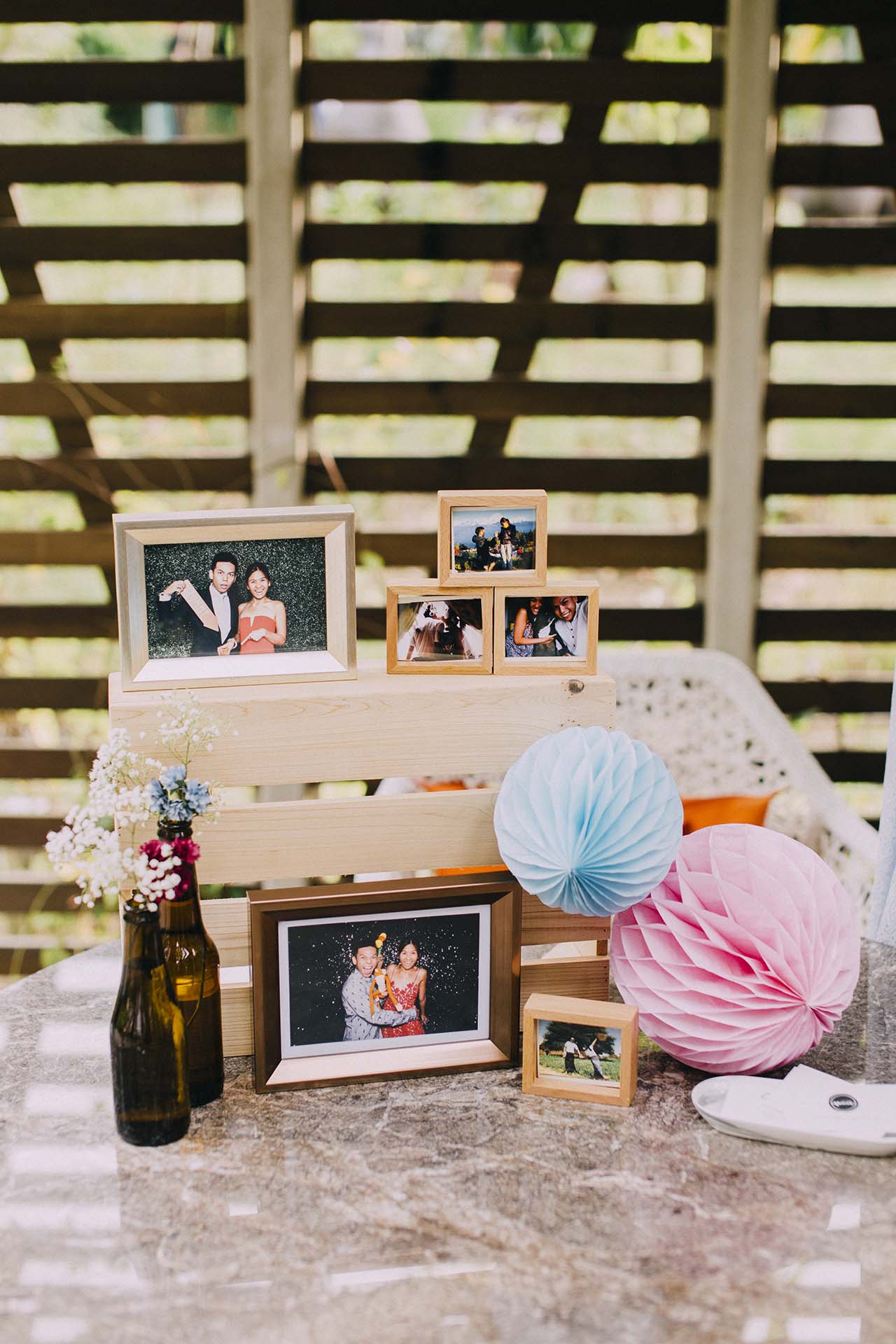 We bought everyone a baby cactus and hand-painted the canvas bags that came with them. We wanted something different from what weddings usually have; something reminiscent of our wedding and wedding venue, and something that we'd also love to receive if we were guests.
Guests were treated to disposable cameras to capture the wedding from their point of view. We also had our French bulldog, Tyson, walk down the aisle with the rings. We adopted him together in 2015, and he has been the most calm and loving dog ever.