9 Editor's Choice Award Wedding Banquet Venues for a Celebration of a Lifetime
2020-10-15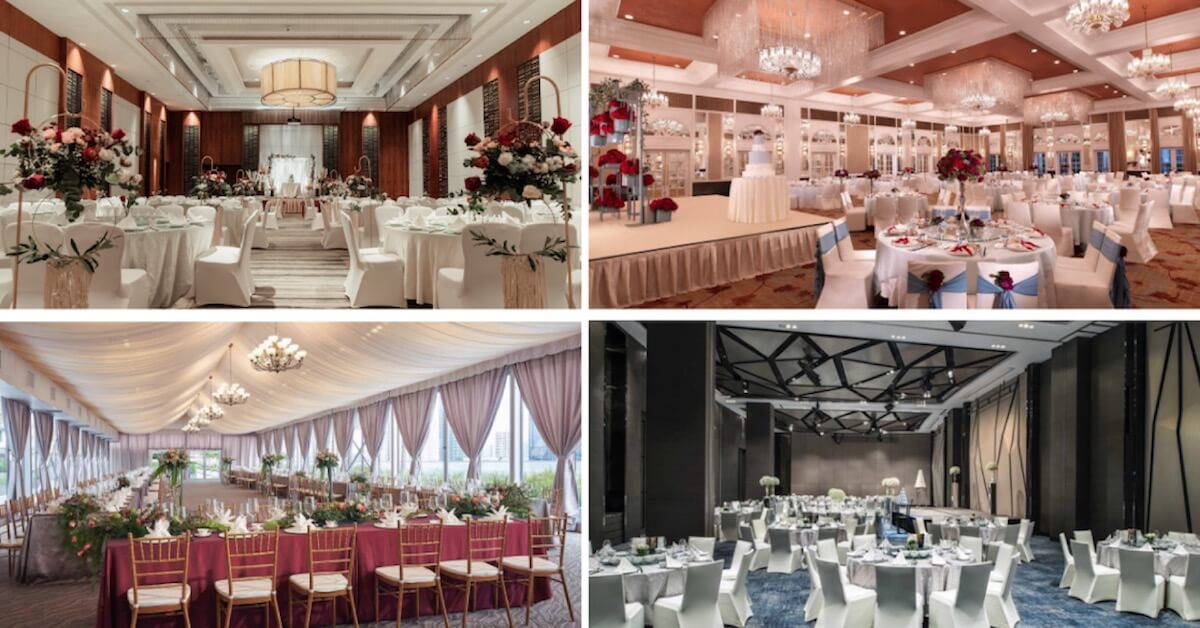 An unforgettable wedding includes not only a stunning solemnisation but also an impressive wedding banquet. It sets the tone for the special day to end with, and is where guests can revel in one another's company and soak in the joy of a marital union!
To ensure that you've selected a wedding banquet venue that will not disappoint, we've curated a list of venues that is this year's Editor's Choice for the Preferred Banquet Venue. Enjoy!
1. Amara Sanctuary Resort Sentosa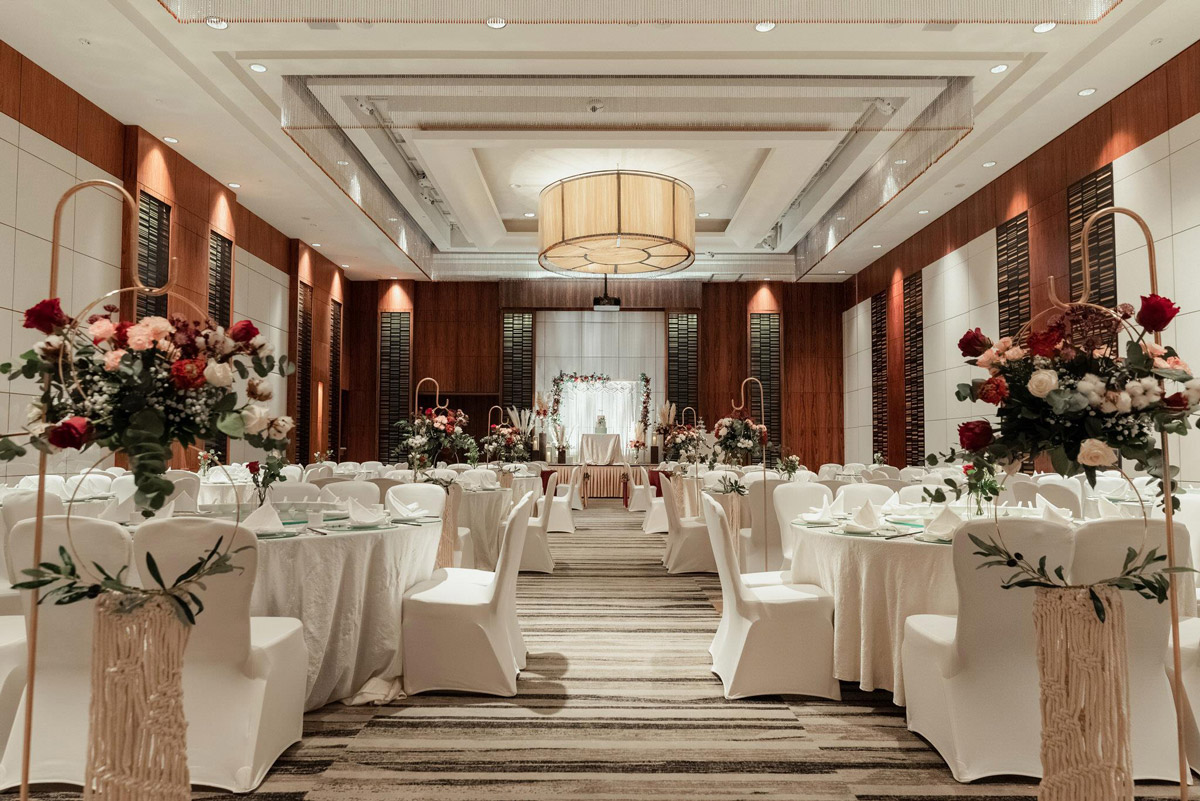 Source: Amara Sanctuary Resort Sentosa
It's no surprise why Amara Sanctuary Resort Sentosa is a recipient of the Editor's Choice Award for the Preferred Banquet Venue in 2018 and 2020. Nestled in the midst of a whopping 3.8 hectares of lush tropical gardens, the resort offers a tranquil beauty unlike no other.
Its architectural design also artfully marries old-world charm and contemporary sleekness, giving you the sophisticated grandeur that you seek in a banquet venue! Accommodating up to 500 guests at any one time, choose from a variety of mouthwatering banquet menus to end the beautiful day on a high note.
Read more here!
Address: 1 Larkhill Road Sentosa Singapore 099394
Tel: +65 6825 3838
Website
2. Grand Copthorne Waterfront Hotel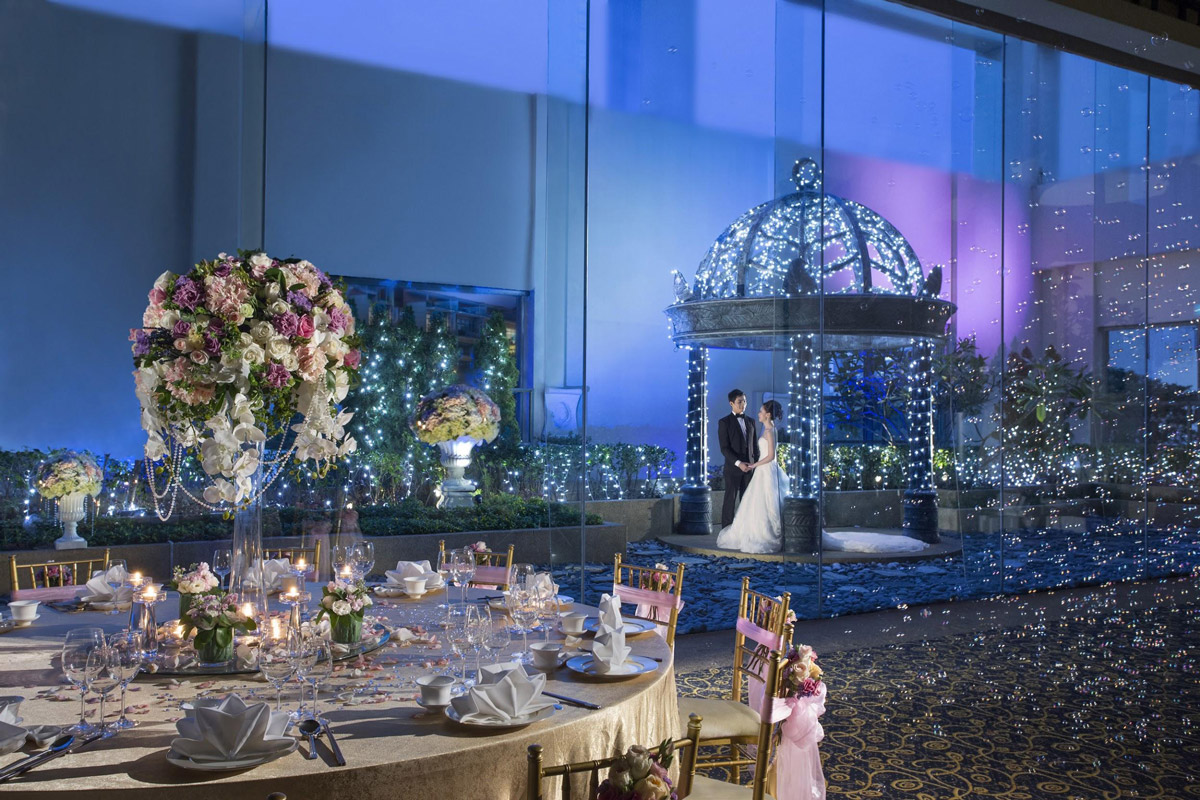 Source: Grand Copthorne Waterfront Hotel
Boasting a resplendent ballroom with a 6m-tall ceiling that commands attention, full glass wall, and exquisitely-landscaped garden situated right next to it, it's no wonder why the Grand Copthorne Waterfront Hotel was included in the list of Preferred Banquet Venue this 2020.
Besides being able to seat up to 650 guests, their ballroom also has state-of-the-art lighting and sound systems. Guests are also sure to be in for an unforgettable gastronomy adventure because the hotel's award-winning culinary team only uses fresh ingredients and healthy cooking methods that don't compromise on its delicious taste!
Find out more about what it has to offer here!
Address: Grand Copthorne Waterfront Hotel, 392 Havelock Road, Singapore 169663
Tel: +65 6233 1199
Website
3. InterContinental® Singapore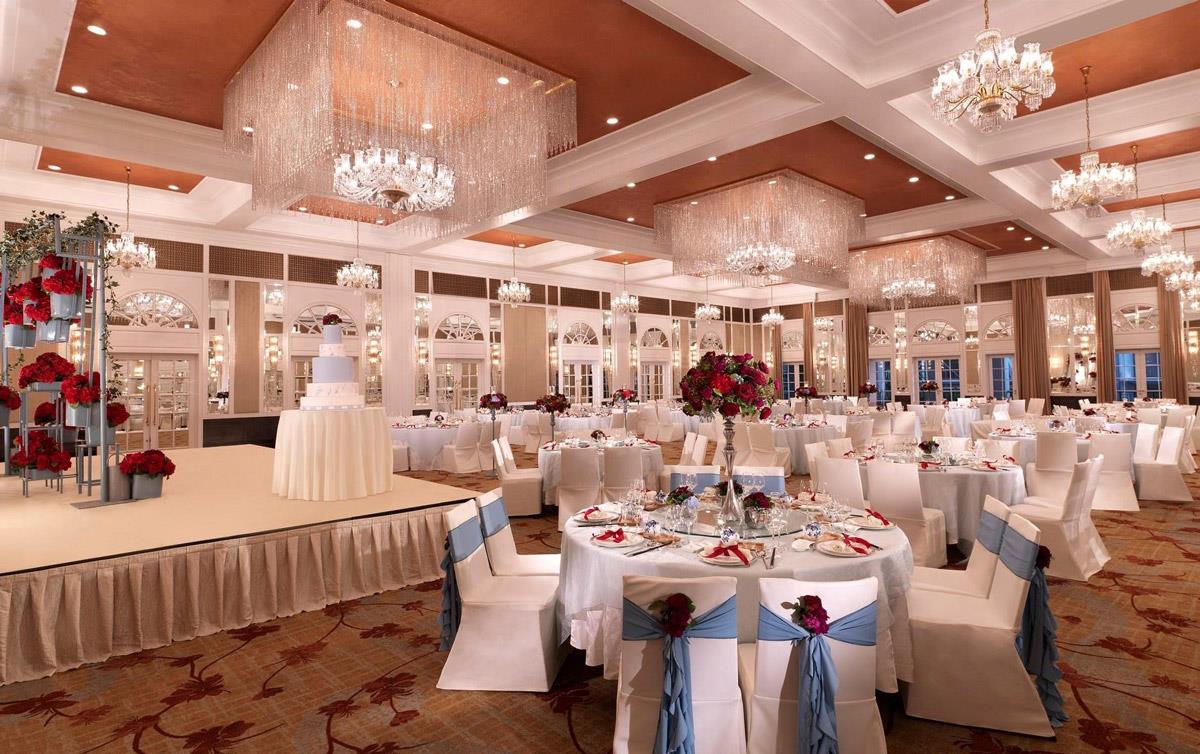 Source: InterContinental® Singapore
Surely, the next thing you'd want to do after you've said your "I Dos," is to finally get a taste of the scrumptious menu that you've carefully selected for your guests to enjoy. Apart from their gorgeous interior that exudes great elegance and charm, the InterContinental® Singapore takes pride in their tantalising Cantonese cuisine that is sure to impress your tastebuds.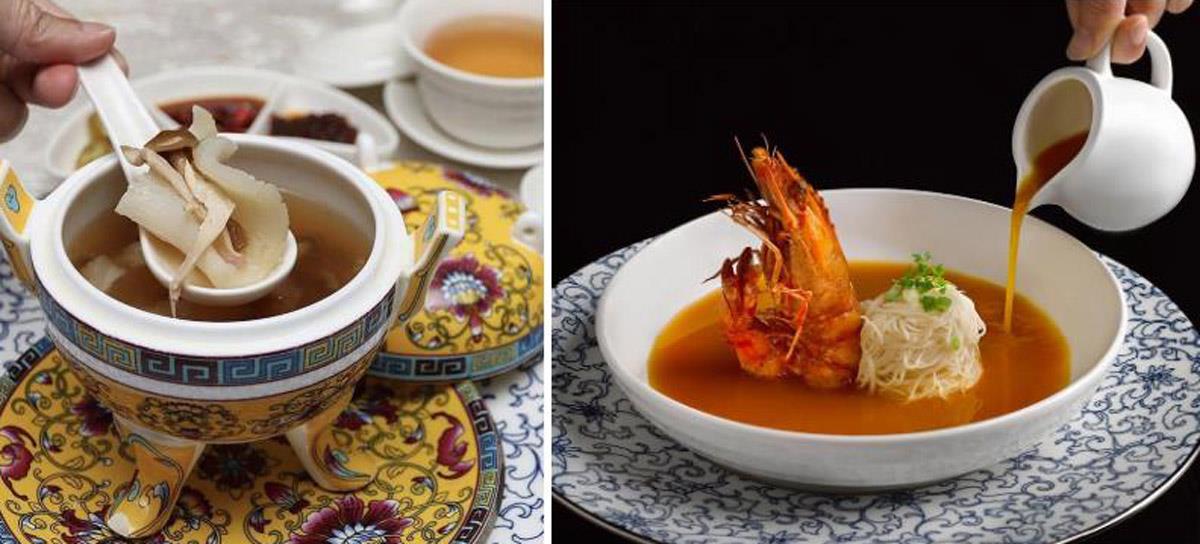 Their perennial favourites and exquisite seafood dishes are prepared by the chefs from the award-winning restaurant, Man Fu Yuan, and are sure to please your friends and family, whether young or old.
Read more here.
Address: 80 Middle Road, Singapore 188966
Tel: +65 6825 1181
Website
4. Novotel Singapore on Stevens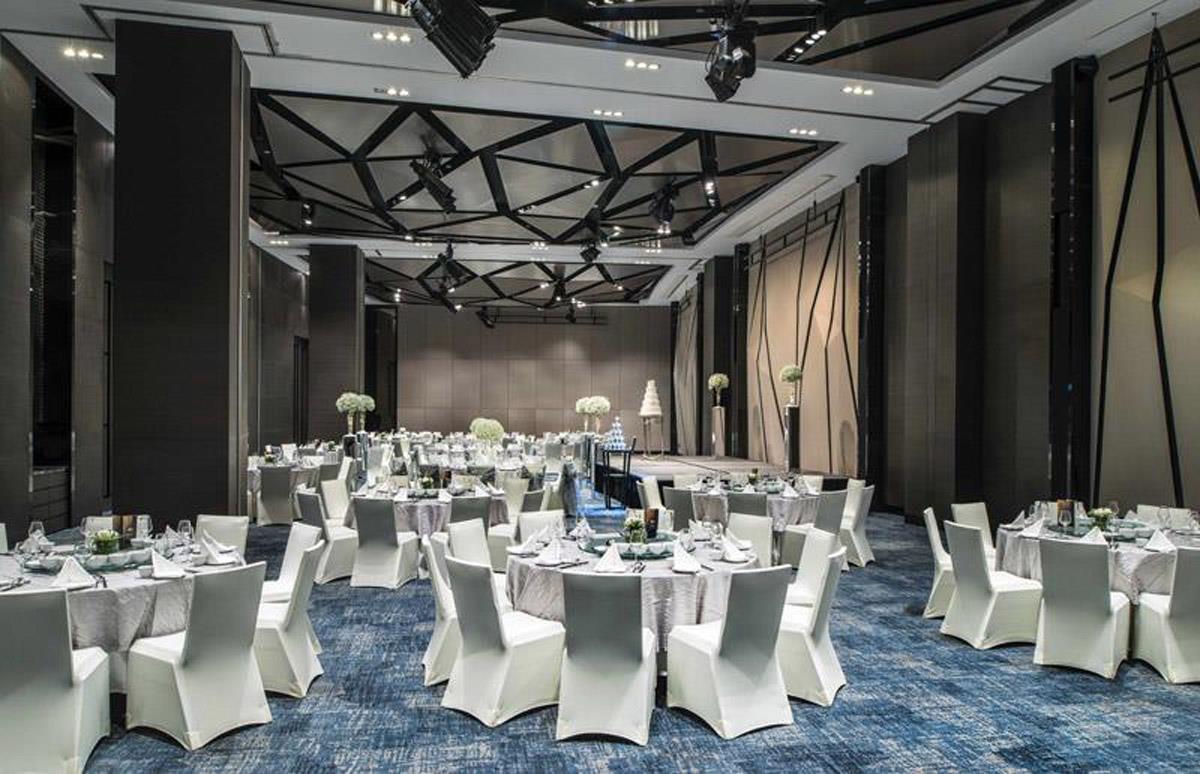 Source: Novotel Singapore on Stevens
Perfect for couples who are looking to hold a one-of-a-kind wedding that reflects their unique style and love story, Novotel Singapore on Stevens' Grand Ballroom is made for large-scale weddings of up to 320 guests and has glistening lights on its 6-feet high ceiling that resembles glistening stars. Aptly coined The Polaris, the venue exudes an air of elegance and sophistication and is sure to take your breath away!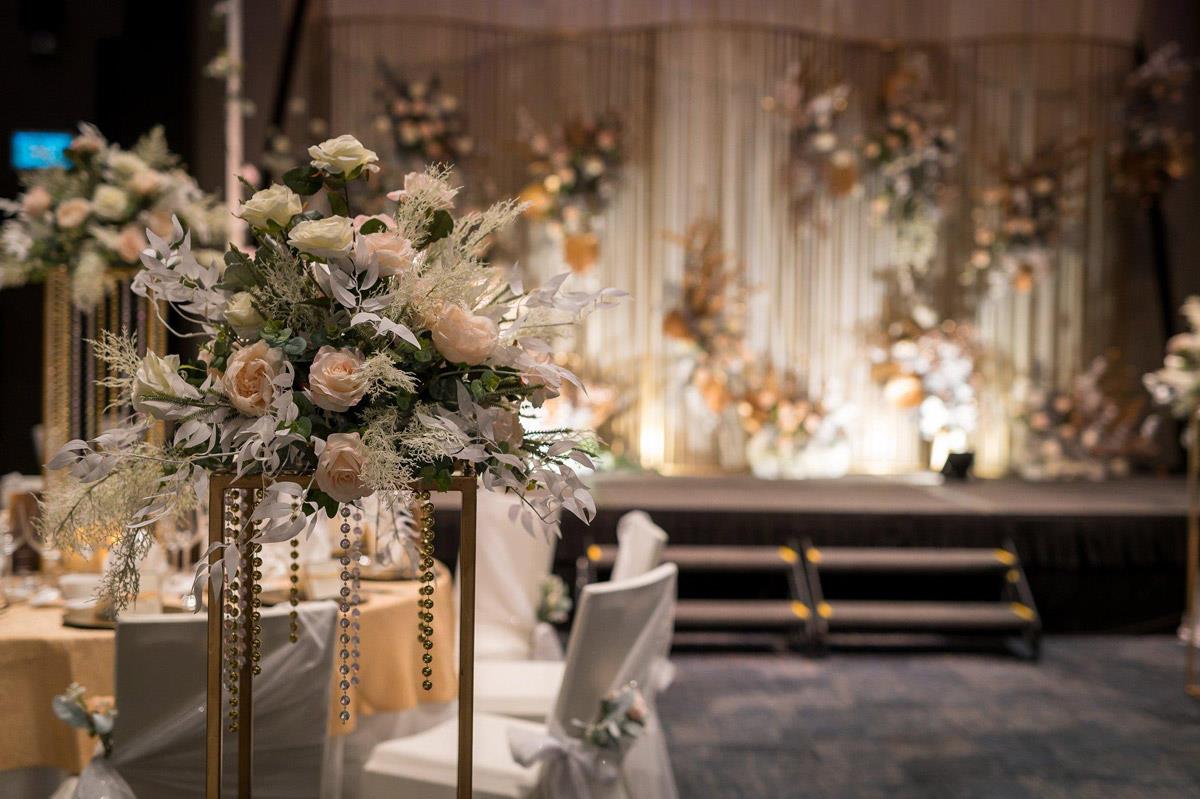 Alongside the wide range of wedding venues offered, Novotel Singapore on Stevens also provides a huge variety of wedding themes that are constantly refreshed to elevate your wedding experience. From mood lighting and music to charming table settings and delectable cuisines, let their team take care of it all while you kick back and enjoy the entire wedding experience.
Find out more here!
Address: Novotel Singapore on Stevens, 28 Stevens Road, Singapore 257878
Tel: +65 6491 6100 | +65 6491 6114
Website
5. Orchard Hotel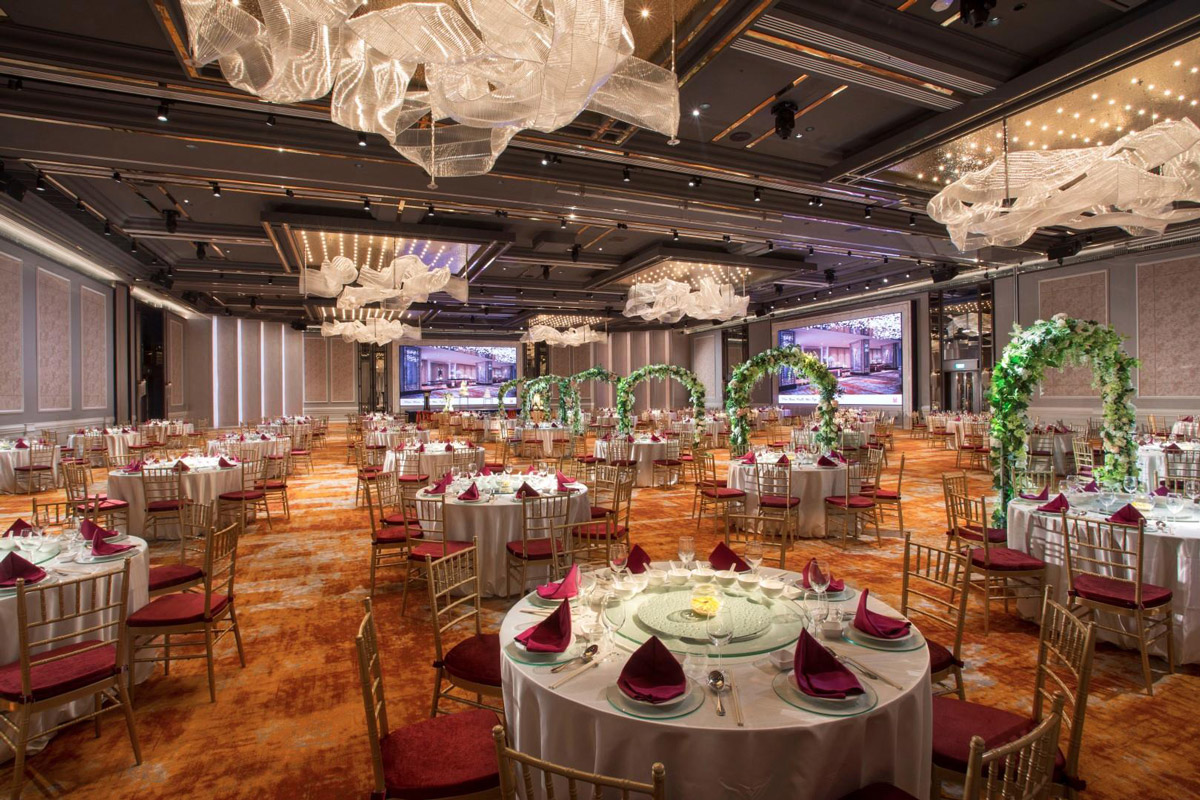 Source: Orchard Hotel
At Orchard Hotel, your ideal wedding will never be a pipedream. Known for their stylish spaces, award-winning culinary concepts, and tailored experiences, set the mood with their elegant pillar-less Grand Ballroom that spells splendour and grandeur!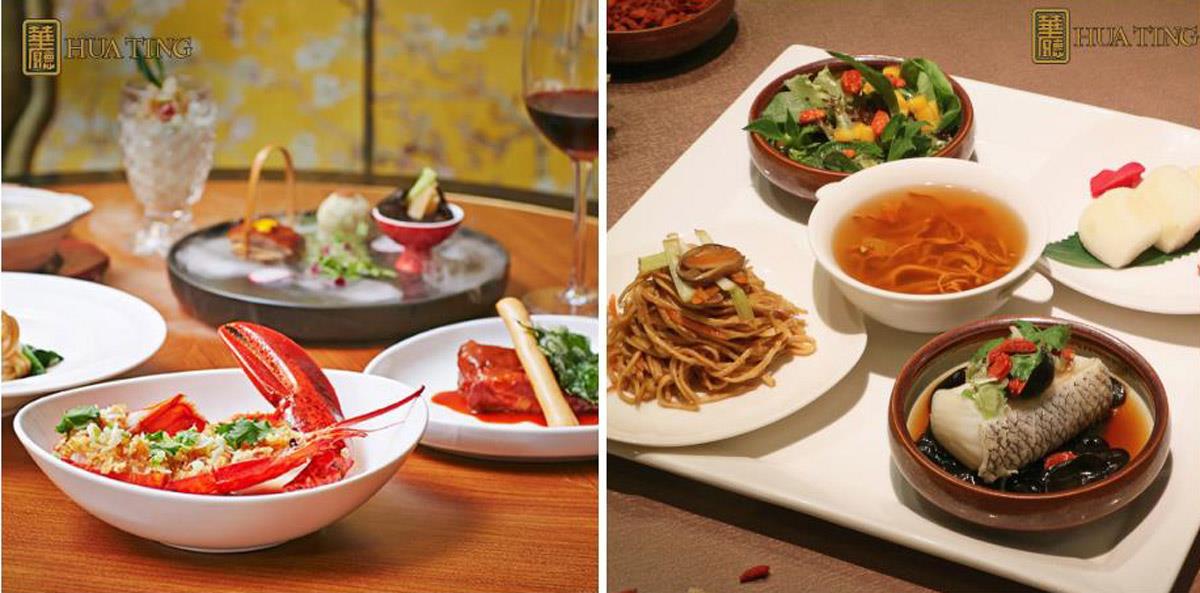 As one of the biggest pillar-free grand ballrooms in Singapore, this impressive venue spans over 10,000 square feet. The hotel also houses Hua Ting Restaurant, which has been featured in prestigious food awards such as the Michelin Guide Singapore (The Plate) and Tatler Singapore's Best Restaurants, and has an undisputed reputation for its authentic Cantonese cuisine.
Learn more about the venue here!
Address: 442 Orchard Road, Singapore 238879
Tel: +65 6739 6635 | +65 6739 6532 | +65 6739 6572 | +65 6739 6557
Website
6. PARKROYAL on Beach Road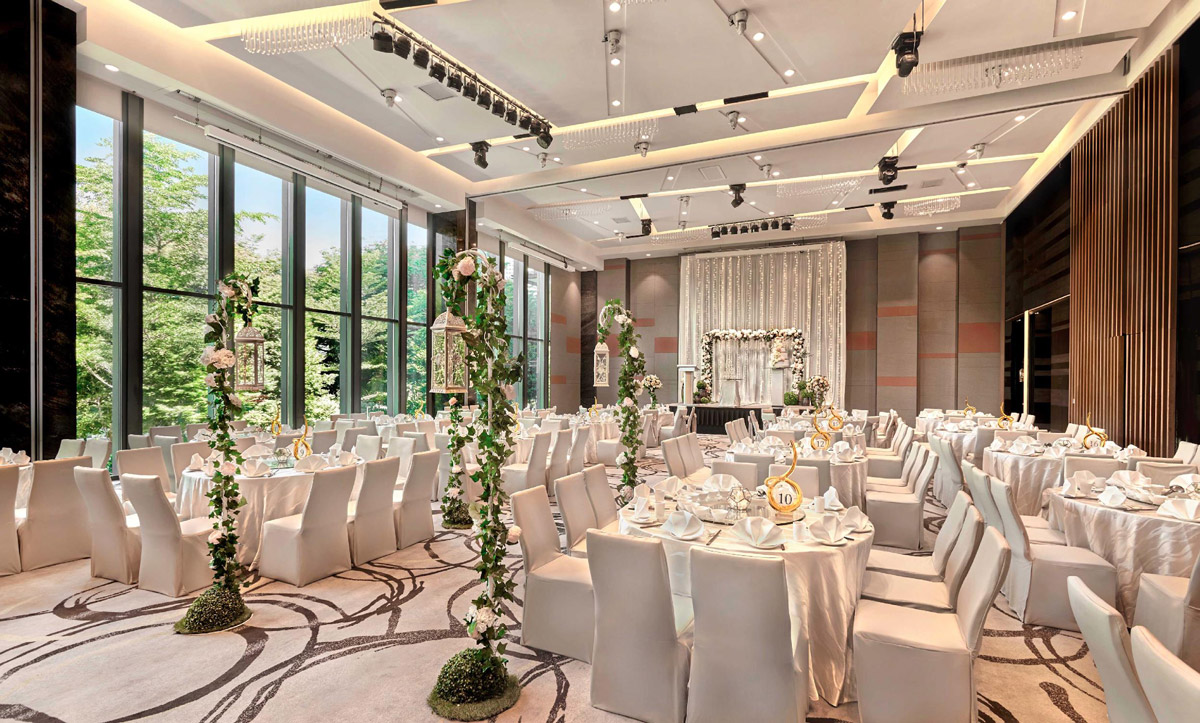 Source: PARKROYAL on Beach Road
At PARKROYAL on Beach Road, everything they do revolves around their philosophy of creating the perfect, most memorable experience through sheer dedication. Naturally, this philosophy extends to their wedding banquet services as well.
With their spectacular ballroom choices and tantalising banquet spread, you, along with your guests, are guaranteed to be swept off your feet. Whether you wish to opt for the traditional menu or a modern one, have a customised wedding theme or personalised decorations, their talented banquet team are sure to go the extra mile and deliver.
Read more here!
Address: 7500 Beach Road, Singapore 199591
Tel: +65 6505 5697
Website
7. Sinfonia Ristorante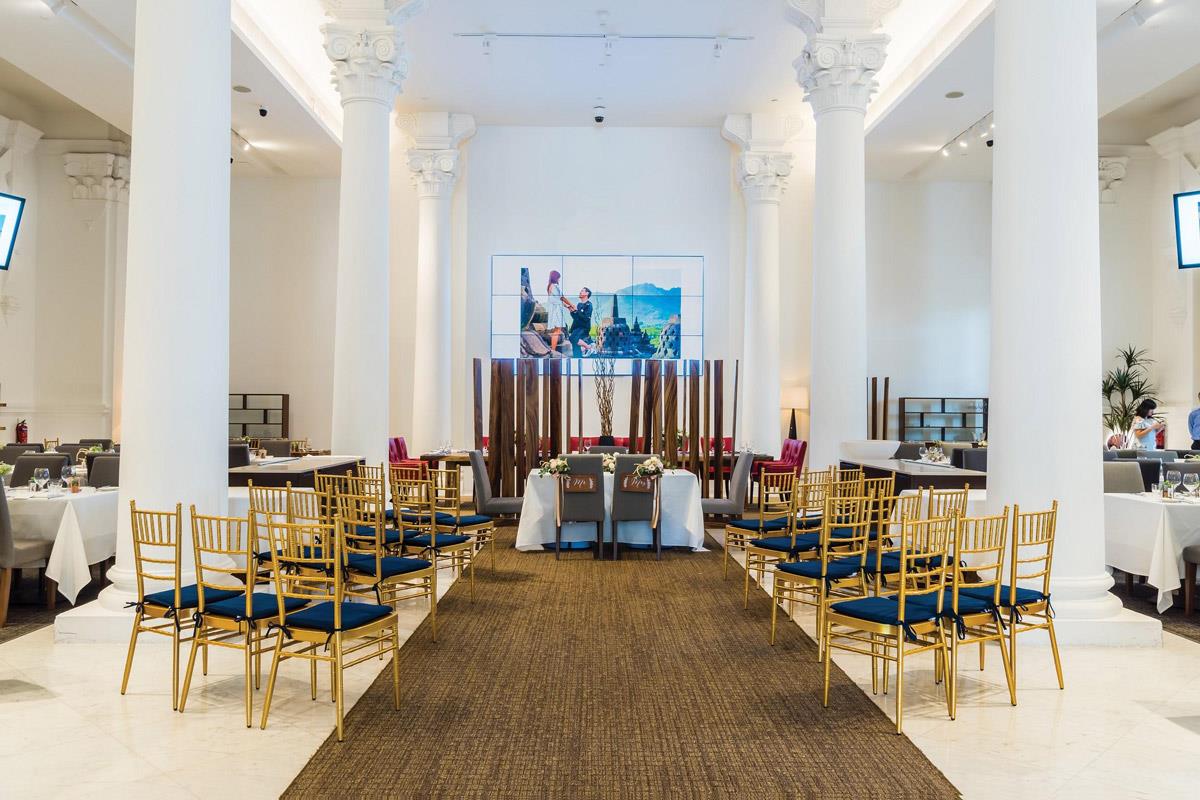 Source: Sinfonia Ristorante
Hotel weddings are the typical go-to option, but if you're on the hunt for an alternative venue such as a restaurant, Sinfonia Ristorante offers couples a unique setting while catering to the wedding theme.
Decked out in elegant Victorian-esque interiors with grand Corinthian columns, this wedding venue is guaranteed to wow those that step foot inside. As a highly-customisable blank canvas, you can also transform the space to meet your dream wedding requirements.
Commemorate this special day with pre-prandial cocktails and degustation menus that are specially curated by their team of professionals. Moreover, they have a fine selection of alcohol, spirits, and wine to help you end off the day with a bang.
Read a more detailed writeup here.
Location: 11 Empress Place, #01-01 Victoria Concert Hall, Singapore 179558
Contact Number: +65 6385 5588
Website
8. One Farrer Hotel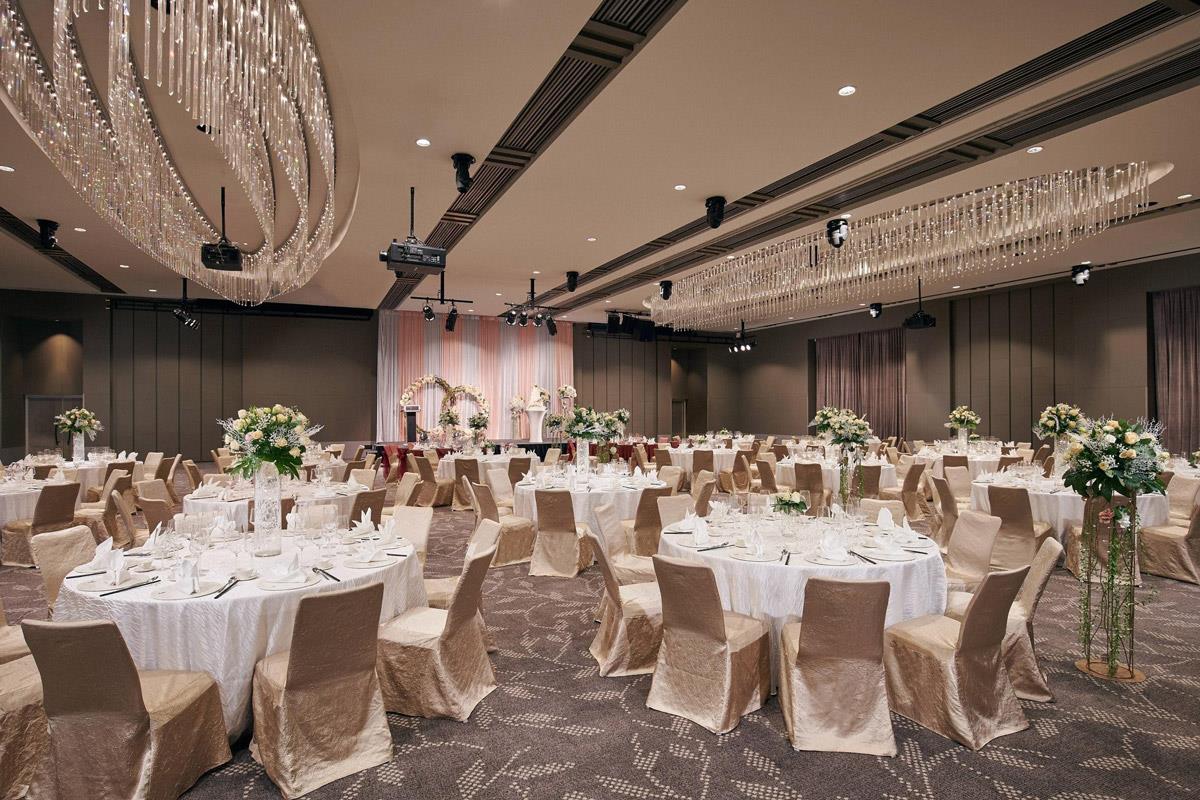 Whether you envision your wedding banquet to be an intimate affair or an all-out, sophisticated soiree, One Farrer Hotel will not disappoint with a selection of beautiful venues for couples to organise events of any size and type.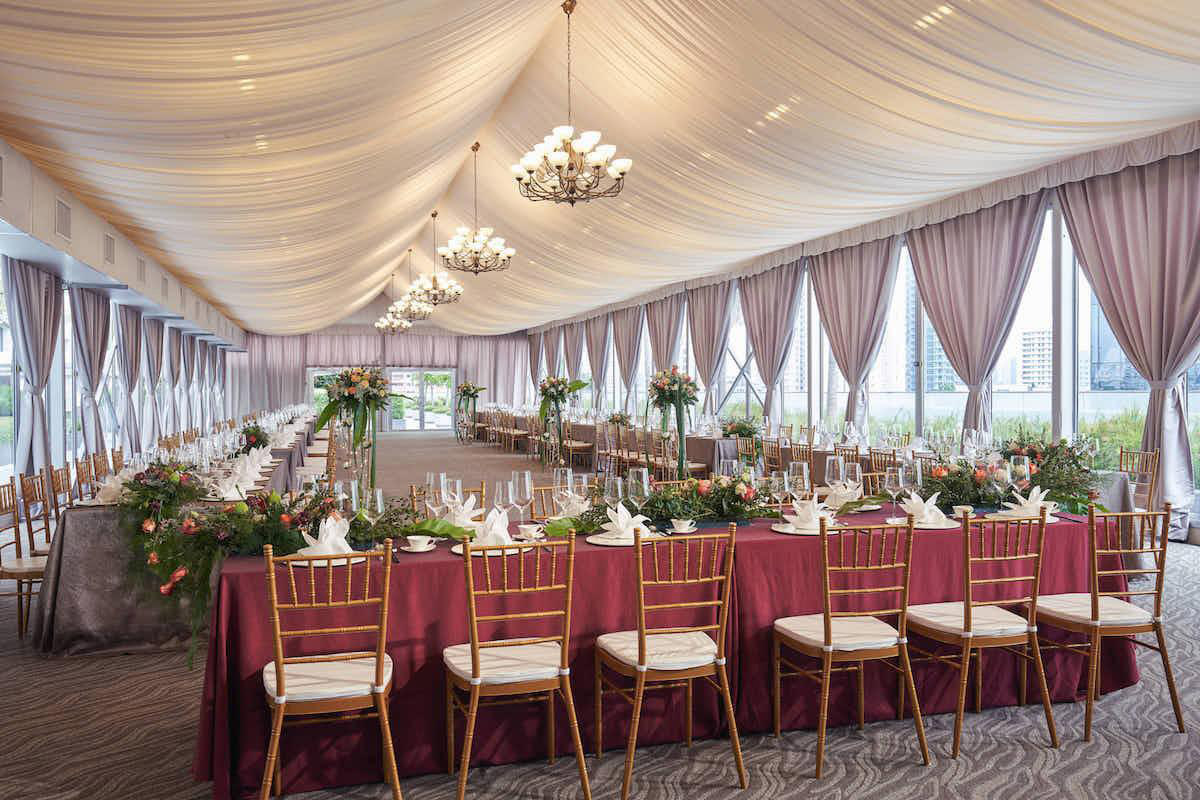 Hold your wedding banquet at their custom-designed Garden Pavillion and enjoy a fun and informal affair while surrounded by the hotel's lush tropical gardens or create a fanfare that's impossible to forget at the resplendent Grand Ballroom!
Learn more about the hotel here.
Address: One Farrer Hotel, 1 Farrer Park Station Road, Singapore 217562
Tel: +65 6363 0101
Website
9. Singapore Marriott Tang Plaza Hotel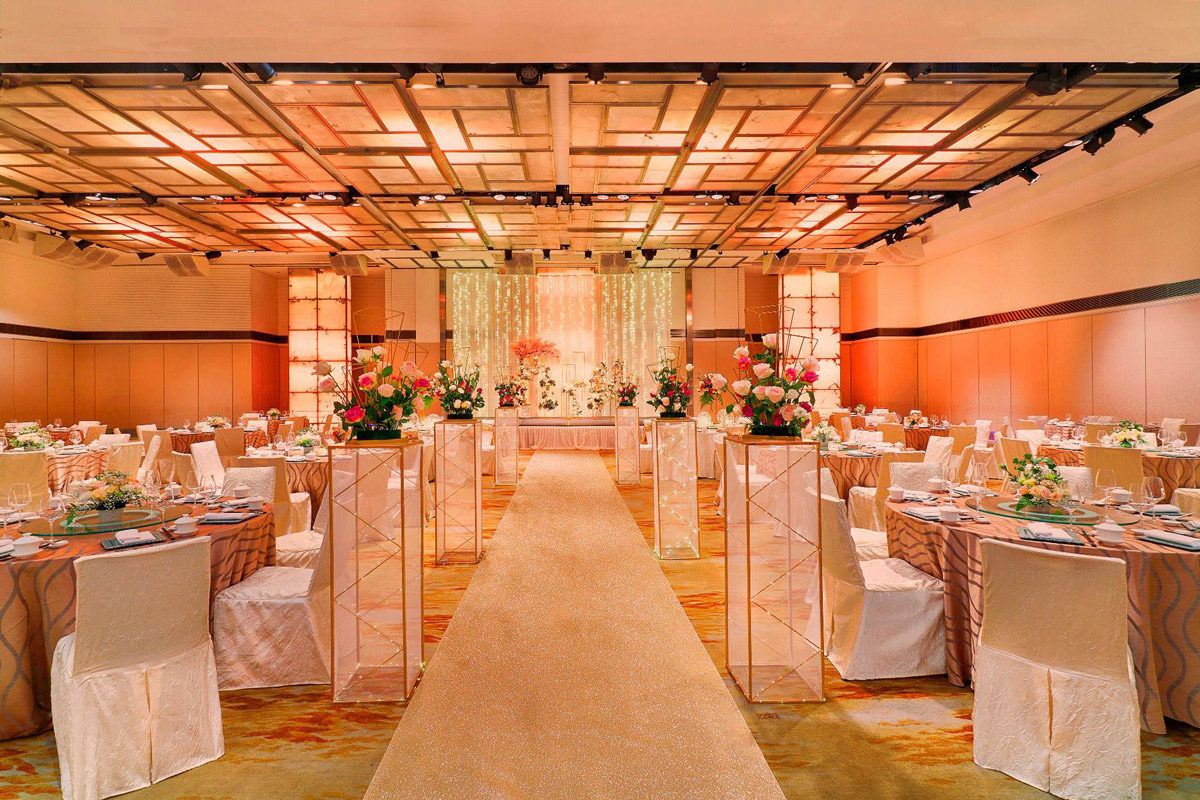 Source: Singapore Marriott Tang Plaza Hotel
Transform your weddings from ordinary to brilliant with the help of Singapore Marriott Tang Plaza Hotel! Presenting a diversity of venues, enchanting themes, and oh-so-delectable Oriental and International menus to bring the wedding that you've always fantasized about to life, it's only natural that their banquet space is also absolutely breathtaking.
Newly refurbished in January this year, the pillarless ballroom boasts a sleek and luxurious look that exudes elegance and style. Complemented by the spectacular alabaster lighting that comprises seven colours, based on a rainbow, this allows you to add an almost-magical touch to your wedding simply by playing around with the lights to create a mesmerising ambience.
Read more here!
Address: 320 Orchard Road, Singapore 238865
Tel: +65 6831 4769
Website