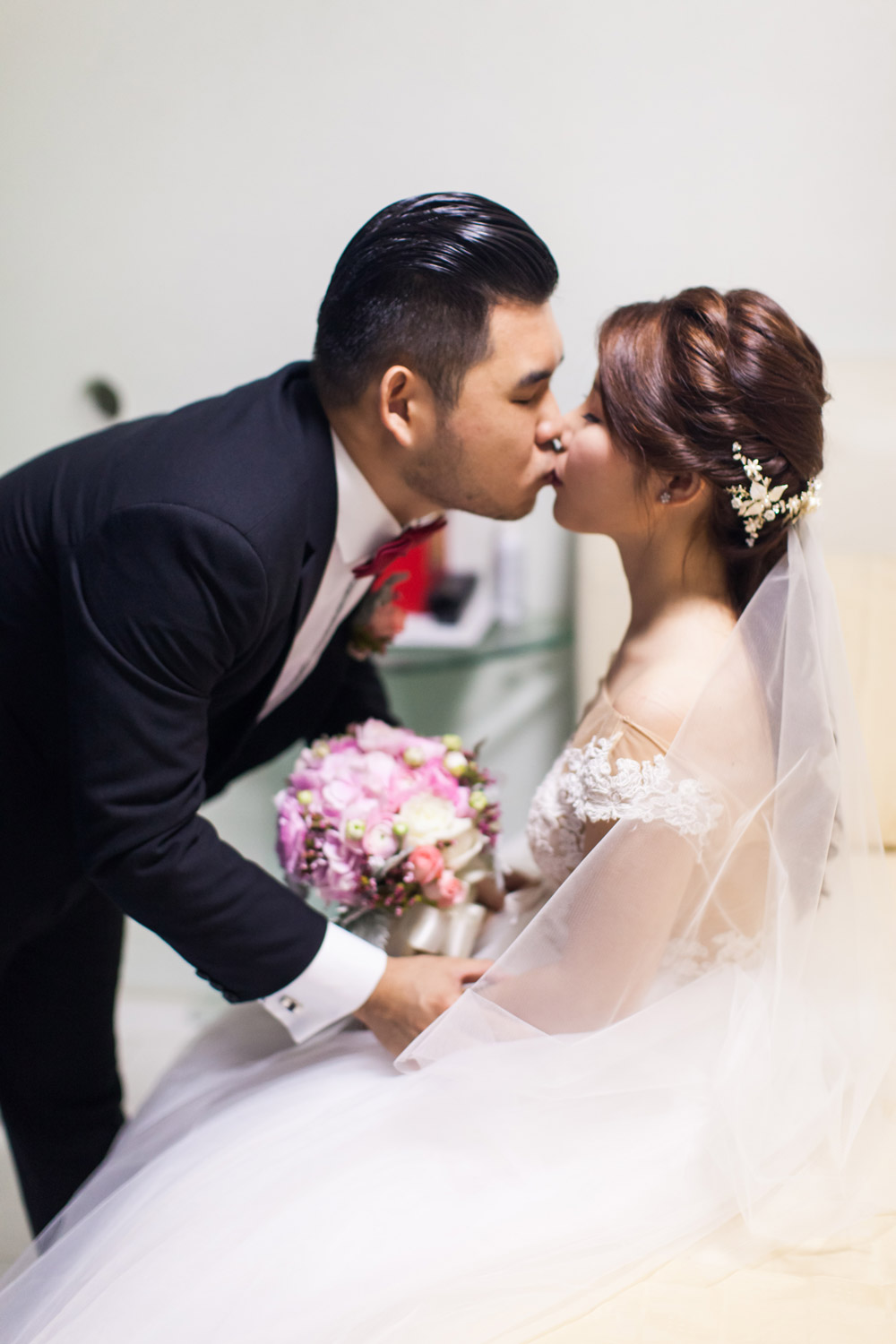 Proposal
Qing Yong & Vanessa: We were both school mates during our polytechnic days. We were seated next to each other in class but we didn't really talk much, it was only towards the end, nearing graduation, that we started talking more and grew closer. Before we knew it, we fell for each other.
We weren't the most romantic couple but we always looked out for each other. Over the years, we learnt to be more patient, accommodating and constantly strive to be a better partner for each other. We dated for seven years before he popped the question!
Qing Yong: The proposal was planned to take place in Phuket; I had a couple of my buddies tag along, and the plan was to go somewhere nice and propose to her there. We ended up on a canoe for a day trip, canoeing around the islands of Phuket and that's when I decided that proposing to her on a canoe boat would be fun — that's when I got up, with the boat shaking, knelt down and popped the question!
Vanessa: The boat was shaking so badly that I couldn't focus much on the proposal. I was more worried that we'd overturn the canoe!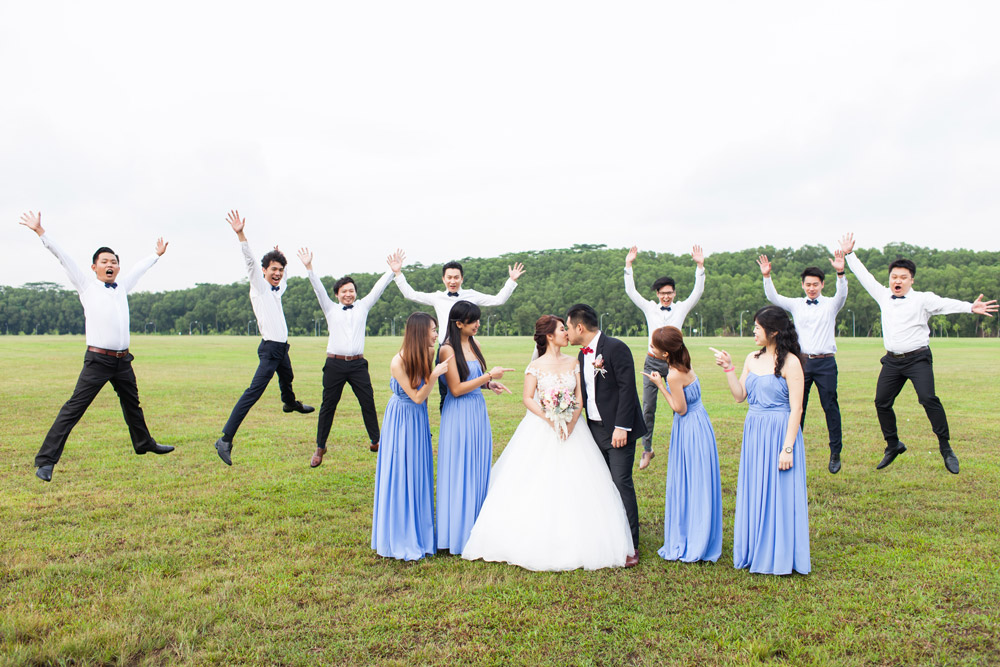 Bride's Style
Vanessa: I wore a total of three gowns and all of them were from Z Wedding. I wore one gown in the morning for the gatecrash, another for my first march-in, followed by an evening gown for my second march-in. I wanted something that was princess-inspired to fit our "Castle" wedding theme, something simple yet elegant and sweet.
As with every bride, I had my concerns — the biggest one being my slightly bigger than average arms. It bothers me, so the gown had to be one that would visually make my arms look smaller.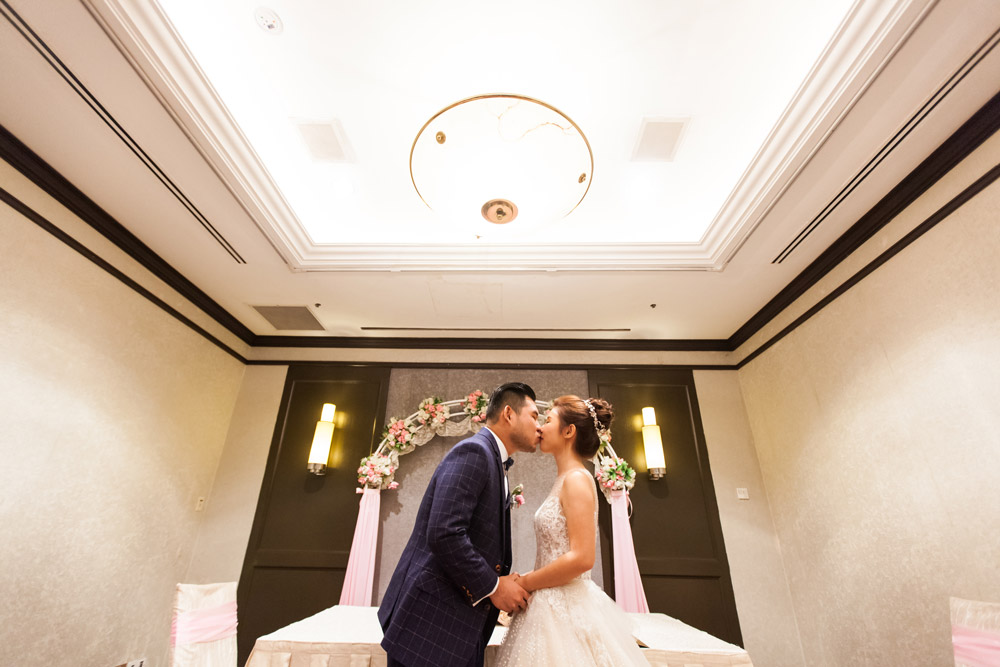 My first white gown in the morning had a lace top and sheer bottom. I feel like this was the sexiest among the three gowns that I chose. Most importantly, though, it is very lightweight! I could move around easily during my outdoor photo-taking and tea ceremony.
I wore the second white gown for my ROM and first march-in. It's a shimmery gown with lots of bling and sparkles under light. It's a very beautiful piece from Z Wedding and undoubtedly fits my theme very well. The last evening gown, which is also another favourite, was an off-shoulder number in nude. It hid my arms well and wearing it made me feel like a princess. I've received lots of compliments on both my march-in gowns!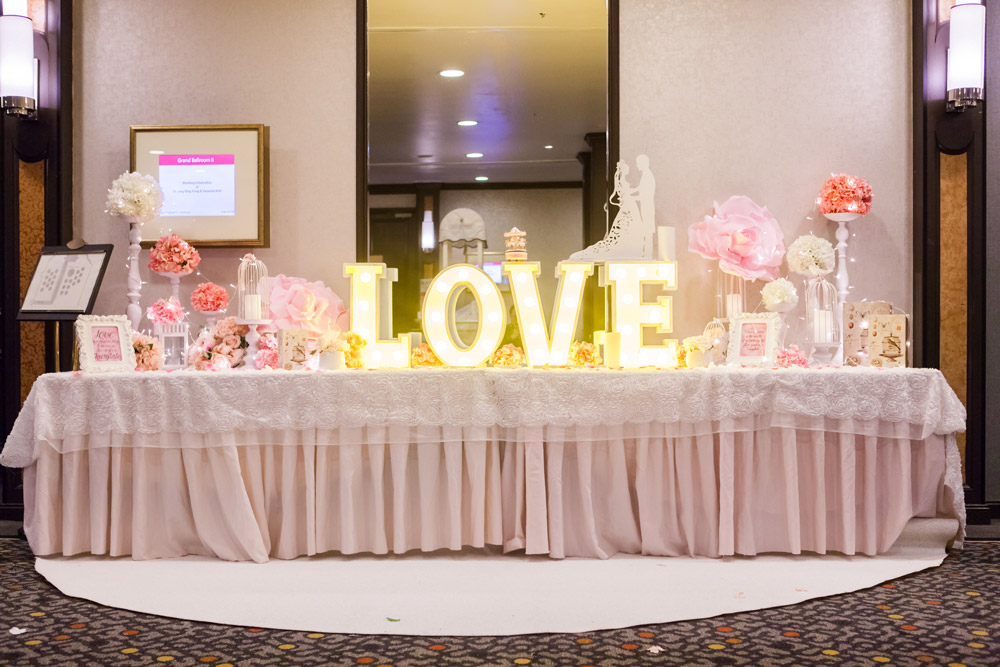 Reception
Both: For our wedding venue, like many other couples, we wanted good food to please the guests and a pillar-less, high-ceiling ballroom to look and feel grand. We went hotel-hopping a year before and finally decided to go with Orchard Hotel as the food was really good (courtesy of the chef from Hua Ting) and the ballroom is spacious. It met our criteria of having high ceilings with no pillars. Most importantly, the price was reasonable and the banquet managers, Chin Chin and Angie, were very accommodating to our every request.
We decided to go with a wedding "Castle" theme and engaged Im.Perfection for the reception and ballroom decor. We were satisfied with the outcome as it really fit the theme well and it gave us a fairytale feel. We had overhead fairy lights with a pumpkin carriage on the stage, as well as a really spacious carpeted march-in path which made everything look grand and perfect.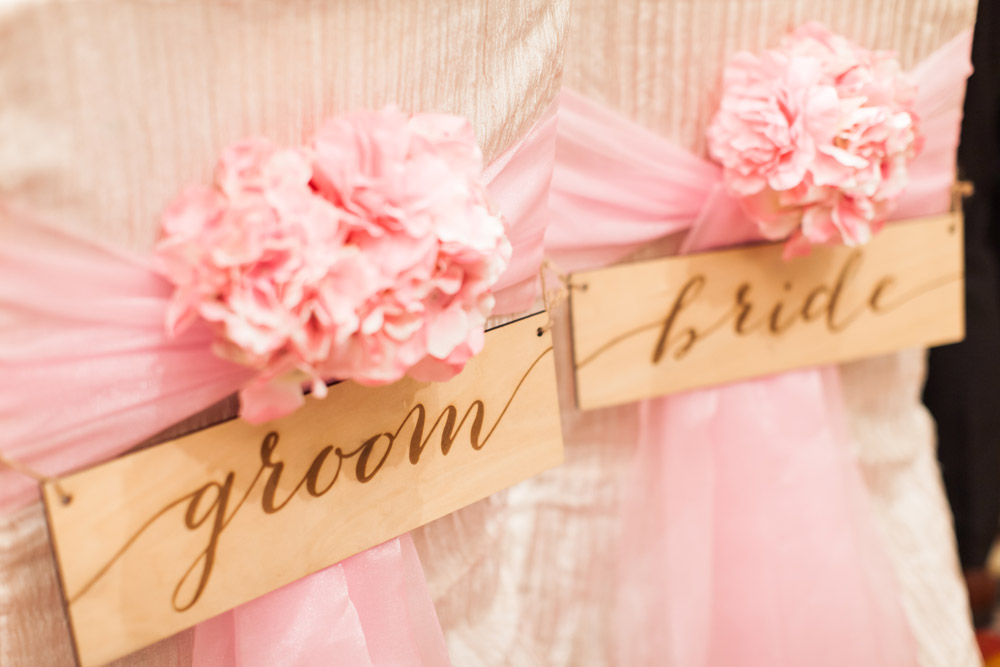 As for the table setting, after much discussion with the banquet managers, we decided to go for a 20pax VIP table with a pretty flower centrepiece.
Some of the feedback we received were compliments on the food served, even those with special dietary needs such as vegetarian, and how grand and spacious the ballroom was. One of our friends even went forward to enquire on the banquet priceless for 2018!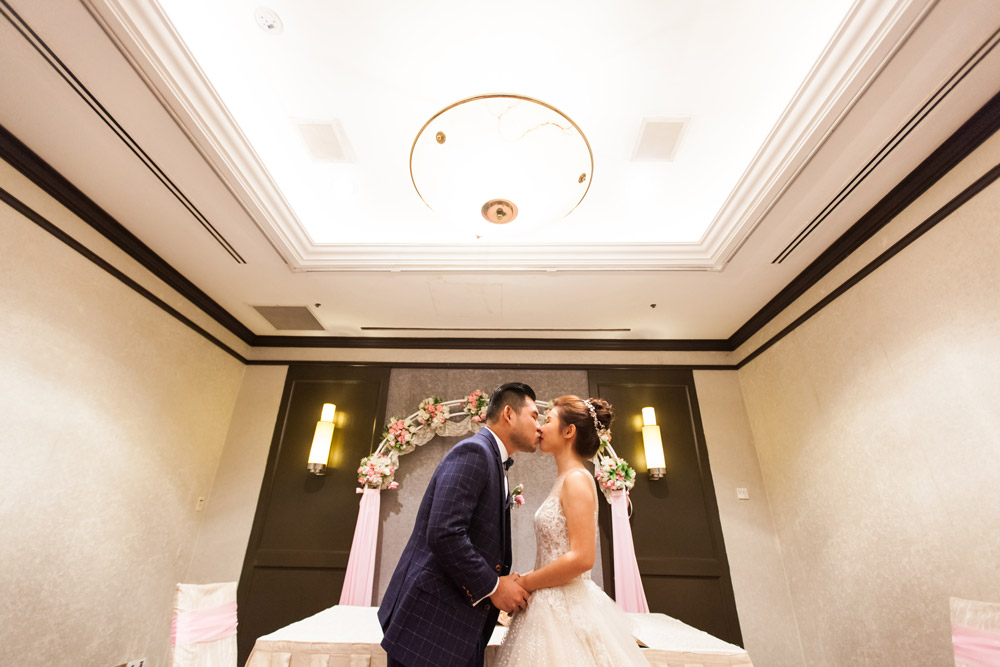 Memorable Moments
Qing Yong: My most memorable moments would be the gatecrashing in the morning — the bridesmaid definitely did not make it easy for us, and luckily for me the brothers were on hand to take on all challenges to ensure that it would be smooth.
Of course not forgetting the mascots that came in towards the end of the dinner, it made the occasion a more joyous and fun one.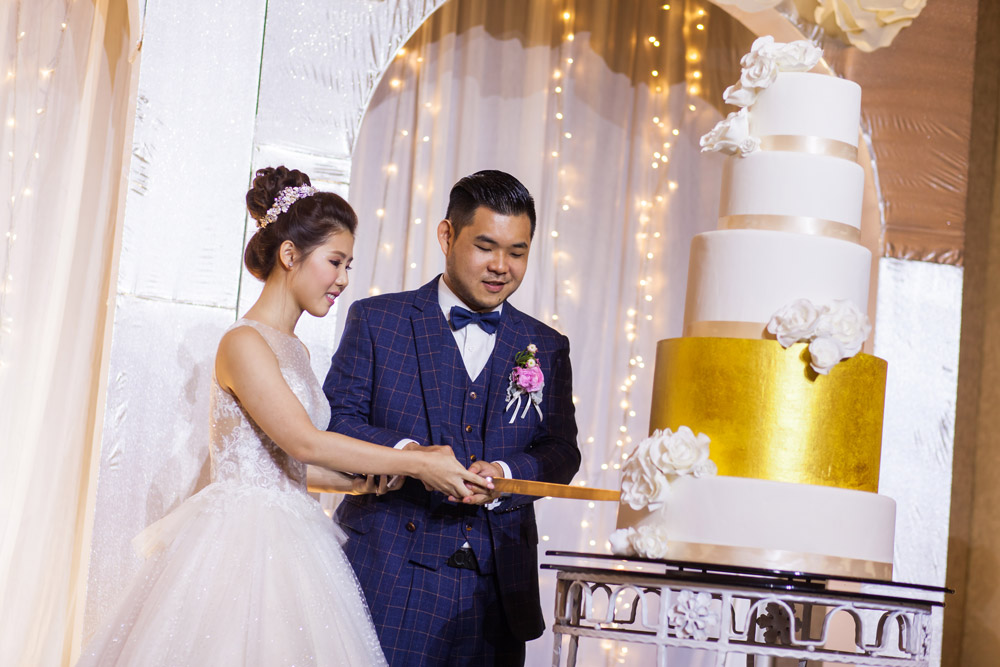 Vanessa: Definitely the 13 mascots that came in nearing the end of the wedding that my uncle had prepared as a surprise for us. It definitely livened up the mood of my guests as it was something new and unique. In fact, my dad's friends even commented that it was the best wedding they had ever attended! The feeling I had during my march-in was also something memorable which I've never felt before.
I only had two regrets that night: First, I didn't kick my gown hard enough during my first march-in which resulted in me looking down at my feet a lot hoping that I didn't fall; second, I didn't manage to take any pictures with my husband in the Photo Booth we had! So we don't have any photos on the customised layout with our name and wedding date on it!
Looking back, I actually enjoyed the process of the wedding preparations and if I could, I would do it all over again. During the process I met lots of nice people and learnt a lot. A tip for future brides would be to just relax and be happy that evening — everything will work out and somehow go smoothly.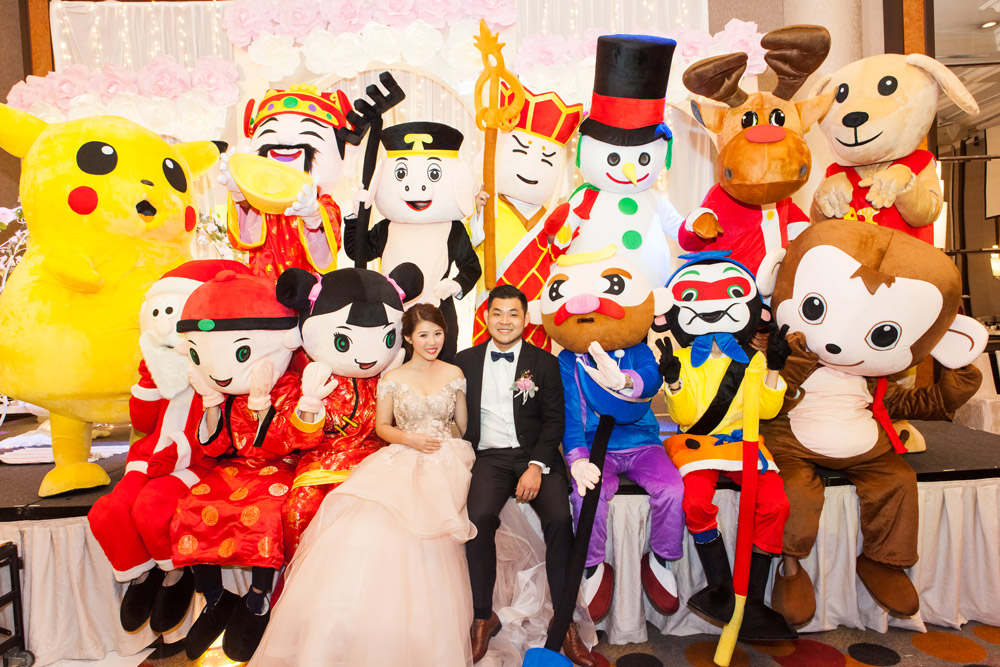 Accreditations
Photography: Bernard Teo from Avenue8
Videography: Edmund Leong Motion & Stills
Venue: Orchard Hotel
Wedding Gown: Z Wedding
Evening Gown: Z Wedding
Hair & Makeup: Candy (freelance makeup artist)
Flowers & Decor: The Red Petals