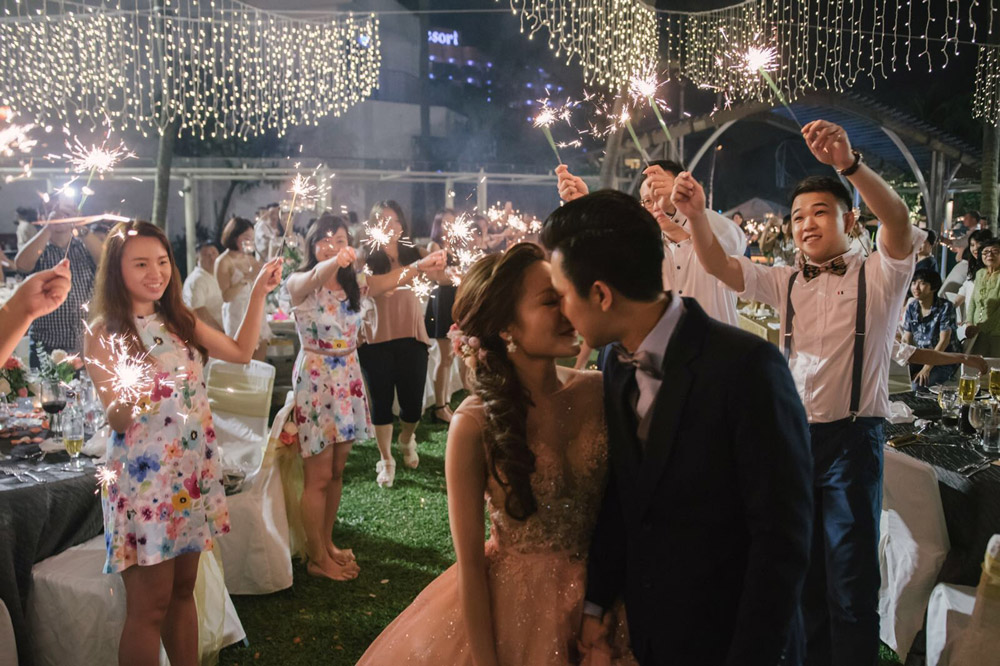 The love story
Jaslyn: As individuals, we spent most of our time at work, which happened to be where we met. We actually first noticed each other more than five years ago, but we hardly spoke to the other despite crossing each other's path.

One day, he asked me out for a meal saying he will wait there until I showed up. I did not exactly believe him but went anyway. However, we did not have that meal as he had arrived late!

He apologised to me at work the next day and asked me out again, saying this time, he would be punctual. Even though he asked me out a second time, we still had not exchanged numbers. He had faith that I would turn up for the date and he was right.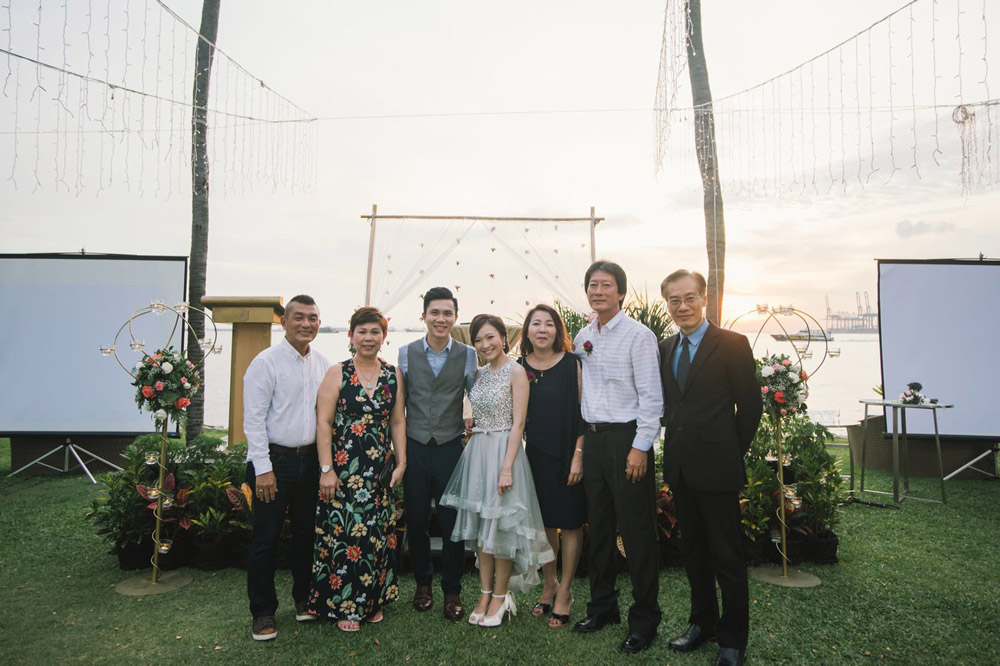 The proposal
Jaslyn: We were in the bathroom, preparing to head out when he abruptly asked, "Do you think we are ready to apply for a flat together? Have somewhere to call home?"

Since the both of us prefer to do things simply with a low profile, I assumed that was the proposal. I was proven wrong two years later. We were at our holiday villa in Bali when he started to blabber about our time together as a couple. Unfortunately, I assumed that he was trying to start a fight.

Seeing that I did not understand where he was coming from, he knelt down and pulled out a with a ring box that had LED lights and popped the question.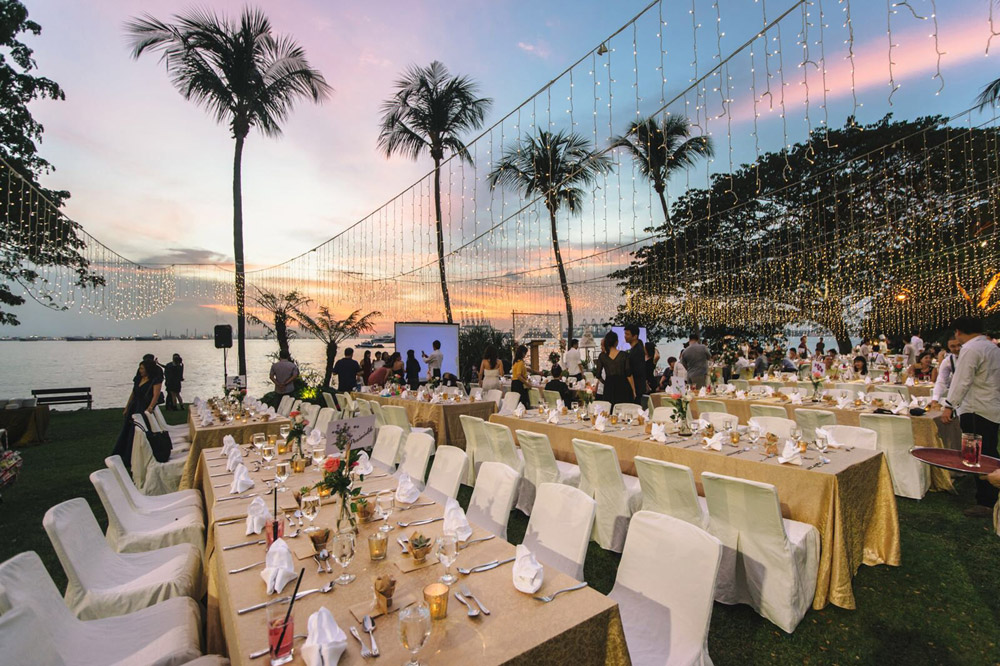 Bride Style
Jaslyn: I actually had five outfit changes on my wedding day. We had wanted a traditional morning ceremony with a white gown and a cheongsam. Like most brides, I had wanted to use this opportunity to wear the kua. After a few tries however, I realised that it did not fit me and decided on a cheongsam instead. I originally assumed that it would not compliment my petite size. Instead, it turned out amazing and the fit was perfect.

For my white gown, I had worn an off-shoulder gown with pearl and diamond details, a V-cut neckline and a long train from Bluebay Wedding. These details reflected our garden-by-the-sea wedding theme.

My third dress was a short silver gown. The highlight of our solemnisation was the sunset at The Rocks, Shangri-La Rasa Sentosa Resort and Spa. To complement the surroundings, I had wanted something more casual and with more mobility, to allow me to mingle with guests.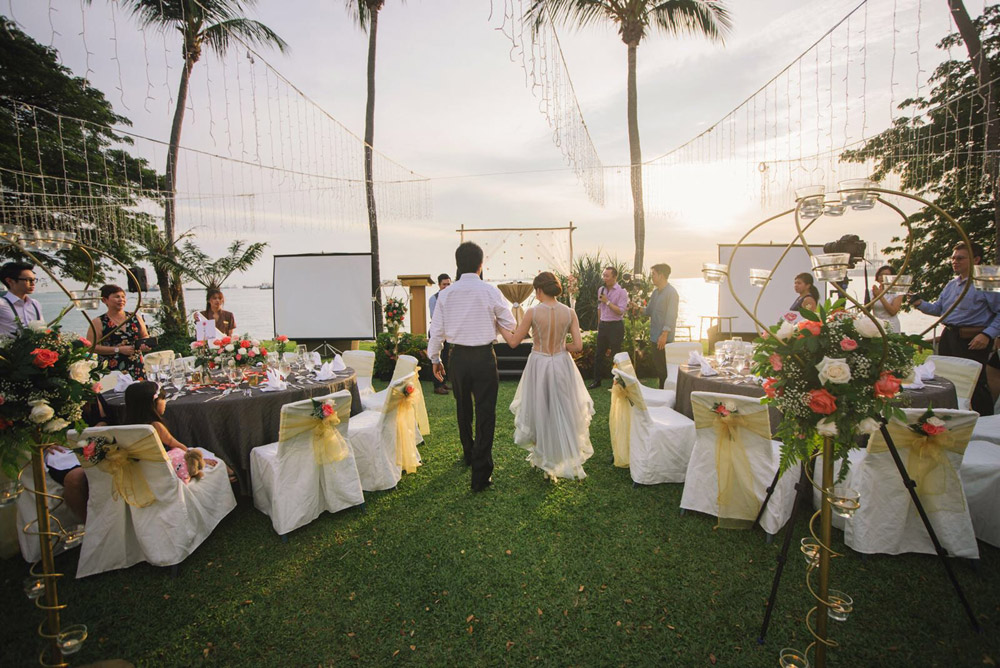 The fourth dress was a peach evening gown from Bluebay Wedding. It was an elegant dress with a slightly translucent top that added an element of elegance. The skirt adorned with glitter and looked amazing under the spotlights. It worked out really well for our second march-in as we were greeted with sparklers.
My fifth and last dress differed from others. I chose a gold evening dress covered in beads with a V-cut neckline and a bareback. It was a dress that portrayed simplicity and maturity ¬– a gown I had hoped would reflect the cultural values of Indonesia.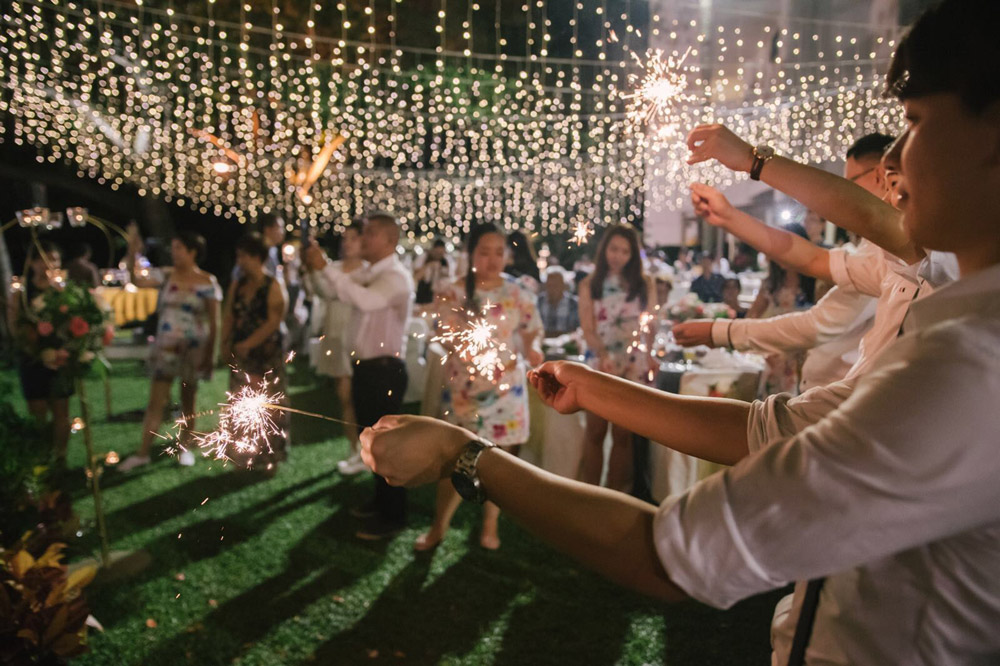 The reception
Jack & Jaslyn: From the get-go, the both of us knew that we wanted a beach wedding. We came across The Rocks at Shangri-La Rasa Sentosa Resort and Spa and were awed by the view. We knew this venue would be versatile enough to complement our wedding theme. Though the reception was not exactly hosted on the beach, it was overlooking the sea.

The coordinator we worked with was extremely helpful and accommodative. He gave us worthwhile suggestions to our plan and made everything we wanted possible. Our flowers and venue decor was done by Sing See Soon and 1011 Productions, respectively.

The reception was more than we could have hoped for. Everyone loved the venue, decorations and the food and service provided by the hotel. It came to a point where the warm weather had taken a backseat to the day's enjoyment.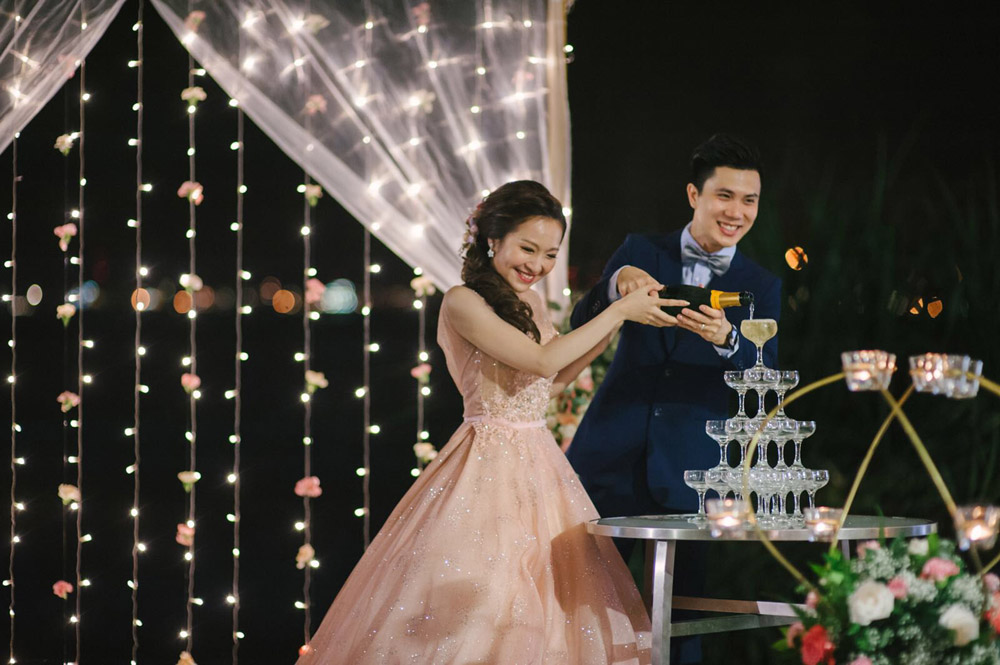 Memorable Moments 
Jack: The most memorable moment for me was when I was waiting for Jaslyn to march in. I was incredibly nervous and could feel myself tearing up when it was time to say my vows.

Jaslyn: The most emotional moment for me was during our second march-in. Seeing our friends and family looking at us excitedly along the aisle while lighting up sparklers, was just so perfect. That was when tears rolled down my face.